This ultimate Sydney to Brisbane road trip itinerary will touch on the travel logistics and the best stops between these two Australian cities.
One of the best ways to experience Australia is by doing a road trip. And one of the most popular Australian road trips is from Sydney to Brisbane on the east coast.
Both of these capital cities are packed with entertainment and excitement. But there is so much natural beauty and authentic Australian culture nestled in between the two.
You'll pass charming surf towns, stunning beaches, and national parks rich with greenery and wildlife on this Sydney to Brisbane road trip.
Driving from Sydney to Brisbane is also very straightforward and easy.
The majority of the drive takes place on the highway, with small detours here and there for certain attractions.
The roads are all well-paved and well-marked. So you don't need a 4X4 and you shouldn't have any trouble with navigation.
So if you're wondering "Where should I stop between Brisbane and Sydney?", then this post is for you!
READ MORE: Click here to read our Australia travel guide to help you plan your trip!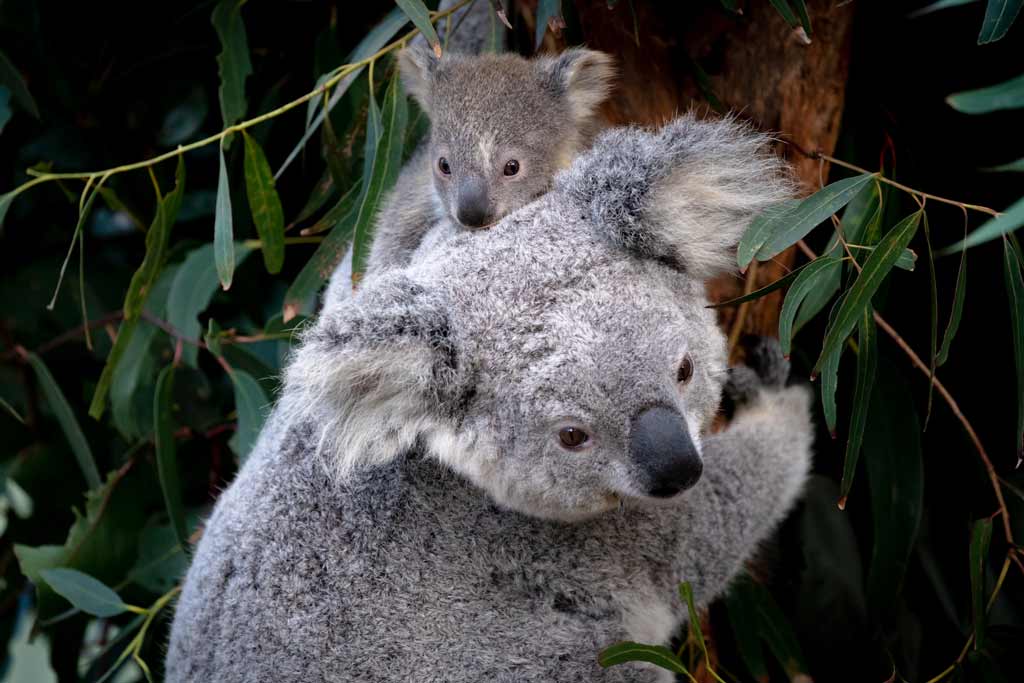 Sydney to Brisbane Road Trip Quick Facts
Distance: 1230 km
Recommended Length of Time: 5 to 8 days
Highlights:
* Stop 1: Port Stephens Region
* Stop 2: Forster Area
* Stop 3: Crescent Head
* Stop 4: Bellingen
* Stop 5: Byron Bay
* Stop 6: Gold Coast
7-Day Sydney to Brisbane Road Trip Itinerary
This Sydney to Brisbane road trip itinerary will list all the most amazing places to stop along the east coast.
Keep in mind, this is just a rough guideline. So feel free to add any other stops to the list or swap things out!
You can definitely enjoy all the attractions and stops along the way in 5 days.
But certain places are so beautiful that you may want to stay for a few days before continuing on towards Brisbane.
So ideally, you would have a week or 8 days to allow you to spend longer in stunning places like Byron Bay, Crescent Head, or any national parks.
There is so much fun stuff to do on a Sydney to Brisbane road trip, so take your time and really enjoy it!
And don't worry, if you are looking to do it in reverse, this itinerary can be done as a Brisbane to Sydney drive too!
If you have a bit of time before hitting the road, check out our guide to all the top free things to do in Sydney.
The best way to get around is to rent a car and explore on your own! We recommend Rental Cars, which has the largest range of vehicles for the best value on the market.
Day 1: Sydney to Port Stephens
Time: 3 hours
Distance: 219 km
The first portion of driving on your road trip will be relatively quick and easy.
Depending on where you start driving in Sydney, you may have to spend some time in city traffic.
But once you leave Sydney, it's smooth sailing along the M1 Pacific Highway until you reach Newcastle on the Central Coast.
Newcastle
Newcastle is the second biggest city in NSW, and it's just over 2 hours from Sydney.
Spend an hour or two here walking, swimming, surfing, and relaxing before you get back on the road.
Definitely stop by one of the sandy beaches near the city centre, like Newcastle Beach, Bar Beach, or Nobbies Beach. The beaches are all free and have lots of free parking.
Another highlight of Newcastle is the Anzac Memorial Walkway.
This short but steep walkway next to Bar Beach commemorates Australian soldiers and offers spectacular views of the Newcastle coastline. Get a bit of exercise and enjoy the views of the coastline with this activity!
For lunch, there are endless cafes and restaurants all over the city.
If you're passing through on the weekend, grab some fresh local food at the Newcastle City Farmer's Markets at Newcastle Showground.
They have lots of small local businesses selling the best, high-quality food. This is a great place to buy snacks for the road as well!
After exploring Newcastle for a few hours, drive a bit further north until you reach the gorgeous region of Port Stephens.
Port Stephens
This stunning part of New South Wales is a must-see on any drive from Sydney to Brisbane, and while you could easily spend a week checking out all the amazing things to do in Port Stephens, we recommend spending at least one night here.
First up you could book into an excellent quad biking experience along the Stockton Dunes, the largest moving sand dunes in the Southern Hemisphere! Or surf at One Mile Beach, enjoy a coastal walk, or snorkel in search of some marine life.
Have an enjoyable dinner in Nelson Bay, and then the next morning you can head off on an awesome whale watching or dolphin cruise!
We recommend staying in Nelson Bay or Shoal Bay during your time in the area.
READ MORE: Want to spend longer here? Check out our recommended Port Stephens itinerary!
Day 2: Port Stephens to Forster
Time: 2.5 hours
Distance: 185 km
It'll be a bit of a late start to hit the road today, mainly because you'll have an epic breakfast at a cafe in Port Stephens, then book onto a whale watching cruise!
After lunch though it's time to hit the road and make your way towards Seal Rocks.
Seal Rocks
After leaving Port Stephens, the Pacific Highway name changes from M1 to A1. But it's still the same major road.
You'll drive on this road for just under 2 hours before reaching the turnoff towards Seal Rocks.
Seal Rocks is a small town close to Forster, near Myall Lakes National Park.
There isn't a lot to do, but it's on the way so it makes for a nice, quick stop. When you first arrive, there are some lovely coastal lookout points.
The highlight is walking along the shady, woodland path that winds uphill towards the Sugarloaf Point Lighthouse.
Listen for kookaburras cackling in the gum trees and enjoy the view of the rugged rocks from the top of the lighthouse.
You could also go for a quick bushwalk or fishing session in Myall Lakes National Park.
Boat Beach is a quiet and secluded spot for swimming. You'll most likely have the whole beach to yourself!
Booti Booti National Park
This lush national park lies directly south of Forster.
If you are camping or have a van, The Ruins Campground is a beautiful place to spend the night.
I recommend heading to the nearby Wallis Lake to watch the sunset.
The natural colours reflecting on the glassy lake looks absolutely surreal.
Forster
If you plan on staying overnight in accommodation, continue driving for 15 minutes until you reach the town centre of Forster.
Forster doesn't have that many attractions, but it has some highly-rated hotels, motels, and inns.
So for the second night of your Sydney to Brisbane road trip, Forster or Booti Booti National Park are the perfect places to stay.
If you're looking for an awesome place to stay in Port Stephens, we personally love using Airbnb. If you've never used the platform before, sign up using this link to get USD$35 off your first booking.
Day 3: Forster to Crescent Head
Time: 2 hours
Distance: 160 km (105 miles)
Day 3 of your Sydney to Brisbane drive itinerary has little driving and lots of time for fun activities.
You'll spend a couple of hours driving along the A1 Pacific Highway.
There is an exit for Port Macquarie if you're looking for somewhere to stop.
Or you can just continue until you reach the exit for Crescent Head.
All the roads are straightforward, easy, and well-paved.
Port Macquarie
After leaving Forster, you'll reach Port Macquarie in just over an hour.
This coastal town is a nice spot to stop for lunch, and there are a few attractions here for those who are interested!
You can check out Tacking Point Lighthouse, which was built in 1879.
Then walk along the coastal track and try to spot dolphins or whales in the ocean.
You don't need to spend too much time here. The next destination on this Sydney to Brisbane road trip itinerary is one of the best, so you'll want lots of time there.
Crescent Head
Just one hour north of Port Macquarie lies Crescent Head.
NOTE: We recommend following the tourist route. You'll see signs for it.
As one of the most popular holiday destinations among locals in New South Wales, Crescent Head is heavenly.
The town of Crescent Head is tiny. But it has some lovely local cafes and a few nice hotels and motels.
Most people come to the area for the stunning coastal scenery and amazing beaches.
Spend the entire day swimming or surfing in the crystal clear waves, or go for a walk along the beach and collect shells.
There is also a small golf course and a caravan park right next to the beach.
Be sure to walk up to the small headland, known as Little Nobby, for sunset or sunrise.
Then walk up the grassy hill to an even bigger headland, known as Big Nobby, for panoramic views.
Day 4: Crescent Head to Bellingen
Time: 1.5 hours
Distance: 120 km
On the fourth day of your Sydney to Brisbane drive itinerary, you'll jump back on the A1 Pacific Highway for around an hour before heading inland.
While most people think it's worth just sticking to the coast (we get it, it's beautiful!), one of Australia's best attractions is found nearby.
South West Rocks
It's a short drive to South West Rocks, but you'll love the lush farmland, huge trees and meandering river along the way.
Once you get to the village, stop by the Trial Bay Gaol to learn about the history of the prison, and keep an eye out for all the kangaroos around the campground!
The Smoky Cape Lighthouse is well worth the hike too.
Now it's time to hit the road again and make your way to Bellingen.
Bellingen
This bucolic, historic and quaint town is one of the real highlights of this road trip Sydney to Brisbane itinerary, and we highly recommend grabbing lunch here and walking around.
Once you've taken your snaps, jump back in the car and drive up to one of the most beautiful places in the country!
Dorrigo National Park
The UNESCO World Heritage-listed Dorrigo National Park is home to the Gondwana Rainforest, the oldest trees in the entire world, and it really feels like you're stepping into Jurassic Park.
There are plenty of great hikes you can do in the area, but before you tackle any of them make sure you visit the Rainforest Centre to get some information on the unique flora and fauna in Dorrigo.
If you just have time for one hike, we recommend walking to Crystal Falls.
This glorious waterfall tumbles out of the rainforest and into a gorgeous pool, with a pathway leading into a small overhand so you can see the falls from behind.
You can continue the Rainforest Loop if you're feeling up for it, or drive back down to Bellingen for the night.
Day 5: Bellingen to Byron Bay
Time: 4 hours
Distance: 290km
It's a big day of driving today, and if you'd rather split it up we recommend spending the night in Yamba.
Otherwise pack the car, have a nice breakfast in Bellingen, and hit the road to one of the best places to visit in Australia; Byron Bay!
Coffs Harbour
Once you leave Bellingen, you'll reach Coffs Harbour in about 30 minutes.
The city isn't much to look at, but there's a huge shopping centre near the highway where you can use the bathroom and grab some food.
The biggest attraction in Coffs Harbour is the Big Banana Fun Park.
It's famous because there is an actual giant big banana at the entrance!
You can see the Coffs Harbour Big Banana from the highway, so you don't even have to stop if you're short on time.
If you do stop, another Coffs Harbour attraction is the Forest Sky Pier. It's a long pier that offers panoramic views of the ocean, coastline, and surrounding hinterland.
Yamba
Yamba is a beautiful seaside town, that must have been what Byron Bay was like 20 years ago.
It's a wonderful place to stop off for lunch, or if you have more time when driving to Brisbane from Sydney, spend the night.
Visit some of the coastal walks and beaches before continuing the drive north.
Byron Bay
Byron Bay is a laid-back coastal town near the northern border of New South Wales.
The town is super popular among backpackers, so there are tons of hostels, campgrounds, and fun bars and restaurants.
There are also lots of amazing cafes and health food shops, as well as some interesting vintage stores and trendy shops.
READ MORE: Check out our Bryon Bay Visitors Guide to plan your time there!
Surrounding the town centre of Byron Bay is so much natural beauty as well.
Be sure to walk along the coastal track up to the Cape Byron Bay Lighthouse. Other fun things to do include surfing at the Pass, going whale-watching, or kayaking with dolphins.
You may want to spend a few days in Byron Bay before continuing on your Sydney to Brisbane road trip. There are so many incredible things to do here!
Day 6: Byron Bay to Gold Coast via Lamington National Park
Time: 3 hours
Distance: 175km
After leaving Byron Bay, drive north on the M1 (the A1 has now changed back to the M1), and you will cross the border into Queensland!
The next three destinations on this Sydney to Brisbane road trip form a triangle, so you can visit them in any order you want.
Lamington National Park is located about an hour inland from the coast.
You don't need a 4×4 to drive here, although the terrain gets really hilly.
So if you're driving a huge van and are nervous about winding cliffside roads, maybe skip this part.
Lamington National Park
I recommend heading straight to Lamington National Park after Byron Bay.
For nature lovers, this is a great opportunity to do some hiking and spend time in the forest.
Lamington National Park is full of towering trees, hills and valleys, walking tracks, and scenic views.
A highlight of the park is Moran Falls.
Drive up into the mountains, park your car, and set out on a 1-2 hour easy bushwalk that brings you to the top of a massive waterfall.
Watching the sunset over the valley from the top of Moran Falls is one of the best things to do in the park!
Visit the official Queensland government website for more information on what to do in Lamington National Park.
Burleigh Heads
After hiking and exploring in the forest, head back to the coast to Burleigh Heads.
This laid-back and beautiful coastal town has a massive beach, a bushwalk along the headland, a beachfront walking/jogging track, an amazing lookout point, and more.
If you want to camp, I recommend staying here for the night instead of the Gold Coast.
It's much quieter and there are some nice campgrounds with great facilities right next to the beach.
Gold Coast
If you prefer to stay right in the hustle and bustle of the city, you can spend the night in the Gold Coast.
It's really up to you where you spend most of day 4 on your road trip.
The Gold Coast is a lively city with lots of wonderful restaurants, bars, shops, and nightlife.
Don't believe me? You can check out our post on all the epic things to do in the Gold Coast here.
Burleigh Heads is more relaxed, and the two are only a 20-minute drive apart.
Surfer's Paradise is another famous Australian beach that is just a 10-minute drive north of the Gold Coast city centre.
If you feel like treating yourself, you can book a river cruise along Surfer's Paradise and the Gold Coast.
Sunbathe on the boat deck and eat snacks while sailing past the skyscrapers and fancy yachts of the area.
Day 7: Gold Coast to Brisbane
Time: 1 hour
Distance: 80km
On the final day of your Sydney to Brisbane drive, you don't need to spend much time on the road.
The Gold Coast and Brisbane are only a 1-hour drive apart.
Head over whenever you feel like it. Then your Sydney to Brisbane road trip is done!
Brisbane is the capital city of Queensland, so there is plenty to do here when you arrive.
Sydney to Brisbane Drive – Wrapping it Up
Hopefully, this road trip itinerary will inspire you to experience more of Australia's east coast outside Sydney.
Lots of people just stay in the city or only visit the touristy areas.
It's amazing to experience these popular areas, like Sydney, The Gold Coast, and Byron Bay.
But quiet, less touristy areas like Crescent Head or Lamington National Park are amazing ways to see the real Australia!
READ MORE ROAD TRIP GUIDES:
DISCLAIMER: Some of the links in this article are affiliate links, which means if you book accommodation, tours or buy a product, we will receive a small commission at no extra cost to you. These commissions help us keep creating more free travel content to help people plan their holidays and adventures. We only recommend the best accommodations, tours and products that ourselves or our fantastic editorial team have personally experienced, and regularly review these. Thanks for your support, kind friend!