This perfect Perth to Esperance road trip itinerary for anyone looking for adventure along the Western Australia coastline!
Esperance is made up of every Australian summer dream vacation – pristine white sand beaches, kangaroos sunbathing along the coast at Lucky Bay and a whole lotta peace and quiet.
An Australian summer is best enjoyed in the water. And this Perth to Esperance road trip itinerary is the perfect way to see some of Western Australia's most stunning coastline.
This is definitely one of the best road trips in Western Australia that showcases the best of the south west as well as diverse landscapes like Sugarloaf Rock, Elephant Rocks, and Wave Rock.
Perth to Esperance Road Trip Highlights
Distance: 1,300 km / 807 miles one way
Recommended Length of Time: 10 – 12 days
Highlights:
* Photograph the infamous Sugarloaf Rock
* Wine tasting in Margaret River
* Dive the former HMAS Perth II Wreck in Albany
* Elephant Rocks and Greens Pool
* Capture kangaroos playing on the beach at Lucky Bay
* See Wave Rock near Esperance
Perth to Esperance Road Trip Itinerary
While the drive from Perth to Esperance looks pretty long, there are many days where you won't be driving a lot because you will be enjoying the landscapes and activities in this great south west region of Western Australia.
Let's start our breath-taking road trip from Perth to Esperance.
READ MORE: Be sure to check these great things to do in Perth while you're there!
Day 1: Perth to Busselton
Distance: 220km
Time: 2.5 hours
To get to from Perth to Esperance, your first leg is a relatively easy drive.
Most of this drive is along the main freeway heading south so the road is fast-moving and offers some scenic landscapes coming out of the city. You will get pockets of coastal scenery as the road hugs the coast.
Stop 1: Mandurah
Since the Mandurah train line was built connecting to Perth, this small city has become a popular day trip spot for locals.
Located just under 1 hour out of Perth, Mandurah offers a wide range of family-friendly activities from exploring the waterways to national parks to bushwalking through the Jarrah Forests.
You can also head out on a Pirate Ship cruise and enjoy 45 minutes in the canal searching for dolphins and hanging out with crazy pirates.
Having spent a big chunk of my childhood weekends catching crabs in the marina, this is personally one of my favourite activities.
If you have the time to spend an extra night in Mandurah, head out in the late afternoon and be sure to check local laws and regulations for catch limits.
Stop 2: Lake Clifton Thrombolites
Thrombolites are living rock-like structures and these have formed on the edges of Lake Clifton.
The thrombolite-building micro-organisms are too small for the human eye to see but resemble the earliest forms of life on Earth.
Since the thrombolites are so fragile an observation walkway has been built for visitors to enjoy the formations.
Walk along the Lakeside Loop Walk trail which is a 5km trail (approximately 2 hours) that explores the eastern shoreline of Lake Clifton.
Stop 3: Bunbury
Stop into the Bunbury Farmer's Market for a delicious lunch and to stock up on fresh produce.
The market has been selling locally grown fresh fruit and vegetables since 2003 and its philosophy is to provide customers with extreme value and extreme freshness.
After the market, you can walk off your lunch along Koombana Bay or visit Back Beach.
If you enjoy art galleries, you can also visit the Bunbury Regional Art Gallery located in a historic and picturesque building that was formerly a convent. Entrance is free!
READ MORE: Driving the other way? Check out my other epic road trip itinerary to get from Perth to Broome!
Stop 4: Busselton
Your last stop for the day is in Busselton, a common place to stay on the route from Perth to Esperance!
Sheltered along the shores of Geographe Bay, the seemingly endless white, sandy beach stretches all the way to Cape Naturaliste, 30km west and offers calm and protected waters.
This makes Busselton the perfect place for swimming, snorkelling, sailing, diving, rowing or fishing.
The Busselton Foreshore is newly refurbished and is an idyllic place to enjoy awesome facilities like free barbeques, skate park and the new children's playground.
After your relaxing afternoon here, head to the Busselton Jetty for sunset.
The 148-year-old wooden-piled jetty has survived a cyclone, storm and fire to retain its status as the longest timber-piled jetty in the southern hemisphere.
Visit the interpretive centre at the start of the jetty to gain insight into the jetty's history before strolling along its 1.8 kilometres.
The marine life under the jetty is known as Australia's best artificial reef and is a unique ecotourism site for the country. Abundant in corals and fish life, divers and snorkelers should consider exploring the world beneath the jetty.
Spend the rest of your evening strolling through the town or check-in at your accommodation and get some downtime.
Busselton is quite a popular destination so you should book your accommodation for the night ahead of time.
If you're looking for an awesome place to stay in Port Stephens, we personally love using Airbnb. If you've never used the platform before, sign up using this link to get USD$35 off your first booking.
Day 2: Busselton to Dunsborough
Distance: 25km
Time: 30 minutes
You have a very short drive today as you head west towards Dunsborough along the coast.
You'll drive past Dunsborough for your first couple of stops before returning back to the town for the rest of the evening.
Stop 1: Morning in Busselton
Since the drive is very short today, there's no rush out of Busselton. Spend your morning visiting Wonnerup House, an important surviving example of early farm pioneering.
You can also explore the Vasse-Wonnerup Wetlands that offers a sanctuary to more than 75 bird species.
Get some insight into life nearly centuries ago in Busselton's oldest building is the Old Courthouse Arts Complex. The complex comprises a courtroom, jail cells, stable, post office and bond store.
Museum-lovers should also check out the Busselton Museum which has 10 display rooms with photos, equipment and memorabilia tracing the history of the town.
Stop 2: Eagle Bay Brewing Co
This family-owned and run restaurant, brewery and vineyard is located on a sixty-six-year-old working farm in Eagle Bay.
Stop here for a tasty lunch while overlooking the farmland and bushland to Cape Naturaliste and the Indian Ocean.
You can also try some of their handcrafted beers and wines and buy some to take with you for the rest of your Perth to Esperance journey!
Stop 3: Eagle Bay
Located in Meelup Regional Park, Eagle Bay offers calm waters and is the location of the world-class HMAS Swan dive wreck.
Divers can organise a trip in advance to dive the wreck.
Explore the abundant marine life or just relax on the shore as you take in the turquoise water, green vegetation and white sandy beach.
Eagle Bay is one of the best swimming beaches in Western Australia and is a lovely place to enjoy a relaxing afternoon during your Perth to Esperance road trip.
Stop 4: Cape Naturalist Lighthouse
One of the most popular attractions in the region, visitors can climb the 59 stairs to the top balcony of the lighthouse for breathtaking ocean views.
The lighthouse reveals the maritime history of the Cape region and a guided tour will take you back in time as you hear tales of ships wrecked off the coastline and the hardships of life as a lighthouse keeper.
READ MORE: Check out our ultimate Western Australia road trip itinerary!
Stop 5: Sugarloaf Rock
Aim to arrive at Sugarloaf Rock in the late afternoon or early sunset to take in some more spectacular coastal views.
This gigantic granite rock emerges from the Indian Ocean and is situated in Leeuwin-Naturaliste National Park.
The sea-sculptured rock offers budding photographers an opportunity to capture the most photographed coastal landform in the region.
Stop 6: Dunsborough
Drive back to Dunsborough and check-in for the evening.
Meander through the town and visit any of the restaurants or pubs or if you are still keen for some time on the coast, go to Meelup Beach and watch the stars.
Again, make sure your accommodation in Dunsborough is booked ahead of time particularly on long weekends or during school holidays. Locals from Perth love heading down the southwest to stay here for the weekend.
Day 3: Dunsborough to Yallingup
Distance: 20km
Time: 25 minutes
Another short driving day on this Perth to Esperance road trip with more time to explore along your stops.
If you're short on time, you can also combine Day 3 with Day 2 and just have a bigger day before spending the night in Yallingup.
Stop 1: Dunsborough
Sleep in or spend your morning meandering through town and going to Dunsborough Beach for a swim before heading out.
Dunsborough has a lot of nice cafes and bakeries so be sure to grab some delicious treats for your Perth to Esperance drive.
Stop 2: Ngilgi Cave
Western Australia's first tourist attraction was the Ngilgi Cave. The cave is exquisitely decorated with its stalactites, stalagmites, helictites and coloured shawls.
The best way to see the Ngilgi Cave is on a semi-guided tour. Here you are led through the chambers on an extensive boardwalk that is lit up to reveal hidden marvels.
Spend an hour with a guide and learn about the cave and its features before heading out to explore on your own.
Adventure lovers can ditch the boardwalks and instead descend 45 metres below the Earth's surface on the Ngilgi Cave Adventure Tour.
Here, you'll crawl and climb as you navigate through some stunning sections of the cave not normally seen by the public.
It's a super cool place to stop on your Perth to Esperance road trip!
Stop 3: Canal Rocks
After exploring the cave, head west to visit the Canal Rocks. The rocks here have been carved by the Indian Ocean to reveal crevasses and channels leaving a network of patchy rocky islands.
A raised wooden boardwalk takes you out onto the rocks where you can observe the channels and see the canal.
You can also climb over the rocks but be aware that strong rips, currents, king waves and surges frequent the area.
Stop 4: Yallingup
Yallingup is another awesome little beach town in Western Australia with epic surf conditions that is popular among locals and surfers from Perth.
Here, you'll find some of the world's greatest surfers – just head to Yallingup Beach, Smiths Beach and Injidup.
The crystal clear lagoon at Yallingup Beach is perfect for snorkelling and swimming.
You can book a place to stay or if you're sleeping in the car, just park up at one of the beaches for the night before continuing on from Perth to Esperance.
READ MORE: Don't miss out on this epic guide to the best places to visit in Australia!
Day 4: Yallingup to Margaret River
Distance: 60km
Time: 1.5 hours
This south west drive continues along inland roads before heading back on the main road towards Margaret River.
There is not loads to see along the way but the drive is easy and fairly fast.
Stop 1: Yallingup Maze
Yallingup Maze is the only timber maze in the Margaret River region. It features outdoor mazes, nature play areas, a bouncy castle, an indoor puzzle café where you can play with puzzles for free all day and heaps of other fascinating things to do.
Yallingup Maze is a great place to spend a few hours and is especially fun with friends or as a family trip.
Stop 2: Quinninup Falls
These secluded falls aren't far from the coast near Moses Rock and the hike to the falls is very rewarding.
It can be quite physically challenging and you should allow around 45 minutes to hike down to the falls and about an hour to hike back.
The path varies from flat and easy to rocky and uneven with a few big sand dunes which are easy to come down but physically challenging climbing up.
Remember to take plenty of water with you!
Stop 3: Margaret River Chocolate Factory
A dedicated and delicious food stop on your Perth to Esperance road trip is right here. And yes, it is as delectable as it sounds.
The Margaret River Chocolate Factory was been around since 1999 and is one of the most popular spots to visit in the region and in Western Australia (there's also now a location in Perth).
Entrance is free and you can enjoy free tastings and viewing windows to see the amazing range of chocolate products being made.
There is also a café here where you can stop for lunch and pick from a menu of burgers, chips, salad, scrumptious cakes, desserts, chocolate fondues, the best chocolate brownies in Australia and more. YUM!!
Stop 4: Margaret River Dairy Company
This is a cheese lover's paradise. Margaret River cheeses are high quality, delicious and award-winning – some of the best in Western Australia!
You'll find all the classics like brie and camembert with a range of gourmet flavoured cheeses too.
You can try many of the cheeses and then be sure to pick up some cheese, chutneys, oils and other condiments for the rest of your trip.
Stop 5: Margaret River
Once you've arrived in Margaret River (or Margs if you want to sound like an Aussie), check in to your accommodation and start looking up which wineries you'd like to visit tomorrow.
Since Margaret River is a very popular tourist destination, booking in advance is necessary!
Day 5: Margaret River
Today is your day of rest from the Perth to Esperance road trip – ie, getting absolutely sloshed by visiting all of the wineries in the region.
Hopefully, you have a group of people you're travelling with (or have made some friends along the way) and someone is okay being designated driver.
Margaret River wineries are a must-visit whether or not you're big on wines as some of Australia's top wineries are here.
If you want to tour them on a budget and without worrying about who is driving, check out this tour with Get Your Guide.
Many places offer free tastings and others for as little as $5 or $10 will serve you an incredible variety along with some cheese and nibbles to accompany.
A few popular ones to visit are Vasse Felix, Barnyard 1978, Aravina Estate and Voyager Estate. These wineries also have picturesque landscapes and are perfect for snapping some garden photos.
Spend the night in Margaret River again and hopefully, you can survive the hangover to continue heading south west on the Perth to Esperance road trip tomorrow.
If you want to spend some more time here though, then this guide to all the best things to do in Margaret River will get you sorted!
Day 6: Margaret River to Peaceful Bay
Distance: 300km
Time: 3.5 hours
Veering off the south west route, the drive along this road doesn't offer too many interesting sights along the way as you'll start off on the main highway before moving further inland.
As the road trip continues from Hamelin Bay to Walpole, you'll travel through some forest roads through national parks and hopefully see a lot of lush greenery in your surroundings on the route from Perth to Esperance.
Stop 1: Hamelin Bay
Hamelin Bay is known for being frequented by stingrays. The best time to see them is in summer when the water has less seaweed and is calmer.
Visit in the morning between 9 am – 10 am for your best chance to see them.
Besides the stingrays, the bay is also perfect for some early morning snorkelling if you have the energy for it after yesterday's adventures!
Stop 2: Valley of the Giants
As suggested in its name, the Valley of the Giants is among the biggest timber giants on Earth.
Situated within the Walpole-Nornalup National Park and Walpole Wilderness, the incredible Treetop Walk is an internationally recognised nature-based tourism attraction.
From the path, you are offered spectacular views over densely forested hills.
As you descend to the boardwalks below, you'll be among giant eucalyptus trees that aren't found anywhere else on Earth and some have been standing for more than 400 years!
Opening times: Daily 9 am to 5 pm except for Christmas Day.
Admission: $21 for adults, $10.50 for kids
Stop 3: Peaceful Bay
After the wine escapades from the day before, you'll be grateful to wind down a little earlier today and enjoy the rest of your afternoon at Peaceful Bay.
The town itself is very relaxed and quiet and offers some tranquillity in-between Perth to Esperance.
You can go for a leisurely walk and join the Bibbulmun Track and walk all the way to Point Irwin.
Alternatively, you can four-wheel drive along the unsealed tracks through Walpole-Nornalup National Park and explore.
If you're in Peaceful Bay between July and October, head to Conspicuous Cliff and watch for breaching and tail-slapping whales as they pass by on their annual migration.
But hey, if you're absolutely wrecked and just need to chill, that's perfectly fine and this is the spot for it.
The best way to get around is to rent a car and explore on your own! We recommend Rental Cars, which has the largest range of vehicles for the best value on the market.
Day 7: Peaceful Bay to Albany
Distance: 213km
Time: 3 hours
You'll head back onto the main South Coast Highway only veering off for your stops. Again, not so much of an interesting drive. But at least you'll travel pretty fast on the route from Perth to Esperance.
Stop 1: William Bay National Park for Elephant Rocks and Greens Pool
If you can manage to get up early enough, it's worth trying to get to William Bay National Park early to see the glassy water at Elephant Rocks and Greens Pool.
The ginormous rocks resemble elephants paddling in shallow waters.
Allow yourself a couple of hours to explore the cove, go for a swim and just enjoy being among these giant rocks before continuing on your Perth to Esperance road trip.
Stop 2: Denmark Town
Swing by Denmark Town and stop in to top up on supplies or for lunch.
Meander through town and browse the unique stores or walk along the coast and take in some of Western Australia's beautiful coastline.
Stop 3: Torndirrup National Park
Continue your journey onwards to Albany and stop into Torndirrup National Park, a rugged coastal park known for its wave carved features including the Natural Bridge, The Gap and Blowholes.
You can just go to the lookouts if you're not feeling too energetic. Go fishing, surfing or take on one of the walking trails through here if you fancy a hike.
Torndirrup National Park is a great stop on a Perth to Esperance road trip if you love the wilderness.
Stop 4: Two Peoples Bay Nature Reserve
I can't imagine you've gotten enough of the coast along this journey from Perth to Esperance, so let's add another beauty to the mix.
Two Peoples Bay is a special place as it serves as the home to the critically endangered Gilbert's potoroo and the endangered noisy scrub-bird, both of which were presumed extinct until being rediscovered at Two Peoples Bay.
Gather some information about the Reserve at the visitor centre, walk along the Heritage Trail or head to Little Beach – a gorgeous white sand beach guaranteed to provide a moment of peace in your day.
Stop 5: Albany Wind Farm for sunset
For sunset, head to Albany Wind Farm which offers impressive views of the eco-friendly turbines set on the coast.
Stop 6: Albany
After this big day of driving and exploration, you'll finish up in Albany Town for the night.
Albany has many historically significant sites as it was the last port of call for troopships departing Australia in the First World War. You can also visit the National ANZAC Center to learn about the history.
Along the Albany foreshore is a full-scale replica of the Brig Amity, which brought the first settlers and convicts to Albany in 1826 on Christmas Day.
You can climb aboard and go below the decks to follow the story of the Amity's journey from Sydney to King George Sound.
Day 8: Albany to Bremer Bay
Distance: 163km
Time: 1 hour 45 minutes
Before beginning today's drive, you'll spend the first half of the day exploring a bit more of Albany in the south west of Australia.
From there, you'll head back onto the main highway before navigating off towards Bremer Bay.
Stop 1: Albany Farmer's Market
If this day happens to fall on a Saturday, stop by the Albany Farmers Market.
You'll find local producers selling fresh fruit and vegetables together with organic meats, ostrich, venison, yoghurt cheeses, olive oils and flowers.
There's also musical entertainment that adds to the lively atmosphere!
Stop 2: Dive the former HMAS Perth II Wreck
Known as one of the best wreck dives in Western Australia, this wreck was scuttled in 2001 and now has extensive coral and sponge growth.
The wreck is 133 long with its deepest point at 36m. The dive is suitable for novice divers to technical divers as well so book your dive in ahead of time.
If you're into diving, this is one of the coolest spots on a Perth to Esperance road trip.
Stop 3: Middleton Beach and Ellen Cove
If diving isn't your thing, you can go to Middleton Beach and Ellen cove to enjoy a leisurely picnic, go swimming or enjoy the playground facilities.
The Norfolk pine trees are perfect for relaxing under and the Ellen Cove Boardwalk leads you around the coast to the port and is the ideal viewing location for whales between June and October.
Stop 4: Bremer Bay
Stock up on any supplies you'll need for the next couple of days before setting off for Bremer Bay.
Considered one of the best places in the world to see orcas in the wild, the largest known congregation of orcas in the southern hemisphere gathers here in Bremer Bay from January to March.
Whale watching cruises are available to take you out to see them up close.
If you're lucky, you may also see sperm whales, pilot whales and sunfish during this period.
Travellers in Bremer Bay from July to October might see southern right whales as large numbers congregate here to calve.
So if you're a whale-lover, plan your Perth to Esperance road trip around whale season!
Day 9: Bremer Bay to Esperance
Distance: 416km
Time: 5.5 hours
Today offers a nice big driving day to get you all the way to Esperance! Driving through the national park on the way out of Bremer Bay will offer some beautiful forest landscapes.
From there, it's back onto the main highway for a speedy drive to our final destination, Esperance!
READ MORE: Check out these great things to do when you are in Esperance!
Stop 1: Fitzgerald River National Park
Fitzgerald River National Park is one of the largest and most botanically significant national parks in Australia. Here you'll find nearly 20 per cent of the flora species in Western Australia.
The park has a variety of landscapes from rolling plains, rugged peaks and headlands to crystal clear bays and inlets. You can also spot southern right whales here in the winter.
With many wonderful walks to choose from with varying lengths and difficulties, you can spend just the morning or even half a day here exploring Fitzgerald River National Park.
For those with more time for this road trip, you can set up camp and spend a couple of days enjoying the various walking trails and water activities.
Entrance fee: $15 per vehicle for up to 12 occupants
Stop 2: Pink Lake
This salt lake was historically known for its vibrant colour. But, unfortunately, Pink Lake hasn't been pink since 2007!
The now white lake is still a nice stop if you want to read about it and understand the science behind pink lakes and why this one no longer has its colour.
Another option for seeing a pink lake is the famous Lake Hillier on Middle Island off the south coast of Western Australia. You can book a boat tour from Esperance to Middle Island to see the phenomenon, as this lake is still pink.
Stop 3: Esperance
Continue your Perth to Esperance road trip to the final stop! After the long drive, you'll want to wind down and stretch out your legs.
For accommodation, it's best to book just one night in Esperance town and then spend the next couple of nights in the national park if you enjoy camping.
Head to the Esperance Visitor Centre to pick up a map for Cape Le Grand National Park and for more interesting information about Esperance town.
Stop 4: Twilight Beach
After you've checked in to your accommodation in Esperance, drive over to Twilight Beach for sunset on the south coast and to chill on the beach. The beach is protected and often frequented by dolphins.
The drive along Twilight Beach Road is also really beautiful (if you're still up for more driving).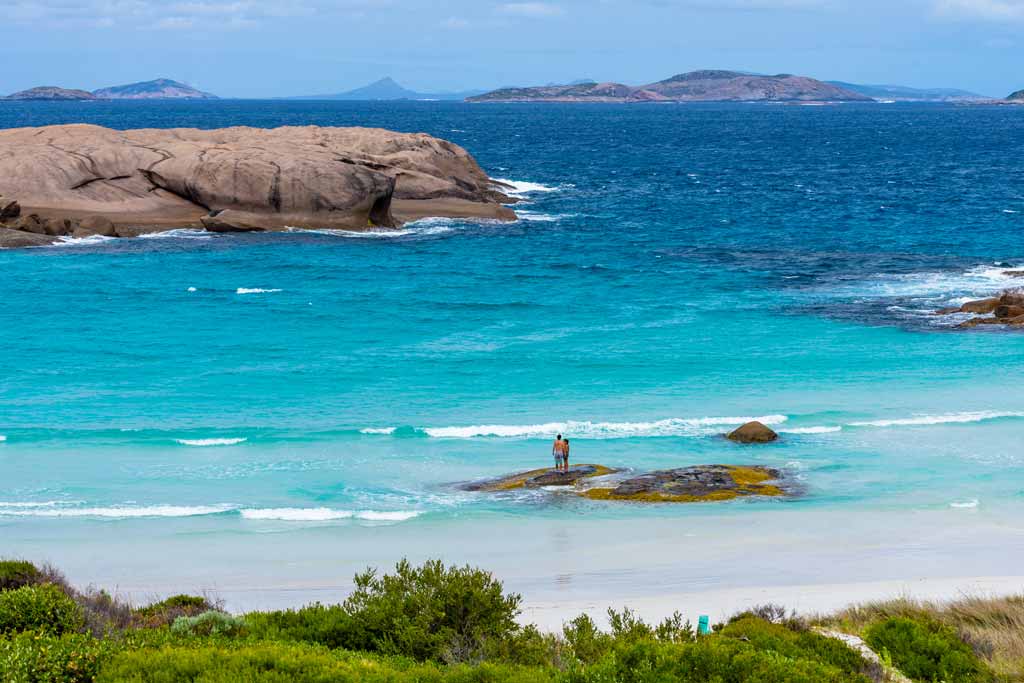 Day 10: Esperance to Cape Le Grand National Park
Distance: 50km
Time: 45 minutes
Head a little further east and drive towards one of the best spots on this Perth to Esperance road trip.
Stop 1: Surf in Esperance
Before leaving Esperance town, drive along the Great Ocean Drive in Esperance and stop at West Beach, Chapman's Point, Second Beach, Fourth Beach or Twilight Beach for a quick surf. Even if you don't surf, these beautiful beaches are great for a swim.
Stop 2: Esperance Stonehenge
While it's not one of the most spectacular sights to visit in Esperance, it's pretty awesome to be able to see a full life-size replica of Stonehenge in the southern hemisphere.
The replica in Esperance allows you to see Stonehenge as it was in 1650 BC before its destruction.
Visit the website to read more about it!
Opening hours: Daily, 9 am – 3 pm
Admission: $10 for adults, $5 for kids
Stop 3: Cape Le Grand National Park
Those iconic photos of kangaroos lazing on a white sandy beach are taken right here in Cape Le Grand National Park.
Settle into your campsite at Le Grand Beach or Lucky Bay campgrounds. Both have gas barbecues, picnic tables, toilets and water. Booking is essential and should be done online here.
Day 11: Cape Le Grand National Park
There's plenty to do in the national park and you could easily laze about and spend a good 4 days here if you like.
The national park features sweeping heathlands, rugged coastal peaks and arguably one of the best beaches in the world.
Hike Frenchman Peak and take in the magnificent views from the 262m summit.
Head down to Lucky Bay where kangaroo friends frequent and laze about. Lucky Bay has also been titled the whitest beach in Australia and you'll see why when you get there.
Climb around Whistling Rock and listen out for the whistling sounds in the rock. This is also an awesome place for photos near Lucky Bay.
Or simply enjoy solitude and get the beach to yourself at Cape Le Grand Beach, Little Hellfire Bay or Thistle Cove.
There is also another beach called Hellfire Bay, though locals claim Little Hellfire Bay is even better. Either way, there is no shortage of beautiful beaches here.
Finish your Esperance road trip at one of your favourite beaches in the national park before heading back into Esperance town to stock up on supplies for the trip home.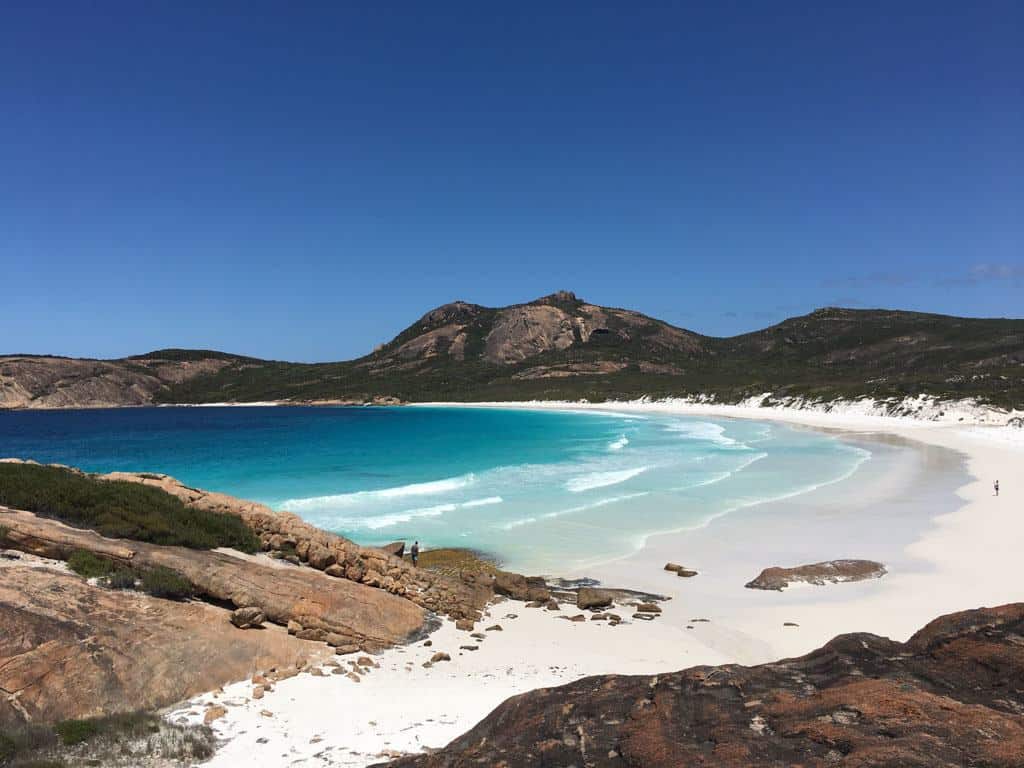 Day 12: Esperance to Perth
Rather than taking the long coastal road trip back to Perth, take in the road inland which will save you over 500km of driving and can be done in a day.
Make sure you stop at Wave Rock on the way. Wave Rock is a natural rock formation shaped like a wave and stands at around 15m high and 110m long.
This is a great way to break up the drive up, stretch the legs and take some fun photos at Wave Rock!
Between Wave Rock and the beautiful beaches and national parks, you'll be ending your Perth to Esperance road trip with a bang.
That wraps up your Perth to Esperance road trip and back!
The south west coast of Australia is full of so many incredible sights, but it's not as touristy as the east coast. A Perth to Esperance road trip is definitely one of the best road trips in the country, so add it to your bucket list.
Make sure you bring a camera to capture some of the most amazing beaches and scenery in Western Australia and don't forget to comment and let us know if this tops your road trips of all time.
DISCLAIMER: Some of the links in this article are affiliate links, which means if you book accommodation, tours or buy a product, we will receive a small commission at no extra cost to you. These commissions help us keep creating more free travel content to help people plan their holidays and adventures. We only recommend the best accommodations, tours and products that ourselves or our fantastic editorial team have personally experienced, and regularly review these. Thanks for your support, kind friend!