From exploring the biggest caves in the world to relaxing on palm-fringed beaches or checking off a visit to a UNESCO World Heritage Site, here's our list of the absolute best things to do in Vietnam!
We've been lucky enough to spend more than a decade travelling the world almost non-stop. And a lot of people ask us, of everywhere we've been, which is our favourite country.
Without hesitation, we can honestly say Vietnam is.
This long nation in Southeast Asia is a wealth of culture, activities, good food and amazing people. No matter how much time you spend there you could never run out of great ways to enjoy Vietnam.
Don't underestimate this place. We spent 7 months travelling this amazing country, getting as off the beaten path as possible, and we still didn't manage to do everything here.
But don't stress if you don't have 7 months, because we're going to help you narrow down just what you should do on your trip to visit Vietnam.
Check out our ultimate guide to travelling in Vietnam!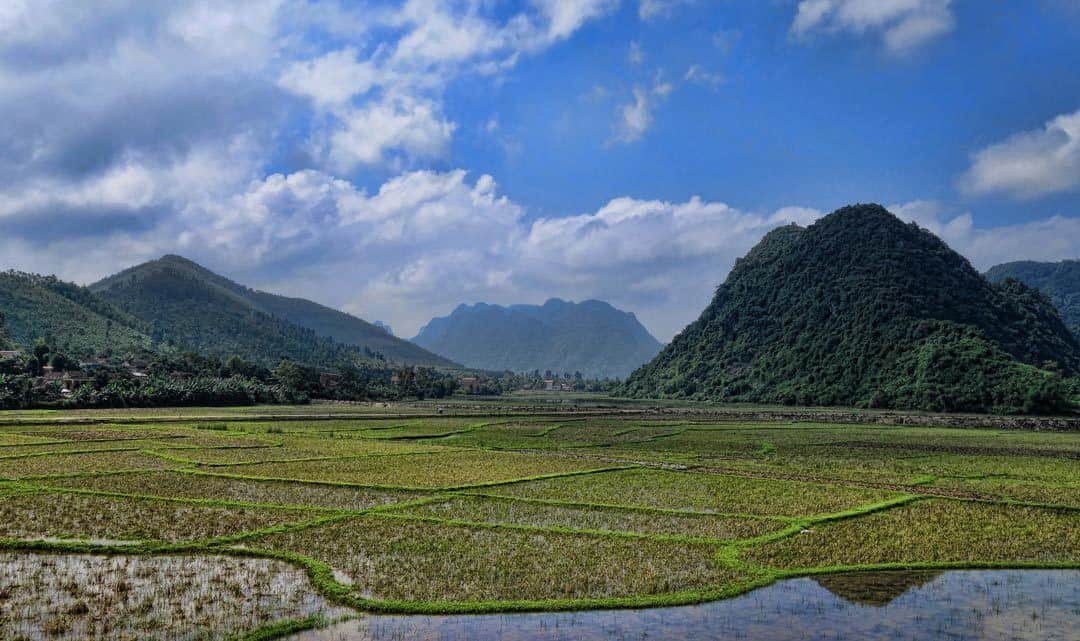 The Best Things to Do in Vietnam
If you already have your travels here planned, or even if you're just thinking about taking a trip and are curious what to see and do, then this list is for you.
From the famous Halong Bay, to the historic spots like the Cu Chi Tunnels, to the various Pagodas, beaches, UNESCO World Heritage Sites, and more, here are some of the best things to do in Vietnam.
1) Explore the World's Biggest Caves in Phong Nha
Of everywhere we went in Vietnam (and we went to a lot of places), Phong Nha is by far the coolest and best destination in Vietnam for a number of reasons.
Other than being an absolutely beautiful place, an adventure hot-spot and filled with friendly locals, it also has some of the largest caves in the world.
These caves are a real natural wonder located inside the Phong Nha-Ke Bang National Park, and they will blow your mind. They are so amazing it was easy to list the park as a UNESCO World Heritage Site.
There is a cave experience for everyone's budget. You can explore Hang Son Doong, the world's biggest cave, on a 4-day expedition at $3000 per person.
Or camp the night in Hang En, the world's third-biggest cave, at about $300 per person.
Still out of your price range? Don't worry, there's plenty of other great caves to check out in Phong Nha, such as Tu Lan Caves, Paradise Cave, Phong Nha Cave, Hang Over and Dark Cave.
Visiting these caves can last anywhere from an hour day trip up to five days.
On the more adventurous ones, you can expect to cross rivers, hike through pristine jungle, be surrounded by limestone mountains and spend time in ethnic minority villages.
On the easier ones, you can tour the caves by boat or by following boardwalks. Don't miss joining a guided tour of a few of the highlight caves.
The caves are an unmissable part of the Vietnam sightseeing experience.
Make sure you head down to Phong Nha on your trip and explore as many of the caves as possible! But if you can only pick one, be sure to visit Hang Son Doon as it is truly remarkable!
Check out our post about exploring the world's biggest cave, Hang Son Doong!
2) Check Out Vietnam On a Motorbike
Buy a bike, rent a bike or hire a driver. Either way, seeing part of Vietnam on a motorbike is the way to go.
There is something about having the wind in your face and taking travel slower than usual, and riding a motorbike is the best way to do it in this country.
It's almost become a rite of passage for a lot of travellers, and you'll find hundreds of people riding motorbikes the length of the country from Hanoi to Ho Chi Minh City.
But those in the know head up to Northern Vietnam to see the most striking scenery in the country.
Another popular trip is the Hai Van Pass between Hoi An and Hue, which will give you epic ocean views and a dose of war history too.
If you are not a confident rider head to the beautiful town of Dalat and sign up with a company called Easy Riders. They offer trips (from one day to one week) as a passenger on one of their large bikes with an experienced rider.
When you are booking in town just make sure it is the legit company, not a fake one, as there are plenty of them around Dalat.
Check them out on Get Your Guide to book the real version.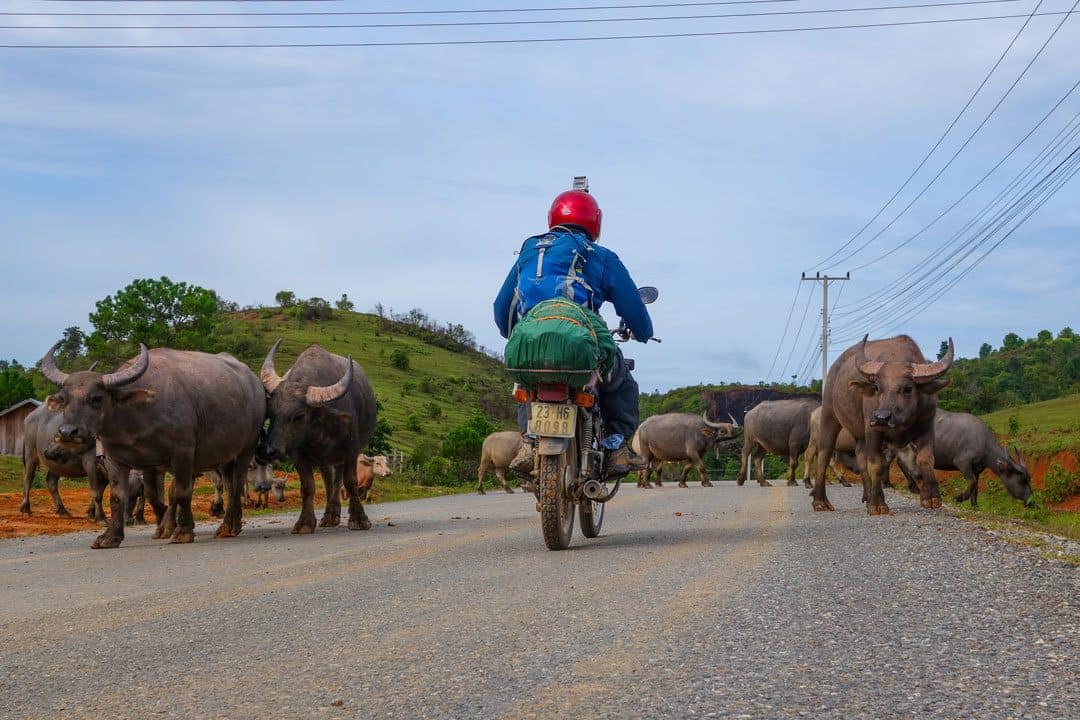 3) Learn About the Local Culture
No trip to Vietnam would be complete without spending a decent amount of time learning about the local culture.
A fascinating mix of beliefs and customs has resulted in Vietnamese culture developing a fascinating mix of spiritual elements.
All it takes is spending a bit of time in the temples or with people in their homes to discover how beautiful it really is.
Do yourself a favour and spend some time immersing yourself into the local culture, and you will gain a much deeper understanding of the Vietnamese people.
The best way to do this is to do a homestay, visit different temples and try to head out to some ethnic minority villages. The north is particularly good for this.
4) Cruise Along the Mekong Delta
Down in the south of Vietnam is the incredible Mekong Delta, which is one of the most fascinating and culturally remarkable places in the country.
This is where the mighty Mekong River finally spills into the ocean, and Vietnamese villagers have flocked to this delta to fish, trade produce and sell goods.
The best way to explore the Mekong Delta is to take a cruise or a boat ride and enjoy the river life. If you only have a few hours do a boat tour from Can Tho or Ben Tre.
If you have more time you can take a 4-8 day cruise from Vietnam to Cambodia along the Mekong Delta. Experience the Mekong Delta the way you want to.
Get up early and don't miss the floating markets. It is great to see all the hustle and bustle of life on the Mekong Delta.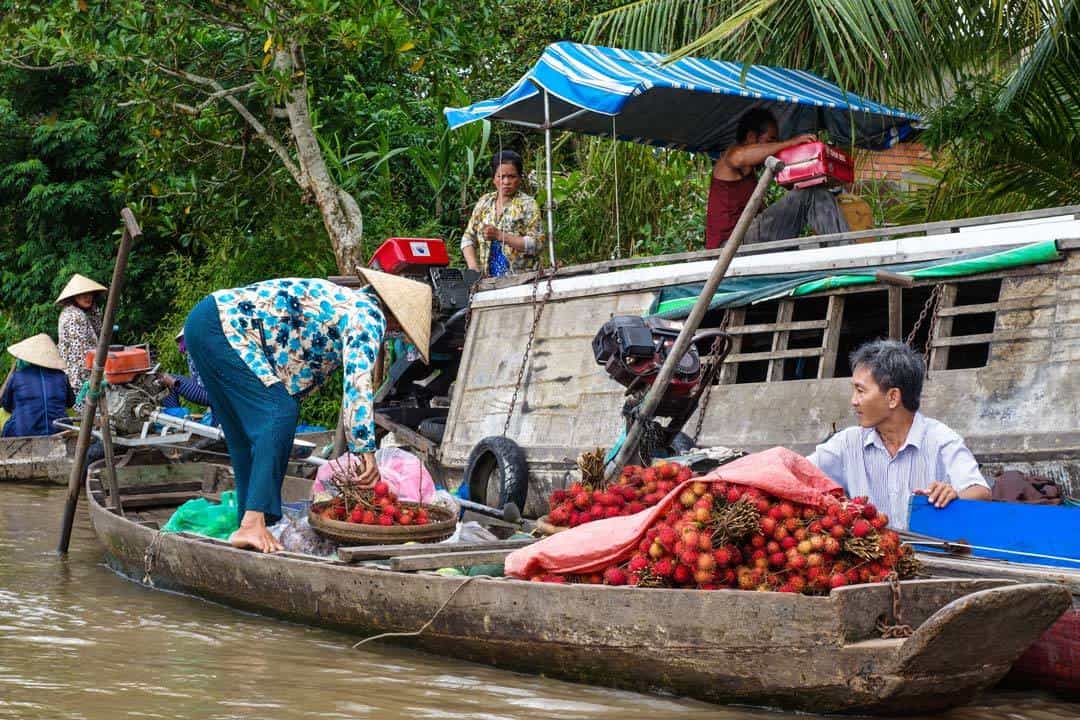 5) Sandboard Down the Sand Dunes in Mui Ne
There's no need to travel to Namibia or Australia to try your hand at sandboarding – one of the best things to do in Vietnam is to try this fun activity in the south!
Just 20 minutes out of Mui Ne you will find the Red Sand Dunes. These are gorgeous and nice to see, but head out further to the White Sand Dunes for the real fun.
These dunes are more breathtaking, especially at sunset. You can hire a sandboard from one of the local vendors and have fun going down the semi-steep slopes or book a tour on Get Your Guide.
6) Walk the Streets of Hoi An Ancient Town
The ancient port town of Hoi An in Central Vietnam is one of the most beautiful spots in the country, and should not be missed on your list of what to do in Vietnam!
Yes it is a busy tourist town, but that is for good reason. Hoi An is a photographer's dream, with a mix of eras and styles from the Japanese Covered Bridge to the colourful French colonial buildings to wooden Chinese shophouse to Vietnamese tube houses.
It is simply gorgeous!
Get up early and explore the streets of the ancient town when the locals are up and the tourists are still sleeping.
READ MORE: Don't miss our blog post on all the great things to do in Hoi An.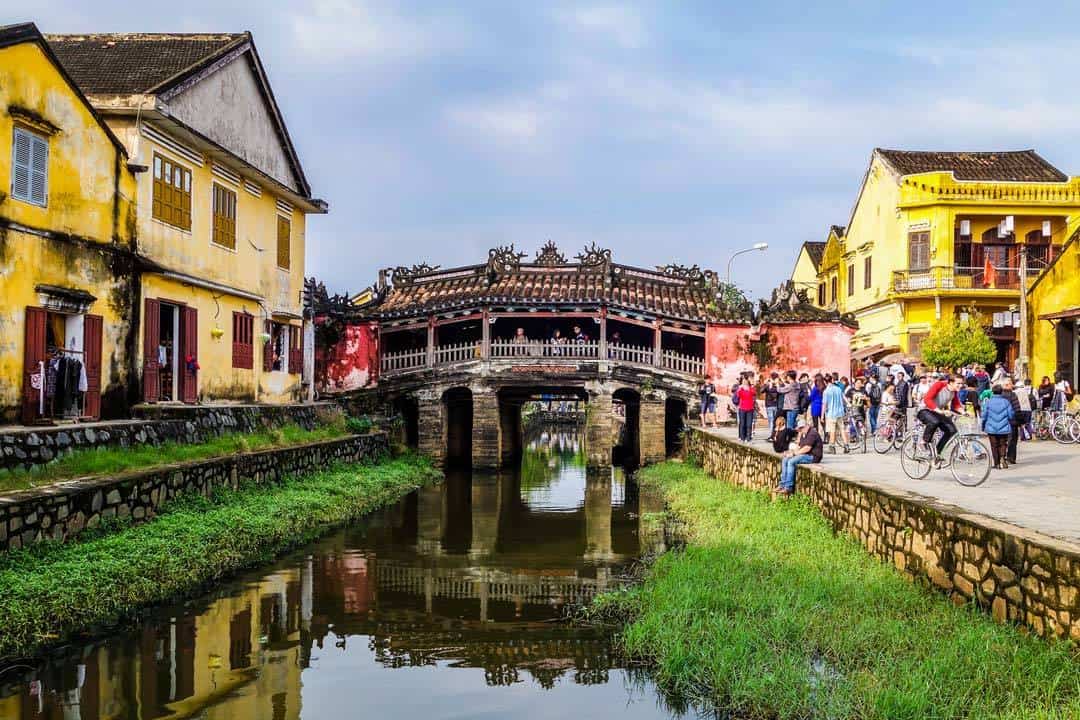 7) Go on a Vespa Tour
As we've already mentioned, one of the most valuable ways to experience Vietnam is to learn about the culture. A great way to do this is to join a guided tour in some of the coolest places in the country.
There's an amazing company called Vespa Adventures, and they run different Vespa tours in Hoi An, Hanoi, Hue and Ho Chi Minh City.
We did one of their tours in the ancient town of Hoi An, and it was such an amazing way to experience how locals live.
Hopping on the back of a Vespa scooter and riding along the banks of Thu Bon River stopping off at local villages we met local families, learnt about weaving, boat building and of course ate lots of local dishes.
We highly recommend this Vespa tour in Hoi An, Ho Chi Minh City or anywhere else in the country. Check out our article on our experience.
Riding a Vespa is a fun and popular way to explore many of the Vietnam tourist attractions.
8) Relax on the Stunning Beaches
With Vietnam's very long coastline, it's no surprise that it has some beautiful beaches.
Don't miss out on the opportunity to relax and enjoy the white sands, crystal clear water and fresh seafood coming to you without having to get off your chair.
While Vietnam isn't as famous for its beaches like other Southeast Asia countries (think Thailand, Philippines and Indonesia), there are still some epic spots.
Check out An Bang Beach or Cua Dai Beach which are both in Hoi An, or Doc Let Beach on the Hon Khoi Peninsula.
Some of the best places to visit in Southern Vietnam are the Con Dao Islands.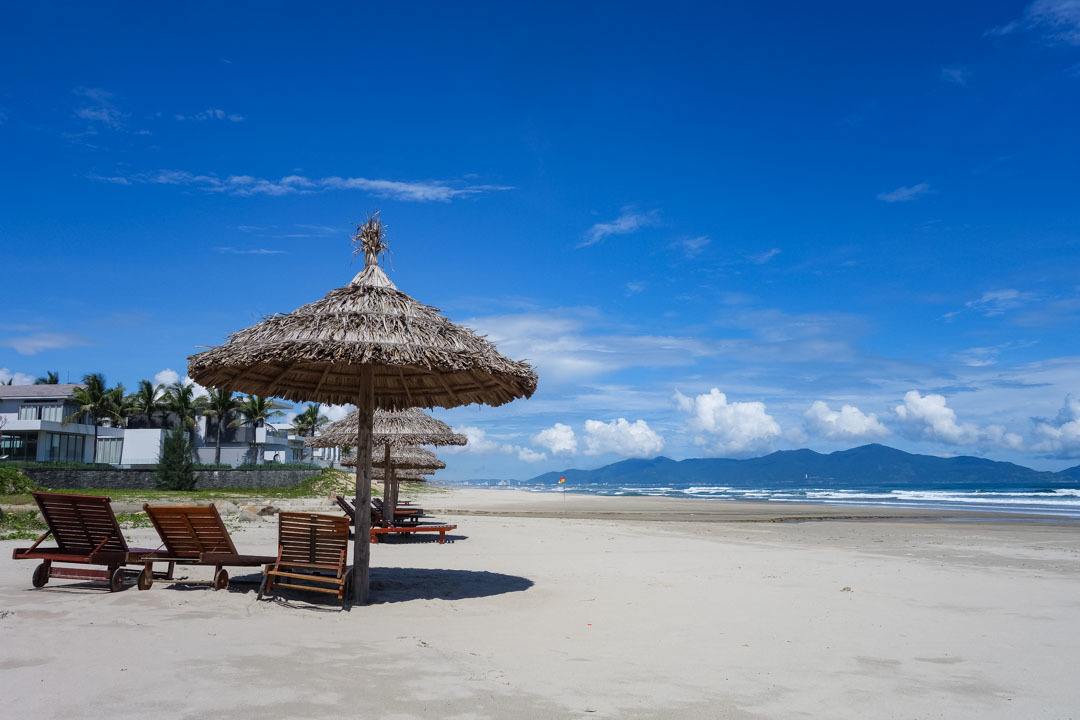 9) Explore the My Son Ruins
The My Son Hindu Sanctuary is a great example of the ancient Champa civilisation and is the longest inhabited archaeological site in Indochina.
While it's not as large or as impressive as another UNESCO World Heritage Site of Angkor Wat, it's still pretty epic, and should be added to your itinerary of places to visit in Vietnam.
This UNESCO World Heritage Site is located near the town of Hoi An. Unfortunately, it once was a lot larger than it stands today but during the Vietnam War some of the site was destroyed.
It is still definitely worth visiting and learning about this era. Visiting the Hindu-themed ruins you will be impressed by the beautiful stone sculptures, temples and tower ruins.
Do yourself and book into a tour if you'd like to get the most out of your time there.
Want to read more about this interesting place? Check out our article on the My Son ruins.
10) Cycle Through the Rice Fields in Mai Chau
Mai Chau is a gorgeous, bucolic village only a few hours from Hanoi.
If you're looking for a wonderful and unique experience, don't miss doing a homestay here and riding around the rice fields.
This is a beautiful way to see rural Vietnam and learn about farming and traditional-style textile manufacturing. This is a popular area for visitors, and once you get there you will see why.
You can stay in a traditional homestay or an eco-lodge and tour around the area. Trust us, you won't get bored in Mai Chau.
Rent a bicycle and ride through the rice fields, trek up in the Pu Luong Nature Reserve, explore some caves, take a boat ride on Hoa Binh Lake and do some shopping for local textiles.
The best time to visit the area is from October to April as these months are the most pleasant. Check out our article if you would like to read more on Mai Chau.
11) Go For a Trek in Sapa
If you want to go trekking in Vietnam, Sapa is one of the best places to visit.
With rolling rice terraces of the Muong Hoa Valley and mountains towering all around, you can spend weeks here hiking in the area.
There are treks to suit everyone's time frame and fitness level. You can learn about the hill tribes in the area such as the Hmong, Tay and Dao tribes.
They will happily greet you when you hope off the bus, offering their services for trekking or a homestay. Stay a day to chill out in Sapa after your activities.
This place is gorgeous to relax and take in the mountain fresh area. Spoil yourself and get a hotel with a view of the mountains.
Check out our article if you would like to read more about trekking in Sapa.
12) Explore The Dong Van Plateau In Northern Vietnam
This part of Vietnam really blew us away. Not many tourists get up here, and we have no idea why not.
It is some of the most beautiful landscapes we saw in all of Southeast Asia.
With rolling mountains to rice terraces to beautiful canyons, this place is different around every corner. Hire a motorbike and ride the area yourself or jump on a tour but this trip will be one you will not forget.
The Dong Van Karst Plateau is located high in the mountains in the very north of Vietnam, on the border of China. The area offers stunning narrow valleys with rocky mountain ranges.
In 2010, UNESCO recognised this area as a geological park. This area spreads out over 2,3000 square kilometres over the districts of Meo Vac, Dong Van, Yen Minh and Quan Ba.
It is believed that the rocks of Dong Van contain fossils from up to 600 million years ago. Because you are travelling near the Chinese border, you do need a permit which you can get from Ha Giang.
We recommend giving yourselves at least a week to properly explore the area.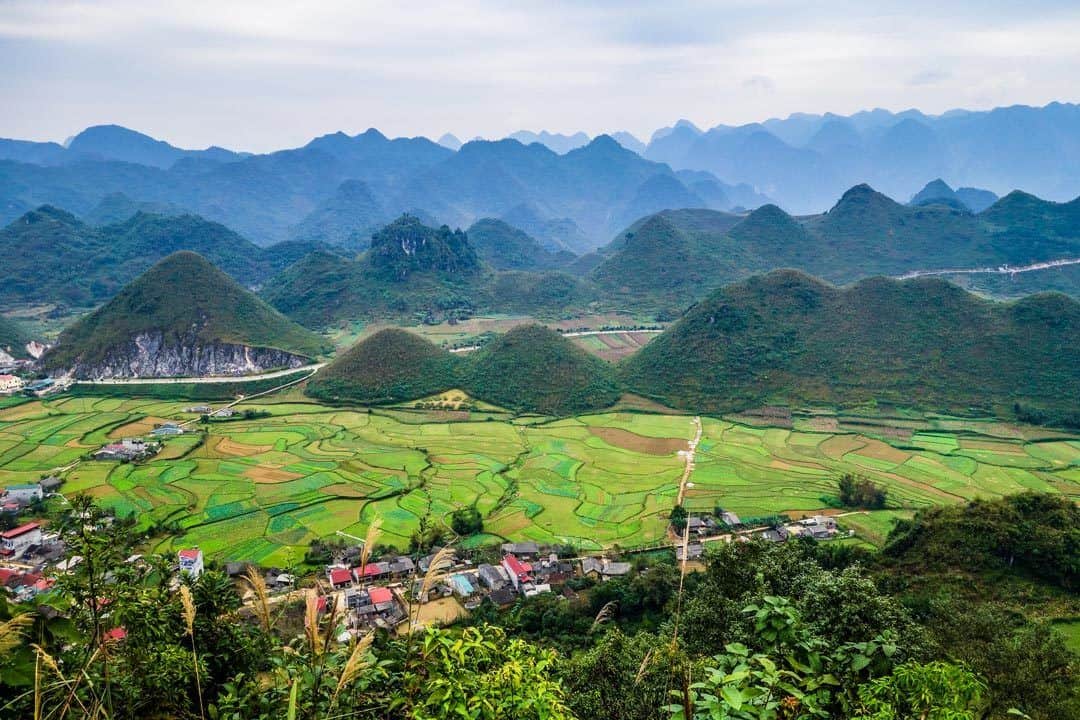 13) Visit the Sunday Ethnic Minorities Market at Bac Ha
This market isn't just an ordinary Vietnamese market – The Bac Ha Market is the biggest ethnic market in Vietnam and takes place only on Sundays.
All the ethnic tribes such as Flower Hmong, Black Dzao, Nung, Phu la and Tay, come together to sell their goods.
The market is a living museum full of colours and beautiful smells. If you are interested in learning more about the tribe's cultures, traditions and unique customs, we recommend hiring a guide to translate your questions.
Please be respectful and ask permission if you want a photo of a person, as some locals do not like it. They are not there for your entertainment, they are just going about their lives.
It's really a spectacular place and can be done as a day trip from Sapa.
14) Learn About the War History in the DMZ Area
This one is for history lovers. The Vietnamese Demilitarised Zone was an area where a dividing line between North and South Vietnam was drawn as a result of the First Indochina War.
You can visit the DMZ Area include Ben Hai River, Hien Luong Bridge, Hamburger Hill, Khe Sanh Combat Base, Truong Son National Cemetery and learn about what happened in the area by visiting a small museum.
You will visit the Vinh Moc Tunnels and see how people lived underground during the war.
You will learn all about the Vietnam War that had a big significant impact in the area also.
You can get a tour out of Hue or Phong Nha.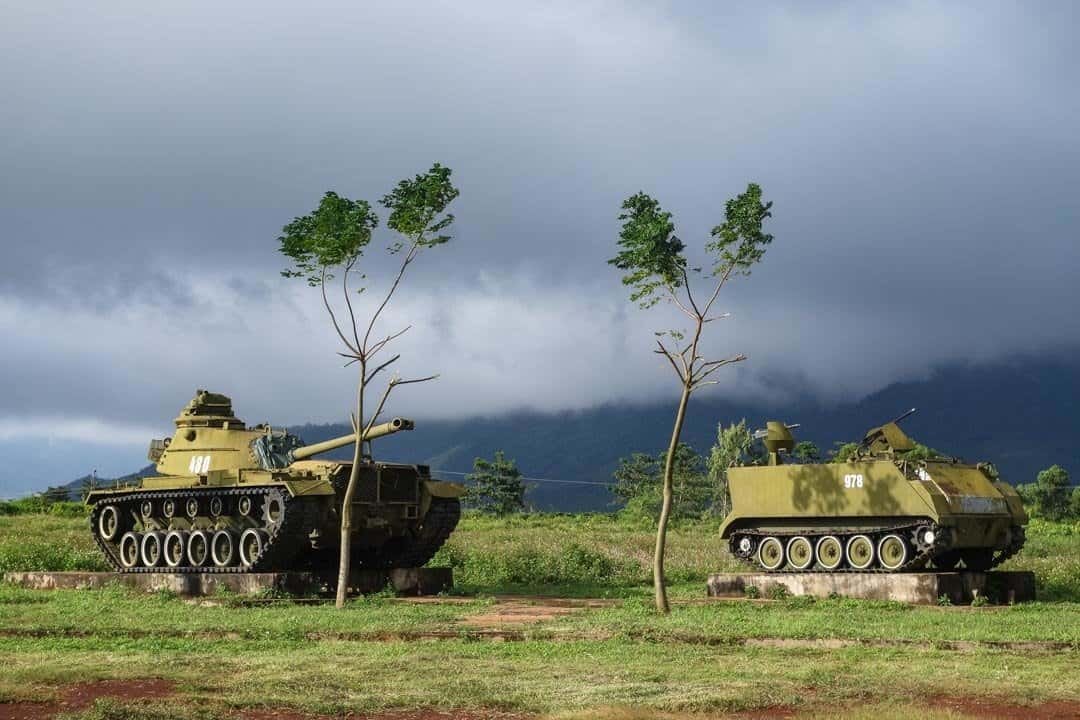 15) Visit a Local Produce Market
This is one of those things to do in Vietnam that you can tackle in just about every town, and is something that will probably become part of your daily routine anyway.
Vietnam has amazing local produce, and staring at the huge array of fruits and vegetables is sure to leave you not only feeling hungry but also curious about all the different kinds!
Visiting a local produce market is a great way to see how everyday life works in Vietnam. Go for a wander, check out all the different fruits, savouries and other creations, and chat away to the locals.
The best way to really explore a produce market is with a local guide. They will explain how the market is set up, they can translate for you if you have questions for the sellers and farmers and they can explain the weird and wacky foods.
Once you get your head around them, make sure you always have a pocketful of Dong with you whenever you're out and about to stock up on fresh fruit for the day!
No matter how short your stay is, make sure to visit a local market – it's a Vietnam must see!
16) Learn to Cook Vietnamese Food
Immersing yourself into the local food is a great way to learn more about a country, and luckily Vietnamese food is some of the best in the world!
There are cooking classes all over Vietnam, and each class will offer different dishes and experiences.
There is such diversity in the food from North to South, so you can literally do one in each major town and you'll probably learn a new dish each time.
Some of the cooking classes will take you to the markets where you can buy the ingredients and cook it together. We love this type of class as you get to be part of every step of the process.
Coming home from your holiday and knowing how to cook some different dishes is a win, and will ensure you're forever popular with your friends and family!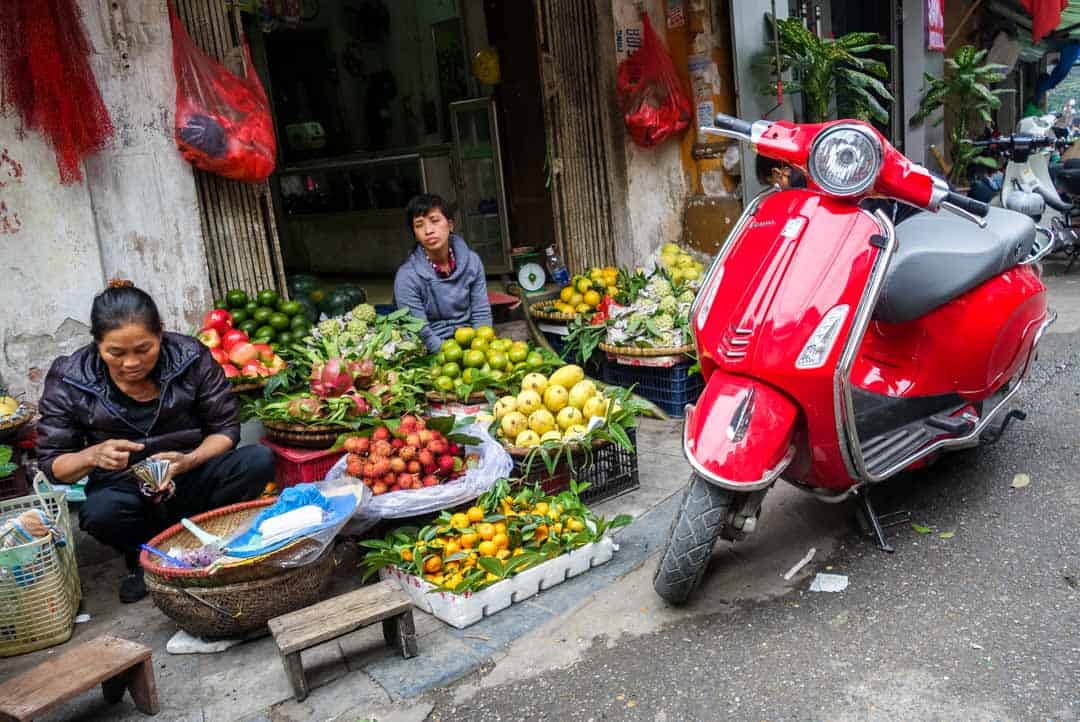 17) Go on a Junk Boat Cruise in Halong Bay
Halong Bay is probably one of Vietnam's most well-known attractions.
Bai Tu Long Bay is part of the famous Halong Bay, a UNESCO World Heritage Site. This bay is a lot quieter and peaceful compared to the more popular spots in Halong Bay.
With limestone towering islets everywhere you look, Bai Tu Long Bay is best to be seen over a few days on a cruise.
Kayak on the waters, walk on the islands and visit a local village to learn about how the locals live and about the area of Halong Bay.
Make sure to save at least one day to go on a cruise down Halong Bay, it's one of the best things to see in Vietnam.
18) Have Coffee With a Local
You go on holidays to see the new place but also to meet people. Don't be shy to chat with locals. Practice your Vietnamese and they can practise their English.
It is amazing who you can meet by putting your guard down sometimes. It can be hard to have a real, authentic experience with locals when you travel, so do everything you can to be open to genuine invitations.
If you are interested there are local university students in the bigger cities that have groups where you can contact them for a time and day.
They love chatting with foreigners, just buy them coffee or lunch. Check out Saigon Hotpot in Ho Chi Minh City or Hanoi Kids in Hanoi.
19) Go Canyoning in Dalat
If you want to get your heart racing, go canyoning in Dalat!
We loved this experience in the beautiful French colonial city of Dalat. This day tour is full-on, with waterfalls up to 18 metres high to rappel off, rock slides to slide down and even an 11-metre cliff jump.
It is an action-packed day. The company we went with were so professional and are highly trained.
You can go all out and do it all, or challenge yourself and do what you feel comfortable with
The staff are there beside you the whole time. It is a day you will not forget.
If you're not the adventurous type, don't worry! Go on a tour of Dalat, it's interesting an interesting ancient town on its own.
Want to read about our canyoning experience? Check out our article on canyoning in Dalat.
20) Be Adventurous With Your Food
One of the most interesting parts of travelling is trying all the different food available, and Vietnam isn't any different.
Every country has their own styles and twists on cuisine, so be adventurous and give them a try. Vietnamese food, in general, is very delicious, but it can also be pretty unusual.
We had duck blood soup when we were in Northern Vietnam and surprisingly it was not too bad.
We also tried monkey brains in Phong Nha, which was a local delicacy served for very special occasions.
If you are invited over to a locals house for a meal, give all the food a try, even if it's something you'd never normally try.
If you want to learn more about the local cuisine, take a food tour in Ho Chi Minh City, Hanoi, Da Nang or Hoi An.
21) Enjoy Hanoi or Ho Chi Minh City from a Rooftop
Hanoi and Ho Chi Minh City are both very busy cities, and one of the best places to admire the hustle and bustle is from above on a rooftop.
We found a lot of great bars and cafes near busy intersections or roundabouts and watched day turn into night with the thousands (and thousands) of scooters zipping around below.
It was crazy watching all the traffic take on the large roundabout and the occasional scooter bumps which causes some quick arguing, looking and then they move on.
Check out the EON51 Restaurant and Lounge on level 50 of the Bitexco Financial Tower in Ho Chi Minh City. This has a great view, but you do pay for it with the prices of the drinks and food.
The rooftop views in Ho Chi Minh City and Hanoi are some of our favourite things to see in Vietnam.
Check out our epic list of things to do in Hanoi.
22) Explore the Marble Mountains in Da Nang
As Vietnam's third-biggest city, Da Nang is quite awesome. So don't be surprised if you end up spending more time here than you expected.
Da Nang is in the centre of the country and has a wonderful cultural vibe about it. The food is amazing, the people are cool, and there's so much to see and do!
If you love beaches, then Da Nang has you covered. There are long stretches of sand perfect for swimming, surfing or sunbathing, and you can find lots of cheap hotels and resorts along them.
The peninsula near Da Nang is a great spot to spend the day, with lots of cool little hikes and coves to check out.
But one of our favourite places in Da Nang is the Marble Mountains, a collection of hills that have been mined for marble over the years and are now left rising out of the flat city landscape.
You can climb them to visit some temples and get gorgeous views over Da Nang. Definitely worth visiting!
Don't forget to include this highlight on your list of what to see in Vietnam!
Don't miss out on all the best things to do in Da Nang in our detailed article.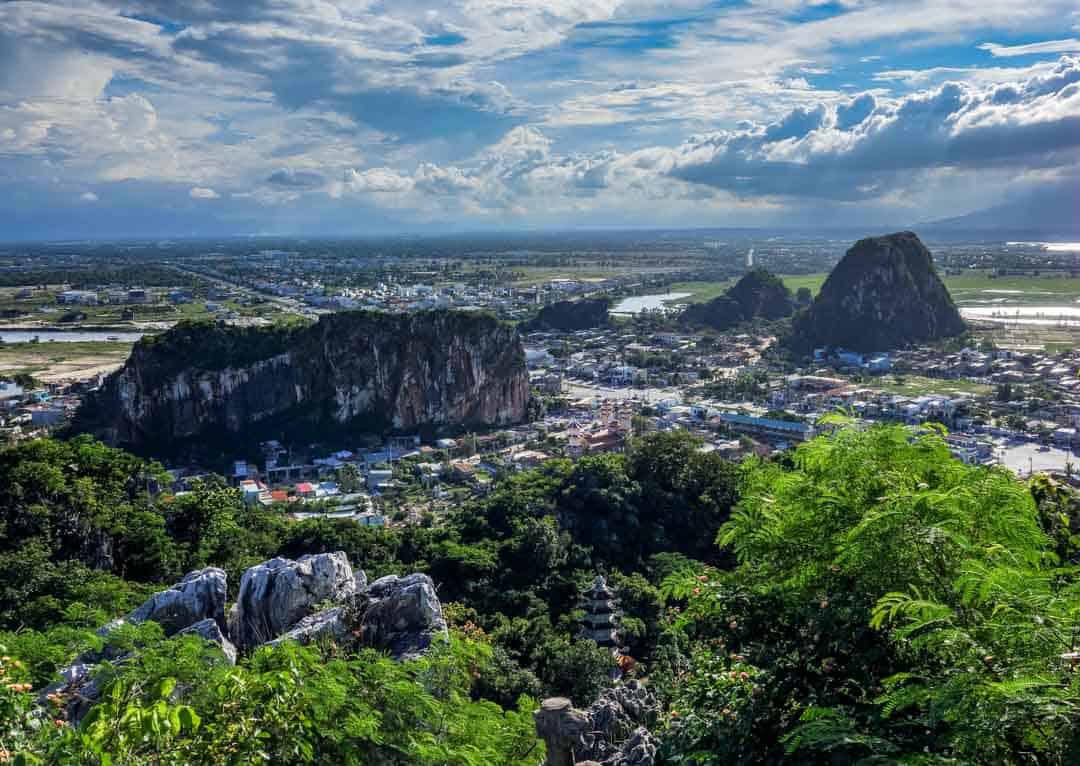 23) Stay in a Traditional Homestay
You can do this all over Vietnam. From the Mekong Delta in the south to Sapa in the north, there are homestays in a lot of rural areas.
A homestay is where you stay with locals in their home (not a hotel or bed & breakfast) and you share incredible experiences with them, such as eating together as a family.
You can help the family cook their meals or be involved in daily chores just by showing an interest is why the locals do this.
The Vietnamese people love showing visitors how they live and are happy to teach you more about their culture.
24) Get Lost In The Imperial City In Hue
Visiting the Imperial City in Hue will teach you a huge part of the history of Vietnam from when the Nguyen Dynasty ruled the country from 1802 to 1945.
For its history and beauty, the Imperial City is a UNESCO World Heritage Site and well worth the visit.
The Imperial City is a massive complex which features hundreds of monuments and ruins that will take you back in time.
They have a 3D story video which explains a lot and we highly recommend you watch. If you love learning about history, get a guide and go deep into the past.
READ MORE: Check out this post on our recommendations for the best things to do in Hue!
25) Go Trekking or Biking in Bach Ma National Park
If you want to get out of the city and be in nature check out Bach Ma National Park. With amazing hiking and biking, these scenic trails will amaze you.
You can organise tours out of Hue or hire a scooter, explore the national park for the day or more, and enjoy the trails that are offered from easy to difficult levels with various lengths.
There are fresh ponds to take a dip, hike to waterfalls and great view spots to take a break and take in the beauty of the national park.
Be prepared for wet conditions and make sure you have some good shoes.
There are also a fair number of leeches so check your body for these suckers.
We highly recommend spending a few days in the national park and even getting a guide so you get the best out of the area.
For nature enthusiasts, this is one of the more popular Vietnam attractions.
26) Visit Vietnam's Giant's Causeway at Ganh Da Dia
We bet you didn't know Vietnam had its own version of Ireland's Giant's Causeway! Well, now you do, and it's definitely one of the most unique places to visit in Vietnam.
Ganh Da Dia in the south is a spectacular rock formation that juts out from the coast and into the sea.
Thousands of hexagonal basalt columns come out of the earth in mesmerising ways, often with not even a millimetre of space between them.
It's pretty off-the-beaten-path, so chances are you'll have this entire site to yourself.
Want to visit for yourself? Check out our article about Ganh Da Dia to find out how!
27) Visit the Cu Chi Tunnels Outside of HCMC
Visiting the Cu Chi Tunnels is one tourist attraction in Ho Chi Minh City a lot of people will visit.
It is best to hire a guide and learn about the underground network of tunnels located about 40 kilometres from the city in the Cu Chi District.
The tunnels were used as hiding spots, hospitals, living quarters and supply routes by Viet Cong soldiers during the Vietnam War.
The narrow passages give a harrowing insight into what it must have been like for the soldiers and families that had to live through such a horrific time in Vietnam's history.
You can do this on your own out of Ho Chi Minh City, but we recommend going on a guided tour through Get Your Guide.
28) Learn About the Hill Tribes in Kon Tum
Most tourists skip the cool town of Kon Tum near the border of Laos, and it's a real shame because those that do make it out here are always blown away!
The city of Kon Tum itself is quite a standard city, with lots of traffic and little parks along the river you can get away from the noise. But the true highlights are when you escape the downtown area.
Rent a bicycle or motorbike and head out into the hill tribe villages and farmlands, where you will come across some of the coolest ethnic structures in Vietnam!
The hill tribes around Kon Tum are known for their huge Long Houses, steep-pitched wooden shelters that act as community halls.
If you're really lucky you might come across a traditional ceremony as well. Kon Tum is well worth a visit if you're looking to get off the beaten path in Vietnam.
29) Visit a Pagoda
There are so many beautiful and iconic pagodas to visit throughout Vietnam. These pagodas are full of traditions, beliefs and interesting architecture, with the stunning decorations.
Some of the most famous pagodas to visit are Perfume Pagoda and Tran Quoc Pagoda in Hanoi, One Pillar Pagoda near Ho Chi Minh City, Thien Mu Pagoda in Hue, Linh Phuoc Pagoda, Linh An Pagoda and Van Hanh Pagoda in Dalat.
When visiting the pagodas please be mindful to respect the culture. Walk into the pagodas on the right and exit on the left.
Take off your shoes when entering, be respectful of people praying, don't point your feet at the alter or statues and dress conservatively, so no hats, no exposed shoulders and no shorts.
The best time to visit a pagoda is in the morning before the crazy crowds come in.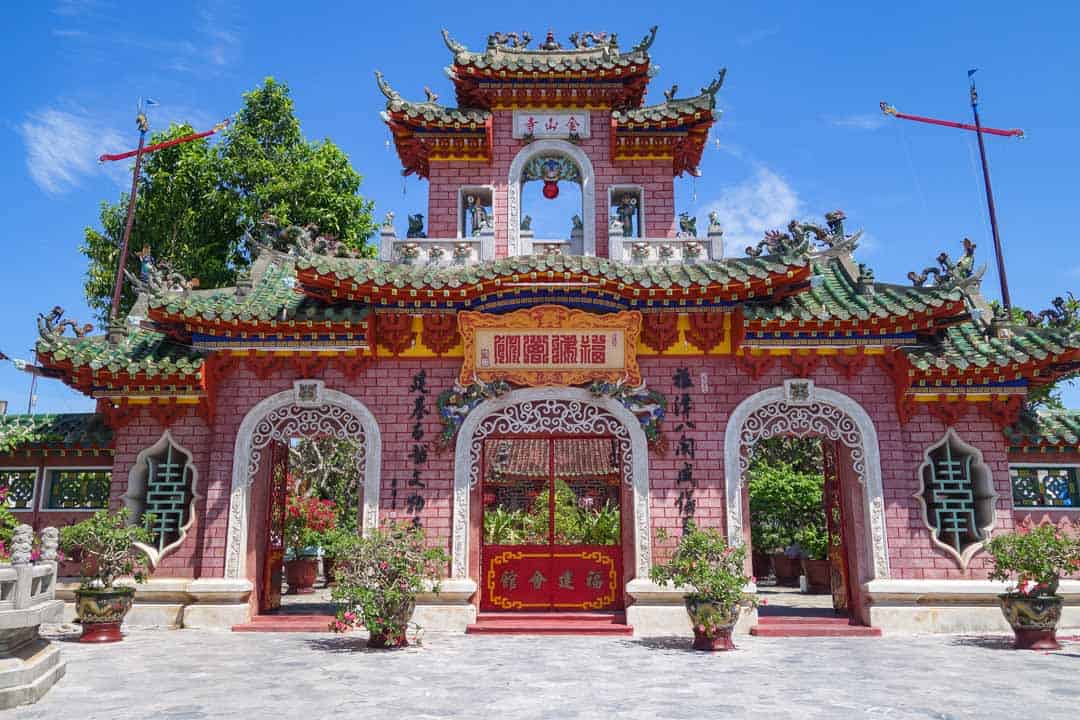 30) Take a Boat Ride Down Trang An in Ninh Binh
We had heard about Ninh Binh as we were travelling north and lots of travellers had said to stop in, so we did.
It is worth it.
Ninh Binh is a decent-sized ancient town an hour south of Hanoi, surrounded by rice fields and hundreds of limestone cliffs.
People call the area the "Halong Bay On The Land", and once you get there you'll understand why. Huge Karst mountains rise out of the earth, with gorgeous rivers and lakes wrapping around them.
One of the most popular tourist attractions in Ninh Binh is the Trang An Grottoes, a UNESCO World Heritage Site. The grottoes consist of a handful of caves and rocks towering out from a large network of canals and lakes. It is so beautiful.
We chose to do a tour of this one over Tam Coc, as we have heard Tam Coc is crowded and has become quite commercial over the years.
Ninh Binh really is a marvellous place to visit in Vietnam.
31) Climb the Highest Mountain in Indochina in Sapa
Why not give yourself a challenge and climb the highest mountain in Indochina, Mount Fansipan. Located just outside of Sapa, this hike will challenge you. But you will be rewarded with stunning views.
We did the hike in one day. But if you do not hike often, we recommend doing the hike in 2 days. This way you can camp at the hut up the top and enjoy sunset and sunrise all alone.
You can book tours through most of the guesthouses in Sapa. There is a gondola now that goes to the top. So if you are not a hiker, you can still go to the top of Mount Fansipan to enjoy the views
Each way on the gondola takes approximately 15 minutes and will set you back 600,000 Vietnamese Dong per adult.
32) Go Scuba Diving in Nha Trang
Vietnam isn't known for being a diving paradise, especially with hotspots like Indonesia and the Philippines close by. But if you love getting underwater then there are some good spots to do it.
Nha Trang in the south is quite a popular place for Russian tourists. But if we are completely honest with you, it really isn't that nice.
It's busy and the beaches are quite developed. But there's a couple of good reasons you should go here anyway.
First of all the motorbike ride from Dalat to Nha Trang is amazing, and well worth checking out.
If you're a certified diver then once you get to Nha Trang why not head out for a couple of fun dives in the South China Sea?
We did two dives in Nha Trang and were pleasantly surprised by how good it was. We weren't expecting much, but it turned out to be really enjoyable, with a couple of caves to swim through and a decent amount of fish.
Check out our article about scuba diving in Nha Trang.
33) Take a Getaway to a Tropical Island
Vietnam has a number of beautiful tropical islands, which are all worthy of taking a relaxing island getaway to.
Phu Quoc is probably the most popular of these islands.
But we recommend that you check out Con Dao Island in the south. This is a quieter option compared to Phu Quoc.
Overall the Con Dao Archipelago is one of the most beautiful destinations in Vietnam.
You will find stunning mountains, thick canopies of forest and amazing marine life.
Yep, it is a diving paradise. If you are in the north check out Cat Ba Island, which is the bigger island of Halong Bay.
There are 3 lovely beaches located near the main town on Cat Ba Island and the gorgeous Cat Ba National Park for exploring.
[box] That's it! Have we missed anything? Did you find the list useful? Let us know in the comments below![/box]
DISCLAIMER: Some of the links in this article are affiliate links, which means if you book accommodation, tours or buy a product, we will receive a small commission at no extra cost to you. These commissions help us keep creating more free travel content to help people plan their holidays and adventures. We only recommend the best accommodations, tours and products that ourselves or our fantastic editorial team have personally experienced, and regularly review these. Thanks for your support, kind friend!