Trekking is a must when you visit Sapa – here are some tips for first-timers so you know what to expect when trekking in Sapa, Vietnam!
When I first came to Northern Vietnam a few years ago, I rode my bicycle across the border from China (with my husband, Stephen). We had heard great things about trekking in Sapa, Vietnam, which was only a short way to the west, but it was a damp, cold February.
The air was filled with mist so thick that we may as well have been cycling through cold soup.
"Next time…" we said, not wanting to climb mountains in those conditions.
This year, I'm spending a couple of months housesitting in Hanoi while Stephen travels to teach yoga. "Next time" is officially here and I knew I couldn't miss trekking in Sapa, Vietnam again.
Don't miss our new guide to Travel to Vietnam.
The Rocky Past of Sapa, Vietnam
Sapa is home to Vietnam's highest peak, Fan Si Pan, which tickles the clouds 3143m above sea level, keeping watch over the terraced rice paddies that line Sapa's steep valley walls.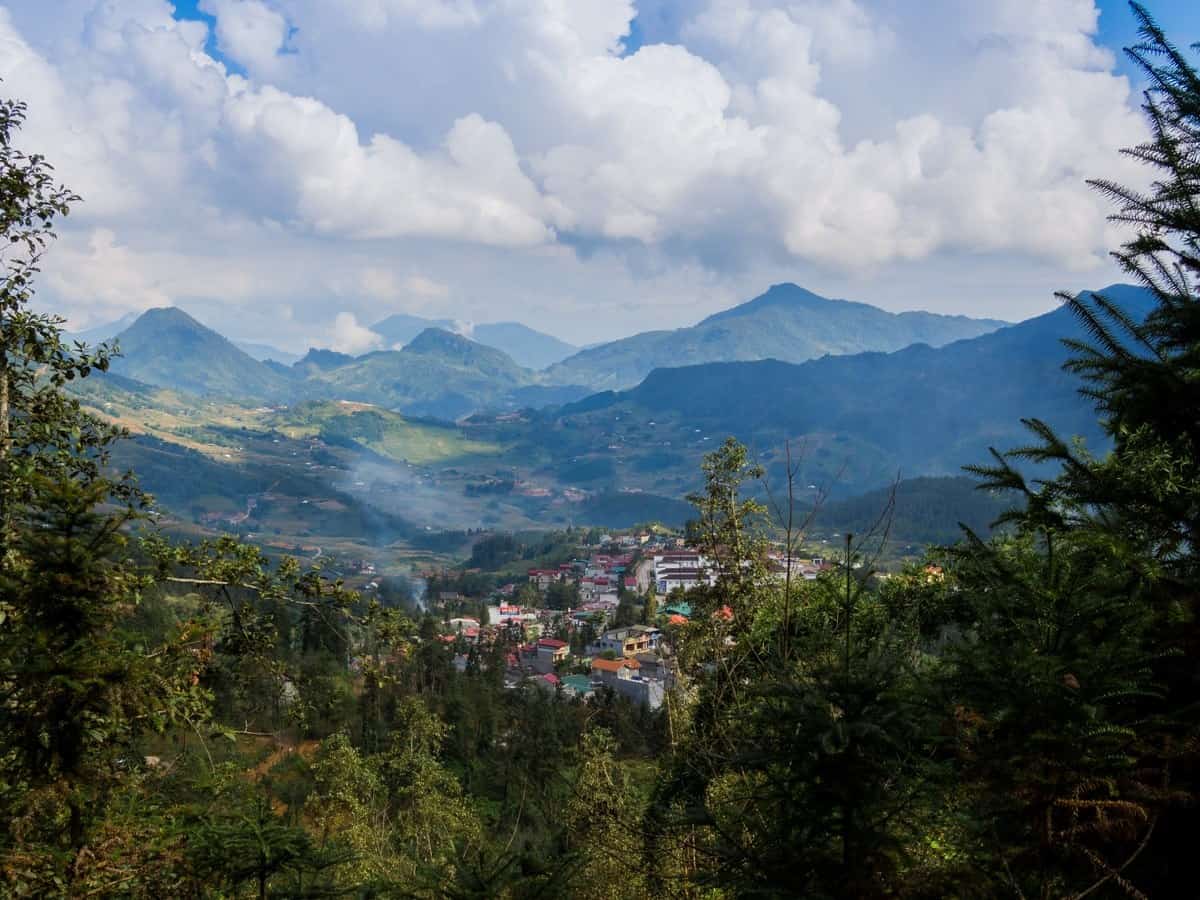 Home to several ethnic minorities, chiefly the H'Mong, the Dao, and the Dai, Sapa has been attracting trekkers since the early 1900s.
The French first developed Sapa town, the gateway to the region, as a hill station and cool summer escape from Hanoi's oppressive heat.
Their dominance in the area didn't last long, though. During the 1940s, Vietnamese independence fighters drove the colonists from the region, but not before the French bombed Sapa town, leaving nothing but ruins behind them.
It wasn't until the 1990s that redevelopment began in earnest and tourists started to flock back to the region. Now, trekking in Sapa is one of the biggest tourist activities in Vietnam.
Is Getting To Sapa, Vietnam Half the Fun?
Hundreds of signs advertising Sapa trekking tours embellish every available space in Hanoi's Old Quarter.
Though I usually travel independently, I soon found that organizing a trekking tour is the cheapest and most hassle-free option to go trekking to Sapa.
So with a little reticence about this whole "organized tour" thing, I started visiting travel agents to book a Sapa trekking tour.
Don't miss our tips and advice for trekking in Sapa below!
A couple of days later and $100 lighter, I await my ride to the train station to begin my trekking tour of Sapa, Vietnam.
A man on a motorbike pulls up precisely at 8:30pm to whisk me to the Hanoi train station, where we are met by a woman who hands me my ticket and points me to the right carriage on the correct platform.
I can't say I miss the fuss and hassle of haggling with taxi drivers and trying to negotiate the confusion of a strange train station on my own.
On the train, I am blessed with quiet cabin mates who flick off their reading lights and go to sleep just moments after the train creaks out of Hanoi.
Despite my excitement and the endless mini earthquakes from the uneven train tracks, I manage to squeak out a few hours of decent sleep before morning.
As the sun starts to rise, the train loudspeakers come on at full blast, playing ear-splitting Vietnamese pop to announce our imminent arrival in Lào Cai.
As much as I love to fully experience a culture when I travel, I'd be happy to never hear the shrill strains of Vietnamese pop again. Especially at 6 in the morning.
The train pulls into the station and a sea of tourists, both foreign and Vietnamese, pour out onto the platform. It's totally chaotic and I am once again relieved to be on a Sapa trekking tour.
A driver with a sign bearing my name waits for me just outside the doors. I am so glad I don't have to negotiate with a taxi driver while suffering from early morning brain haze.
Alternatively you can look at various online options at transport, such as Bookaway or doing a quick Google search.
READ MORE: Don't miss our guide on the best things to do in Vietnam.
Into the Clouds
My driver dropped me off at the Sapa market, where a tiny H'Mong woman dressed in traditional clothing was waiting for me.
I soon learned she was our local tour guide and trekking guide, also named Jane (though presumably, that's not what her parents call her).
In the market food court, I was given a bowl of tofu noodle soup for breakfast. It was possibly vegetarian, though the piles of mystery meat on every table in the market did make me wonder.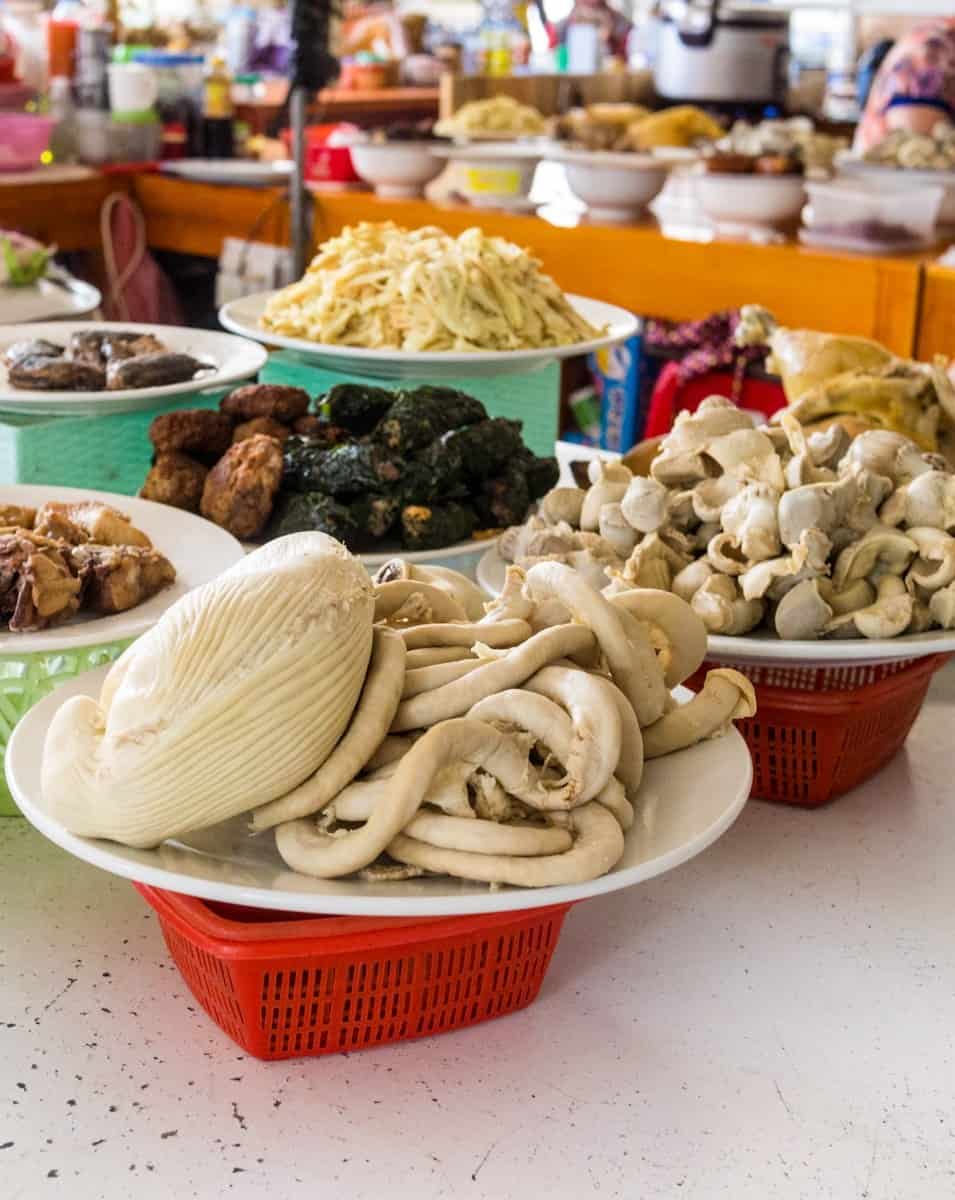 Nourishment being the priority, I slurped up the salty sour soup while my trekking tour companions arrived in small, yawning groups.
After breakfast, the gang of 15 who had gathered to go trekking in Sapa split into two groups and we set off up the backstreets and alleyways rising out of Sapa town.
After 5 minutes of hill climbing in the searing heat, we were all drenched in sweat and panting hard. After half an hour, I was questioning most of my life choices.
Why the hell did I decide to go trekking in Sapa? Will I make it over the mountain?
Is this what a heart attack feels like?
To give our guide her credit, she knew exactly when to stop to prevent fainting or major heart trauma.
As we reached the day's first real rest break, exposing a dramatic view of Sapa town far below, the clouds rolled in and rain started to drip out of the sky.
Nobody minded. We were all hot and sticky and happy for the "free shower", as Jane called it.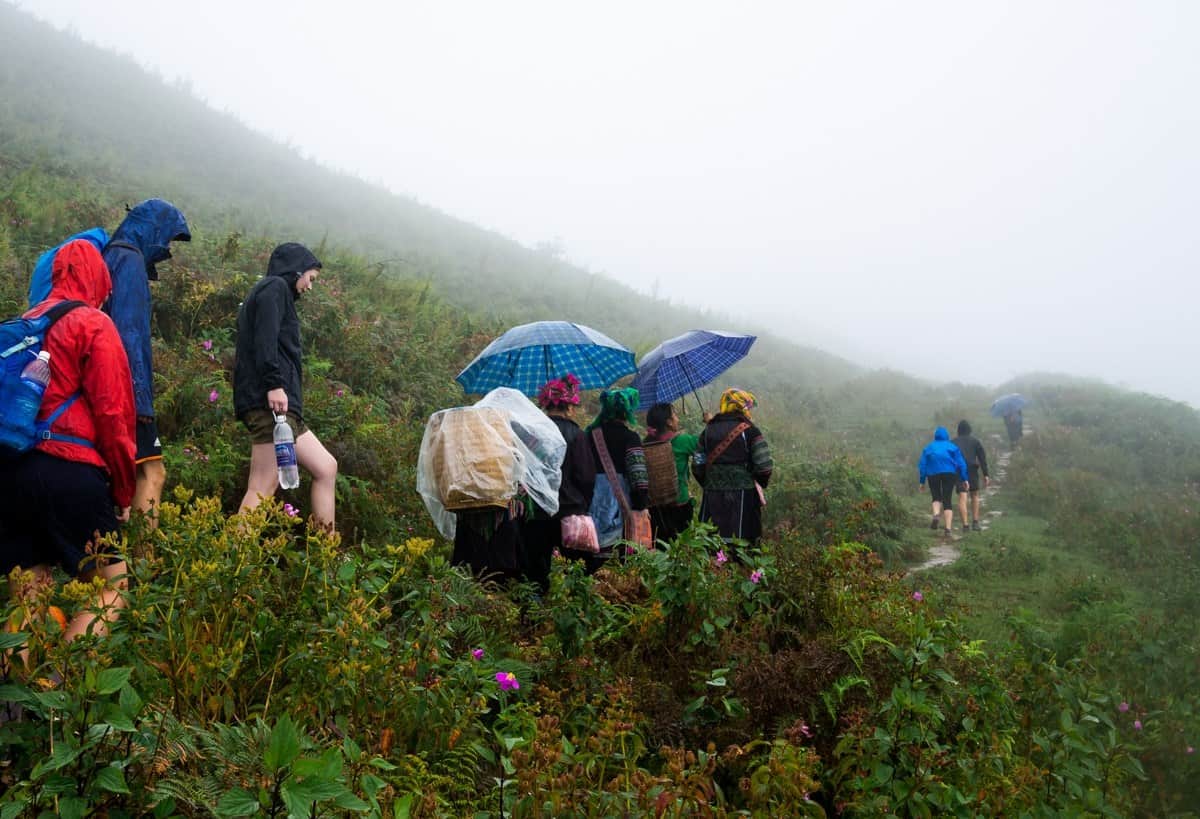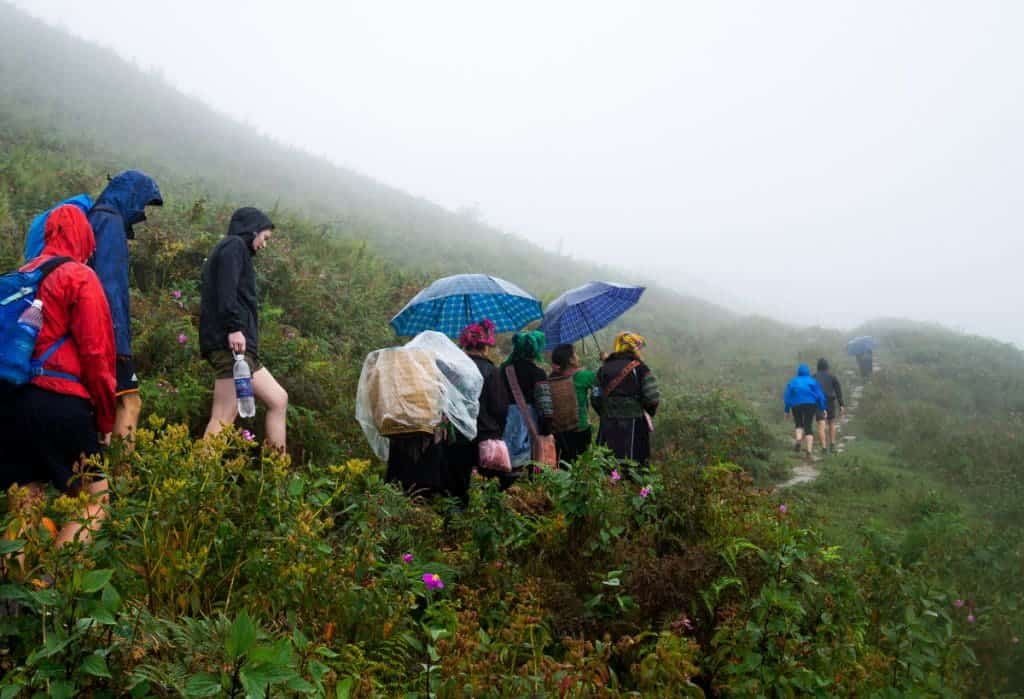 When the shower turned into a proper rainstorm, I was relieved to discover that the rain jacket I had quickly bought in the Sapa market that morning was actually waterproof as advertised.
Go With the Flow
Though we'd expected to trek all day with our group of seven, we kept crossing paths with the other trekkers we'd met at breakfast.
In contrast to the introspective vibe that had been developing in our group, the others were mostly laddish blokes on holiday from England, with posh voices and an Inbetweeners sense of humour (think sexual innuendo and fart jokes).
What had been a contemplative, cultural walk turned into a party.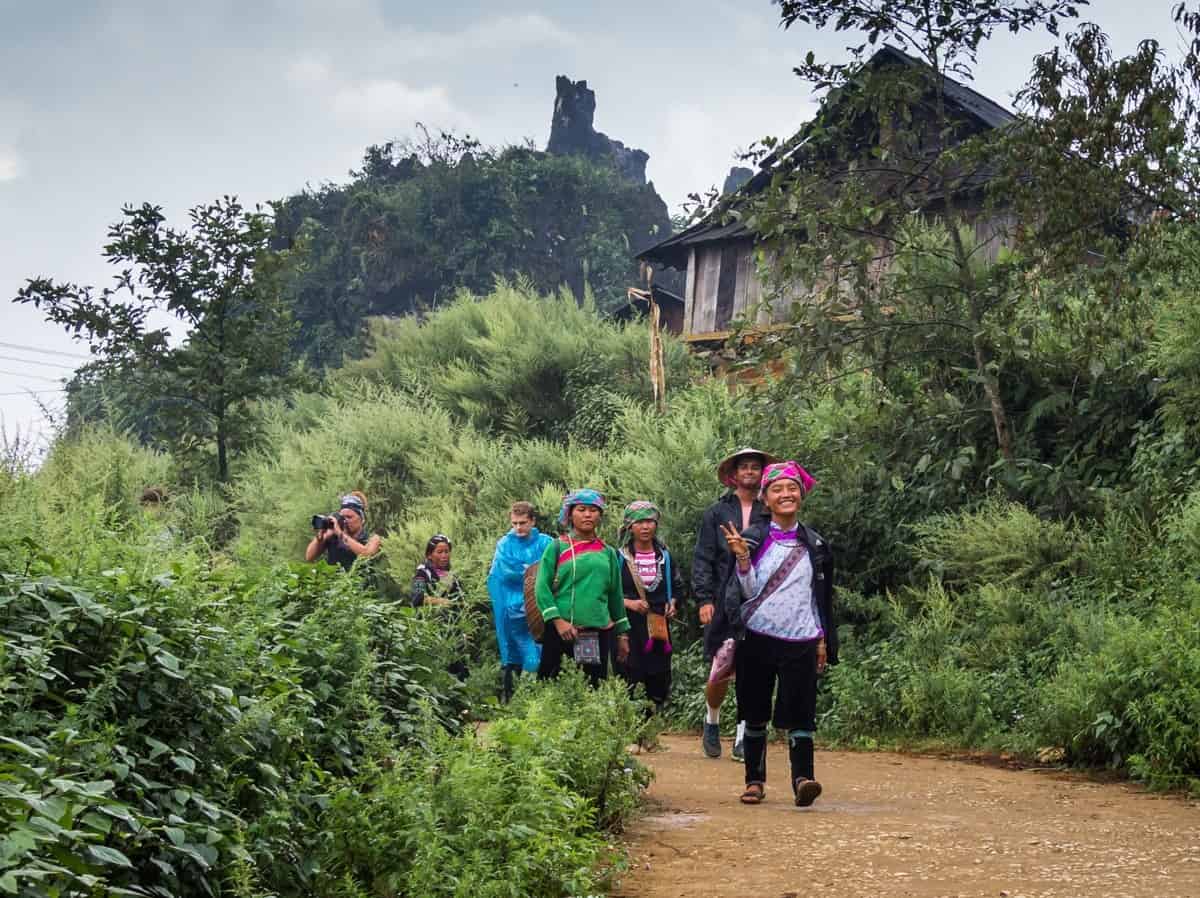 On a tour, you don't get to choose your companions. On a tour, it's best to leave your preconceptions behind and pack a "go with the flow" attitude instead.
More, More, More
"More rice? More rice? Have more rice? Have more rice!" It wasn't a question so much as a command — a very forceful command from our homestay host, Mao.
She had been around the entire table of 15 trekkers twice already, wielding her plastic rice paddle like a sword.
After a meal that had consisted of great mountains of tofu, pumpkin, green beans, bean sprouts, mushroom stir fry and, for the carnivores in the group, fried pork, more rice was exactly what we didn't want.
When it was my turn to get third helpings, I stretched my considerably long arms as far away from the tiny Mao and her plastic rice paddle as I could get.
"No," I laughed. "No, I won't eat it!!" A minute later, after I thought I'd escaped, Mao scooped up another half-cup of rice and plopped it into my bowl.
Once the rice was finally eaten, the rice wine came out, in a much-used plastic 1.5L water bottle. Once again, Mao could not be denied.
The 15 trekkers and our enthusiastic host downed shot after shot of the fiery clear liquid, each drink being preceded by a group chant of "Một hai ba, yo!!!" or "One, two, three, cheers".
A messy, drunken evening ensued. But the thing about messy drunken evenings at the end of a full day of trekking is that they invariably end early.
Most of us were snugly encamped under our mosquito nets by 8:30pm. Before 11pm, even the most foolhardy drinkers among us had turned out the lights and snored themselves to sleep.
Meet Cute
Not so early the next morning, we gather for a breakfast of thin pancakes with fresh local honey, bananas, and fried eggs. I eat as much as my stomach can hold, knowing we have another day of heavy exertion ahead.
The large group sets off together, winding our way down through the village and out along a narrow muddy track onto the sparsely forested slopes of the mountain.
We pass rice terraces and tiny wooden houses where piglets, baby chicks, and puppies play in the dirt. There are plenty of village children to meet, too.
Some kids are shy or indifferent to our passing. Others shout "Hello!" or come running out for a high five.
Slightly ahead of the group, I spot an adorable girl. "Xin chao!" I shout with a grin. She returns my smile and my greeting.
With her mother and brother watching over her, I bend down to say hello again and ask to take her picture. She strikes a perfect pose.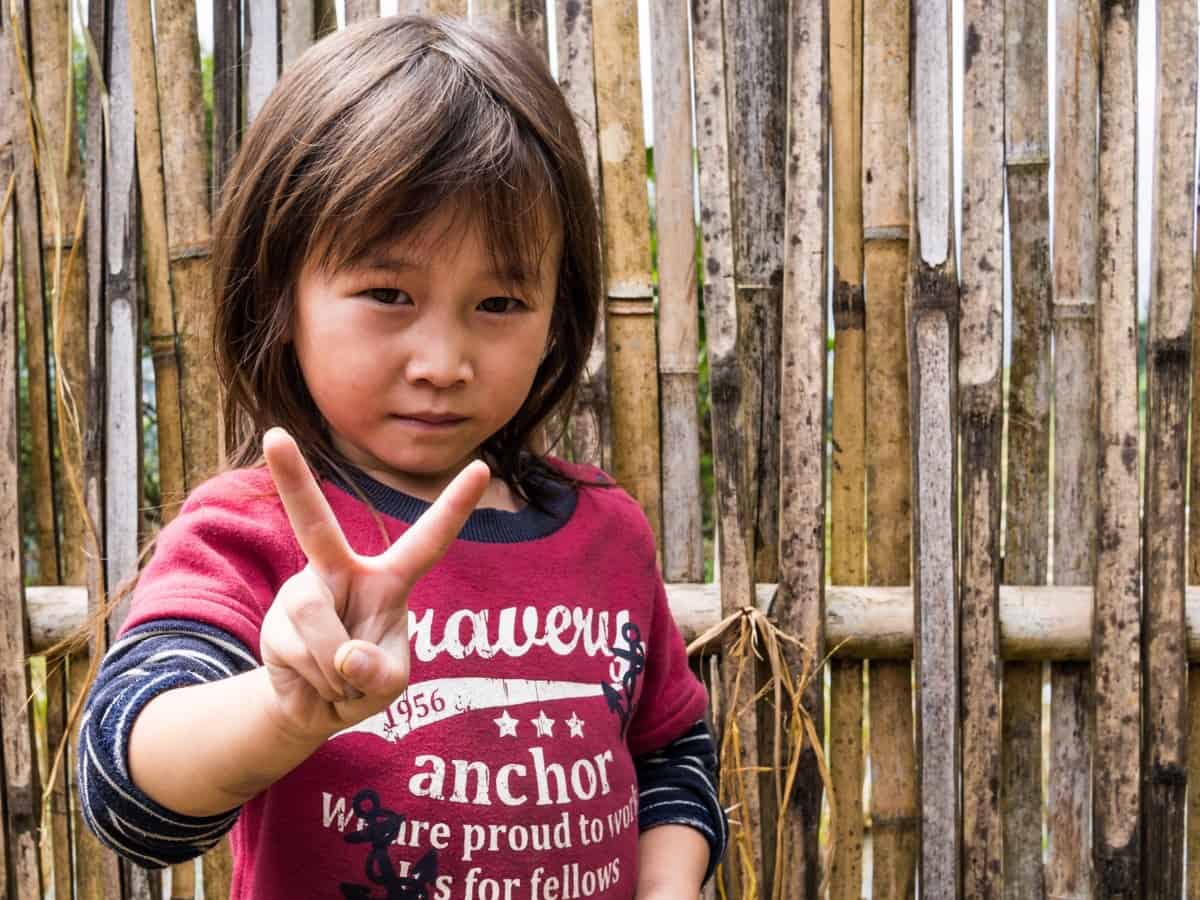 Life On The Road
Just before lunch, we part ways with the one-day trekkers. Suddenly, I feel less like a tacky tourist and more like the responsible traveller I aim to be.
Our streamlined group of five long-term travellers falls into an easy rhythm as the rice fields and endless purple mountains spread out before us.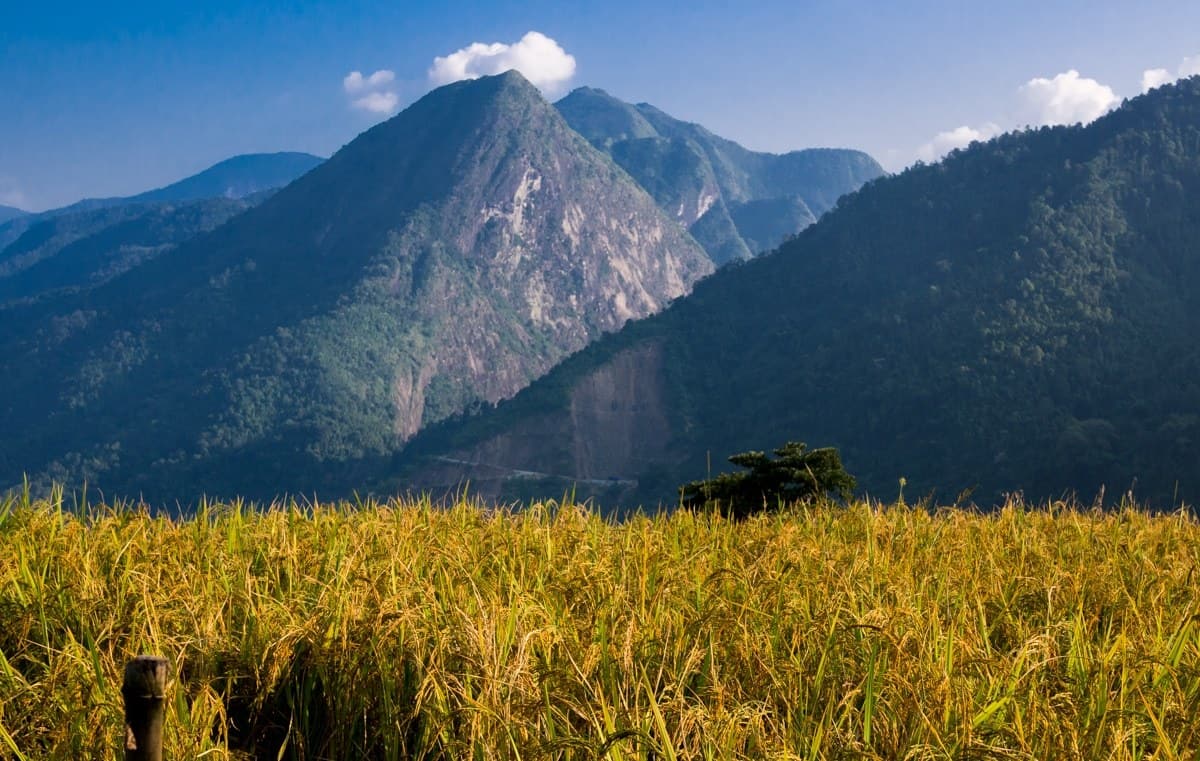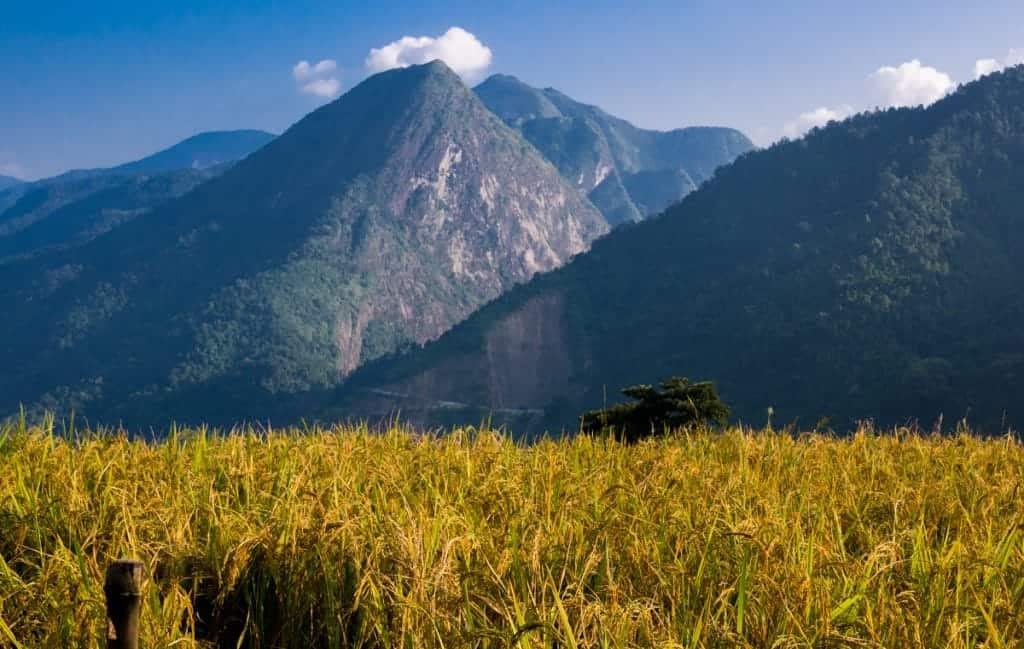 Today's trek is much less hilly and far more satisfying than yesterday's. For a start, the clouds have rolled away and we can enjoy spectacular views of the rice terraces and orchards along the mountainside.
We are also further from Sapa town, meaning that we meet more locals and fewer tourists. Finally, without the boisterousness of the lads, we manage to have a real conversation.
Between the quiet minutes of meditative walking, we share our most remarkable travel experiences, our embarrassing moments, our favourite music and our best travel photography tips.
We chat about the various study- and volunteer-abroad experiences each of us have had, how we handle pressures from family and friends back home, and our plans (or lack thereof) for the future.
Though I enjoy the occasional party, this is what I was looking for on a group tour: meeting like-minded people with interesting observations about the world and our unceasing desire to explore it.
Back to Tourist Town
The final day's trek is all about making fast tracks back to Sapa town. We follow a steep road that winds up out of the valley floor, taking us back the way we came.
Being on the road in a small group means we make quick time, though we still take plenty of breaks to high five the local kids, check out the views of the rice terraces. and have at least one close encounter with a buffalo.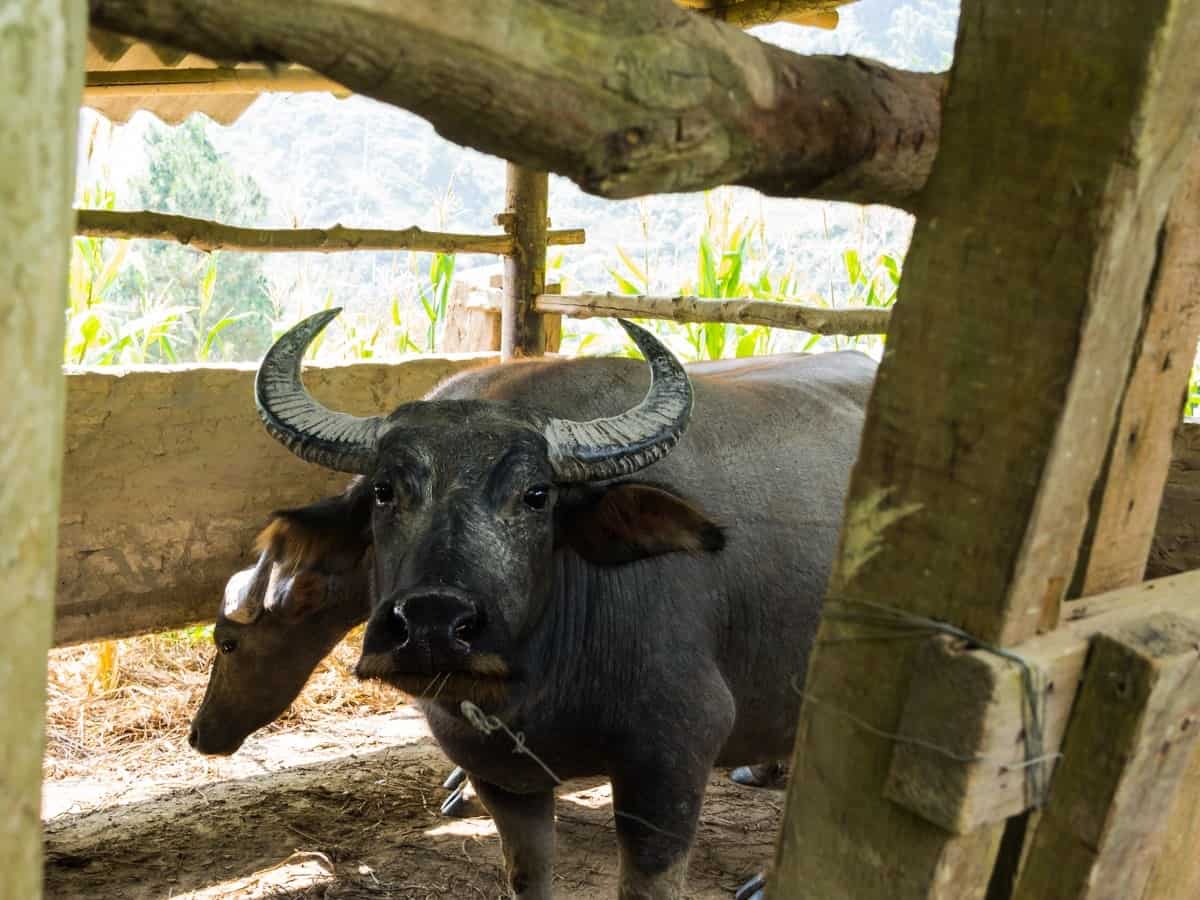 Once again, we are under the blistering sun for our climb and a sticky layer of sunscreen, sweat, and rich red dirt envelops us all. I create a makeshift hat from my t-shirt to keep the sun at bay.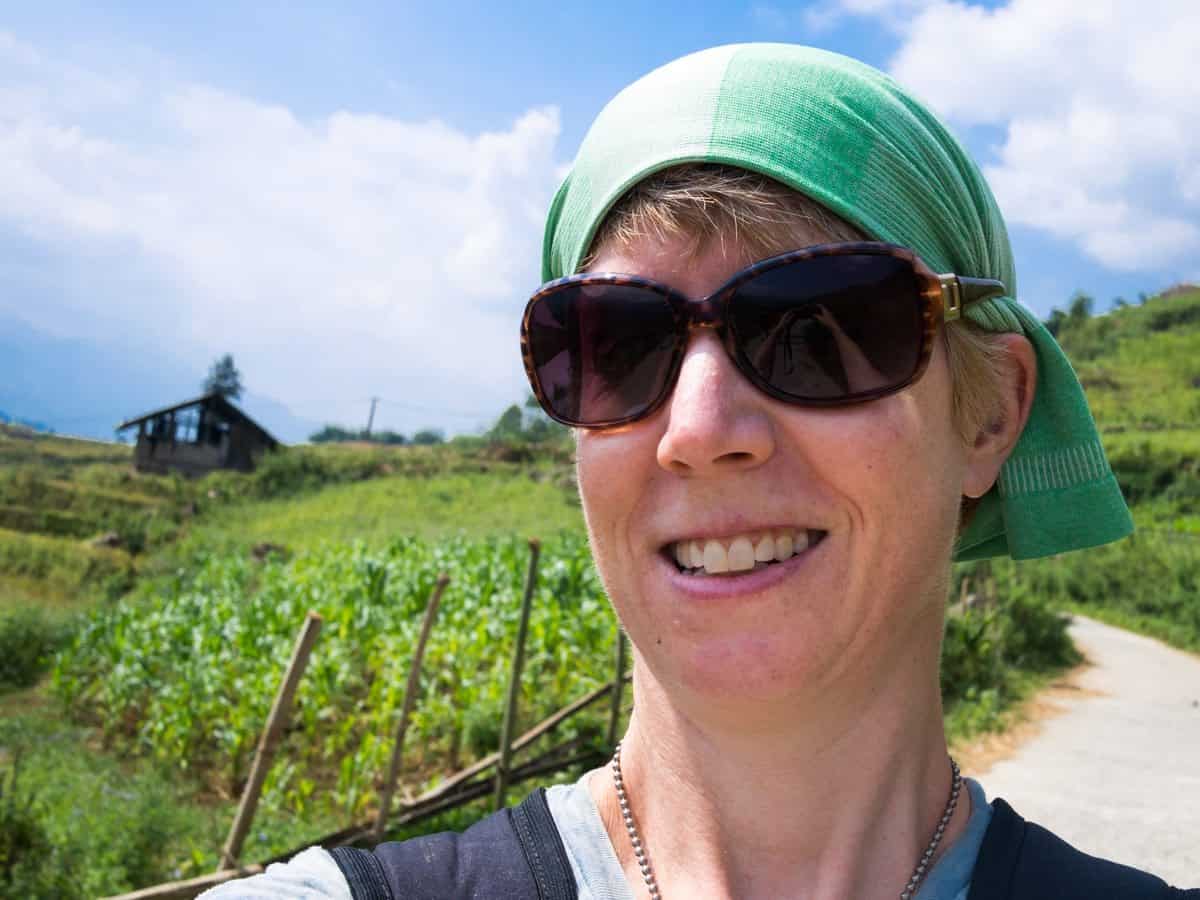 Clouds eventually roll in, threatening more rain, but doing little to cool us off.
We stop in a village cafe near our first night's homestay for our final lunch of the trip. It's a hub for people coming and going from Sapa, so we are once again part of a noisy gang of tourists.
Mao shows up to herd the entire cafe full of trekkers to our various destinations — some of us are getting the 4pm bus to Hanoi, others are taking the sleeper bus or the train, still others are hopping on a bus to Lao, while some are staying another night at the homestay.
The efficiency and humour Mao displays while arranging this frenzy of activity is a minor miracle.
Our shuttle bus into Sapa town gives us our first glimpse of the city itself. It is the very definition of "tacky tourist town", with hotels, happy hour signs and souvenir shops obliterating anything real.
I'm relieved that I'll only have to spend a few minutes here.
Still, it's bittersweet to get on the bus back to the big city. I'm looking forward to 6 hours of napping and watching the world go by, but part of me would like to wake up every morning to the quiet beauty of Sapa.
Plus, I know that nobody will ply me with free-flowing rice wine tonight.
Tips and Advice for Trekking in Sapa, Vietnam
Trekking is one of the most popular things to do when you visit Sapa, Vietnam. Here are some helpful tips.
How Much Does Trekking in Sapa Cost?
The tour. For three days of trekking and two nights in a homestay, the lowest price I was quoted without bargaining was $65 US including sleeper bus to and from Sapa, Vietnam. The highest price for Sapa trekking tours was $117 US, including sleeper train both ways.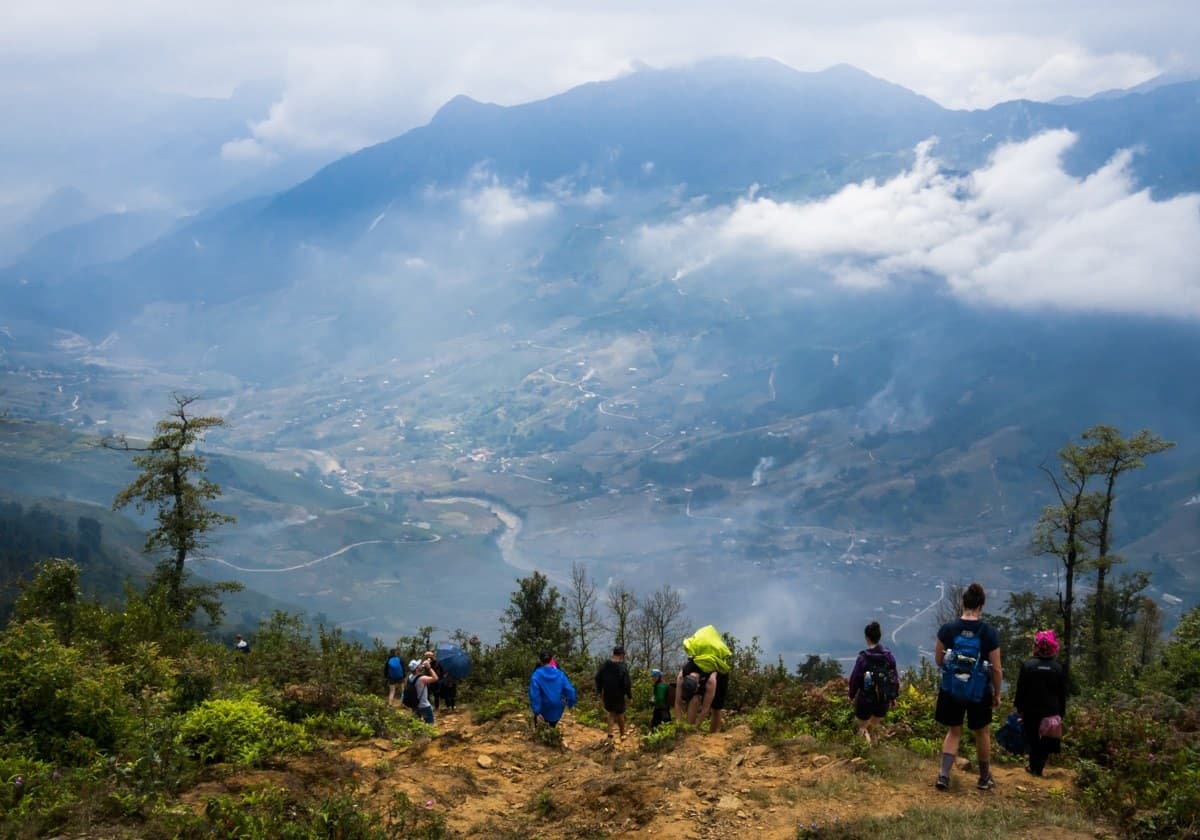 Food and drinks. Three breakfasts, three lunches, and two dinners are also included, as is all the rice wine you can drink. Water, coffee, beer, and soft drinks are extra. Coffee and soft drinks are universally 20,000 VND each when visiting Sapa. Beer is approximately 30,000 VND for a bottle. Water is 20,000 VND for a 1.5L bottle. Altogether, I spent around 250,000 VND / $10 USD on drinks.
Tipping. Though I had read that tips are sometimes demanded on other tours, our guides never gave the slightest indication they expected a tip and to my knowledge, no one tipped them. That said, if you want to tip, I'm sure it would be welcome.
Local goods. At each meal, local women will come around to sell you their handmade bags, scarves, and jewelry. Even, if you aren't interested, it doesn't hurt to be friendly, make eye contact, and smile. They will persist in showing you each item they have in their bags, whether you are friendly or not — so you might as well make it a pleasant experience for everyone involved.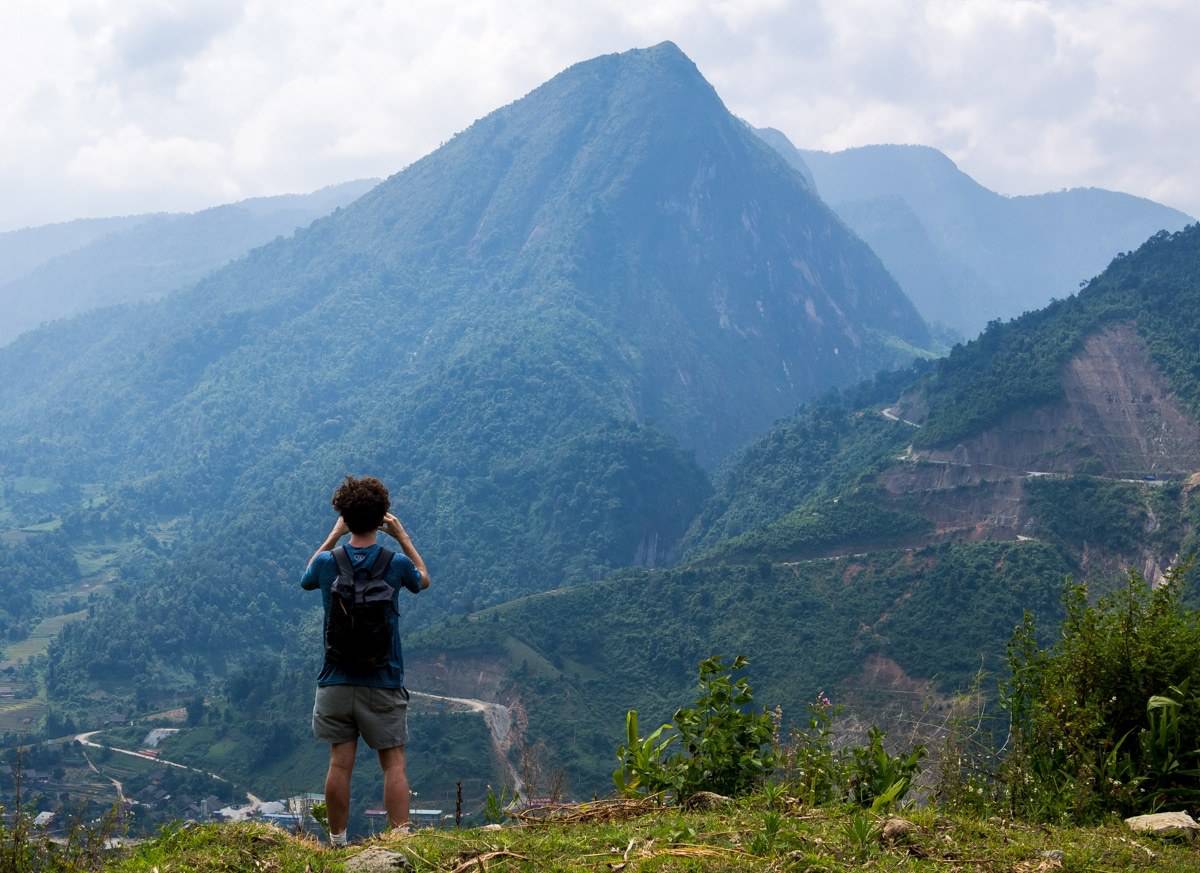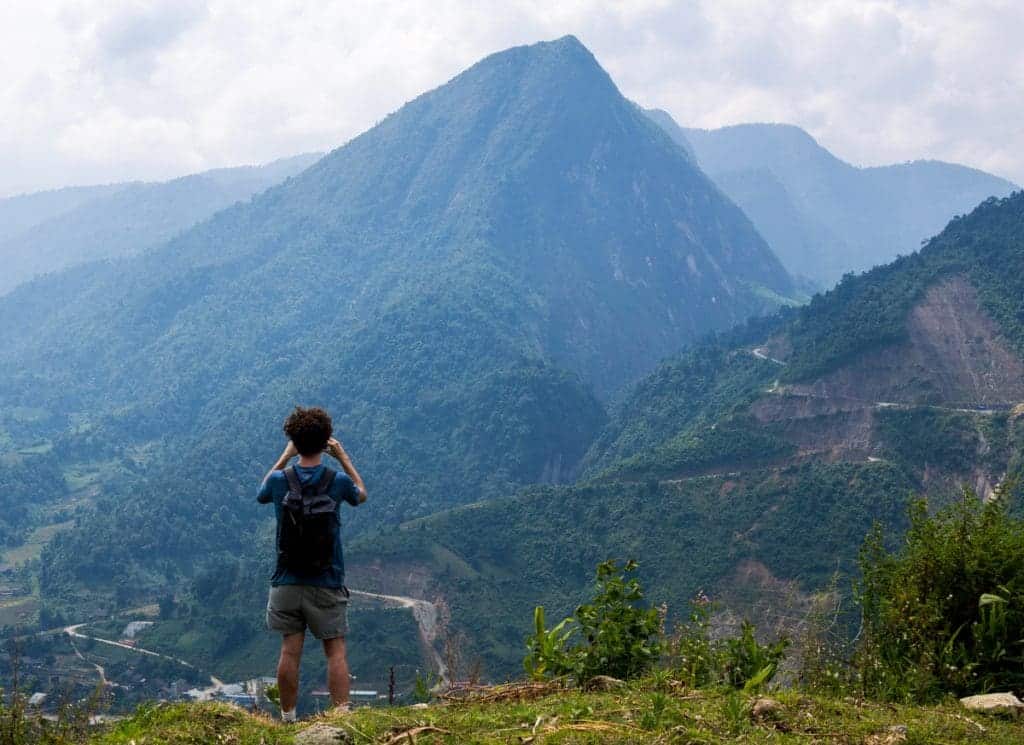 Which Travel Agency is Best for a Sapa Trekking Tour?
After searching for recommendations online, I found that only one travel agency stood out: Lily's Travel Agency at 16 Ngo Huyen, just west of Hoan Kiem Lake.
I visited Lily's and two other agencies in town. Lily's gave me far more information than the other agencies and they also quoted me the lowest prices.
Also, Lily's was the only one to offer me an alternative trekking route that they say avoids the most touristy stops.
Your hostel or hotel will also happily arrange a tour for you but be aware that they get a commission and you will likely eat the extra cost.
If you would rather book your Sapa trekking adventure before you arrive in Hanoi or Sapa Vietnam, then check out these excellent tours with GetYourGuide.
Homestay or Sapa Hotel Stay with Day Treks?
Sapa town is a crazy tourist trap with hundreds of guest houses offering happy hour cocktails and $5 beds.
I would highly recommend trekking to a homestay unless drinking cheap cocktails with hordes of other tourists is your idea of a good time. A homestay is an awesome way to learn about the local culture while trekking in Sapa, Vietnam.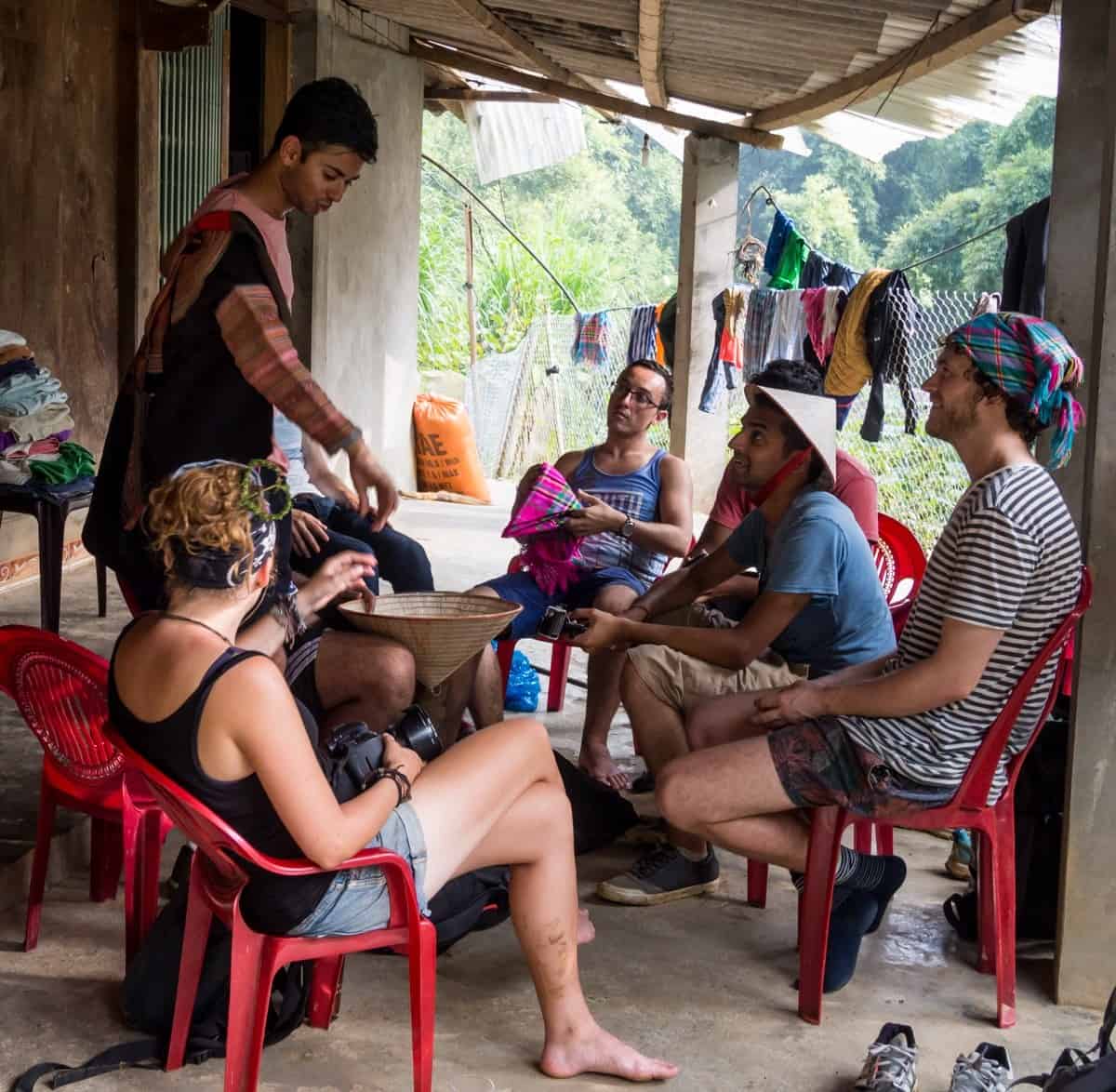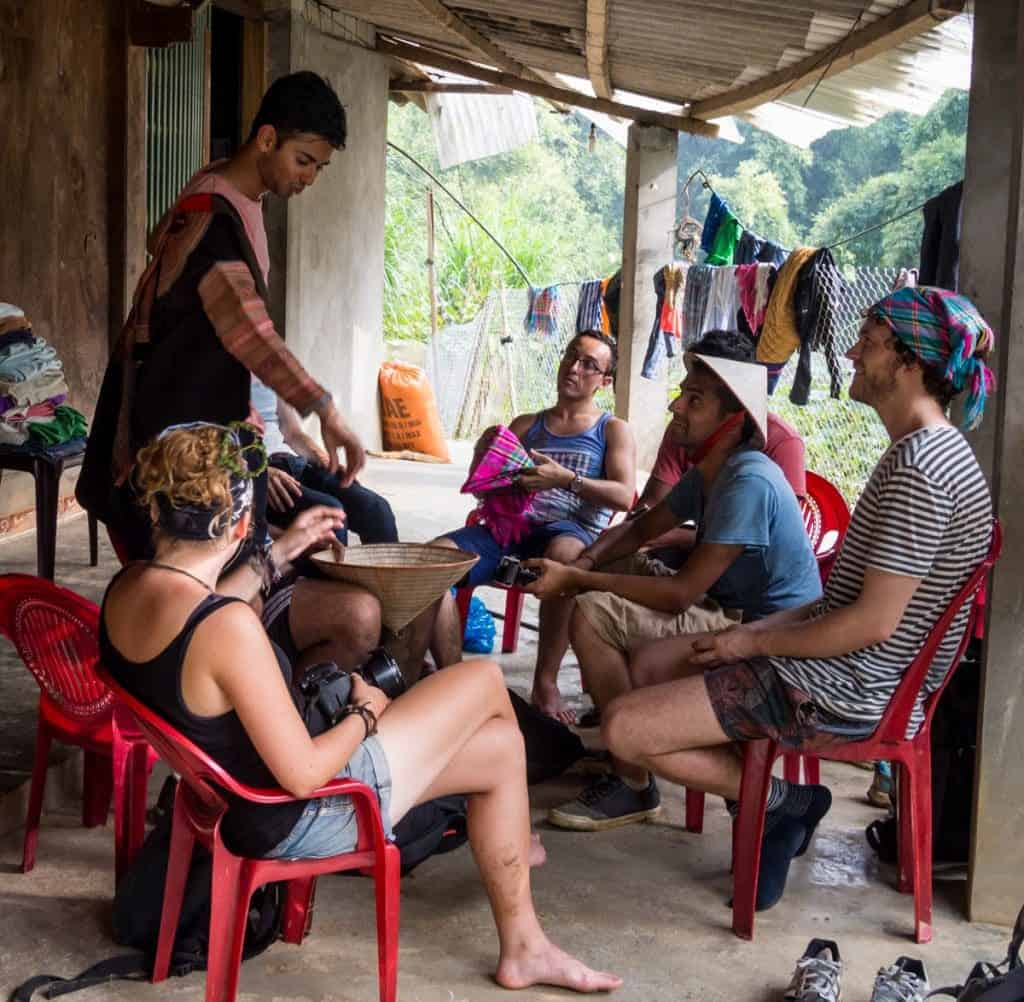 At a homestay, everything is taken care of for you. This can be good or bad. You don't get a choice of food or drink, and you don't decide who your roommates are, so a go-with-the-flow attitude is a must.
Tell your Sapa trekking tour operator ahead of time if you want a private or quiet stay — they should be able to arrange that for you.
If you do want to stay in a hostel or guesthouse while trekking in Sapa, Vietnam, then check out the options on Hostelworld.
How Many Nights Should You Stay in Sapa, Vietnam?
The most common tours for Sapa trekking allow you to spend one or two nights in a homestay. You can request more, but the tour leaders may not know what to do with you on the third night.
On my Sapa trekking tour, the second day was better than the first: the views were more dramatic, the routes were not as touristy, and the homestay hosted only five of us (as opposed to 15 on the first night).
By the end of the third day's trek, I was ready to get on a bus back to civilisation.
Train or Bus to Sapa?
You can choose the overnight train or a sleeper bus from Sapa to Hanoi. I took the overnight train to Sapa and took the evening bus coming back to Hanoi (which arrives in Hanoi at 10pm).
Overnight Train
Significantly more expensive than the bus.
Clean and quiet compared to other sleeper trains I've taken.
More comfortable than the bus, making it easier to sleep.
The rattle and bounce along the tracks will shake you awake at night.
Takes 9 hours.
Requires an hour-long mini-bus ride from Lào Cai train station to Sapa town.
Train station is farther from Hanoi's Old Quarter, so when you return, you'll need to find a motorbike or taxi back into town.
Sleeper Bus
Much cheaper than the train.
More efficient. It only takes 6 hours and goes all the way to Sapa.
The reclining seats are "not designed for tall people", according to a 6'2″ Slovenian I met.
You can't lie completely flat, so it's harder to sleep on the bus.
There's no toilet, so the bus makes toilet stops, which means major disruption in the middle of the night.
My Sapa trekking companions who took the train slept better than those who took the bus.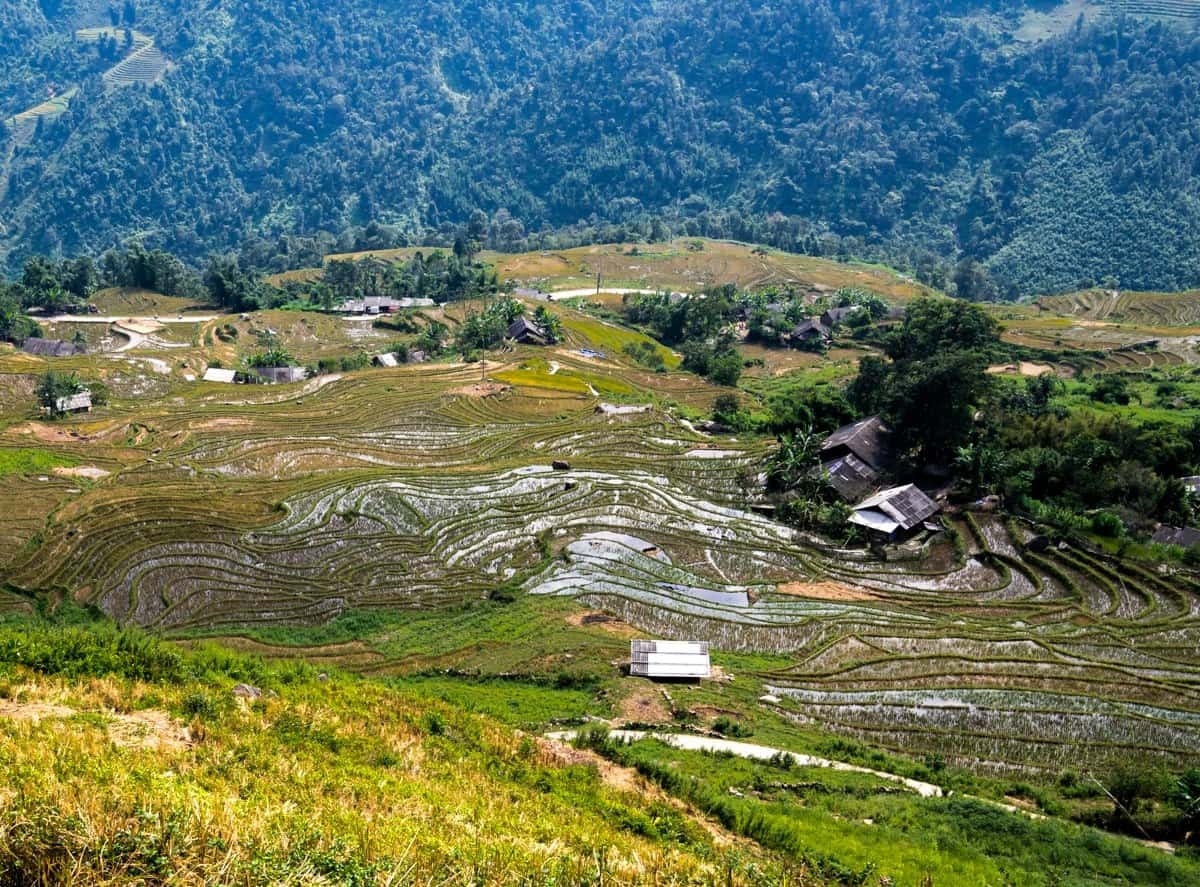 What Should You Pack for Trekking in Sapa, Vietnam?
Here are some helpful items that you can bring for your trekking in Sapa Vietnam adventure.
Bring one day pack plus a small bag. Some homestays will transport your gear while you trek, so you'll need a bag to carry with you during the day and another for the items you don't need until the evening.
Leave any big luggage in Hanoi at your guesthouse or at the tour office.
Lightweight rain jacket. You can buy a half-decent North Face knock-off in the Sapa market for 100,000-300,000 VND, depending on which one you choose and your bargaining skills.
Winter jacket. If you're in Sapa during the winter, it can get cold and might even snow. The Sapa market sells warm North Face knock-offs, as well as scarves, gloves and other winter gear.
Earplugs. You don't get to choose your housemates for the night and the rice wine flows freely, so earplugs are vital unless you're a champion sleeper.
Extra shorts and t-shirts. It gets hot and sweaty in while trekking Sapa, Vietnam (except in winter, when you'll need warm layers), so it's nice to have some clean clothes on hand.
Sunscreen. Because of the high altitude, the UV index in the mountains can be especially high, so wear sunscreen, even if it is cloudy.
Bug spray. Depending on the time of year, you'll need protection from mosquitos and other flying insects during your Sapa trekking.
Bandaids. There's a lot of uphill and downhill work to be done, so be prepared for blisters.
Good hiking shoes. Many of my fellow trekkers wore trainers which led to lots of slipping and sliding on the muddy paths. I was happy to have my waterproof hiking shoes for better grip on the trails and an easier time crossing streams while Sapa trekking.
Thanks for reading our first-timers guide to trekking in Sapa, Vietnam! If you have any other tips or experiences from Sapa trekking, let us know in the comments!