The best things to do in Dalat, Vietnam, written by an expert!
Sandwiched between the rugged, forested landscape of Southern Vietnam lies the small, yet charming city of Dalat (Also commonly spelled Da Lat).
Da Lat is the capital of the Lâm Đồng Province in Vietnam's Highlands.
Dalat means different things to different people. The city's made a name for itself as Vietnam's premier couples destination.
But there's much more to Dalat than that.
Adventure addicts know the city for its gut-dropping cliff jumps, canyoning, water rafting, and mountain biking.
Some people don't care about romance or adventures. Rather they retreat to Dalat for a little luxury and as a safe haven from the brutal heat.
While others immerse themselves in the local culture, which boots some of the most welcoming locals anywhere in the world.
READ MORE: Plan your trip to Vietnam using our Vietnam Travel Guide.
(Seriously, I was greeted with welcoming hugs from my hostel owner, but also from a shop owner.)
Oh, did I forget to mention that Da Lat treats intrepid travellers to dramatic views of the indelibly wild and untamed landscape?
And speckled throughout the surrounding nearby forest are gushing streams, turbulent waterfalls, and hiking trails.
All this makes Dalat a perfect stop for anyone and everyone travelling Vietnam.
The Best Things to Do in Dalat
Let's take a look at some of the 14 best things to do in Dalat.
1) Try Canyoning Down A Waterfall
Those seeking a hit of adrenaline will want to make canyoning a priority.
Canyoning through the forest in Dalat is unlike anywhere else in the world.
You'll spend an unforgettable day abseiling down a massive cliff. As well as two waterfalls – including a 25meter high waterfall, the biggest in the area.
You'll also slide down nature made waterslides, do a cliff jump, and sit down for a meal with a local family.
Luckily there's no shortage of options when it comes to canyoning tours in Dalat.
2) Hike Lang Biang Mountain
Those who don't want to spend their day jumping off cliffs, or rappelling off of waterfalls should head to Land Biang Mountain.
This scenic viewpoint treats you to a front-row seat of the unparalleled beauty of the Vietnamese highlands.
At the top, over 7,000 feet above sea level, the scenery unfolds out, past fields of wildflowers.
The expansive view takes in the brooding summits of far off mountains, resting on the horizon.
In the valley below are endless miles of grassy balds, large fields, and still lakes. It's a remarkable sight.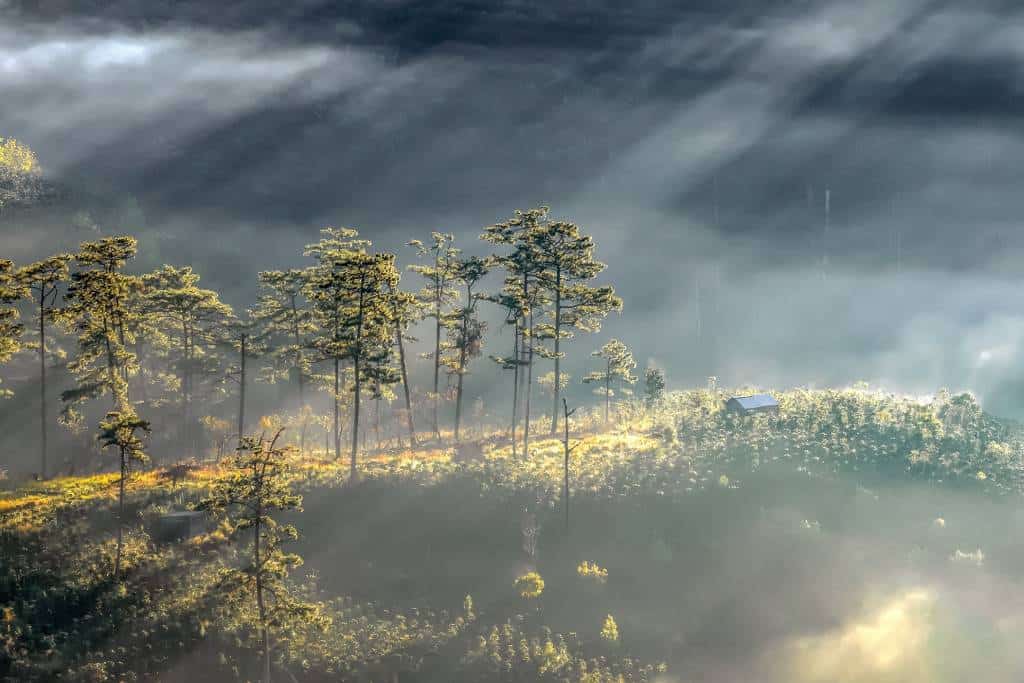 3) Be Mesmerized at Crazy House
If Antoni Gaudi lived in a fairytale world, he'd have built something like Crazy House.
This massive complex is full of strange rooms, otherworldly architecture, and elaborate – albeit sometimes creepy – interiors.
Walking through Crazy House, you'll feel like Alice tumbling down the rabbit hole.
There're eerie rooms where visitors are watched by a red-eyed kangaroo and seemingly endless mazes of narrow passageways and stairs.
The whole place is bizarre.
Crazy House was and the brainchild of architect Dang Viet Nga.
No words can truly express Cray House, but it's worth visiting and has become of the top thing to do in Dalat.
READ MORE: 8 Must-Do Day Trips from Ho Chi Minh City.
4) Visit Linh Phuoc Pagoda
Linh Phuoc Pagoda's not only the most famous temple in Da Lat, but it's one of the most well-known temples in Vietnam.
Every inch of this shrine is covered in ineffable mosaics featuring the history of the Shakyamuni and the Lotus Sutras.
Cascading down the ceilings and walls are countless thousands of broken terracotta, glass, and porcelain pieces, coming together to form colourful mythical creatures.
The most notable feature of the Linh Phuoc Pagoda is the tower.
It's the tallest bell tower like it in Vietnam and looms over the rest of the city, soaring at the lofty height of 37 meters.
From the vibrant mosaics to the colossal tower, there's little doubt that Linh Phuoc's one of the most beautiful Buddhist shrines in the world.
5) Wander Around the Lake of Sighs (Ho Than Tho Lake)
Located east of Da Lat is the famous – or infamous, depending on who you are – Lake of Sighs.
This still lake's awash in local myths, legends, and… irony.
The most famous legend surrounding the lake tells the tragic tale of Hoang Tung and Mai Nuong.
The couple visited the lake to pledge their love and say goodbye before Hoang Tung went off to battle.
When the news came that Hoang Tung was killed in battle, Mai Nuong, overcome with grief, threw herself in the lake and drowned.
Ironically, the Lake of Sighs is one of the most popular things to do in Dalat for couples.
There are small boats for hire. Lakeside horseback rides and scenic places to have a picnic.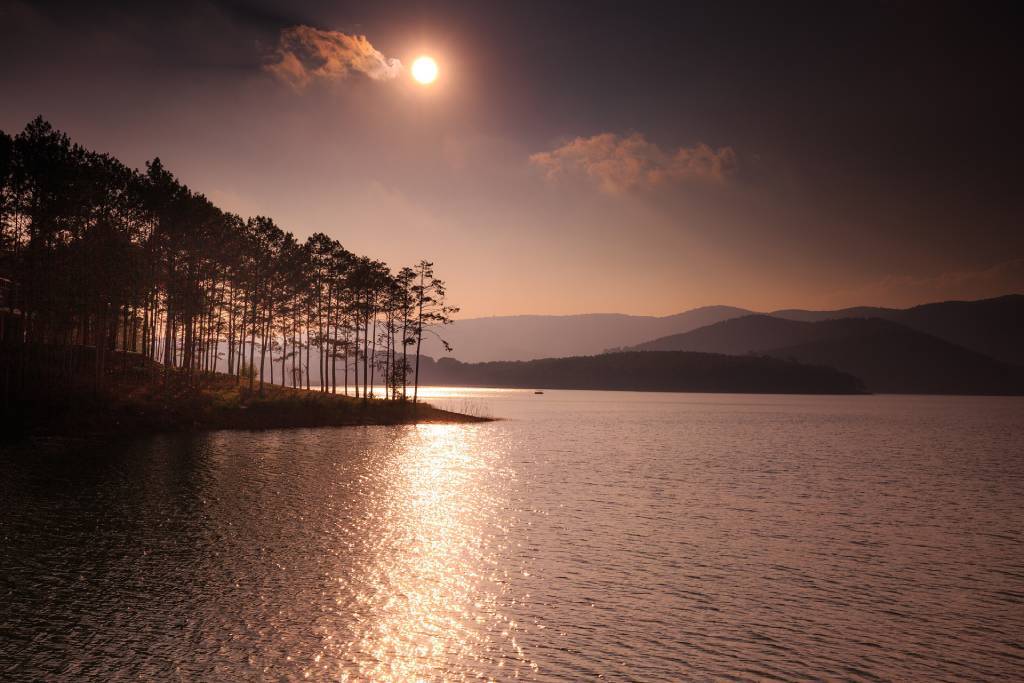 6) Be Inspired at Bao Dai
Bao Dai is the summer home of the last emperor of Vietnam, who often retreated to Dalat to escape the brutal heat raging through other parts of the country.
The house has extensive flower gardens that feature hundreds of native, as well as rare exotic plants.
These gardens have earned Dalat the nickname "the city of flowers."
Today you can tour the home, including the emperor's working space, living quarters, and bedrooms.
This gigantic "house" is over 80 years old. However, the locals kept it like it would have been when the emperor visited.
And it's a good place to visit if you're interested in seeing how royalty would have spent their vacations.
7) Enjoy the Views at 100 Roofs Cafe
If Crazy House didn't adequately fill your crazy quota, then head down the street to the nearby 100 Roofs Cafe.
This spacious cafe is another unmappable labyrinth of small tunnels, narrow hallways, and uneven staircases.
While the over-arching theme resembles a forest, each room, passageway, dead-end, and outdoor opening features odd trinkets and nick-knacks.
Fumble through this otherworldly maze long enough, you'll find yourself on the roof, and treated to a great view of the city.
While 100 Roofs is a cafe – in the sense that they serve coffee – most of the patrons come here to sip something stronger.
This "cafe" has become popular among backpackers who flock here with their newly founded hostel mates to have some drinks and run around the café.
READ MORE: Be sure to add these 5 Awesome things to do in Da Nang!
8) Let Your Artsy Side Be Inspired Hiking the Clay Tunnel
After reading about Crazy House and 100 Roofs Cafe, it's obvious that there's a quirky, artsy vibe that's taken over Da Lat.
Clay Tunnel's another of Dalat's strange attractions – albeit rather normal considering the former two.
Clay Tunnel's every artist's dream, and a fun hike. It's a nine-mile long path, lined with expertly sculpted clay pieces.
The size and scope of these sculptures boggle the mind.
The pieces are a reimagining of animals like elephants, oversized motorbikes, even the city's history. All are sculpted into intricate clay structures.
Each work of art is made from dark red clay native to the highlands of Vietnam.
This park's newly opened in 2016. And was brought to life by Trinh Thai Dung, who moved to the area to open an unusual tourist attraction.
I'd say he hit the nail on the head.
Buy your ticket in advance here.
9) Enjoy the Truc Lam Pagoda
This Zen Buddhist monastery sitting on the top of Phoenix Mountain is best reached by via the Dalat Cable Car and lies around five kilometres south of the city centre.
The Truc Lam Pagoda compound is surrounded by thick forest, flowers, and vegetation, making for a serene, tranquil experience.
Where Linh Phuoc Pagoda is the tallest pagoda in the city, Truc Lam Pagoda is the largest.
The temple grounds cover almost 25 hectares, much of which are gardens and forests.
The buildings scattered around the complex showcase gorgeous, traditional Asian architecture.
Monks live in the complex and are wandering around, going about their daily routines and rituals.
Visiting Truc Lam Pagoda is one thing to do in Dalat that's good for the soul and a nice break from the hustle and bustle of downtown Dalat.
10) Stand in Awe of the Elephant Waterfalls
Elephant Waterfalls, also known as That Voi, aren't the easiest attraction around Dalat to get to.
These falls, named because they resemble an elephant head, live up to their name. They are an impressive sight as the water gushes down the cliffside in droves before you.
Elephant Falls are a good option if you have no interest in Dalat's canyoning, but still want to see waterfalls.
To reach the falls some hiking is required so good shoes are recommended. You can reach the falls by car, motorbike, or city bus, and it shouldn't be missed when wondering what to do in Dalat.
And while it's tricky to reach the falls, it is one of the most popular tourist attractions when you visit Dalat, so the effort is worth it.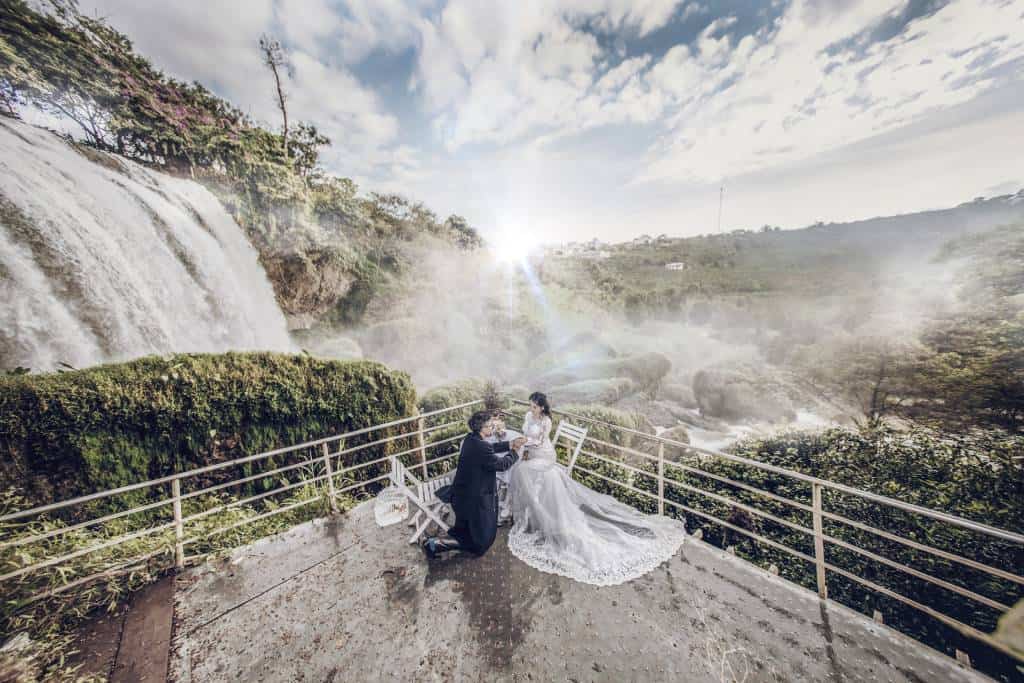 11) Get the Adrenaline Pumping While White Water Rafting
Another notable adventure in Dalat takes you through wild rapids, up close to gushing waterfalls, and gives you a front-row seat to the rural landscape of Southern Vietnam.
White water rafting in Dalat has become one of the area's most popular experiences.
With the help of your guide and fellow steerers, you'll make your way through over 10 class II and III rapids.
Of course, for safety reasons, the only way to experience the untamed waters is via a tour.
The majority of the tours last 3-4 hours, take you down 10 km of water, and have local experiences like rice wine making, coffee farms, and off the beaten path villages.
12) Enjoy Dantanla Waterfalls
If Elephant Falls seems more trouble than it's worth, then Dantanla Waterfalls makes for a good alternative.
These thunderous falls are made up of multiple levels of cascades all dumping out in clear pools (unless it's monsoon season).
Dantanla Waterfalls is a great place to grab some pictures and enjoy nature's splendour in the region.
And while the falls are pristine, the area isn't completely devoid of tourist attractions.
Adventurers also travel to the falls to speed down the hill on the alpine coaster or take the cable car to the top.
Likewise, there are places to get dolled up in a local dress for a photo.
The falls are just a few miles from downtown Dalat and can easily be reached by city bus.
13) Hike Anywhere and Everywhere
By now, you've realized that many of the best things to do in Dalat revolve around getting into the nearby nature.
And Dalat's a great destination for hikers. There are several hikes to choose from covering a variety of different skill sets.
One such hike takes you to the top of Lang Biang Peak. Sitting at over 2,000 meters above sea level, at the peak, trekkers are rewarded with all-encompassing views of the mountains.
Don't forget about the awesome trails in Bidoup Nui Ba, Vietnam's newest national park.
The hardcore hikers can take on the challenge of reaching the summit of Samson Mountain.
Or on the long journey to heaven's gate – an off the beaten commune full of verdant rice fields and hot springs.
READ MORE: Be sure to add these great things to do in Hanoi to your itinerary!
14) Spend the Afternoon at Xuan Huong Lake
Xuan Huong Lake lies in the heart of Dalat and is famous for its half-moon shape.
This large, quiet lake has a peaceful atmosphere that's made it a top choice among both locals and travellers.
Surrounded by forest, gardens, and parks, there's no shortage of things to do around Xuan Huong Lake.
There are both small and large hiking trails, shaded places to relax by the water, sunset spots, and boat rentals.
A highlight of Xuan Huong Lake is the Dalat Flower Park. At the end of the lake near Cu Hill, Dalat Flower Park is a stunning collection of flower beds. This colorful flower garden is one of the best things to see in Dalat.
Xuan Huong Lake is a perfect way to spend an afternoon in Dalat without wandering too far from the city center. You can even walk over to the Dalat Night Market nearby for some shopping and food.
Wrapping Up What to Do in Dalat
There we have it. From foamy rapids to lofty mountains, this list covers the most incredible 14 Da Lat activities.
What's good about this list is that none of these adventures will destroy your budget.
And while Da Lat has a reputation as a honeymooner's destination, there are plenty of outdoor activities, thrilling experiences, and off the beaten path sights that appeal to more than just couples.
Da Lat is an unforgettable city in Southern Vietnam and the doorway to the country's lavish highlands and one of the best cities to visit when backpacking Southeast Asia.