Everything you need to know about being a digital nomad is Hoi An, Vietnam.
Located at the mid point along the expansive coast of Vietnam sits the picturesque town of Hoi An. Increasingly a draw for the tourist crowds, this ancient town has many hidden charms with great beaches and hiking within easy reach.
We spent close to 2 months living here as Digital Nomads during our extended visit to Vietnam, working from a 1 bedroom rented apartment on the edge of the town. During that time we shopped, ate and drank locally as well as exploring some of the local sights on our trusty bicycles.
We would happily return to live in Hoi An again and have written this article so you can see if it would work as a good fit for you too.
Check out our guide if you are planning to Travel To Vietnam.
Why Hoi An, Vietnam Is The Perfect Base For Digital Nomads
So what exactly makes Hoi An one of the best places in the world for digital nomads? Besides fast internet, it is also very affordable and has a huge selection of great restaurants, bars and activities to keep you happy!
Rough Digital Nomad Costs in Hoi An, Vietnam
The top reason Hoi An could be your next spot to pitch up as a digital nomad is the great value it offers. Here's a quick breakdown of some of the common costs you'll encounter with some more detailed info in the sections below.
Taxi – to / from bus station –

45,000 ($2)

Coffee Shop Coffee –

50,000 ($2.25)

Street Stall Coffee –

20,000 ($0.90)

Street Food Meal –

20,000 ($0.90)

Restaurant Meal –

100,000 ($4.50)

1 Months Rent (exc bills)

–

5,000,000 ($225)
Good Connectivity
In both our rented apartment and guest houses we stayed in we experienced good download and upload speeds over a steady connection. This also applied to most of the public wifi we tried out but it did slow up at the tourist hotspots, not that you'd really want to work from those.
Our apartment had a fibre broadband connection and typically registered around 12 Mbps download and 5 Mbps upload. The great thing was this was pretty constant throughout our stay until it died 3 days before we left, but that was just a good excuse to go and eat cake at the nearest cafe.
When looking for a place to rent make sure that broadband is already installed and running. We heard that it could be quite a hassle to get it hooked up or connected, taking several days or even weeks.
Cheap Local Coffee
Due to the 'touristy' nature of central Hoi An coffee can easily reach $2 to $3 a cup so our advice is, go local. Great coffee can be found at the numerous street vendors and local cafes just outside of the Old Town area.
Try the stalls around the market just to the east of the central area or next to the Japanese Bridge. To help you when ordering, look for these options to get your perfect caffeine fix:
Ca Phe Nong – straight up black coffee
Ca Phe Sua Nong – sweet black coffee with condensed milk added
Ca Phe Sua Da – iced coffee with condensed milk added
Also remember that very often that iced coffee is default option so ask for 'hot' coffee if you want it!
Tasty Food Options
All that working hard is going to give you a mighty appetite so thankfully there's food to suit all tastes and budgets in Hoi An.
For fantastic local food at great prices check out the market to the east of the central area. We would head here for a tasty bowl of beef and chicken Cao Lau for 20,000 VND ($0.90 USD) per portion. Bargain.
There's also a great selection of veggie restaurants in town with Minh Hien being the top pick. Their tofu with passion fruit sauce is amazing and don't miss the veggie version of the local speciality White Rose, which is traditionally made with pork and shrimp.
If you've got a hankering for some hearty western fare the best options are the Dingo Deli to the east of the town, Jim's Snackbar just north or the centre or the 3 Dragons Pub near the central market. All serve good meaty burgers with chunky fries alongside some good veggie options starting at 100,000 VND ($4.50).
Easy To Get Around
Hoi An itself is wonderfully easy to navigate and makes cycling the best option. There are always plenty of taxis around if you need to travel longer distances but most places you'll need are within easy cycling distance.
Even if you are staying a few kilometres outside the town centre the lanes cutting through the rice fields and alongside the river make traveling in a breeze. We loved our peaceful 3km ride along the river into town from our apartment.
By Vietnamese standards the roads are reasonably safe here and the local traffic seems happy to navigate around wobbly tourists on their bikes. That said always be aware as motorbikes like to take the shortest route around corners, often cutting you off.
Lots Of Stuff To See And Do
If you need to chill out after some hard work, the excellent An Bang Beach is just 5km to the north of Hoi An. It's within easy cycling distance but the main road can be a bit hairy at times with coaches and trucks continually speeding along. Make sure you head a little way Northwest along the beach to avoid the crowds and find yourself a peaceful spot.
If you fancy a hike head to the luscious Bach Ma National Park just north of Danang to get back to nature. There are local walking groups that organise treks or you can join an organised 2 day tour.
If you fancy something a little more relaxing there are plenty of spas and massage spots to choose from around town. Quality and price vary greatly but if you're staying for a while explore the options away from the centre where a 1 hour full body massage starts at 22,300 VND ($10 USD).
There's always the chance to explore the beautiful Old Town outside of the busiest times if you live here. Head out in the early morning to catch a proper glimpse of local life before the shops open to the hordes around 10am.
Buzzing City Close By
As well as being great for transport connections, it's great to have Danang just up the road. Hoi An is, after all, an expanded fishing village which is part of its charm but does give it limits.
Danang can offer a bit more when shopping for supplies, seeking an occasional large night out or wanting to escape from the tourists. You'll also find more opportunities for teaching amongst other types of work here.
Friendly Expat Community
Whilst you might rather hang out with the locals and learn some rude words in Vietnamese, expats can be a mine of local info and contacts. Hoi An has been a growing expat hotspot for a good few years and there's now a well established community here.
We had a fun day out in Danang at an annual stone skimming competition for locals and expats alike. So look out for posters at cafes for local events and activities to make some new connections.
Also check out the local expat group on Facebook or ask around at the western owned restaurants and shops for pointers on jobs, accommodation and more.
Good Renting Options
You won't be the first person to roll into town looking for a longer term place to stay so a small rental market has developed in Hoi An. This makes it easy to find a place to stay for a month or more although some landlords still favour longer term tenants of 3 months plus.
Asking around on Facebook and sending a few emails got us some viewings with local agents. It probably best to have a scooter or use a taxi as the places can be miles apart, I certainly got some exercise cycling across the town and back.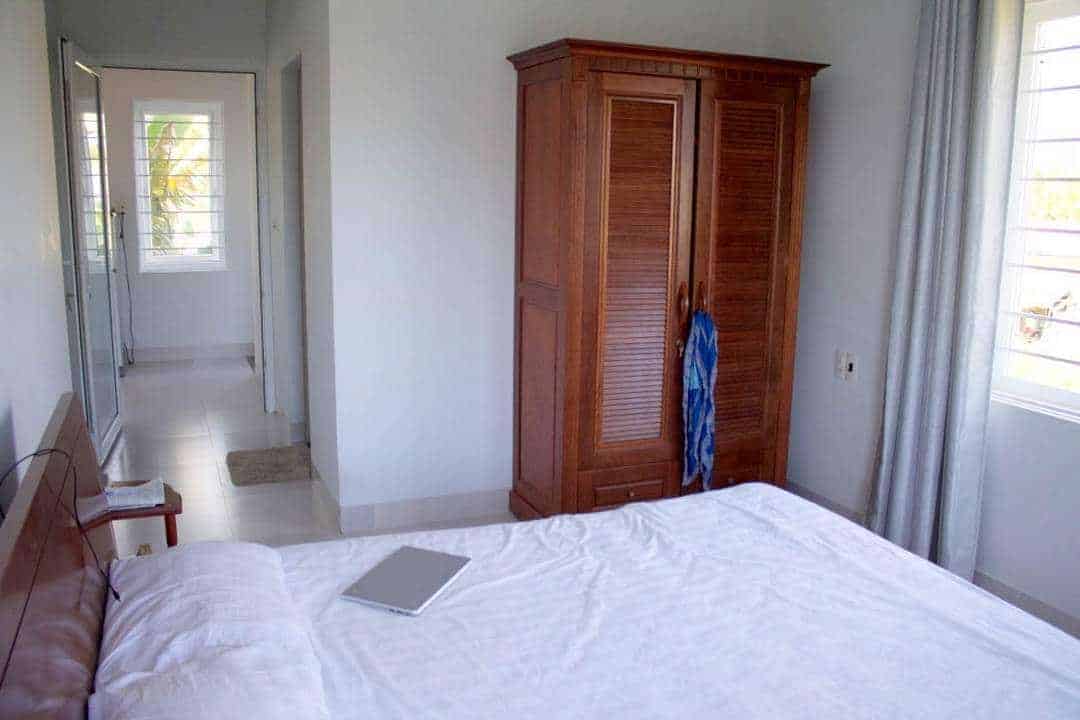 We found a great 1 bedroom apartment around 3km from the centre for $300 per month. Our bills came to between $20 and $30 on top of that but we did stay in a lot woking away with the AC on full to avoid the midday heat.
For a shorter stay check sites like Airbnb where you'll see well furnished places starting at around $400 per month. Due to the lack of condos you are more likely to find an entire spacious apartment or even house to rent on the edge of the town.
Peace And Quiet On Tap
Although Hoi An can be packed with tourists in the historic Old Town central area, it's easy to escape the rabble by heading just a few streets away. Most visitors don't explore beyond the overpriced shops peddling tat so jump on your bike and head east along the river for a more chilled vibe.
As soon as you get to the edge of the town it all gets rural very quickly with lush green rice fields all around. When looking for a place to stay consider renting on the edge of town if you're after a quieter life with less distractions.
Decent Transport Links
Hoi An is very easy to reach from within Vietnam or other countries close by thanks to the great transport connections close by.
The bustling city of Da Nang is just 26 km to the north of Hoi An and has both a mainline train station and 3rd busiest international airport in Vietnam. They are both located fairly centrally in Danang so it's a quick taxi ride or reasonably short walk into the centre of Da Nang.
Trains run north to Hanoi and south to Saigon stopping at all the main destinations in between. There's a good mix of seated and sleeper services available depending on the length of your journey. The stretch of line just north of the city is a coast hugging scenic fest.
To head south to Hoi An from Da Nang a taxi is the quickest option and will cost you around 320,000 VND ($15 USD). To save a few dong seek out the local bus No.1 which stops near Pizza Hut, outside house number 299 on Lê Duẩn, and goes every half an hour. The last bus leaves Danang around 6pm.
Bus tickets cost 16,000 VND ($0.70 USD) per person but be aware of the ticket sellers who will try to rip you off. Have the right change to hand to avoid this and don't let them charge you extra for your backpack no matter what they say.
7 Killer Tips For Digital Nomad Life In Hoi An
When looking for a place to rent make sure that broadband is already installed and running to avoid a lengthy setup time.

Make sure you haggle with the landlord for the best rates, we got our to include 2 bikes in the price so we could cycle into town.

Look around the area to see if there are any noisy open air karaoke bars or social clubs close by. Noise doesn't seem to bother the locals, even in the early hours when it seems loudest!
Clarify if bills are included or not and get an idea of the monthly costs for water, waste, electric and broadband. Check when your rubbish will be collected.
Find your nearest place to pick up a water container or have one delivered. These worked out at around $0.90 for 20 litres worth of water and saved us many trips to the shop.
Shop at the local market to the east of town, away from the centre for your meat, fruit and vegetables. Find your favourite, friendly stall holder and visit them regularly for better prices and free stuff.
Use taxis from the edge of town which run on the meter and avoid Tuk-tuks which are mainly there to rip off the Hoi An tourists.
The above points add up to make Hoi An a very attractive choice for the digital nomad. The question is, how long will you end up staying?