Everything you need to know about canyoning in Dalat, Vietnam.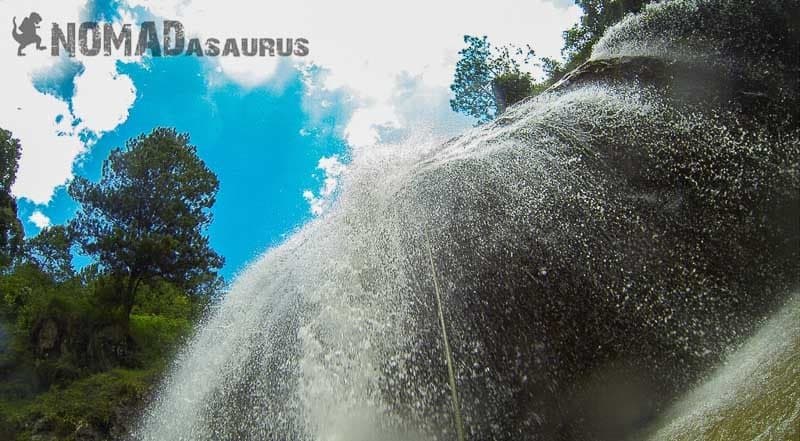 Update: Check out our Dalat canyoning video below!
Dalat in the Central Highlands of Vietnam is one of the major tourist destinations for locals in the entire country, and of the absolute best things to do in the town is go canyoning in Dalat.
Its cool, temperate climate, stunning location around a lake and vibrant, colourful European-style buildings attract honeymooners and vacationers from near and far. Great restaurants and cafes line the streets and the vibe is funky and relaxed.
Don't miss our guide to help you Travel To Vietnam.
The reason we chose to visit this small city however was for the adventure activities! Rappelling down waterfalls, cliff jumping, natural water slides and hiking – right up our alley!
Canyoning in Dalat was high up on our list of things to do, so onwards we rode to give ourselves an adrenaline hit!
We were staying at the incredible Dalat Family Hostel and the friendly owner gave us some great direction on how to pick a Dalat canyoning tour company.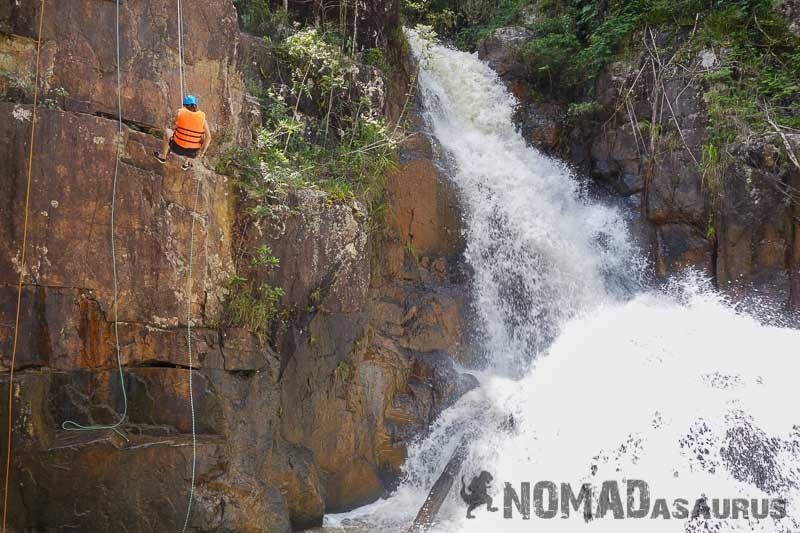 After checking out a few different tour agencies in town who all offered essentially the same package for similar prices we had decided to trust Dalat Adventure Tours to take us for the activity.
While I was more enthused than a kid before Christmas, Lesh was apprehensive about the tour.
It had been over two years since we had done a similar activity in El Salvador and she was slightly hesitant. But never being one to say no to a good time, she ignored her trepidation and came along anyway.
In the morning we arrived at the office and the promises of a 'small group package' turned out to be true. There were only five of us taking part in the day's pursuit.
The moment we met our friendly guides Tony and Dragon the fear started to subside. They were good-natured and confident in their skills and experience. They gave us a detailed breakdown on what we would encounter during the day as we took the short car ride up to our destination.
On the ride, we spent some time chatting and quizzing them about their five years of guiding in the area and all we needed to know about canyoning in Dalat.
Upon reaching the trailhead Tony and Dragon handed out our equipment so we could inspect it. Everything was new and from reputable brands.
We made our way to a small clearing with a mild incline and Tony taught us how to set up our own gear so we could be sure of how it worked.
Detailed instructions followed about how to abseil, the different techniques and methods used for arresting a fall and how to recover if we found ourselves off balance or upside down. It was a very informative canyoning tour!
While we were learning, groups from other companies arrived and began practicing right next to us. With the popularity of canyoning in Dalat, some of the group sizes were around 15 people, and their guides were having a hard time trying to maintain all their attention.
They rushed their large groups through one training session round each and then headed straight for the falls. Tony and Dragon were in no such rush and allowed us to each practice four times and ensured that everyone was confident before we took off.
Five minutes of walking and we had reached our first abseil. It was a simple 18m rappel down a dry vertical rock face with a fast flowing waterfall cascading next to it.
I was nominated to go first and having not done abseiling for a while it really got the heart pumping. When I arrived at the bottom I had to drop directly into the chilly river.
Dragon helped me out of the water and we watched and encouraged the rest of the group while they made their way down the wall.
The first of two water slides was next and the slippery rocks ensured that a lot of speed was gained before you are launched into the bottom pool.
In keeping with the exciting atmosphere of the day we were all told we had to take on the slide head first lying on our backs.
Another exhilarating 16m dry rappel followed and Tony instructed us to jump as high as possible while descending to get the feeling of free fall.
I was pretty happy with my three-jump descent until Tony finished up with launching down the entire cliff without touching the rocks once. I felt a little sheepish after that and wished I could have another go to try and match him.
Dragon dubbed the next activity 'crazy water sliding' and he wasn't too far off the mark! Longer and faster than our previous one it also had a sweeping curve to add to the thrill of plummeting head first down a rock face.
While nerve-racking for those who have never done natural water sliding, the activity is actually quite safe and as long as you follow the guide's instructions you will avoid any hidden dangers.
We continued walking for about 20 minutes until we reached the most intimidating abseil when canyoning in Dalat – A 25m rappel through the middle of a flowing waterfall!
Shoes were traded for socks and we were reminded to always maintain contact with the rocks due to the slippery surface underfoot.
But the most fear-inducing moment was not the steep sloping rocks you navigate down but the 4m jump you must make at the end to land in the pool.
The hesitation built up for a few in our group but we all agreed to take on the challenge. At times down the wall we were blinded by the powerful falls as they bounced off the rocks and directly into our faces. The only option was to continue on.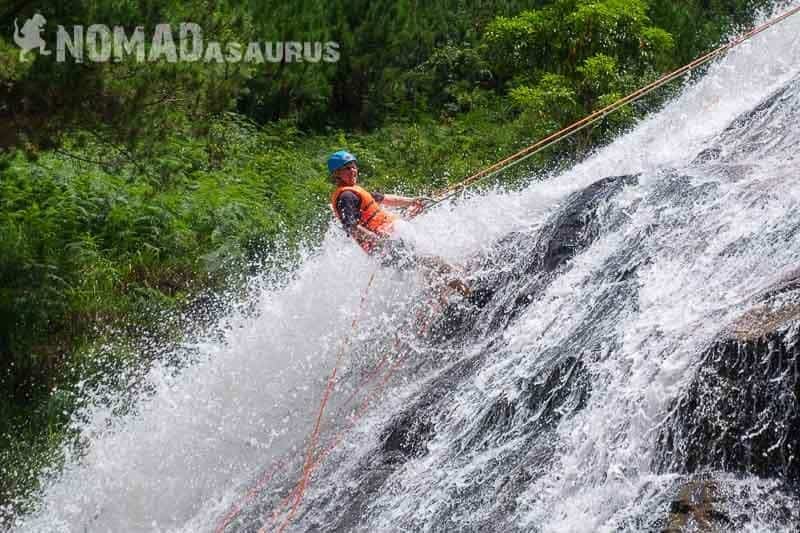 Leaping Off Falls While Canyoning In Dalat, Vietnam
Eventually, we reached the jumping point and here we had to leap backward from the wall letting go of our ropes and tumbling the four metres to the turbulent pool, landing squarely on our backs.
It goes against everything I have learned about cliff jumping but it is the only way to avoid the shallow rocks under the surface. However, with the waterfall breaking the surface beneath you the landing is soft.
Despite moments of doubt at taking the leap, we all completed the challenge safely.
To calm our nerves Tony and Dragon provided a delicious picnic lunch of salad and baguettes complete with fresh mango, watermelon, and pineapple.
There was so much extra food that there was no chance of leaving the place hungry. The real concern was that we might overeat during our picnic lunch and become too heavy for the safe working limits of the ropes!
With our appetites satisfied there was only one abseil to go. But before we reached this last activity we had to take part in some cliff jumping. One of my favourite things to do!
The two options were a gentle 7m leap or a more demanding 11m jump that required a running start to ensure you clear the lower level jutting out below. After watching Dragon make the high jump without a moment of indecision I had to match him.
Knowing that hesitation leads to self-doubt I just had to run and launch myself off the cliff without pausing for thought. It was great to be jumping off of high platforms!
Jay, one of the other members of our group, and I made the leap three times. Lesh having a bit more sense and awareness of possible injuries wisely chose the 7m jump.
Now it was time for the famed 'Washing Machine'. We had heard tales of this final rappel and couldn't wait to try it ourselves.
Only 10m high but requiring nerves of steel you lower yourself past the edge of the cliff until you are hanging freely above a strong waterfall.
Dropping into the falls you are then pushed and spun around violently (hence the name Washing Machine). Sliding yourself down the rock face you then let go of the rope and are pushed underwater for a few seconds before you are shot out of the whirlpool below and into the calm swimming hole it flows into.
Challenging, but a lot of fun!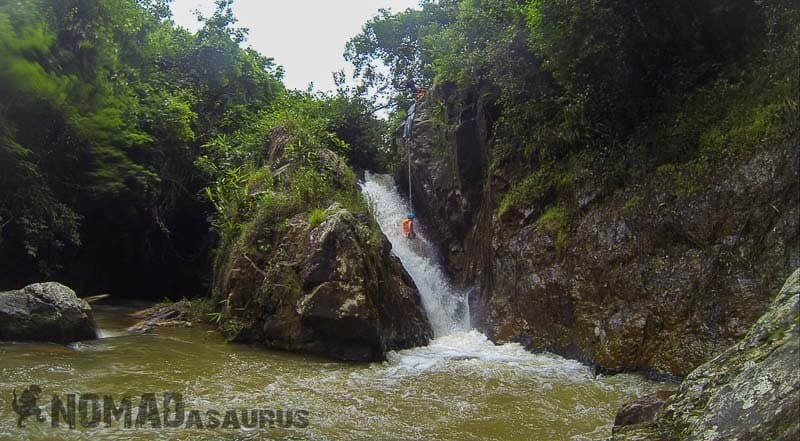 With the day of canyoning in Dalat drawing to a close all we had to do was hike for 20 minutes out of the valley and back to the waiting car to transport us back to town.
Our stoke levels were at an all-time high and could not wipe the smiles off of our faces. Before we knew it we were back in town and Tony, Dragon and the owner of Dalat Adventure Tours, Mr Win, all invited us back to their office that evening for drinks. The entertainment was to continue late into the night.
We were very happy we made the choice to go with Dalat Adventure Tours for our Dalat canyoning. Their professionalism and friendly personalities made our experience incredibly enjoyable and something we will remember for a long time to come.
The amazing guides and attention to detail was excellent. The small group sizes ensured we were all taken care of personally. Tony, Dragon and Mr Win did everything to ensure our adventure canyoning in Dalat was a top quality expedition.
Now we have to figure out when we can come back to go canyoning in Dalat, Vietnam again!
If you need to book your bus to Dalat from any major city in Vietnam, you can do so using the popular website, Bookaway.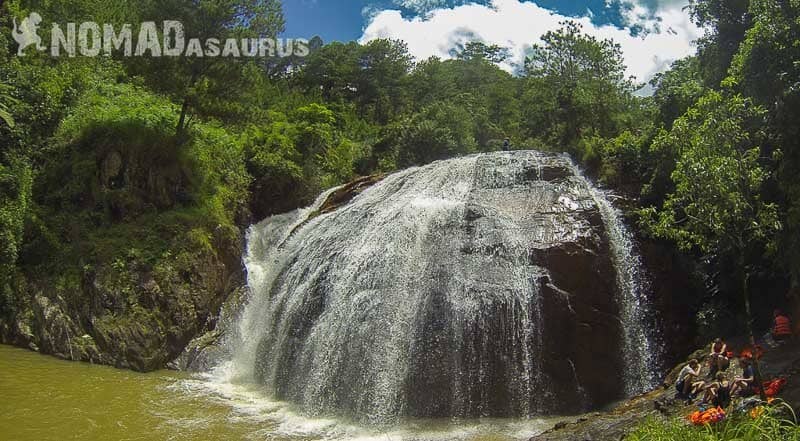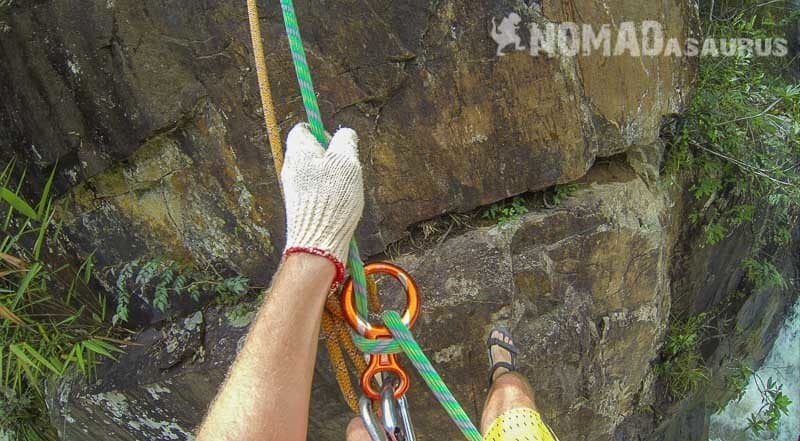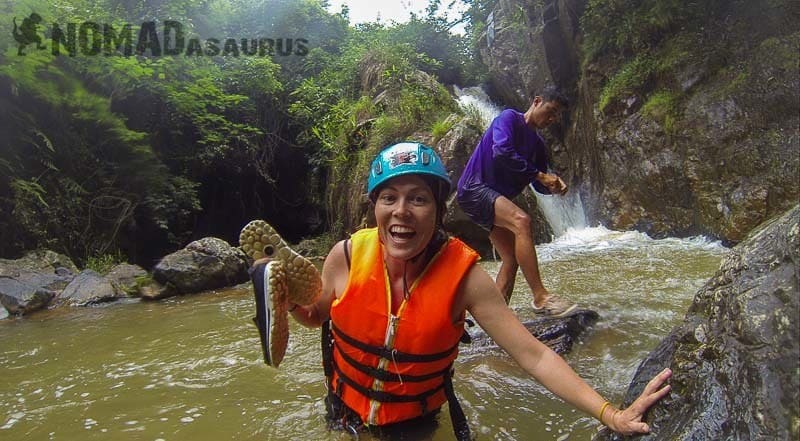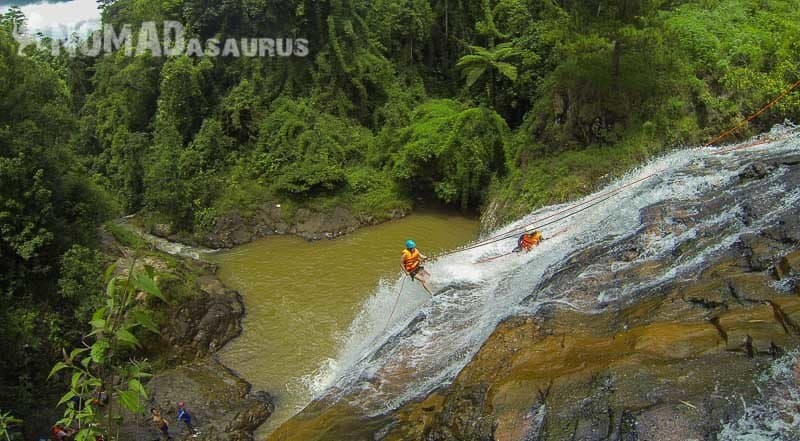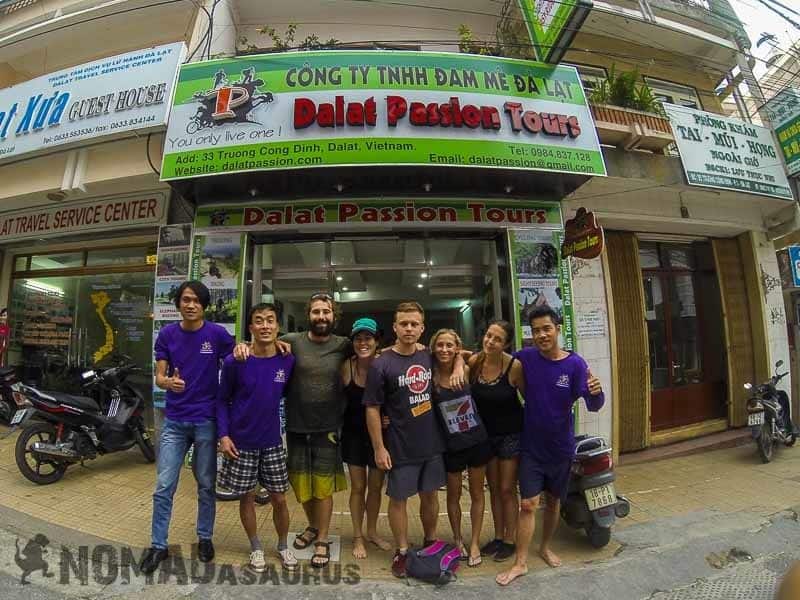 Pin It For Later