Letting Go Of Control On The Back Of A Vespa
After more than 5 months and 9'000km touring around South East Asia on our own motorcycles, we had almost forgotten what it was like to be a passenger. To be able to sit back, relax and take in the incredible scenery that the region has to offer, without having to keep concentration levels cranked up to the maximum. When the opportunity came up to do a countryside tour of Hoi An with Vietnam Vespa Adventures, we jumped at the chance to let someone else take control of our itinerary for once. We're not used to letting go of control, but when we finally did it was worth every moment!
Our day started with a great breakfast at Cafe Zoom, the Hoi An headquarters for Vietnam Vespa Adventures, and a briefing from our guide, Loan. Anxious to get on the road and experience what it was like on the back of an old school Vespa, we jumped on the scooters and hit the ancient city. Weaving through alleyways and dodging oblivious tourists we reached the boat 'port' and watched our drivers expertly load up the bikes onto the ferry.
We hit the other side of the river and scooted around the Vietnamese countryside, driving down narrow roads and through pleasant villages. The first stop was at a boat building yard where we were told about the intricacies involved in building a Vietnamese fishing vessel and the conditions offered to the workers. Making between 50'000 and 100'000 dong an hour ($2.50-$5), these workers are also provided food and water by the company. It might seem low to Western standards, but the cost of living is quite low outside of the city and this is actually a decent wage compared to other industries.
Back on the Vespas we rode through more captivating scenery, taking glimpses of the daily lives of farmers. Our next stopping point was to witness how traditional sleeping mats are made from a special type of dried grass. Watching the ladies rapidly weave the strands into each other using a manual loom was mesmerising. At their most productive, they can make up to three sleeping mats in a single day – all done by hand. They offered me the chance to try and feed the grass into the loom myself, but all I managed to do was fumble and butcher their near-perfect art. Laughing, they took control back and showed me how the professionals do it – With grace and speed.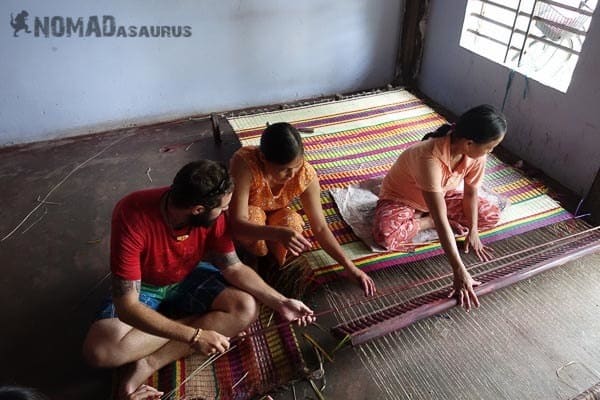 Starting to feel peckish, our next destination was another family's house where they make rice paper and crackers to sell in the markets. After being expertly shown how to pour and spread the liquid mixture onto a thin cotton cloth over a fire, it was again our turn to try our hands at this simple craft. Of course, none of us could master it and all our results were either too thin, too thick or spilled onto the floor. The kind Vietnamese man in charge of the production was encouraging, and urged us to keep trying. Rather than waste any more of his ingredients, we had the option to sit in their yard and snack on the finished products. Chatting with Loan, our guide, we dipped the crackers into a chilli and fish oil sauce and munched down for a few minutes before heading to a small coffee shop to enjoy a brew with the locals.
Need accommodation in Hoi An? Book here with Agoda.com
For the next hour we rode around on the back of the Vespas, enjoying more of the spectacular scenery on the outskirts of Hoi An. At one point we had to jump off momentarily to watch our drivers ride the scooters over a long rickety bamboo bridge. How the bridge did not fall apart under the weight says a lot about the ingenuity of Vietnamese engineering, as well as the skill levels of our drivers. With one more ferry ride and smooth roads, the hour flew by.
Our final stop was at a restaurant with a million-dollar view! Right on the ocean, on the road between Hoi An and Da Nang. There was no one on the beach, despite the gorgeous weather and clean white sand. Our last treat for the day was a fresh seafood lunch of prawns, mussels and calamari, all downed with either fruit shakes or beer. A desert of succulent papaya was provided as well. We didn't expect the food to be so delicious, and it proved to be one of the best meals we have had in all our time in Vietnam.
Unfortunately the day had to end, but it was not something we'll forget for long time. The change from being our own tour guides was a lot more enjoyable than we had anticipated, thanks to the great staff at Vietnam Vespa Adventures. Our leader, Loan, her assitant, Bao, and the drivers Phuc, Thinh, Win and Luyt did everything to make sure our day was better than anticipated. Who would have thought that giving up control would be so worthwhile!
[box type="info" size="large" style="rounded" border="full"]We did this tour with the support of Vietnam Vespa Adventures. All thoughts and opinions are our own. [/box]