Ever since the NOMADasaurus team took their Northern Vietnam Motorcycle Adventure, I've been dreaming of grabbing a motorbike on which to roar up and careen down Vietnam's glorious mountain roads.
The only problem is, I don't know how to drive one.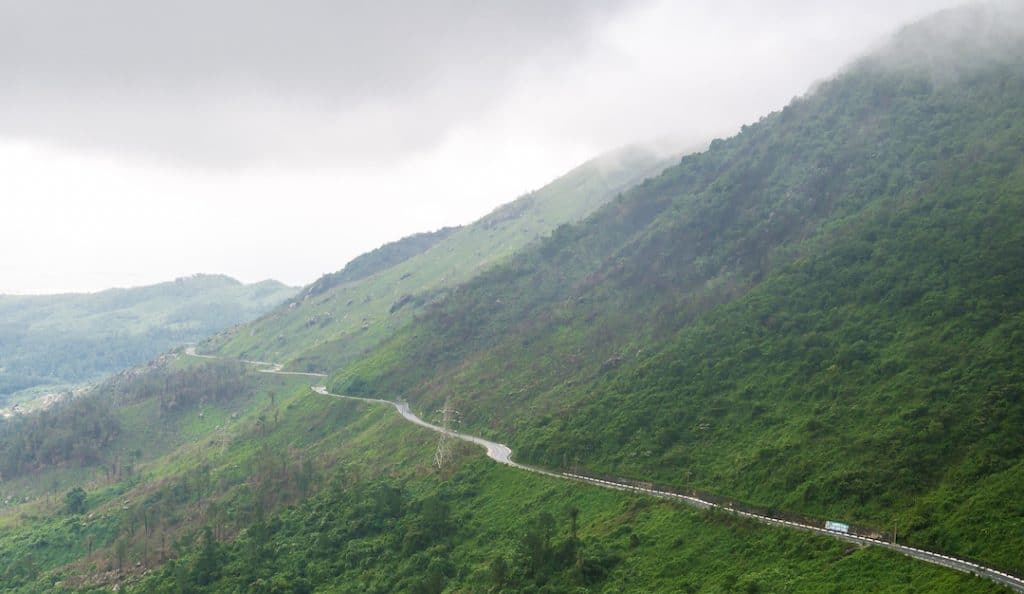 Sitting in a small cafe in Hue, researching yet another tedious bus journey, I stumble upon the way to make my Motorcycle Diaries fantasy come true, no experience necessary. I can join a tour from Hue to Hoi An by motorbike where I sit on the back and enjoy the scenery while a pro does all the hard work of driving!
The big draw of the tour is Hai Van Pass, made famous by a special Top Gear motorbike episode. Jeremy Clarkson dubbed this stretch of tarmac "one of the best coast roads in the world".
Rising from sea level to almost 500 metres, the 21-kilometre twisted ribbon of road clings to the mountainside overlooking the South China Sea. Since the Hai Van Tunnel was carved out beneath the mountain in 2005, the pass road is a wide open swath of empty tarmac, just perfect for motorbikes.
Don't miss our guide on Travelling In Vietnam.
Will it Ever Stop Raining?
The main barrier to my motorbike adventure was the pounding rain that had been battering Hue's streets for more than a week. Rainy season was supposedly coming to an end, but Mother Nature hadn't got the memo.
Don't miss my guides to Hue vegan and vegetarian food and Hoi An vegan restaurants.
So when Uy from Le Family Riders showed up with his mother at my hotel at 8:30 am, already drenched from the never-ending downpour, things didn't look promising.
But, almost before I could say "hello", Uy and his mother were wrapping me head-to-toe in a suit of thick plastic armour. Rain pants and poncho in place, they directed me to trade my shoes for a pair of tall rubber boots and then crowned me with a hardcore motorbike helmet equipped with a full-face visor. A bright orange safety vest was the icing on this rain-proof cake.
I may have looked ridiculous but at least I knew I would stay dry.
Water Rising
Before we're barely out of Hue, Uy's mother calls to give him some bad news. The usual route they drive is deep underwater. We have to find another way out of town. As we climb to higher ground, I am just happy to feel the fresh breeze blowing by and to be at street level instead of on the top deck of a swaying sleeper bus.
In summer, the first tour stop is Elephant Springs, a busy swimming hole that attracts overheated tourists and locals who gather to picnic, drink and stay cool. In winter, Elephant Springs is a raging river pounding past deserted food stalls.
Not only is it too cold to want to swim, a dip would be deadly right now. Instead, I perch on the slippery rocks as Uy instructs me on where to pose for the perfect shot.
Splashing Around
At a small fishing village, I try to make friends with a gang of local kids who play by the choppy water's edge.
They approach shyly and then giggle and run away every time I speak. These are the only kids I've met on my travels who aren't brave enough to strike a pose for my camera.
In retrospect, my ridiculous rain gear might have had something to do with it.
Other than these kids and their grandmother, who uses a long rake to gather roots from the lagoon for cooking, the village seems deserted.
Uy explains that the people here fish only at night. After dark, their long wooden boats slip silently through the water and the villagers shine bright flashlights to attract their unsuspecting prey. But at this time of day, everyone is still in bed resting from the previous night's work.
At Lap An Lagoon, Uy leads me out along a gangplank to one of the many floating fish restaurants along the shore. The lagoon is 16 square kilometres of shallow salty water separated from the sea by a long narrow peninsula.
Most of the people who live here are fishermen or fish farmers and more than half of them work producing oysters in the lagoon. Lap An is protected by mangrove forests, many of which have been destroyed to make way for aquaculture. However, conservation efforts are underway to preserve the remaining mangroves and the livelihood of the people who depend on the lagoon's natural bounty.
Reviewers on Trip Advisor rave about the lunch here but being a vegetarian, I am served a fish-less feast instead.
The restaurant is busy with large families who have come from Hue or Da Nang for Sunday lunch. The seafood dishes look amazing and I almost wish the Le Family had forgotten my request for a vegetarian meal.
Conquering Hai Van Pass
The sun is just starting to peek through the clouds as we lean into the first switchback on the Hai Van Pass road. As the tarmac unspools beneath our wheels, I long to be driving my own motorbike.
But for now, it is thrill enough to be a passenger as we carve our way up the mountain.
Since I don't have to drive, I can focus my attention on the dazzling view that becomes richer with every metre climbed. Far below, the white sands of Lang Co beach shine and a stray beam of sunlight sparkles on the choppy sea.
Hai Van Pass translates as Ocean Cloud Pass and as we near the summit, it lives up to its name. Clouds cling to the mountain-top and we are suddenly enveloped in a dense fog.
Using the old French and American army bunkers at the top of the pass as props, a photographer snaps wedding-cake photos of a young couple, mysterious mist swirling in the background. In Vietnam, wedding photos are shot several weeks before the wedding so they can be displayed at the festivities. If this couple are still in love after the trials of today's shoot, they can probably get through anything together.
The descent to Da Nang is not as thrilling as it would be going full-tilt on a bicycle but it's still a rush to curve and swerve our way down towards the city, feeling the temperature rise with every metre we descend.
It's not really a beach day, but we cruise the promenade along Da Nang bay anyway. Plenty of people have come down to the shore, wind and cold be damned, to enjoy the sparkling white-sand beach and the choppy waves.
Though Marble Mountain was not on my must-do list (I've seen way too many temples and pagodas on my travels), I'm thrilled by what I discover.
Technically, there are five Marble Mountains – craggy limestone and marble formations that jut out from the ground like ancient fingers. Hindu and Buddhist sanctuaries hide inside craggy caves at the top of the mountains.
Thuy Son is dotted with small atmospheric temples and pagodas and is the only mountain open to visitors. Inside the cave temples, sunbeams filter through cracks in the rock, painting the simple altars in divine light.
At the back of the small Van Thong Cave, I notice a narrow opening in the rock behind the altar. A set of ancient steps, smooth with age, beckons me on. I climb them and find myself in another cave hidden behind the first. Another narrow passage behind the second altar leads me out onto the highest point of the mountain.
A spectacular 360-degree panorama of the Marble Mountains and Da Nang spreads out below.
As I climb back on the motorbike for the final leg of my journey, my sore butt tells me I'm ready for this adventure to be over. In 20 minutes, we pull up in front of the Tipi Hostel in Hoi An and Uy happily shakes my hand and waves goodbye. I wish him well, knowing he has a three-hour return trip ahead of him and that he will repeat the whole trip tomorrow with another group.
As I check in and retrieve my suitcase, ready and waiting for me at the front desk, I'm a little sad that I'll be dependent on public transport again tomorrow. That night, I renew my vow to learn to ride a motorbike this year and to start planning a motorbike adventure of my own.
Plan Your Trip from Hue to Hoi An by Motorbike
What to Bring on the Motorbike
Bottle of water
Camera
In summer, weather-appropriate clothing, sunscreen, bathing suit, towel
In winter, bring a light jacket and wear long pants and long socks. If it's raining, Le Family Riders provides a full suit of rain gear and rubber boots to keep you warm and dry.
What to Expect/FAQs
Will my butt/back/legs hurt?
Even though the seat of the motorbike was extremely comfortable, make sure you sit up straight and relax your legs so you don't fatigue after a few hours of riding. There are enough rest stops during the day that soreness should not be a problem.
What happens to my luggage?
Le Family Riders transports large luggage by car to your destination and will leave it at your hotel. Daypacks are strapped to the motorbike (and wrapped up in a heavy-duty plastic bag if it's raining).
Should I go even if it's raining?
Yes! The weather is often better in Hoi An than in Hue, so you might find you're out of the rain quickly. The rain gear provided is practically soak-proof, meaning you won't feel a drop, even in a downpour.
Can I go from Hoi An to Hue instead?
Yes, the trip goes both ways. Just book a few days ahead and you will be picked up at your hotel or hostel in either city.
Hoi An to Hue by Motorbike with Le Family Riders
Time: 8:30am to 5pm (approx) any day
Cost: 58 USD
Includes: coffee, water, soft drinks, snacks, lunch, luggage transfer
Contact: [email protected] Click for more details.
Le Family Riders also offers a variety of overnight tours, from two to four days, so you can explore more of Vietnam by motorbike. Click here for more info.
Marble Mountain photo by Nam-ho Park. All other photos by My Five Acres.