A review of our experience scuba diving in Nha Trang. Is it worth it?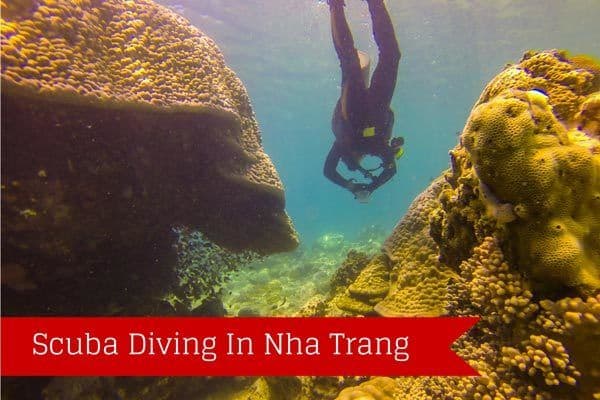 From the cenotes of Mexico to the coral gardens in the Ningaloo Reef in Australia, we have been pretty spoilt when it comes to incredible scuba diving.
That doesn't stop us from wanting to explore as many underwater worlds as possible, even when they don't have a great reputation for being the best diving destinations.
The beach resort of Nha Trang in Vietnam is one place that never rates too highly on 'must-visit' diving lists, but seeing as we had not much else to do there, we thought we would see what was on offer.
We ended up becoming pleasantly surprised with the scuba diving in Nha Trang.
After becoming certified back in 2011 on the beautiful island of Utila, off the coast of Honduras, we've breathed underwater in 7 countries, more than 50 times.
It surprisingly became a massive passion of ours, and is something that we hope to pursue for years to come. For this reason, we don't mind scuba diving if the visibility is not perfect and the amount of marine life to be found is low.
We love the sensation of being weightless that you get with a scuba dive, and that is enough to draw us beneath the surface.
Check out our new guide to Travel To Vietnam.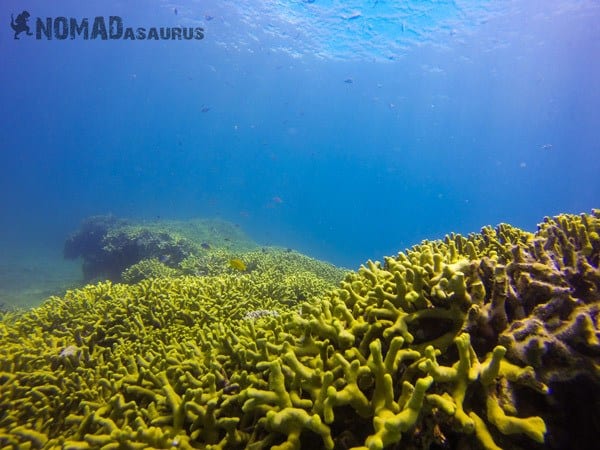 Why Not? Scuba Diving In Nha Trang
We read a few reviews online for scuba diving in Nha Trang, and they didn't give us much optimism. Reports of over-fishing, coral bleaching, boat pollution and little reef conservation were rife across the internet.
Despite this, we still wanted to give the scuba dive in Nha Trang a shot.
While we were canyoning in Dalat we met a guy who had recently been diving with Nha Trang Fun Divers and informed us that even if the conditions themselves were pretty bad, they were the best diving shop in town, and definitely worth checking out.
We much prefer to go on word of mouth from people we meet than a dodgy trip advisor review, so we headed straight for Nha Trang Fun Divers as soon as we got to town.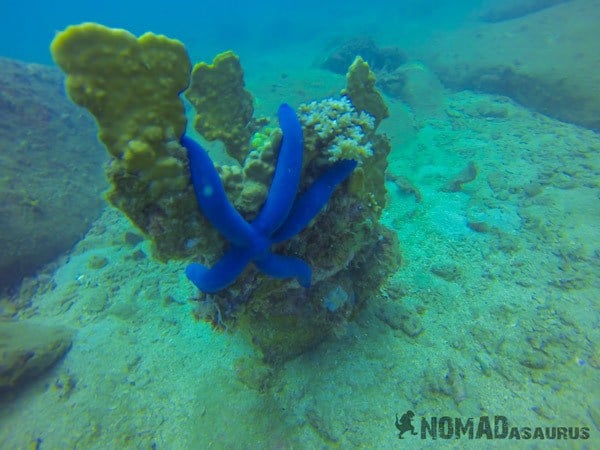 Run by Hamit, a cheerful Turkish man, the outfit seemed to be quite professional and we asked to inspect the equipment before signing up.
While not brand new or flawless, the regulators, BCDs, wetsuits, masks, and fins all seemed to be in good condition.
READ MORE: Check out our guide the best watches for diving!
With the weather forecast the next day to be sunny, we felt confident in handing over our money to go see what the scuba diving in Nha Trang had to offer.
After a light breakfast, Lesh and I arrived at the store, were escorted into a van, and sent down to the port where our day's adventures would set off from.
The usual pre-departure briefing took place with some scuba diving basics, and off we went into the South China Sea.
Our dive master was an affable Vietnamese guy named Anh, who enthusiastically gave us the briefing for our first dive spot, Madonna Rock.
We were feeling pretty excited to jump back in the ocean, as we hadn't been diving since completing our rescue diver course, wreck and nitrox specialties back in Koh Tao, Thailand.
Kitted up, we James Bond rolled our way off the boat and into the sea. It was just Lesh and I, teamed up with Anh, so we all felt pretty confident in each other's skills.
The final ok was given, and we descended down into the warm waters for our scuba dive.
Visibility was a lot better than we had expected – around 10m – with almost zero current. While there wasn't an abundance of marine life, the dive was still quite fun as we hit a bottom depth of 20m and slowly started making our way up, floating amongst coral reefs, pinnacles, and rocky outcrops.
We found a few nudibranchs and some other muck life, and even spotted some moray eels, box fish, banner fish and cleaning shrimp.
The highlight for us however was a couple of narrow swim-throughs, and one small cave we explored which has always been a favourite part of diving for me.
We surfaced after 55 minutes with huge smiles on our faces. Despite the bad reports we had heard, this was pretty good!
We relaxed on the boat for a long surface interval before jumping back in for our second and final dive spot, Mushroom Bay.
There were no swim-throughs on this one, instead we circled around a few coral heads before following a sandy-bottomed area up to one more reef outcrop.
Marine life in the coral reefs was low on this dive, but like the previous one, there was almost zero current. We spotted some more nudibranchs, a lionfish, lizard fish, and of course more than a few Nemo's – clown fish.
Lesh and I took this opportunity to really focus on our buoyancy and calm breathing patterns. Anh stayed close by, but for the most part, left us to our own devices.
Constantly checking our dive computers and heading, we started to explore the dive site to see what we could find.
With little to see, we instead decided to do an impromptu underwater photoshoot at the dive site before making our way up for our safety stop.
Once Lesh and I got back to the boat we talked about how the last dive had probably been the most relaxing dive we had ever done.
With decent visibility, a sandy bottom, no current, and controlled breathing patterns, we really could just focus on the simple act of diving without searching for other members of a dive group or desperately trying to find SOMETHING to see. It was an incredible day of Nha Trang scuba diving.
We demolished a large Vietnamese lunch on the way back to town, and chatted to the other divers on the boat. Besides one local lady doing her open-water (who panicked at 2m on her first dive), everyone had the same experience as us. Relaxing, pleasant, and better than expected.
Scuba diving in Nha Trang was definitely not something we had really expect to take part in when we entered Vietnam. But despite contrary reports, we were quite happy with how good the conditions were.
This is not the Red Sea or Palau, but that didn't matter. The enjoyment from simply diving is enough for us, and anything else is a bonus. As it turns out, scuba diving in Nha Trang brought far more than we had expected.