From the Marble Mountains to the Son Tra Peninsula, here is the ultimate list of the best things to do in Da Nang, Vietnam.
Da Nang in Central Vietnam is one of those incredible backpacking destinations that is unfortunately skipped by so many travellers.
Many people find themselves being short on time, and rush through Vietnam only aiming for the main destinations like Ho Chi Minh City and Ha Long Bay.
Such a shame, because lots of people just don't realise that there are so many amazing things to do in Da Nang!
The common theme is to fly or catch the train into Da Nang and head straight to the fascinating UNESCO World Heritage Site of Hoi An, only 30km away. People often use the city simply as a transit stop, and they miss out on so much.
Even for those that know about what to see in Da Nang, this hip and thriving Vietnamese city proves to have a lot going for it. It definitely deserves catching some of your time.
The city of Da Nang is the third-largest in Vietnam and has had a tragic yet fascinating history.
If you are interested to see more of Vietnam, make sure to read our Vietnam Travel Guide!
From the 16th century, Da Nang has steadily grown in size and importance from being a small trading port to becoming a large shipbuilding site in the 19th century.
Eventually, Da Nang became the largest commercial port in the region. It was in Da Nang that the French first landed to conquer the country.
It was also the first place that Europeans arrived in Vietnam when the Portuguese explorer António de Faria anchored off the coast in 1535.
In 1965 the US military arrived and began building air and army bases around the area. The vicinity around Da Nang was heavily affected by the chemical Agent Orange.
The harsh chemical was primarily stored at the international airport in town by the United States, eventually seeping into the soil and water supply.
The Americans used Da Nang, and its gorgeous My Khe Beach (which they called "China Beach"), as a place for rest and recuperation for soldiers fighting elsewhere in the country.
These days its history is all but a distant memory for the youth and travellers who grow up and visit the city.
There is a booming restaurant and food scene developing and its proximity to natural attractions like the Hai Van Pass and the Marble Mountains make it a great place to get out and explore the outdoors.
If you are looking for the best things to do in Da Nang, then look no further than this article!
Don't miss our complete guide on the best things to do in Vietnam!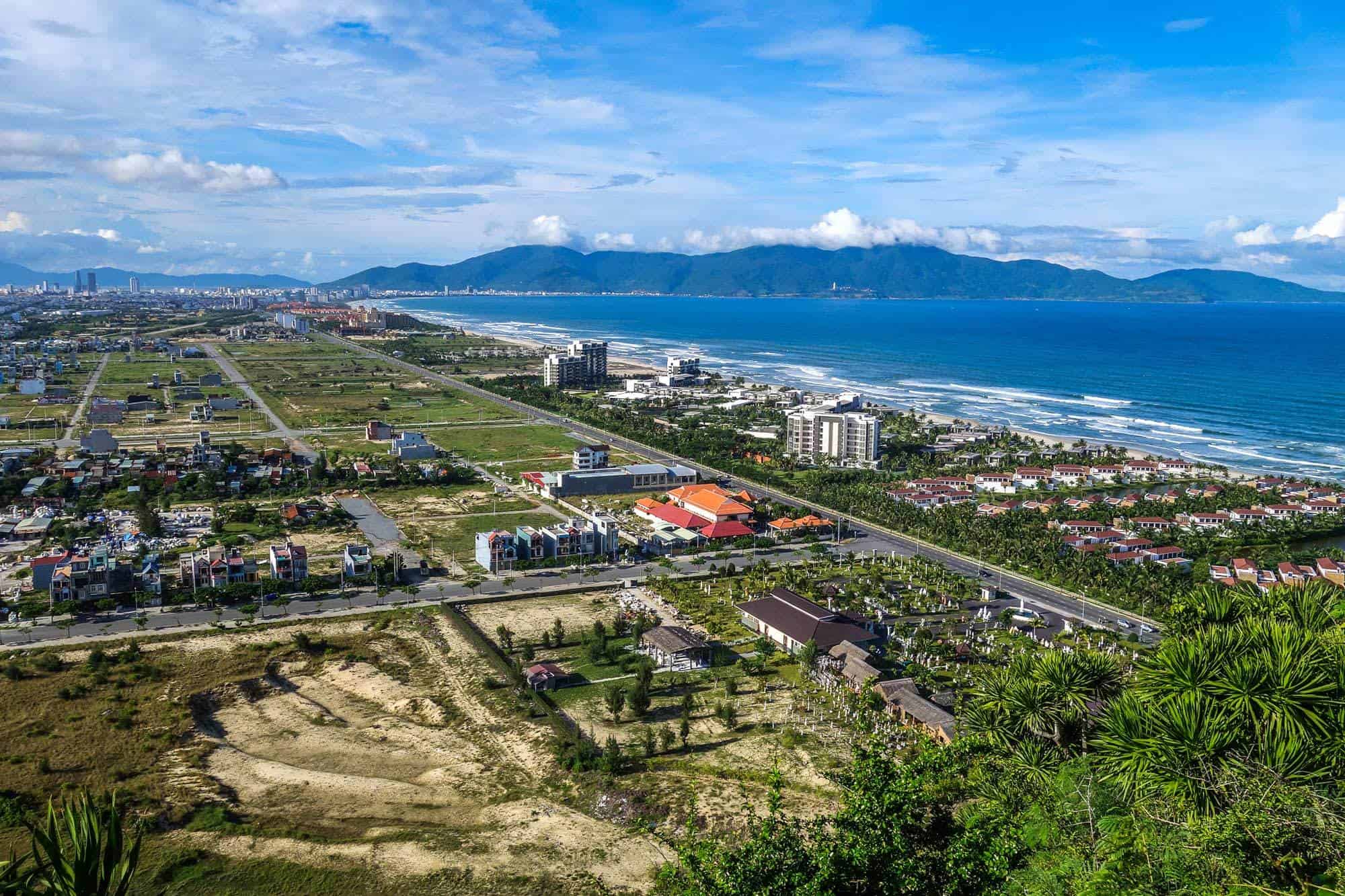 The Top Things to Do in Da Nang
You've found yourself in the city and are curious about what to do in Da Nang. Do you hit up the coast first, or wander the bustling streets?
Maybe you're feeling hungry and want to try the famous Vietnamese cuisine!
Or if you are an adventurous person perhaps you long desire to rent a motorbike and hit up the Hai Van Pass.
From the famous Dragon Bridge to the scenery of the Ba Na Hills, to the soft sand of My Khe Beach, there are so many cool things to see and do.
The list of things to do in Danang just goes on and on, but let's start with the five best activities in Da Nang.
The Marble Mountains
The Marble Mountains (Ngu Hanh Son or "Five Elements Mountains) are a cluster of marble and limestone hills just 7km from the city, and one of the best things to do in Da Nang!
The mountains are full of caves, tunnels and Buddhist shrines just waiting to be explored!
Ancient folklore says that a dragon emerged from the sea and laid an egg on the beach. 1000 days and nights passed and eventually, an exquisite lady was born.
The remains of the eggshells grew into the Marble Mountains that you can see today.
Over the centuries the Marble Mountains were used as a safe haven for soldiers and a place of worship for Buddhists. Today it is one of the most popular attractions in the city!
For years the hills were mined for their valuable stone, although that has been recently banned. You can see examples of intricate stonework in the roadside workshops surrounding the Marble Mountains.
If you are feeling energetic you can climb to the summit of one of the mountains, offering absolutely spectacular views over the entire area.
Don't miss this Da Nang must-see!
Marble Mountains Entrance Fee: 20,000 VND
If you're interested in going on a guided tour of the Marble Mountains, then the company Get Your Guide offers great value, all-inclusive tours.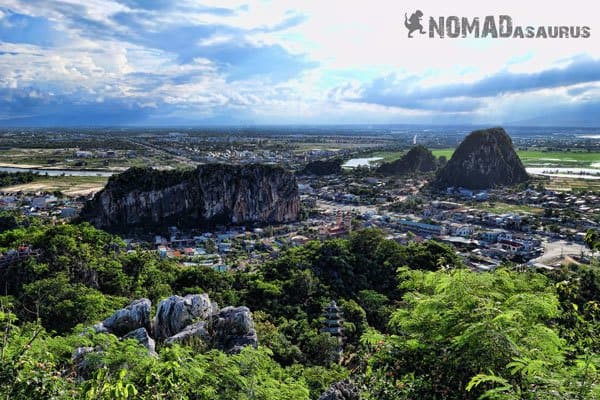 Take a Snorkelling Tour to Cham Island
Not too far from the coast of Da Nang is Cham Island, a place that not too many tourists get to, but well worth a visit.
This spectacular island is known for having some of the best snorkelling in Vietnam and is a perfect way to spend a day outside of the city.
There are a few different ways to get out there, but the best and most enjoyable way is to join a tour.
This one from Get Your Guide includes pick up from your hotel, the boat cruise, snorkeling and underwater walking (a pretty unique experience) and a delicious seafood lunch.
Check Out the Dragon Bridge
The Dragon Bridge is one of the best-known Da Nang attractions thanks to its unique design and interesting light show.
When the local government built it, they hired an artist to make it stand out, and the end result was this fantastic dragon-themed design.
Dragon Bridge is 666m in length and is the longest bridge of its kind in all of Vietnam.
Make sure you time your visit to Dragon Bridge to be a weekend because at 9 pm every Saturday and Sunday they turn the lights on and the dragon breathes actual fire!
Son Tra Peninsula
The beautiful rainforest that juts out into the sea from the city of Da Nang is called the Son Tra Peninsula. At a size of over 4000 hectares, this place is massive!
Rent a scooter or motorcycle to ride along the newly-built road to the end and check out the nature reserve, and stop off to visit one of the most important religious sights in the area, Quan Am.
Keep an eye out for the red shanked duoc langars that live on the Son Tra Peninsula. They are quite beautiful if you catch a glimpse of one!
Son Tra is a perfect getaway from the city and perfect for those wondering what to do in Da Nang.
There are plenty of untouched beaches along the peninsula and some excellent viewpoints, making this one of the most pristine beautiful places to visit in Da Nang.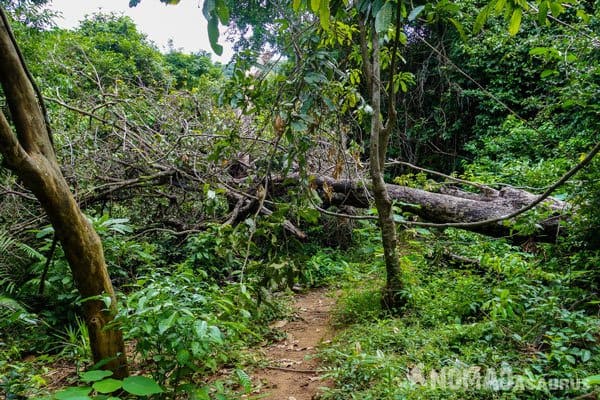 Relax at My Khe Beach
The beaches here are truly lovely and a real solid reason to visit Da Nang.
The long stretches of white sand are a perfect place to chill out on a hot afternoon, and with so much space it's easy to find a spot all to yourself.
My Khe is the longest beach in Da Nang, and arguably one of the top ones in the entire country.
Head down to My Khe Beach for sunrise to see locals making the most of the start of the day, or come back in the afternoon for some delicious seafood served up in the restaurants.
If you're a surfer, this is a perfect spot to come down to catch some small swell.
Visit the Cham Museum
Vietnam has a fascinating indigenous history, and one of the best places to experience this is the area around Hoi An and Da Nang.
The Cham people lived in this region nearly 1000 years ago, and built some of the most iconic structures in all of Vietnam, such as the UNESCO World Heriage Site: My Son ruins.
If you love your history and want to check out another cool idea for what to do in Da Nang, head to the Cham Museum.
This museum has the largest collection of Cham artifacts in the country, and the statues and carvings you'll find here are mind-blowing.
If you have more of an interest in Cham history, definitely book yourself into a tour of My Son ruins UNESCO World Heritage Site from Da Nang.
Address: Số 02 2 Tháng 9, Bình Hiên, Hải Châu
Opening hours: every day from 7 AM – 5 PM
Price: 60,000 VND
Hai Van Pass
Made famous in an episode of the TV show, Top Gear, the Hai Van Pass has now become a bucket list item for thousands of motorcycle enthusiasts (and amateurs) and adventurers looking for alternative things to do in Da Nang.
This 21km mountain pass between Da Nang and Hue offers some of the most incredible ocean views in all of Vietnam.
A new highway tunnel that has been built to bypass the road ensures that traffic numbers now are low, although the ride can still be quite technical; especially if you are inexperienced or the weather turns bad.
Rent a scooter from town and leave early in the morning if you plan on being back in Da Nang the same day.
There are also a number of tour companies that can help you ride the Hai Van Pass if you aren't a confident motorbike rider.
Check out our guide on riding the Hai Van Pass.
You can book a full-on motorbike tour of the Hai Van pass on Get Your Guide.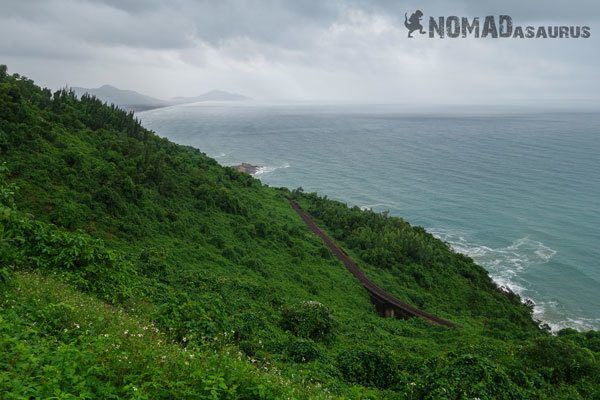 Explore the Markets and Do a Cooking Class
One of the best things to do when travelling around Vietnam is to explore the thousands of markets you can find in every town.
They are an assault on the senses, and it feels as though you can find just about anything you could ever need in them.
Fruits, meats and vegetables are common of course, but so are electrical equipment, housing supplies, health supplements and everything else under the sun.
In Da Nang the markets are truly amazing, but they can be overwhelming to wander through them if you're not used to the hustle and bustle of Southeast Asian markets.
A great Da Nang activity is to join a cooking class that includes a visit to the markets.
On this tour you'll be picked up from your accommodation and taken to the markets to pick up the ingredients you'll need to make some delicious Vietnamese cuisine.
Afterwards you head to a real working farm so you can see how the locals tend to their fields, pick some more vegetables, and then it's time to head to the kitchen!
You'll be taught how to make a range of popular Vietnamese dishes, like pho, spring rolls and papaya salad. You can then take this new knowledge home with you to make your own food (and wow your friends)!
It's a great day out, and one of the top things to do in Da Nang, Vietnam.
Eat The Food
We didn't know that Da Nang had such a happening food scene until we stayed at the amazing Funtastic Hostel, which is sadly now closed.
Owned by Summer from Danang Cuisine, one of the most famous food blogs in the country, she really opened our eyes to the culinary delights around the city.
Naturally, being so close to the ocean, fresh seafood is on many restaurants' menus. There are plenty of awesome street food to try as well if you are on a budget. For our biggest and best recommendation go eat at Tam's Pub And Surf Shop.
Make sure you have a few hours spare to listen to Tam's fascinating stories of what life was like growing up during the war (and try her vegetarian burgers).
If you're more of a street food type of person, then you'll have no shortage of restaurants to eat at. Just cruise up and down the road and grab a chair at any of the busy spots!
Tam's Pub and Surf Shop
Opening hours: every day from 8 AM – 9 PM
(According to Google in November 2022, Tam's Pub and Surf Shop is temporarily closed. There are no online updated as to when it will reopen, but check it out when you're in Da Nang to see what's happening!)
Head to the Ba Na Hills
You've probably seen a photo on Instagram of a long bridge high above a mountainous landscape, with huge concrete hands seemingly holding it up.
That spot is in the Ba Na Hills, and you can go visit it yourself!
Besides walking across the bridge and getting your Insta pics, a real highlight in Ba Na Hills is checking out the Linh Ung Pagoda and visiting a minority village.
If you don't want to ride your own scooter up in Ba Na Hills, you can book a tour that includes the cable car here.
Ba Na Hills is easily one of the coolest things to see near Da Nang.
Non Nuoc Beach
When people think of Vietnam, surfing is not something that immediately springs to mind. But still, it is possible to go surfing in Vietnam!
There is a growing surf community here who take advantage of the consistent and fun beach breaks along My Khe Beach (known more commonly among American soldiers as China Beach).
If surfing isn't your scene you can always go for a swim or simply relax on the spotlessly clean sand.
No missing out on some chill-out time when you're at the beach! Seriously – spending time at the beach is one of the best things to do in Da Nang!
If you really feel like splurging out make sure you check out all the incredible beachside resorts in Da Nang (and use the code: AGODANMD10 to get 10% off your hotel stay).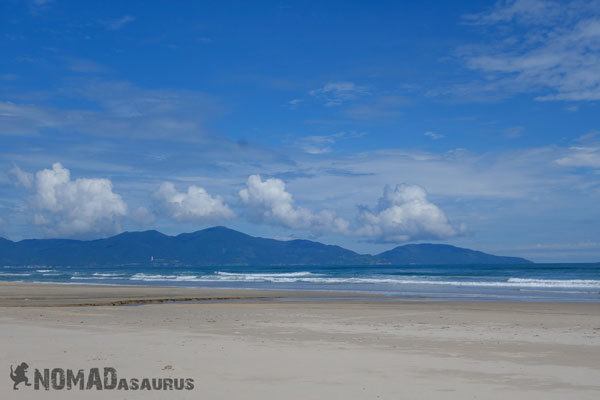 Da Nang Travel Guide
Now that you have your itinerary set for Da Nang, we wanted to share our list of best places for a comfortable stay in Da Nang – no matter what your budget may be!
Where to Stay in Da Nang
There are tonnes of great accommodation in Da Nang, from 5-star beachside resorts to funky backpackers and cheap guesthouses. Really the only thing you are limited by is your budget!
NOMADasaurus readers receive an exclusive 10% off when booking their accommodation with agoda. Use the coupon: AGODANMD10
Best Backpacker Hostel In Da Nang
Our favourite hostel in Da Nang has now closed, but a new one has just opened up and is getting amazing reviews thanks to its trendy, funky style.
Rom Casa Hostel Da Nang is a shipping container hostel located between the beach and the Han River, giving it brilliant access to just about everything you would need for your stay in the city.
They know all of the top things to do in Da Nang, so you know you're visit to the city is going to be perfect.
Best Budget Hotel In Da Nang
One of Da Nang's best-kept secrets in terms of budget places to stay is the Da Nang Beach 2 Hotel. We stumbled across this place the first time we rode into town and couldn't believe our luck!
It's only a few minutes stumble to the beach, the staff are amazing, the rooms are bright and clean and the wifi rocks.
There are also heaps of good bars and restaurants within walking distance as well. Highly recommended!
Best Mid-Range Hotel In Da Nang
If you want to stay somewhere that is a bit nicer, a bit more modern and has a bit more character, then make sure you head to Sofia Boutique Hotel.
Located right on the beach and only a few kilometres from the city centre, this hotel has room-service, daily housekeeping, safes in the rooms, TVs and just about everything else you could need to kick back and relax in the city, without breaking the bank!
Best Luxury Hotel In Da Nang – A Lot Per Night
Da Nang just happens to have one of the best luxury hotels in all of Southeast Asia – The Intercontinental Da Nang Sun Peninsula Resort.
Now we'll be honest – this is the kind of place you look at if you are going on a honeymoon, money isn't an option or you just want to splash out on somewhere that will blow your mind.
Our friends got married there so we got lucky and had a chance to check out the property. All we say is: WOW!
How to Get to Da Nang
There are a whole bunch of different ways to get to Da Nang city. The easiest, and most efficient, is to fly in.
Da Nang city has an international airport that services a whole bunch of different countries, and has excellent connections with Hanoi and Ho Chi Minh City.
If you want to travel by land Da Nang is well connected with all of Vietnam via its coastal train system and bus network. You can also check out the options on Bookaway.
If you find somewhere else that is worth staying at in Da Nang make sure you leave a comment below and let us know so we can check it out next time we're in town! We hope you found tonnes of great information in this post on what to do in Da Nang! All the best and happy travels.
For those looking for comfortable airport transfers from the airport to Hoi An, you can book it on Get Your Guide for cheap.
DISCLAIMER: Some of the links in this article are affiliate links, which means if you book accommodation, tours or buy a product, we will receive a small commission at no extra cost to you. These commissions help us keep creating more free travel content to help people plan their holidays and adventures. We only recommend the best accommodations, tours and products that ourselves or our fantastic editorial team have personally experienced, and regularly review these. Thanks for your support, kind friend!
Pin It For Later