Everything you need to know about the ruins of My Son Vietnam.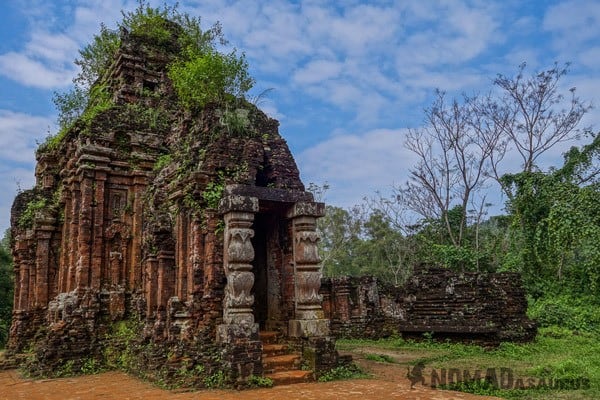 Cautiously riding down the chaotic roads of Hoi An on a rented, slightly-scratched, automatic Honda scooter, we exit one UNESCO World Heritage Site and make our way towards another – My Son Vietnam.
Less than 50km from the picturesque port city is a collection of Champa ruins nestled amongst the mountains in a geological basin of the Quang Nam province in Central Vietnam.
Compared to the iconic temples of Angkor, or the ancient city of Ayutthaya, My Son, Vietnam is not quite as extraordinary.
Still, these monuments are dramatically unique, and as such are somewhere that should not be skipped from your Southeast Asia itinerary.
Declared a UNESCO World Heritage Site in 1999 due to its historical and culture significance, the Champa city of My Son Vietnam was an important complex that was occupied from the 4th to the 13th centuries.
The source of the sacred Thu Bon River lies right in the heart of the basin and flows out to the South China Sea, through the town of Hoi An.
This made it a strategically defensible location and is the main reason why it became the dominant city for the Cham people. The Champa Kingdom was established in 192 AD, with an agricultural-based economy.
Don't miss our new guide to help you travel to Vietnam.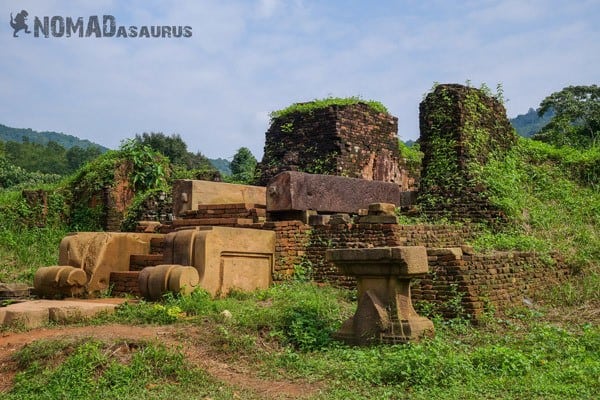 With its spiritual origins stemming from Indian Hinduism, statues and stelae of Vishnu, Shiva and and Krishna can be found throughout the complex. Influences of Buddhism can also be seen in some of the newer structures.
Many people from the Cham culture eventually became Muslims and were pushed out of the region (there is a Muslim Cham population that can now be found in Cambodia).
There are 8 groups of temples found throughout the complex, and 71 standing monuments. Unfortunately My Son was heavily bombed during the Vietnam / American War and received substantial damage after the Viet Cong moved in and used the complex as a military base.
Since the temples were built of bricks with no mortar, reconstruction from the damages has been easily undertaken. Now the main groups are reminiscent of how they appeared centuries ago – if a little overgrown in places.
Visitors who make the hour-long journey from Hoi An, or the further trip from Da Nang, can thoroughly explore the groups of temples.
At the entrance of the site is a decent museum, filled with artefacts, detailed information in Vietnamese and English, and old images of the temples before the war. The museum is definitely worth a visit when heading to My Son, Vietnam.
Need accommodation for Hoi An? Book here with Agoda.com
How To Visit My Son Vietnam
There are three ways to reach My Son Vietnam:
A guided tour from Hoi An or Da Nang
Rented taxi
Motorbike/scooter
The guided tours are very cheap, but there is a reason for this; A day trip on a guided tour booked through an agency may take as long as 6 hours, but you are often only give one hour at the temples themselves.
This is because the drivers make a stopover at their 'friend's' restaurant halfway into the one hour drive. You are then given a long briefing once you reach My Son Ruins, before being sent off for a relatively short amount of time to visit the complex.
In our opinion, this should be considered a last resort.
A rented taxi is another great alternative to taking a trip out to My Son Vietnam. However this could be quite expensive if there is only one or two of you heading out to the ruins.
You will need to pay for a return trip, plus the driver's time spent waiting.
Our preferred method is (surprise surprise) going by your own motorbike or scooter. You can rent one from Da Nang or Hoi An for about US$5 (100'000 Vietnamese Dong), and fuel from Hoi An should cost you about $3-4 for a return trip.
Doing this independently allows you the option of leaving when you want, spending as much time at the ruins as you please, and of course the choice of stopping off anywhere else between Hoi An/Da Nang and My Son Vietnam.
Perhaps take a trip out to the beach after the ruins?
How To Get To My Son Ruins From Hoi An By Motorbike
Make your way to Hung Vuong – the main road heading out of Hoi An.
Once you ride under a highway bridge, take your first left onto a large two-lane road, split by a median strip.
Turn left (south) onto Route 1A
Follow 1A about 7km until you merge with Highway 1. Take extra caution on these roads as they are notoriously dangerous and busy.
Stay on Highway 1 for about one kilometre or so, then turn right where the large sign for My Son is.
Continue on road 610, following the signs for My Son Vietnam. The ruins are about 30km from the Highway 1 turnoff.
Tips For Visiting My Son Vietnam
Leave either very early in the morning, or around lunchtime. Tour groups arrive at My Son Vietnam around 10.30am, and there will be hundreds of people wandering around the ruins. The complex actually felt more crowded than Angkor Wat in Cambodia or Chichen Itza in Mexico. Arriving outside of these times will give you better photo opportunities and make you feel less rushed. You may even end up with some of the temples all to yourselves – a beautiful experience.
Take water with you. It can get very hot out at the ruins, and there is no one selling any inside the sanctuary. Bottled water can be bought near the ticket office.
How Much Does It Cost To Visit The My Son Temples
(All prices are in Vietnamese Dong unless otherwise stated)
Entrance Ticket – 100'000 (includes the My Son Vietnam Sanctuary and the Champa Museum)
Motorbike Parking – 5'000
Bottled Water – 15'000
Taxi Round Trip – US$30-50 (depending on your negotiating skills)
Organised Tour – 80'000 (excludes entrance ticket and food)