If you're seeking the ultimate Canadian bucket list experiences, you've come to the right place – Don't miss this epic guide to the 30 best things to do in Canada!
This isn't your typical 'things to do in Canada' post, filled with the obvious activities such as skiing in Whistler Blackcomb or riding a bicycle around Stanley Park.
In this article we dive deep into the most incredible, extreme, unique and life-changing experiences you can find in the Great White North.
Canada is a land rich in natural beauty, wildlife diversity and cultural heritage, the abundance of which few countries on the planet can compare.
Having spent three years living in this captivating nation, and more time since then travelling to its far flung reaches in search of adventure and epic landscapes, we can confidently say that even after exploring close to 100 countries, there truly is no other place on earth quite like Canada.
Polar bears and caribou roam the tundra in the far reaches of the Arctic while grizzly bears and orca ply the rugged coastline of British Columbia.
Picturesque villages lie amongst the jagged peaks of the Rockies, and cosmopolitan Canadian cities bustle with festivals and events that put them firmly on the world stage.
While most people who travel to Canada do so in search of the world's best ski resorts or a desire to road trip through the Rockies, there is so much more to do in this stunning, incredibly unique destination.
Our Guide to the Top Things to Do in Canada
You could spend a lifetime working your way through the ultimate Canadian bucket list, and if you haven't already planned yours out, this guide on what to do in Canada will give you plenty more ideas to add.
From the well-known tourist attractions like Niagara Falls, Banff National Park, and the Rocky Mountains, to the more remote natural wonders, pristine lakes, eco lodges, and more, here are the best things to do in Canada!
Travelling on Rocky Mountaineer
The romance of luxury train travel leans on a forgotten era, where travel was all about the journey, not the destination.
In Canada though one company continues to keep the notion of slow travel alive with one of the world's most spectacular rail experiences.
Rocky Mountaineer has been navigating the tracks through the Canadian Rockies since 1990, bringing guests on an all-inclusive voyage into the heart of the country's awe-inspiring glaciers, valleys and jagged peaks.
The most popular route travels between Vancouver and Banff on a 2-day trip, with a night spent in the picturesque town of Kamloops.
During the day guests relax in pure luxury, sipping on fine wines, tasting award-winning cuisine and staring majestically at the panoramic views found beyond the Glass Dome Ceilings of Rocky Mountaineer's GoldLeaf Service.
In recent years the company have added a number of other routes, including to Banff National Park and Jasper National Park and even into the United States, but it's near-impossible to beat the iconic First Passage to the West itinerary.
Travelling on Rocky Mountaineer is truly one of the greatest things to do in Canada, and by booking well in advance you can also add other adventures such as sailing the Inside Passage onto your trip.
You can read all about our own experience of travelling onboard Rocky Mountaineer here.
See the Polar Bears in Churchill
Located in the northern extremities of Manitoba, on the edge of the enormous Hudson Bay, is the remote village of Churchill, which holds the esteemed reputation as the 'Polar Bear Capital of the World'.
There are only 25,000 polar bears left on the planet, with 15,000 of those found in Canada's remote Arctic regions.
Polar bears are the earth's largest apex predator, and despite their position at the top of the food chain, they are under the severe threat of extinction due to climate change.
With dwindling numbers, seeing a polar bear in the wild often requires long expedition cruises or irregular and expensive charter flights to the far flung corners of the planet.
But Churchill, Manitoba defies the norm, being the most accessible place to get up close to these incredible alpha hunters.
READ MORE: Don't miss our incredible guide to the best wildlife experiences in Canada!
While no roads make their way this far north, a trip to Churchill can be done via plane or train, and once you've arrived at this small town of less than 1000 people you are now in the true heart of polar bear country.
The most popular way to see these majestic animals is onboard an iconic tundra vehicle – the elevated off-road trucks that take guests around the outskirts of Churchill and the Hudson Bay, giving you up close and personal interactions while remaining safely out of reach.
For a truly mesmerising bucket list experience however, we recommend organising your trip to the Polar Bear Capital with Churchill Wild.
With three award-winning and National Geographic-recognised luxury ecolodges located on the remote shores of Hudson Bay, Churchill Wild provides one of the most unique wildlife and accommodation experiences found anywhere in the world.
Their Polar Bear Safaris offer a variety of itineraries and all-encompassing adventures, with guests taking part in guided hikes to see polar bears in their natural habitat, Aurora Borealis viewing, zodiac tours and of course nights spent in their phenomenal ecolodges, sampling the best cuisine in Manitoba.
A journey this far north is something you will never forget, and visiting in every season will offer a truly unique experience.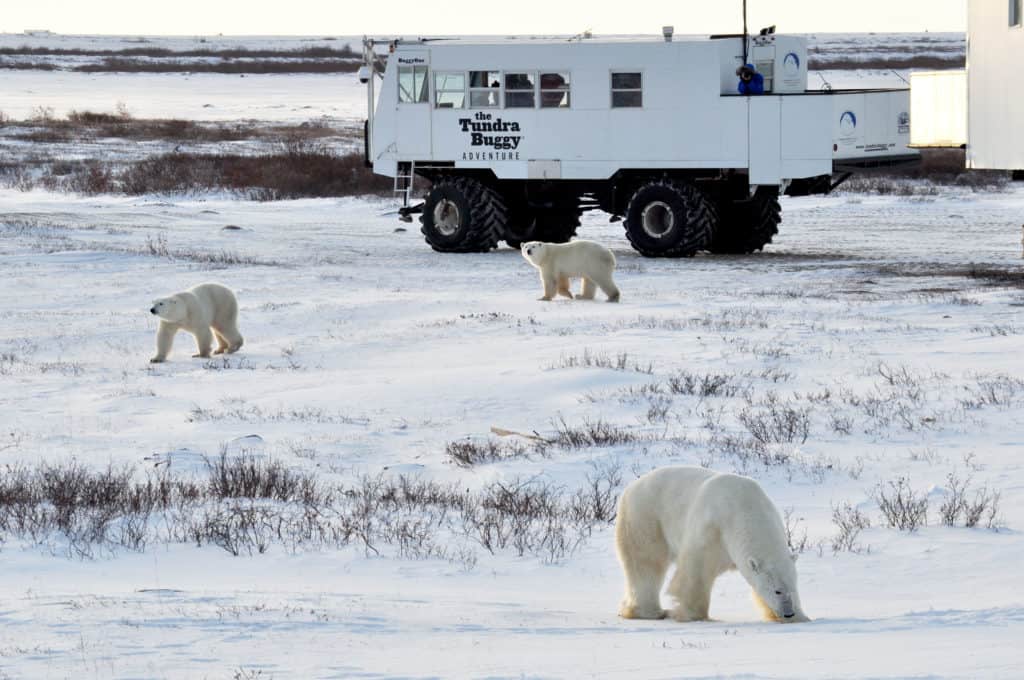 Kayak with Beluga Whales
It's not just polar bears you can spend time with up in Churchill. If you are passionate about wildlife experiences then set aside a day or two to take part in one of the most unique Canada activities – kayaking with beluga whales!
The mystical white whales of Canada's Arctic live in the waters of Hudson Bay, coming close to shore to feed on trout and char.
While you can spot them breaching from the land or see them on a zodiac tour, the closest experience you can have is to sea kayak alongside them, under the watchful eye of your licensed guide of course.
Operators such as Lazy Bear Lodge and Sea North Tours organise exclusive 2-hour kayaking tours with the beluga whales, which is the perfect add-on to your Churchill adventure for anyone that loves marine life.
Seeing the Northern Lights
Your first sight of the Aurora Borealis, with green and pink ribbons dancing impossibly across the night sky, is a scene you'll never forget.
This geomagnetic phenomenon is only visible close to the polar extremities of the earth, and usually in the depths of winter, making it a rarity for people who don't travel specifically to see it.
However, in Canada the chances of seeing Lady Aurora are higher than almost anywhere else on the planet.
Dedicated Northern Lights tours and accommodation can be found in the far reaches of Canada's north, but just because you're heading remote doesn't mean you need to sacrifice luxury.
Northern Lights Resort and Spa just outside of Whitehorse is the top place to stay in Yukon to capture the stunning Aurora Borealis, and the lodge boasts heated log cabins as well as new glass chalets, so you don't even have to leave the comfort of your bed to witness the displays.
Churchill is another incredible place to catch the Northern Lights, as is Northwest Territories, Nunavut and Newfoundland.
If travelling in winter doesn't sound like your ideal holiday though that's not a problem, because the Aurora can make an appearance at any time of year in Canada.
We have personally seen the Northern Lights in Yukon in September, and even as far south as Banff has been known to catch displays in the middle of summer.
Our best advice if you're planning on seeing the Aurora as one of your top things to do in Canada is to travel to one of the northern parts of the country.
Not only will you have a higher chance of witnessing Lady Aurora work her magic, you will also have the fantastic delight of travelling to a region that very few tourists ever venture.
Drive an RV Across the Yukon
Few landscapes will leave you as humbled and inspired as the vast expanses of Canada's Yukon.
The ancient peaks and glaciated valleys are as wild as you can get, yet accessing them is surprisingly easy with a fantastic highway system navigating between the main towns.
The best way to explore the territory is by renting an RV and taking your time on a road trip, using the capital of Whitehorse as the launch point.
Once you've collected your motorhome it's time to hit the road, with most travellers taking the Golden Circle Route to dive into some of Yukon's most spectacular destinations.
This road trip itinerary takes you to Haines Junction and Kluane National Park, the location of the planet's largest non-polar icefield.
Spend the night at Mount Logan Lodge then continue on your way to Haines in Alaska, where you can see grizzlies feasting on salmon in the Chilkoot River.
Afterwards take the ferry to Skagway then drive north to Carcross before finishing off back in Whitehorse.
Travelling the route in an RV allows you to park up at the edge of stunning emerald lakes and venture off-the-beaten-path for a few nights sleeping under the stars, all while having the comforts of home with you at all times.
Alternatively, you can take you your motorhome as far north as Dawson City and to the fabled Tombstone National Park, with its ethereal rock formations.
Give yourself at least 10 days to truly enjoy all that these road trip itineraries have to offer.
Flying over Niagara Falls
Canada's most populous city has an astonishing array of attractions and activities to enjoy, but none can quite compare to the sheer wonder that lies just 120km to the south.
Straddling the border of the United States and Canada, and connecting Lake Ontario with Lake Erie, is the turbulent Niagara River and Niagara Falls.
This intense river tumbles over a number of rapids before eventually sending 168,000 cubic metres every single minute off the 50m-high cliffs of Niagara Falls, known as one of the world's most powerful waterfalls.
A trip to Niagara Falls is a must-do on any Canada bucket list, and while simply standing on the boardwalks that wrap around the falls can be an exhilarating feeling, nothing compares to seeing the falls from the air.
Book yourself in for an incredible scenic flight by plane or helicopter for a birds-eye view of Niagara Falls.
With tours running for 15-30 minutes it's the perfect experience for people who want to tick off one of the great things in Canada while being short on time.
On a clear day you'll be able to see all the way back to Toronto and south into the United States, but chances are you won't be able to take your eyes off the mist from Niagara Falls as it churns below.
We recommend booking ahead of time if you are visiting Niagara Falls in the summer months. Two fantastic companies to check out are Niagara Air Tours and Niagara Helicopters.
READ MORE: Check out our latest guide on what to do in Niagara Falls!
Heli-Skiing in Revelstoke
The picturesque town of Revelstoke found halfway between Vancouver and Calgary has always been a Mecca for snow sports, going way back to the end of the 19th century when the first ski club in town was created.
Revelstoke's location where the Monashee and Selkirk mountain ranges meet brings an abundance of snowfall to this winter wonderland, and with the local ski resort boasting the highest vertical drop in North America, it's little wonder that Revy (as it's known to locals) is now one of the world's premier winter destinations
While Revelstoke Mountain Resort is undoubtedly world-class, for a truly unrivalled experience you will need to book your adventure holiday to include a couple of days of heli-skiing to make the most of Canada's most epic mountain terrain.
A number of companies operate fantastic heli-skiing and boarding trips, taking off just 5 minutes from downtown.
CMH is the largest operator in town and can do everything from one-day to week-long trips into the peaks, catering for all ability levels and styles.
Another excellent company is Eagle Pass Heliski, who are a bit more boutique in their offerings, and are the go-to provider for the hordes of professional athletes who frequent Revy.
Besides being Canada's heli capital, Revelstoke is also one of the coolest towns to visit on any trip to the Great White North.
During our 3 years living in Canada, driving our campervan from Vancouver to Newfoundland and back, we spent 18 months living in this quaint mountain village.
To say our heart lies in Revy is an understatement, and we urge all travellers to add this place to their Canadian bucket list.
Stay in a Heli-Accessed Wilderness Lodge
There's no shortage of unique, luxury accommodation experiences you can find in Canada (many of which you'll find right here in this article), from ice hotels to fairytale castles and everything in between.
However if you prefer to have your accommodation a bit more exclusive and boutique, then why not charter a helicopter to be whisked away deep into the mountains for a few nights in a wilderness lodge?
Some of the most famous ones are found outside of Banff and Revelstoke, but our personal favourites are the award-winning selection owned by Bella Coola Heli Sports.
The high-end operator runs 5 remote lodges in the Bella Coola Valley and close to Anahim Lake, both of which are only a 70-minute flight from Vancouver.
Once you arrive at HQ you'll jump in a private helicopter to fly off to your lodge of choice. From the moment you land you'll be treated to an exquisite experience that is often only reserved for the rich and famous.
Settle in by the fire and sip on local wines while your guides brief you on any number of outdoor activities you can enjoy from your new base camp, including hiking, downhill and cross country skiing and wildlife watching.
You'll be one of just a handful of guests at any of these lodges (or you can even rent an entire place just for your friends and family), and your backyard will be millions of acres of wilderness terrain all around.
While you can't go wrong with a few nights at any of their accommodations, if you had to choose one go for the Tweedsmuir Park Lodge, which was named one of the Magnificent 7 Luxury Wilderness Lodges of Canada.
Cruise the Inside Passage on a Small Ship Adventure
If you prefer to experience Canada's incredible landscapes by ship rather than helicopter, head to the rugged coast of British Columbia to sail the Inside Passage.
This stunning coastal route stretches from the northern tip of Washington State all the way to Alaska, speckled with over 1000 islands and surrounded by towering peaks and dense, remote pine forests.
Many travellers catch a glimpse of the archipelago's beauty by taking the ferry from the mainland to Vancouver Island, but to truly experience all that the Inside Passage has to offer jump on a cruise ship or yacht and head north.
There are a number of luxury cruise operators that ply these waters of British Columbia, yet only a handful depart from Vancouver.
We recommend joining Aurora Expeditions onboard one of their cruises in Canada or Alaska.
Being a company with smaller ships and tour groups, guests have the chance to go Zodiac-cruising or kayaking, enjoy wildlife encounters with orcas, grizzlies and sea lions, and get up close to phenomenal landscapes that few other cruise companies can access.
Stay in a Lakeside Log Cabin in Manitoba
There's a lot more to do in Manitoba than hanging out with polar bears and and beluga whales in Churchill.
This central province is home to the cosmopolitan capital of Winnipeg, complete with its riverside cafe precinct and world-recognised Human Rights Museum, and the incredibly diverse Riding Mountain National Park where bison roam the plains and hiking trails twist their way through ancient forests.
You can easily spend a few weeks visiting all the amazing places in Manitoba, but our personal favourite destination is Falcon Lakes.
This picturesque, bucolic destination, located almost in the exact geographic centre of the country in Whiteshell Provincial Park, offers a perfect getaway for travellers looking for an authentic Canadian experience.
Rent a car and hit the road towards the family-owned Falcon Trails Resort, where locals Barb and Craig Christie have built a number of luxury log cabins right on the edge of the lake in what we described during our visit back in 2019 as the 'most Canadian place in Canada'.
The log cabins are exquisitely built, and from the moment you step inside you'll instantly be greeted by the warm scent of a fire burning and aged cedar wood.
As tempting as it is to simply sit by the fire with a good book and glass of red watching the world pass by, step outside and jump in a canoe to paddle around the lakes or go for a hike to the 'Top of the World' lookout for unrivalled views all the way into the United States.
Spending a few nights at Falcon Lakes is a perfect way to break up a cross-Canada road trip, or for those who wish to experience a unique and off-the-beaten-path part of the country.
Exploring the Canadian Arctic
The Canadian Arctic is a sprawling, diverse and magnificent region, where the sun doesn't set in the summer months (or rise in the winter), abundant wildlife roam the sea and ice, and Indigenous people live in traditional ways in one of the harshest environments imaginable.
A journey into the Arctic is something most intrepid travellers dream of but few realise, however with Canada's bustling tourism industry offering a number of unique opportunities to explore this remote region, it has never been easier than ever to venture towards the North Pole.
Most people choose to travel to the Canadian Arctic onboard an expedition ship, with routes such as the Northwest Passage and Baffin Island allowing guests to take part in a number of adventures safely and comfortably.
It's in the Arctic that you may be fortunate enough to spot polar bears, Arctic foxes, bowhead whales, narwhals and walruses, while also learning all about the fascinating cultures of the Inuit communities.
Operators such as Quark Expeditions provide opportunities for hiking, Zodiac cruising, kayaking and sightseeing alongside majestic icebergs, glaciers and fjords.
Most trips to the Arctic require charter flights from Edmonton, Ottawa (Canada's capital city) or other Canadian cities, and your tour operator will take care of all the logistics for you.
Spend the Night in an Ice Hotel in Quebec
There's a good chance that when you were thinking of all the incredible things to do in Canada, sleeping inside a luxury hotel made entirely of ice wasn't on your original list.
But proving the Great White North has almost every experience you can imagine, you can do just that just 45 minutes outside of Quebec City!
Every winter the marvellous Hôtel de Glace is built from scratch using huge blocks of ice then carved out using specialised techniques and tools from the nation's best ice artists.
The entire structure is made out of ice, from the walls and ceilings right through to the beds, furniture, and each room and hallway is adorned with intricate ice sculptures.
Walking around Hôtel de Glace as a day visitor is fascinating enough, but for ultimate bragging rights book in for a night in one of the exclusive hotel rooms.
Despite sleeping inside a building made entirely out of ice you don't have to worry about freezing. Guests are given thermal mattresses and thick, 4-season sleeping bags to keep warm at night.
Make sure you grab a pre-dinner cocktail in the ice bar beforehand, where drinks are served in glasses made of, you guessed it, ice, and guests mingle beneath the enormous ice chandelier.
After visiting this hotel, enjoy all the highlights of Quebec City. Read our article of the other best things to do in Quebec City to see how else you can fill your time here without missing the other must-see Canada attractions.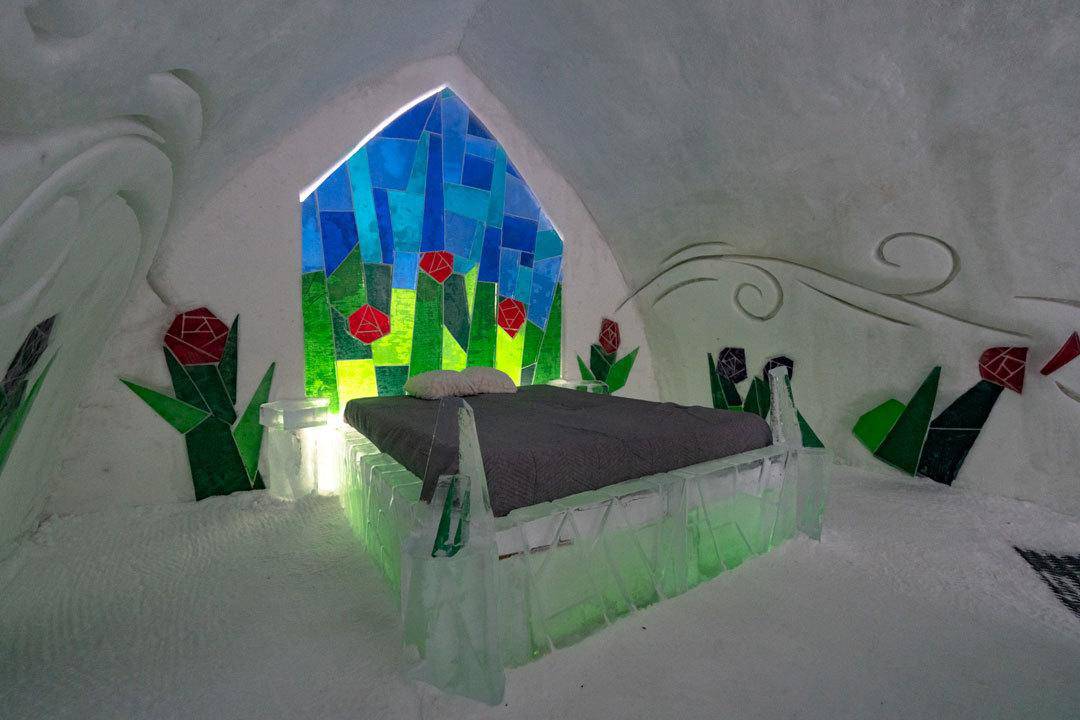 Take a Scenic Flight over Kluane National Park, Yukon
Kluane National Park in Canada's Yukon is home to the world's largest non-polar ice field, and protects an incredibly vast and diverse range of wildlife.
Small sections of the park are accessible for hiking trails, but at over 22,000km² in size the only way to truly appreciate just how immense and beautiful its interior is is to take scenic flight over this spectacular landscape.
Head to the small Haines Junction Airport and jump in a propellor plane with one of the highly experienced pilots at Kluane Glacier Air Tours for a flight you'll never forget.
The flightseeing adventure soars above the St Elias Mountains, with Canada's highest peak Mt Logan rising at 5959m tall, and offers unrivalled views of where the north and south arms of the Kaskawulsh Glacier crash together.
Flying over Kluane National Park, with its endangered grizzly population and melting glaciers, will leave you in awe at just how wild the Canadian mountains can be.
You can read more about this once-in-a-lifetime tour, complete with booking details and images, in our blog post.
Stay in the Fairmont in Lake Louise
The famous Fairmont Hotels brand runs some of Canada's most iconic 5-star accommodations, from Vancouver Island to Quebec City, and each one is worthy of their own write-up.
However if we need to narrow it down to just one for this article on the best things to do in Canada, then staying at their Lake Louise location has to make it to the top of the list.
Set in the heart of the UNESCO World Heritage Site Banff National Park, right at the edge of the legendary glacial-fed lake, the extravagant Fairmont Chateau Lake Louise has been a bucket list item for accommodation aficionados ever since it opened in 1911.
The tastefully-designed luxury hotel offers jaw-dropping views over Lake Louise and the Victoria Glacier, and houses a number of award-winning restaurants and bars.
The historic Victoria Ballroom has floor to ceiling windows that overlook the lake, perfect for weddings and special events, and you'll also find a heated indoor swimming pool, a fitness centre and high-end spa.
The real star of the show though is without a doubt the lake itself, and guests can spend their summer days wandering around the manicured hiking paths or canoeing on the lake, and in winter try their hands at ice skating or skiing.
Read more about all the other incredible things to do in Banff National Park during your visit here.
Concert-Hopping at the Montreal Jazz Festival
Montreal, the bustling and vibrant city found in the French-speaking province of Quebec, feels distinctly more European than it does Canadian.
From the cobblestoned streets of Old Montreal to the Portuguese vibe in La Plateau-Mont-Royal, it's easy to get swept away in the unique culture that has weaved its way into this cosmopolitan city.
White visitors truly are spoilt for choice when wondering what to do in Montreal, it's the annual Festival International de Jazz de Montreal that sits firmly at the top of the list for not-to-be-missed experiences.
First organised in 1980 to astounding acclaim, today the festival is one of the most prestigious events in Quebec.
Every year hundreds of local and international musicians, artists and performers descend on the city for two weeks of joyous entertainment, with massive crowds relishing in the party atmosphere.
A number of different venues are used all over the city, including clubs, town squares and even in the streets, with many of the concerts being held for free.
It's not just jazz musicians you'll find playing gigs here though. Some of the artists that have performed in the past include Ray Charles, Stevie Wonder, Ben Harper, Chuck Berry, John Butler and B.B. King, just to name a few.
Seeing Montreal come alive every year for the Jazz Festival is a tremendous experience, and it's well worth timing your trip around the annual event.
Hang with Grizzlies in a Luxury Wilderness Lodge
Canada's unique list of wildlife experiences is almost never-ending, and while travellers here often have a list of animals they'd love to see, some are more difficult, or dangerous, to spot than others.
The grizzly bear is one such species, and despite having a healthy population throughout the west coast, spotting a grizzly in the wild isn't something most people are fortunate enough to do.
Luckily a number of responsible ecotourism operators offer fantastic opportunities to get as close as possible to these animals without putting yourself, or the bears, at risk.
British Columbia's west coast is untamed and remote place, with the only access being via boat or seaplane.
The untouched wilderness has allowed native species to thrive, creating a diversity and abundance of animals not seen anywhere else in Canada.
Only a select few accommodation operators have been granted licenses to open in this region, with two of highest-regarded being Clayoquot Wilderness Lodge and Nimmo Bay.
Clayoquot Wilderness Lodge offers guests a range of signature experiences, including canyoning, heli-hiking , fly fishing and wildlife viewing.
The cuisine is personally foraged daily by the chefs and served alongside premium wines and liquors, all included in your stay of course.
At night you can rest your head inside one of their luxury safari tents, or relax with a spa treatment.
Nimmo Bay has a similar offering, but with guests staying in custom-built cabins and taking part in some other adventurous activities such as kayaking and stand-up paddle boarding.
Nimmo Bay is also located inside the Great Bear Rainforest, home to the mystical Kermode Bear (or Spirit Bear), which is one of the rarest animals in the entire world.
Both Nimmo Bay and Clayoquot Wilderness Lodge are all-inclusive resorts, and hold a large respect for the First Nations people that traditionally call this area their home.
Become a Dog Musher in the Yukon
When winter arrives in Canada an entire new playground emerges, with previously impassable terrain suddenly becoming epic thanks to blankets of fresh snow and solid ice.
This is when hordes of people descend on the ski resorts to carve up the runs, but if you're looking for a different type of winter experience why not try something a little more traditional?
Dog mushing has been used as a means of transport by Canada's remote northern communities for centuries, and while no longer as popular as it once was thanks to inventions like snowmobiles, tourism and recreation has kept the dog sledding industry alive.
Whistler, Banff and Mont Tremblant are some of the more common destinations to try dog sledding on short tours, but if you want to really learn about this historic activity head to the Yukon and take part in a multi-day mushing expedition.
Just an hour from Whitehorse the family-owned Sky High Wilderness Ranch offers highly engaging dog sledding tours that can help take a complete novice to a confident musher in no time.
Their 4-day Taste of Mushing adventure is designed for people who like their holidays a little bit more hands-on.
After a safety and operations briefing on the first day you are assigned 5 huskies as part of your team, and these pups will become your best friends over the next few days.
You are trained up on how to rig up the sled, how to provide care for your dogs and skills on sledding, and then you hit the trails for hours of heart-racing fun.
Dog sledding is not only a great way to explore the outdoors, it's also an engaging activity, requiring both physical effort (running and controlling your sled) and mental engagement (keeping tabs on all of your dogs and responding to their needs).
For many, dog sledding is the best way to experience the winter landscape. The speed at which you travel over fresh snow, or through forests with snow laden boughs creates a truly immersive way to see Canada's North.
While out mushing for the day, you and your tour guides will be stopping to take in the scenery, enjoy delicious lunches and taking breaks for some husky selfies.
In the evenings after you have fed and put away the pups you head back to your private log cabin to freshen up, and then can enjoy a nutritious and hearty meal with the staff and other guests.
This is an incredible Canadian experience for anybody who loves dogs and physical activity, and there's no better place to do it than up in the Yukon.
Whale Watching in Nova Scotia
While most international tourists to Canada tend to focus on the mountains of BC and Alberta, or the suave cities in Ontario and Quebec, the Maritime provinces remain largely untouched, despite their abundance of gorgeous landscapes and incredible attractions.
Nova Scotia is the crown jewel of the Maritimes, with picturesque beaches, funky fishing villages and the visually spectacular Cape Breton Island beckoning off-beat travellers from around the world.
Besides the natural beauty, Nova Scotia is also one of the best whale watching destinations on the planet!
Every summer humpbacks migrate south from the Arctic to breed and raise their young off the coast of Nova Scotia.
While it's possible to see these magnificent creatures all along the Atlantic coast, Nova Scotia has emerged as one of the best locations in the world to see them up close.
The calving and breeding season runs from June through September, which means if you want to go whale watching in Nova Scotia, this is when you'll need to plan your trip.
Besides humpbacks, you can also spot minke, fin and right whales! Make sure you book in for a tour with a licensed operator to see these wonderful species in the wild.
Road Trip the Icefields Parkway
The Icefields Parkway stretching from the mountain village of Banff right through the Rocky Mountains to Jasper National Park is regarded as one of the world's best road trips, and no trip to Canada would be complete without making the drive at least once (we've done it at least a dozen times and it never gets old).
The sheer variety of terrain you'll see on the Icefields Parkway road trip is so diverse it's hard to believe it's even real. Craggy mountain peaks, glaciers, pristine lakes, waterfalls… The list goes on.
There are a number of unique attractions to do along the way, including taking a tour on the Athabasca Glacier, hiking for views of Peyto Lake and checking out the awe-inspiring Sunwapta Falls.
Jasper National Park itself is a UNESCO World Heritage site, and there are lots of amazing things to do in Jasper.
If you're planning a road trip and want to see some of the best scenery in Canada, the Icefields Parkway is, without a doubt, your number one highway.
READ NEXT: Be sure to check out our post on the most comprehensive guide to driving the Icefields Parkway!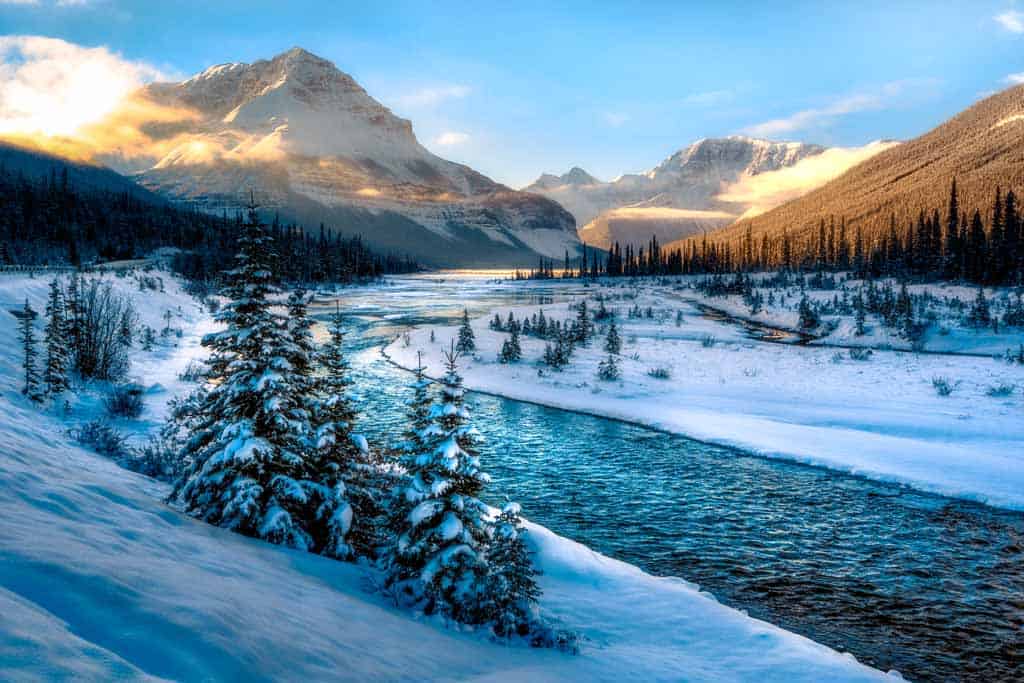 Some parts of Canada are so isolated that even a pin on a map barely allows you to truly comprehend where in the world it is.
The northern tip of Baffin Island in Nunavut is one such place.
Less than 5000 tourists visit the Nunavut territory every single year, making it one of the least-visited places in the country.
Those that do make it out here though are usually searching for one thing – wildlife. And a little-known destination called the 'floe edge' offers some of the best wildlife experiences money can buy.
The floe edge is also known as the 'line of life', and is a long line of floating sea ice that separates the ice pack from open water.
Located in Pond Inlet at the top of Baffin Island and requiring 2 days of travel to get here, the nutrient-rich waters along the floe edge brings in all kinds of species, including polar bears, walrus, bowhead and beluga whales, bearded and ringed seals, narwhals and over 200,000 migratory bids.
The best way to spend time by the floe edge is to book a wildlife safari with Arctic Kingdom, the experts in floe edge adventures.
After arriving in Pond Inlet jump in a sled to travel to their camp located right on the ice, and just a few kilometres from the edge of the Arctic sea.
Inuit guides will then take you to the edge of the floe break where you may be fortunate enough to see one of nature's greatest spectacles – a polar bear catching a seal!
The Inuit guides are experts in wildlife and have learned from Inuit forefathers how to survive in this harsh environment.
Your accommodation will be in specially-designed tents, with enough creature comforts to keep you warm and safe throughout your stay.
Due to the logistics and remoteness of these guided tours, Arctic Kingdom only runs a couple of trips every summer, so make sure you book well ahead of time to secure your position.
Take a Spa Retreat and Eco-Getaway at Sonora Resort
Sometimes you just want to pamper yourself in luxury, surrounded by the sounds of nature and let the worries of the world fade away as the sun sets behind a forested peak.
If that sounds like your kind of getaway, then you need to book a few nights in Sonora Resort.
This wilderness 5-star resort located in the depths of British Columbia's west coast is set amongst the country's most alluring natural environments.
Only accessible by plane or boat, Sonora Resort is a private sanctuary hidden away in the archipelago between the mainland and Vancouver Island and set beneath towering mountains and boreal forests.
Guests are spoilt for choice on things to do here, and whether you love wildlife, adventure or wellness, you'll have no problem filling your days with an array of exciting popular activities.
The marine-rich waters are a haven for humpback whales, orcas and porpoises, while the river inlets are often filled with grizzly bears gorging themselves on salmon.
Back at the sanctuary the award-winning spa has a number of treatments designed to rejuvenate the mind, body and soul.
All of this is matched with all-inclusive fine dining and unparalleled service.
Sonora Resort is truly where eco-adventure meets luxury, and you'll be hard-pressed to find a more idyllic location for your ultimate Canadian bucket list.
Seek Adventure at Torngat Mountains Base Camp
Located in another one of Canada's far-flung destinations is the Torngat Mountains Base Camp and Research Station, found at the edge of Lake Melville in Newfoundland and Labrador.
Simply getting here is an adventure in itself, with travellers needing to take a number of chartered flights then a boat trip to finally reach the base camp, situated 200km north of Labrador's northernmost community.
The effort is entirely worth it though, because you have now arrived in the heart of polar bear country, casting your eyes on the fabled Torngat Mountains, a range that few humans will ever get to see.
The camp is owned and operated by Parks Canada and the local Inuit people, who conduct wildlife and meteorological research, while also welcoming a small number of intrepid travellers every summer.
From the moment you arrive you will realise just how wild this place is – armed guards escort you everywhere outside of the gated camp, as the polar bear population in the region is immense and deadly.
You'll be under excellent protection though, and during the day the Inuit guides happily take you on mesmerising hikes deep into the Torngats, to the waters edge for a chance to spot wildlife, or even into the labs to observe scientists busy at work in the active research station.
At night guests cosy up by the fire or inside their heated dome accommodation, but you'll want to stick your head outside as this is also one of the best places in Newfoundland and Labrador to capture the Northern Lights.
A trip to the Torngats is sure to be one of the most memorable things to do in Canada you can ever experience, and the words that often comes to those who have made the journey out here is 'life changing'.
Kayak with Orcas in BC
The waters off of Vancouver Island are frequented by an abundance of different marine species, including humpback whales, porpoises and even orcas.
While it's possible to spot these beautiful creatures from the deck of your ferry or off in the distance from the beaches of somewhere like Alert Bay, by far the closest experience you can have is to be right there in the water with them.
Kingfisher Wilderness Adventures offers just such an experience, giving kayakers a chance to paddle alongside resident orcas as they fish in the waters off of British Columbia.
Kingfisher is located in Port McNeill, an incredibly picturesque little village on the northern end of Vancouver Island.
The company offers a variety of different kayak experiences which take you out on the waters of Johnstone Strait and Blackfish Sound, with orca encounters being the ultimate dream.
September is the best time to kayak with the orcas, and you can even organise multi-day expeditions that allow you to camp out on the remote beaches of Vancouver Island.
Paddle a Canoe Down the Yukon River
The Yukon Territory makes one final appearance in our things to do in Canada article with an adventure that mixes history, culture, wildlife and nature all into one.
The Yukon River stretches for 3190km from Atlin Lake all the way to the Bering Sea in Alaska, and while paddling the entire stretch is not something for the fainthearted, a popular journey is to jump in a canoe and float 730km from Whitehorse to Dawson City.
This 2-week adventure is suitable for people of all canoeing skill levels (even beginners), and once you pack your raft with all the food and camping gear you'll need for the 14 days, it's time to push out into the wilderness.
Your days will be filled with the relaxing sounds of your paddle breaking the calm water surface as you gently drift towards your destination.
In the evenings you simply pull up at a clearing and pitch your tent, falling asleep with the stars lighting up the night sky.
There are very few rapids for this stretch of the Yukon River, so you really have little to worry about other than where you want to have lunch.
If you don't have your own canoe then get in touch with the team at Ruby Range who can organise canoe rental and one-way transport, or better yet, join them for a guided tour.
Stay at Fogo Island Inn
Highly acclaimed and regularly awarded as one of the world's top hotels, Fogo Island Inn is located at 'one of the 4 corners of the Earth', on the eastern shore of an island off of an island in Newfoundland.
The island itself is accessible only via chartered flight or by boat, and once you arrive the only thing standing between you and the European continent is the turbulent and humbling Atlantic Ocean.
The isolated location doesn't mean your amenities will be lacking though. The Fogo Inn Hotel, designed by leading local architect Todd Saunders, has some of the nicest accommodation and dining options on the entire east coast.
The rooms offer high windows with uninterrupted views over the sea, and it's not uncommon to see icebergs silently float past on their way south from the Arctic.
The Fogo Island Inn is all about community and sustainability, and the owners are committed to the preservation of the local culture and traditions while operating as close to carbon net zero as possible.
The point of your stay is more about relaxation than adventure, and the days are yours to do as you please.
Choose from a variety of activities such as whale watching tours, pottery classes, cultural exhibitions with the local Indigenous people, hiking, fishing or even a spa treatment.
Fogo Island Inn is open year round, and each of the 7 (yes, 7) seasons offer a different experience.
Every September, high up in the Arctic at the edge of a distant lake in Nunavut, 350,000 caribou migrate across the open tundra in one of the world's greatest wildlife events.
Witnessing the annual migration as the caribou wander between their calving grounds is a sight to behold, but the remote location requires expert logistics and planning to capture.
The best way to see this incredible event is to book an expedition with a company like Weber Arctic, who can take care of the charter flights, permits and accommodation to get you into the heart of the action.
Departing from Yellowknife onboard a small plane, you'll touch down at the edge of Ennadai Lake to take part in 6 days of dramatic wildlife immersion.
It's not just the migrating caribou that you'll be walking amongst. Wolves, wolverines and even bears frequent the tundra, gorging on plants to prepare for the upcoming winter.
The experienced wildlife guides will lead guests into the heart of the herd, using planes, boats and your own feet to get you as close to the action as safely possible.
In the evenings you'll relax in absolute comfort inside their purpose-built 5-star Arctic Haven Wilderness Lodge, with delicious meals featuring locally-sourced ingredients included in your stay.
The best time to see the caribou is in the springtime (April and May) and fall (late August to early October).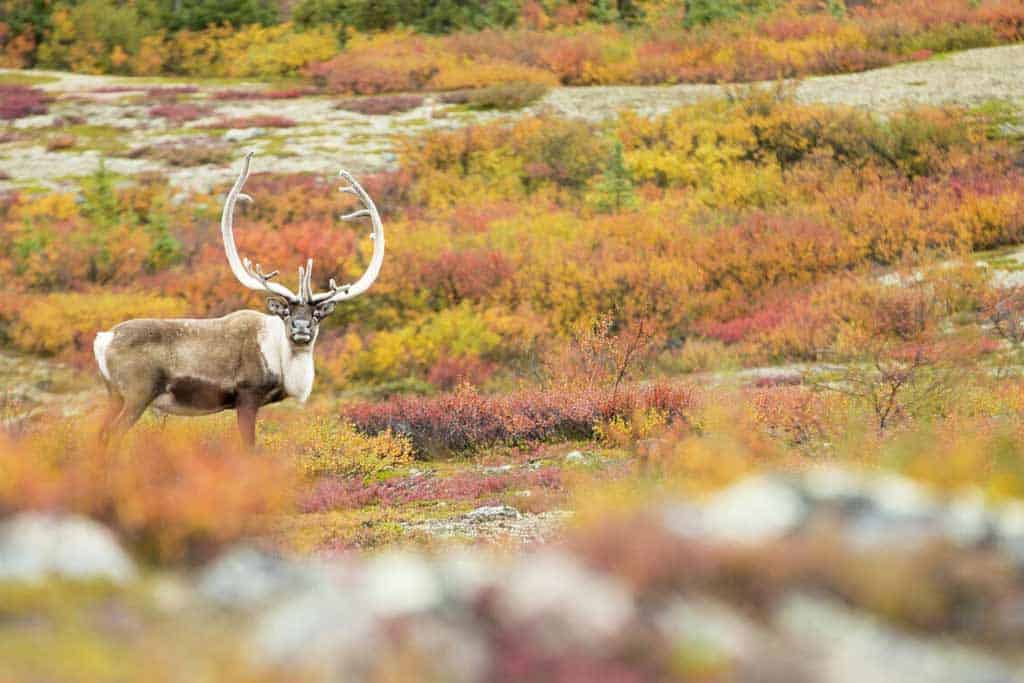 Travel North to the Arctic Watch Wilderness Lodge
Canada's Northwest Passage is an infamous stretch of sea that navigates through the remote reaches of the Arctic, and while most people who travel here do so onboard an expedition ship, you can now stay on the ground in the northernmost fly-in lodge on the planet.
Arctic Watch Wilderness Lodge is located 800km north of the Arctic Circle and provides 16 private cabins for guests to use as a base for exploring this unique part of Canada.
This is a destination for true adventure-seekers, with Arctic Watch offering the opportunity to go kayaking, paddle boarding, rafting, hiking, fishing and mountain biking beneath the Midnight Sun.
It's not just the activities that will take your breath away though – the wildlife encounters are as incredible as you'll find almost anywhere else in the world.
This far north you're in the heart of polar bear country, and if you're lucky you won't just catch a glimpse of these huge predators, but may also spot Arctic foxes, muskox and even beluga whales.
Sail the Great Bear Rainforest with Bluewater Adventures
The Great Bear Rainforest is widely acclaimed for being one of the last pristine pieces of wilderness on earth, home to a dazzling array of wildlife.
Set on the coast of British Columbia and accessed through the Inside Passage, most people that venture here do so in one of the eco-lodges (as we've highlighted above), or as part of a large cruise that navigates its way north to Alaska.
For those that want a more intimate and slow experience, however, sailing the edge of the rainforest on a luxury yacht is the perfect way to do so.
Bluewater Adventures has a number of stunning vessels that allow a small number of guests unrivalled access to the inlets and bays of the Great Bear Rainforest, while searching for grizzly bears, black bears, and the mystical Kermode bear, better known as the Spirit Bear.
The purpose of their trips is not just photography and wildlife experiences – it's all about education, and you'll be joined by expert local guides who impart their wisdom of the nature and culture found around this area.
Bluewater Adventures put a large emphasis on the First Nations people of the region, putting part of their profits directly into local communities while helping guests learn all about their history.
While the obvious highlight would be to spot the elusive Spirit Bear, guests also have the opportunity to see humpbacks bubble netting, orcas hunting and eagles soaring above, all from the yacht's deck.
Aurora Viewing in a Teepee
If you've made the trip to Yellowknife in Northwest Territories there's a good chance you're seeking one of two things – wildlife or the Northern Lights.
If it's the latter, you're in luck, as Yellowknife provides one of the best opportunities to see the Aurora Borealis anywhere in the world.
While you can spot Lady Aurora from just about anywhere in town, it's worth taking a trip 25 minutes out of the city to the Aurora Village, where you can observe light displays from just outside a traditional teepee.
Aurora Village is 100% Aboriginal-owned, and the managers have set up a truly unique compound right on the edge of their own private lake that is almost as photogenic as the Northern Lights themselves.
While Yellowknife is quite cold at any time of year, let alone in the heart of winter, guests don't have to freeze while watching the Aurora thanks to the custom-built heated seats that swivel 360 degrees.
And when the Aurora Borealis isn't on display you can relax in the heated teepees or feast on the best food in Northwest Territories.
Learn About Canada's First Nations People in Haida Gwaii
No list of the best things to do in Canada would be complete without acknowledging and respecting the First Nations Aboriginal people that have called this land home for thousands of years.
One of the best places to learn about these fascinating Indigenous people is Haida Gwaii, the spectacular archipelago found off the northwest coast of British Columbia.
The Haida people have long lived harmoniously on the islands as fishermen and traders, and today are still the native custodians of this beautiful and ancient land.
While there is no shortage of natural wonders to keep visitors busy here, from secluded beaches to old-growth forests, it's diving into the First Nations culture that will leave the most lasting impression on travellers.
Haida Gwaii is speckled with totem poles, hand-carved by the Haida people to represent their family ancestry, and you can even visit a number of galleries to see new ones being made in person.
You can easily spend a week in Haida Gwaii, exploring all the hiking trails, foraging for berries or fishing, but your visit should always begin at the Haida Heritage Centre to kickstart your cultural adventure.
The nearby Gwaii Haanas National Park is a UNESCO World Heritage Site as well.
DISCLAIMER: This article was made in partnership with Destination Canada. All thoughts, opinions and hours spent planning our next trip to this incredible country are, as always, our own.