Thinking about experiencing one of the world's best train journeys? Have a read of our Rocky Mountaineer review to get an idea of what to expect along the way!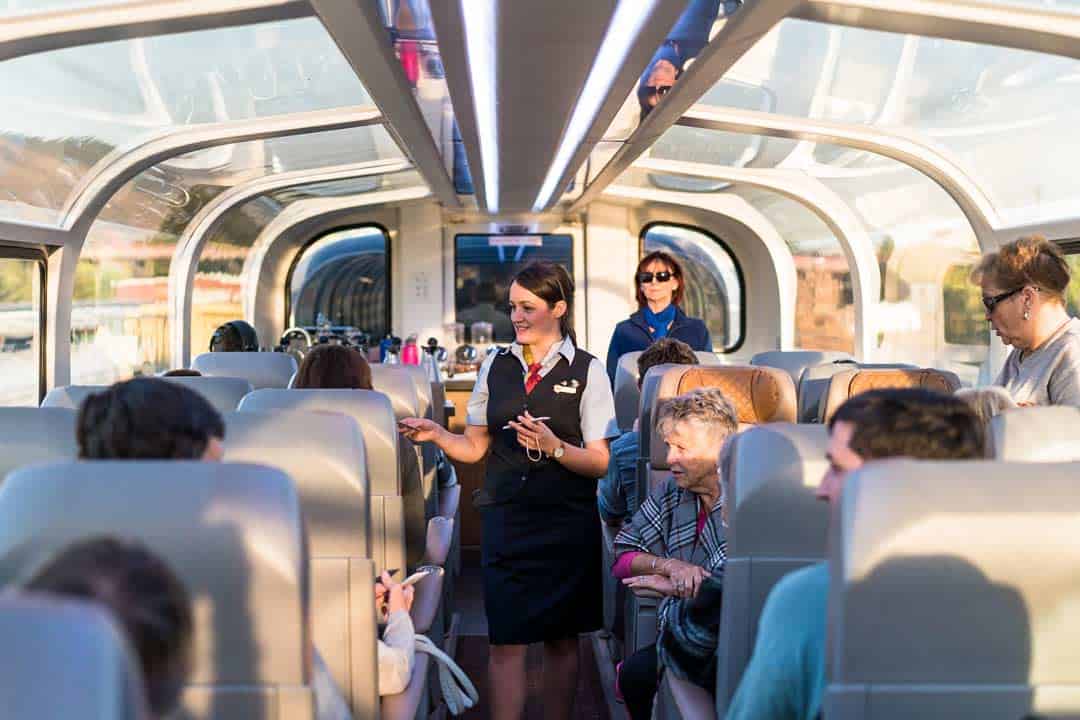 Snaking its way through the heart of the Canadian Rockies, the nation's most luxurious and scenic train journey is an experience unrivalled in North America.
The pleasure of traversing the globe by rail has captured the hearts and dreams of travellers for years, and even though the modern age of cheap and fast flights has opened up destinations like never before, Rocky Mountaineer has embraced the slow, romantic travel that only a train trip can offer.
The family-run business has been operating majestic train journeys since 1990, and over the years their service has become synonymous with Canadian luxury travel.
Check out our Rocky Mountaineer photos for more travel inspiration.
It is one of the most sought-after experiences for many visitors to the Great White North, and for good reason. There is nothing quite like it anywhere else on the continent!
If you've been looking for some Rocky Mountaineer reviews to find out whether it's the right trip for you, we hope this article helps answers your questions.
Rocky Mountaineer Review – Unsurpassable Luxury Travel
We joined the First Passage to the West, which traverses the classic route from Vancouver to Banff through the Continental Divide and into the spectacular ranges of the Canadian Rockies.
This particular journey is the most popular trip that Rocky Mountaineer offers, and it's the one that most people have visions of when planning their own train adventure through Canada.
We travelled in GoldLeaf Service, Rocky Mountaineer's premier class, and the epitome of luxury and quality in train journeys.
This is a two-day trip, with a night spent in comfortable accommodation in Kamloops along the way. You do not sleep on the train, but you do spend most of each day onboard.
As part of the experience Rocky Mountaineer took care of all the logistics for the journey, including hotels before, during and after the ride, and transfers between the stations and the accommodation.
Once you're on board everything is all-inclusive, meaning except for any souvenirs you may choose to buy, you can leave your wallet in your pocket and enjoy the quality food, beverages and service that Rocky Mountaineer provides.
The First Passage to the West was the perfect introduction to luxury train travel in Canada, and it was our experience on this journey that we will be basing the first of our Rocky Mountaineer reviews on.
GoldLeaf Service vs SilverLeaf Service
There are two different types of services on board – SilverLeaf Service and GoldLeaf Service.
While they are both truly spectacular ways to travel across the Canadian Rockies, and offer a level of comfort that surpasses almost all expectations, the GoldLeaf Service has a few notable upgrades.
The main difference between the two is that SilverLeaf Service occupies a standard single-level carriage, while GoldLeaf Service has a premium and custom two-level carriage, complete with dining areas downstairs and a remarkable glass panorama ceiling upstairs that offers uninterrupted views of the surrounding landscape.
In SilverLeaf Service your meals are served directly to your seat, much in the same way as airlines, and both non-alcoholic and alcoholic beverages are complimentary.
In GoldLeaf Service the guests are split into two groups for mealtimes, which are held downstairs in a dedicated dining room.
This gives guests a true restaurant experience and ensures there is ample room to spread out and enjoy your courses.
Premium alcoholic beverages are included for GoldLeaf Service guests, and the meals are of higher quality.
Both services are amongst the best in the business, but truth be told there really is no better way to explore Canada's west coast by rail than splurging out on the GoldLeaf Service.
The GoldLeaf Service Seats
There's one major problem with the seats in GoldLeaf Service – They are so comfortable it's almost too easy to simply sit back and nap away the day!
Luckily the views are gorgeous and the hosts attentive, or there'd be a high chance you'd sleep through the whole journey.
The seats in Rocky Mountaineer's GoldLeaf Service are of a calibre you'd expect to find in business class on the world's best airlines.
The first thing you'll notice is just how comfortable they are, with soft leather and plush padding allowing you to sink into their wide embrace.
The seats are also fully adjustable thanks to a customised electric system. At a push of a button you can recline fully back (while sliding into your own space so as not to encroach on the guest behind you), inflate the padding at the arch of your back, and raise the leg rests.
Our favourite feature of these armchairs though is the heated seats. If you're feeling chilly you can turn these on and quickly warm up the lower part of your body.
The GoldLeaf Service seats really do take train comfort to another level.
The Glass-Dome Ceiling
The most celebrated feature of Rocky Mountaineer's GoldLeaf Service is the glass-dome ceiling, and this is what you'll most likely remember the most.
Even though SilverLeaf Service offers huge visibility, in GoldLeaf Service Rocky Mountaineer really outdoes itself by doing away with the traditional ceiling and instead utilising a glass dome, giving unrivalled panoramic views as you travel through the Canadian Rockies.
Another thing that we couldn't help but notice is that the elevated coach actually allows you to look over the pine trees and see the terrain beyond, rather than always trying to catch a glimpse between the foliage.
Being able to see the tops of the mountain peaks from your seat really does give you a unique perspective at just how enormous the landscape in Canada is.
The Outdoor Viewing Platform
This was our personal favourite part of GoldLeaf Service and something that often gets overlooked in Rocky Mountaineer reviews.
At the back of each GoldLeaf Service coach is a spacious outdoor viewing platform that allows you to bask in the fresh air of the Rockies, and gives unhindered views across the terrain.
Whenever the hosts announced an upcoming highlight, such as Hell's Gate in the Fraser Valley or passing by the Kicking Horse River, we'd head outside to try and capture perfect pictures and have an even better outlook.
Rocky Mountaineer Hosts – The Best In The Business
While the train journey itself is what people flock to Western Canada for, the unsung heroes are the Rocky Mountaineer hosts, who are some of the best service people in the industry.
These men and women will be with you every step of the way, making sure your every whim and desire is taken care of.
Need help booking a tour when you get to Banff? They'll take care of it. Want a shot of Bailey's in your coffee? Not a problem. Keen for a caesar? Make it two.
Their attention to detail is remarkable, and they are trained to be aware of every person's needs without being overbearing.
What we liked most about the Rocky Mountaineer hosts though is that each one had character. They weren't forced to be like stale butlers but rather encouraged to laugh and joke with the guests, and let their true personalities shine through.
When you book a Rocky Mountaineer train journey you can be guaranteed that once you step on the coach you'll be well looked after every mile that passes by.
The Food On Rocky Mountaineer
There's no way we could write a Rocky Mountaineer review without talking about the food.
The meals have such an incredible reputation around the world as being the best on the rails that people actually list it as one of the main reasons to travel with Rocky Mountaineer.
Breakfast and lunch are included each day on the train, and if you're in GoldLeaf Service you'll be treated with gourmet delicacies at each mealtime.
The day starts with a high-end breakfast selection. If you're feeling hungry, go for the complete cook-up, with eggs, sausages and fried vegetables.
Rather something light? The fresh granola and fruit is a perfect option. All of this is of course downed with delicious juice and real coffee.
It's the lunches though where Rocky Mountaineer's award-winning chefs really are in their element.
They enthusiastically serve up a variety of enchanting dishes using only the freshest local ingredients, with a distinctly Canadian flair over 3 courses.
Whether you're interested in merlot-braised beef rips, seared salmon from the Pacific Northwest or garlic roasted vegetables, you're bound to be intrigued by each dish on the menu.
It changes each day, so our tip is that if you see something on the first day that stands out, order it, because it probably won't be on the menu again.
All of these meals are of course accompanied by the best BC wines, craft beer, juices and coffee available.
Accommodation
As you don't sleep on the train, you have the option of staying in a wide variety of amazing hotels in any of the departure, arrival and stopover points along the way.
If you allow Rocky Mountaineer or your travel agent to make the bookings for you, they will find you suitable accommodation depending on your budget.
The benefit of letting them choose your accommodation, or by staying in one of their partner properties, is that they will also organise all transfers for you.
To give you an idea of where we stayed while travelling on a GoldLeaf Service Package, we were in high quality, luxury accommodation the entire way.
In Vancouver we were housed in the iconic Fairmont Hotel Vancouver, in Kamloops we were at the Four Points by Sheraton, and in Banff, we were at the Moose Hotel and Suites.
Rocky Mountaineer's packages are very easy to book directly through the website, and you can customise each level and upgrades you'd like right there on the booking platform.
Off-Train Excursions
Another cool advantage of booking one of Rocky Mountaineer's packages is that you can add a number of off-train excursions both before and after your train journey.
If you only have a limited amount of time in each city then this is an excellent way to make the most of your trip without the stress of having to organise your own activities.
Rocky Mountaineer can help you organise a range of luxury, wildlife, soft adventure or sightseeing excursions, depending on your style.
Transfers
The last thing you want to worry about when you are on holiday is how you are going to get from A to B. Luckily when you book a Rocky Mountaineer train journey you don't have to.
All transfers between your hotel and the train are taken care of by Rocky Mountaineer's fleet of luxury coach partners;
Ease of Service
One thing that we really commended Rocky Mountaineer for is their commitment to making sure every guest's experience is seamless and enjoyable.
For example, in Vancouver, we had a pre-check-in the day before our journey in the lobby of our hotel, where we could collect our boarding passes and train information ahead of time.
This meant on the morning of departure we just had to catch the bus to the station and then mingle with the other guests with a coffee in hand, already knowing what coach and seat we were in.
Before we arrived in Kamloops the hosts walked through the carriage and actually handed out our hotel room keys.
Rocky Mountaineer had already organised the hotel check-ins, so rather than suddenly having 200 people showing up at the front reception we could just walk straight in and head to our room.
The same service was provided in Banff, and at the end of a long journey, this kind of assistance was much appreciated by everybody on board.
In the lead up to our trip there was a member of Rocky Mountaineer's customer service team on hand at all times to help answer any questions we had via email, or through the chat system on the website.
All of these little things really did mean that the only thing we had to worry about once we got on the train was whether we wanted a red or white wine with lunch…
That concludes our Rocky Mountaineer review. We've had the pleasure of taking a number of luxury train journeys around the world, and we can honestly say this one was one of the most premium experiences of our lives.
If you found this review useful, or have any questions, please leave a comment below and we'll answer them as soon as possible.
Our journey onboard the First Passage to the West was made possible thanks to our partnership with Rocky Mountaineer. All thoughts, opinions, and rounds of delicious Baileys and coffee consumed are, as always, our own.
Rocky Mountaineer Review
Thinking about experiencing one of the world's best train journeys? Have a read of our Rocky Mountaineer review to get an idea of what to expect along the way!
Pros
Incredible service
Beautiful views
Impeccable food
Bucket list experience
GoldLeaf glass ceiling is superb
Cons
No sleeping cabins on the train
Can be expensive