From delving into the story of human rights around the world to drinking a craft beer in the historic Forks, here's our list of the absolute best things to do in Winnipeg, Canada!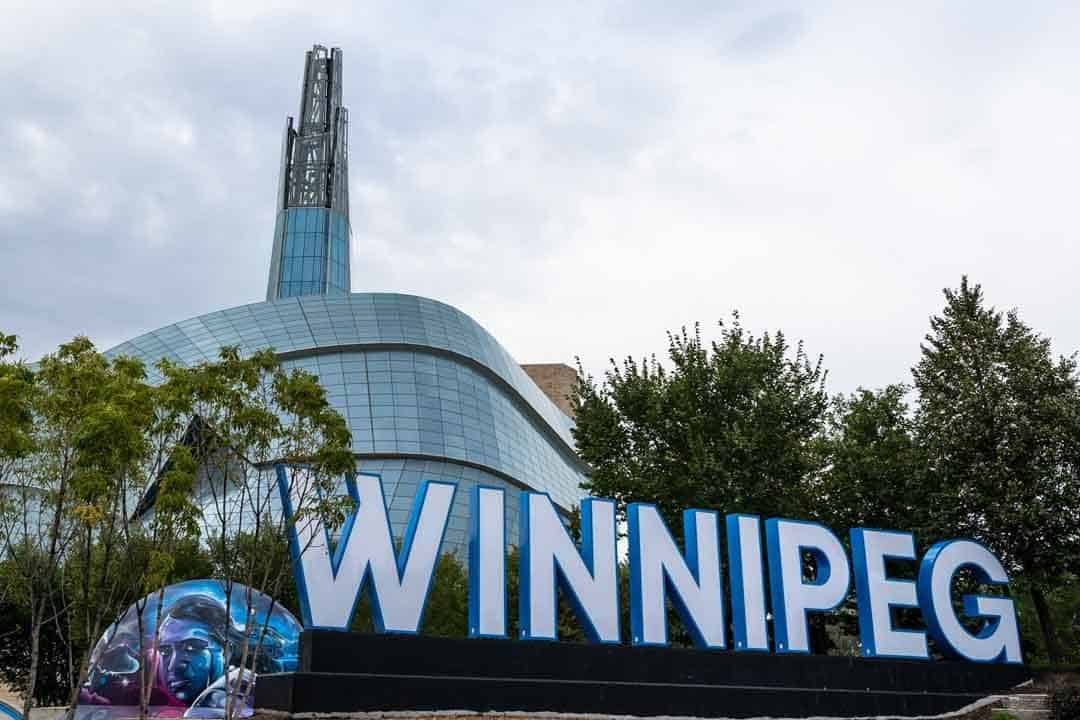 Bustling and vibrant, cultural and picturesque, all with a hint of up-and-coming flair, Winnipeg is one of Canada's most underrated cities.
Located in the heart of the country (quite literally next to the longitudinal centre), Winnipeg has long been a stopover point for people crossing the length of Canada.
Those familiar with Manitoba's capital though know that it deserves more than just a drive-by.
READ MORE: Check out our ultimate guide to all the best things to do in Manitoba!
The Best Things To Do In Winnipeg
Winnipeg is a place where culture and art are at the forefront of its identity, and in recent years it has developed into a fascinating destination in its own right.
From world-leading museums to the picturesque scenery on its outskirts, a proud First Nations heritage, and of course the historic melting pot at The Forks, Winnipeg really has it all.
Here are some of the best things to do in Winnipeg to help you make the most of this captivating city.
1) Tour The Canadian Museum For Human Rights
As the only museum in the world solely dedicated to human rights, no trip to Winnipeg is complete without spending a few hours here.
When the Canadian Museum For Human Rights first opened up in 2008 it attracted an enormous amount of attention, both for the important content being showcased and for its cutting-edge architecture.
Its unusual exterior highlights the 4 major landscapes that can be found in Canada, and it has now become a focal point in most of the pictures of Winnipeg that you will see.
The architecture on the inside continues to wow its visitors, with floating ramps rising through the levels, a tribute to the basalt columns of the Giant's Causeway, and uplifting designs to counter the somber content.
While it's located in the heart of the city in the Exchange District, the land under and around the museum is a historic territory known as Treaty One Land, which has been a meeting place for thousands of years.
The journey through the Canadian Museum for Human Rights is a moving one. You'll get to experience why the topic of human rights has been growing in importance over the last century, but also come to understand just how much we've improved as a species.
Its galleries are there to inspire but also to challenge you, because understanding human rights is not something that can be learned with one quick tour.
Instead, the museum asks you to be constantly aware and to never stop your interest.
The Canadian Museum for Human Rights is one of those places to visit in Winnipeg that will leave a lasting, but wonderful, impression. We highly recommend going on a guided tour.
If you have time for another museum after this one, visit the Manitoba Museum. Covering natural history and science, the Manitoba Museum is another fascinating place to educate yourself in Winnipeg.
Address: 85 Israel Asper Way
Opening hours: Tuesday – Saturday, from 10 AM – 5 PM
Price: 18 CAD
Website: https://humanrights.ca
2) See The Polar Bears In Assiniboine Park Zoo
The zoo is one of the most fascinating attractions in Winnipeg. It's a place that truly feels magical, as it's one of the most unique exhibits of its kind in the world.
The zoo is home to over two hundred different species and has over a thousand animals in its care. Its excellent design makes it not only a wonderful education centre, but also a fun place to explore for people of all ages.
Its work in wildlife education, conservation, and research has been a tremendous help in preserving animal lives.
READ MORE: Check out our recommended itinerary to make the most of your time driving around Manitoba!
Out of the many wonderful animal species, the favourite for all visitors is most definitely the polar bears.
The specific work in helping preserve polar bears has been an effort second to none, and the Leatherdale International Polar Bear Conservation Centre is a hub that's at the top of its field.
Don't just spend all your time in the Churchill Exhibit though. Be sure to check out many of the other awesome animals from around Manitoba, such as plains bison, wolves, and foxes.
There are many things to do in Winnipeg, but visiting the zoo is one of those that simply cannot be skipped.
While many zoos put profit before animal welfare, the Assiniboine Park Zoo is leading the way in animal conservation and follows strict international regulations.
Thus making it one of the most popular Winnipeg attractions among animal lovers.
Address: 2595 Roblin Blvd
Opening hours: every day, from 9 AM – 5 PM
Price: 21.75 CAD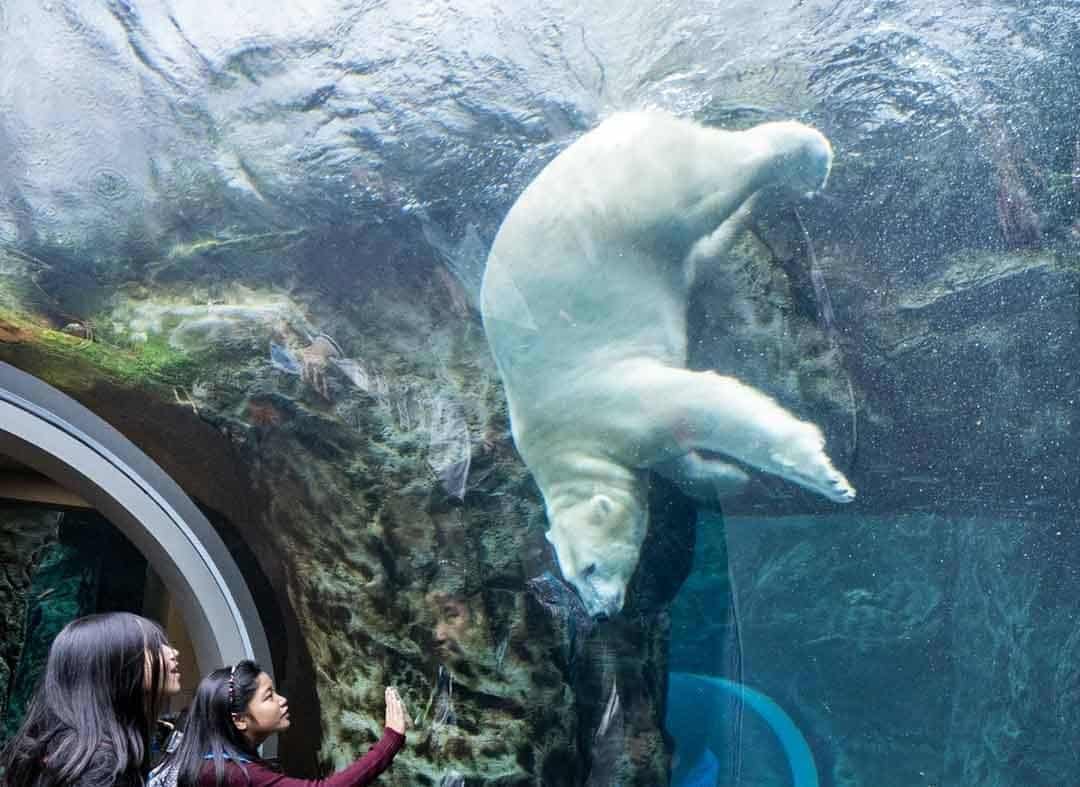 3) Walk Through The Forks National Historic Site
If there's one thing that Winnipeg has in spades, it's history.
The city was founded on the intersection of two important rivers, and the spot where the Red and Assiniboine Rivers confluence has been one of the most important trading spots for millennia.
There's a certain magic to be found here, and the fact that millions of people specifically go to Winnipeg to see The Forks speaks volumes of this.
Its natural beauty and greenery invoke calmness and serenity, and because of this, The Forks has become one of the best places to visit in Winnipeg.
The historical importance of The Forks extends right back to the days when the First Nations used to meet here to conduct trade, however the location become a meeting point for all other visitors to the junction.
Today the entire area of The Forks National Historic Site is filled with outdoor art galleries, museums, and artifacts dedicated to the city's colourful history, as well as some amazing food and drink options.
Walking within its green beauty is one of the best things to do in Winnipeg.
4) Eat And Dance Away At ManyFest
Arts and music are synonymous with Winnipeg, and not a week goes by where there isn't some amazing event to check out.
The spot where it all happens is on Broadway – one of Winnipeg's bustling, uniquely Canadian main streets.
Found between Main Street and Osborne, Broadway is home to numerous events throughout the year, and one of the most popular ones is ManyFest.
An annual festival happening every September, ManyFest stretches over 3 days and is filled with family-friendly rides, food trucks serving up every cuisine you could imagine, and of course plenty of musical events.
DJs and local bands rock the stages, while the food trucks have a literal battle, with customers voting for the favourite vendor in the great Food Truck Wars.
Access to ManyFest and the bands is completely free, however the rides and food cost money. So if listening to live music while kicking back in a craft beer garden sounds like your idea of a good time, don't miss out on including this great activity a part of your Winnipeg sightseeing experience!
Check out our ultimate destination guide all about travel to Canada!
5) Skate The Red River Mutual Trail
Canada's winters are long, cold, and snowy, but rather than hide away until the warmer months, Canadians love nothing more than getting outside and making the most of the weather!
Ice skating, hockey, fishing, skiing, snowshoeing – as soon as the ground starts to freeze, you'll find locals out and about taking part in all kinds of great activities.
And things aren't any different in Winnipeg.
When the rivers freeze over the government creates the longest naturally frozen skating trail in the world – the Red River Mutual Trail.
Locals and tourists alike hit the trail to either skate, sled, or walk along the Red and Assiniboine Rivers, right past The Forks.
The length varies every year. It averages around five or six kilometres long, but it's been known to extend up to ten record-breaking kilometres!
If you're here at the right time of the year when the temperatures fall and cause the river to freeze (which is usually around January to March), you'll never be wondering what to do in Winnipeg – just check out this awesome frozen trail!
6) Experience Icelandic Culture
Ever wonder what old cultures were like before they integrated into modern society? Wonder no more!
Gimli is a small, but decidedly unique, community originally made by Icelandic settlers in the past, and its inhabitants still adhere to old traditions.
While it is a modern place with modern amenities, visiting Gimli is a great way to experience Icelandic culture by yourself without actually having to fly all the way to Iceland.
It's a popular retreat for many Canadians, especially when the Icelandic Festival of Manitoba is around town, so visiting it can definitely be one of the best things to see in Winnipeg.
It's very fun, rewarding, educational, and definitely worth a visit or two.
7) Take A Stroll On The River Walk
Winnipeg is a city that feels specifically designed for people that love being outdoors.
It's not your typical large city, and it has an incredible amount of parks, greenery, and promenades. One of the best places to witness that is along the River Walk.
Running from Riel Esplanade to the Legislature buildings, the River Walk takes in some of the city's best views and can be enjoyed at any time of year.
You'll have a chance to bask in Winnipeg's impeccable charm and burn some calories while you're at it.
8) Witness The Wonder Of Canad Inns Winter Wonderland
When winter sticks around for up to 6 months a year, it's no wonder Canadians have learnt how to make the most of the cold weather.
While it may be the most difficult season to travel, there's something incredible about witnessing the magic and beauty of winter through a unique Canadian lens.
Winnipeg knows how to do just that, and the annual Canad Inns Winter Wonderland is a unique drive-in event, filled with over a million spectacular lights.
What makes this 2.5km long ride so brilliant is that even if the weather is absolutely freezing, you can simply drive along the light shows and enjoy them from the comfort of your own car.
The drive-in will take you through over two dozen themed areas, each with its own distinct look and feel, so you're guaranteed to have a magnificent time.
The Winter Wonderland is a splendid activity for the whole family, and during the ride you can make a pit stop and take part in its merry activities in the snow and ice, like ice skating and sledding.
The show starts usually in early December and lasts until early January, and it's an amazing way to pass the evening while you're still discovering what to do in Winnipeg. Check the website because the exact dates vary every year.
9) Visit The Winnipeg Art Gallery
The Winnipeg Art Gallery has been drawing visitors for years, and it's about to get a huge makeover!
Housing some of the best local art around, as well as some incredible pieces from international artists, the Winnipeg Art Gallery (WAG) is the kind of place you could spend hours.
During our visit, there was a remarkable exhibit on contemporary Inuit art, with paintings, pictures, sculptures and carvings showcasing the unique indigenous culture.
Address: 300 Memorial Boulevard
Opening hours: Tuesday – Sunday, from 11 AM – 5 PM
Price: 12 CAD
10) Relax In The Thermëa by Nordik Spa-Nature
It's hard to beat a good spa treatment and just 8km from town the Thermëa by Nordik Spa-Nature is redefining the spa experience.
There are three rejuvenating outdoor springs set to different temperatures, and 4 traditional saunas to sweat out any toxins that may be inside you.
For those that love to be pampered, you can also order a massage or a full body treatment to really put you in a complete state of relaxation.
There's also a restaurant and accommodation on site so you can extend your visit.
Admission is only available to those aged 16 years and older.
Address: 775 Crescent Dr
Opening hours: every day from 9 AM – 10 PM
11) Witness The Beauty Of The Northern Lights
The Aurora Borealis is quite often the number one natural phenomenon to see on most people's bucket lists.
Catching a glimpse of the Northern Lights is something to behold, but where exactly can you see them?
A lot of people think you have to go all the way to Iceland or Norway to see them, but the truth is Canada is just as good a place as any to see them!
You might not realise it, but Winnipeg is known for having its fair share of Aurora!
The best time to see the Northern Lights is of course winter, but there's always a chance you can see them in the Spring and Fall as well. In fact, when we were there in September of 2018 the Aurora hit Southern Manitoba!
Unless they are very strong though, it will be hard to see them in the city. Instead, rent a car and head out of town to the north, away from the light pollution, to see if you get a proper glimpse of them!
There's nothing quite like them, and if you get the chance to see them it will definitely be the best attraction in Winnipeg imaginable!
12) Hit Up A Sports Game – Go Jets!
Manitobans take their sports seriously, so heading out to catch a match is sure to be a memorable experience when looking for things to do in Winnipeg.
The Winnipeg Blue Bombers are the city's CFL team, and you can catch them playing from mid-June until November.
You can find them playing home games at the Investors Group Field. Check out their website for an up-to-date schedule of who and where they'll be playing.
But no matter how much locals love their Blue Bombers, the truth is hearts are always with ice hockey and the Winnipeg Jets!
When the franchise was relocated from Atlanta to Winnipeg in 2011 locals jumped onboard with huge enthusiasm.
They've been improving year after year, and in the 2017/18 season they even made the conference finals.
You'll find them playing at the awesome Canada Life Centre. Check out the NHL website for their schedule.
13) Have Brunch At Clementine Cafe
We're not usually ones to recommend going to a cafe as one of the best things to do in a city, but when the brunches at Clementine Cafe are that damn good, you can't miss it!
Located downstairs in a cosy little diner at 123 Princess St, the atmosphere is buzzing with millennial hipsters and funky business types who are tucking into artisan caesars and maple bacon.
The menu is unique and varied, with only the best organic ingredients used for all their items. If you're a coffee drinker like us, the lattes are up there with the best we've had in Canada.
Where they really shine are their breakfast cocktails though. There's the all-time favourite, the caesar, but their liqueur coffees are a big hit, as well as their passionfruit margaritas.
The cafe is located in the Exchange District, a shopping, dining, and cultural hub in downtown Winnipeg.
Also home to lots of coffee shops, bars, restaurants, hotels, as well as Winnipeg tourist attractions like the Forks, Canadian Museum for Human Rights, and more, the Exchange District is a fun place to go. So even if you don't eat at this cafe, there are plenty more options in the area.
Address: 123 Princess St, Exchange District
Opening hours: Monday – Friday, from 7 AM – 3 PM and Saturday – Sunday from 8 AM – 4 PM
14) Go To The Beaches On Lake Winnipeg
Manitoba is absolutely full of surprises.
Most people travelling through the prairies wouldn't think to stop off at the beach, but that's exactly what you can do just outside of Winnipeg!
Lake Winnipeg has been a vacation destination for over a century, and is one of those places that you really should visit when you're hanging out in town on an extended stay.
The city may be landlocked, but the lake is only about a 60-minute drive north of the city, and hosts some amazing beaches.
The closest destination to the city is Winnipeg Beach, 56km north of town. Definitely worth renting a car for and driving out on a sunny day.
15) Simply Explore Winnipeg's Awesome Streets
Don't be fooled by this extensive list – one of the best things to do in Winnipeg is simply walk around its funky streets and alleyways.
Downtown Winnipeg is an incredible hub where you never know what you'll find around each corner, so make sure to thoroughly explore its downtown area as much as possible.
The cultural and artistic elements that have weaved their way into the city's identity are best experienced on a walking tour along the neighbourhoods of the Exchange District and the historical French Quarter of St. Boniface.
After wandering through the Exchange District and you've seen the top Winnipeg tourist attractions mentioned, just keep exploring!
There are so many attractions we didn't even get to on this list, like the Royal Canadian Mint, Centennial Concert Hall, Assiniboine Park, Birds Hill Provincial Park, Manitoba Legislative Building, and more. If you have free time at the end of your stay, walk around and check out some more attractions.
If you're wondering what to do in Winnipeg and have already ticked off the big-ticket attractions, grab your walking shoes, don a smile and hit the streets or some of their famous breweries.
You could also consider booking a trolley tour with a local guide if your feet are tired from walking! Ride through Downtown Winnipeg in a historic, open-air trolley and learn all about the city's history and facts and see the best sights.
Have you been to Manitoba's eclectic capital? Have anything to add to the list? Let us know what you think about these awesome things to do in Winnipeg in the comments below!
DISCLAIMER: Some of the links in this article are affiliate links, which means if you book accommodation, tours or buy a product, we will receive a small commission at no extra cost to you. These commissions help us keep creating more free travel content to help people plan their holidays and adventures. We only recommend the best accommodations, tours and products that ourselves or our fantastic editorial team have personally experienced, and regularly review these. Thanks for your support, kind friend!