A 2-week Manitoba road trip itinerary that covers highlights in the southern half of the province. If you love nature, wildlife, culture and cuisine, don't miss a drive around Manitoba!
On our very first foray into international travel, at the ripe old ages at 20 and 23, we landed in Canada, bought an old campervan and hit the road in search of adventure and wide open landscapes.
Over the course of three years we managed to put almost 50,000km on the odometer as we zig-zagged across the country, from BC to Newfoundland and back, and it's safe to say that with vast wilderness, diverse wildlife, friendly locals, and endless scenic drives, this spectacular nation cemented our love of road trips.
During our travels we have managed to visit Manitoba three times, and the prairie province truly became one of our unexpected favourites.
Manitoba is massive, and you could easily spend a month at least exploring the entire province, especially if you add on a journey to the far north to see Churchill, the Polar Bear Capital of the World.
But for most travellers who aren't planning a trip to the Arctic tundra, 2 weeks is a perfect amount of time to see the national parks and charming towns of southern Manitoba by car.
In this new Canada travel guide we outline our suggested itinerary for a 2-week Manitoba road trip, perfect for those driving across the country, or using the vibrant capital of Winnipeg as a base.
READ MORE: Don't miss our epic guide to the best things to do in Manitoba to discover what else there is to do here!
Of course, you can modify the itinerary however you like, but we'll recommend all the best national parks, hiking trails, and other attractions within driving distance from Winnipeg.
Whether you follow this itinerary exactly or just take away pieces of it, hopefully this article will help you plan your future Manitoba road trips!
Our Epic 2-Week Manitoba Road Trip Itinerary
The first week of this Manitoba road trip will cover a western loop from Winnipeg. The second week will cover an eastern loop.
So even if you're just looking for 1 week Manitoba road trips, you can choose to do just half of this itinerary.
Either way, you're sure to have an epic adventure while you explore the province by car.
The best way to get around is to rent a car and explore on your own! We recommend Rental Cars, which has the largest range of vehicles for the best value on the market.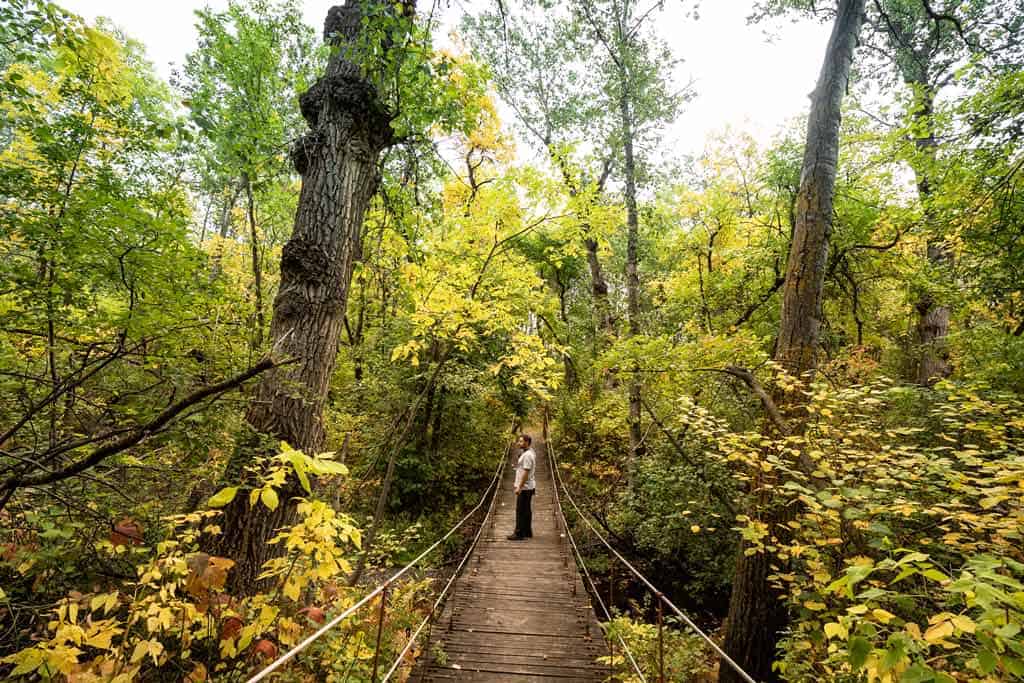 Week 1 – Western Loop of Southern Manitoba from Winnipeg
Your first half of the Manitoba road trip will begin and end in Winnipeg. You'll venture west from the city in a loop, passing towns full of history and national parks full of wildlife.
Manitoba has lots of well-equipped official campgrounds for those looking to camp, so you'll have plenty of opportunities to sleep beneath the stars, or stay in a cozy local inn if that's more your style.
Whichever you choose, you're guaranteed to have a fun-filled first week on your Manitoba road trip.
Day 1 and 2 – Fly into Winnipeg, Rent a Car, and Explore
With so many incredible things to do in Winnipeg, it's a fantastic place to begin your adventure.
Fly into Winnipeg and spend your first two days relaxing, exploring, and prepping for your road trip.
You can organise your car rental, stock up on supplies, and make sure all your accommodations are booked for the rest of the journey.
If you're travelling outside of winter (which is what we recommend), make sure you book things in advance because summer is the peak tourist season in Manitoba.
Also consider things like entry passes to national parks and weather patterns. Once you've gotten all your logistics sorted, you can enjoy Winnipeg!
Your first stop should be The Forks, which is the hub for culture and entertainment in the city. After you wander through the Forks Market, relax in the public parks, or visit the famous museums.
The Canadian Museum for Human Rights is a highly interesting space to learn about the evolution of human rights in Canada and abroad.
It is set in a modern glass building and has numerous exhibits, stories, art installations, and more. This Canadian museum is one not to miss! The Manitoba Children's Museum is perfect if you're travelling with small children too.
You can also check out the Assiniboine Park Zoo or stroll along the River Walk at The Forks while hanging out in Winnipeg. Or visit the Exchange District, which is a national historic site thanks to its beautiful architecture, and known for independent restaurants, boutiques and galleries housed in a few blocks of historically preserved buildings.
After spending 2 days in Winnipeg, get a good night's sleep because tomorrow you're setting out on your Manitoba road trip!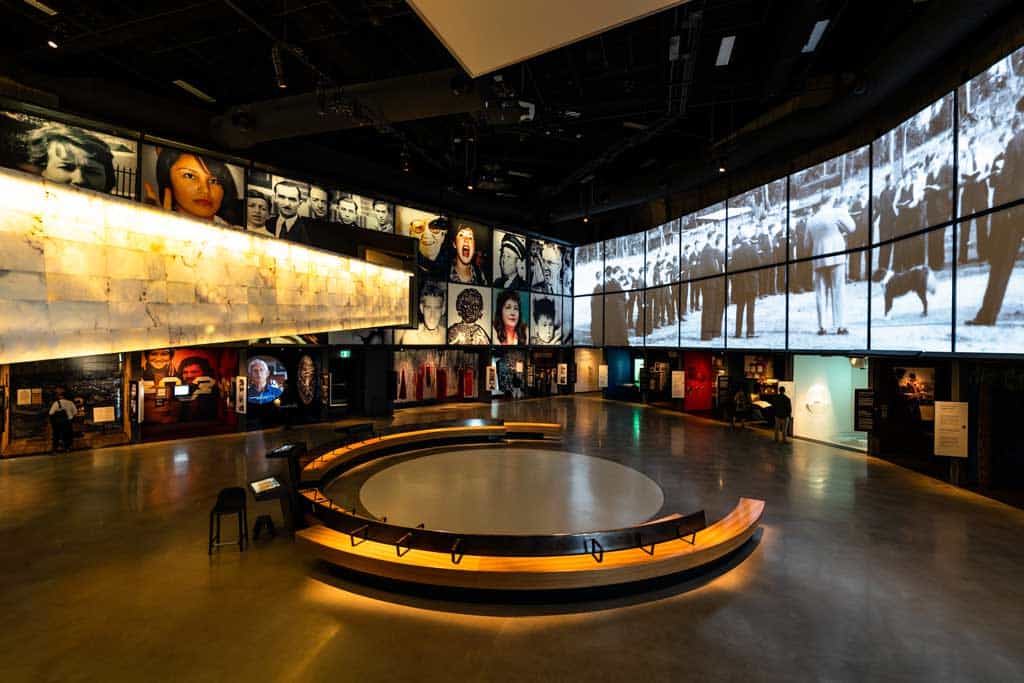 Where to Stay in Winnipeg
Winnipeg has lots of nice hotels and Airbnbs, though they're a bit on the expensive side.
Expect to spend at least CAD$100 per night, but the quality is there which makes it worth the cost.
There are a few hostels in Winnipeg, but consider treating yourself to nice accommodation here, especially if you'll be camping throughout the rest of your trip.
Humphry Inn and Suites is a good budget option, with a room costing around $140 a night.
If you want to treat yourself, stay at the Inn at the Forks. It's right in the heart of the city and is quite luxurious.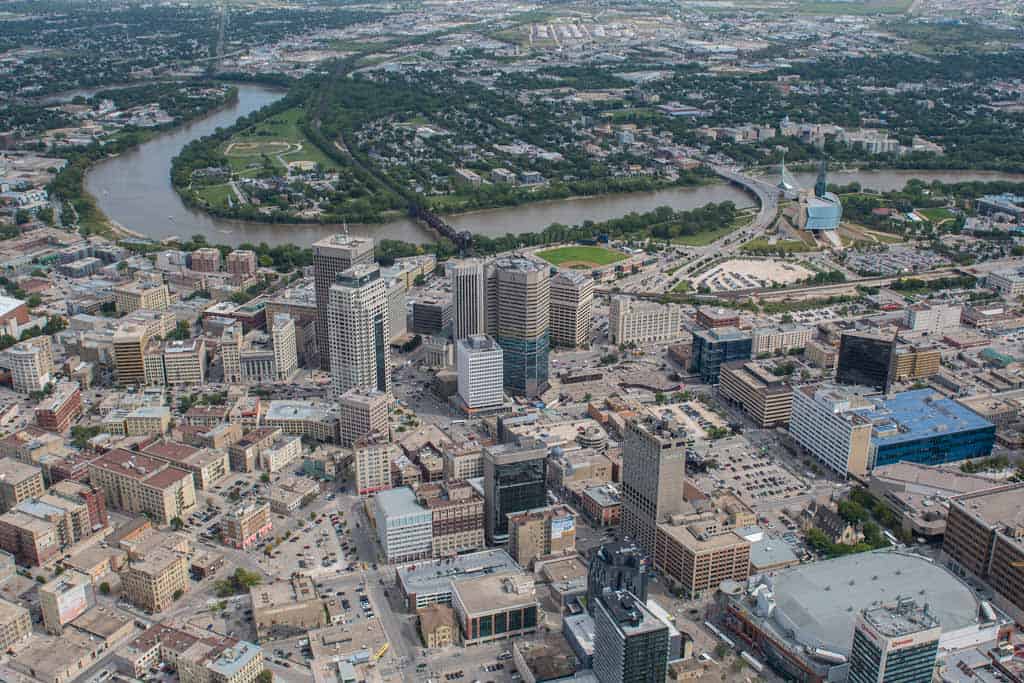 Day 3 – Drive to Portage la Prairie
Today you can start heading west towards Portage la Prairie. This quaint town is only about an hour away from Winnipeg, so there isn't much driving to do.
Once you arrive, spend the day enjoying this peaceful town in Manitoba.
There are two main highlights of Portage la Prairie. The first is Island Park, a gorgeous outdoor recreation area.
Here you'll find walking paths, a golf course, parks and playgrounds for kids, as well as picnic and BBQ areas.
Also check out the Fort La Reine Museum, which showcases countless historic artefacts and buildings. If you're interested in the history of Canada, this museum is a must-see.
Where to Stay in Portage la Prairie
The Microtel Inn and Suites by Wyndham Portage la Prairie is a comfortable, easy place to spend the night, ideal for couples on Manitoba road trips.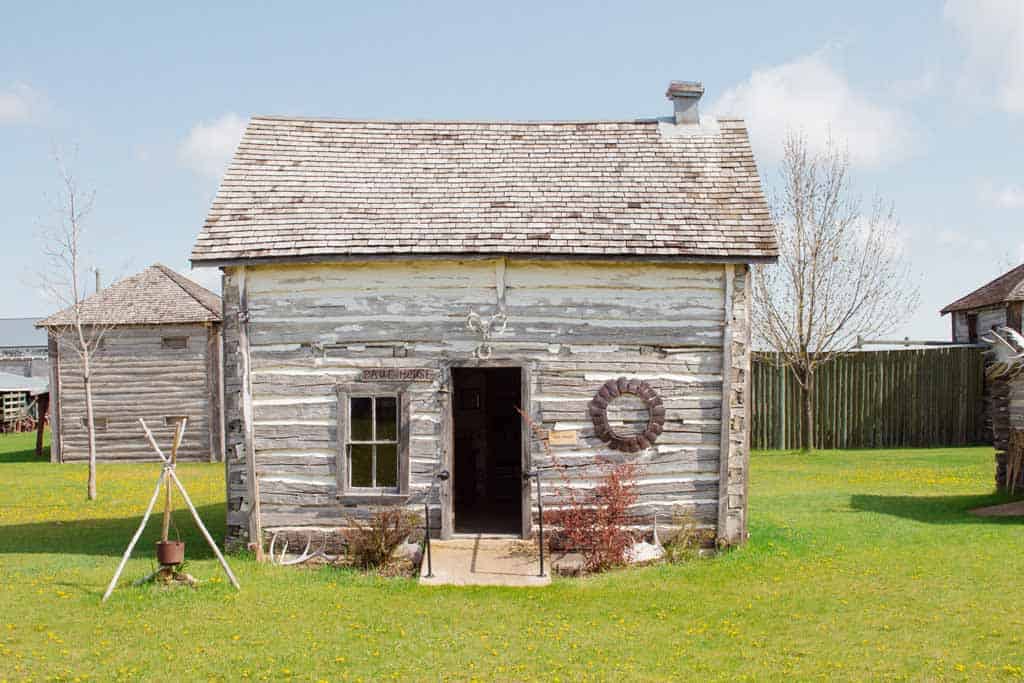 Day 4 – Spruce Woods Provincial Park
The next stop on your Manitoba road trip is Spruce Woods Provincial Park. It is only an hour away from Portage la Prairie, so if you leave early you'll have the entire day for an outdoor adventure.
You could easily spend a few days in the Spruce Woods Provincial Park as there are so many activities to do here.
This national park is known for its abundance of hiking trails. Some of the best include:
Spirit Sands and Devil's Punch Bowl Hiking Trail
Marsh Lake Trail
Isputinaw Trail
Spring Ridge Trail
Hogsback Trail
All of these hikes are pretty short and can be done in one day.
The longest hike is the Spirit Sands and Devil's Punch Bowl Hiking Trail, which takes around 3-4 hours.
This is also the most famous hike in the park, due to its unique landscape. Here you'll find wide expanses of sand dunes, spiky cacti, and the small turquoise lake known as Devil's Punch Bowl.
If you only have time for one hike, this is the one we recommend doing. The other trails mentioned are only around 1 hour each, so you could combine a few of them into one big day.
The area also has amazing biking trails and campgrounds. Stargazing and bird-watching are top-notch here as well.
The Assiniboine River cuts through the park and this idea is ideal for canoeing. Canoe rentals are available at the store near the campground.
READ MORE: Looking for more adventures in the Great White North? Check out our detailed guide to the top things to do in Canada!
Where to Stay in Spruce Woods Provincial Park
There are two really good accommodation options for Spruce Woods Provincial Park. Kiche Manitou Campground is the best campsite in the park. It's not far from the Spirit Sands, so it's a convenient spot to camp after the hike.
If you're not camping, head to the nearby town of Glenboro for the night. The Spruce Woods Inn is a modest option, with an on-site restaurant and bar as well.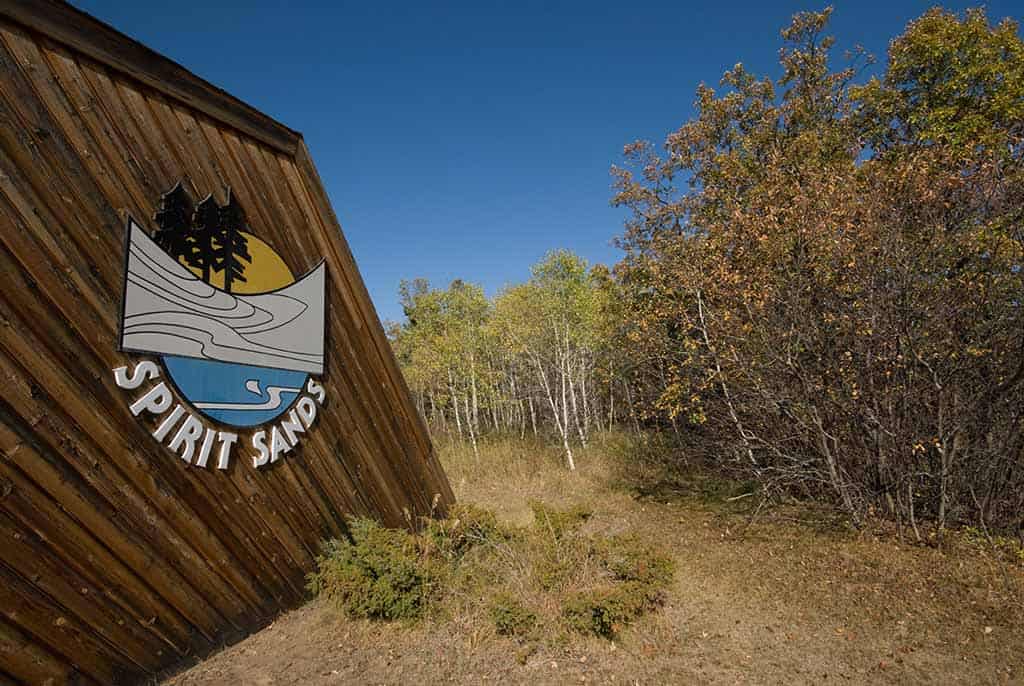 Day 5 – Brandon to Riding Mountain National Park
Day 5 of your road trip will take you to the city of Brandon on your way to Riding Mountain National Park.
Located along the Assiniboine Rivers, Brandon is less than an hour from Spruce Woods Provincial Park and it's a good place to stop for a break.
You can refuel, stock up on snacks, and grab some breakfast or lunch. While you're in Brandon, you can also visit one of the interesting museums and art galleries.
The Commonwealth Air Training Plan Museum showcases the history of the airmen who served in WWII. There are real aircrafts on display as well as other artefacts.
If you're more interested in art than history, visit the Art Gallery of Southwestern Manitoba. This contemporary art museum was one of the first visual art museums in Canada.
After you explore the history and art of Brandon, drive north for an hour towards Riding Mountain National Park.
Where to Stay in Riding Mountain National Park
Wasagaming is a small town on Clear Lake, and it's the most convenient place to base yourself for exploring Riding Mountain National Park.
Wasagaming campground is the best spot to camp, and Honeycomb Bed and Breakfast is a cozy, rustic, moderately-priced place to stay outside of the Park and Wasagaming, in the town of Onanole.
We personally loved staying in the oTentiks in Wasagaming, run by Parks Canada. These warm and spacious A-frames are comfortable at any time of year and come complete with dorm beds, wood-fire heaters and cooking equipment.
Check out this site for more ideas on where to stay.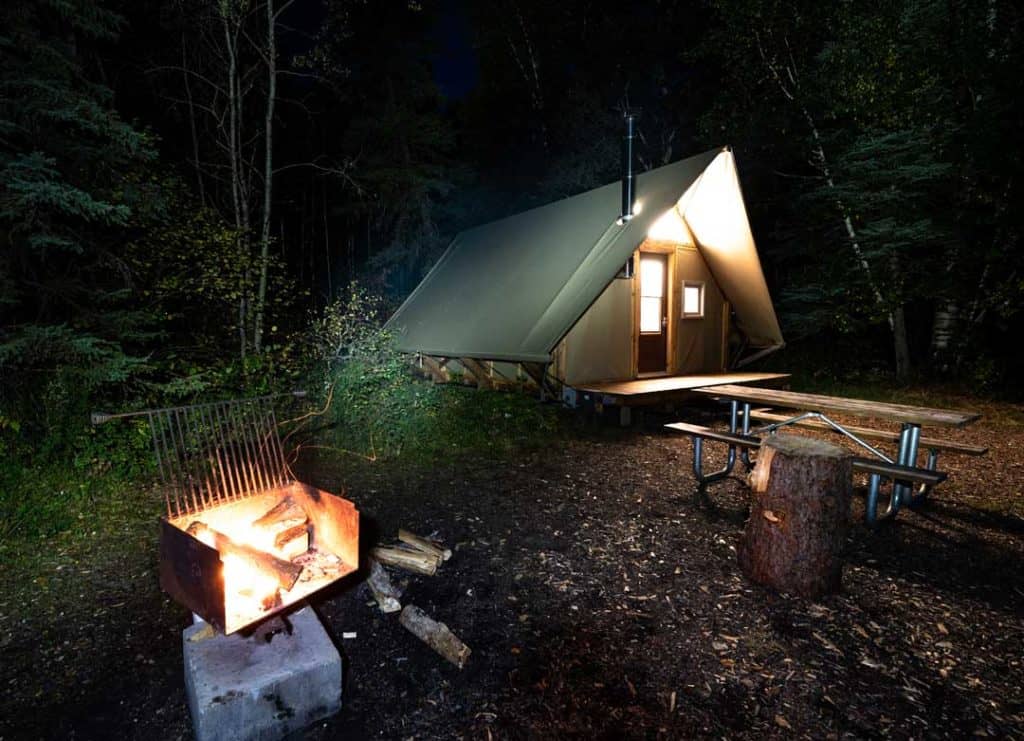 Day 6 – Riding Mountain National Park
Like Spruce Woods Provincial Park, there is so much to do here in Riding Mountain National Park.
It's one of the best places to explore on Manitoba road trips, and you could easily spend a few days enjoying the area.
The abundant wildlife and dense boreal forest make this a paradise for animal and adventure enthusiasts. If you're lucky you may even spot an elusive black bear here!
Spend all of day 6 of your journey canoeing or kayaking on Clear Lake, hiking the Buris and Bittersweet Trail, and exploring the Ominik Marsh.
Alternatively, the Bald Hill Trail or Gorge Creek Trail are two of the most epic hikes in the park for the views along the Manitoba Escarpment, which is a large elevated ridge that cuts through the park.
In the winter, the park is amazing for cross country skiing or snowshoeing.
Another one of the top activities in Riding Mountain National Park is visiting the Lake Audy Bison Enclosure.
This is potentially the only place you'll get to see plains bison roaming around in Manitoba.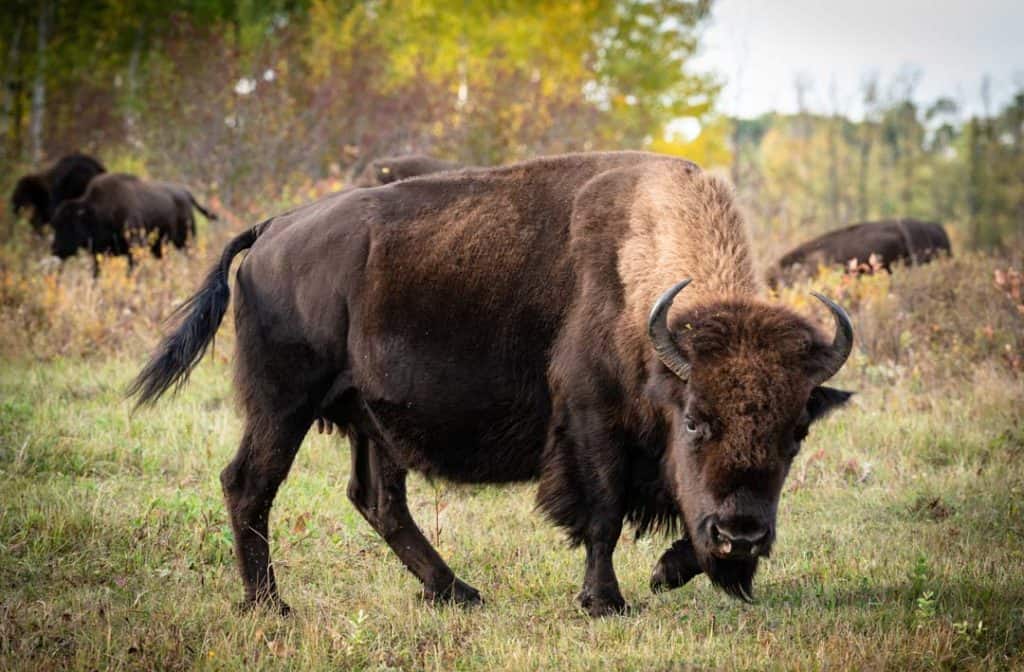 Bison have been hunted almost to extinction, so this vast, protected space ensures that a captive herd of plains bison is able to thrive.
Drive through the enclosure in the hopes of seeing these magnificent animals up close.
READ MORE: Along with seeing the plains bison, see what else made our list of the top wildlife experiences in Canada!
You can stay at your accommodation in Wasagaming for another night, but before going to bed, drive out to the eastern end of Clear Lake for a popular sunset spot called the Wishing Well.
Colourful, lakeside sunsets are essential to the best Manitoba road trips!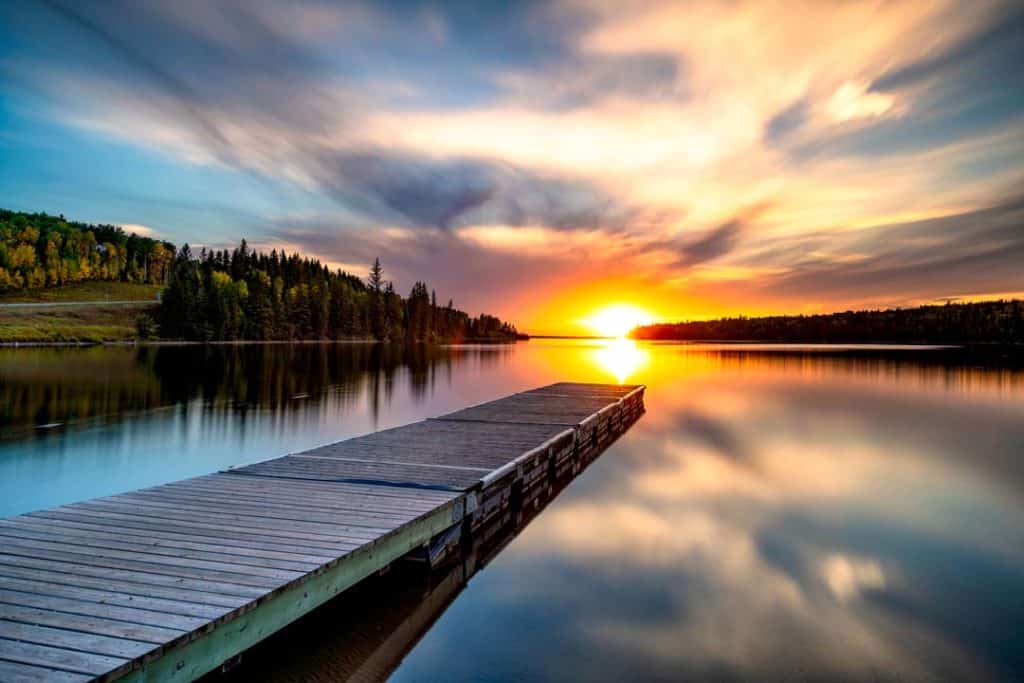 Day 7 – Return to Winnipeg
After your week-long road trip through the western side of Manitoba, drive 3 hours from Riding Mountain National Park back to Winnipeg.
Take some time to do the activities you may have missed at the start of your trip. Go see the polar bears at the Journey to Churchill exhibit in Assiniboine Park Zoo, walk along the shores of the Red and Assiniboine Rivers or further explore the Forks if you haven't already done so.
For a real treat head to the Thermëa by Nordik Spa-Nature. This relaxing spa has warm thermal baths, massages, and other luxurious treatments.
It's easily one of the best things to do in Winnipeg, especially after a week of hiking and camping.
Also in Winnipeg, definitely make time for the award-winning Canadian Museum for Human Rights if you missed it before.
You can also visit the Winnipeg Art Gallery or the famous Royal Canadian Mint coin making facility.
Another fantastic option is Qaumajuq, the new Inuit Art Centre that houses the largest collection of contemporary Inuit Art in the world. It's attached on all levels to the Winnipeg Art Gallery.
Before or after your Manitoba road trips is a great time to explore Winnipeg, as it's the heart of culture and entertainment in the province.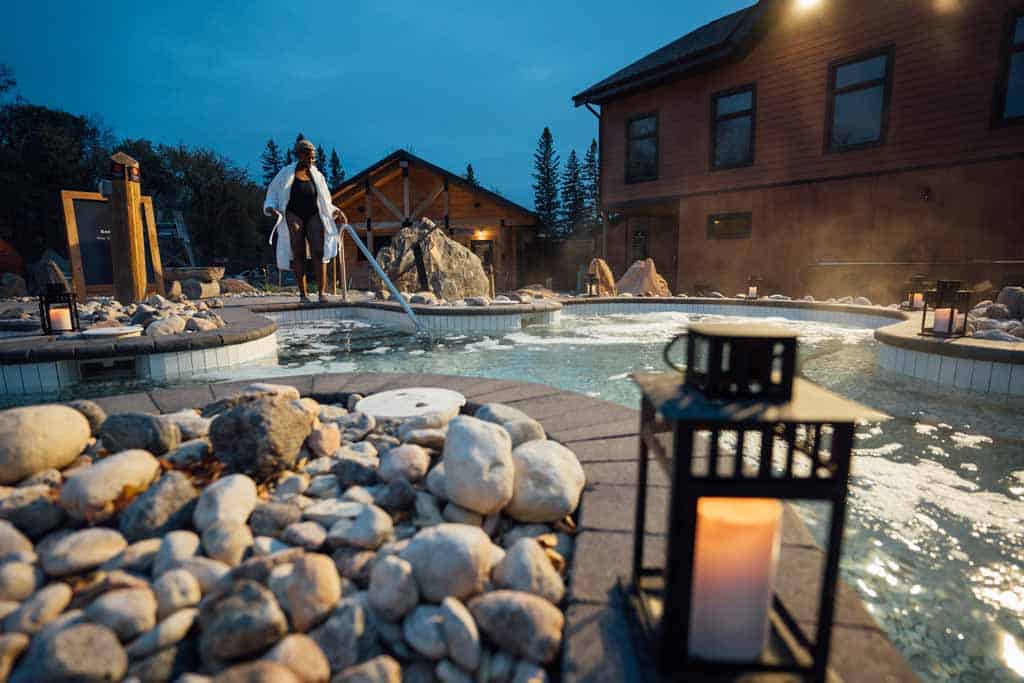 Week 2 – Eastern Loop of Southern Manitoba from Winnipeg
Week 2 of this southern Manitoba road trip will cover the eastern side.
You'll start with a journey up to Lake Winnipeg, then continue further east to explore the lakes and provincial parks.
Be sure to spend at least a few days in Whiteshell Provincial Park, as it's one of the top places to visit in Manitoba.
Day 1 – Drive to Hecla Provincial Park
Start by driving about 2 hours north of Winnipeg to Hecla-Grindstone Provincial Park. Set on Lake Winnipeg, Manitoba's largest lake, this gorgeous park consists of islands, beaches, hiking trails, and cross country skiing trails.
You can walk along the rocky shores of the lake, hike to the Hecla Lighthouse, and observe the abundant wildlife and birds.
Grassy Narrows Marsh is the park's top hiking trail. It will lead you through the marsh of the park.
The Black Wolf Trail and the Gull Harbor Trail are other popular hiking or cycling trails to consider.
After hiking, visit Hecla Village and the Heritage Home Museum to learn about the history of Icelandic settlers in the area.
Another great activity is to head to the Wildlife Viewing Tower for bird-watching and nature photography.
You're almost certain to see geese, pelicans, ducks, and other water birds. But be on the lookout for moose, as they are also common in the area.
Where to Stay in Hecla-Grindstone Provincial Park
Manitoba Parks has numerous holiday cabins and a nice campground available for overnight guests.
You can stay right on the shores of the largest lake in Manitoba and enjoy a peaceful night surrounded by nature.
Check out the official Manitoba Parks website to view information on the Hecla Vacation Cabins and Gull Harbour Campground.
Visitors can also stay in guest rooms at Hecla Lakeview Resort (higher-end) or Gull Harbour Marina & Lighthouse Inn.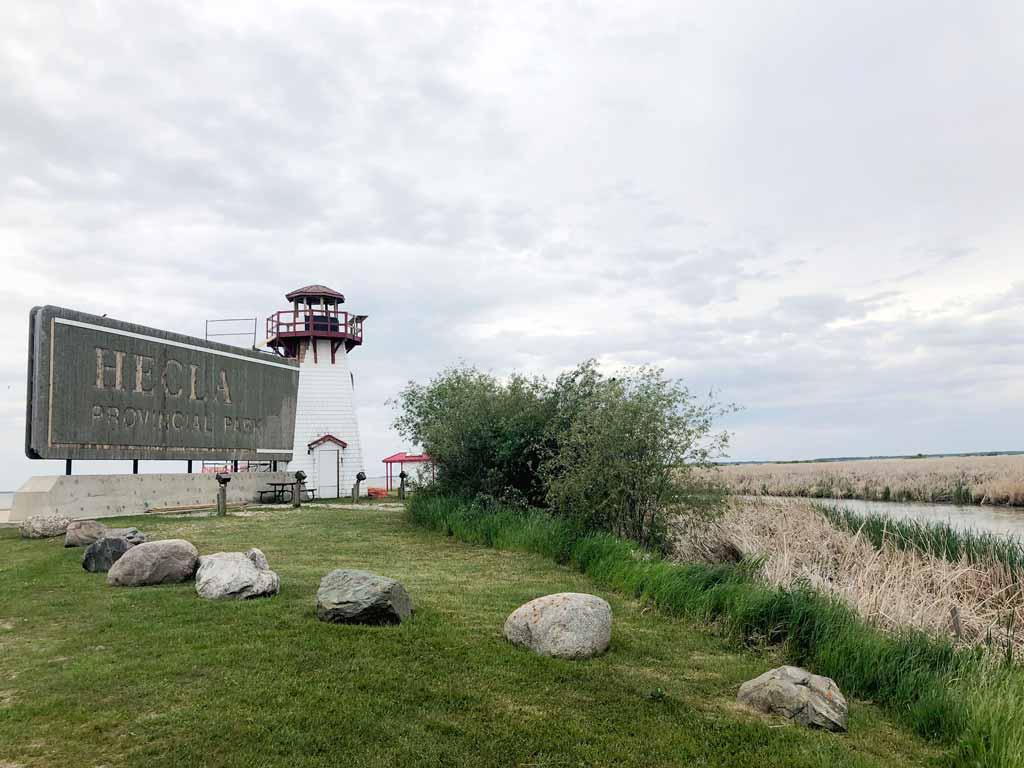 Day 2 – Grand Beach
For the next adventure on your 2-week Manitoba road trip, head to Grand Beach on the east shore of Lake Winnipeg. The drive takes just over 2 hours, as you have to journey around the lake.
When you arrive, spend your day enjoying one of Canada's hidden gems. Most beach-loving tourists in Canada flock to the west coast, but Grand Beach is truly stunning.
Grand Beach is the longest white sand lake beach in Canada, so it's extremely popular in summer.
Spend a day swimming in the freshwater and relaxing on the velvety sand. You can also take windsurfing or kite surfing lessons if you're looking for a full-day adventure.
Where to Stay Near Grand Beach
If you head about 15 minutes north of Grand Beach, you'll discover the cutest bed and breakfast known as Pebble Springs Belair B&B. The cozy, family-owned beach cottage has a wood stove, hot tub, and top-rated local hosts.
Alternatively, you can camp at Grand Beach Campground on your road trip.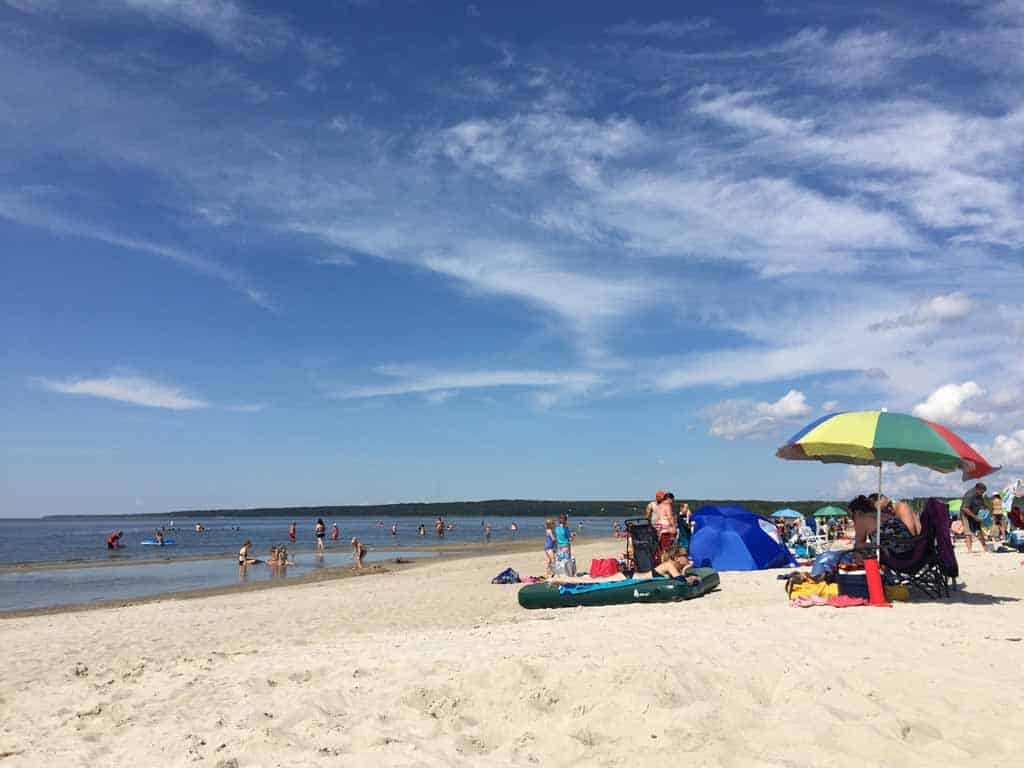 Day 3 – Drive to Pinawa
The next stop on your southern Manitoba road trip is Pinawa, one of the best outdoor adventure spots in the province.
It's only a 1-hour drive from Grand Beach to Pinawa, so you have the entire day to explore the area.
Start by completing the Pinawa Channel Heritage Walk, where you'll cross the impressive Pinawa Suspension Bridge.
Next, try whitewater kayaking! Many wouldn't expect rapids in Manitoba since it's a prairie province. But Pinawa Dam Provincial Park is perfect for kayakers of all experience levels.
Prairie Whitewater is an amazing local company in Manitoba that provides equipment and in-depth instructions for any travellers looking to try whitewater kayaking.
The most popular and accessible ways to get out on the water in Pinawa is by tubing, kayaking or SUPing the Pinawa Channel. You book times and equipment from tour companies like Pinawa Float and Paddle and Pinawa UnPlugged Eco Tours.
So any water-sport lovers doing road trips through central Canada should definitely stop in Pinawa.
Where to Stay in Pinawa
This charming wilderness town in Manitoba has some lovely local accommodation, including L'Eau Calme Resort, The Pinawa Motel, and Voyageur Houseboats.
Visit the official Pinawa website for more details.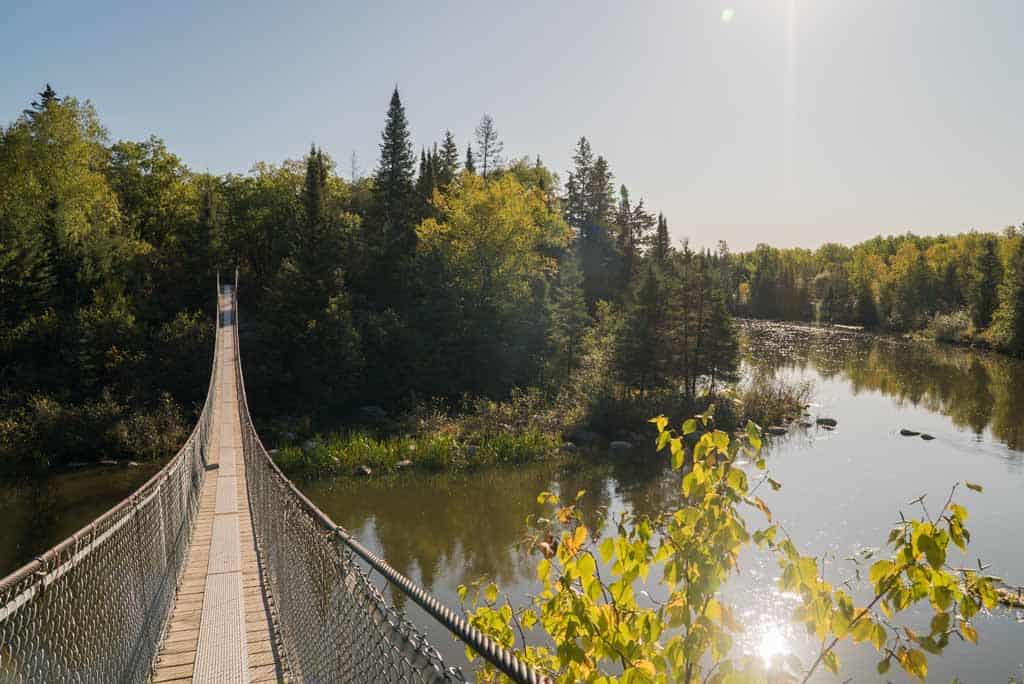 Day 4 – West Hawk Lake
After an exciting stay in Pinawa, head to West Hawk Lake, located in one of the most beautiful provincial parks in Canada, Whiteshell.
All Manitoba road trips should include a visit to Whiteshell Provincial Park. This is the largest park in Manitoba, so it is jam-packed with natural beauty including lakes, forests, rivers, wildlife, and hiking trails.
The trip from Pinawa to West Hawk Lake in the park only takes an hour, so you'll have plenty of time for activities.
Once you arrive in West Hawk Lake, enjoy the area by hiking, birdwatching, kayaking, stand up paddleboarding, or canoeing.
One of the hidden gems in the area is the Caddy Lake Tunnels. Here you can canoe or kayak along the peaceful lake and pass through magical, mad-made tunnels.
A fun fact about West Hawk Lake: it was formed due to a meteor crashing into earth millions of years ago. So the water is surrounded by dramatic granite cliffs formed by the crash.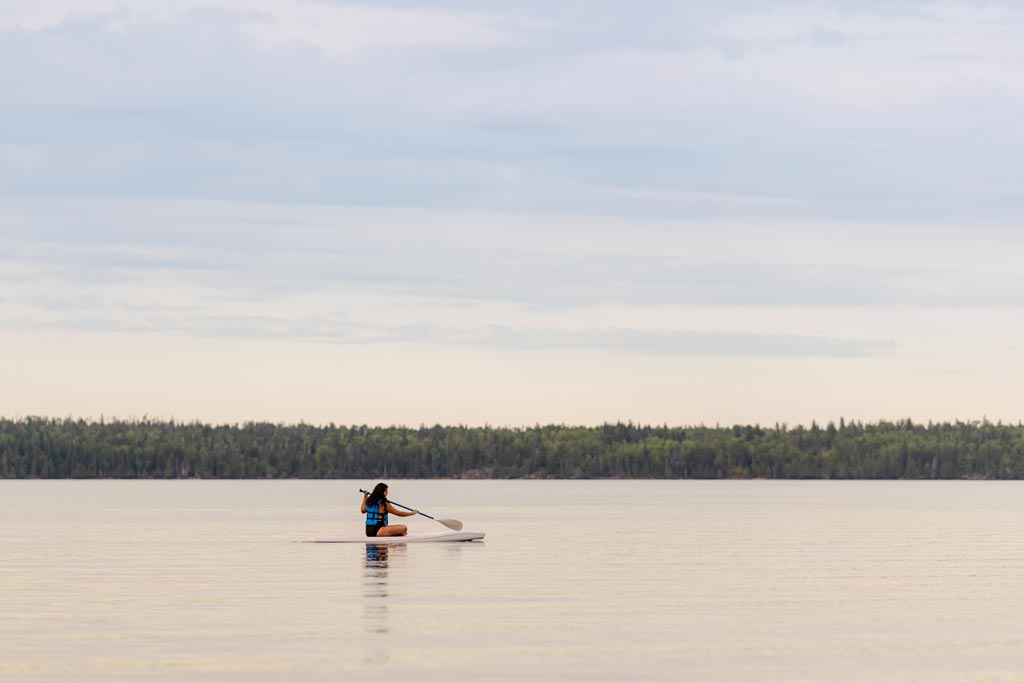 Where to Stay in Whiteshell Provincial Park
Days 4-6 of this Manitoba Road Trip are spent near West Hawk Lake and Falcon Lake.
The two lakes are only a 15-minute drive apart, so you can pick one nice accommodation and stay there for a couple of nights.
Falcon Trails Resort owns a number of stunning, lakeside log cabins in the forest that will fill the last days of your Manitoba trip with absolute zen.
This is our top recommendation for accommodation not just in Whiteshell, but all of southern Manitoba. Book early though!
The area also has lots of amazing campgrounds, including West Hawk Lake Campground and Falcon Lake Lakeshore Campground.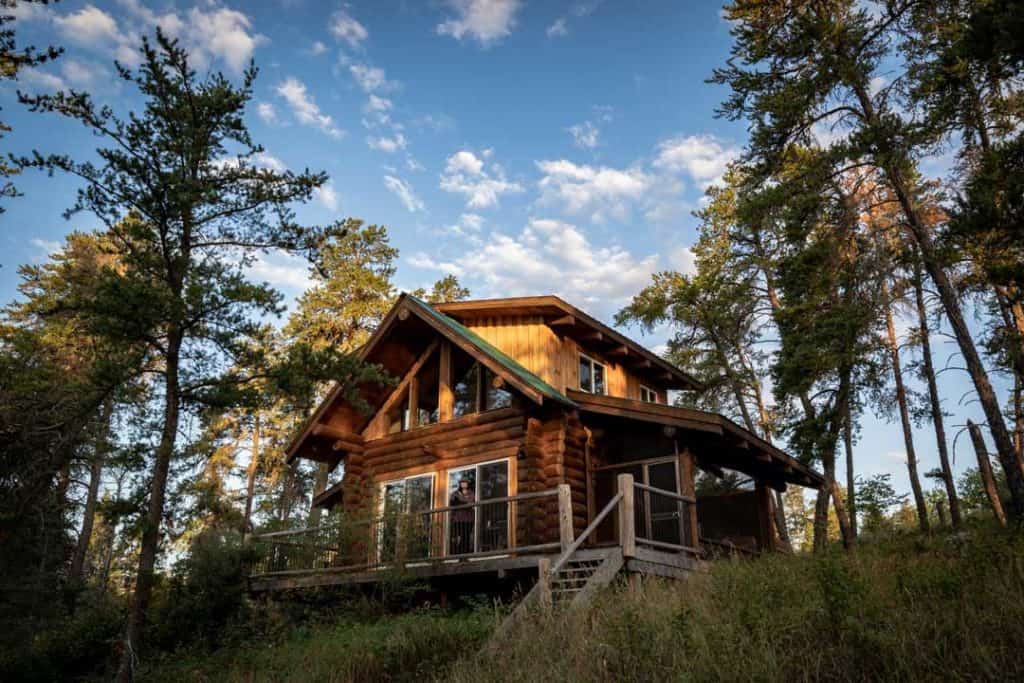 Day 5-6 – Falcon Lake
Spend the next two days enjoying another one of the most beautiful lakes in Manitoba.
Falcon Lake is surrounded by fun hiking and cycling trails and a rich boreal forest that is full of life.
A fun way to experience the area is by booking a horse riding tour.
Falcon Beach Ranch, which also has lovely cabins, offers highly-rated horseback riding tours through the forest, making for a very exciting and adventurous way to discover the beauty of the area.
The Ranch has tours for all experience levels, so even if you've never ridden a horse before, they will make sure you feel comfortable.
Other fun activities in this gorgeous area of Manitoba include hiking to Rainbow Falls, biking along the boardwalk, and hiking the Falcon Creek Trail.
If you're visiting Manitoba in the winter, you can also go ice-skating, snow-tubing, snow-shoeing, or cross-country skiing in Falcon Lake.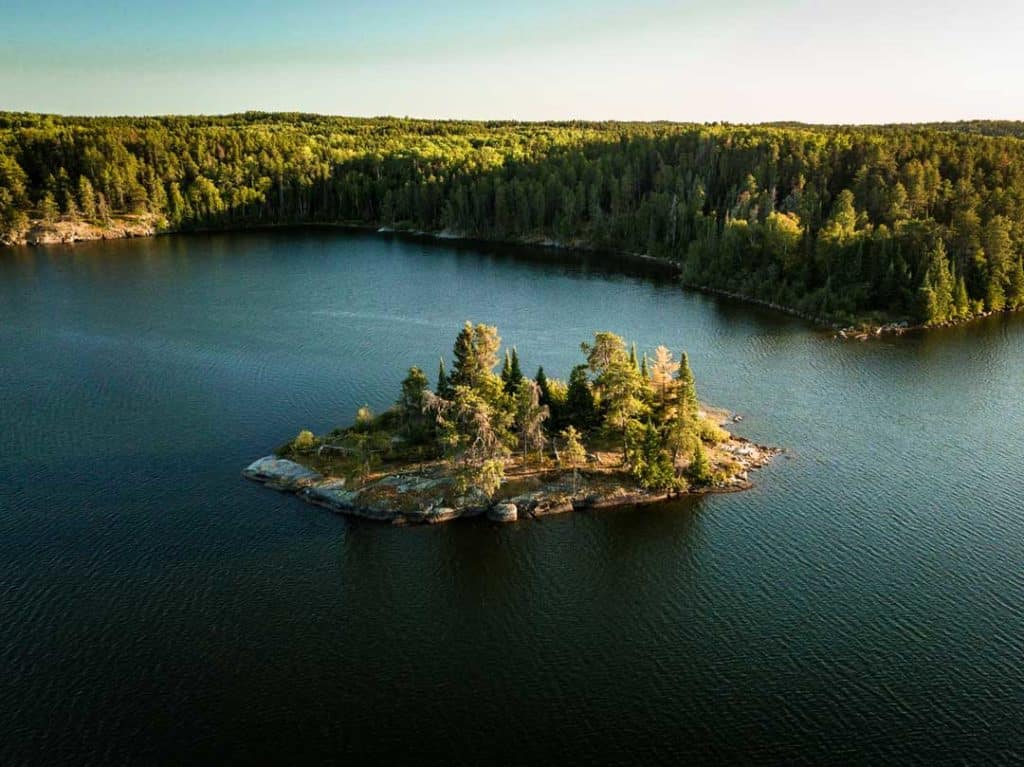 Day 7 – Head Back To Winnipeg
Now it's time to head back to Manitoba's capital city, where you can return your rental car and get ready for your next adventure.
Whether you're planning on flying to northern Manitoba, elsewhere in Canada, or elsewhere in the world, you're sure to carry these unforgettable memories with you.
Manitoba road trips are perfect for travellers looking to disconnect from the hustle of daily life and get in touch with nature.
The forests, lakes, and wildlife of Manitoba are some of the best in Canada, so hopefully you made the most of your time here!
DISCLAIMER: This article was created in partnership with our friends at Destination Canada and Travel Manitoba. All words, opinions and days of epic fun driving across the province are, as always, our own.