Our experience and review of staying at Falcon Trails Resort, one of Manitoba's most beautiful destinations.
From the Rockies to the Maritimes, the Trans-Canada Highway runs 7821km across the country in an epic stretch of diversity and splendour.
Connecting the west coast with the east, through mountains and prairies, past lakes and oceans, driving the length of it is known to be one of the world's most endearing road trips.
We've been fortunate enough to make the journey from one end to the other by car twice, and the range of landscapes one comes across is nothing short of spectacular.
You don't need to venture far off the highway to find some of Canada's most impeccable attractions, and tucked away on the eastern end of Manitoba is one of these delights.
Only 2 hours from Winnipeg, Manitoba's capital, the Whiteshell Provincial Park is a stunning collection of mirror-like lakes, boreal forests and tiny communities living in harmony with nature.
One such community is Falcon Lake.
At first glance this small village doesn't have a lot to it. A supermarket, a restaurant, an RCMP outpost and a quirky little store called Lumber One and Liquor Too, where you can buy plumbing supplies, Christmas decorations and a bottle of scotch all under the one roof.
Situated on a long, finger-shaped lake bearing the same name, Falcon Lake is home to less than 300 people, and is best known outside of the province for a famous UFO sighting that occurred 1967.
Residents of Manitoba though know Falcon Lake to be so much more.
The lake itself is gorgeous; fringed with dense pine forests and cottages that fill with holidaymakers from Winnipeg on sunny weekends.
It's a year-round destination, with the summer months seeing scores of people out hiking, mountain biking, canoeing and fishing.
When winter rolls around it's all about skiing, snowshoeing and snowmobiling. The days are never boring here, and at night smiling travellers gather around fireplaces, cook s'mores and share stories.
One road follows the southern shores of Falcon Lake, finishing up at the quirky, historic Falcon Ridge Ski Resort.
It's here that Whiteshell Provincial Park's, and perhaps Manitoba's, most darling attraction lies – Falcon Trails Resort.
The Most Canadian Place in Canada – Falcon Trails Resort
Our rental car bounced along a well-maintained dirt road towards the resort, the lake peaking out through the pine trees on our left hand side.
The leaves were changing colour as fall kicked in, and we didn't see a single soul once we left the township of Falcon Lake, despite the perfect warm weather.
We were here in the middle of the week during shoulder season, and it felt like we had the place all to ourselves.
READ MORE: See what else made the cut in our expert guide on what to do in Manitoba!
Soon enough we arrived at Falcon Trails Resort, parked the car, and wandered up to the reception, marked by large moose antlers hanging above the door.
The timber cabin felt rustic yet sturdy, and we were immediately greeted by Deborah, one of the workers sitting behind the front desk.
It was all smiles and banter as we introduced ourselves, and Deborah called out to a lady in the office to come say hi.
The lady was Caleigh, one of the daughters of the two owners Barb and Craig Christie, and in a bubbly, Canadian twang she welcomed us to her little corner of paradise.
We were a few hours early for check-in, so Caleigh asked if we wanted to have a tour of the property while we waited to hear if our cabin was ready.
"My mum, Barb, was the first woman in Manitoba to complete her Journeyman Carpentry trade, which is pretty cool!" Caleigh exclaims, as we wandered around the log cabins hidden between the pine trees.
Falcon Trails Resort has 9 lakeside log cabins on Falcon Lake, and two lodges for larger groups. Each of these offer quintessential Canadian living – wood fireplaces, hot tubs on the deck, windows overlooking the lake, antlers on the walls, you get the idea.
All of the cabins were hand-built by the Christie family and their friends. It's been a real labour of love over the years, and we could tell by the pride in Caleigh's voice that this was more than just a business to them.
We popped back out to the road and continued down to the legendary Falcon Ridge Ski Slopes.
The central provinces of Canada are famously flat, so the idea of there being a ski resort in Manitoba was quite a curious one, but Caleigh couldn't wait to tell us all about it.
"This ski hill used to be super popular back in the 60s. Then travel got cheaper, everybody started heading out west to ski, the hill stopped making money, and the government shut it down.
"My parents got a loan from the bank and bought it off them. They built the log cabins, turned the place into a year-round resort, and now people love it again!"
While we were getting a tour of eastern Manitoba's premier downhill skiing complex, a truck pulled up loaded with mountain bikes.
A family jumped out, waved to Caleigh, and set off up the hill. Biking is popular here, just like at the big resorts out west.
We wandered back towards the reception of Falcon Trails Resort, and Caleigh radioed in to the housekeeper. Our cabin was now ready, and it was time to officially check-in.
Hiking to High Lake
While the 9 cabins on Falcon Lake are the easiest accessible, the true jewels of Falcon Trails Resort's accommodation are the 6 luxury eco cabins found a short 2.5km walk away on the remote High Lake.
We had been booked in to one of these off-grid splendours, and were absolutely ecstatic to experience them for the next two nights.
Caleigh jumped in one of their ATVs and we loaded up the tray with our luggage, food and bottles of beer and wine that we had brought with us for the secluded adventure.
She gave us directions on how to find the lake, and told us she'd meet us there with our gear in 45 minutes.
The hike was mellow yet purely captivating as we wandered through the boreal forest surrounded by the sounds of birds chirping and chipmunks scattering around.
Signs guided us the right way, and before we knew it we were descending down on High Lake.
As we approached the Mahigan Cabin (Mahigan being Cree for wolf), Alesha and I were giddy with excitement. We had never actually stayed in a log cabin before, and this one looked like it was straight out of a magazine.
We opened the door and stepped inside the two-story home. The sweet smell of timber met us, and we took a few moments to take in the simplicity and delight of this luxurious abode.
The walls of the traditional Swiss-style log cabin were left bare except for a few local handicrafts to properly showcase the intricate craftsmanship that went into its construction.
The Falcon Trails staff had taken a special log cabin course by a master of the craft, and the Mahigan Cabin was the fruit of their labour.
A wood stove stood in the middle of the open-air living room, with a couch on one side, dining table on the other and fully-equipped kitchen to our left.
Sliding doors and large windows opened up onto the huge balcony that wrapped around the back of the cabin, overlooking the glistening High Lake below us.
The bathroom was to our right, tiled and bright with all the amenities you'd expect to find in a luxurious hotel.
A steep staircase led upstairs to the loft, and it was here we found our queen bed with a triangular window offering even more spectacular views of the lake.
We were in complete awe of our location. We went and stood on the balcony, looked around, and realised that there was nobody else within sight of us.
High Lake is set in the wilderness, and besidesthe other cabins owned by Falcon Trails Resort, which we couldn't see from our place, there are no places around.
Caleigh pulled up in the ATV shortly after, and we unloaded our stuff into the cabin. She gave us a tour of the property, and showed us how everything worked.
Being completely off-grid meant that all of the electricity was on solar panels, there was a compositing toilet, and a huge stack of firewood outside would keep us warm at night.
It was going to be a simple, yet overwhelmingly pleasant stay.
"See that dock down there?" Caleigh pointed towards the lake about 20m from our cabin. "There's a canoe there, and it's all yours! There's also a fire pit so you can make some s'mores if you want to chill outside."
Alesha and I looked at each other. "Dammit, we forgot to bring s'mores! And coffee!" In our rush at the store in Winnipeg before we came out to Falcon Lake we had forgotten two of the most important items needed for a real log cabin experience.
Caleigh jumped back in the ATV, told us that if we need anything we could give her a call or walk back to the main reception, then drove off, leaving us to our own devices for the next two days.
Two Days of Bliss – Making the Most of High Lake
Standing out on the balcony, staring out at the lake, we were torn with what to do. On one hand we were itching to slide the canoe into the water and spend the entire afternoon paddling around, inspecting every little cove we could find.
On the other we wanted to crack open a bottle of wine, pull up a chair and read a book as the warm sun beat down on us.
It's a dilemma that we imagine is the cornerstone of why so many Canadians long to have a cottage out in the woods. The blissful silence, fresh air and majestic isolation was soothing our souls with every passing minute.
READ MORE: Going on a road trip around Manitoba? Check out our perfect 2-week itinerary!
We decided to meet in the middle; rather than rush out we'd spend a few hours relaxing, mastering the art of zen, then hit the lake when the golden hour hit.
To the side of the Mahigan Cabin was a sitting room with another couch and a hammock. Alesha and I claimed our spots with a bottle of red between us, and we whiled away the afternoon doing something we never actually get to do – chill.
With little phone reception and no wifi at High Lake we could completely disconnect from the world, and it was a luxury we didn't take for granted.
As I was slipping in and out of a meditative state in the hammock, I heard an ATV approach the cabin.
"Hello, anybody here?" a man called out from our front door. I wandered over to say hi. It was one of the workers for the resort.
"Sorry to bother you guys! Caleigh asked me if I could drive over to give you a…..s'more'prise."
We couldn't believe it. In a little bag was graham crackers, marshmallows and a block of chocolate so we could make s'mores over the fire, and a big bag of Canadian-roasted Colombian coffee.
Just when we thought our little slice of paradise by the lake couldn't get any better…
Feeling energised by this act of kindness, we ran down to the dock, pushed the canoe into the lake, and went for a paddle.
High Lake sits Manitoba and Ontario, and the cabins of Falcon Trails Resort are located on the edge of what's known as Manitoba Bay, in the eastern part of the lake.
We thoroughly explored the bay, and paddled past an elderly couple sitting on the dock of one of the other cabins. We had a brief chat about how beautiful the day was and how lucky we were to be here, then parted ways for further coves.
Paddling to the end, we followed the southern shore back until we were across from our cabin, and returned home just in time to watch the sun dip behind the hills from the comfort of the balcony, wine in hand of course.
To one end of the balcony was a gas barbecue, and we cooked up a delicious steak dinner. We found a couple of CDs from local artists that had actually recorded their albums right there at the resort, and had the upbeat, country tunes of the Christie family's friends be the soundtrack for the night.
As the temperature dropped we started the fire, and within minutes the cabin was toasty. Naturally we broke out the marshmallows and made some delicious s'mores for dessert, then retired to the loft.
The next morning we set the alarm for sunrise and headed down to the dock. We love nothing more than watching the dawn of a new day, and in a place as serene as High Lake, we knew it was going to be special.
The lake was incredibly still, and we brewed up a batch of coffee to take down with us. It was a chilly morning, but when the sun did peak above the forest we were glad to be out for it.
We decided not to make much of a plan for the day, and instead let things unfold naturally. We had a leisurely breakfast out on the balcony, listened to the birds and chatted about how happy we were to be back in Canada.
Once it started to warm up we grabbed our cameras and decided to go for a hike towards Falcon Lake.
Caleigh had recommended a trail called 'Top of the World' that promised sensational views over Whiteshell Provincial Park, and that's where we headed.
It was an easy walk along a well-worn track, and it didn't take long for us to reach the main lookout on top of a steep cliff.
Being the highest point of an area that is predominantly flat meant we could see for miles, and it wasn't hard to understand why they call it 'Top of the World'.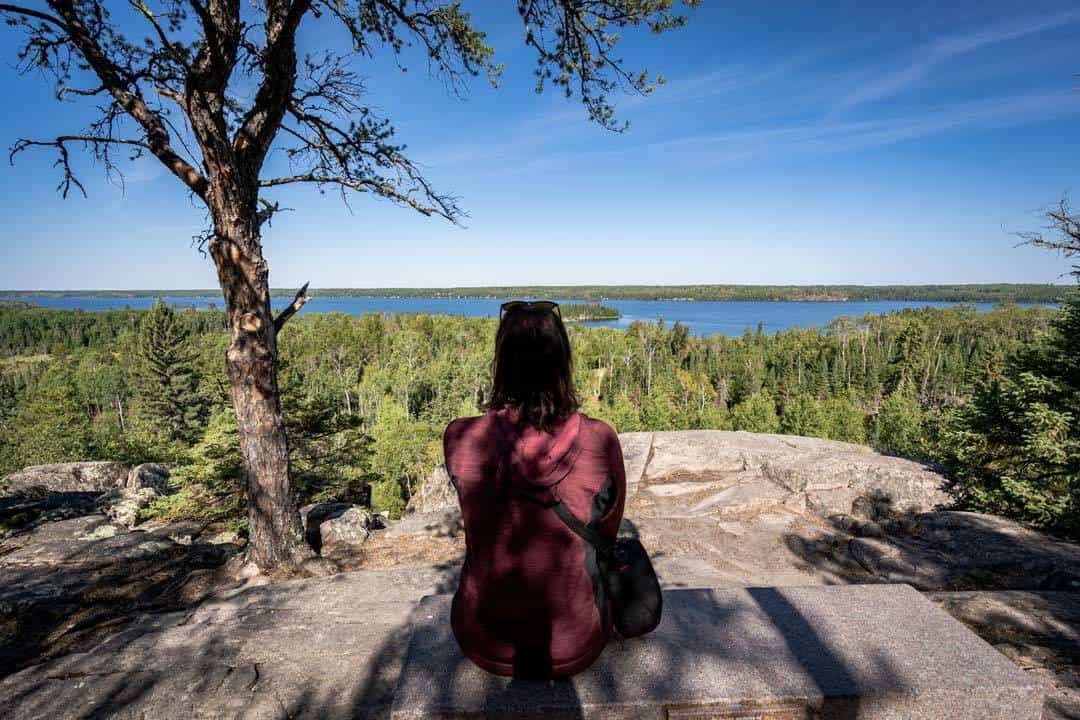 Still channelling the mind frame of pure zen, we wandered slowly back to the Mahigan Cabin for a light lunch. The local artists came back on the stereo, and without thinking we found ourselves lounging back in the hammock and couch.
A collection of books and magazines were set out on a coffee table, and I picked up one that caught my eye – 'What People do for Fun in the Woods'.
It was a collection of true, short stories written by an author who had spent quite a lot of time at Falcon Trails Resort.
Lyndon Froese had become good friends with the Christie family and all the weird and wonderful characters that call Falcon Lake home, and had compiled a book of his favourite tales.
Reading the hilarious stories gave a fascinating insight into just how fun and tightly connected this community is. When you live in the woods in central Canada, the people around you become your whole world.
It took some time, but we eventually dragged ourselves out of the cabin and headed back down to the dock for another paddle mission.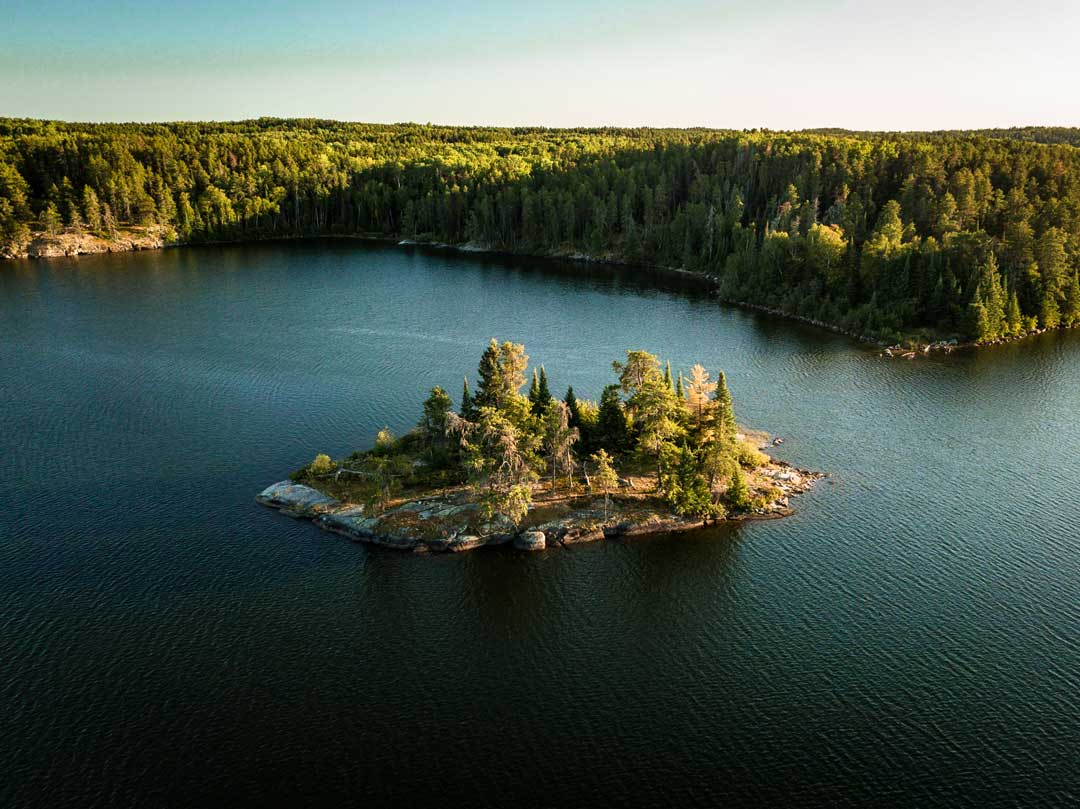 There was a small island a few hundred metres from the cabin that Caleigh had jokingly referred to as Jamaica. We aimed the canoe straight for its rocky shoreline.
Jamaica wasn't much bigger in size than our log cabin, but seeing as we had the whole island to ourselves it was damn enjoyable to simply kick back on a log, cold beer in hand, and talk about how Manitoba was exceeding our expectations.
As the sun was setting we left the island and enjoyed the sunset from the middle of the lake. Golden rays lit up the autumn leaves before dipping out of sight.
The cold kicks in quickly around High Lake, so we headed back to the cabin to light up the fire for the final time. We cooked a simple dinner, roasted up the last of the marshmallows, and called it a night.
To say we were reluctant to leave the next morning would be an understatement. Leaving the cabin by the lake was justifiably tough, but it was time to move onto the next adventure in Manitoba.
When Caleigh arrived we firstly thanked her for the coffee and s'mores. They had topped off an already incredible stay, and gone to show that the Christie family really cared about their guests and providing the best hospitality possible.
We loaded up the ATV and started the hike back to Falcon Lake. Caleigh beat us there, and we threw all of our gear into the rental car and said our goodbyes.
Our two nights at Falcon Trails Resort was a truly remarkable experience. We felt like we had been given a glimpse into the lives of thousands of Canadians around the country that have their own log cabins out in the woods, and it gave us aspirations to one day join that lifestyle.
"Come back when the ski hill is open," Caleigh called out before we hit the road. "The Snowdance Festival is coming up, and you'll get to see just how awesome Falcon Lake is during the winter."
We're looking forward to it.
Where Is Falcon Trails Resort
Falcon Trails Resort is on the southern side of Falcon Lake in Whiteshell Provincial Park, only 2 hours from Winnipeg.
There's no public transport out to the resort, so you'll need to drive yourself out there. The closest international airport is in Winnipeg.
If you're driving along the Trans Canada Highway heading east, you take a right hand turn at the sign for Falcon Lake and then follow the road around.
There's plenty of signs along the way pointing to Falcon Trails Resort, but if you're unsure stop by Lumber One and Liquor Too in the village and ask for directions.
You can either stay at Falcon Lake on one of their lakeside cabins there, which is perfect if you'd rather be closer to road access for exploring the beautiful Whiteshell Provincial Park, or in one of the eco cabins on High Lake.
We absolutely loved our time at High Lake though, and being in an off-grid cabin made the whole experience that much better in our opinion.
Tips For Your Stay
Our biggest tip if you want to stay at Falcon Trails Resort – Book ahead and give yourself some extra days!
It's an extremely popular place and can be hard to get a reservation in the summertime and on weekends.
Plus there's so much more you can do other than just sitting around the cabin and going on short paddles like we did, so if you have the time stay for 3 days or more.
There's no restaurants on site, but all of the cabins have fully-equipped kitchens. Bring all of your food from Winnipeg as it's much cheaper there and you'll have a larger variety to choose from.
If you forget anything Lumber One and Liquor Too has a small selection of food and alcohol.
Falcon Trails Resort have kayaks, canoes and stand-up paddle boards available.
They don't have any mountain bikes for rent, so if you'd like to make the most of the trails, bring your own bike.
If you want to stay at the High Lake luxury eco cabins you'll need to leave your car at Falcon Lake and walk (or bike) over. If you're unable to walk the 2.5km you can maybe talk to the Christie family about getting a lift in one of their ATVs.
The eco cabins are just that – eco-friendly! So make sure you conserve your energy and water usage.
They are open in winter, and you can access the cabins at High Lake by taking a snowmobile, snowshoeing or cross country skiing to it.
Don't forget the s'mores!
Say hi to Caleigh and the Christie family for us.
[box] Our time at Falcon Trails Resort was made possible thanks to our partnership with Destination Canada, Travel Manitoba and the Christie family. All thoughts, opinions and s'mores consumed while staring out at the lake are, as always, our own.[/box]