Let us help you make the most of your visit to Canada's biggest city with this list of the best things to do in Toronto!
Toronto is often mistaken as Canada's capital city (which is actually Ottawa) and for good reason as there are plenty of awesome things to do in Toronto!
The largest city in Canada exists in the much larger province of Ontario, sandwiched between Quebec and Manitoba and straddling the United States border.
With a huge range of residents calling Toronto home, it has become quite the melting pot for food and culture over the years, all of which can be experienced by walking through the many neighbourhoods in the city.
This mixing of cultures is something that attracts not only a lot of international visitors but also people who are looking to move to Canada.
With English as its first language, Toronto is an easy choice for international travellers looking to make a new home base and students looking to further their education.
With Universities like Ryerson, The University of Toronto and York the opportunities for those looking to study abroad is endless.
With a population of just under 3 million people, the city is large enough and spread over so much land that there are places within the city where you can feel as if you're the only one there.
From its lush green spaces and waterfront shores on Lake Ontario, to the trendy neighbourhoods with incredible restaurants, fantastic venues & so much more Toronto really is a city not to be missed when it comes to a trip to Canada.
READ MORE: Plan your trip to Canada with our Canada Travel Guide.
The 21 Best Things to do in Toronto
A city this big of course has so much to offer its visitors so you'll want to make sure that you have a list of things to do in Toronto.
Whether it's catching a sports game, checking out City Hall or the Toronto Zooh, or heading to the top of the famous CN Tower.
Or maybe it's exploring the city's amazing bar & restaurant scene or wandering through museums like the Royal Ontario Museum.
Perhaps you're more interested in some Toronto day trips to get out of the city for a bit and explore the Toronto Islands or Niagara Falls.
Whatever you choose to do in Toronto will be great!
To help make sure you don't miss out on anything here is a great list of things to do in Toronto for your next visit to this great Canadian city.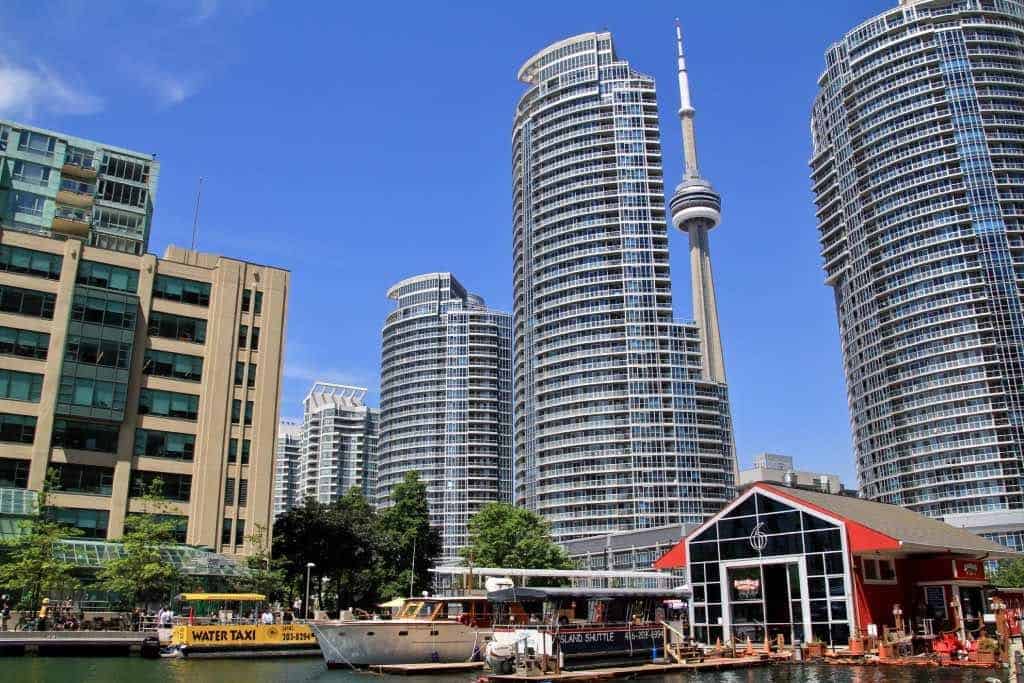 1. Take in the View Up The CN Tower
It's safe to say that no matter where you are in Toronto there is a good chance you will be able to see the iconic CN Tower.
The CN Tower is one of the top things to do in Toronto, pun intended!
This observation deck is located in the heart of the city and stretches almost 555 meters high above the city and is the perfect place to get some spectacular panoramic views.
The CN Tower held the record for the tallest free-standing structure in the world for 32 years until it was beaten by the infamous Burj Khalifa.
In addition to the observation deck at the CN Tower, guests can also make reservations to dine at great heights at the 360 Restaurant where you can dine on fabulous food while looking out over the city as you revolve around it.
And for those of you who are brave enough to try there is the newest addition of the Edge Walk, the world's highest full-circle freehand walk.
It has guests going out onto the 5ft wide ledge and walking around the main pod of the CN Tower.
Whatever you choose to do here at the CN Tower, they will all make for a memorable experience.
CN Tower Location: 290 Bremner Boulevard, Toronto M5V 3LP
Cost: $43/adult and $30/youth for general admission tickets
Hours: 10am – 9pm daily
READ MORE: Check out all the top things to do in Banff, Canada!
2. See the Sign at Nathan Phillips Square
If you love a good neon sign then this is the place for you!
This urban plaza in Toronto faces the beautiful Toronto City Hall Building and has a great water feature fully equipped with fountains.
The sign was installed for the 2015 Pan American Games and was set to be taken down after the games were finished.
But the public loved it so much that the city council opted to leave it there and add the iconic maple leaf at the end.
A great space in Toronto to people watch, have some lunch or snap a few pics, Nathan Phillips Square comes to life at dark when the lights in the Toronto sign change colour.
On top of this, there are so many different events that take place here throughout the year.
These opportunities include farmer's markets, fashion shows, outdoor concerts, Christmas markets and a skating rink during the holidays. And of course checking out the majestic City Hall building.
You can also expect to participate in a fantastic New Years' Eve event here if you travel to Toronto during that time.
A unique Toronto attraction but one not to be missed.
3. Sail Off to the Toronto Islands
Located a short boat trip away from the Toronto harbour you'll find a chain of small islands in Lake Ontario. There are 15 islands, but the 3 main ones are Centre Island, Wards Island, and Hanlans Point.
Centre Island has the most attractions and activities, but all the Toronto Islands are amazing options for a day trip.
The Toronto Islands are the perfect escape from the concrete jungle and even better on a hot summer's day when you want nothing more than to hit the beach.
There are also some great hikes and the Centerville amusement park on Centre Island is a super fun attraction on the Toronto Islands.
Billy Bishop Airport is located right on the Toronto Islands as well, which gives you the opportunity to catch domestic and a few international flights (to the United States).
When it comes to things to do in Toronto no trip is complete without a visit to the islands.
Whether it's a day trip to soak in all the beauty of the great outdoors, or sailing around the Toronto Islands themselves on one of the many cruise options you'll be able to see Toronto in a whole new light.
4. Spend Some Time in a Sweet Summer Spot
If there isn't time to get out to the islands and those beaches you won't miss out completely on the beach life.
While there is sadly no swimming at Sugar Beach, it really is a great spot to post up with a picnic on a sunny summer's day or watch the sunset over the water.
Opened in 2010 and given the name of Sugar Beach because it faces the Redpath Sugar Factory, this has become a fast favourite for Torontonians and visitors alike.
The city has transformed what was once just a patch of concrete into a sandy oasis complete with pink umbrellas and big lounge chairs and of course sand!
A Toronto attraction that is often skipped because not many people know about it, it's well worth a visit!
And if you sniff hard enough you'll be able to smell all the sugar being produced at the Redpath Factory.
5. Escape the Concrete Jungle in High Park or the Toronto Zoo
Visiting a major city can sometimes mean sacrificing the opportunity to get out in nature.
However, this is not the case with Toronto!
The city has just as many lush green spaces as it does shiny skyscrapers, with High Park being the most popular park.
High Park spans 161 hectares with a mix of walking trails, nature parks, ponds, cultural sites, sports grounds, and even a swimming pool. Visiting High Park gives you a huge amount of things to do in Toronto just in one place.
But there are other parks in addition to High Park.
Located in the Trinity Bellwoods neighbourhood, a park with the same name is a great place to go for a run, take the dog for a walk or find a bench to sit and look out over the city to the CN Tower.
Riverdale Park East has got everything for the athletes out there with 2 baseball diamonds, 7 tennis courts, a pool, multiple running tracks and so much more.
Canoe Landing Park is perfect for cycling and Sunny Brook Park connects to the Toronto Botanical Garden so you get a 2-4-1 deal on green spaces.
The Toronto Botanical Garden itself is located in North York, and is a beautiful spot to check out.
Although not a park exactly, the Toronto Zoo is another top attraction where you can escape the city.
The Toronto Zoo is the largest zoo in Canada! Head to the Toronto Zoo for a day of learning about conservation and admiring the wide variety of animals.
6. Visit the Royal Ontario Museum
Attracting over one million visitors a year, the Royal Ontario Museum is definitely one of the top things to do in Toronto.
As one of the largest museums not only in Canada but also in all of North America, the Royal Ontario Museum should definitely be on everyone's Toronto to-do list.
On the 3rd Monday of the month, visitors will be able to visit for free, which is a nice bonus if you're looking to save some money on your trip to Toronto.
The museum has sections pertaining to dinosaurs, Canadian and European artifacts, African & Asian art pieces, and the World's largest collection of fossils from the Burgess Shale.
In addition to all of that, the Royal Ontario Museum hosts an incredible and huge collection of design and fine art and art deco pieces.
With more than 6,000,000 items and 40 galleries to explore you will surely be able to find something for everyone visiting.
Check the Royal Ontario Museum website for special exhibitions that are on.
Those who are fascinated by history should also check out Bblack Creek Pioneer Village in North York, which is an open-air museum dedicated to the history and heritage of the area.
Royal Ontario Museum Location: 100 Queens Park, Toronto M5S 2C6
Cost: $23/adult and $18/youth for general admission
Hours: 10 am – 5:30 pm Daily, closed on Monday's
7. Catch a Flight at Sunset
This isn't to say we want you to leave Toronto early! Not at all!
But we do want you to catch some great sunset views in a place that also happens to be in perfect view of the planes taking off and landing at Billy Bishop Airport.
Coronation Park is located across the water from Toronto island and the airport that exists there and is such a great place to take your camera out at sunset.
Stroll along the Martin Goodman trail to the lakeshore and pass by beautiful boats in the marina.
As you begin to see the sun dip down you'll be at Coronation park and be able to catch the planes coming and going.
If you're in the mood to continue walking, this park connects to the path that takes you along the water to the harbour front right downtown which is another perfect place to catch sunset too.
8. Marvel at the Murals
While the whole of Toronto is decorated in incredible pieces of street art, if you're after a concentrated amount of murals look no further than Graffiti Alley.
This place should definitely be on your list of things to see in Toronto, located right in the heart of the fashion district running south from Queen Street West toward Spadina Avenue.
This part of the city has been used in music videos and fashion shows.
You can even find guided tours that will take you around the area and give you the lowdown on all the artists and where to find other pieces of their work too.
A lot of the murals in Graffiti Alley seem to have a shelf life in which they get painted over by other artists.
This makes it so everyone who visits at different times in the year will likely see different murals!
Keep your eyes on the move as you walk around the area, down the alleys and back around because every inch of brick is covered from top to bottom, you never know what you'll spot.
9. Get all your Knick Knacks and More
This part of Toronto is one of the most unique and eclectic parts of the city and should be on everyone's list of things to do in Toronto.
Kensington Market was designated as a World Heritage site in 2006 and is home to a wide array of shops, restaurants, cafes, food stores & so much more.
This is your best spot for vintage clothes shopping; try Cinderella Vintage or Courage my Love for all your vintage knick knack needs.
Treat yourself to a divine slice of pie at Wanda's Pie in the Sky or a delicious doughnut at Dipped Donuts.
Maybe you're craving a fabulous little brunch spot, so head to Average Joe's Cafe where the dishes are anything but average.
Fancy a few drinks with your friends? Look no further than Kensington Brewing Co. with a delicious selection of beers on tap & a wide range of board games to keep you entertained.
Maybe you have a kitchen where you're staying and want to cook up something yourself.
There are tons of fresh produce stalls for you to get everything you need to get cooking.
From the bohemian vibes, buskers on most corners belting out some great tunes, cool murals, a lush park, great restaurants and everything you never even know you needed.
This is the place to be to soak in all the atmosphere.
10. Visit a Canadian Castle
While it might not be an official castle, Casa Loma is as close as it gets in Toronto.
This Gothic Revival style mansion is in midtown Toronto and is now a historic landmark and museum.
Constructed between 1911-1914 this "Hill House" (the Spanish translation of Casa Loma) sits in a residential neighbourhood and was established as a museum in 1937.
Purchasing tickets here gives you access to the 3 floors, plus the basement as well as the gardens and stables where you'll be taken back through time into an era of pure opulence and luxury.
Casa Loma hosts special ticketed events for Halloween as well as Christmas and offers several dining options on the property as well.
One of the more recent additions to Casa Loma includes a must-do in terms of Toronto activities, an escape room!
Offering 4 different unique escapes you'll be taken into a marvellous world of science and history which will make your time here even more memorable.
Location: 1 Austin Terrace, Toronto M5R 1X8
Cost: $40/adult and $20/children
Hours: 9:30 am – 5 pm Daily
11. Pints a Plenty
Founded in 2000, Steamwhistle Brewing is a Toronto, and even a Canadian classic in terms of beers.
This pilsner lager is served just about everywhere, and hard to miss with its iconic green bottles too.
So no visit to Toronto could be complete without a taste, or better yet a taste and a tour.
The Steamwhistle Brewery is located in a historic brick railway roundhouse where you'll also find pieces of Canadian Pacific (CP) rail history on the grounds.
This area is used for events throughout the summer in affiliation with Steamwhistle.
There are also concerts and live music events that happen here through the summer months that are worth checking out.
Each year thousands of visitors pass through the brewery on guided tours offered by Steamwhistle to learn more about the history, how the beer is made and about the iconic location in which the brewery exists.
A new addition to the location is their very own German-inspired, with a Canadian twist, Biergärten.
Book in for a meal or a few drinks before catching the game and experience what the Canadian team behind Steamwhistle brought back with them after a trip to Munich.
Location: 255 Bremner Blvd, Toronto M5V 3M9
Cost/Hours: Visit the website for costs and hours of different attractions at the brewery
12. Walk Among the Greats at the Hockey Hall of Fame
One of the best things to do in Toronto if you are a hockey fan or even just a fan of the sport, in general, is visiting the Hockey Hall of Fame.
This museum is dedicated to Canada's favourite, and classic pastime – Hockey and is the home of the legendary Stanley Cup.
Established in 1943, with its first round of inductees in 1945, the Hockey Hall of Fame is a place of legends, iconic moments in hockey history and true pride for all of Canada.
You'll be able to tour the Hockey Hall of Fame and learn about the history of the sport, its relation to Canadian culture as well as pop culture.
Of course, you'll also see all those who have been inducted since its opening.
Housing 15 exhibits over 60,000 square feet including an interactive area where you can practice your slap shot skills and listen to tips from the pros, the Hockey Hall of Fame is a must for sports lovers.
The Stanley Cup lives here for most of the year unless it is on tour with the year's winning team, and then a replica stands in its place.
Location: 30 Yonge Street, Toronto M5E 1X8
Cost: $25/adult and $15/children
Hours: 10 am – 4 pm Daily
READ MORE: 17 amazing things to do in Quebec City!
13. Walk on the Waterside
The Toronto Harbour / Toronto Waterfront is one of the best places in the city for a stroll.
While the list of things to do in Toronto is ultimately endless sometimes something as simple as going for a walk is exactly what you want to do.
This is the place to catch ferries over to Toronto Island, as well as any number of pleasure crafts, dinner cruises and boat trips you may book as part of your Toronto adventure.
Follow the path from Sugar beach all the way out to the harbour.
Or hop on one of the thousands of bikes provided by the Toronto Bike share program for just $7 for the day and cruise along the bike path to the harbour and along it.
Soak in the views of the water dotted with pretty little sailboats, keep your eyes peeled for a pirate ship (which is also a tour option on offer in the harbour), or kayakers catching little waves.
Several beautiful green spaces exist on the banks of the harbour to sit and enjoy a coffee or a book, and there is even another man-made beach to check out.
HTO Park is located west of the Harbourfront Center and has been open to the public since 2007 to soak up all that glorious sunshine.
This is also a great place to catch a sunset, rent a canoe or admire the rainbow-coloured sailboats.
Spanning 46 km there's a ton to see along this part of the city.
14. Get Your Entertainment, Art and Culture Fix
This pedestrian-only area of the city will give you the feeling that you've stepped into a trendy European town with its beautiful buildings and cobbled streets.
The Distillery District houses charming 19th-century buildings that once were part of a whiskey distillery, hence its more recent name.
You can sign up for a tour of the Distillery District here.
Known for the famous Christmas Markets that take place here in December, this area is full of things to do in Toronto for lovers of art, culture and food.
Covering 13 acres, over 10 streets and comprised of more than 40 heritage buildings the Distillery District is equal parts classic and unique at the same time.
Peruse the many art galleries here finding local artists' works as well as international artists.
There are even fantastic installations throughout the district's streets that scream "photograph me!"
With more than 40 boutiques, and one of a kind independent shops you'll find all sorts of beautiful pieces to take home with you.
Grab a coffee and a sweet treat from Brick Street Bakery to take as you wander the streets.
Pop in for lunch at Boku Noodle Bar. Celebrate Taco Tuesday (any night of the week) at El Catrin. Or finish the day off with a cocktail as the cozy Stirling Room.
This lovely part of Toronto is probably one of the most charming the city has to offer and definitely full of life.
15. Find a Hidden Gem and Viewpoint
Almost 10 years ago the city saw a collection of derelict heritage buildings turned into a beautiful public space with an emphasis on sustainability.
Evergreen Brickworks welcomes 500,000 visitors every year to take part in the public markets, holiday events and even beautiful weddings held on the grounds.
Located in the Don Valley you'll have a gorgeous spread of forest all around you as you enter into the bustling market to find local farmers selling fresh produce, fantastic food stalls and artisan craftworks too.
And the best part about it? The gorgeous area that surrounds the buildings.
There are several walking trails around the buildings that will take you through wooded areas, around a lovely pond, into the gardens and even up to a fantastic viewpoint where you'll be able to get a great view out over the city.
A lovely little gem of a place that should be on everyone's Toronto sightseeing guide.
16. Check Out the Waterfront Property
Something that may not be well known to everyone visiting Toronto is that there is a lot of water surrounding the city.
On the shores of Lake Ontario, you'll find some of the most beautiful parks and views of the outer city.
Budapest Park is one of those places. In the mid-1960s, this park was named to commemorate the Hungarian Revolution of 1956.
Picture perfect views out over the lake from lush waterside greenspaces are what attract most people with the cool contrast of greenery and sparkly high rise buildings on a sunny day.
Perfect for a run, cycle, rollerblade and especially a picnic. Continue on a little ways from Budapest Park and Sunnyside Beach comes into view.
This iconic 3km stretch along the Humber Bay was once the best spot to be on a summer's day in Toronto.
Now you'll find volleyball nets set up in the sand, people sunning themselves, others cycling past admiring the view and the rest up top on the patio at the Sunnyside Pavilion Cafe.
To escape the hustle and bustle of big city life head here on a summer evening where you'll experience the city in a whole new way.
17. Visit the Canadian Version of Times Square
Lights, Camera, Action! Dundas Square has been referred to as the Canadian version of Times Square in New York City, and that reference is not too far off.
At the intersection of Younge and Dundas Street in downtown Toronto lies a public square that was revitalized in 1997.
What was once a regular intersection in a city has now turned into a hub for entertainment, public events, gatherings and so much more.
Surrounded by the city's prime shopping district, The Eaton's Center, as well as the CityTV Building makes it one of the country's most populated squares with 100,000 people crossing daily.
The most popular and best spot to shop until you drop at any number of stores in the Eaton's Center/underground shopping area and at the beautiful shops that surround the square.
On any given day you could find yourself in the middle of a concert, market place, movie screening, game day celebration or dance battle.
Plus, just like New York Times Square, there are often personalities you'll likely recognize from the likes of Yoda, the friendly neighbourhood Spiderman, a man painted in gold and even a speedo wearing guitar-playing cowboy!
READ MORE: Add these 10 things to do in Montreal to your bucket list!
18. Tour the Art Gallery of Ontario
If you or anyone in your group is an art lover, then this is definitely one of the top things to do in Toronto.
The Art Gallery of Ontario (aka AGO) houses nearly 100,000 works of art from around the World.
The Art Gallery of Ontario can be found in the Grange neighbourhood in downtown Toronto in a building that is just as pleasing to the eye as the art it houses.
The gallery consists of collections from Canadian, African, European, and Inuit artists to name a few.
As well as permanent collections, the Art Gallery of Ontario houses a library of archives, works of photography and workshop and learning spaces for artists.
There is an event space that takes up the entire third floor which can also be used for special events, so if there is a wedding in your future this could be the place.
Whatever your favourite style of art might me you'll be sure to find something pleasing to the eyes while exploring the Art Gallery of Ontario.
Make sure you book your visit to the Art Gallery of Ontario in advance.
Location: 317 Dundas St. W, Toronto M5T 1G4
Hours: 10:30 am – 5 pm Tuesday, Thursday, Saturday and Sunday. 10:30 am – 9 pm Wednesday and Friday. Closed Monday
Cost: $25/adult and Free/25 & under
19. Catch a Game or Two
Baseball, Hockey, Soccer, Lacrosse, Football, Rugby, even cricket!
The options for live sporting events in Toronto are seemingly endless.
Starting in October you'll be able to catch the Toronto Maple Leafs at Scotia Bank Arena.
In the spring catch a Blue Jays baseball game at Rogers Centre and soak in the atmosphere. Rogers Centre is an iconic Toronto landmark on its own, and often hosts concerts and other events.
Check out the Rogers Centre website for what's on!
When the Raptors hit the court your inner basketball lover will be screaming from the seats, even if they end up being nosebleeds.
Toronto FC is an awesome soccer team to cheer on and the Argonauts football team always put on a good show.
Whatever the sport, whatever the time of year, whatever you like Toronto has got you covered.
The atmosphere at a Canadian sporting event is unlike anything else!
So if for no other reason than to experience that Canadian pride when it comes to sport, keep your eyes out for cheap tickets and enjoy!
20. Soak in the History and Grab a Bite at St. Lawrence Market
St. Lawrence Market should not only be on the top of a foodies list of things to do in Toronto but also it should be on everyone's list!
In Toronto's Old Town District the streets surrounding St. Lawrence Market are full of charming red brick and beautiful architecture.
The market building itself is exactly the same, welcoming you into a haven of delicacies to enjoy.
The St. Lawrence Market has been held on this site for the public since 1803 which makes this a huge part of Toronto's history and one of the best Toronto attractions.
Not only will you find stalls selling local produce, fresh fish, cheese & meats, but there are also fantastic food stalls to indulge in.
Grab a full and fabulous breakfast at Paddington's Pumphouse or hot and fresh bagels from inside the market.
And then fill up your cart with fresh fruits and vegetables from local farmers.
If you haven't had your fill yet, head downstairs to the lower concourse in search of delectable baked goods, and a wide variety of souvenir type stalls to bring back that perfect bit of Toronto memorabilia with you when you leave.
21. Day trip to Niagara Falls
Located just a little over an hour away from downtown Toronto the perfect day trip is to Niagara Falls.
The iconic Niagara Falls straddle the border between Canada and the United States and are linked by the Rainbow Bridge.
For those looking to visit Niagara Falls, there are several options including organized tours, the train or hiring a car and driving out there.
The Niagara River is what flows through and over the falls creating the most incredible spray.
The best way to experience this is on a boat that will take you to get up close and personal (and soaked).
A well-known destination for weddings, family vacations and everything in between, Niagara Falls should be on everyone's bucket list. There is no shortage of entertainment activities, restaurants and amusement areas here either.
To find out what else there is to do in the Niagara Falls area and maybe extend your day trip for a little longer be sure to check out our new guide to the top things to do in Niagara Falls.
Toronto Travel Guide
Now that you know what to do in Toronto, from the CN Tower and the Toronto Zoo, to High Park, City Hall, and more, let's discuss some Toronto travel tips.
We want to help you make your other plans as well by sharing the best accommodations and places to eat in the city.
Accommodation – Where to Stay in Toronto
When it comes to accommodation options in Toronto, the city is your oyster.
From the budget-friendly backpackers with a wicked social vibe. The trendy yet cozy boutique hotels perfect for a weekend away.
And of course, la creme de la creme luxury hotels/resorts where you can feel pampered daily throughout your stay.
Locations range from the heart of the entertainment district in historical heritage buildings to brand new builds in The Beaches.
Amenities for whatever you hope you get out of your trip, spa days, world-class restaurants, rooms with perfect city views.
The most difficult thing about accommodation in Toronto will be choosing where to stay and tearing yourself away when it comes time to leave.
Budget
While Toronto is sometimes known for its high prices, when it comes to budget accommodation look no further than Saintlo Toronto Hostel.
As part of the Hostelling International chain of hostels you'll have even more if you have a membership card, yet even without it, you're still saving money for activities by booking a bed here.
Whether you're after a 10-bed mixed dorm, all-female or male quad room and even luxurious (on a budget) private rooms HI-Toronto is the perfect place to stay when visiting Toronto.
A real backpacker vibe with a hint of charm and a side of hipster trend runs through the old historic building in the heart of downtown and welcomes guests from all around the World.
The knowledgeable team here will be able to give you the best tips on what to do in Toronto as well as the Toronto attractions not to miss out on.
After a day full of Toronto activities be sure to stop in at the Cavern bar for a well-deserved drink too.
Mid Range
The perfect "in-between" hotel right in the heart of Younge & Dundas is The Bond Place Hotel.
This hotel offers parking, a fitness centre, a top-notch concierge team to help you figure out the best things to do in Toronto and a decor that leaves nothing spared.
From suites with a fireplace, perfect for those cold Canadian winters, stylish twin rooms and romantic king suites there are rooms to cater to every type of traveller without breaking the bank.
If your aim is to take on all that Toronto has to offer in terms of food, culture and the legendary nightlife this is the perfect place to rest your head after a day (and night) of Toronto sightseeing.
Be sure to check out the ever-changing list of promotions the hotel offers as well including the bed & breakfast promotion, the shop 'til you drop option and even the show your ticket and save promotion.
Luxury
An absolute landmark in terms of hostels in Toronto, the Fairmont Royal York is where it's at if you're looking for a taste of luxury accommodation.
Spread across 11 gorgeous golden floors, the hotel offers everything from basic (which are still anything but that) room types to glamorous suites and the magical gold floor suites for members holding a gold card for the Fairmont chain.
While the room types may vary, the service that guests of the Royal York receive will never vary.
The staff here will do their utmost to turn every moment into memory whether it's the barista making your coffee, the receptionist there to cater to your needs no matter the time or the gold status concierge team who will diligently list off what to see in Toronto during your stay.
You'll have your pick from the numerous restaurants and lounges at the hotel including the main restaurant Reign as well as the lobby bar which has been newly renovated and renamed as the Clockwork Champagne lounge.
The amenities are endless here and will make it hard to leave the comforts of the property but don't let that stop you seeing all there is to see in Toronto.
Where to Eat in Toronto
Toronto is a melting pot of culture, which also means an incredible food and drink scene.
From tiny family-run noodle houses in Chinatown to dining on a budget at Kensington Market.
The new and trendy eateries of downtown will impress everyone, and the luxury restaurants in the downtown core will be perfect for your special occasion.
The food culture in Toronto is something known around the country and is one not to be missed.
No matter what you're craving you'll be able to find it here. No matter your budget, occasion or tastes there is a restaurant for everyone in Toronto.
Eating your way around the city is one of the best ways to truly experience it, so be sure to wear those pants with the elastic waistband.
Budget
This cash-only taqueria in Kensington Market is the place to be if you love good food and keeping money in your wallet!
Seven Lives Taqueria offers Baja style tacos at an affordable price (cash only though) so don't let the queue out the door keep you away.
To be fair there are only 2 tables, and for $5.00 (or less)/taco you can't pass it up.
Mid Range
Goodfellas Wood Oven Pizza is the perfect spot for a filling, delicious and affordable meal.
From smoky wood-fired pizzas, to calzones and dessert pizzas, the menu is varied, yet classic. Grab a bottle of wine and treat yourself to some heartwarming Italian food.
Luxury
Located in the heart of downtown Toronto atop a beautiful heritage building is Alo.
A contemporary French restaurant and cocktail bar boasting multi-course tasting menus, an a la carte menu and wine pairings from World-class sommeliers.
A beautiful location for a special occasion while visiting Toronto.
DISCLAIMER: Some of the links in this article are affiliate links, which means if you book accommodation, tours or buy a product, we will receive a small commission at no extra cost to you. These commissions help us keep creating more free travel content to help people plan their holidays and adventures. We only recommend the best accommodations, tours and products that ourselves or our fantastic editorial team have personally experienced, and regularly review these. Thanks for your support, kind friend!