Whether you love history, adventure or dancing to local music, you'll find plenty of amazing things to do in Dawson City, Canada in this first-hand guide.
Dawson City is one of those towns that everybody seems to know about, but few people ever get to.
For anybody that has an interest in Klondike Gold Rush history, the Yukon in Canada's north and the towns scattered around the territory are well worth visiting.
It's not just Klondike gold rush history and gold panning that draws people up this way though. The landscapes of Yukon are some of the most spectacular in the country, and the people that call this place home could not get any more friendly and welcoming.
While almost everybody that travels to Yukon makes their way through Whitehorse, the capital of the territory, it's Dawson City 530km further north that has the real appeal to those looking to for an authentic experience.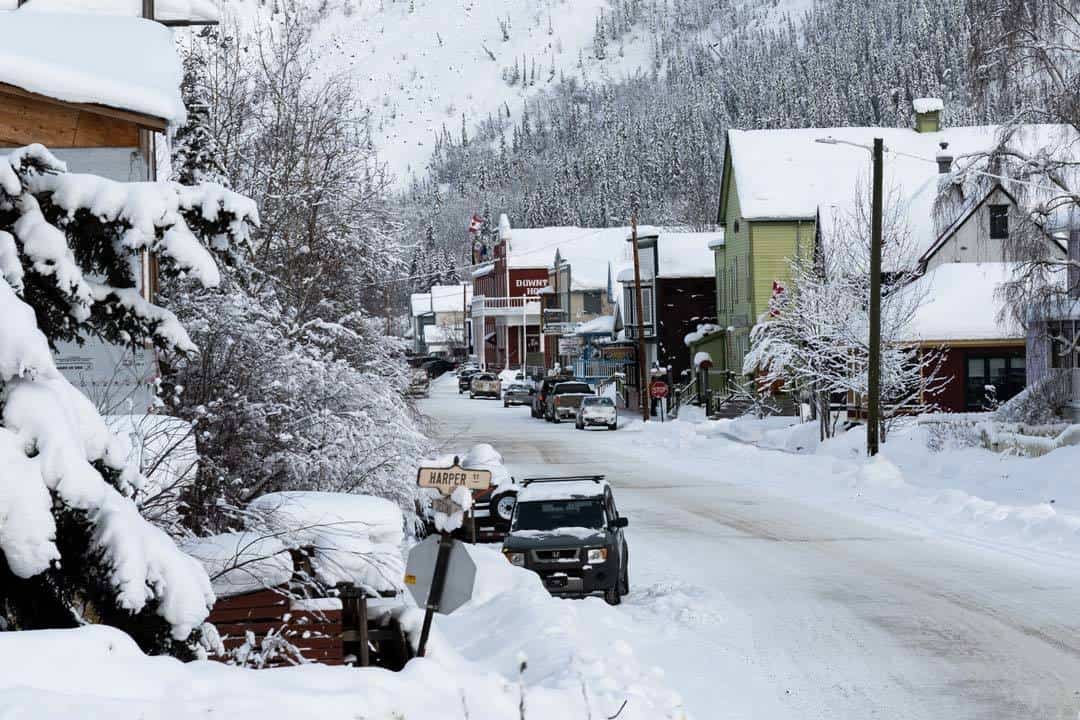 The Best Things to Do in Dawson City
On our second trip to Yukon we had the pleasure of finally making it up to this historic and quaint town from the Gold Rush era, and instantly fell in love with its quirkiness and charm.
Our visit was quite short, but you could very easily spend weeks exploring the area around Dawson City.
With Tombstone Territorial Park close by, and tonnes of adventure activities to be enjoyed, it's a wonderful place to visit at any time of year.
Enjoy gold panning and learning about the history of the Gold Rush, drinking with the locals, partying at a music festival, or immersing yourself in the pristine nature around the town.
Here's our complete guide to the best things to do in Dawson City, Yukon
READ MORE – Check out our southern Yukon road trip itinerary.
Join the Sourtoe Cocktail Club
"You can drink it fast, you can drink it slow, but your lips must touch the toe."

– Everybody who has joined the club.
If the Klondike Gold Rush is what put Dawson City on the map, it's the Sourtoe Cocktail Club that made it legendary amongst travellers the world over.
This famous, and pretty grotesque, tradition involves enjoying a delicious cocktail at the bar of the Downtown Hotel, with one unique ingredient.
A severed human toe.
Yes, you read that right.
It's a tradition that has been around for decades. In 1920 a man named Louie Liken lost his toe due to frostbite and apparently kept it in a jar of alcohol in his private cabin to preserve it.
In 1973 another local, Captain Dick Stevenson, was cleaning the cabin and came across the toe.
That night he headed down to the Sourdough Saloon in the Downtown Hotel and started putting it in the drinks of anybody who would be game to try it.
And thus, the Sourtoe Cocktail was born.
Since that night there have been a number of different toes used to join the club (the first was swallowed after 7 years, and subsequent toes have all been either eaten, stolen or fallen apart), all donated by people who have lost their appendages due to various ailments or injuries.
To join the club you can order any drink (although a Yukon whiskey is the recommended option for newcomers), and the toe is dropped inside it.
You must down it all in one go, and make sure your lips touch the filthy toe.
Once you've successfully completed the challenge you get your name inside the ledger (over 85'000 people have done it), and you get a certificate to take home and hang on your wall.
Just don't swallow or steal the toe, or you'll be fined $2500.
Visit the Jack London Museum
Jack London was one of the most popular American authors of the early 20th century, thanks to his works such as The Call of the Wild, Martin Eden, and White Fang.
In the early days of his career, he spent a year living and travelling around the Klondike, including a harsh winter holed up in a log cabin close to Dawson City.
He was trying his hands at various hard labour work, but instead his time in the Klondike inspired many of the future stories that would turn him into the famed storyteller he was.
Years after his death his cabin was discovered by local man Dick North, and he brought it to Dawson City to set up a memorial for the great author.
Today the cabin is part of the Jack London Museum, and visitors can come to check out his cabin and learn more about the American author inside the interpretative centre.
It is only open in summer, but you can have a look at London's cabin from the outside at any time of the year.
READ MORE: Want to know more about travelling in Canada? Check out our ultimate travel guide!
Try Your Luck at Diamond Tooth Gertie's Gambling Hall
Diamond Tooth Gertie's Gambling Hall is an old school casino that feels like you're stepping back in time the moment you walk in the door.
This is actually Canada's first licensed casino, opening in 1971, and they've decided to keep the theme the same as the Gold Rush style you'd expect in Dawson City.
Besides the typical games like slots, roulette and blackjack, the real highlight is the can-can dancers that throw their heels up on the stage. Even if you don't like gambling, it's worth stopping by in the evenings to check out the dancers anyway.
As an added incentive Diamond Tooth Gertie's Gambling Hall is also a not-for-profit enterprise. All revenue is invested back into the community to preserve the heritage buildings.
Opening Hours:

Summer: 7 days a week
Fall/Winter/Spring: Fridays and Saturdays
READ MORE – Learn more about our other amazing local adventure, dog sledding in Yukon.
Take a City Tour with Klondike Experience
While simply walking around Dawson City is a great way to get a feel for the place, we're big believers in getting a local guide to learn the history and culture as well, which is why we recommend walking tours.
The best tour company in Dawson City is Klondike Experience, run by Canadian man Jesse, who moved to Dawson City over a decade ago and instantly fell in love with the town.
His company is a bit of a one-stop-shop for just about any kind of adventure you'd want to have in the area.
Whether it's helicopter rides, dog sledding tours, transport options (he runs a regular shuttle between Whitehorse and Dawson City) or anything in between, Jesse can make it happen.
We did a city tour with Jesse, and he spent a few hours walking and driving us around the best parts of town, diving into all the stories and details that we would have missed on our own.
Afterwards, he took us up to the Midnight Dome for an awesome view of the area, which was an added bonus to the tour.
Jesse was an amazing guide, and we really got so much more understanding for what makes Dawson City tick because of him. Highly recommended!
Gold Panning
Dawson City was built on the backs of gold miners all heading north to try and make their fortune in the mineral-rich soil and rivers of the Yukon. This was known as the Klondike Gold Rush.
These days most of the huge nuggets have been claimed, and anywhere that has potential is being mined by larger companies with big budgets. But there's still guaranteed fun to be had, and a small chance to strike it rich, for the average person.
Whether you are a experienced in gold panning and you have your own equipment, or you just want to learn one sunny afternoon, you'll find plenty of spots around Dawson City to go searching for this valuable rock.
We recommend joining a gold panning tour (hit up Jesse at Klondike Experience), so you can make the most of this cool experience.
As a city made famous by the Gold Rush, it's cool to take part in the gold panning experience that shaped Dawson City.
Head Up the Midnight Dome for Epic Dawson City Views
The large hill looming over Dawson City is known as the Midnight Dome, and it has incredible views of the area while being easily accessible for almost anybody.
There are two ways to reach the top of Midnight Dome. You can drive along the road that takes you directly to the lookout, or you can hike the 5-mile round trip along a variety of different hiking trails.
No matter how you get up there though, the views are going to be worth it.
You can see many of the mountains that surround Dawson City, and you'll get a great perspective of Dawson's location right on the Yukon River.
If you're wondering what to do in Dawson City on a sunny day, this is a great activity.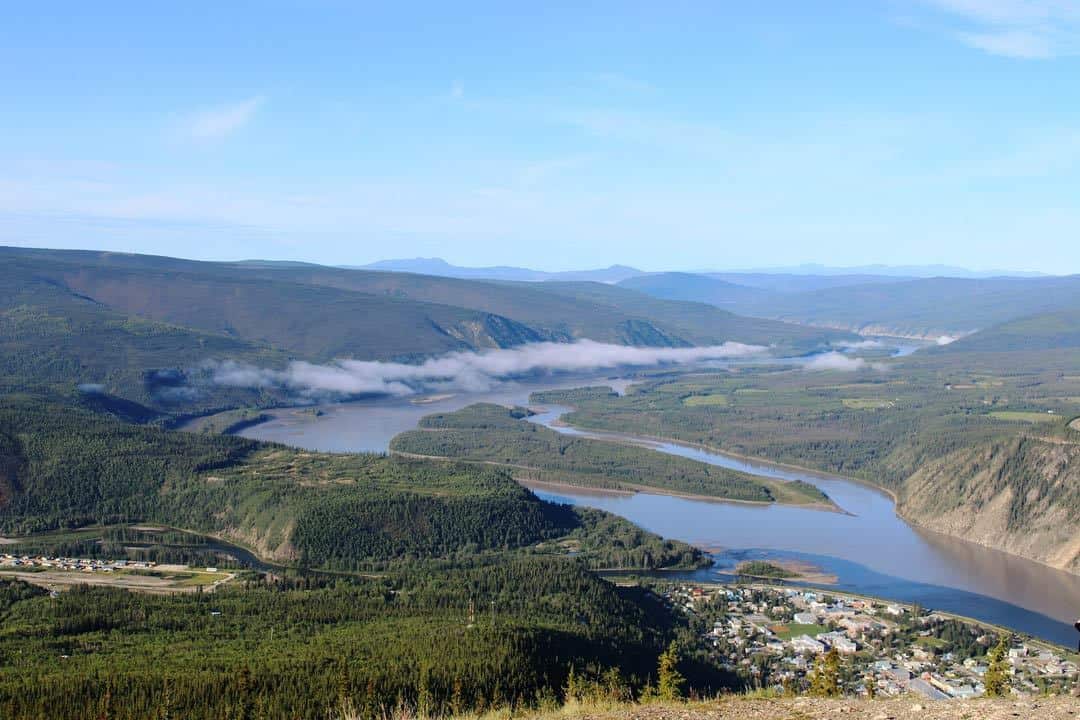 Wander the Streets
One of our favourite Dawson City activities was simply walking around the streets and admiring all the old buildings.
The heritage buildings of Dawson City are actually managed by Parks Canada, which means they're doing everything in their power to keep them looking the way they always have, rather than modernising them.
You can easily spend a few hours walking around and photographing the derelict structures, checking out the crazy leans on some of them (due to the permafrost and not being able to build proper foundations) and chatting to friendly locals.
One of the most famous buildings to check out are of course the Robert Service Cabin, and the Dawson City Museum.
The Dawson City Museum is the best place to learn all about the history of Dawson City if you're interested in that.
The Robert Service Cabin is a Klondike National Historic Site and is the former cabin of the famous poet from the Yukon.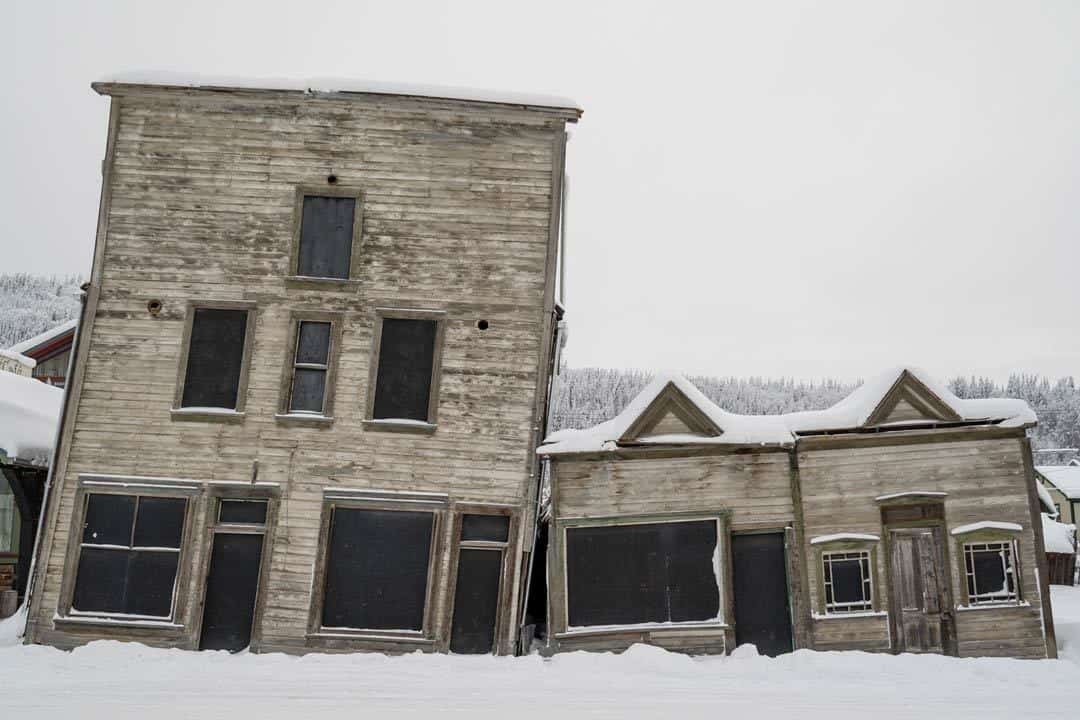 Explore Tombstone Territorial Park
Just 1.5 hours past Dawson City along the Dempster Highway is the striking Tombstone Territorial Park, a place that should not be missed on your trip to the Yukon.
This 2200km2 park is home to an abundance of wildlife, such as caribou, moose, Dall sheep, grizzly and black bears, and spotting any of these mammals is always a real highlight.
The landscapes are also spectacular, with large valleys punctuated by jagged peaks.
The First Nations' history is also fascinating, as the Tr'ondëk Hwëch'in have been using this area for thousands of years.
There are plenty of great activities you can enjoy in the park, with hiking and camping being the most popular ones, along with fishing and off-road driving.
Tombstone Territorial Park is rugged and remote, so make sure you are adequately prepared before visiting.
If you don't have your own vehicle, you will have to book a guided tour when you visit Dawson City.
Time Your Visit with the Yukon Quest
Known as being one of the world's most challenging dog sledding events, the Yukon Quest is a 1000-mile race that stretches from Whitehorse in Yukon all the way to Fairbanks in Alaska.
The teams of mushers and their dogs spend most of the time out in the wilderness during the race, but in Dawson City they have a rare opportunity to briefly hang out in civilisation.
The course passes right through downtown Dawson City, and on the day that the racers are in, most of the town heads down to the checkpoint to cheer them on as they continue the adventure.
While the winters are long and cold in the north, it's events like this that really bring some fresh life into the town. Definitely one of the top things to do in Dawson City, Yukon if you can time your trip right.
Go Dog Sledding
While you might not be up for taking on a crazy 1000-mile race in the middle of Yukon's most challenging terrain, you could always try dog sledding for yourself in a much more enjoyable fashion.
Dog sledding has been a method of transport for locals for generations, and in recent years it's become a popular tourist activity.
Around Dawson City, there are a number of operators that run excellent, responsible dog sledding tours, ranging from one-hour taster sessions right up to multi-day expeditions.
You'll be sure to fall in love with the gorgeous huskies that make up the sled teams, and in these places it's actually encouraged to play around with the dogs and show them affection.
It really is one of the top fun things to do in Dawson City in winter.
READ MORE – Make sure you read our article asking 'is dog sledding cruel?' before you book a tour.
Party at Dawson City Music Festival
Besides the Sourtoe Cocktail Club, there was something else we kept hearing about whenever we talked to people about Dawson, and that was the legendary Dawson City Music Festival.
What started off as a small barbecue one weekend in 1979 has now turned into a not-to-be-missed attraction for all Yukoners.
Every year a number of Canadian and international artists head to Dawson City to partake in the family-friendly event, which is held in a variety of venues around town.
The Dawson City Music Festival is a 3-day party, and is one of the best Dawson City attractions, and people from far and wide travel to town to dance the days (and nights) away.
Make sure you book accommodation early if you're planning on coming up for the Dawson City Music Festival.
Check Out the S.S. Keno
During the Gold Rush, one of the most luxurious and popular ways to travel between towns was to take a paddleboat steamer along the massive Yukon River.
Unfortunately this historic era of Gold Rush travel is long gone, but luckily for us there's still a number of original paddle wheelers scattered around the territory, and one of them is right in Dawson City!
The S.S. Keno was built in 1922 and used to transport various minerals for mining companies along the river until it was decommissioned in 1951.
In 1960 the vessel made its way from Whitehorse to Dawson City along the Yukon River, becoming the last paddle steamer to make the trip under its own power, and it's stayed in town ever since.
These days it's a National Historic Site located just outside of town on the shores of the Yukon River, and visitors can learn more about its Gold Rush history on an interpretative tour.
No list of what to do in Dawson City would be complete without seeing the Gold Rush era S.S. Keno.
Look for the Aurora Borealis
If there's one thing that is on everybody's Yukon bucket list, it is to see the Northern Lights. And it's hard to find a better spot to see them than right here in Dawson City.
Being so close to the Arctic Circle means that in the winter months the night skies can come alive in brilliant displays of greens and purples as gases in the atmosphere dance around.
If the conditions are right you can see them right from downtown, but for a really unbelievable experience, drive out of town or take an Aurora Borealis sightseeing tour.
Seeing the Northern Lights in Dawson City is something that will stay with you forever!
Spend Some Time in the Dänojà Zho Cultural Centre
The First Nations history of the Yukon is an important element of the territory's culture, and thankfully it is celebrated the way it deserves to be.
From the artwork of Carcross to the cultural centres in Haines Junction, there are plenty of amazing places to learn more about the indigenous people of northern Canada.
Luckily one of the best things to do in Dawson City is to do just this at the Dänojà Zho Cultural Centre.
Here you'll find excellent exhibitions and gorgeous artwork throughout the centre, and the staff are more than willing to tell you everything you'd ever like to know about these First Nations people.
In the summer they host a range of activities to get people more interested in their culture, and there's also a store where you can buy traditional clothing and handicrafts.
Opening Hours: 10am – 5pm (check website for seasonal updates in hours)
Price: Adults: $10, children: $3.15
Paddle the Yukon River
It might be the ultimate Yukon adventure – taking a canoe and paddling along the territory's most powerful and legendary river over the course of a few weeks.
When we first heard of a couple doing this, literally renting a canoe and going off on their own in the Yukon wilderness, we immediately thought that they were crazy, but that we had to do it for ourselves.
After some research though it turns out they weren't so crazy, and that paddling the Yukon River is actually a fairly common journey for plenty of people every year.
A popular route is to paddle from Whitehorse to Dawson City over the course of 16 days broken up into two stages, with the town of Carmacks being the stopping point halfway.
Companies in Whitehorse can organise everything for you, including the canoe and equipment rental and transfers back to Whitehorse, meaning all you need is food and a sense of adventure.
Wander Around the Cemeteries
Dawson City has a couple of historic and picturesque cemeteries around town, and while it might seem like an odd thing to add to a list of things to do, they're worth checking out as you walk the streets.
You'll find tombstones going back as far as the Gold Rush, and with their picturesque settings surrounded by trees, they can make for great photos.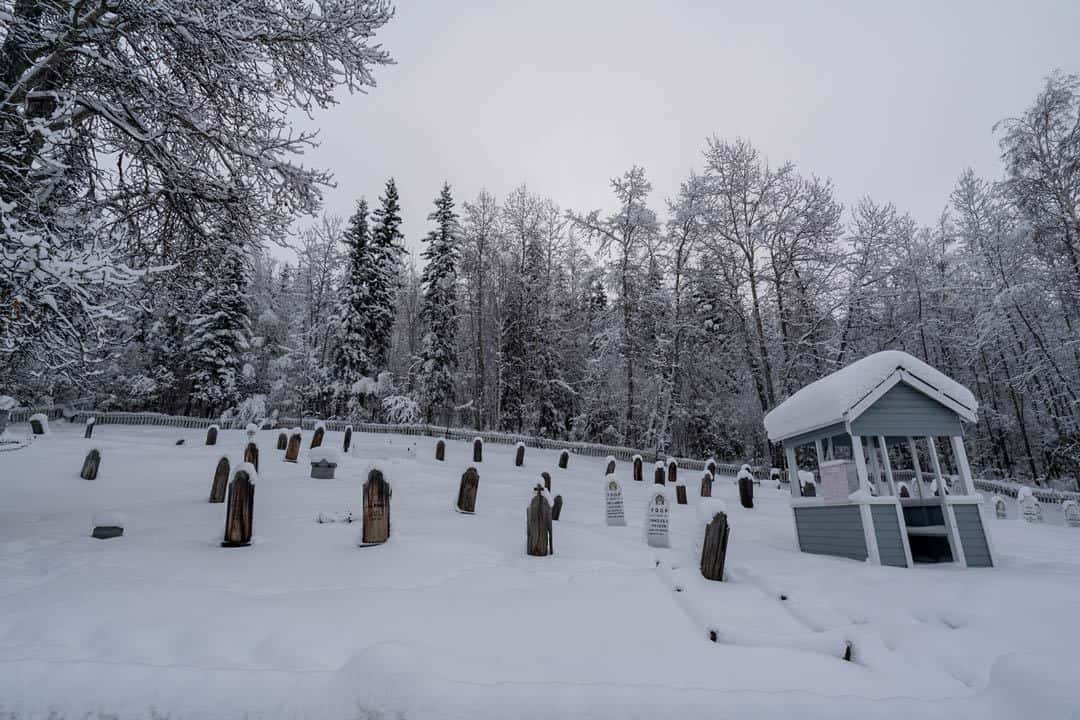 Take a Drink (or 5) in The Pit
As far as fun and dirty bars go, it doesn't get much better than The Pit in Dawson City!
Located downstairs at the Westminister Hotel, this Dawson institution has been serving drinks for decades, and you're bound to meet some hilarious locals on any night of the week.
The larger bar is known as the Snake Pit, while the dingier dive bar is called the Arm Pit.
We personally preferred drinking some craft beer in the Arm Pit, surrounded by old pictures, news stories and Yukon memorabilia hanging on the walls.
Where to Stay in Dawson City
For such a small town, there's a surprising number of accommodation options in Dawson City. And while you won't find any 5-star luxury resorts, you will definitely find some good quality and homely places to rest your head at night.
Downtown Hotel
This is where we personally stayed, and we absolutely loved the style of the place, which felt like it was plucked straight out of the Gold Rush era.
The rooms were large and quirky, the staff were friendly, wifi worked (didn't expect that), and it was of course the closest place to the Sourdough Saloon, home to the Sourtoe Cocktail.