Our experience doing one of the most epic adventures in the Yukon – taking a Kluane flightseeing tour over the national park.
Kluane National Park is one of Canada's most precious jewels.
Home to the country's highest peak, Mount Logan standing 5959m tall, and the largest non-polar icefield on the planet, this spectacular sprawl of jagged peaks, ancient glaciers, deep valleys, and powerful rivers is located in the Yukon, a territory in the north that is unfortunately often skipped by travellers.
We had 7 days to explore the Yukon on the famous Golden Circle Route, and our first stop was going to be Kluane National Park.
Only a few hours from the capital city of Whitehorse is the quaint town known as Haines Junction.
It is here that adventures into Kluane National Park start, and we couldn't wait to get out and explore it.
During the drive from Whitehorse though the weather was absolutely horrible, and we couldn't see any of the mountains around us that the Yukon is famous for.
Check out our newest video all about our awesome Yukon road trip!
With the windscreen wipers going at full speed we eventually pulled into the driveway of Mount Logan Lodge, a remarkable log cabin outside of town run by the friendly couple David and Roxanne.
When we checked in we told Roxanne about our plans to take a Kluane flightseeing tour first thing the next day, and her eyes lit up.
"It's one of the absolute best things you can do in all of the Yukon! I really hope the weather clears for you."
All 3 of us looked out the window. We really hoped so too…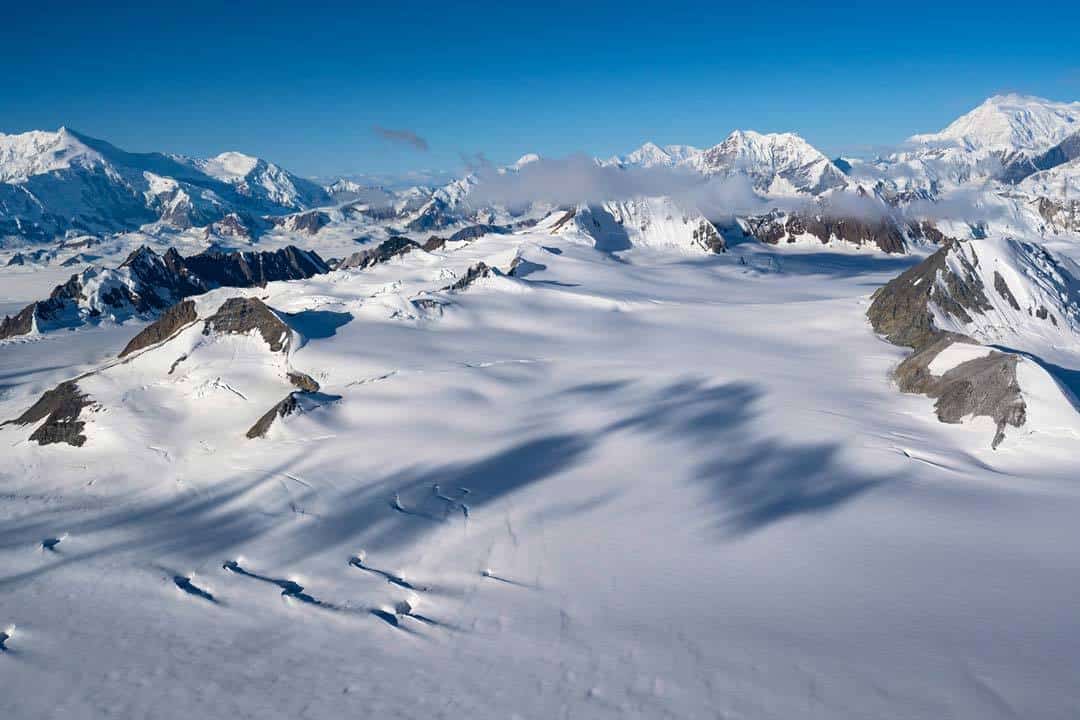 When the morning rolled around we woke up and were heartbroken to discover that we were completely socked in by the clouds.
Roxanne was downstairs making us breakfast, and when she saw us she said that the she had checked the weather and it wasn't looking good.
"They don't run the tours if the weather is bad because of safety, but maybe you should give them a call to see if they can put you on a later flight?"
Dialling the number for us, we got through to Kluane Glacier Air Tours, who much to our surprise said they were definitely running that morning, and that we should be at their office 15 minutes before our scheduled departure at 09:00.
Buzzing with excitement, we ate breakfast, loaded up the car with our camera gear, and headed to Haines Junction Airport.
When we arrived at the office our pilot for the day, Alex, welcomed us inside and called us over to his computer screen.
"I know it's pretty crappy here in Haines Junction, but check this out!"
He pulled up a webcam feed from the other side of the Kluane National Park that showed patches of blue.
He then showed us a radar image of the current weather forecast, and it was looking clear.
"Looks good on the ocean side. It should be a nice flight."
READ MORE: Here's our newly updated travel guide for Canada!
Buzzing with the news we chatted away with Alex about life in the Yukon when another couple arrived, who would be joining us for the flight.
We had signed up for the 75-minute 'Grande Mountain Tour', one of their popular flightseeing tours.
This would take us over the world's largest non-polar icefield and around the St Elias Mountains, home to Mt Logan and Mount Vancouver – All of the highlights of Kluane National Park in one epic adventure.
Stepping onto the tarmac Alex gave us a detailed safety briefing and explained more about the flightseeing tour.
It was then time to jump into the small prop plane and hit the skies.
With Alesha and I standing there armed with a whole bunch of cameras, it was obvious we wanted to take a bunch of photos, but we had a dilemma – the windows only opened at the very back!
Luckily for us the couple we were with were incredibly understanding, and they graciously offered the front seat next to Alex to Alesha, and the back seat to me. They would take the two middle seats.
We couldn't thank them enough, as it meant we could take pics without any window glare.
Alex started the engine and let the plane warm up. We donned our headsets, and soon enough we were taxiing down the runway and taking off!
It's an exhilarating feeling flying in a small plane, as you can feel every little bump and shift in wind.
There was nothing to feel concerned about though, as Alex was an expert pilot, and he made the entire flight smooth as butter.
As we gained altitude we were given gorgeous views over the town of Haines Junction and the surrounding peaks.
The clouds were starting to lift, but there was still no sign of the sun or any blue skies through the weather.
Gigantic valleys came into view all around us, and we could only dream about the trekking opportunities that must be all around Kluane National Park and Reserve.
We flew only a few hundred metres above the forest below us, and Alex told us that occasionally they spot bears.
Kluane National Park is home to a hugely diverse grizzly population, but we weren't lucky on this day to spot any.
What we did see though were a number of mountain goats wandering around on the ridges. Not as exciting as grizzlies, but cool nonetheless.
We flew to our cruising altitude and we finally spotted one of the most spectacular sights in during the Kluane flightseeing experience – The enormous Kaskawulsh Glacier!
With its north and south arms wrapping around a peak and colliding together, its magnificence is only matched by its size.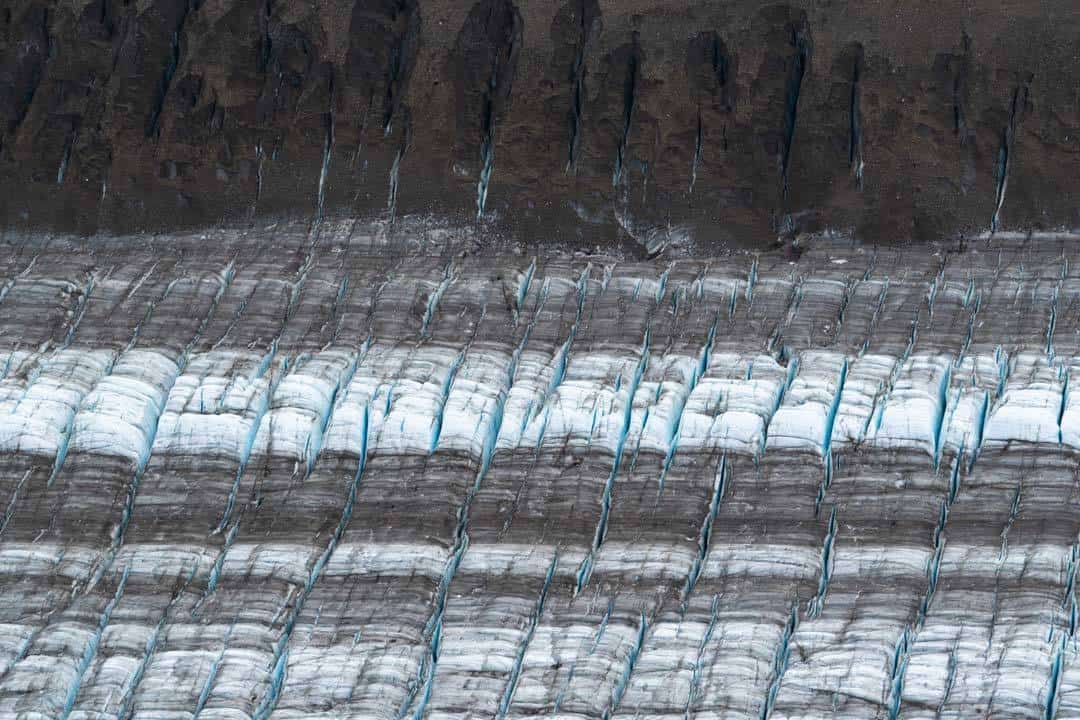 As Alex banked a turn we headed further into the park and towards the icefields.
We started to get more and more glimpses of glaciers covered in deep snow, and a few large ice falls tumbling down the mountains.
Suddenly the sun started to break through the clouds, and we could spot snowy peaks lighting up all around us.
We couldn't believe our luck! Perhaps we were going to see the icefield in all its glory, bathed in sunlight!
Below us the Kluane Icefield lit up brightly, and none of us knew which way to look. Every direction just seemed to get more and more beautiful.
Alex pointed out various highlights along the way, telling stories through the headset, but to be completely honest I was so mesmerised by the views I barely heard what he was saying.
Each mountain seemed to have a glacier pouring down through its valleys, and wherever the jagged ridges and peaks shallowed off a deep blanket of snow settled.
It seriously was one of the most gorgeous places we have ever seen.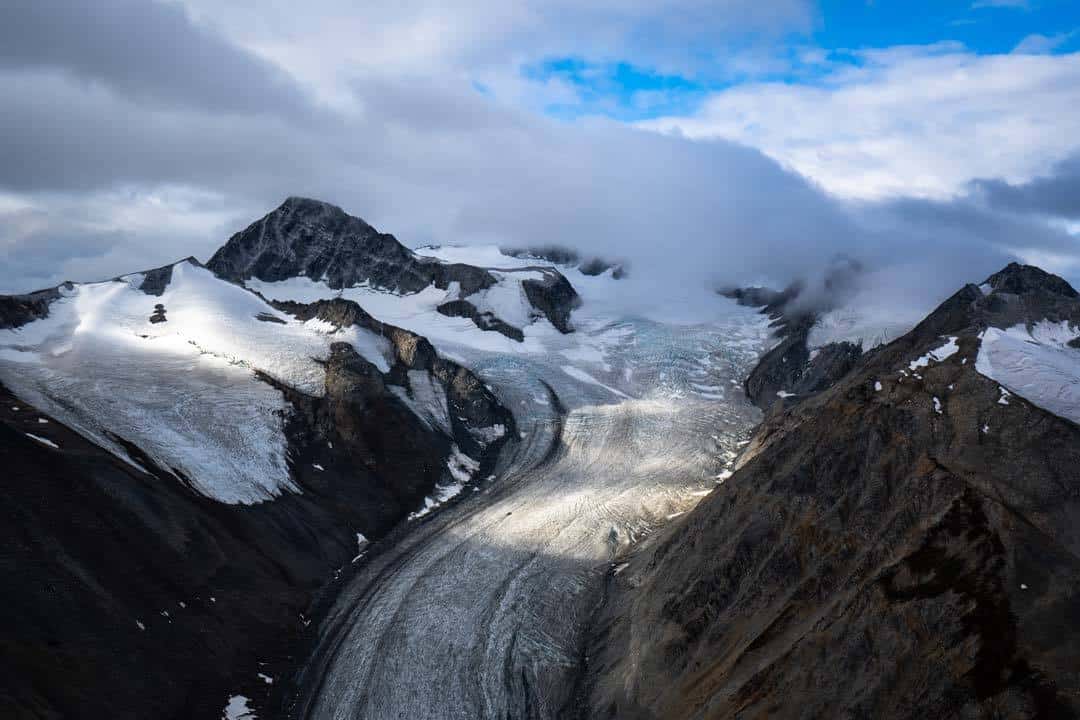 Soon it was time for Alex to circle the plane back towards Haines Junction, but not before flying us over a huge lake speckled with icebergs.
He spoke over the headset about how the glaciers have been shrinking due to climate change, and as picturesque as the shimmering blue lakes and icebergs were, they were a direct result of increased human industries.
We've seen these tragic effects all over the world, from Asia to Antarctica, and perhaps that's why we always feel so humbled and sad whenever we see one of these remarkable frozen rivers carving their way across the landscape.
As we left the Kluane Icefield and got closer to Haines Junction we flew back into the clouds, and the wonderful light slowly disappeared.
It added an interesting mood to the rivers below us after we had just been contemplating the melt of the glaciers behind us, and we lost ourselves in thought.
It was fascinating to see the lakes feed rivers that then spread out over the valleys like huge deltas, looking like Medusa's hair twisting across the countryside.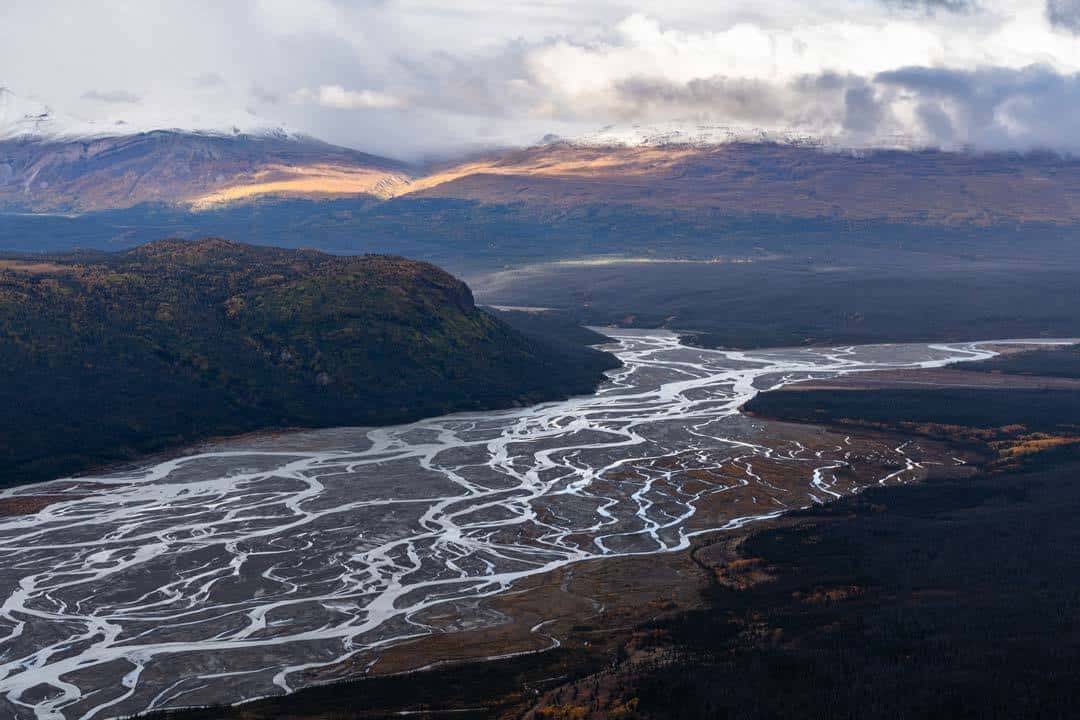 A couple of minutes later we spotted the airport, and Alex started to descend.
He touched down with expert precision, and even in the small plane we barely felt a jerk as the wheels hit the tarmac.
Pulling up right outside the office we unloaded out of the plane and hugged each other.
We couldn't wipe the smiles off of our faces, and we were in complete awe of the incredible Kluane flightseeing experience we'd just had.
Alex didn't even need to ask how the flightseeing tour was. He must get this kind of reaction every day.
He thanked us for joining him on the flight, and we extended our thanks back tenfold.
Taking a flight over Kluane National Park was not only a highlight of our time in the Yukon, it was one of the most magical things we have ever done in Canada.
What You Need To Know For Your Kluane Flightseeing Tour
There are a number of Kluane National Park flight tours you can do, depending on how long you'd like to be in the air, what you want to see, and your budget.
We went with the amazing company Kluane Glacier Air Tours, and they completely exceeded our expectations.
The pilots are highly experienced in mountain conditions, and not only that they are great people too!
We had an awesome time chatting to Alex and the other pilots in the office, and they were not only professional but super friendly.
They offer a number of different tours, ranging from 60-minute tours to the Kaskawulsh Glacier right up to an epic 2-hour mission to get up close to Mount Logan, Canada's highest mountain.
We were really surprised with just how reasonable the prices were! Our 75-minute Grande Mountain Tour was only CAD$300 per person.
The office is right at the Haines Junction Airport, and there's plenty of parking and the usual facilities onsite.
It's important to keep in mind when booking these trips that they are completely weather-dependent.
As safety is the number one priority, if the weather looks like it might turn or the pilots aren't feeling confident, they won't fly.
If this is the case they'll reschedule you to another day, or offer you a refund.
We recommend bringing warm clothes, even if you're travelling in the middle of summer, as it can get a bit chilly up there, especially with the windows open.
Also if you're scared of heights or of small planes you may want to think about whether you feel up for this adventure.
In that case, you can learn more about the region at the fantastic local Icefield Discovery Centre.
But trust us – once you're in the air and you have incredible views of Kluane National Park, you'll completely forget any fears you might have!
Our Kluane National Park flight tour was made possible thanks to our partnership with Destination Canada and Travel Yukon. All thoughts, opinions and thousands of pictures taken of epic peas and glaciers are, as always, our own.