Looking for the best and most comprehensive resource to help you plan an adventure driving the Icefields Parkway? Our guide is everything you need!
There's a reason why the Icefields Parkway is known as one of the world's most beautiful drives.
Connecting Banff and Jasper National Parks, two of the most spectacular and iconic areas of the Canadian Rockies, the Icefields Parkway is a dreamy roadway surrounded by evergreen forests, alpine lakes, and jagged mountain peaks.
Oh, yeah, and that's not to mention the over 100 glaciers that dot the area!
While living in Calgary for nearly 6 months, I took the opportunity to explore the Canadian Rockies almost every weekend.
And, of all of the hikes, drives, and adventure activities I tried while there, the one thing that never got old was the awe-inspiring views along the Icefields Parkway.
If you're planning a road trip in the Canadian Rockies, you absolutely cannot miss a scenic drive through the Icefields Parkway.
While there are so many things to do on the Icefields Parkway, I've included some of my top travel tips and suggestions for the most stunning attractions in this post.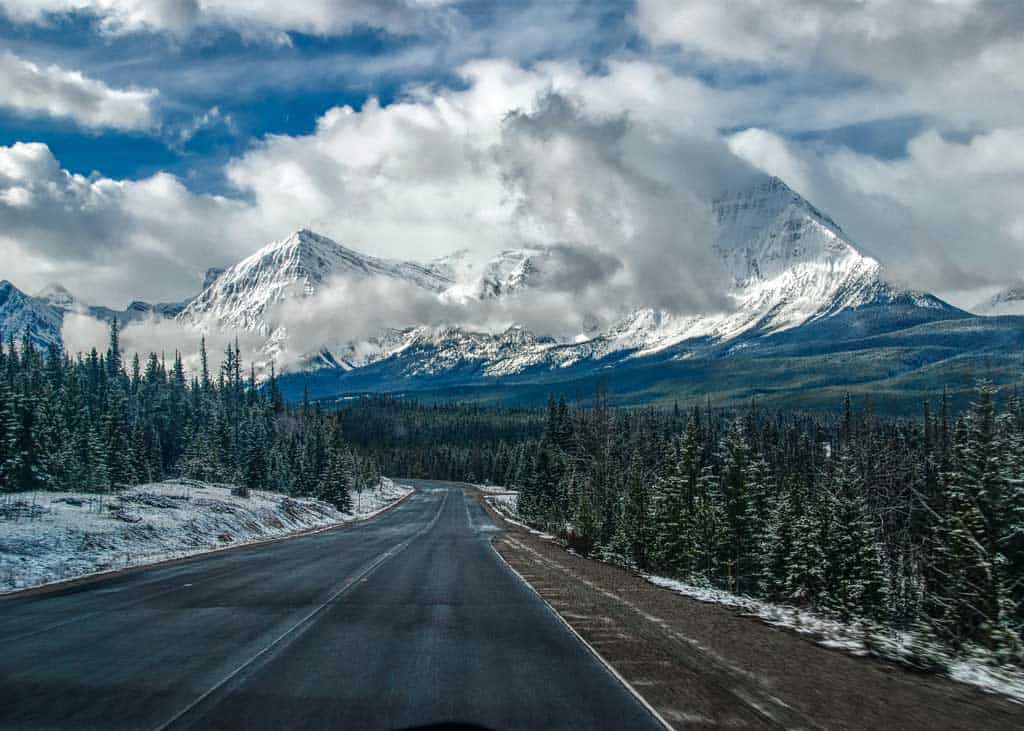 The Basics: Things to Know Before Driving the Icefields Parkway
While road tripping along the Icefields Parkway is similar to any alpine national park area, there are a few important unique things to know about travelling in this region.
In this section, I'm sharing a few crucial tips to take note of before planning your Icefields Parkway road trip.
Don't forget to check out our guide to the top 30 things to do in Canada!
Important Icefields Parkway Travel Tips
While the roads are generally well-maintained and the tourism infrastructure is very developed, a scenic drive in the Canadian Rockies can often be tricky for a few reasons.
Here are a couple of general guidelines you should keep in mind as you plan (and embark!) on your trip.
The Icefields Parkway is a year-round destination.
While the peak season for the Icefields Parkway is in the summer (more on this in the next section), you can take this drive in the spring, fall, and winter, too.
There are tons of things to do in Banff, Jasper, and the Icefields Parkway year-round.
Note that weather conditions are most favourable in the peak season, so you'll need to take extra precautions if you plan on traveling in the colder, more ice-prone months.
The weather is very unpredictable year-round.
Just because you choose to visit the Canadian Rockies in the summer doesn't mean that you'll get sunny, warm weather every day.
Snow can happen in the higher alpine areas until early June, and there are avalanche risks on certain trails well into the summer.
Be sure to check all of the road conditions and trail conditions on the Parks Canada website before setting out for a drive or a hike. That could save you a lot of difficulties!
There's wildlife everywhere.
The entire Canadian Rockies area is home to tons of animals, including mountain goats, bighorn sheep, wolves, elk, moose, and bears (of the grizzly and black varieties). If you happen to spot one of these majestic beasts, you can admire them from afar.
However, do not approach them or attempt to feed them. If you plan on camping, be sure to properly store or dispose of all food in the proper, marked receptacles.
These animals can be very strong and dangerous if you aren't careful, so take the necessary precautions to protect yourself and your fellow travellers.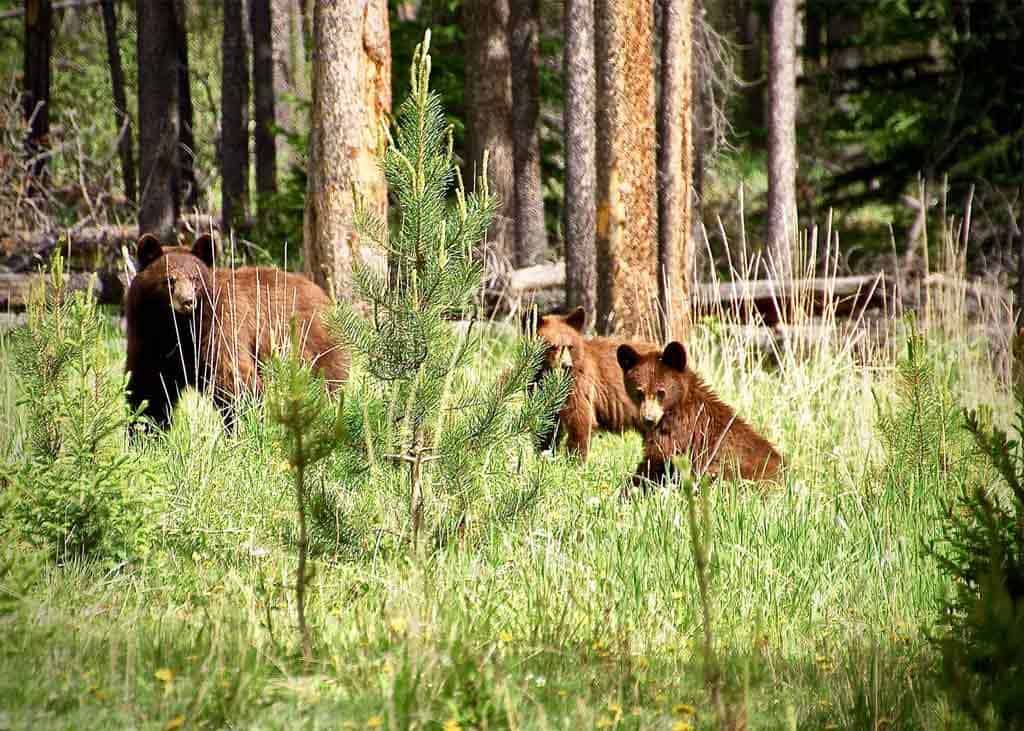 Consider booking an audio guide
There is so much to see and do on the Icefields Parkway, and there is a lot to learn. For a fun, interactive driving experience, consider booking a smartphone audio tour.
For just $9 CAD, you can download an app to your phone which will provide fun facts, trivia questions, and history about the attractions along the drive.
The audio guide covers the main attractions such as Columbia Icefield, Lake Louise, Sunwapta Falls, Bow Lake, and more. But it still allows you to travel at your own pace.
If you're tackling this road trip with the whole family, this can be a fun way to keep everyone learning and entertained.
You'll need to pay a fee to enter.
The Icefields Parkway stretches from one National Park to another, meaning that you'll need to pay the Parks Canada fee to enter.
The cost is $10.50 CAD per person per day, 2-7 adults in 1 vehicle is $21 and children are free!
You can pay when you arrive in the Banff area. There are small kiosks on the side of the road when you enter the park that you can drive right up to.
You can also book your Parks Canada pass online, which is a good option if you're doing lots of road-tripping around Canada. Buy a Parks Canada pass that combines multiple locations to save a bit of money.
When to Visit the Canadian Rockies
While the Canadian Rockies are a year-round destination, the best time to visit is between mid-June and the end of September.
During this time of year, you'll experience the warmest temperatures and the least volatile weather conditions, as well as being able to participate in the largest variety of activities.
However, if you prefer to have a much quieter, less crowded adventure, the spring or later in the fall can be fantastic options.
The first time I travelled to the Canadian Rockies was in May, and it was beautiful, with fairly mild temperatures and few fellow visitors.
Even Lake Louise wasn't crowded! However, we did experience some snow flurries from time to time, and our overnight camping was sometimes slightly less than comfortable in the cold of the night.
Note: this guide is primarily meant for summer travel during this peak season. Some of the activities mentioned here may be closed or unavailable should you decide to visit before June or after September.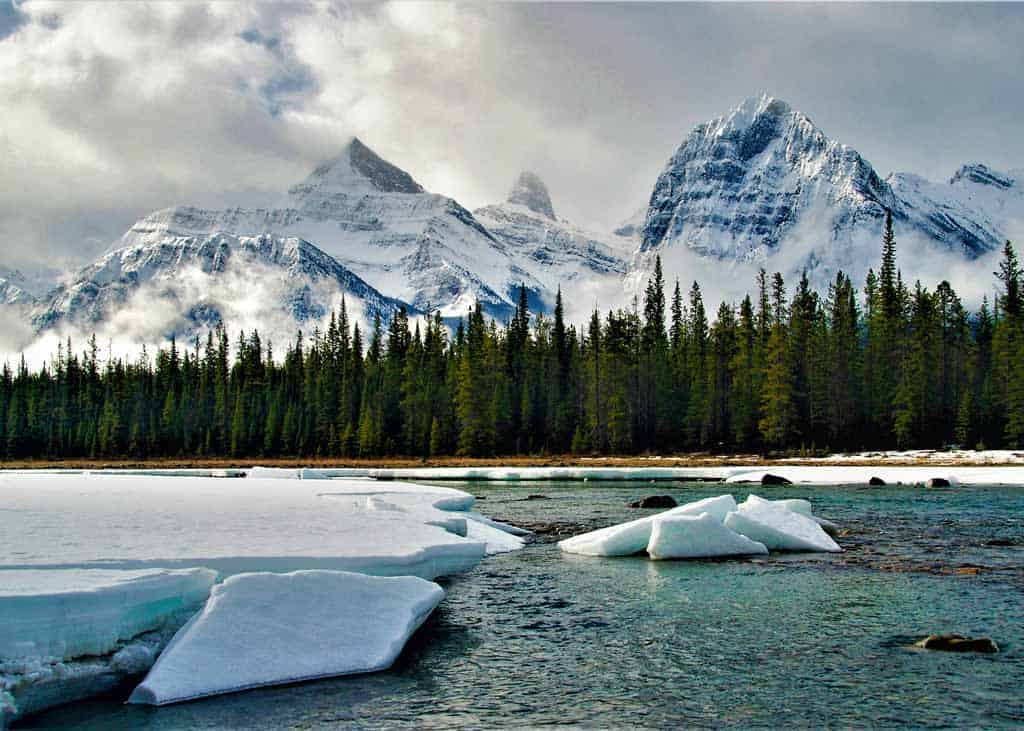 How to Rent a Car in the Canadian Rockies
Those visiting the Canadian Rocky Mountains from afar will most likely fly into Calgary International Airport (YYC). This is the largest international airport in Alberta, and it services many airlines and destinations around North America and the world.
From there, you can rent a car from a variety of international agencies, including Avis, Hertz, and Enterprise. There are kiosks for most of these major agencies right at the airport itself.
If you are going to drive the Icefields Parkway in winter, definitely get a car with winter tires so you can stay safe and secure while winter driving.
You can also rent a car from Calgary's city center. In my experience, I've found that the rates for car rentals downtown are significantly cheaper than at the airport.
If you would prefer to rent a campervan where you can sleep and cook, there are a few agencies that operate out of Calgary as well. I've never personally done this in the Canadian Rockies, but two agencies that seem to have great reviews are Escape Campervans and Karma Campervans.
The best way to get around is to rent a car and explore on your own! We recommend Rental Cars, which has the largest range of vehicles for the best value on the market.
But if you've always dreamed of traveling along the Icefields Parkway, and you'd rather not rent a car, there are plenty of great tours that will take you to the highlights.
Though it is ideal to spend a few days or more exploring the area with your own vehicle, guided tours from Jasper town, Lake Louise, or Banff can help you see everything without a car.
Where to Stay near the Icefields Parkway
As this is a major tourist destination in Alberta, there are plenty of places to stay during your Icefields Parkway itinerary.
While you can opt to drive the entire parkway in one day (it's only about 3 hours from Banff to Jasper), I'd strongly recommend taking your time and spending a night or two in the area.
Here are a few options for all budgets for where to stay when you drive the Icefields Parkway:
Lodge: Sunwapta Falls Rocky Mountain Lodge is built into a cozy log cabin, and rests toward the northern part of the Icefields Parkway, right next to Sunwapta Falls. Here, you'll find comfortable rooms and a full-service restaurant.
Hostel: HI Beauty Creek Wilderness Hostel is a hostel in the middle of the Icefields Parkway, often frequented by hikers and ice climbers. They offer dorm beds at reasonable rates and awesome access to the Parkway as a whole.
Camping: Camping is usually the accommodation option that I choose when I go to the Canadian Rockies. There are tons of campsites dotting the Icefields Parkway, both in the Banff and Jasper jurisdictions. Many of them are first-come, first-served, meaning you'll need to show up early on the day you want to camp to inquire about availability.
Things to Do on the Icefields Parkway
Of course, you're probably not going to simply drive the Icefields Parkway without stopping for some epic views and adventure activities.
You can admire the famous alpine lakes such as Bow Lake, Peyto Lake, and the iconic Lake Louise. You can trek across the Athabasca Glacier or see incredible views at Crowfoot Glacier.
Go canoeing, hiking, ice-climbing, and more. You can pack so much amazing stuff into an Icefields Parkway Itinerary, so try to make the most of your time there.
To help you plan your trip, here are some incredible activities to try while you're driving through the Icefields Parkway.
You can also see the locations of these stops on the official Icefields Parkway map here.
Stop at a Glacier Viewpoint
If you're going to do one thing on the Icefields Parkway, be sure to take advantage of the various overpasses and road shoulder areas that boast some of the most amazing views of the landscapes surrounding the highway.
There are several of these kinds of lookout points all over the Parkway, starting at Peyto Lake, which is just past Lake Louise after you turn onto the Icefields Parkway.
Later on, towards Jasper National Parks, you'll find even more roadside viewpoints that overlook sparkling alpine lakes, marvelous mountain ridges, and of course, the Columbia Icefield and its many glaciers.
You should stop at as many of these as you want — they're there for a reason!
Please make sure you ONLY stop at the designated viewpoint areas and NOT in the middle of the highway. Trust me, I know that the landscapes are beautiful and it can be tempting to slow down or stop in the middle of the road while driving to admire the views.
For your and everyone else's safety, please don't do this! Find a safe place to park your car before admiring the views around you.
Pro tip: These viewpoint areas can get REALLY popular during the summer, so if you're hoping to stop off at a lot of them, I recommend starting early in the morning.
This way, not only will you get to soak in the views without as many crowds, but you'll also be able to capture the gorgeous morning light on the faces of the mountains. Score!
Check out our Ultimate Canada Travel Guide for more tips!
Go Hiking Along the Icefields Parkway
For the hikers out there, there are TONS of awesome trails in the Icefields Parkway area that you definitely shouldn't miss.
Among them are trails that take you above canyons, through evergreen forests, and bring you to hidden alpine lakes or breezy viewpoints to soak in the most breathtaking views of the entire area.
Pro tip: If you're planning on hiking, be sure to pack plenty of water, extra layers (including a waterproof rain shell), and a can of bear spray in case of an unexpected run-in with wildlife. You can get bear spray at most outdoor outfitters in Calgary or in one of the nearby national parks.
While I could probably write an entire new post on the hikes in the Icefields Parkway, here are a few great ones to get you started:
Mistaya Canyon
This short, 1.1-kilometer canyon trail is perfect for beginner hikers or families looking for some fresh air and beautiful views.
You'll make your way along jagged, eerie gray rock formations that have the most beautiful, teal water running through them.
The Mistaya Canyon trail is a bit lesser-known than most, so there's a chance you'll have some areas of it to yourself!
Parker Ridge
The 5-kilometer, moderate Parker Ridge Hike is a perfect, slightly longer hike to catch some of the most stunning glacier views around the Icefields Parkway.
You'll take a series of switchbacks up to the top of the ridge, where you can catch a magnificent glimpse of the Saskatchewan Glacier and its corresponding river below.
Chephren Lake
This easy to moderate 7.7-kilometer hike takes you through a forested trail to a beautiful, deep turquoise-colored lake surrounded by rock walls and peaks.
This trail can get muddy after periods of snow melt or rain, so bring waterproof hiking boots and thick socks!
Helen Lake & Cirque Peak
As a challenging hike, this 17.2-kilometer trail is a full-day adventure that will take you to the beautiful Helen Lake, before ascending a steep slope to the top of Cirque Peak.
If you're looking for a shorter version of this hike, simply stop at Helen Peak and turn back — the views are still excellent and you'll still have time to do other activities in the area that day.
For more hiking ideas, check out our Ultimate Guide to the Best Banff Hikes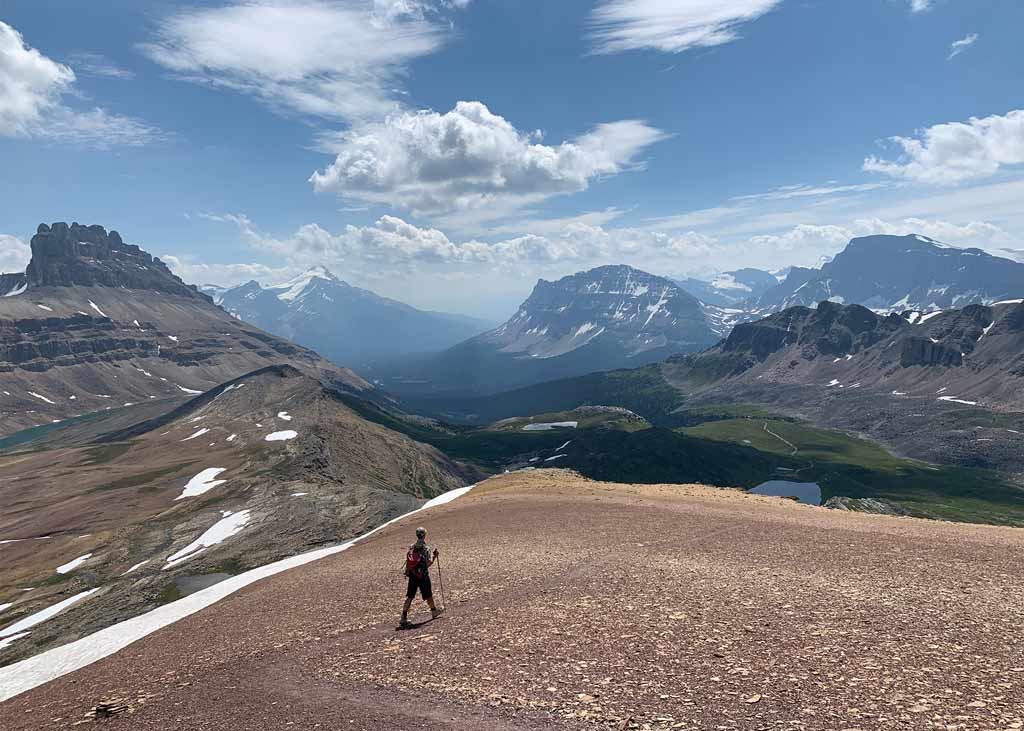 Chase Some Waterfalls
As an area with tons of glaciers, rivers, and mountain springs, you're bound to run into some beautiful waterfalls at some point during your trip along the Icefields Parkway.
Even in the winter, you may be able to catch some of the waterfalls frozen into giant, light blue icicles, which is a really freaking beautiful display of nature.
Here are a few of the most popular waterfalls that you can visit along the Icefields Parkway.
Weeping Wall
One of the more unique waterfalls in the area, the weeping wall is a vertical rock face that has small waterfalls that "weep" during the summer.
In the wintertime, this set of cliffs is a popular spot for sport ice climbers. However, in the summer, you can simply visit to watch the beautiful cascade of water over the rocks.
Sunwapta Falls
Quite possibly my favorite waterfall in the entire Icefields Parkway area is Sunwapta Falls, a beautiful set of falls in the Sunwapta River in the southern part of Banff National Park.
Sunwapta means turbulent water in a local indigenous language, Stoney. You can see why Sunwapta Falls was named so when you arrive at this set of powerful falls.
Sunwapta Falls consists of two waterfalls that converge into one incredible epic viewpoint.
Bow Glacier Falls
Getting to Bow Glacier Falls requires an 8.7-kilometer hike from Bow Lake, but it's certainly worth the time and effort to see one of the most beautiful waterfalls (and surrounding viewpoints) in the area.
You'll pass over wooden bridges along the Bow River as you take on this leisurely uphill trail. This waterfall is popular among ice climbers in the winter, as the falls can freeze over.
Athabasca Falls
Located in Jasper National Park, Athabasca Falls is a popular stop on any Icefields Parkway itinerary. It isn't the biggest waterfall in the area, but it is considered one of the most powerful.
Athabasca Falls drops about 25 meters and is surrounded by beautiful forests. Turn off the Icefields Parkway when you see the sign for Athabasca Falls, and the main viewing platform is right there.
For a bit of an adventure, hike the Athabasca Falls Trail which takes you to the upper falls and lower falls and traverses the Athabasca River and canyon.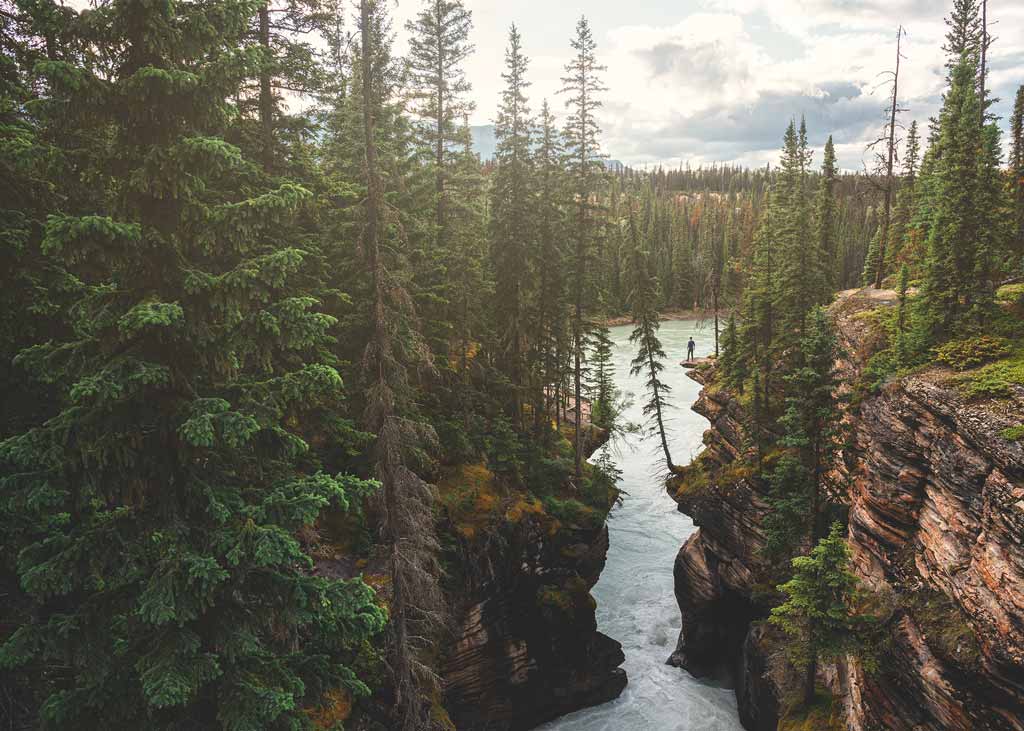 Tangle Creek Falls
This multi-tiered waterfall near the Columbia Glacier Skywalk is definitely one of the most beautiful in Western Canada.
It is easy to miss Tangle Creek Falls as there is just a small sign on the side of the Icefields Parkway for "Tangle Creek". Pull over here into the small parking lot and complete the short walk to the falls – it's worth it!
Visit the Columbia Icefield Glacier Discovery Centre
The Columbia Icefield Glacier Discovery Centre is part info-center and part museum. It sits off of the Icefields Parkway about an hour and a half away from the Jasper Information Centre.
Here you can check out the exhibits, which feature the region's many glaciers, to learn more about how they were formed.
Admission to the Columbia Icefield Glacier Discovery Centre is free, and you can also meet here to embark on the free shuttle to the Glacier Skywalk. You can also get information on several glacier treks and tours inside the building.
If you're feeling hungry, grab a bite at the restaurant, Altitude, where you can enjoy amazing views of the glaciers through the several windows spanning the perimeter of the building. Lunch is buffet style, while dinner and breakfast are a la carte.
Take advantage of the Canadian-inspired menu selections, which include roasted beef, west coast salmon, and beef tenderloin.
If you are just passing by on the way to Jasper, plan to spend 30 minutes here for a quick pit stop.
Walk the Glacier Skywalk
Take a walk along a 400-meter-long glass-bottomed walkway that overlooks the gorgeous Sunwapta Valley!
The Glacier Skywalk, which sits 280 meters above the ground and extends 35 meters out from the edge of the cliff, offers jaw-dropping views of the Columbia Icefield and Sunwapta Valley. It's a really great activity to experience amazing views without any strenuous hiking — perfect for families or non-hikers!
The Skywalk is located about 6 km away from the Columbia Icefield Discovery Centre, but there is no parking onsite. Visitors have to park at the Discovery Centre and take a free shuttle to the Skywalk.
The Skywalk usually opens at 10 am and closes in the late afternoon, depending on the time of year. To check the closing hours for the dates of your trip, check the Columbia Icefield website.
If you're planning to do the Skywalk, you'll spend about 45 minutes to an hour there.
Pro tip: Tickets can be purchased either on the day of at the Columbia Icefield Discovery Centre or online. They cost $35 at the door, but you can pre-purchase them online in advance for a 10% discount.
You can also book your ticket on Get Your Guide, which includes entry to the Columbia Icefield Skywalk, an audio guide, and a round-trip transfer to Jasper.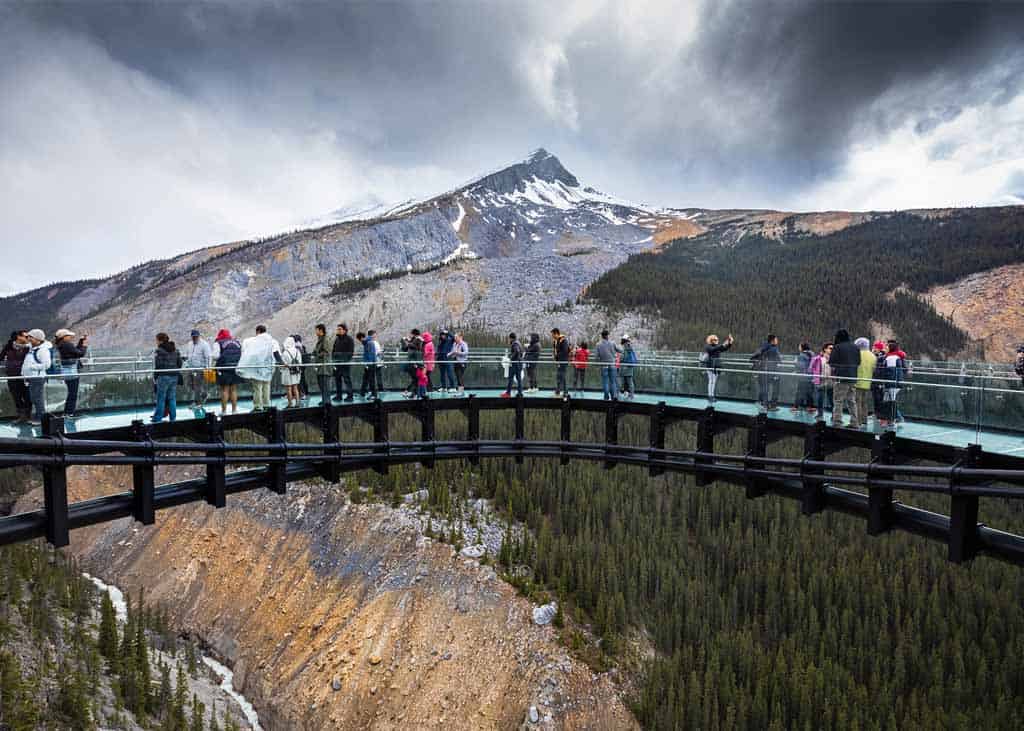 Do An Athabasca Glacier Trek
One of the most incredible things you can experience along the Icefields Parkway is a glacier trek. A great place to try this is Athabasca Glacier in Jasper National Park. This is one of North America's most visited glaciers.
If you're feeling brave, book an Athabasca Glacier Tour where you can walk on and drink from the 10,000-year-old sheet of ice (with an expert guide and the right equipment, of course!).
Several tours run daily from the Columbia Icefield Discovery Centre and most operate between late spring to early fall. The itineraries are typically similar across the different operators.
You'll be taken out to Athabasca Glacier on a huge all-terrain bus with a knowledgeable guide who will teach you about the area's history, how the glaciers have formed and moved over the years, and how the geography of the area has impacted the ecosystem.
After arriving at Athabasca Glacier, you'll get to walk directly on the ice and explore crevasses and hills.
Some tours are all-day events (10 am – 5 pm), but you can find shorter trips at the Discovery Centre that are 3 hours in length. All required gear (crampons and ice picks, if necessary) are usually included in these tours.
Trekking across Athabasca Glacier is one of the coolest experiences in southern Alberta.
See the Famous Lake Louise
If there's one sight on the Icefields Parkway that every tourist wants to see, it's Lake Louise.
Lake Louise is a gorgeous glacial lake in Banff National Park that is surrounded by the towering mountains of the Rocky Mountains. It is the quintessential view of Banff, and is a must-see along the Icefields Parkway.
Lake Louise is also the name of the small tourist town next to the lake. Fairmont Chateau Lake Louise is a famous luxury lodge right on Lake Louise. If you want to treat yourself to the best possible accommodation along the Icefields Parkway, consider a stay here.
But most visitors just visit Lake Louise for the day. The Lakeshore Trail is the most popular way to see Lake Louise. This easy walking trail follows the edge of the lake so you can admire all the views.
Other fun things to do in Lake Louise include renting a canoe and going for a paddle, or completing the 4-mile round trip hike up to Lake Agnes Tea House.
Of all the stunning turquoise lakes along the Icefields Parkway, and there are many, Lake Louise is the most popular.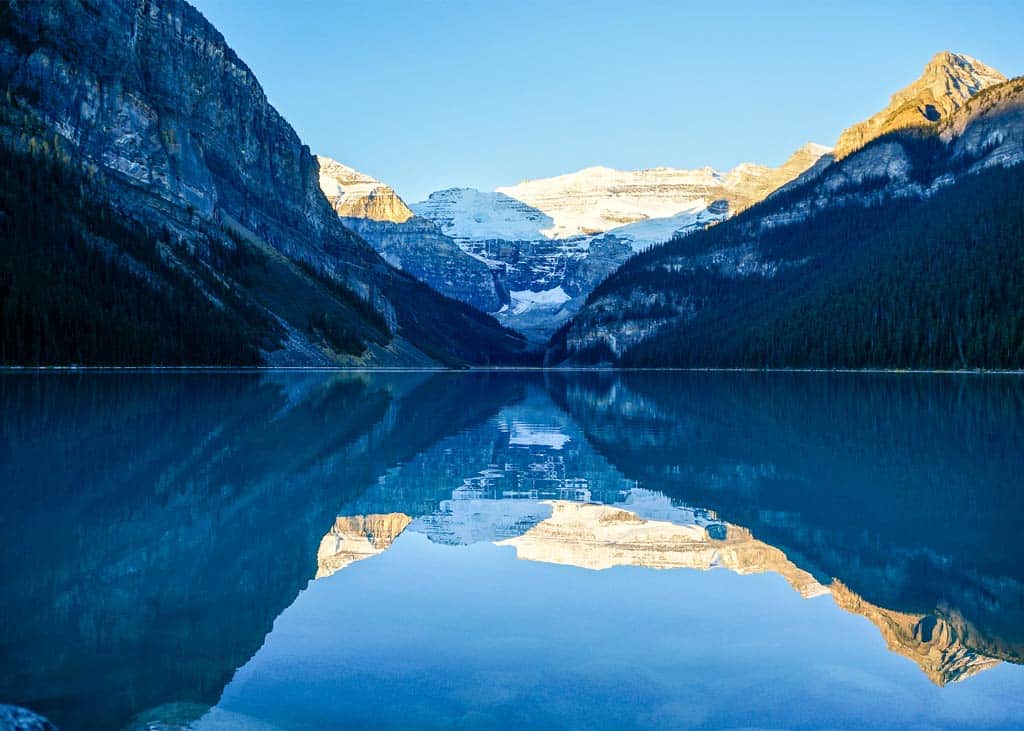 Visit the other Stunning Glacial Lakes
After leaving Lake Louise, head to some of the other turquoise lakes in the area. I'll mention three of the best ones in detail, though there are so many others including Herbert Lake, Chephren Lake, Vermilion Lakes, and the Waterfowl Lakes.
Moraine Lake
Moraine Lake is just 20 minutes from Lake Louise, so the two are often visited together. This beautiful lake is similar to Lake Louise.
It has vibrant blue water, mountains, and forests in the background, and you can hike or rent a canoe in summer.
If you want a break from driving, you can also book a sightseeing tour from Banff which includes Lake Louise and Moraine Lake.
Bow Lake
Bow Lake is another popular spot to visit. Just a 30-minute drive north of Lake Louise this lake is a slightly smaller and less touristy option.
Bow Lake is fed by icy water from the Bow Glacier in the Wapta Icefield. It's a peaceful place that is great for a casual stroll or a picnic lunch by the water. You can swim in the lake if you want an adrenaline rush from the freezing glacial water, but most visitors opt for admiring the lake from the shore.
Bow Lake and Crowfoot Glacier viewpoint are nearby, so it's easy to combine the two into one visit.
Peyto Lake
Just a 5-minute drive north of Bow Lake lies Peyto Lake, another gem of the Icefield Parkway.
Though its vivid-turquoise hues may look inviting, most visitors don't actually go to the shores of Peyto Lake because it's surrounded by forest and is kind of difficult to access.
The best thing to do at Peyto Lake is hike to one of the viewpoints and just admire the views from above.
From the Peyto Lake parking lot there is a 500-meter trail up to the viewing platform. The trail is called both the Peyto Lake Viewpoint Trail or Bow Summit Lookout Trail, and this is the easiest hike with the best views.
You could also embark on a more difficult hike up to Observation Peak, which is 8km total.
Wrapping up this Icefields Parkway Travel Guide
Hopefully this guide has provided you with all the info you may need to embark on an incredible drive of the Icefields Parkway.
This is truly one of the best things to do in Canada, and this may be one of the most scenic drives in the world.
From the jagged mountain peaks and sweeping valleys to the glittering glaciers, sapphire lakes, and tumbling waterfalls, this beautiful corner of western Canada may be one of the most beautiful places you will ever visit.
DISCLAIMER: Some of the links in this article are affiliate links, which means if you book accommodation, tours or buy a product, we will receive a small commission at no extra cost to you. These commissions help us keep creating more free travel content to help people plan their holidays and adventures. We only recommend the best accommodations, tours and products that ourselves or our fantastic editorial team have personally experienced, and regularly review these. Thanks for your support, kind friend!