Planning a trip to one of Tasmania's most beautiful (and delicious) islands? Don't miss all these incredible things to do on Bruny Island on your visit!
If you like food, wine, cheese and some of the best easy day hikes in Tasmania, then Bruny Island is the place for you!
Located just off the southeastern coast of Tasmania and a short drive from Hobart, Bruny Island is a remarkably diverse and beautiful destination where you can spend your days out in spectacular wilderness, learning about native wildlife or fill your stomachs with delicious food and wine (or beer).
Well, that's what we did, and there really is something to offer for every traveller.
To make a visit to Bruny Island even easier, you can take your car or motorhome over on the ferry for a reasonable cost, meaning you'll have your own transport to get around.
No trip ticking off all the great places to visit in Tasmania would be complete without spending a day (or a weekend) exploring all the incredible activities and attractions here.
To help you plan your trip, here's our comprehensive guide to the best things to do on Bruny Island.
The Best Things to Do on Bruny Island, Tasmania
We really enjoyed our time here and were overwhelmed with all the things you can do on Bruny Island.
We took our campervan over for 3 nights, which was the best thing we could have done as it gave us the freedom to explore on our own time.
If you don't have your own wheels there are lots of great day tours you can book. This one is by far the best you can do as a day trip from Hobart.
The best way to get around is to rent a car and explore on your own! We recommend Rental Cars, which has the largest range of vehicles for the best value on the market.
It was our goal to find out what to do on Bruny Island and tick off as many of the activities as possible.
So if you love eating local food, sampling boutique beer and wine, hiking coastal headlands, visiting quaint little shops and diving into history, you're in for a treat with this article of the best things to do in Bruny Island.
---
1) Try Some Local Honey at The Honey Pot
Our first stop on our trip to Bruny Island was to The Honey Pot, where we tried all kinds of different, you guessed it, honey products!
The Honey Pot is a local beekeeping business that makes incredible, award-winning honey.
Much more than just a place to buy sweet nectar, the storefront is filled with all kinds of information about bees and honey making.
As adults, we found this fascinating, but if you're looking for things to do on Bruny Island with kids, this is really interesting.
You'll find all different types of honey here, including Leatherwood, Manuka, Prickly Box, Fennel, Clover, Bush and Blue Gum. We honestly had no idea there were so many different varieties before we arrived!
And best of all, you can try them all! Well worth stopping by when you drive past.
Address: 2273 Huon Hwy, Huonville, Bruny Island Tasmania
Hours: 9am – 5pm
Phone: 0408 052 606
2) Bruny Island Cheese and Beer Co.
Next we stopped off at the Bruny Island Cheese Company on North Bruny, where they make their own beer, wine and cheese. I know – everything you need in one place!
Nick Haddow, the owner of Bruny Island Cheese Co, has a passion for cheese and being a specialist cheese maker, he was committed to the traditional methods of making cheese.
They have display windows so you can have a look into the kitchen and see how they make all their different products.
We got a taster plater and settled in with some drinks to give them a try. The flavours and textures were unreal. Even the wood-fired bread was amazing.
In 2016 they added craft beer to the mix, and boy are we glad they did!
Using locally grown ingredients for their beers with 100% Tasmanian grown hops, they brew a number of delicious ales and stouts.
Because their recipes rely on whatever local ingredients they can get their hands on, you never know what they'll have on tap.
We recommend getting the tasting paddle so you can try them all and choose your favourite. They also have a tasting paddle of some local Bruny Island premium wines.
The atmosphere at Bruny Island Cheese Co is also fantastic, with a spacious and lush outdoor area making everyone who comes in want to settle in for the day to eat and drink their worries away.
Address: 1807 Bruny Island Main Rd, Great Bay, Tasmania Australia
Hours: 9:30am – 5pm
Phone: (03) 6260 6353
3) Cape Queen Elizabeth Hike
Location: Near Bruny Island Airstrip. Across the road from The Honey Pot
Distance: 7km return out to The Arch or 12km return out to the Cape
Time: 2 – 4 hours return
To work off all the cheese, beer, wine and honey, make sure you go out on a hike to Cape Queen Elizabeth.
This hike is popular for people who want to see the iconic arch right on the beach. Everyone gets their photo there, and we did too of course.
Start from the carpark across the road from The Honey Pot place. You will follow a 4WD trail (not for the public), which will get thinner and eventually turn into a bush trail.
Once you get to a fork you can go down to the beach or up over the mountain, depending on the tide (check the tide chart at the trailhead).
READ MORE: Keen to do some more hiking around the state? Check out our list of all the epic things to do in Tasmania!
At low tide you can walk along the beach and around the rocks to get to the famous arch and beyond out to Cape Queen Elizabeth. Many people will just walk out the arch and head back.
If it is high tide, you will not be able to make it around the rocks on the beach. Instead take the trail up the hill over the other side and access the arch and trail to Cape Queen Elizabeth from there.
The walk is truly stunning, no matter whether you go all the way to the Cape or just. to the arch. Make sure you take water and some snacks with you.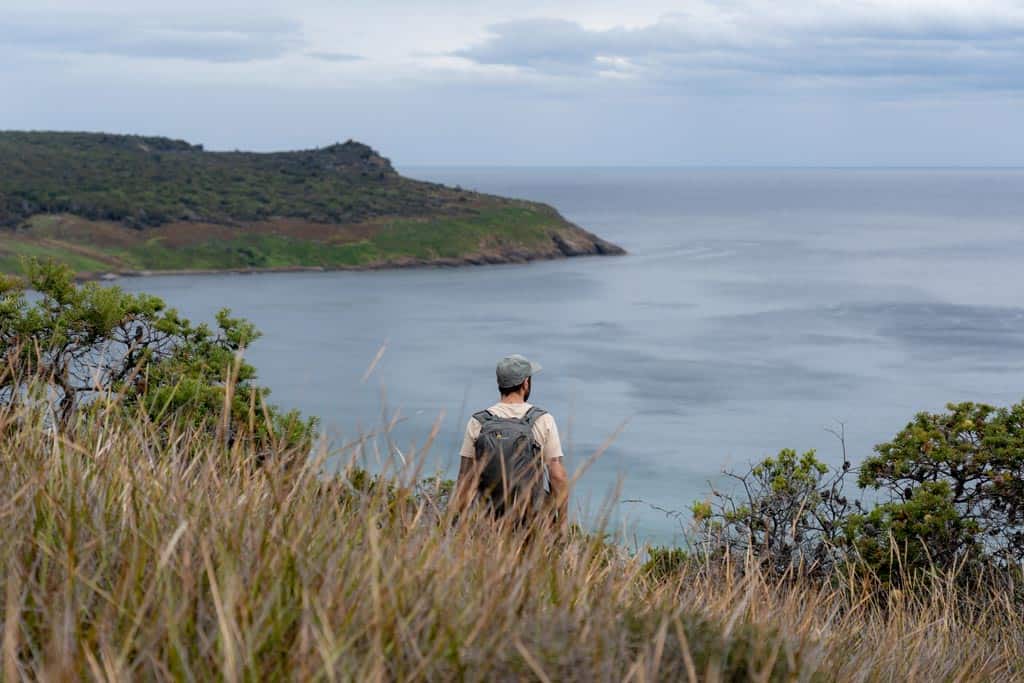 4) Walk the Green Point Trail
Location: At the end of Adventure Bay Road
Distance: 4km return
Time: 1 – 1.5 hours
The Green Point Trail is one of the best things you can do on Bruny Island if you have young kids or do not want to do a strenuous hike. It is not pram or wheelchair friendly though.
Start at the Grass Point Trail at the end of Adventure Bay Road from the Fluted Cape parking area.
From here walk along the beach and then up onto a flat, well-maintained trail that follows the edge of the bay.
You may spot different wildlife along the way so keep your eye out. The trail will lead you all the way out to Green Point. There is an information board at the end to tell you more about the area.
After your relaxing walk keep an eye out for Bruny Island's famous white wallaby, as this is the bay where this little one lives.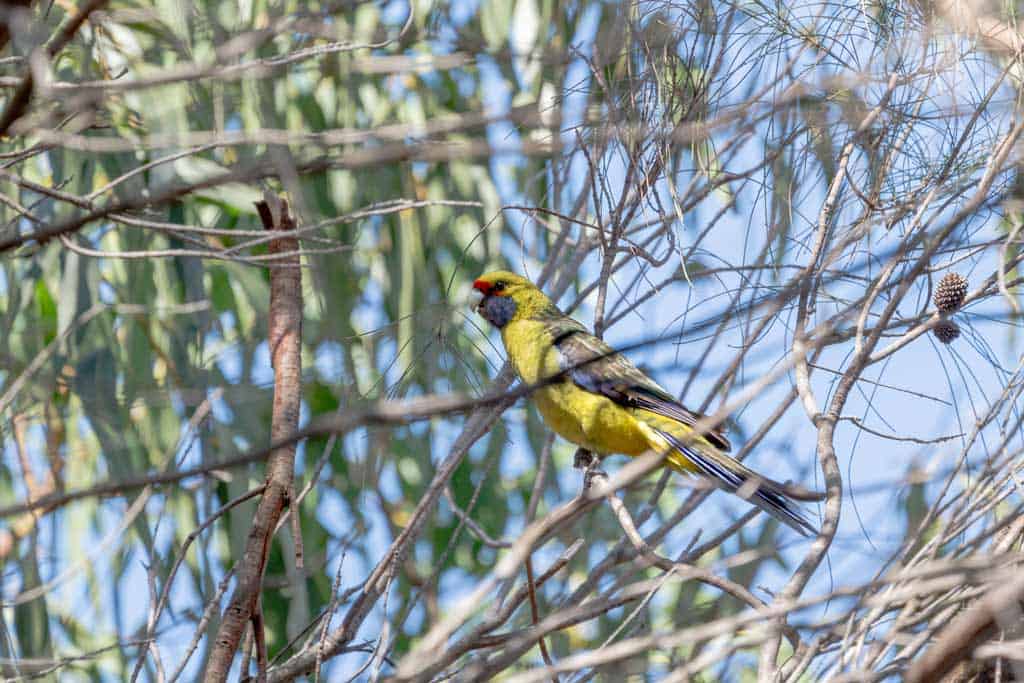 5) Hike Up to the Fluted Cape Lookout
Location: At the end of Adventure Bay Road
Distance: 5.6km return or 6.2km for the whole loop
Time: 2.5 – 3 hours
Still feel like walking? Perfect! Because the Fluted Cape Track out of Adventure Bay is one of the best hikes on Bruny Island.
Located within South Bruny National Park, this delightful, adventurous circuit walk cuts past Green Point and up over Fluted Cape, following precarious sea cliffs and offering incredible views.
​You can do the hike in either direction. If you hike anticlockwise you will head to Green Point first and follow the cliffs up to the Fluted Cape Lookout.
Clockwise, which is the direction we went, takes you up a steep path through the forest, getting you to the top quicker and allowing you to walk at a gentle downhill slope back down along the elevated coastline.
The highlights include standing on the edge of enormous cliffs, views out to Penguin Island and Adventure Bay, and if you're lucky a lot of birdlife in the national park.
Definitely a tourism highlight in our list of Bruny Island activities. South Bruny National Park is a real gem.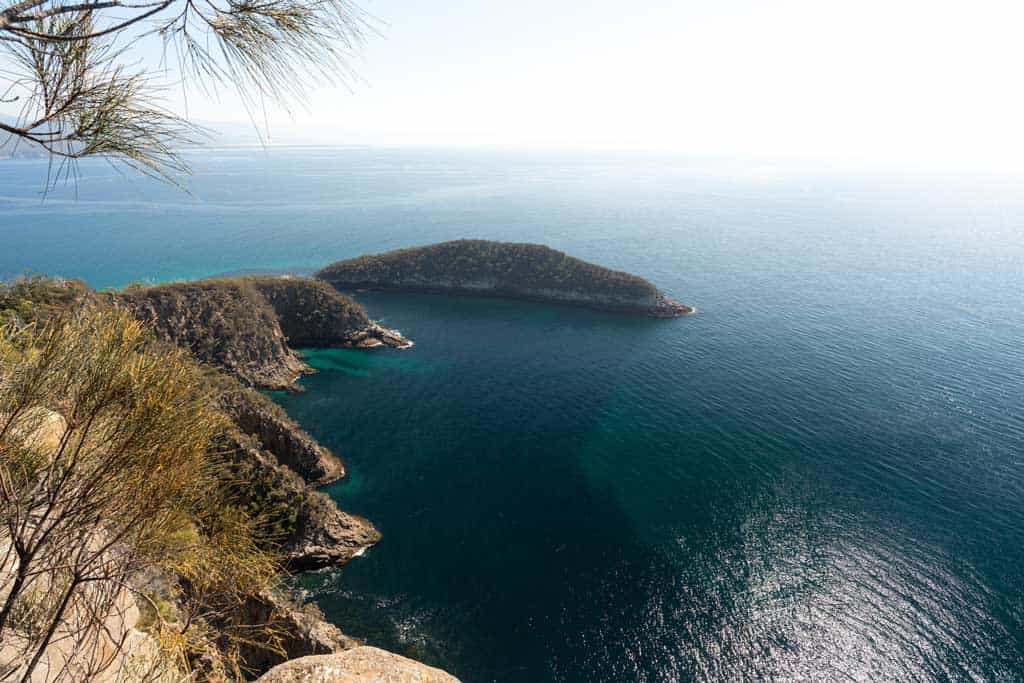 6) Take a Scenic Flight Over Bruny Island
Why not see Bruny Island from a different perspective?
Experience Bruny Island's diverse geography and beautiful beaches from the air with a scenic flight over this south-eastern Tasmanian island.
You'll enjoy stunning views of The Neck, the rugged coastline, mountains and more as the experienced local pilots take you up for an unforgettable ride.
Located right on the Bruny Island Main Road, Island Scenic Flights is the only carrier based at the Bruny Island Airport.
They have different flights available for you to choose from here.
READ MORE: Have more time? Don't miss our expert guide on how to spend 2 weeks in Tasmania on a road trip!
7) Go to the Truganini Lookout for Sensational Views Over The Neck
Truganini Lookout is located on the narrow isthmus of land that separates Bruny Island from north and south, better known as 'The Neck'.
This spot provides arguably the most iconic view of Bruny Island, and you can get gorgeous 360 degree views over the island. It is incredible how far you can see.
The lookout is named after a woman widely considered to have been the last full-blooded Aboriginal Tasmanian, Truganini.
Sadly herself and her family suffered terrible cruelty at the hands of colonial settlers, as did all of the Tasmanian Aboriginal population.
Despite its horrendous past, it is great to see Bruny Island honouring and acknowledging Truganini.
The lookout is a great spot to visit for sunset or sunrise, especially if the sky lights up.
You get beautiful views over Isthmus Bay, Great Bay and Adventure Bay. You can see for miles on a clear day.

8) Visit the Penguin Rookery
While you're hanging out at The Neck, you'll have the chance to see the fairy penguins at night at the penguin rookery.
This is a magical experience, and should not be missed when ticking off all the incredible things to do on Bruny Island.
Park at the Truganini Lookout carpark and instead of climbing up to the lookout head to the beach on the boardwalk. After a short time, you will find yourself at the rookery.
The penguins come up to the beach one by one from the sea and climb up the below rock formation that resembles a wave.
They waddle up, hop into their little cave and then they finish waddling over to their partner or chicks.
Penguins will nest just about anywhere they can find a spot that is out of the wind and with access to the water.
You can only see the little penguins from the months of September and April, and after dusk. But of course, fairy penguins don't follow a clock, so you may have to wait an hour or two after dusk before they appear.
We went 2 nights in a row and only saw them on the second night as we left too early on the first.
Make sure you have a red light to not disturb them, and as with any wildlife, please keep your distance and don't approach them or leave the platform.
9) Learn About the Cape Bruny Lighthouse
At the end of the road on Bruny Island you'll come across its most famous attraction – the Cape Bruny Lighthouse.
The 114m tall lighthouse was built in 1836, towers over the spectacular dolerite cliffs of Cape Bruny and offers panoramic views of the rugged South Bruny coastline.
You can't actually go inside the Cape Bruny Lighthouse on your own, but if you would like you can join a private tour and go up with a guide.
The tour guide will take you up to the top of the Cape Bruny Lighthouse where you can get an even better view and learn all about the history of the building.
If you are into astrophotography (use our photography guide to help you get the best images), this is a great spot too because there's no light pollution (except for the lighthouse of course), and looking south there's no land until you hit Antarctica!
The last part of the road out to the Cape Bruny Lighthouse is not smooth so be aware. A 2WD car can easily get out there but the road has a lot of corrugations on it.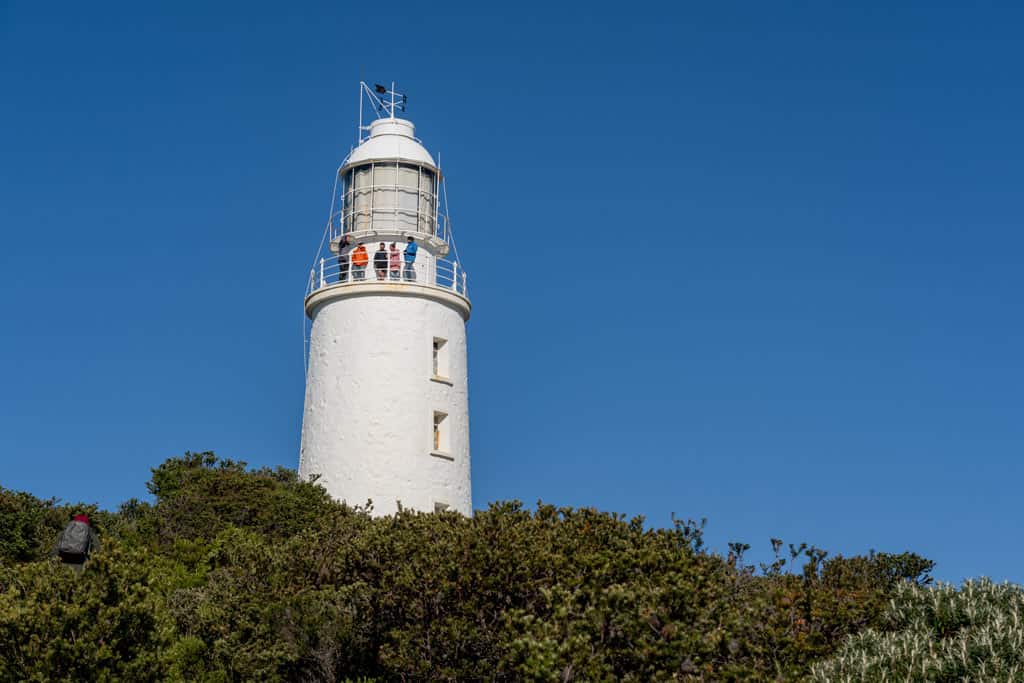 10) Hike the Luggaboine Circuit
Location: Labillardiere Peninsula near Lighthouse Jetty Beach.
Distance: 4km loop
Time: 1.5 – 2 hours
If you're looking for more hikes to do on Bruny Island, you're in luck because this one is a beauty!
The Luggaboine Circuit is the easy, shorter 4km circuit walk on the Labillardiere Peninsula in South Bruny National Park, heading out to Standaway Bay and Great Taylors Bay.
Along the way, you'll find all kinds of wildlife, lush scenery, high cliffs, interesting caves and picturesque natural rock pools.
The path starts from the picnic area carpark in South Bruny National Park. From here follow the well signed path that will take you to Standaway Bay first.
After walking about 2km you will come to a fork. This is where you will cut across the peninsula to the other side where you get great views of Great Taylors Bay.
This is an easy walk which is great for all ages. If you want to extend your walk and make a day of it, check out the Labillardiere Peninsula Circuit below, which is the larger loop on the peninsula.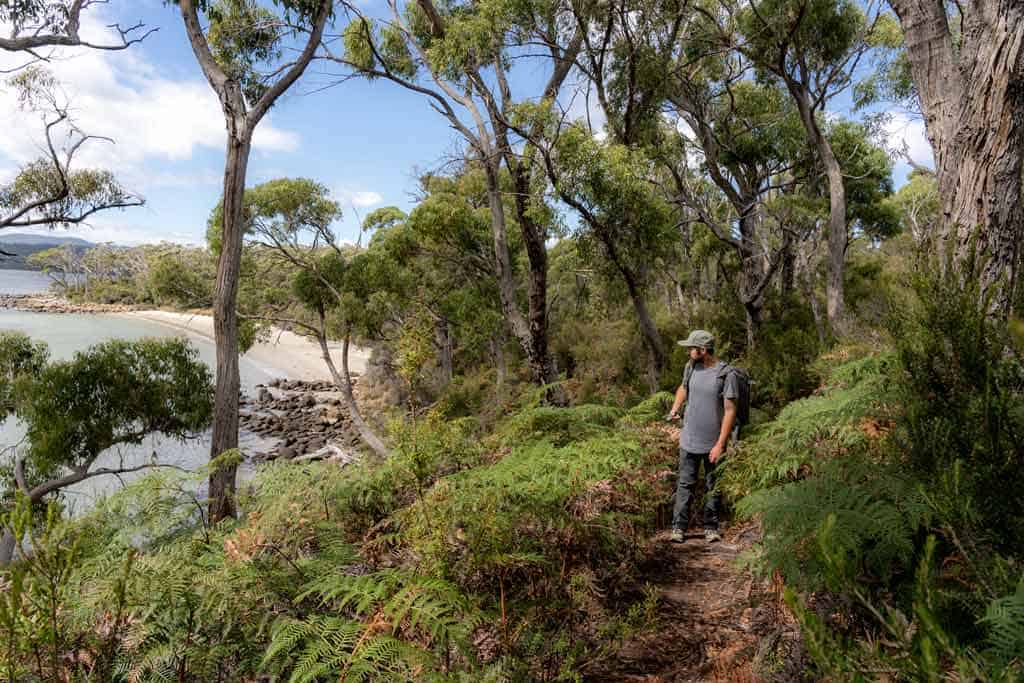 11) Hike the Whole Labillardiere Peninsula Circuit
Location – South Bruny National Park near Lighthouse Jetty Beach
Distance – 18km loop
Duration – 5 – 6.5 hours
One of the best free things to do on Bruny Island is tackle the whole Labillardiere Peninsula Circuit, a fantastic, long and varied walk around the picturesque Labillardiere Peninsula in South Bruny National Park.
It is one of the 60 Great Short Walks of Tasmania, if you are ticking that list off (and you should be).
Along this stretch, you'll find constant coastal views mixed with mountain vistas as well as stretches of beautiful sandy beaches, perfect for relaxation or exploration.
This low-level stroll also provides an excellent opportunity to see wildlife such as wallabies, parrots, marine life and other colourful flora like wildflowers, including orchids!
From the Jetty Beach campground, you're taken west along a 4WD track for views of rugged mountains in Tasmania's southern ranges as well as deserted rock spree beaches that are worth checking out.
Continuing onwards, Mount Bleak is climbed up next with its first glimpses of Partridge Island – home to the rare forty-spotted Pardalote (a bird that has seen an alarming decline).
READ MORE: For one of Australia's best hikes, don't miss out on the Three Capes Track in Tasmania!
Along the hike you will pass Point Labillardiere, Hopwood Point, Hopwood Beach and Botlers Beach, which all offer great views.
You will follow the path back towards Lighthouse Jetty Beach with nice views over Great Taylors Bay.
This hike will take you between 5 – 6.5 hours return so be prepared with enough water and snacks or lunch. There are no facilities along the way.
There are drop toilets at the Jetty Campground where you start and end your hike.
12) Bruny Island Cruises
If you want to see the breathtaking coastline from the water, then this is the tour you need to take.
Bruny Island Cruises has a 3 Hour Wilderness Cruise which explores the rugged cliffs and beaches of the island.
You'll cruise alongside some of Australia's highest sea cliffs, beneath towering crags and drift up close to listen to the awesome 'Breathing Rock'.
You sail past sea caves and cruise through the narrow gap between coast and "The Monument", feel nature at its most powerful point where the Tasman Sea meets Southern Ocean.
You may see seals, dolphins, migrating whales (depending on the season) or even penguins! Bruny Island Cruises does a great job of letting tourists see the real wilderness around Bruny Island.
This is the best way to find out about this area and learn the history of when the Tasmanian Aboriginal people first inhabited this beautiful area over 2000 years ago.
13) Get Into the Oysters at Get Shucked!
Get Shucked is all about a truly authentic, amazing oyster experience. Head on down to Bruny and drop into Get Shucked for some fresh oysters!
Get Shucked is a company that specialises in Australian oysters that come from the waters of the D'Entrecasteaux channel and are grown for 6-12 months.
The end product, an elite Pacific Oyster, has noticeable sweet flavours with full body and briny meat. Or so they say.
We personally did not try them as we are vegetarians, but if you love your seafood and want to try some fresh oysters, check these guys out.
Address: 1735 Bruny Island Main Road, Great Bay, North Bruny
Hours: 9:30am to 4:30pm
Phone: 0439 303 597
14) Have a Nip at the Bruny Island House of Whisky
If you are a whisky or gin lover, before you get back on the ferry to head back to the mainland, check out the House of Whiskey.
These guys have a tremendous passion and endless knowledge of whiskey and gin, and you can learn all about it by trying out one of their tasting paddles.
If you've ever wanted to pick up a bottle of Tasmanian Single Malt, this is the place to do it on your trip around the state.
Address: 360 Lennon Rd, North Bruny TAS 7150
Hours: 9:30am to 5:30pm (Hours vary by season)
Phone: (03) 6260 6344
Bruny Island Travel Guide
Now that you know all the things to do on Bruny Island, let's dive into some extra information to help you make the most of your visit.
From where to stay to how to get here, and the best places to visit on Bruny Island, we have you covered.
Where to Stay – Accommodation on Bruny Island
Bruny Island Tasmania is a perfect destination if you are looking for a place to relax and unwind.
There are many types of accommodation available, making it possible for everyone to stay comfortably no matter the budget.
The cost of accommodation ranges from basic campsites to luxury lodges and hotels.
Camping on Bruny Island
There are a couple of places to camp on the island. You can camp in the National Park as long as you have a national park pass.
The three main campgrounds people stay at to explore the whole island are:
Neck Game Reserve Camping Area – $10 per night
Jetty Beach Campground Area – $10 per night
The Pines at Cloudy Bay – Free
There are also privately owned areas where you can camp. You either need to call ahead or just show up. Check out WikiCamps to find out more.
Budget Accommodation on Bruny Island
Staying for cheap on Bruny Island isn't easy, but not impossible either, with prices starting around $150 a night.
Our favourite place to stay without breaking the budget is Bruny Island Escapes and Hotel Bruny, located in Alonnah, with a number of cottages and villas to choose from.
Mid Range Accommodation
If you can push your budget to $200 a night or a bit more, you'll have the chance to stay in the truly wonderful 43 Degrees Bruny Island!
Located in Adventure Bay, the apartment accommodation offers all the amenities you'd need to feel right at home, including kitchenettes and breakfast included.
Get in quick though as availability is limited and 43 Degrees is very popular.
The Best Luxury Accommodation
Looking for a luxury stay to spoil that special someone? Then you can't miss out on a villa at Adventure Bay Retreat Bruny Island.
Just a few short steps from the beach at Adventure Bay, this retreat is set in 33 acres of native bush land and has stunning cottages complete with hot tubs, wood heaters and the sound of birds chirping.
Accommodation doesn't get any better than this, but just like 43 Degrees, if you want to stay here you need to book as soon as possible.
Places to Visit on Bruny Island Tasmania
The island is broken up as 'north' and 'south' with The Neck in the middle separating the two halves.
There are different bays and towns all over the island, so we wanted to give an overview of all the places to visit on Bruny Island so you don't miss any.
From South Bruny National Park, to the Cape Bruny Lighthouse, to Adventure Bay, Cloudy Bay, and more, there are so many cool places to go on Bruny Island.
North Bruny Island
Roberts Point is the home of the Bruny Island Ferry terminal – the island's link with Tasmania.
Dennes Point is the northern-most township of Bruny Island. It is approximately 30 minutes drive from Roberts Point.
Great Bay is on North Bruny. Throughout its history it was mainly a farming area and this continues today. There is a sleepy township at Great Bay which is home to The Bruny Island Cheese Company. The Get Shucked Oyster Farm is also found at Great Bay, just outside the township.
The Neck – Bruny Island Tasmania
The Neck is an isthmus of land connecting north and south Bruny Island. It is an important habitat for Bruny's native wildlife, and here you'll find the Neck Game Reserve.
Boardwalks and viewing platforms enable you to observe short-tailed shearwaters and little penguins (also known as fairy penguins).
Timber stairs lead from the dunes to the Neck lookout, offering stunning 360 degree views.
South Bruny Island Tasmania
Alonnah is one of the main townships of Bruny Island. It is approximately 35 minutes drive from Roberts Point. Alonnah is home to Hotel Bruny – Australia's southern-most pub. The Bruny Island District School, Online Access Centre, Police Station and Health Service are also located at Alonnah.
Adventure Bay is a large eastern-facing bay on South Bruny. Adventure Bay is one of the main townships of Bruny Island. It is approximately 35 minutes drive from Roberts Point. Adventure Bay Bruny Island is the base of a number of the island's main walks and a variety of tourist attractions.
The Adventure Bay Beach is a popular spot for swimming as it is one of the more sheltered beaches on the island. The area is also of cultural and historical significance with a decorated history.
Adventure Bay Bruny Island was named after Captain Tobias Furneaux's ship 'The Adventure' in 1773.
Lunawanna is one of the main townships of Bruny Island. It is approximately 40 minutes drive from Roberts Point.The nearby picturesque Daniels Bay and Little Taylors Bay both provide calm waters for swimming, boating and kayaking.
Cloudy Bay is a quiet paradise located inside the South Bruny National Park. Home to vast ranges of native Australian wildlife, East Cloudy Head and Cloudy Bay's shore-based whaling stations operated in the 1830s and are now left abandoned by locals for fear that they will be haunted again. Each year, Cloudy Bay plays host to the 'Bruny Island Surf Classic' – a Tasmanian surfing championship held on the island.
Cape Bruny is home to the famous Cape Bruny Lighthouse. The lighthouse at Cape Bruny was built between 1836 and 1838 with convict labour. The Lighthouse is approximately 1 hour and 10 minutes drive from Roberts Point.
How to Get to Bruny Island Tasmania
There is only one way to get to Bruny Island and that is by the ferry. Whether you come with your own vehicle or hop on a day tour from Hobart, you will have to take the Bruny Island Ferry to get over to the island.
Here is how to get to Bruny Island:
The best way to get around is to rent a car and explore on your own! We recommend Rental Cars, which has the largest range of vehicles for the best value on the market.
Getting from Hobart to Kettering
Getting from Tasmania's capital Hobart to Bruny Island is very easy and straight forward. You can go to Bruny Island for the day or for a couple of nights to make the most of it.
The Hobart to Bruny Island drive should take around 40 minutes. You follow the Southern Outlet Road (A6), until you hit a roundabout near Huntingfield. From there you go straight and along Channel Highway (B68), which takes you along the coast to Kettering.
The Bruny Island Ferry signage is well marked and the ferry terminal is on Ferry Road in Kettering.
Ferry to Bruny Island Tasmania- Kettering to Roberts Point
Once you reach Kettering, follow the signs to the Bruny Island Ferry terminal and pay at the booth before lining up (you don't need to pre-book).
The company is SeaLink Bruny Island. You can pay for your ticket there at the booth on the day or book it online and show your booking when you arrive.
The company runs about 20 ferry crossings a day from 6am- 7pm. It'll take less than 20 minutes for you to make it to the northern part of the island.
Make sure you get there at least 20 minutes before your departure time. If you are travelling during peak season, such as school holidays or summer months, expect some delays as it can get busy.
SeaLink Bruny Island ferries operate 7 days a week and 365 days a year.
The Bruny Island Ferry timetable is available here.
Day Tour to Bruny Island from Hobart
Another fantastic option if you don't have your own vehicle is taking a tour over to Bruny Island.
You can get a day trip tour from Hobart so all you have to do is sit back and relax. They will sort out the ferry and the stops along the way.
This is a great option if you do not have a lot of time but want to see Bruny Island as a day trip from Hobart.
The tours usually stop off at The Neck to see the view, head to Adventure Bay, out to the Bruny Island Lighthouse and on the way back to the ferry they will stop into the cheese shop so you can do some cheese tasting and also sample wine and beer.
These tours take all day from Hobart so be prepared. Depending on the company, such as Bruny Island Safaris or the one we personally recommend, they will usually pick you up from your hotel or specific landmarks in the downtown area.
DISCLAIMER: Some of the links in this article are affiliate links, which means if you book accommodation, tours or buy a product, we will receive a small commission at no extra cost to you. These commissions help us keep creating more free travel content to help people plan their holidays and adventures. We only recommend the best accommodations, tours and products that ourselves or our fantastic editorial team have personally experienced, and regularly review these. Thanks for your support, kind friend!