If you're planning a trip to this amazing French Canadian city, you'll love this list of the best things to do in Montreal! Filled with food, culture and incredible nightlife, here are our recommendations of what to do in Montreal, Canada.
Montreal is the largest city in the province of Quebec and is actually an island surrounded by the Saint Lawrence River.
One of the most picturesque cities in Canada draws from its history, making you feel like you've stepped into a charming European destination.
Located close to hotspots in the United States like New York City and Boston, it is convenient to travel to and from Montreal where there are fun activities year round.
The summers in Montreal are chock-full of incredible outdoor festivals, art installations and a collection of fabulous restaurants with outdoor seating to soak in all the sunshine. It is also the time of the world famous Montreal International Jazz Festival.
Winter months bring the perfect excuse to frequent the countless museums and galleries, days spent out skating and evenings spent in a cozy pub.
Spring boats incredible blooms all around the city and Autumn is golden and gorgeous as the leaves start changing.
READ MORE: Check out my other local's guide on how to spend 3 days in Montreal.
The Best Things to Do in Montreal
If Montreal has been on your bucket list for quite some time but you are hesitant, never fear. This article will explore the best things to do in Montreal as well as provide some insider travel tips.
While officially the first language in the Province is French, you can get by without it.
Staff in most restaurants, tourist attractions and throughout the city can speak English and will do so with their customers.
However, if you want to try your hand at learning they always appreciate the effort.
Most of the downtown Montreal attractions take place in Ville Marie, the borough where the city was actually founded. Here you'll find numerous points of interest like Old Montreal, Mount Royal Park, and more.
So whether you have 2 days or 2 weeks, the list of things to do in Montreal below should keep you busy and happy exploring The City of Saints.
1) Visit Old Montreal
Dating all the way back to the 17th century, Old Montreal is not only iconic but home to so much history.
The narrow cobblestone streets and alleyways really have that European feel to it and add to the magic of Montreal.
Shops, cafes, restaurants, and pubs line these streets, and you'll find street performers, artists and market stalls in the centre plaza.
You can fill your day with the historical attractions including the Pointe A Callier museum which is a museum housing local exhibitions of the city's history and archaeological finds & international exhibits.
Place Jacques Cartier is the heart of Old Montreal. This square marks the entrance to the Old Port of Montreal, so spend some time admiring the architecture and history of Place Jacques Cartier.
Chateau Ramzay is where you can step back in time to explore 500 years of history guided by staff dressed in traditional outfits from the time period.
The Montreal Science Centre is the perfect place for a family day out with its amazing IMAX showings and exhibits too.
BONUS ACTIVITY – See more of the city with a hop-on hop-off bus tour!
The time of year you visit will likely affect what Montreal activities you can do.
But if your visit is over the winter months you'll be able to go skating at the Natrel Skating rink where skates can be rented so no need to pack your own.
Warm-up afterwards with a coffee and sweet treat at the Le Petit Dep (2 locations) the most charming cafe in all of the Old Port.
In the warmer, less snowy months you'll be able to check out the food truck and food tour scene, market stalls and try your hand on a Zipline with Tyrolienne, and soar above the pond in the centre.
Or work on your tan at the Clocktower Beach, or treat yourself to the Bota Bota spa treatments on a converted ferry boat.
One of the more recent additions to Old Montreal is La Grand Roue, which translates to The Big Wheel (aka a ferris wheel)!
NOMADasaurus Tip – Get a Fast Pass to skip the line on La Grand Roue:
The biggest observation wheel in Canada and opened in 2017, not only is it a beautiful attraction on the skyline you'll be able to see miles over the city from the 60 m above Montreal as you go around.
Cirque De Soleil has a resident big top here which is always exciting if you can score tickets to whatever is showing at the time of your visit.
Do yourself a favour and stick around for sunset in Old Montreal. That's my favourite way to see the Old Port and its one of the best Montreal travel tips.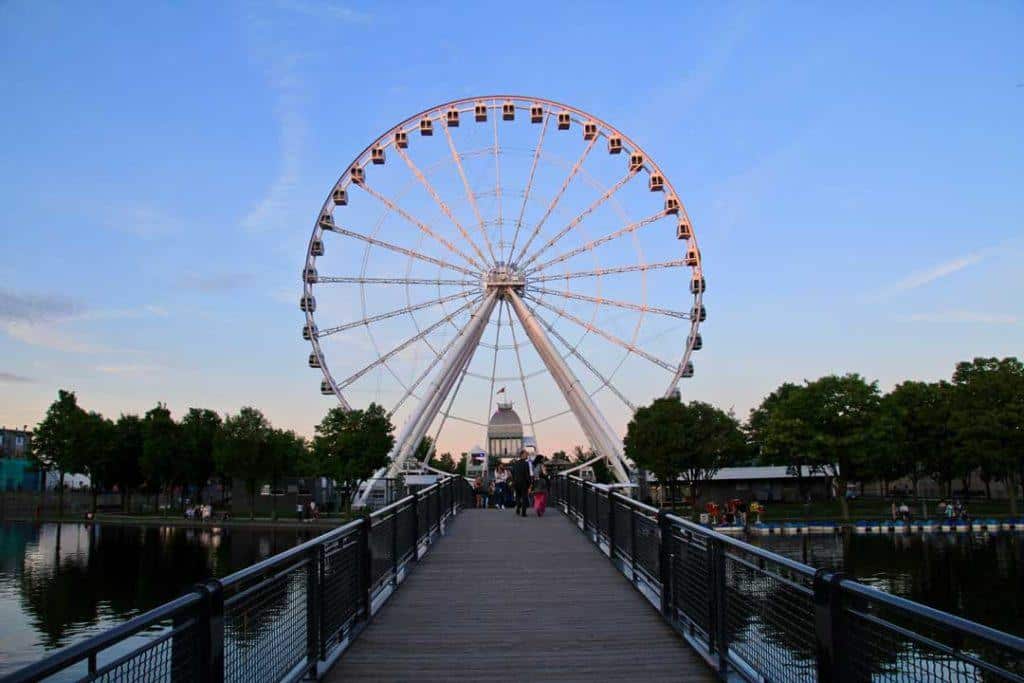 2) Notre Dame Basilica
Located in Old Montreal, this Basilica is visited by over 11 million people annually, making it one of the most visited monuments in North America.
Facing Place D'Armes square on the corner of a cobbled street the outside of the basilica is impressive on its own but it's the interior that draws visitors from around the World.
The Gothic revival style is absolutely breathtaking, not to mention the ornate and intricate stained glass and wooden carvings.
While most Basilicas/churches have art or stained glass depicting references from the Bible or religion of that country, Notre Dame Basilica is a little different.
The scenes depicted in beautifully vibrant stained glass on either side of the interior actually depict important historical events in Montreal's history.
For $8.00 per person which goes to the upkeep of the Basilica, you can gain access to take in the incredible interiors and even catch a choir or organ performance if you time it just right.
In addition to visiting, there are also events such as Aura which is a sound and light show which people can purchase tickets for in advance.
Or if you find yourselves in the area during the holidays there are multiple Christmas events including a mass on Christmas Eve and Christmas Day that are beautiful.
The queue to get inside can get quite long during the holidays so definitely worth getting there as early as possible so you don't have to wait.
Once you visit you'll completely understand why it is considered a top Montreal tourist attraction.
Visit the website for mass hours, tour prices, and up-to-date info about events and policies at the iconic Basilica in Old Montreal.
3) Enjoy the Montreal Food Scene or Join a Food Tour
Montreal is an incredible food city in North America, rivaling New York City and others in terms of diversity and options. Taste as much delicious food while visiting Montreal as possible!
Start at the Marche Bonsecours. For more than 200 years this double domed building was used as the city's public market, and briefly housed the Canadian Parliament for one session in 1849.
Now Marche Bonsecours, also called Bonsecours Market, has some of the best restaurants and market halls available.
There is also a fantastic open-air restaurant and bar right across the way near the Ferris wheel called Terrace Bonsecours which boasts some of the most spectacular views of the city from the top.
Mile End is another great spot. One of the most artsy and multicultural neighborhoods in the city, Mile End is home to lots of international eateries.
Rue Bernard is the heart of Mile End and has so many cafes, brewpubs, cocktail bars, coffee shops, restaurants, and more.
Just next to Mile End is also Little Italy, another hotspot for food, especially pizzerias. Here you'll also find the Jean Talon Market. As one of the city's oldest markets, Jean Talon Market has some of the best quality smoked meat, cheese, and produce in the area.
Also consider going on one of the local food tours for a guided exploration of the best food in downtown Montreal. Food tours will probably cover the Bonsecours Market, Mile End, and other more local sides of the city.
Here are some of the most popular food tours to choose from.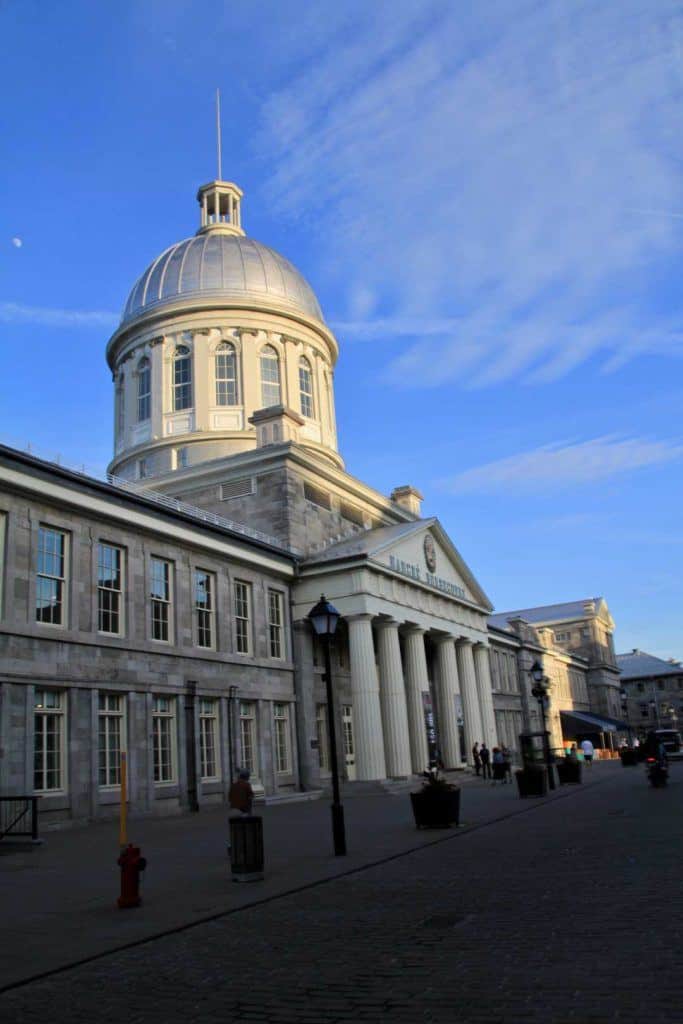 4) Hang Out at Mont Royal
What Montreal may lack in terms of actual mountains, it more than makes up for with lush green spaces and fantastic lookout spots.
Case in point, Mont Royal, which is where the city gets its name from too.
This part of the city is located West of the downtown core and situated between the Laurentian and Appalachian mountains. The borough is known as Plateau Mont Royal, and has a lively atmosphere as well as the Mount Royal Park.
It is the highest spot in the city, at just over 650 ft above sea level.
This large volcanic related hill boasts a lookout and the Mont Royal Chalet that is a must-visit on anyone's trip to Montreal for the views alone.
You can look out over Plateau Mont Royal, and in Autumn it is the perfect place to get a good dose of colours on the trees. You can even see across the St Lawrence River to the other islands, like Saint Helen's Island with its sprawling Parc Jean Drapeau.
Mont Royal is a location well-used by locals for walks, picnics, running & cycling, and mostly just hanging out when the weather is sunny and gorgeous no matter the time of year.
If you continue on past the lookout you'll make it to the summit where you'll find a 100 ft tall cross covered in LED lights.
This is the Mount Royal Cross was erected in 1643 by the city's founder Paul Chomedey De Maisonneuve to fulfil a vow he made to the Virgin Mary to stop a terrible flood.
The cross is a massive part of Montreal culture and can be seen from the downtown centre year round.
But it can be seen especially at night as it lights up in the dark, and the colour can be changed to purple if/when the Pope passes.
Hanging out at the Mount Royal Park here is one of those great things to do in Montreal that both locals and tourists enjoy.
5) Beaver Lake
Another one of the best places to visit in Montreal is Beaver Lake. Sadly this lake is not home to dozens of adorable and patriotic animals, but it is shaped like the one which is how it got its adorable name.
Artificially fitted in 1938 and at the base of Mont Royal, this lake is a hub of activity for all no matter the season.
In winter when the snow starts falling grab your skates (or rent them) and go for a skate around the rink next to the lake.
Then warm up in the Mount Royal Chalet with a coffee afterwards.
When the weather starts to warm up and thaw out you'll be gifted with absolutely gorgeous gardens overflowing with flowers. You'll also see all kinds of ducks returning to make the lake home.
Summer is my favourite time of year down at Beaver lake with all kinds of people out having picnics, watching music performances, and soaking up all the goodness that summer has to offer.
This is the perfect free option for anyone planning a visit to Montreal on a budget. Exploring the surrounds of Beaver lake after you've checked out Mont Royal Summit too is one of the top budget travel tips for Montreal.
READ MORE: Don't miss our travel tips in this ultimate Travel to Canada Guide!
6) Walk Along St-Laurent Blvd
Running North-South this part of Montreal, nicknamed "The Main" is a cultural hub and home to fantastic shops and venues for music, comedy and all sorts.
And if that isn't enough it is also home to the annual street art festival "Mural Fest" which brings international and local artists out to create some absolutely incredible murals.
One of my favourite things to do is start at one end of St-Laurent and wander my way along to the other end, stopping for every bit of street art to be found along the way.
Chances are you'll make it about halfway before getting a whiff of something that gets your stomach rumbling.
This likely means you're at the iconic Schwartz's Deli and it's time to get your hands on some famous Montreal Smoked meat.
Opened on New Years of 1928 by Reuben Schwartz, the doors to the deli are still open and serving the masses year-round.
While you may have to wait in line for a table it's definitely well worth the wait, and locals as well consider it essential for what to do in Montreal, Canada!
If you find yourself on the main in July you'll be smack in the middle of the International Comedy Fest, Just for Laughs which has shows from all sorts of comedians.
From intimate hole-in-the-wall venues to catch great music acts, independent shops, locally-owned restaurants, and even market stalls throughout the summer, there is a big reason this part of the city is nicknamed the main.
It seems to be where all the fun stuff happens!
7) Montreal Botanical Garden
Exploring cities is always full of fantastic architecture, great shopping, and food.
But sometimes you need to escape that concrete jungle for something a bit more in line with nature.
Just a 15-minute metro ride from central Montreal, and you'll find yourself surrounded by 75 hectares of impressive green space at the Montreal Botanical Garden.
Designated as a National Historic Site of Canada in 2008, these gardens are some of the most important in the world because of the immense collection it houses.
The garden is located in Olympic Park next to the Olympic Stadium.
Get lost exploring the Chinese gardens, through to the Japanese gardens making you feel like you've left the continent for a New World.
The indigenous gardens honour the country's local population and species, and the Alpine gardens with their gorgeous waterfall will give you the feeling of hiking in the mountains.
Personally, one of my all-time favourite things to do in Montreal is visiting the gardens during the Autumn months when the Chinese gardens are transformed into a magical oasis of lanterns. Another one of the top travel tips for Montreal is trying to plan your visit around the amazing Lantern Festival!
The Gardens of Light take place from Early September until Halloween, when a portion of the Botanic Garden will be transformed.
Set to thematic music, the atmosphere is completely different and will blow your mind.
While you're out in this area of the city, see if there are any sports games or concerts to see at the nearby Olympic Stadium after checking out the gardens.
Address: 4101 Sherbrooke St E
Hours: 9am – 6pm
Cost: $22 adults, $16 students, $11 kids ages 5-17
8) Montreal Museum of Fine Arts
This is Montreal's largest museum and one of the most prominent in the country.
Located on Sherbrooke street on The Golden Square Mile, the Montreal Museum of Fine Arts is spread across 5 pavilions.
The permanent collection houses nearly 45,000 pieces.
This number doesn't include the changing exhibitions throughout the year either.
Over several floors, you'll be able to explore works of art from all around the world.
This includes a detailed section of art created by Quebecois artists over time and is now a huge part of Montreal history.
Temporary exhibitions over the years have included Couturissme by Thierry Mugler, Picasso Past and Present, Black Canadian Contemporary art and most recently Montreal Couture.
With a cafe on-site, a sculpture garden, and a kids' centre, there is something to keep the whole family happy for the whole afternoon.
A nice added bonus is that the pedestrianized street leading down to the museum is usually adorned in some kind of painted art on the pavement.
So you'll get a taste of Montreal art before even stepping foot inside the gallery itself!
Address: 1380 Sherbrooke St W
Hours: 10am – 5pm (Closed Mondays, close at 9pm on Wednesdays)
Cost: Prices vary based on exhibitions so check the website for the full list
9) St-Joseph Oratory
As Canada's largest church, this is one of Montreal's most iconic monuments.
Claiming to have one of the largest domes (as it's roof) in the world, the Oratory is a place that most locals have been at least once if not more on a school field trip when we were all a lot younger.
A completely different look inside and out from the city's other Basilica, Notre Dame, St-Josephs Oratory is less ornate and full of more history and architecture.
Welcoming 2 million visitors a year, St-Josephs oratory perches over the city giving you a sense that it is watching over everything.
Most visitors will go to get a glimpse into the history of the Oratory and Brother Andre who founded it.
But what might surprise people is the lush garden oasis on the grounds.
Over half a dozen sculptures dot the gardens.
It took me a few visits before I even knew it was even there so it's definitely worth having a look around!
One of the most impressive sights that can be seen are the people paying their respects in pilgrimage on the steps of St- Josephs Oratory.
Patrons pray on their knees up the 283 steps from all parts of the world and walks of life.
Whether you're religious or not it really is quite something to witness.
Address: 3800 Queen Mary Rd
Hours: 6:30am – 9pm
Cost: Free entry
BONUS ACTIVITY: See Montreal from the Saint Lawrence River on a Boat Cruise!
10) Lachine Canal
Running 14.5 km from Montreal's Old Port to Lake St-Louis, this part of Montreal is not technically located downtown.
But it is easily accessible for those wanting to see something a little different while visiting. It could technically be considered one of the easiest day trips from Montreal.
The Lachine Canal was opened after close to 5 years of construction in 1825.
It was used as a way to bypass the rapids at Lachine to make it easier for freight and passengers to gain access to this part of Montreal.
Fast forward to 1977 when the extensive network of paths was opened, and the main draw to the area started to gain popularity.
Follow the river, passing through the locks and lush green park space for nearly 14 km of fantastic bike paths, a designated path for walkers, rollerbladers & runners.
While the canal does freeze in winter, the paths are maintained for cross country skiing opportunities.
This is a great way to see this part of the city blanketed in snow giving you the feeling you're in a snow globe.
There are quite a few lovely restaurants cafes and shops on the main strip if you fancy a bite to eat or a wander off the path.
And there is an information centre at the main lock entry for boats and visitors. You'll also find a small canteen and toilet facilities too.
This is a great spot to watch for boats, windsurfers, and one of the best places to catch some sun in the summertime.