From hanging out with bison to taking a fat bike on awesome forest trails, here's our list of the best things to do in Riding Mountain National Park, Manitoba.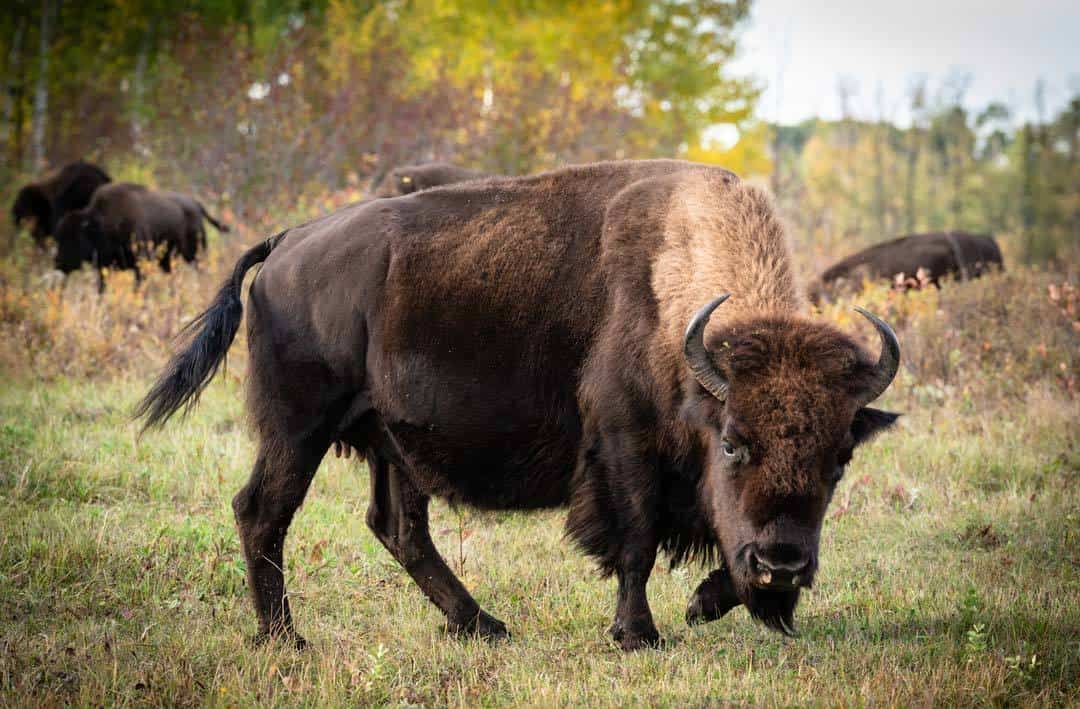 The central provinces of Canada are some of the least-visited, yet most interesting, destinations in the country.
Known as the Prairies, the huge expanses of flat land that make up the interior are often skipped by travellers who tend to focus more on the mountains of the west or the bustling and historic cities in the east.
We have travelled across the country by campervan twice, and we too are ashamed to admit that on these times we breezed through, with our sights set on further locales.
This time though things were different, and when we happened to find ourselves in Manitoba for a week of road trip exploration, we were excited to discover the highlights of this incredible province.
After spending a couple of days seeking out the best things to do in Winnipeg, and a thoroughly enjoyable stay at the legendary Falcon Trails Resort, we drove out to one of two national parks in Manitoba, Riding Mountain National Park.
Located 100km north of Brandon, and 250km from Winnipeg, Riding Mountain National Park is a favourite holiday destination for Manitobans and foreign tourists alike.
With the quirky little village of Wasagaming acting as the main hub, filled with nice cafes, restaurants and possibly the best gelato in the province, it's a great spot to call home for a few days, or more.
Things to Do in Riding Mountain National Park
We spent two nights there, and found plenty of amazing things to do in Riding Mountain National Park that could have kept us occupied for a week longer.
If you're planning a trip here and wondering what to do in Riding Mountain National Park, our list will help get you ready for a perfect trip!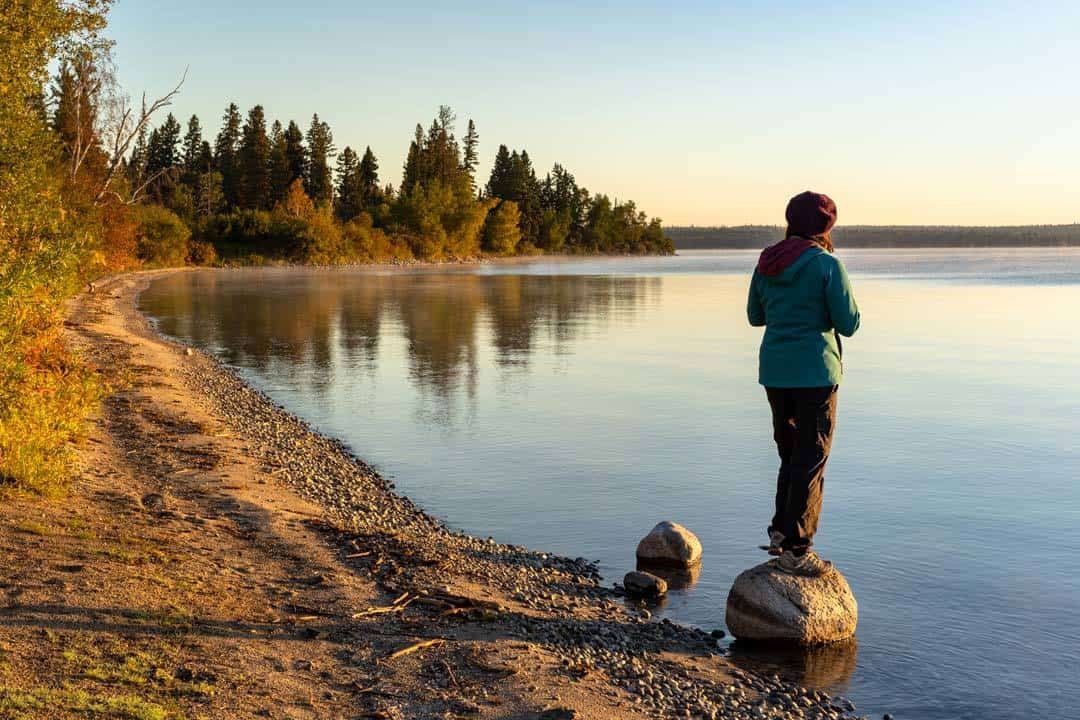 Visit the Lake Audy Bison Enclosure
The provincial animal of Manitoba is the plains bison, and they may just be one of the most impressive, and intimidating, creatures in the country!
You'll see the silhouette of the bison everywhere in Manitoba – on signs, on car registration plates, hanging in stores, and with this kind of display, you might think they're as common as chipmunks.
The truth is though the chances of seeing a bison in the wild are extremely rare, however your best chance of catching a glimpse of one is to head to Riding Mountain National Park.
Bison were tragically hunted to extinction in Manitoba over the years, but in the 1930s the government decided to reintroduce the native species in a landmark conservation program.
20 plains bison were brought over from Alberta and settled in the area around Lake Audy. The area was chosen due to the large number of bison bones discovered there, and after comprehensive research, it was found it was a perfect ecosystem for them.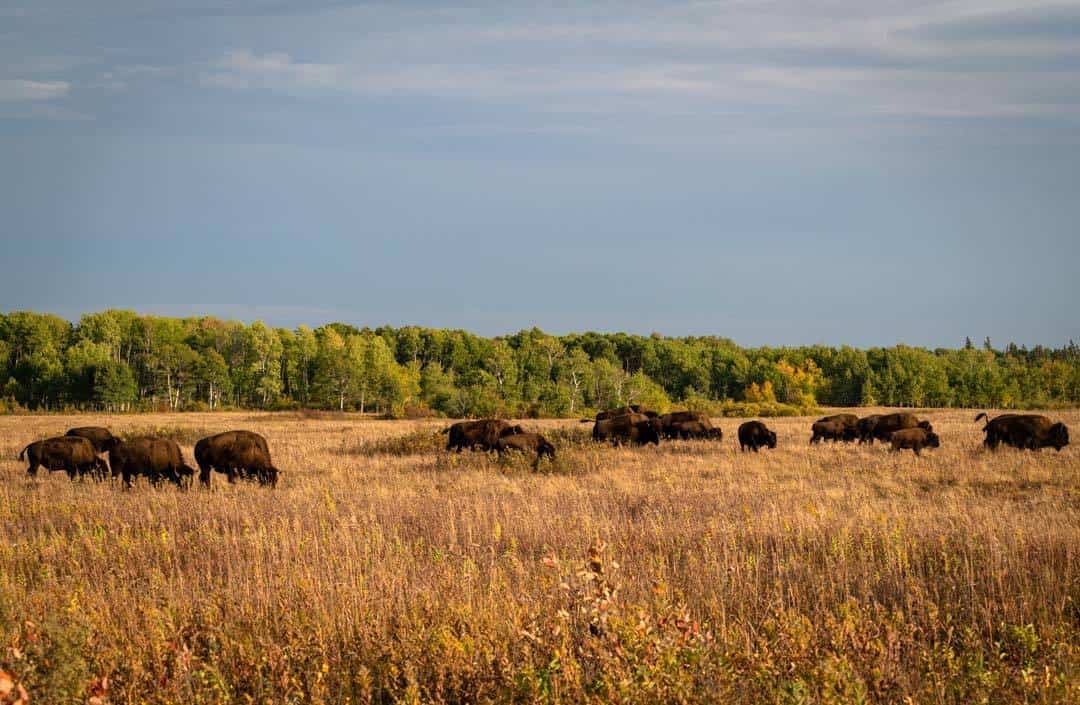 Unfortunately, the original bison passed away before they could properly settle, so in the 1940s another ten were introduced, and they luckily thrived.
Today around 40 bison live in the 582-hectare Lake Audy Bison Enclosure, wandering around in a natural environment.
The enclosure is about 30 minutes from Wasagaming, and it's set up as a self-drive exhibit. The enclosure is split up into two sections, the north and south, and the bison roam freely between the two.
You have to stick to the road when you're in the enclosure, and it's not guaranteed to see them (it's a big place after all), but there are a couple of designated viewpoints that offer a good chance to see them out in the plains.
Or you can get super lucky like us and have the entire herd end up surrounding your car, which was definitely one of the coolest wildlife experiences we've had!
The first time we drove around we didn't see any, so we decided to do another lap. On this occasion we saw a couple up in the distance, so made our way towards them.
As we got closer dozens more came out of the woods, so we ended up stopping the car and suddenly the encircled us, munching on grass and not paying much attention to us.
At times they were literally standing next to us, and we could have put our window down and patted one if we wanted (we didn't). It was exhilarating being this close to such a phenomenal animal, and our hearts were racing.
If this happens it's important to remember that these are wild animals, big, and can be aggressive. Stay in your car at all times, don't startle them, and let the bison go about their business.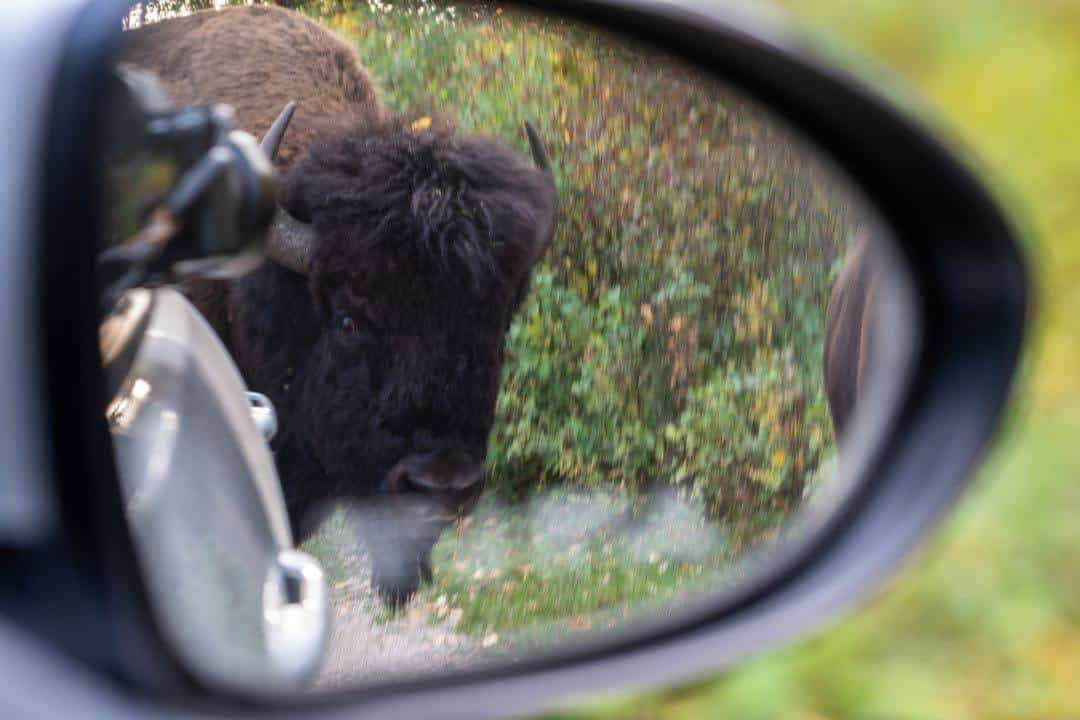 Watch Sunset at the Clear Lake Pier
If you're anything like us you love finding a good spot to enjoy sunset, and luckily there's no shortage of places to do just that around Riding Mountain National Park.
Our first evening in town we headed down to the main Clear Lake boat dock in Wasagaming in the late afternoon and it was a great spot to chill.
Dozens of people sat on park benches or simply walked around admiring the views, and there was a real wholesome atmosphere about the place.
On our second night though we wanted to track down somewhere different, and after seeing a photo hanging up in a cafe we knew we found the right place.
READ MORE: Don't miss our comprehensive guide to the best things to do in Canada!
On the eastern end of Clear Lake near the Wishing Well is a long pier that juts out into the water. It's one of the most photographed spots in Riding Mountain National Park, and it's clear to see why.
We drove our car out there about an hour before sunset and chilled out on the beach while watching the sun slowly drop below the horizon.
We weren't alone of course – a couple of other photographers had congregated there, and we had a great time chatting about the area and what to do in Riding Mountain National Park.
The lake was extremely still, and when the sky lit up the water reflected the colours beautifully.
This spot isn't just for photographers though – It's a great spot to come down and simply walk along the shore with gorgeous views, which makes it one of the best things to do in Clear Lake!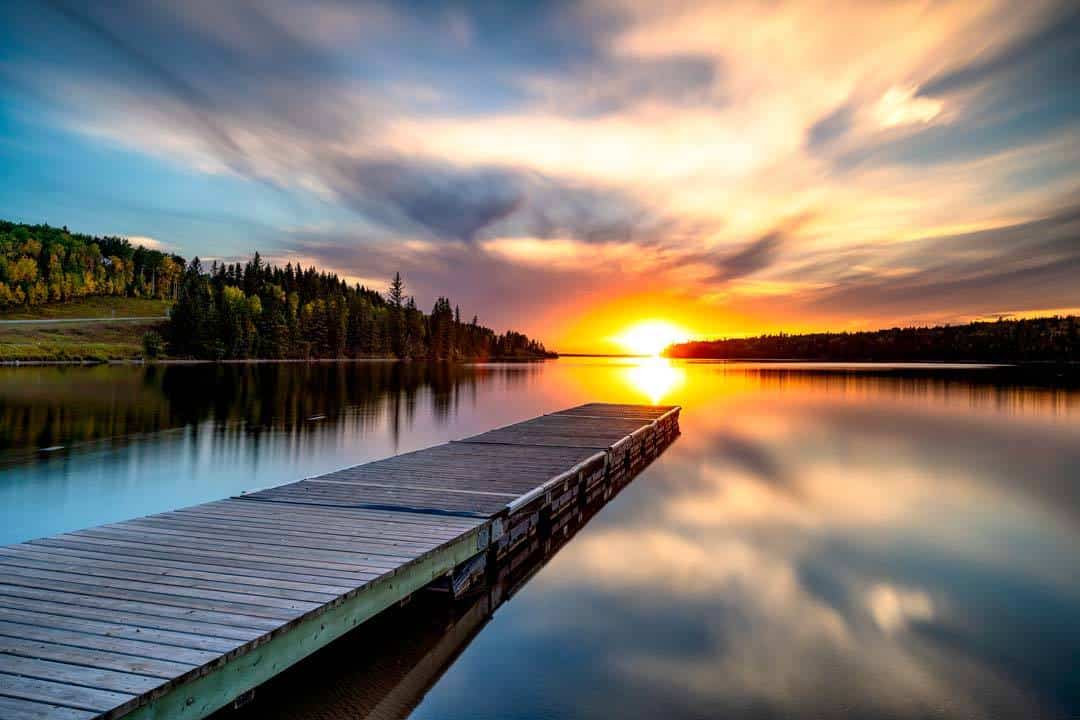 Rent a Fat Bike
Even though we've been mountain biking all over the world, from Patagonia to Prague and dozens of places in between, we've never actually been on a 'fat bike'.
What is a fat bike you might ask? It's a mountain bike, but with really wide tyres so you can easily ride over uneven and soft terrain.
We were intrigued when we got to Wasagaming to discover that you can rent fat bikes from the Friends of Riding Mountain National Park centre.
At first, we thought they might be a bit gimmicky. But as soon as we hit the trails we absolutely fell in love with them.
The large tyres make charging over any kind of terrain extremely buttery, and after a super quick test run, we hit the trails.
From town we followed Wasgaming Drive until we reached the bike path, then we followed the lake all the way to the Wishing Well.
READ MORE: Wondering what other incredible Manitoba activities and attractions there are? Check out our latest travel guide!
Hitting the north side of Clear Lake we then cut up at Glen Beag and headed back to the highway. It was a short peddle towards the Provincial Trunk Highway 19, before turning off towards the hiking trails to Kinosao Lake.
Kinosao Lake Trail is one of the few hiking trails around Riding Mountain National Park that you're allowed to take bikes on, so of course, we took it until we found the lake.
It was an extremely fun section of Kinosao Lake Trail, with lots of short hills, and we were sure to call out to warn any hikers before we came flying around any blind corners.
After spending a bit of time at Kinosao Lake we cycled back to town, then cruised out towards the Ominik Marsh. We took a few narrow dirt paths towards the spit, then followed the lake back to town.
All in all, we were on the bikes for about 4 hours, and it was an amazing way to spend the afternoon in Riding Mountain National Park.
Total cost for the bike rental? Only $25 per person! What a bargain.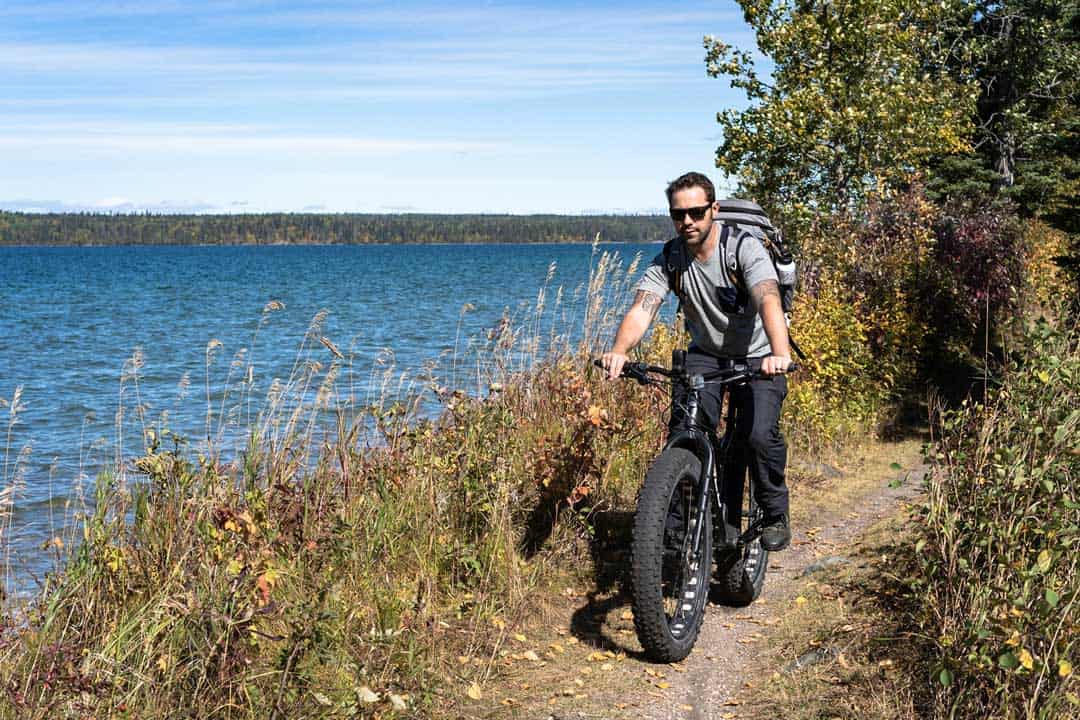 Hike the Burls and Bittersweet Trail
On the eastern end of Riding Mountain National Park are a number of great hiking trails, and on the drive back to Winnipeg we stopped off to check one out – Burls and Bittersweet.
This easy trail is only 2.2km long but takes you right into the heart of the hardwood forest in Riding Mountain National Park, and is a perfect way to appreciate the serenity the park is known for.
We were lucky enough to see the place as the leaves were starting to change into their autumn colours, which just made everything even more beautiful than ever.
There were a few little bridges crossing creeks, and the trail itself was well-maintained, leading to the base of the Manitoba Escarpment.
Even though it was short, the Burls and Bittersweet trail was quite enjoyable, and you should definitely add it to your list of free things to do in Riding Mountain National Park.
Note – When we hiked it there was a black bear spotted in the area. Make some noise when you're hiking in the woods so that you don't accidentally startle a bear on the path.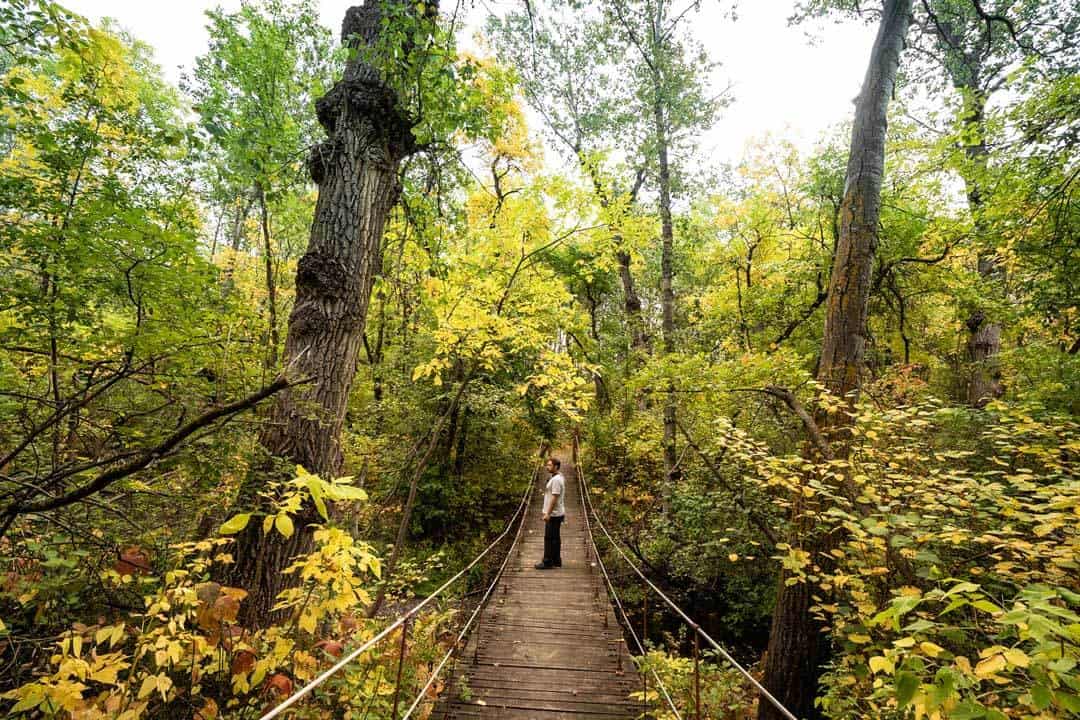 Take a Boat Cruise Around Clear Lake
Clear Lake is the jewel of Riding Mountain National Park, and is the heart of most activities in the area.
Whether it's swimming, kayaking or stand-up paddle boarding, you'll always find people making the most of the summer months on Clear Lake.
One of the most relaxing ways to explore Clear Lake is to take a boat cruise, and there are a couple of different ones you can do.
The most popular ones are the one-hour interpretative cruises that leave in the afternoon or for sunset.
You'll have the chance to explore many of Clear Lake's coves, and the captain loves sharing stories of the geology and culture of the area. Not bad for only $19!
If you want something a bit more romantic though, check out one of the Clear Lake dinner cruises. These last for a few hours and the food is reportedly amazing. Must be booked well in advance.
Get in touch with these guys if you want to go on a Clear Lake boat cruise while visiting Riding Mountain National Park.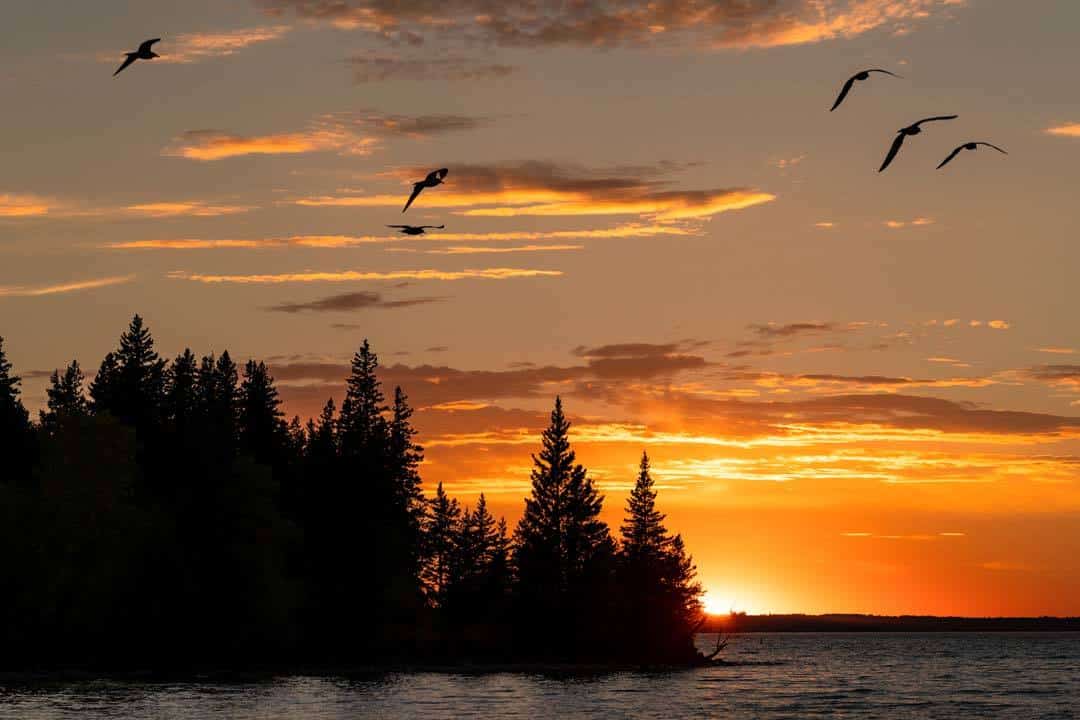 Go Canoeing
Paddling a canoe on a lake is the ultimate Canadian pastime, and here in Riding Mountain National Park, there are plenty of opportunities to do just that.
You can head down to the marina at Wasagaming to rent a canoe or kayak by the hour, and then paddle around to pretty much wherever you want around Clear Lake.
We were going to do this, but unfortunately on the day we had free the wind had kicked up quite a lot, making the water very choppy.
Not a problem though, because our luck improved! We found a canoe at Kinosao Lake!
The guys at Friends of Riding Mountain National Park said that Parks Canada often leave a canoe on the lake out there for people to use for free, but weren't sure if they'd packed it up or not as it was so late in the season.
When we headed out there on our fat bikes we were stoked to discover that the canoe was still there, complete with paddles and life jackets.
Of course we instantly grabbed it and went paddling around the lake. There was a beaver dam at one end, but despite our earnest looks we didn't actually see one of the elusive creatures.
If you do use the canoe at Kinosao Lake make sure you treat it with care and pull it right out of the water when you're done – it's a great initiative by Parks Canada, and as long as we all respect it, they'll continue to put one out there every year.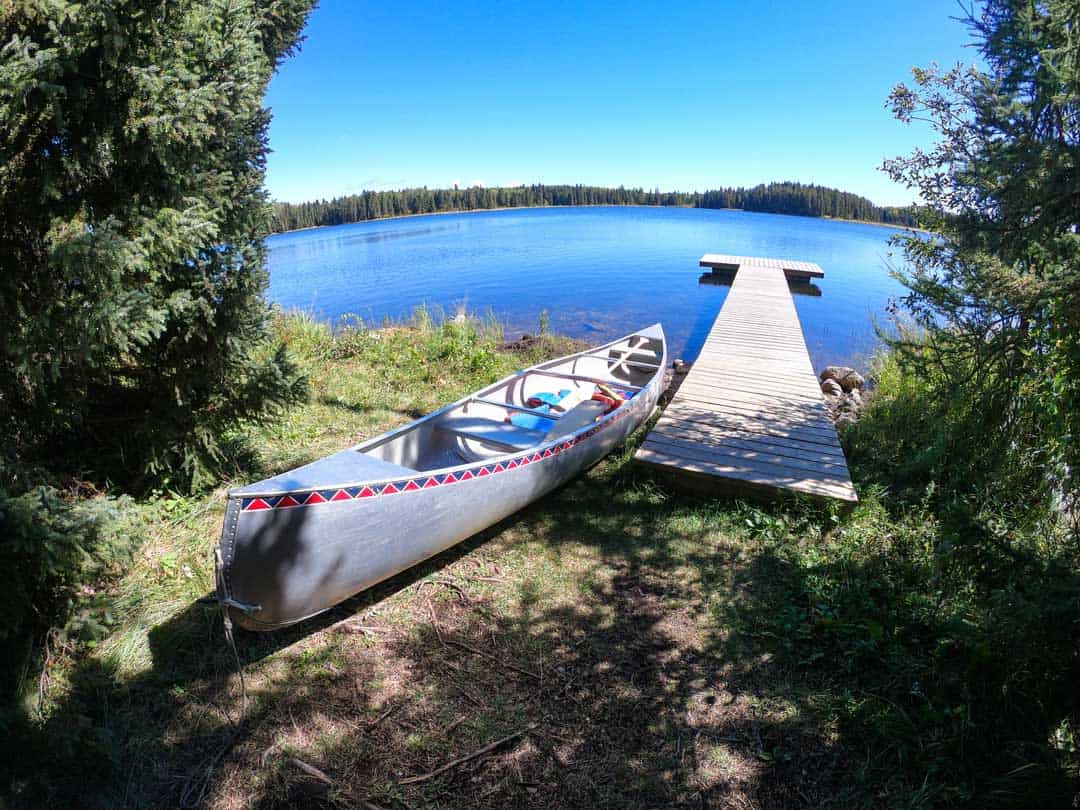 Check out the Ominik Marsh
If you're looking for the best things to do in Riding Mountain National Park with kids, there's a good chance you'll end up exploring all the insects at Ominik Marsh.
The marsh is located just outside of Wasagaming and there's an excellent trail and boardwalk to get you deep inside it.
If you are travelling with kids and want to give them something fun, and educational, to do for a few hours, swing by the visitors centre in town and pick up a 'critter kit'.
The kit has a few nets, trays, a magnifying glass and an identification book, so the kids can go looking for insects in the marsh and discover more about them.
Don't have kids? No worries! The Ominik Marsh is still an awesome spot to explore, and considering it's one of the best things to do in Clear Lake of Riding Mountain National Park, you should definitely go check it out.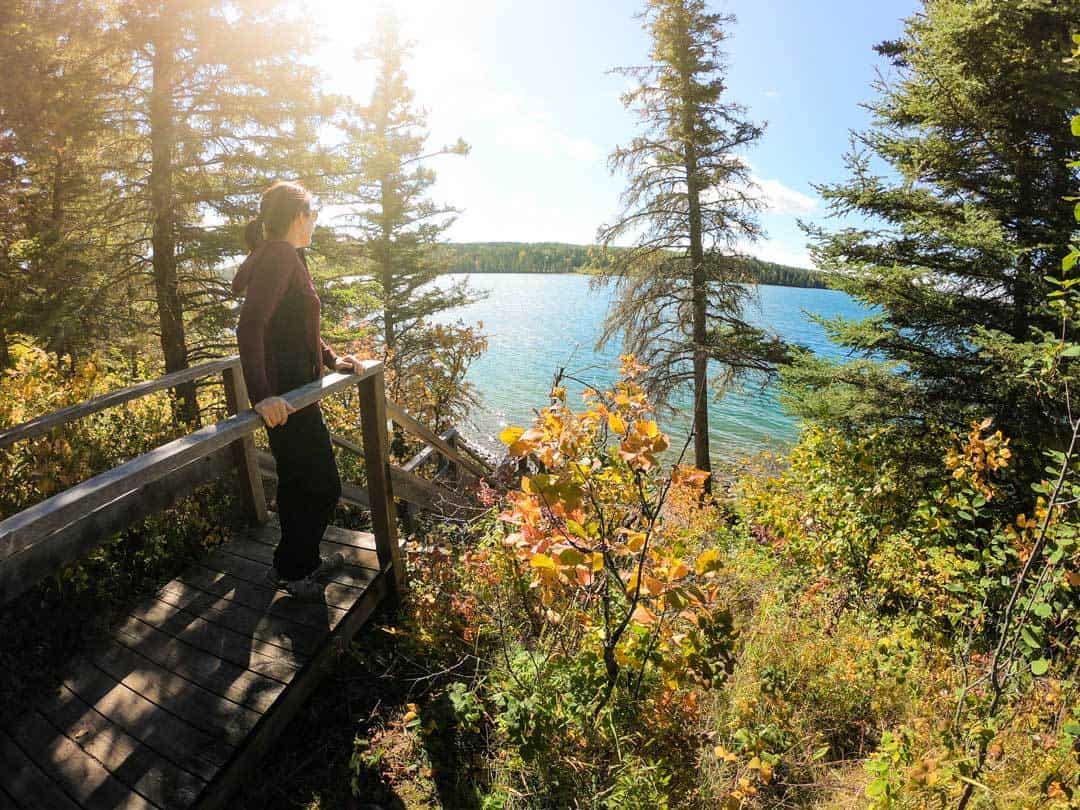 Hike to Kinosao Lake
There are plenty of awesome little lakes around Riding Mountain National Park, but one of the prettiest, and most accessible, is Kinosao Lake.
To get there drive out to Highway 19 and you'll find a parking lot where the trailhead is. From that point, it's only 1.3km to the edge of the lake on a beautiful little track.
We did this on our fat bikes, but the forest was absolutely gorgeous the whole way through. One moment you're out in a wide plain, and the next you're in the darkness of an old growth forest.
When you do eventually break out to the edge of the lake you'll be blown away by just how pretty and secluded it is.
There's a pier stretching out where you can go canoeing (this is where we found the free one from Parks Canada), or if you aren't done hiking you can start the full trail.
It wraps around the entire lake and is just over 7km long. The trail itself is flat, but truly lovely.
If you're going to spend some time in Riding Mountain National Park, don't just hang out at Clear Lake. Do yourself a favour and visit Kinosao Lake as well!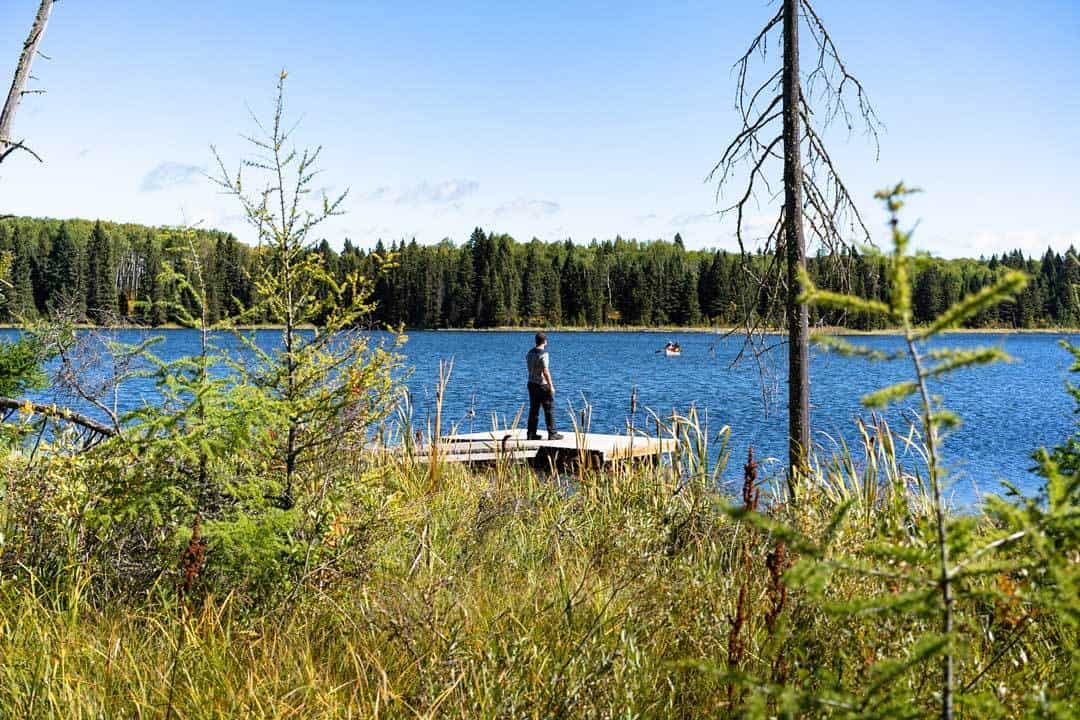 Chase the Northern Lights
Most people think of Norway, Iceland or the Yukon when it comes to seeing the Northern Lights, but did you know it's possible to see them right here in Manitoba?
We had heard rumours that on rare occasions the Aurora Borealis will reach this far south, and after chatting to a bunch of locals we were delighted to discover that it's actually true.
The remoteness and lack of light pollution around the area means Riding Mountain National Park has some amazingly clear skies – perfect for astrophotography, and seeing the Northern Lights if you're lucky.
In fact, while we were in the area (early September) we were told that the forecast for them was looking good, so naturally we stayed up late trying to catch a glimpse of them.
Unfortunately, both nights we were there turned out to be cloudy, so we didn't see them, but other parts of the province did.
Of course, seeing them isn't a guarantee, but when you visit make sure you check the forecast and wake up in the middle of the night to see if you can spot this magnificent scene in Riding Mountain National Park.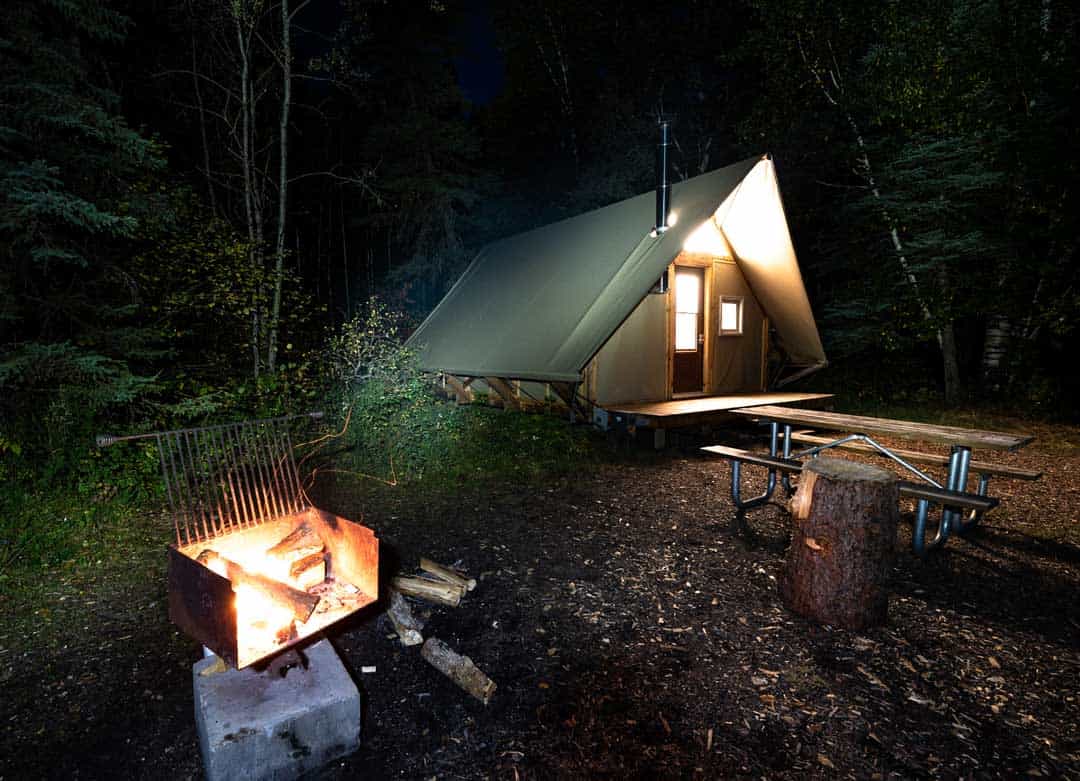 Find the Red Chairs
A few years ago Parks Canada introduced a new program where they installed a bunch of red, wooden chairs at various places around the country's national parks and historical sites for visitors to sit down and appreciate amazing viewpoints.
In their words it's all about connecting Canadians (and tourists) with nature, and we couldn't think of a better way to take a break from exploring than by kicking back in one of them.
At Riding Mountain National Park they have installed ten sets of pairs throughout the place, and while you could go to the Parks Canada website to find them, we think it's more fun if you just stumble across them.
We found these ones during our fat bike adventure, and ended up having lunch on them while overlooking Clear Lake.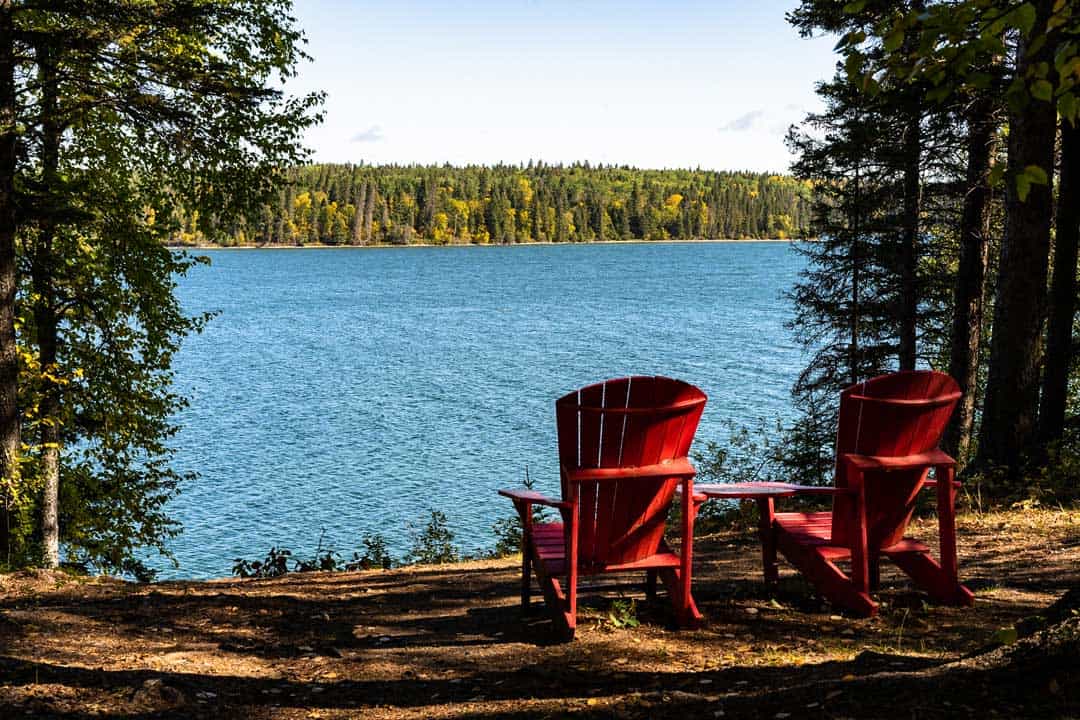 Admire the Views at Bald Hill
One of the most difficult hikes in Riding Mountain National Park is the 9km trek out to Bald Hill, but the reward is well worth the challenge.
Located out at the East Side Escarpment, the Bald Hill trail has a number of very steep sections that lead out to a giant rocky outcrop.
The goal is to find the peak of Bald Hill, but as it's unmarked that in itself can be harder than expected. Grab a map from the visitor's centre to ensure you don't miss it, as the views from Bald Hill are meant to be the absolute best in the entire park!
We unfortunately didn't have time to do the Bald Hill hike, but it's at the top of our list for when we return!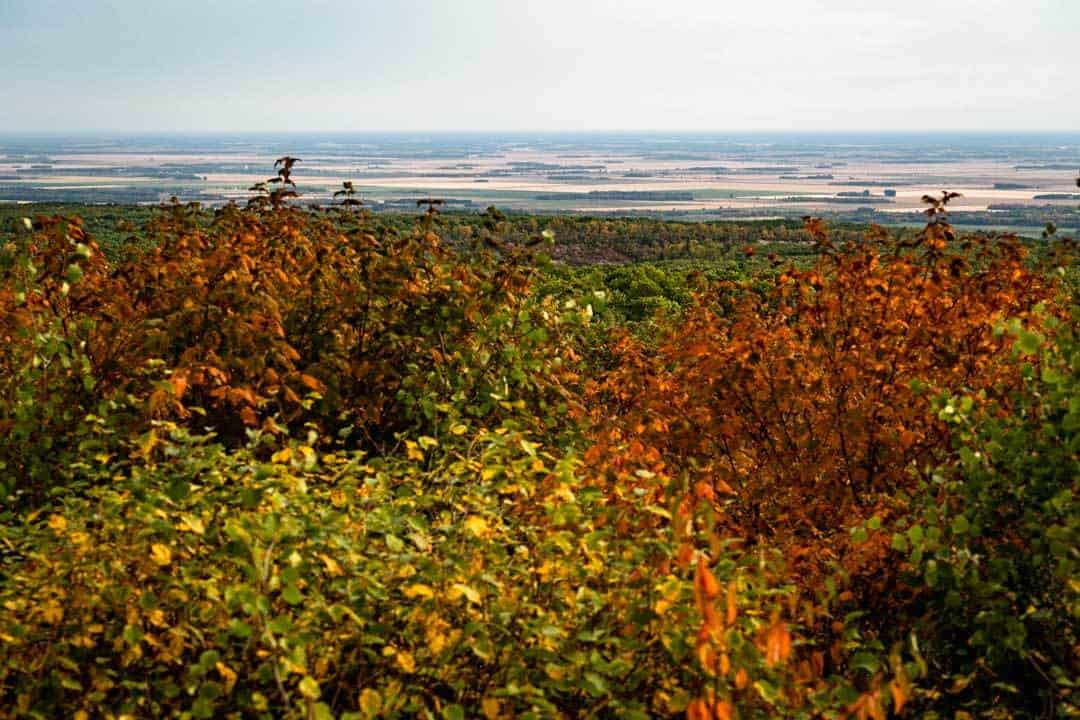 Check Out the Historic East Gate
Out at the far eastern end of Riding Mountain National Park is the historic East Gate, and is well worth a stop on your way in or out of the area.
Built in 1933, it's the only registration complex still remaining of the original national park gates constructed back in the 30s of anywhere in Canada.
It was designated as a National Historic Site of Canada in 1992, and while it will only take you a few minutes of your time to check it out as you seek out the fun things to do in Riding Mountain National Park.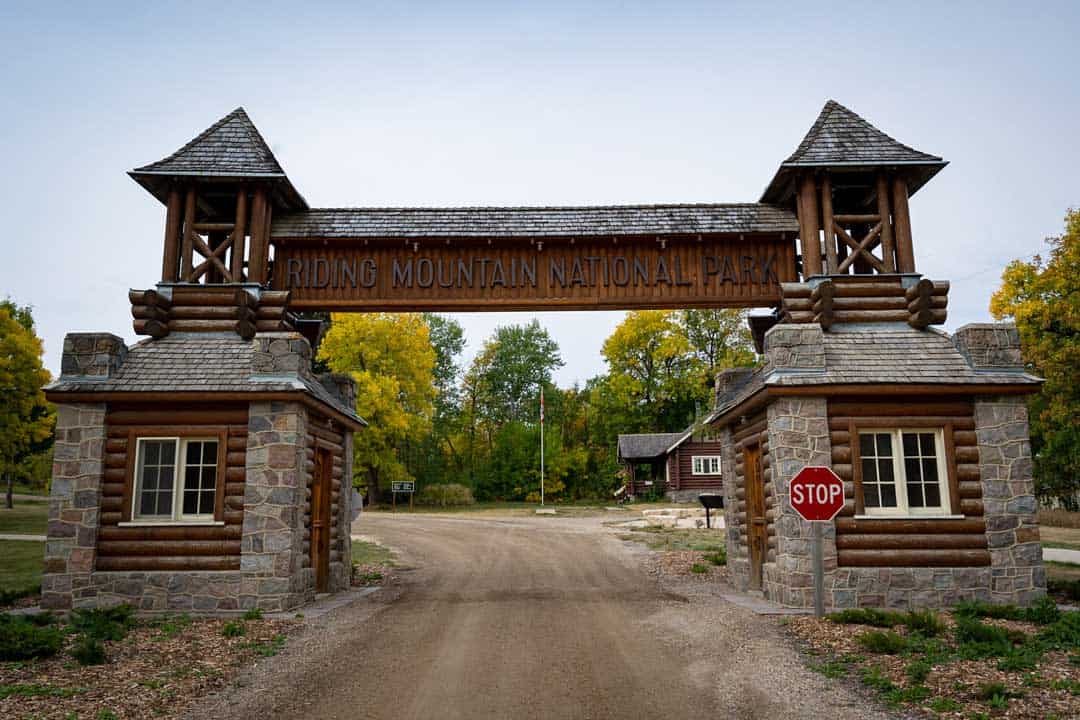 Relax at the Wishing Well on Clear Lake
Out on the east side of Clear Lake is a local favourite spot, the Wishing Well!
This historic place was built in the 1930s and boasts a gorgeous little garden, quaint bridges, lots of sitting area and of course a well you can throw your pennies in and make a wish.
The garden itself is absolutely lovely, and when we took a break during our fat bike mission we found ourselves simply wandering around the area as if we were set to slow motion.
If you're looking to have a picnic somewhere you'll be hard pressed to find a spot better than the Wishing Well in Riding Mountain National Park.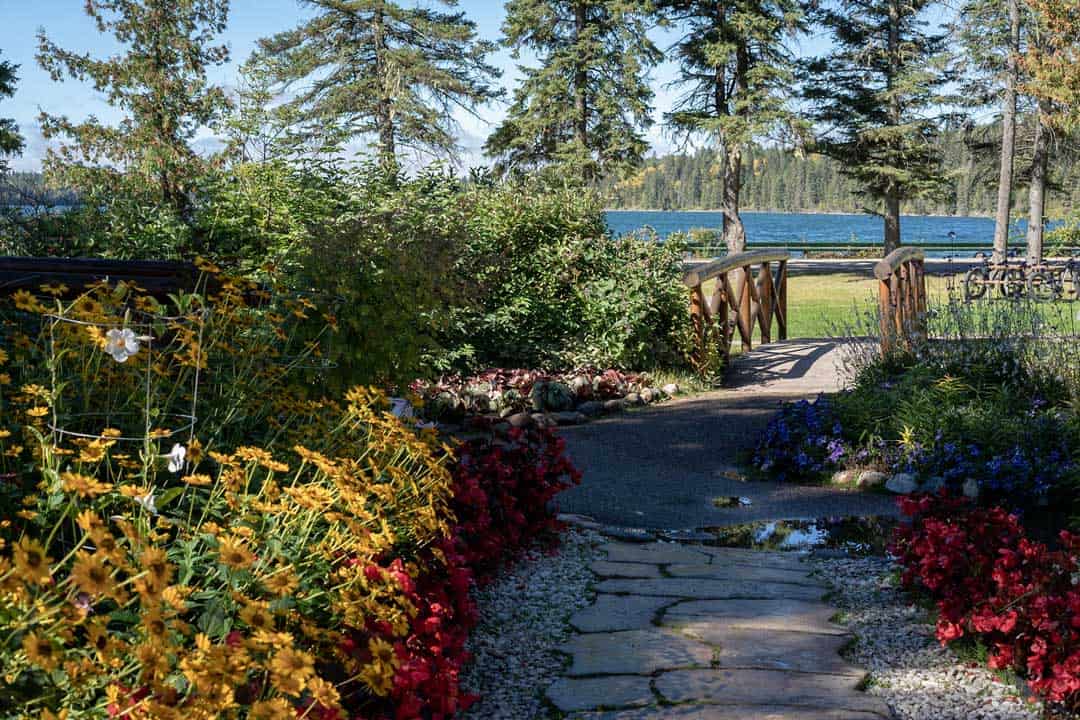 Drink Some Beers at the Farmery Estate Brewery
Ok, this isn't exactly in Riding Mountain National Park, but there's a good chance you'll pass it on your way to, or from the park, and you should definitely check it out!
The Farmery Estate Brewery, located in nearby Neepawa, is privately owned by the Warwaruk family, and after some financial turmoil on their original farm, they ended up formulating new plans and started to dream big.
The brothers Lawrence and Chris decided to launch a restaurant to try and salvage the family farm, and after a decade of hard work the restaurant in Winnipeg was a smash hit, and they brought the farm out of bankruptcy.
Not wanting to fall down the same rabbit hole though, they decided to pursue another passion of theirs – beer.
They packed up and moved to Neepawa and started the Farmery Estate Brewery.
READ MORE: Check out what else to do on a perfect Manitoba road trip itinerary!
Using all locally-grown ingredients (they're one of the only breweries in Canada that actually grow everything on their own property), they have worked hard to create the best beer in the Prairies!
You can find the beer in some of the restaurants and bars in Wasagaming, but for us we wanted to stop by the home of it all ourselves and see it with our own eyes.
For a couple of brothers running things on a family farm, the brewery is actually extremely modern. We were lucky enough to get a tour from Lawrence, and were blown away with the set up.
They also have a full bar, with restaurants outside, so you can kick back and enjoy a meal and drink to break up the road trip in Riding Mountain National Park.
And how's their beer? Damn delicious!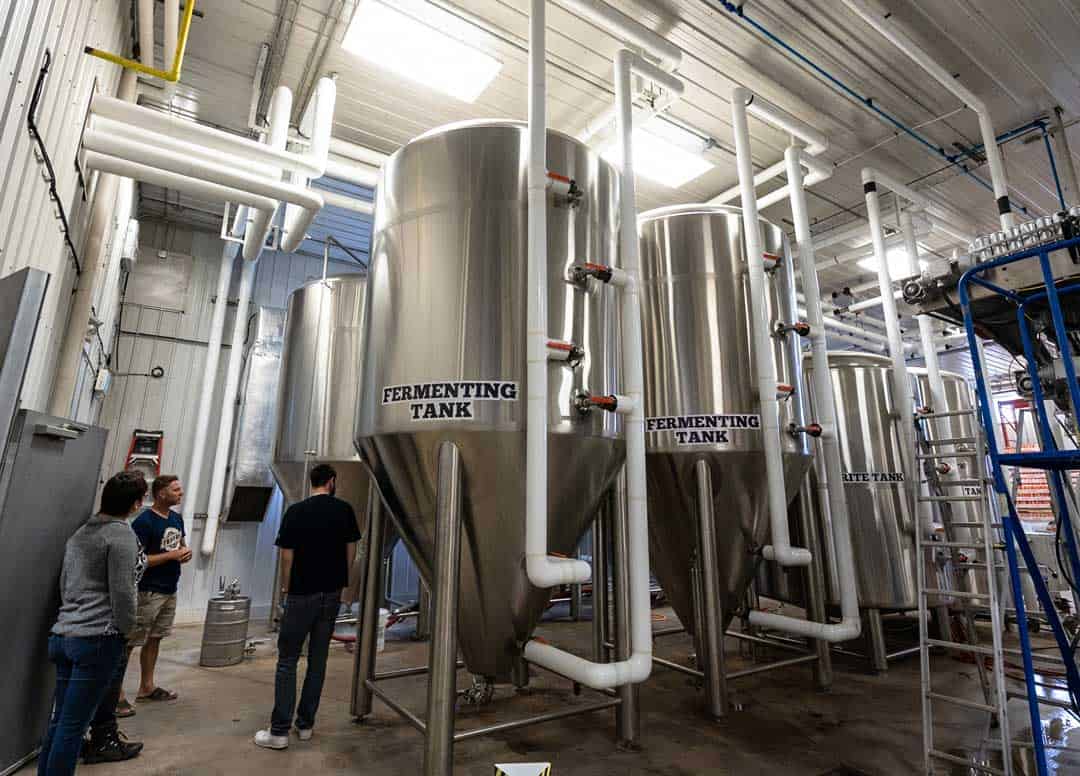 Where to Stay in Riding Mountain National Park
The main area to stay in Riding Mountain National Park is the funky little town of Wasagaming, and you'll find quite a few options from budget hostels right up to high-end boutique lodges.
Some of the best accommodation in Wasagaming is actually found on AirBnB, so if you like having a bit of luxury that's the number one site to check out.
If you're looking for an awesome place to stay in Port Stephens, we personally love using Airbnb. If you've never used the platform before, sign up using this link to get USD$35 off your first booking.
Being a national park though, a lot of visitors have their own camping gear or an RV, so the best spot to check out is the Wasagaming Campground.
Only a 10-minute walk from town, the campground has tonnes of sites for tents or campervans, both with or without power, and plenty of clean bathroom facilities.
Don't have your own camping gear? No problem…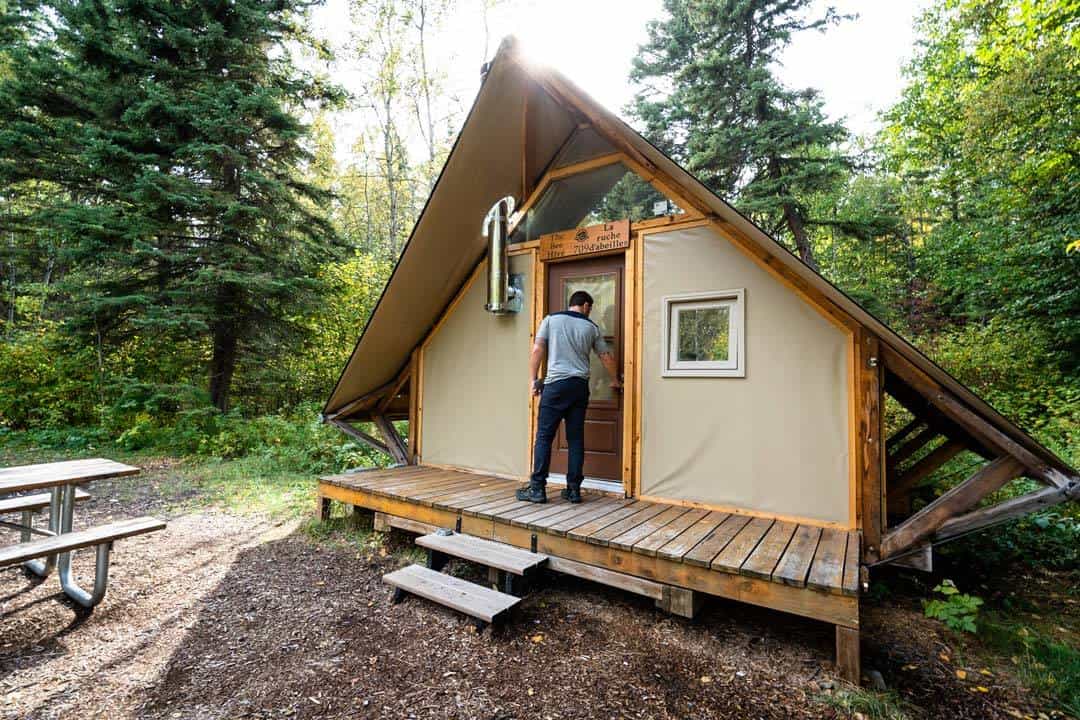 oTENTiks
Love the idea of camping, but don't want to bring your own tent (or prefer to have a bit more room to move around)? Then check out Parks Canada's newest development – oTENTiks!
These A-frame structures are glamping at its best, with fireplaces, electric heaters, power sockets, a dining area and bunk beds all fitting under a wide canvas tent.
On the outside, there's a picnic table and barbecue, complete with cooking utensils.
The oTENTiks are basic, but really that's all you need, as there's so much to do in Riding Mountain National Park chances are you'll be spending little time in them anyway.
You can book them through the Parks Canada site.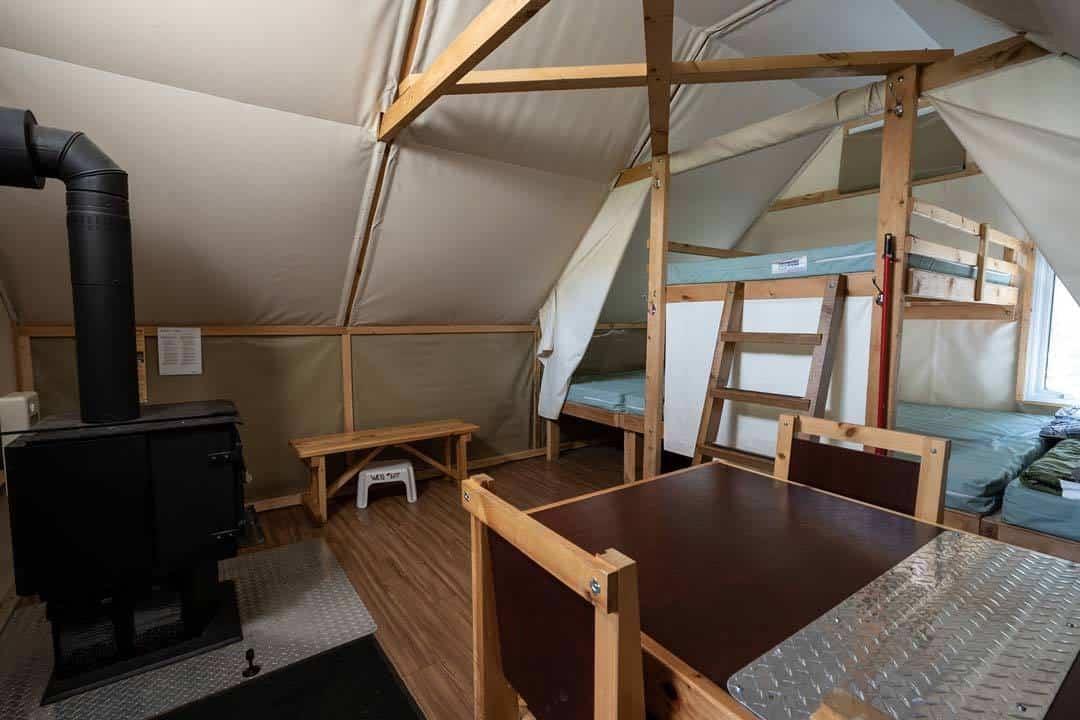 Where to Eat in Wasagaming, Riding Mountain National Park
For such a small town, Wasagaming has some great places to eat. Because it is a seasonal location, and the park isn't popular among tourists during the cold winters, many restaurants in Wasagaming close during the off season.
If you're visiting during the summer, which is peak tourist season, most cafes and restaurants will be open. But check online before you head out to eat to make sure there are places open!
White House Bakery and Restaurant
This is THE place to go for breakfast, and for cinnamon buns, if that's your kind of thing (ok, cinnamon buns are everyone's kind of thing).
The staff are friendly, the food comes out quick and the coffee is pretty good for Canadian standards.
A word of warning though – the meals are huge, so make sure you have a decent appetite before you order.
TR McKoy's
This popular Italian restaurant opens at 5pm most days, and if you come any later than that you'll probably need a reservation. It's the number one spot to eat in Wasagaming!
The pasta dishes are huge, and apparently the pizza is awesome too, although we didn't try any.
The Chocolate Fox
If you have a sweet tooth than you absolutely need to stop by The Chocolate Fox, home to the best gelato in town (and maybe all of Winnipeg).
We went in there after the day riding fat bikes, and were pretty much stumped at all the flavours on offer. Luckily the friendly lade behind the counter gave us as many samples as we wanted, which helped narrow down the choices to about 90% of them.
They also have some delectable chocolates available.