What you need to know about the Burana Tower in Kyrgyzstan, including how to get to this ancient Silk Road minaret.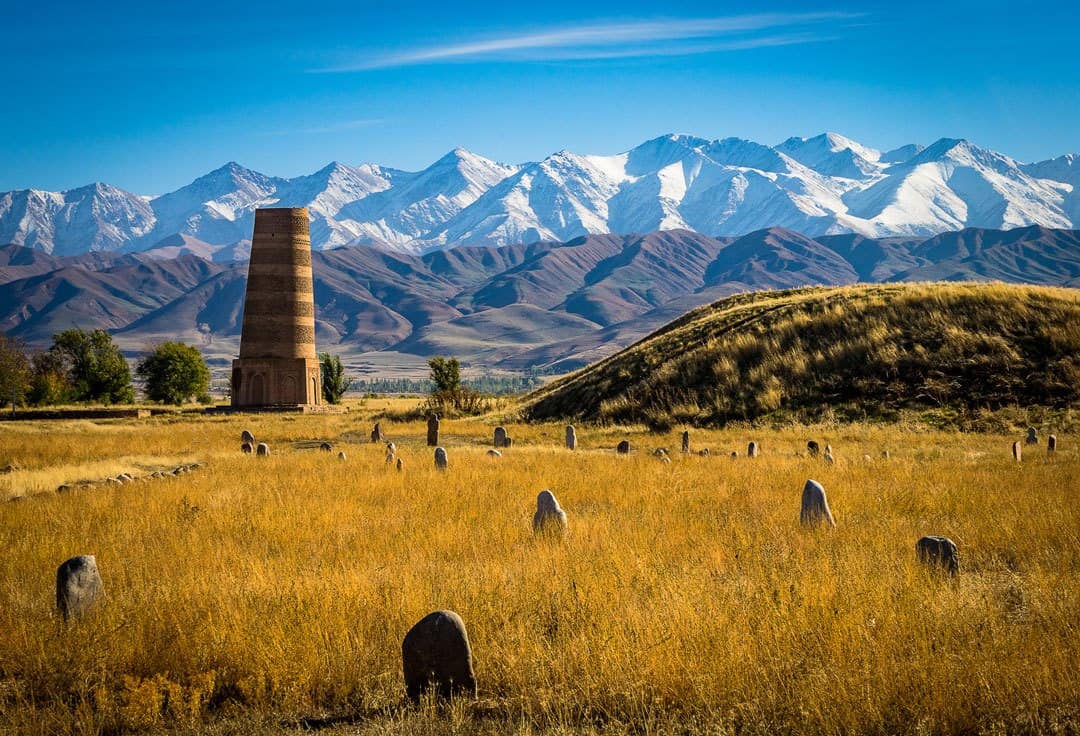 Golden grains whiplash against an Autumn breeze, stretching out towards the horizon in every direction. Snow-capped peaks loom in the distance, hinting at mountainous terrain that covers 93% of this Central Asian nation.
Over the tops of trees the Burana Tower stands tall, ancient and impressive, still surviving as one of Kyrgyzstan's most outstanding historical sites.
70km from Bishkek, and 12km from the town of Tokmok, the Burana Tower is all that remains of the ancient city of Balasagun.
Once part of the Karakhanid kaganate that existed between the 9th- 11th centuries, Balasagun was ransacked by the Mongols in 1218. By the 14th century the city was destroyed and left in disrepair.
In the 1900s the Russians uncaringly began to tear apart the tower, using its bricks for building supplies. In the 1970s a restoration project commenced and helped restore the minaret.
The Burana Tower was originally built to a height of 44m, but after falling victim to both war and the elements, today it is only 25m tall. Still, it is definitely worth checking out, and is easily visited as a day trip from Bishkek.
This incredible minaret is in an absolutely stunning location, surrounded by the Tian Shan mountains and golden fields.
For less than $2 you can climb the steep, spiralling staircase and soak up the sensational views that accompany being above the leafy trees.
As long as you are reasonably fit and watch your footing, you will have no problems climbing to the top.
Besides the minaret, the entire grounds now act as an open-air museum, with hundreds of balbals and petroglyphs scattered around the area.
A balbal is a grave marker that was used by the Turks when they roamed through Central Asia centuries ago. Wandering between their carved faces is an interesting experience
It is also worth visiting the local museum there, which has a small collection of artefacts discovered around the complex. It's nothing to write home about, but you've come all this way. May as well check it out!
Kyrgyzstan may be known for its sensational mountains and adventure activities, but it is important not to forget that it was also once part of the historic Silk Road.
Take some time away from the peaks and head out to its other wondrous sights. The Burana Tower is worth your time and effort.
How To Get To The Burana Tower
Visiting the Burana Tower can easily be done as a day trip from Bishkek.
From Bishkek you first need to head to the town of Tokmok. Take a city mashrutka to the Western Bus Station, and jump on a minibus to Tokmok. It should take less than two hours and cost 300 som.
When you get to Tokmok your best bet is to take a taxi to Burana. Find a driver and negotiate price (maybe around 300 som). Make sure you ask them to wait for you unless you want to be hitching back to Tokmok.
There are also minibuses that run between Tokmok and Burana. If your Russian is ok, ask a few locals.
Prices
Entry to Burana Tower: 60 som
Entry to Museum: 40 som
Pin It For Later