Everything you need to know about what it's like to hike Nepal's Poon Hill trek.
Nepal is arguably the best trekking destination on the planet, and thousands of people flock to this small, landlocked Asian nation every year to head deep into the Himalaya.
While famous hikes such as the one to Everest Base Camp and the Annapurna Circuit bringing in the majority of adventurers looking for extended forays into the mountains, there are a number of shorter hikes that are just as incredible.
I've been lucky enough to travel to Nepal quite a few times over the years, and in 2018 returned and managed to tackle the marvellous Poon Hill trek.
Introduction To Hiking The Poon Hill Trek
Seeing the Himalaya from a plane I must admit is pretty breathtaking, and I thought that this would be the closest I would ever get to some of the world's most majestic peaks.
Well I was wrong. Really wrong.
Having previously experienced the Mustang Valley of Nepal, this area we were bound for was completely in contrast to the desolate plains and hills to the west.
We are bound for the Annapurna Conservation Area, a place where everything is lush, waterfalls cascade and mountains glisten with snow and ice.
The Poon Hill Trek is just stunning. Here is my guide on how to trek Poon Hill and all of its surrounds.
Poon Hill Hike Overview
Here's a bit of a background information on how to trek to Poon Hill.
Days Required: 5 to 6 days
Altitude: 3210 metres (Highest point)
Best Time To Trek: October to May
Costs: Depending on whether you choose to use a guide and porters to going alone, the prices will vary drastically.
Guide and porters: there is no set price where ever you go so negotiations are likely to take place until a price is met.
Teahouses: prices can vary from teahouse to teahouse but are usually very cheap
Food: Set menus are in place for many teahouses and are usually cheap.
Besides the basics above, you also need to get some permits.
Permits: ACAP permit and TIMS card. These both ensure that you are legally trekking and abiding by laws within the area. The general price for a permit is $10 USD. You need to carry both the ACAP and TIMS card on you when hiking and have them checked when an office appears. You can apply for your permits in Pokhara and Kathmandu.
A lot of hardcore hikers think they don't need a guide or porter, but I highly recommend you get one anyway.
Guides And Porters: A guide on this trek is a brilliant way to gain further knowledge into the Annapurna Region, but this hike can be done without a guide as tracks are quite straightforward with plenty of maps located at some of the bigger towns along the trail. As for porters, it's up to you and your fitness; if you choose not to have a guide then you probably won't need a porter.
What To Pack For Your Hike
It's important to carry some technical clothing and gear with you when you are hiking in the mountains, and especially in the Himalaya.
The weather can change extremely fast and temperatures can drop to below freezing before you know it. You can buy a lot of (fake) equipment in Nepal.
Because I was coming from Australia, I headed into the local Kathmandu store and stocked up there. They make the best outdoor clothing in Australia and New Zealand, so if you're from there check with the experts in store.
Thermal layering including top and pants
Hiking pants, both long and short, or get convertible pants.
Waterproof hiking boots
Quality hiking backpack
Down jacket – these puffy jackets are essential for keeping your torso warm
Rain and wind jacket – make sure you get a quality jacket that doesn't leak
Sleeping bag and silk liner
Cold weather gloves – you will need waterproof gloves aswell as a pair of inner gloves to keep your fingers warm
Plenty of socks (having a pair of dry socks are the best)
A beanie – keeping your head warm is essential especially at night
Hiking poles – if you're not using a porter, hiking poles will help you balance when carrying your bag. They also provide support for your knees.
Water bottle (2 litres is ideal)
Sterilization pen or chlorine tablets to keep your water bug free.
My Daily Poon Hill Trek Itinerary
This is a breakdown of what you can expect on the Poon Hill trail, based on my experiences doing it.
You need to get to Pokhara from Kathmandu, and there are daily flights or you can take a 7-hour ride on a local bus.
Once in Pokhara you can organise your trek and head out to the trailhead.
Day 1 Morning – Pokhara to Hille
Time – 2 to 3 hours by bus and jeep
Start/ Finish – Pokhara / Hille
The next thing we know, the Poon Hill trek from Pokhara had begun as we crammed on board a 'tourist' bus while navigating midday traffic in the back streets of Pokhara.
With my head stuck out the window like a dog, it was all happening so quickly, and we were so excited. These things you literally cannot get enough of.
All of a sudden our bus driver steers up a road that is meant to be under construction, but quite frankly it's just a very wide Khola "creek" which kept speeds down to a very minimum.
Once the bus had reached its destination, still leaving our crew some 20 kilometres from the trail head, a series of jeeps sat waiting for our arrival.
When our bags were bundled to the top of these 1990's style jeeps we managed to make it a solid 2 kilometres down the hill before becoming stuck on a hair pin corner.
But when you have a team of Nepalese locals and porters becoming stuck is no problem.
Soon enough, there are people standing on the back of the jeep to create extra weight while the driver is revving well into the red zone with reverse placed in gear.
Powered by a fantastic lunch at Birenthanti, which is a junction town situated on the Modi Khola which originates from the Annapurna Himal, we were fuelled up and ready to hit the mountains.
And as the Nepalese would say "dal bhat power, 24 hour".
After becoming unstuck and feasting on a fine lunch, it becomes clear of where the trail head will be as the driver hints towards a town situated high up on the Luprung Danda.
My immediate thought was "oh it's only across the valley; it will take an hour at maximum". Our jeeps pull up one by one, bags are unloaded and it's once again time for me to experience Nepal the right way, by foot.
Day 1 Afternoon – Hille to Ulleri
Time: 2 hours
Elevation: 600 metres gained
Start / Finish: Hille/ Ulleri
Our guide, Ram (a common nickname for Nepalese guides) confirms that our night will be spent at the foothills of Luprung Danda which will require a slight incline involving many, many stone stairs.
Immediately waterfalls appeared and cascaded out of dense forest patches, as swing bridges assisted us over Bhurungdi Khola to the lower slopes of Luprung Danda.
From this point, it was all about taking on the stairs one by one, which sometimes was hard to keep one foot in front of the other when views already began to take away my breath away (not the altitude).
Our views were short-lived as a storm passed from the heights of the higher Himalaya turning straight over our heads, leaving our crew to find shelter under a small structure until the storm transited over Nangge Danda.
Not far from Ulleri, a train of mules pass by; taking no interest in my attempts to capture them on film spits of rain begin to collect once again bringing about a light mist shrouding the higher reaches of Ulleri and it looked stunning.
Apparently from here it was possible to see snow capped peaks but that would have to wait until the morning.
Reeling after the continuous rising of stairs, I could have opted for a nap, but there was too much of Ulleri to explore and my anticipation of my long awaited tasting of dal bhat (it had only been 3 hours since lunch) was too close. And that got me excited.
Kamala Guesthouse was our accommodation for the night which was perfectly situated on the slopes of Ulleri. I couldn't wait for what the views would be like at first light.
Day 2 – Ulleri To Ghorepani
Time – 5 to 6 hours
Elevation – 1350 metres gained
Start / Finish – Ulleri/ Ghorepani
It's not often you get locked inside your accommodation, and of all the times I wanted to go outside I simply couldn't unless I did a bit of improvisation which involved cat-like tactics and long arms.
Next thing I know I am walking the cobbled streets of Ulleri to put myself in position for my first sunrise attempt of the trip.
Waking up 3 hours before sunrise certainly didn't help, considering sunrise was at 7:30 am, which meant I had plenty of time to wander through Ulleri to a few special places.
I caught my first glimpse of the Himalaya with no real idea which mountain was which, but it really didn't matter.
It was pure magic as I sat on the edge of a corn field, embracing some of the world's finest alpenglow.
After a solid Nepali breakfast it was time to continue the hike, which would be a day of hiking through Nepal's famous rhododendron forests that are quite special to the Annapurna Region.
Ram our guide, along with Bodhi the assistant guide, explained where we would be hiking over the next few days, pointing to the higher reaches of Luprung Danda, which looked so far from our current position.
Further along the trail the sounds of Bhurungdi Khola (a raging river) begin to increase, only to realise that the river flowed some 200 metres below us.
It wasn't until Nangetharti (halfway between Ulleri and Ghorepani) that we crossed back over the river which at the same time provided a stunning spot for a snack and photos.
After another delicious lunch of dal bhat, we entered lush areas of rhododendrons, and although not in flower, the hiking was spectacular and it continued to be so right to the door of our guesthouse named Peace and Excellent View Lodge.
Day 3 – Ghorepani To Poon Hill
Time: 30 minutes to 1 hour
Elevation: 340 metres gained
Start / Finish: Ghorepani/ Ghorepani
Being based in Ghorepani allowed for a relatively easy trek to Poon Hill to watch sunrise over the Himalaya. Ghorepani to Poon Hill takes about 30-45 minutes depending on level of fitness, and consists mostly of stone stairs.
In order to see one of the best sunrises in Nepal, you're going to have to rise fairly early – 3:30am is idyllic.
It was worth it, because I never thought that the views from Poon Hill would be breathtakingly amazing!
Although it can be very crowded at the top, there are a few secret spots on either side of the viewing platform which provides a more natural view.
From the top of Poon Hill there are a multitude of mountains to seek including Dhaulagiri, Nilgiri, Annapurna South, Hiunchuli and Machhapuchhare, which are some of the tallest mountains in the world.
Day 4 – Ghorepani To Ghandruk
Time: 7 to 9 hours
Elevation: 550 metres ascent followed by a 1,440 metre descent
Start / Finish: Ghorepani/ Ghandruk
After seeing one of the best sunrises of my life on Poon Hill, it was time to hit the trail and head for Ghandruk.
The day starts off from Ghorepani directly followed by a steep ascent to Duerali La about, 45 minutes from Ghorepani.
What's so cool about Duerali La ('La' means pass in Nepali) is that you can see planes flying below you from Pokhara to Jomsom.
All of a sudden the plane disappears into the background where it becomes completely dwarfed by Dhaulagir,i the 7th tallest mountain in the world.
Continuing the hike brings you closer to the ancient, twisted and moss covered rhododendron trees as we enter the ridge lines of upper Luprung Danda.
Unexpectedly a series of 100 or more waterfalls appeared and they were all just magic! It was literally a hiker's dream seeing pristine, crystal clear water.
Today was the most spectacular and beautiful day by far, and we still had 2 days to go.
Our lunch was spent watching a monkey high up on a cliff face licking some sort of aphrodisiac lichen out of the rocks, but I much preferred my meal of dal bhat and black tea by the litre.
Extremely full from a satisfying lunch, the trail continued downwards to a once hydro plant and to suit, a midday monsoon erupts from the skies making the climb to Tadapani quite exciting!
All of a sudden, our tracks became flooded as the rain continued to penetrate the dense canopy above.
After sheltering at a local teahouse in Tadapani, the rains eased showing a few ridge lines of Annapurna South.
Still some hours from Ghandruk, the trails turned to slosh making it quite difficult to stay on track but things where made easier as we listened to the singing of our youngest porter, Sagar.
Skies slowly began to clear with the odd rumble about the Himalaya; Ghandruk was edging closer as the day had consisted of 6 hours on the trail.
It was clearly time for one of Nepal's finest Gorkha beers after starting the day at 330am.
Little did anyone know that the views from Ghandruk would be some of the finest in all of the Annapurna, and I'm not just saying that…it was truly amazing and probably the best views you will get on the Poon Hill Trek!
To the left of the vista, Annapurna South connected with Hiunchuli both glowing in the afternoon sun while Ganggapurna and Tare Kang dominated the valley leading to Annapurna Base Camp, and then there was Machhapuchhare and just wow.
All of a sudden, I scramble to pull all of my camera gear together while taking a large gulp of Gorkha beer, because the rest of my afternoon consisted of staring at some of the most beautiful mountains, rice terraces and rolling clouds I had ever seen.
Ghandruk, you are literally the most beautiful place in the world! Simon Guest House you have the best views in the business! So amazing!
Day 5 – Ghandruk To Australian Camp
Time: 7 to 8 hours
Elevation: 800 metres descent, 550 metres ascent
Start/ Finish: Ghandruk / Australian Camp
Once again I managed to be the very first person to rise in Ghandruk at the hour of 4:30 am in order to do some exploring before we began hiking again.
Equipped with an extremely oversized lens*, I scrambled out of the hotel onto the cobble stoned streets and made way to Gurung Village some 20 minutes' walk away.
It was one of the most breathtaking views I have seen as I sat and watched Gurung village from above come to life, listening to the bell of mules followed by a teahouse playing extremely loud Nepali music as a creeping inversion layer began to engulf Annapurna South and Hiunchuli.
On the other end of the scale, Machhapuchhare stood strong as the sun continued to rise, some seriously amazing scenes happened that morning.
Ghandruk is known to be extremely tiring accessing if you are hiking from Modi Khola (river) direction, but getting down to Modi Khola was a tough one.
Stair after stair after stair for 2 hours proved to be a knee killer, but that pain was soon lifted after witnessing some of the happiest school kids on their morning commute to school.
On arriving at Modi Khola, the hardest part of the day was done meaning the rest of it could be enjoyed in comfort despite having to go up another thousand or so steps to Landruk, which is directly opposite Ghandruk except on the other side of the valley.
Landruk provided some stunning views back onto Ghandruk, as well as the surrounding mountains as midday storms began to form.
Shortly before we finished our lunch it began pouring, although soon to clear revealing stunning landscapes.
Some distance into the trek, I came across a lovely Nepali lady who was brewing a fresh batch of Raksi (home brew made from millet) to which she explained to me how she made it and then offered me a coffee cup full of this crystal clear liquid. And it was so delicious!
A short 30 minutes later with keen eyes, I spotted a tree full of white-faced monkeys which soon jumped from tree to tree, quite a spectacle.
Distant rumbles continued to echo throughout the valley as we hiked past rice terraces being ploughed by water buffalo as the sun slowly began to set to the west.
After a quick stop at Pothana to have our TIMS cards checked by officials, it was onto Australian Camp for our last night.
With a cup of Masala tea in hand, water buffalos quickly entered the unused camping ground for a snack of green grass before we ourselves tucked into some fine cuisines under a rainy sky.
As we settled in for the night, rains where upon Gurkhas Guest House with a few faint rumbles of thunder coming down the valley.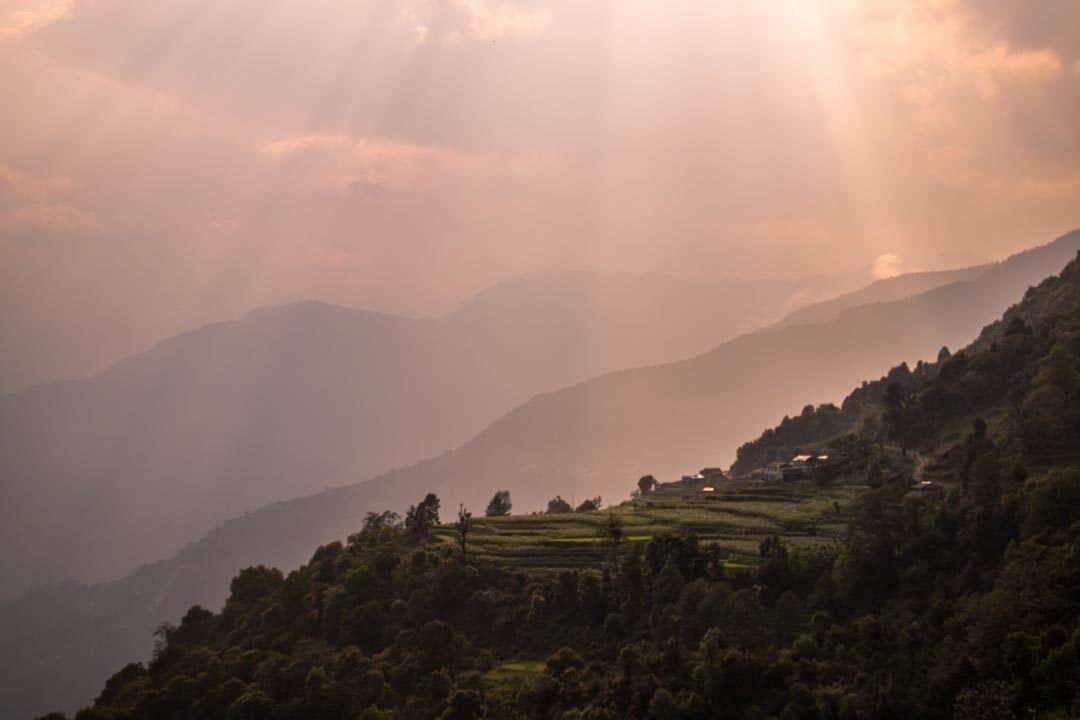 Day 6 – Australian Camp To Naudanda
Time: 2.5 hours
Elevation: 600 metres descent
Start / Finish: Australian Camp / Naudanda
For my last morning on the trail, I had planned to rise for a sunrise but the weather had other plans.
Not to dampen my spirits, Tibetan bread was served with a healthy pouring of black tea.
I think the water buffalo could smell just how good the bread was, which resulted in a heard rushing back into the campground to see if they could pinch a bit of our breakfast.
Today there are two options on which route can be taken (dependent on weather conditions) and the weather seemed to be clearing, so it was decided that the so called 'leech ridge' would be taken.
Any adventure that involves a dog is a top adventure and we were lucky enough to have two pooches join us, even though both of the dogs had a slight disliking for one another.
They proved to be great guard dogs when a feisty water buffalo got too close.
As the morning rains had passed by, the ground became in sorts a slippery slide which made things super fun!
To our left, Machhapuchhare stood proud and to the right of leech ridge, hills of rice terraces flushed with different shades of green amongst the late morning light.
It would have been 45 minutes before we were scheduled to catch a bus back to Pokhara so Raaj, Sagar (two young porters) and I sat waiting for the rest of the group.
We began talking to an older lady and her husband whose ancestors came from Mongolia, to which she even allowed me to take a portrait of her as her husband stood intrigued by what I had in my hand.
The smiles I received after showing the lady her photo on the small screen were priceless.
Continuing further down towards our pick up point, we had one incredible experience of life in small villages outside of the major city centres.
We watched crops being harvested, children walking the long kilometres to school as cows wandered aimlessly along the cobble stoned streets then suddenly lie down in the middle of the path blocking scooters and passerbys.
After being in the quitter parts of Nepal for the past 5 days experiencing some of the finest views, food and friendly locals it was back to Pokhara with a quick 1.5 hour ride for a well-deserved meal, hot shower and rest.
The Comedown
The Poon Hill Trek is one of the most amazing and quite possibly the easiest way to see the Himalaya while also experiencing the teahouse life.
I look back on this trek and realise just how beautiful the scenery is, the smiles of the people, the endless servings of dal bhat and the amount of stairs separating me from point A to point B.
If you want to get a scope for trekking and seeing what Nepal is all about, I would highly recommend doing this trek.
Even if you haven't done much trekking or if you are the avid day hiker, this could be the start of many adventurous things to come!
How To Trek Poon Hill – Guided Or Independent
There's a couple of different ways you can do the Poon Hill trek, depending on your budget, timeframe and hiking experience.
You can either book a fully guided tour from Kathmandu or Pokhara, and this can be a great option if you prefer to have someone else look after the logistics and you want sherpas and an English-speaking guide.
For those of you out there that are really experienced with trekking, it's always possible to just show up in Pokhara, jump on public transport to the trailhead and then start hiking.
You can book your teahouse accommodation as you go and there's plenty of places to stop and eat, so all you really need to do is carry money, your clothes, your permits and your camera gear.
I really recommend at the very least hiring a sherpa, even if you don't think you need someone to carry your gear.
The reason is you are then giving a local job and injecting money straight into the economy, and also because you'll have some incredible local interactions with them. You'll learn so much more about the wonderful Nepalese people this way!
Sherpas can cost between USD$15-30 a day, depending on their English skills.
If you want to pre-book your Poon Hill Trek, check out this option on Viator.
[box] I tackled the Poon Hill Trek as a delegate of the Himalayan Travel Mart representing NOMADasaurus. All thoughts, opinions and copious amounts of dal bhat consumed are, as always, my own.[/box]