Everything you need to know about visiting Sary Mogol, Kyrgyzstan. The things to do, where to stay, how to get there and travel tips!
The very first time I travelled to Sary Mogol, Jarryd and I were on our way to explore the fascinating Pamir Highway in 2015.
We knew nothing about this dusty town, but other travellers had told us it was worth a stop.
We built it into our itinerary, and we quickly fell in love with its curious and quaint character.
Fast forward to 2019 and I returned, but for a different reason. Rather than breezing through on the way to Tajikistan, I was in town to test out new tourism products and dive deeper into just exactly what there is to see and things do in Sary Mogol.
Turns out a lot has changed since our first visit, and for the better!
Years ago Sary Mogol was just a launching point for further adventures. A place to spend one night when coming or going to Tajikistan or China, or somewhere to use as a base for trekking towards Peak Lenin.
Today there are a bunch of interesting experiences that help tourists dive into the local culture.
From wedding demonstrations to beekeeping, horse trekking to felt workshops, along with new high-quality guesthouses, Sary Mogol is now a tourist destination in its own right.
I don't think anybody should miss this town when travelling to southern Kyrgyzstan, which is why I've put together this Sary Mogol travel guide.
READ MORE: Check out our complete guide on travelling in Kyrgyzstan!
Sary Mogol is also spelt Sary Mogul, or Sary Moghul, and in Cyrillic it is Сары-Могол.
I spent three nights here after completing the Truly Nomadic Trek in the Alay Mountains to put together this comprehensive Sary Mogol travel guide.
If you're planning on travelling around southern Kyrgyzstan and want somewhere to spend a few days, I can definitely recommend Sary Mogol.
The Best Things to Do in Sary Mogol and Surrounding Towns
The first thing I want to dive right into is all the great things to do in Sary Mogol.
For a small town that most people either skip or just spend one night, there's a surprisingly decent amount of activities and attractions here.
If you're wondering what to do in Sary Mogol, and the areas surrounding town, let our list point you in the right direction.
Note: For most of these activities you'll need to book ahead by getting in touch with our friend Talant at Visit Alay, or the guys at CBT Sary Mogol.
1) Hiking Around Peak Lenin
If you are staying in Sary Mogol, the iconic Peak Lenin is right on your doorstep.
Known to be the easiest 7000m peak in the world (coming in at 7134m), it has an appeal to many adventure travellers who come to Kyrgyzstan.
Unfortunately, many people seem to forget that summitting an 'easy' 7000m peak is still extremely dangerous and that climbing the mountain is a 3-week expedition, not something you can do in an afternoon.
That being said, you can still visit the base camp and hike up to Traveller's Pass, a 4150m high ridge that has fantastic views of Peak Lenin and around a dozen glaciers that tumble into the valley.
It's a 25km unappealing walk from Sary Mogol to Peak Lenin Base Camp, or you can try hitching a ride from town.
Taxis will run you out from around the bazaar as well, or book a ride from one of the guesthouses in town.
The hike to Travellers Pass is 7km one-way, and can easily be done in half a day.
Want to know more? Check out our guide on how to trek to Peak Lenin Base Camp.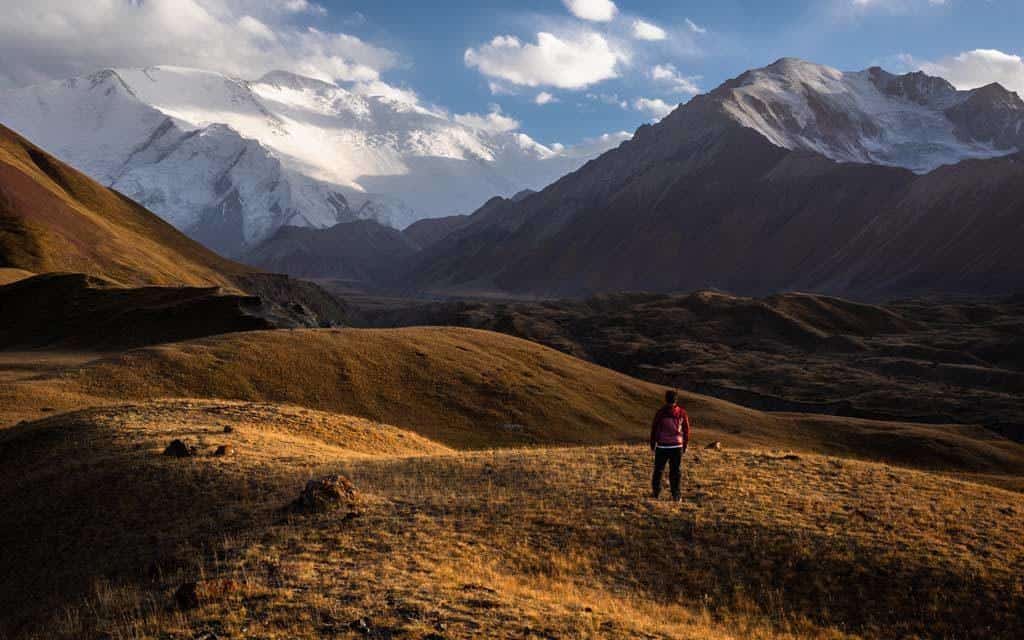 2) Koshkol Lakes Trek (1-Day)
I have not done this hike but it is on our list of things to do in Sary Mogol next time we return.
However quite a few of our friends have done it and loved it. I'll be back again next year to check it out.
This is a moderate to difficult day trek that offers beautiful views of turquoise alpine lakes, glaciers and gorges.
You'll be hiking up to an elevation of 4,213 meters while passing yak-filled jailoo (high pastures) and enjoying views of Peak Lenin and the Pamir Mountains in the distance.
This one-day trek starts from Damjailoo which is not far from Sary Mogul Village. A drop off and a pick up needs to be arranged beforehand.
Check out this guide on the Visit Alay site.
3) Bread Making Class
To a lot of people, bread is just bread. We have it daily, and don't think too much about it.
But not here in Central Asia. Bread is very important.
Bread is considered to be sacred in the Kyrgyz culture, and a good host always offers a guest bread and tea, even if the person only stays for a few minutes.
There's no doubt that if you spend any amount of time in Central Asia, you'll end up eating your weight in bread. And not surprisingly, it's absolutely delicious.
One of the most interesting things to do near Sary Mogol is to learn how to bake Kyrgyz bread.
I went out to the town of Daroot-Korgon and spent some time with a lovely family who showed me how to bake two different types of bread.
They taught me everything from the very beginning, from how they prepare the dough to how they cook it, and of course I got to try lots of it at the end as well, dipped in fresh jam! Yummy!
Get in touch with Talant at Visit Alay to book this experience, or ask around at the CBT office. It is held in Daroot-Korgon, and makes a good half-day trip from Sary Mogol.
This is a brand new product and not something that is really on offer in other parts of Kyrgyzstan.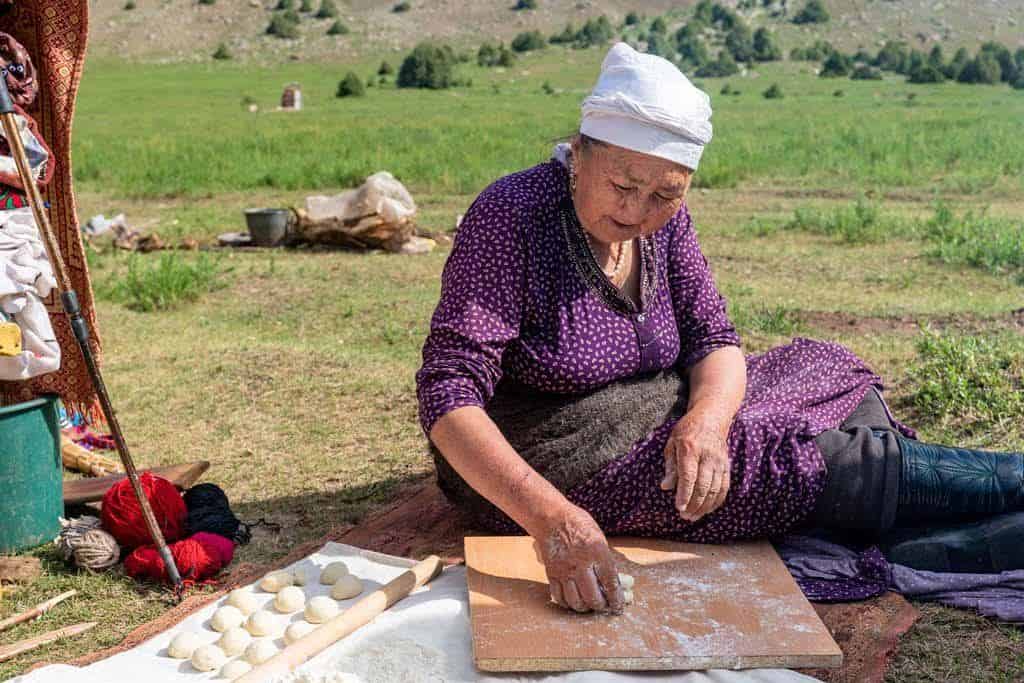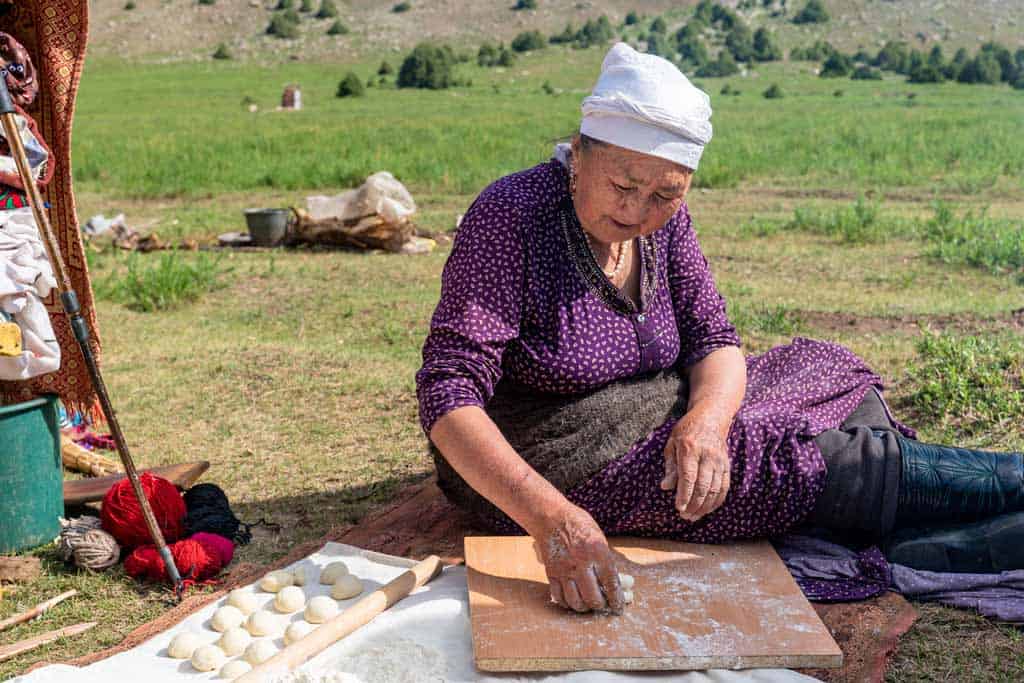 4) Learn about Local Handicrafts
Handicrafts are a big deal in this part of the world. Felts, in particular, are used for much more than just decorations around the house.
When there are weddings or special events on, women will create something unique as a gift.
Here gifts are not bought; they are made with love. It takes many hours to make a single piece of handicraft.
These gifts are placed in the recipient's homes as decorations. A popular gift is the shayrdak, which is a mat for the yurt floor.
You'll see plenty of different felt handicrafts on your travels in Kyrgyzstan, and if you find them interesting, doing a felt making demonstration can be a great experience.
Here you'll spend an hour or so watching the process used by the ladies to make a felt.
See how the raw wool is turned into a carpet through whacking methods, the stitching used, and a lot more. You can even join in for parts of it if you'd like.
This felt making demonstration is held in the nearby town of Gulcha, and can be booked through Visit Alay or CBT Sary Mogol, or at Klara's Guesthouse in Gulcha.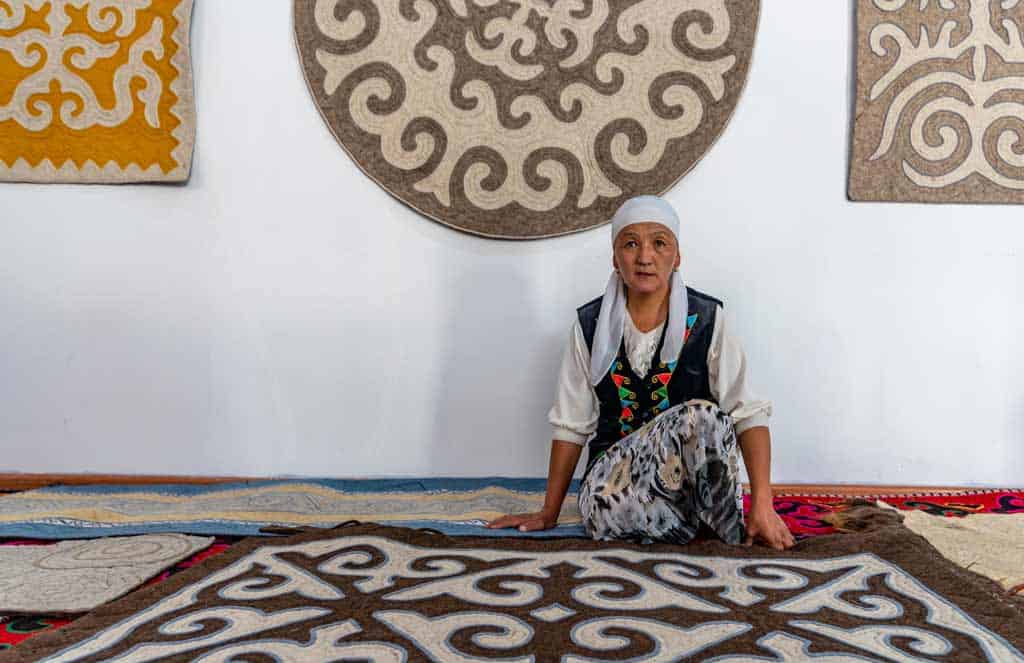 5) See the Petroglyphs
If you are into ancient history and art, then the petroglyphs near Sary Mogol may be of interest you.
There is not much information known about these petroglyphs, but if you visit them you'll see that the rocks are scattered with drawings of single animals in some places.
Do not be mistaken for some modern drawings, as some locals have unfortunately carved their artwork into the stone as well.
This area does need some cleaning up, and there is a toilet right near the petroglyphs area and rubbish amongst the rocks.
I have spoken with the local DMO, and they will be working to make this place pristine once again.
The drive out here is spectacular and offers great views for photos, so if you have never seen petroglyphs before, the vistas make it worth the trip.
READ MORE: If you want to see the best petroglyphs in Central Asia, you can do so at Cholpon Ata on Issyk Kul, Kyrgyzstan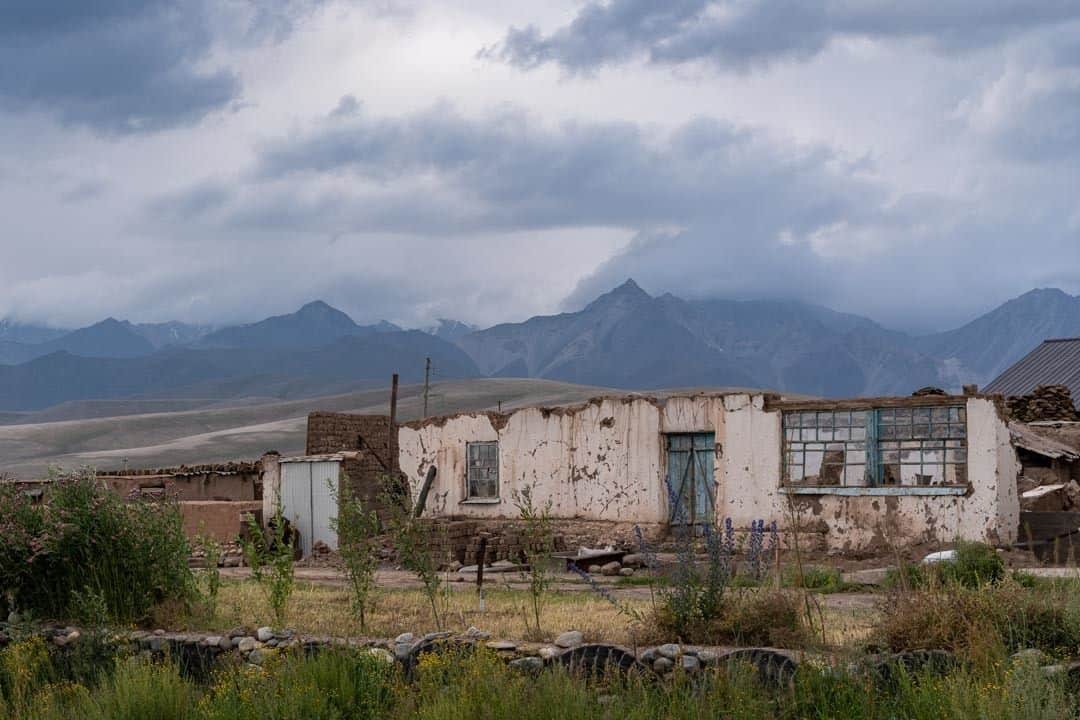 6) Learn About Honey and the Beehives
Beekeeping is big in the area, and locals have set up farms to produce delicious honey.
There are different types of honey produced, depending on the region.
There can be dark-coloured mountain honey, or white cloudy honey. Both taste different.
The farms are usually passed down through the family. On my most recent trip to Sary Mogol, I visited one and learnt all about the honey-making process.
First of all, honey starts as flower nectar collected by bees, which gets broken down into simple sugars stored inside the honeycomb.
The honey's colour and flavour vary based on the nectar collected by the bees.
A beekeeper will harvest the honey by collecting the honeycomb frames and scraping off the wax cap that the bees have made to seal off the honey.
Once this layer is scraped off, the beekeeper will place the frames into a machine and spin them, forcing the honey out of the comb inside.
After the honey is extracted, it is strained to remove any wax or other particles. After this, it is jarred and sealed.
If you want to go and see this with your own eyes, get in touch with Visit Alay or CBT Sary Mogol and say you want to visit Begaaly's honey farm.
I went to two different honey farms, and Begaaly was the most passionate and hospitable. He even gives you a beekeepers outfit to wear while you walk around the farm!
This is in Daroot-Korgon, about an hour from Sary Mogol.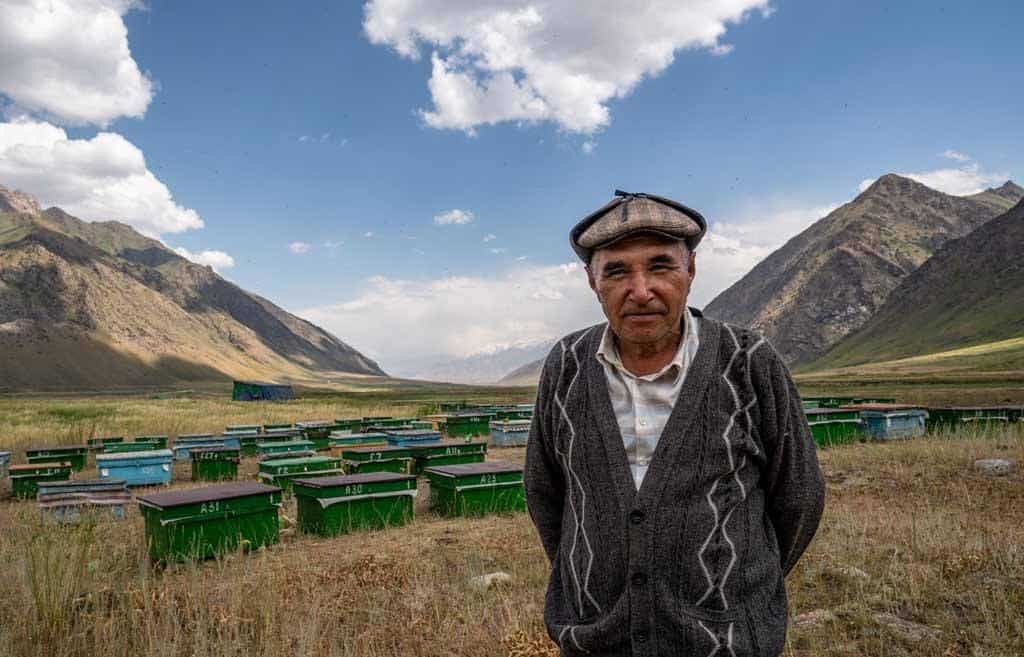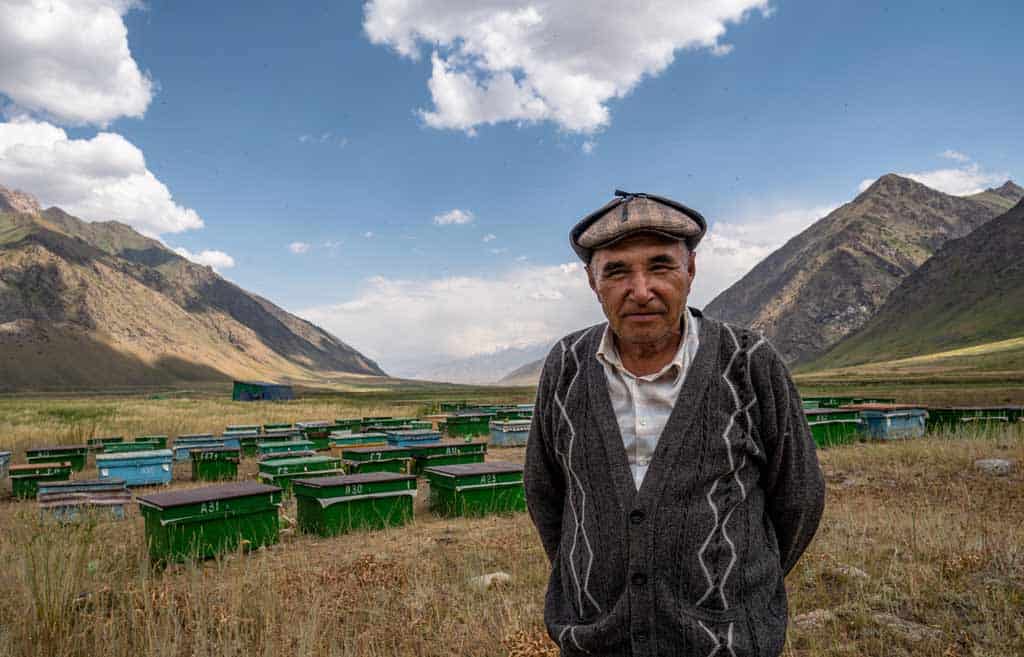 7) Thursday Market and Local Bazaar
Markets and bazaars are very common throughout Central Asia, and you'll no doubt visit plenty on your travels through here.
Most towns will have one, and they are often busiest first thing in the morning, when people come to buy local produce from the area.
In Sary Mogol they have the local bazaar, which is the place to go for any items you'll need, and a much larger regional market that happens on Thursdays.
The bazaar in Sary Mogol is a dusty place surrounded by shipping containers that have been converted into shops.
It is located in the centre of town near the CBT Sary Mogol, and is easy to access.
Besides being a great place to stock up on clothes, souvenirs and snacks for future hikes, it's also a wonderful place to take photos. Just make sure you ask the locals first before you go snapping their portraits!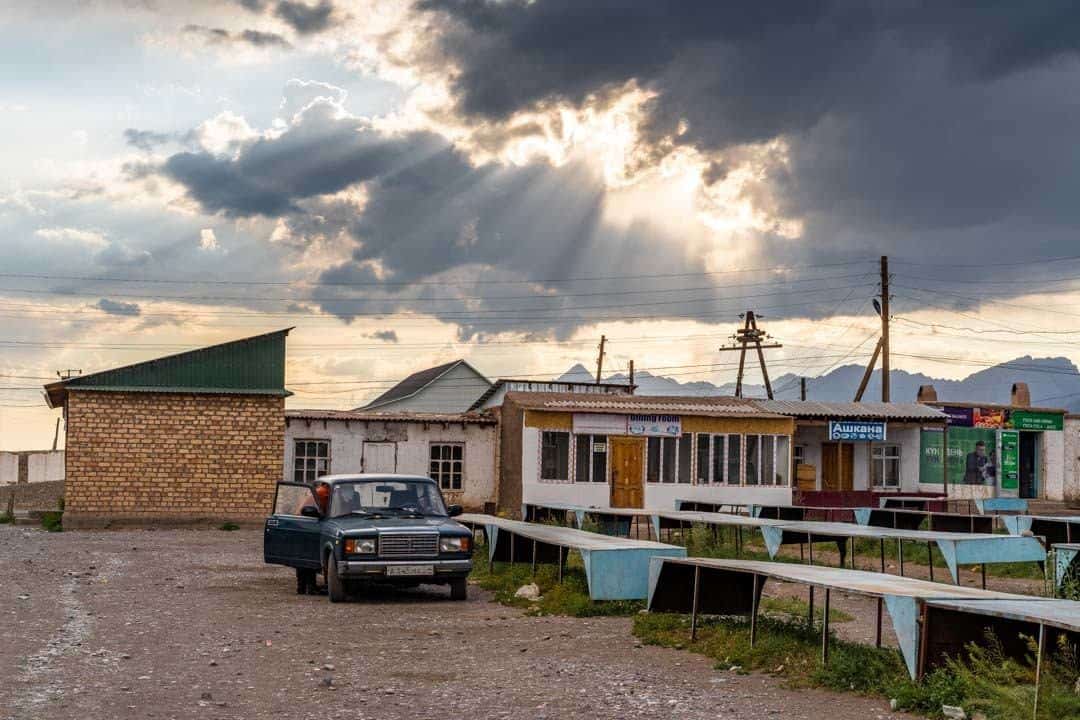 8) See a Wedding Demonstration
Kyrgyz weddings are a fascinating event, but unless you have local friends or get very lucky and happen to show up in the right place at the right time, chances are you'll never see one in person.
Lucky for you, one of the most unique things to do in Sary Mogol is to see a demonstration of a traditional Kyrgyz wedding!
This new tourism product was created by a local lady named Sharipa, who developed an interest in traditional weddings back in 2011.
Watching as the younger generation moved away from customs and traditions and instead took on modern trends, she wanted to preserve how things used to be.
She started collecting old wedding clothes and studying about the history of weddings in Kyrgyzstan.
In recent years she decided to start putting on demonstrations, and she found work at local cultural festivals, and then was given an opportunity to present at the biggest regional event of the year, the Peak Lenin Festival that happens every July.
Now she's started putting on demonstrations for tourists, and they are simply incredible!
Along with her family members, she puts on a fantastic show that educates tourists about all aspects of a Kyrgyz wedding.
For photography it really is unreal, and you're guaranteed to come away with some great shots and a new appreciation for traditional weddings.
I won't go into all the details of what happens, so you'll just have to book it yourself to find out more.
The demonstration is located at the Tilek Guesthouse in Sary Mogol. This can be organised through the guesthouse or through Visit Alay.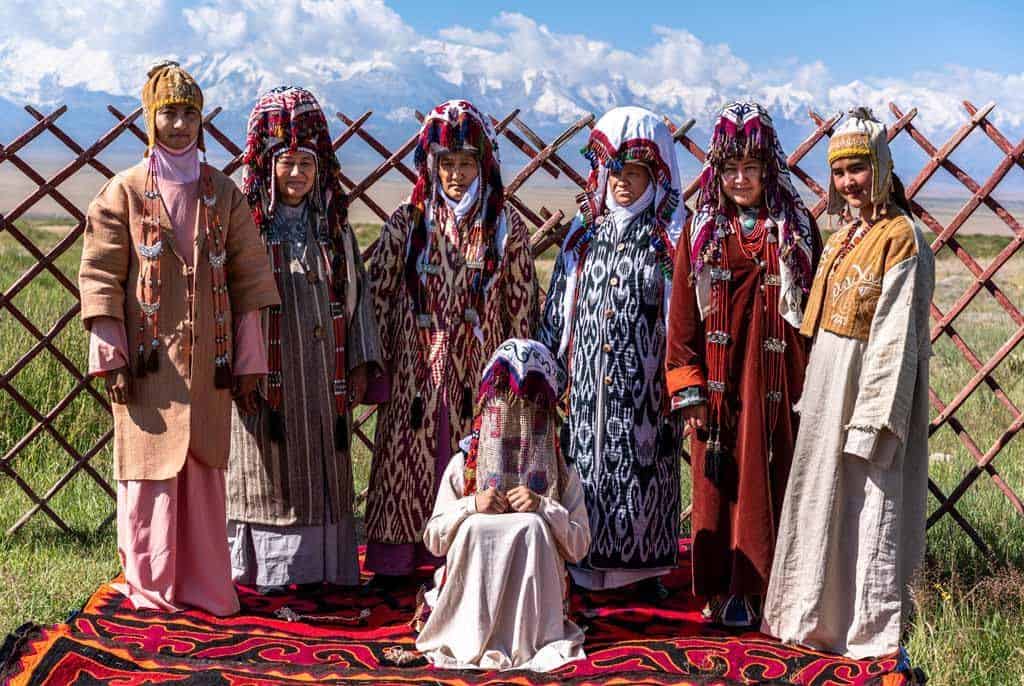 Sary Mogol Travel Guide
To help you make the most of your visit to Sary Mogol, I've put together a travel guide filled with information.
If you want to know where to stay, how to get to Sary Mogol, what to do outside of town and some travel tips, my guide to travelling to Sary Mogol is for you!
Where to Stay in Sary Mogol
When I first came through Sary Mogol a few years ago there was only a couple of places to stay, with the CBT being the main one.
Today there are a number of great local guesthouses, and the quality has improved a lot.
All prices are between USD$15 and USD$20 per person, per night including breakfast.
Besides having rooms to stay, all guesthouses can cook dinner and lunch for you, and some can help with booking activities or transport.
Here's my pick for where to stay in Sary Mogol.
Tilek Guesthouse
The owners Sharipa and her husband Baratbay will invite you in with big smiles. I stayed here for a night and it was very warm and cosy.
There are two rooms with 4-5 beds in it and 1 double room. The dining room is in the same building and coffee and tea are available all day.
The shower and toilet are in another building across the car park but were both clean. The shower was great with good water pressure and hot water.
There was wifi but don't expect the connection to be strong all the time. This will be the same in all guesthouses in the area.
Dinner and breakfast were great. If you have any dietary problems let them know. Make sure to translate into Russian, as no one speaks English.
If you want to book this accommodation you can do so on Booking.com, or you can book through CBT Sary Mogol. You can also rock up and pay direct, but you won't have much of a choice for bedding options if you do wait.
Price: USD$15 including breakfast
Address: 7 Burgansuu Street, Sary Mogol (on the other side of the river, they have signs)
Peak Lenin Guesthouse
This is another great choice for Sary Mogol accommodation. The owner is very friendly and cooks very nice food.
There's a large area that you can relax in, and a few dorm rooms and private rooms.
Wifi is available for guests. Located a short 10-minute walk from the bazaar. Email for exact directions.
Price: USD$15 including breakfast
Contact: +996554866786 (WhatsApp) or email, [email protected]
Guesthouse Hamza
This guesthouse has one room with 4 beds in it and a private double bed room.
It is located in town and offers breakfast and dinner. The owner speaks English.
Price: USD$15 including breakfast and dinner
Address: 121 Deputatskaya Street, Sary-Mogul
CBT Sary Mogol
The original guesthouse in Sary Mogol, CBT (Community Based Tourism) also acts as a tour agency and the local destination management organisation.
This is where most visitors to Sary Mogol end up staying, which means it is often quite busy though.
The staff speak English and are very helpful. They only have shared rooms.
Price: USD$20 including breakfast
Address: Next to the bazaar in town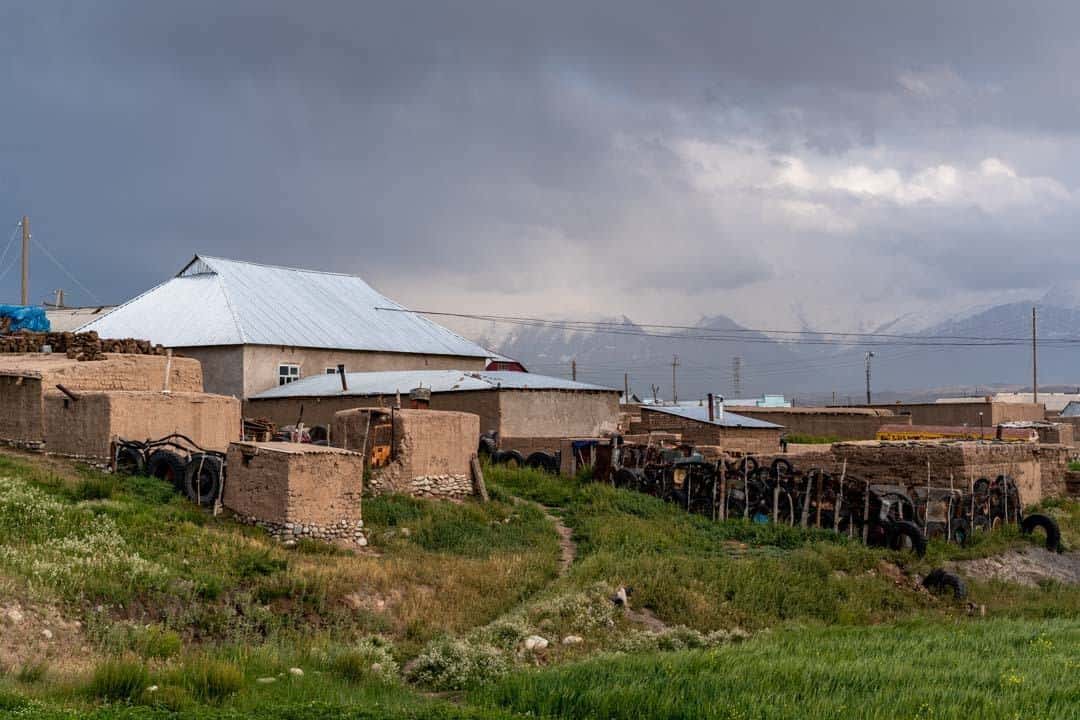 Where to Eat in Town
There are a couple of very basic restaurants in Sary Mogol, but in general I recommend eating at your guesthouse to make sure you get good quality food.
All the guesthouses are used to cooking for tourists and tend to make very affordable and delicious meals.
If you are looking for a snack, or groceries to cook yourself, head down to the bazaar.
How to Get to Sary Mogol
There are a few different ways to get to Sary Mogol. You can organise a transfer through Destination Osh and Visit Alay, or you can do it on your own which will take longer but be much cheaper.
Private Transfers
If you are short on time, or just have a little bit of extra money in your budget, getting a private transfer is the best way to travel to Sary Mogol.
We're assuming for this you'll be coming from Osh, as it's really the only place to book a private transfer.
Cars will fit 4-6 people.
Osh to Sary Mogol: 2500 – 3000 soms per car. 3.5 – 4 hours
Osh to Tulpur Kul Yurt Camp: 4000 soms per car. 5 hours
Sary Mogol to Tulpur Kul Yurt Camp – 1500 som per car. 1 hour
Book all your private transfers from CBT Sary Mogol, Visit Alay or Destination Osh.
Public Transport from Osh
There is one daily marshrutka that goes from Osh through to Daraut-Korgon via Sary Tash and Sary Mogol.
It aims to leave at 2pm from the New Bus Station. It will cost 300 som per person and take 4 to 5 hours.
They do not leave until the marshrutka is full and when I say full, be prepared for no space inside the car.
Because of it not leaving until full, don't expect it to leave right at 2pm.
Shared taxis also leave from the New Bus Station. It will cost 400 som person and they will also not leave until the car is full. These at least leave at regular intervals throughout the day.
If most of the car is full of tourists the driver may drop you off at your guesthouse or the CBT Office.
New Bus Station Address (Noviy Avtovokzal): Located outside the city on southeast corner of Lenin Avenue and Osmonova Street in Osh.
Public Transport from China
After crossing the border from China you will pass trough Irkeshtam Pass then continue on towards Sary Tash.
This is the main road and is paved, so no 4WD is needed.
If you are lucky once you cross the border you may be able to get a car direct to Sary Mogol if there are enough people.
Once you get to Sary Tash you may need to swap cars to another shared taxi.
There is a local bus that goes from Osh to Daraut Korgon and you might be able to catch this.
The best place to be dropped off is the 3-way intersection where Taichy store, gas station and a local mosque is located.
Here you will be able to ask a local for a shared car to get to Sary Mogol which is 30km away, or try hitchhiking.
Public Transport from Tajikistan
Coming into Kyrgyzstan from Tajikistan, Sary Tash will be the first village you will hit.
You will go via the Bordobo border over the Kyzyl Art Pass (4,282m). This is the second-highest border crossing in the world.
Once you reach Sary Tash, see if you can be dropped off at the junction I mentioned above.
Here you will be able to get a shared taxi or the local bus (if you get there in time) to Sary Mogol. Sary Mogol is only 30km away from Sary Tash.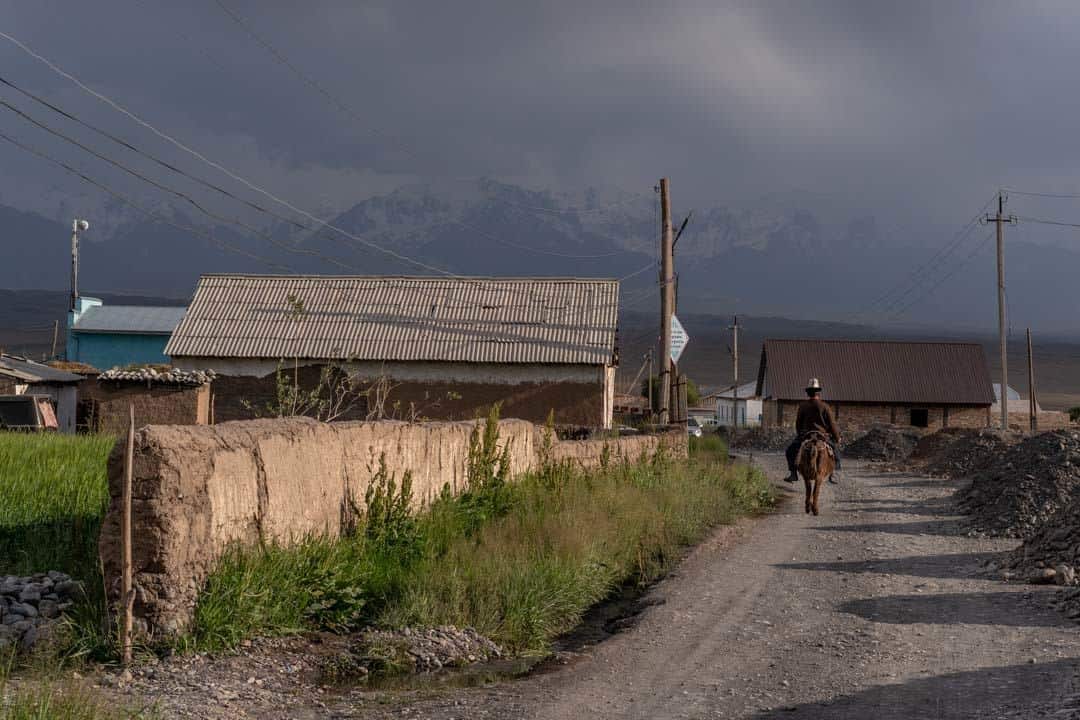 Where to Go After Sary Mogol
Once you've spent a few days exploring Sary Mogol, there are quite a few other cool places you can check out as well.
Tulpar Kul
Near the base of Peak Lenin is the stunning Tuplar Kul region, a series of lakes at the foot of the mountains.
There's a couple of yurt camps here that you can stay in, making it a great getaway from Sary Mogol, especially if you want to do some hiking around Peak Lenin.
Both CBT Sary Mogol and Peak Lenin Guesthouse have yurt camps out there.
Daroot-Korgon
If you are interested more in seeing the cultural side of Kyrgyzstan, this town is a great stop to organise this.
There are many yurt camps out to the northwest of the town and the Akbata Guesthouse can organise a traditional stay for you if you like.
From this town I experienced the bread making and saw the beekeeping farm. It is about 65km from Sary Mogol.
Where to Stay – Akbata Guesthouse
This is a big guesthouse and they were building a hotel when I was there.
At the moment the house offers dorm bed style rooms with sitting tables, hot showers, wifi and cooked meals.
The owner Dawud is very nice and makes you feel very welcomed.
Contact: +996 (0) 779 445 857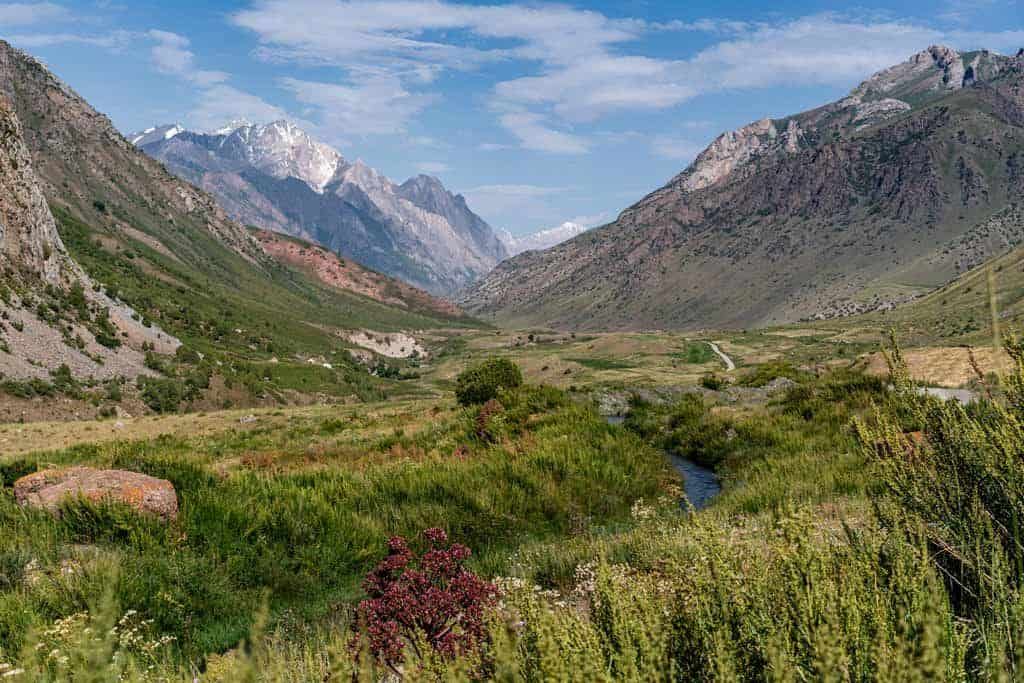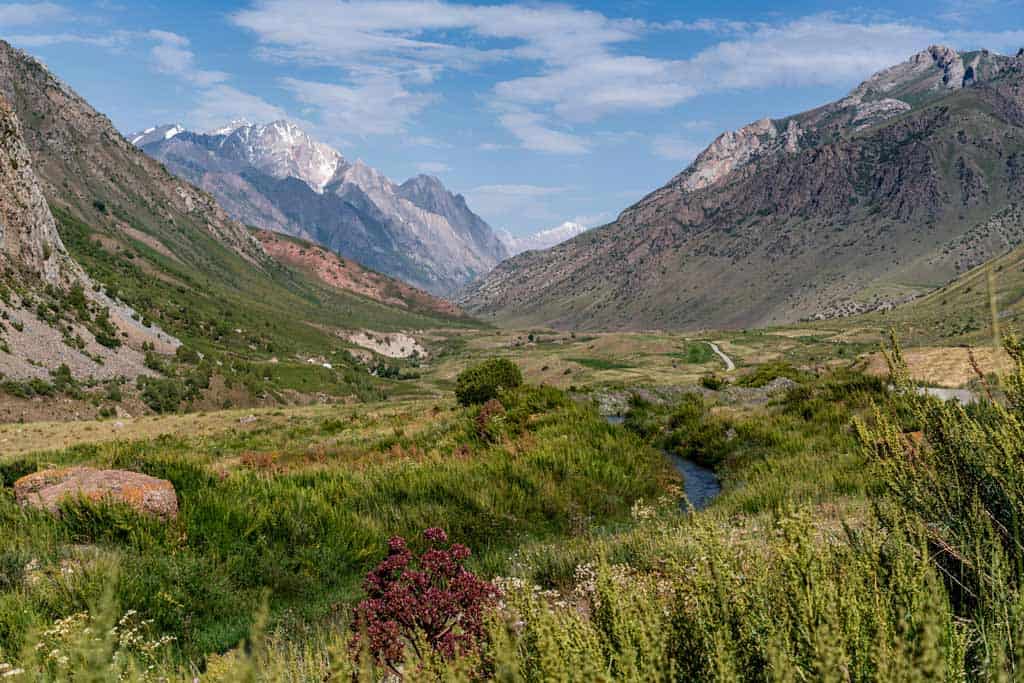 Gulcha
Gulcha is another place that is worth travelling to, either as a day trip from Sary Mogol or for the night.
This is the place where I saw the felt-making workshop.
The Women's Working Cooperative Centre has over 200 women around the district working with this organisation.
This centre is a great place to bring women together to share conversations and skills with one another. This is a way for women to earn an income for themselves and not rely on just their husband's income.
See above under my 'Things to do in Sary Mogol and the Surrounding Towns' section for more information on this.
Where to Stay – Klara's Guesthouse
This guesthouse is owned by Klara and her husband Sagyn. It is in the centre of Gulcha and has plenty of room for many guests.
There are dorm rooms or you can stay in private twin rooms. Dinner and breakfast are both included in the price.
If you are a vegetarian, Klara understands and know meals to accommodate you. Meals are in the traditional style yurt. There are hot showers, a sauna and working wifi.
I was told that Klara and Sagyn are building a 2-storey hotel which will be called Mountain Hotel. It might be ready by 2020.
Contact: +996 (0) 777 086 327
Koldul Lake
Heading into the town of Jergetal there is a gravel track to Koldul Lake. This road is bumpy at times, but you get lovely views of the valley as you get higher.
When approaching the lake, the road turns into a single lane and can be sketchy when you come across another car.
Up high is a beautiful view of the lake with the mountains in the background.
There was a short livestock trail around the lake you can go walking along if you'd like.
It is a great stop to chill out and have lunch as a lot of locals were doing. You can hike over to another lake apparently, but the trail is not well marked. If you do it please leave a comment below and tell me what it was like.
Sary Tash
This town is the southern gateway to and from the country. Sary Tash is located near the Chinese-Tajik border on the western end of the Alay Valley.
It is a small village with not much to do here, which is why most people choose to stay in Sary Mogol.
There are a few guesthouses, a gas station and some small shops. The only real reason for you to come here is to leave Kyrgyzstan for Murghab in Tajikistan or to head over the border to Kashgar in China.
Osh
Osh is the major city in the south of Kyrgyzstan and is the second-largest city in the country.
This city often gets overlooked by travellers as just a stopping-off point to head to other places.
From Osh you can head north towards Bishkek, across to the Fergana Valley in Uzbekistan, over to Khujand in Tajiksitan, down towards the Pamir Highway or over to China.
But Osh is actually an amazing little city, with plenty of cultural things to do, and a hub for adventure.
We'll be writing a big guide on things to do in Osh soon, but until then have a read of this article by our friends Dan and Audrey at Uncornered Market.
Truly Nomadic Lands Trek
The Truly Nomadic Lands Trek is an excellent 5-day hike that starts close to Gulcha.
For an extra fee you can organise transport from here to the start and the end of the trail.
I'll be bringing out a comprehensive detailed guide on how to hike the Truly Nomadic Lands trail very soon.
Travel Tips for Sary Mogol
To help you make the most of your time in Sary Mogol, here's some of my top travel tips for the town.
Bring a Translator if You Don't Speak Russian
Kyrgyz and Russian are the languages everyone speaks in Kyrgyzstan, and while English is becoming more popular, it is definitely not widespread yet.
If you can't speak either, I recommend bringing a phrasebook or having Google Translate on your phone if you're coming to Sary Mogol.
It'll help a lot when trying to communicate with the locals here.
Wear Appropriate Clothing
The south of Kyrgyzstan is more conservative than the north, and this is apparent when it comes to the clothing.
You will see the ladies and men covering more of their bodies, with long pants, long-sleeve shirts and sometimes headscarves.
As a traveller, you should try to wear clothes that won't cause offence to any locals.
It is not the law, but it is respectful for tourists to not wear very tight or revealing clothing.
As a female when I travel to this area, I cover my shoulders with a t-shirt and wear loose pants. Hijabs are not required though.
Buy a Sim Card
The telecommunications company Megafon has 4G reception in Sary Mogol, and it is often much faster than any of the wifi you'll find in the guesthouses.
If you haven't already bought yourself a sim card in Osh or Bishkek, you can pick one up at the bazaar in Sary Mogol.
On my most recent visit, it was only 400 KGS for 50GB of data (not many minutes for local calls, but everybody uses WhatsApp anyway).
Renting Camping Gear
If you plan to do hikes on your own and need to rent camping gear, I recommend getting it from Bishkek or Osh, as there's nowhere in Sary Mogol that has any.
Have you visited Sary Mogol? Have any extra tips to add? Leave a comment below and let me know!
DISCLAIMER: This travel guide has been created in partnership with Heveltas Kyrgyzstan to help develop and promote tourism in the country. All thoughts and opinions are, as always, our own.