From eagle hunting to sunset cruises on the lake, here are 14 of the best, most unique things to do in Issyk Kul, Kyrgyzstan.
Located in the heart of Central Asia, steeped in ancient Silk Road history and rugged landscapes, Kyrgyzstan is a country known for its stunning mountains and fascinating nomadic culture.
Shepherds migrate their cattle from pasture to pasture, setting up camps at the base of soaring peaks. Snow-fed rivers carve their way through twisting valleys and pine forests flourish below the alpine. It's truly one of the most amazing places we have ever seen.
And amongst all this lies an attraction that local people consider to be the absolute jewel of their nation.
Look at a map of Kyrgyzstan and the first thing you notice will most likely be the huge body of water in the eastern part of the country.
READ MORE: Check out our brand new travel guide with everything you need to know about travelling in Kyrgyzstan!
Spread out over 6000 square kilometres, Issyk Kul is the world's second-largest saline lake after the Caspian Sea, and at any time of year is a spectacular sight.
At it's widest point Issyk Kul looks like an ocean, spreading out past the horizon with only the tops of distant mountains alluding that there is something beautiful on the other side.
It's little wonder that Issyk Kul ranks so highly on lists of things to do in Kyrgyzstan, and with the growing number of activities being developed every year it deserves its place on traveller's itineraries.
Looking for an epic adventure? Join us on for a small-group adventure tour around Kyrgyzstan in 2020!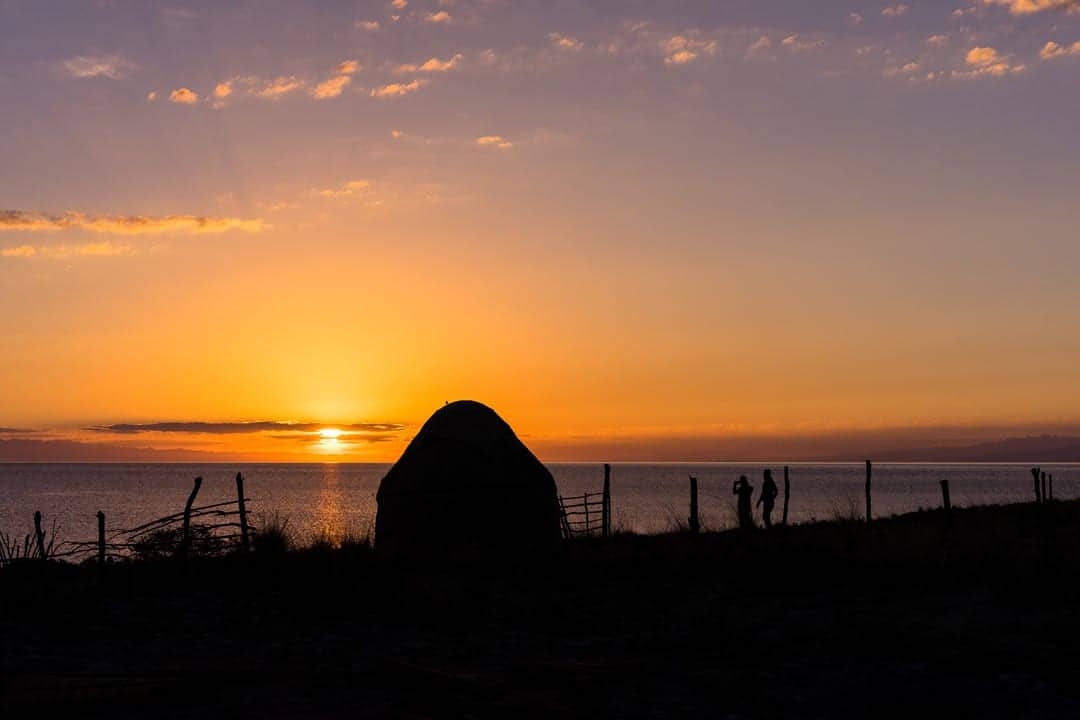 Things to Do in Issyk Kul
We've been lucky enough to visit the Issyk Kul region three times over the last few years, and every time we return we find something new and exciting to do.
There are two impeccable organisations that can help you get the most out of the Issyk Kul region, and they are Discover Kyrgyzstan and Destination Karakol.
We'll let you know where you can book all of the experiences below, and usually, it involves reaching out to one of these DMOs (particularly Karakol).
To help with you get the most out of your own travels to Kyrgyzstan, here is our list of the best things to do in Issyk Kul.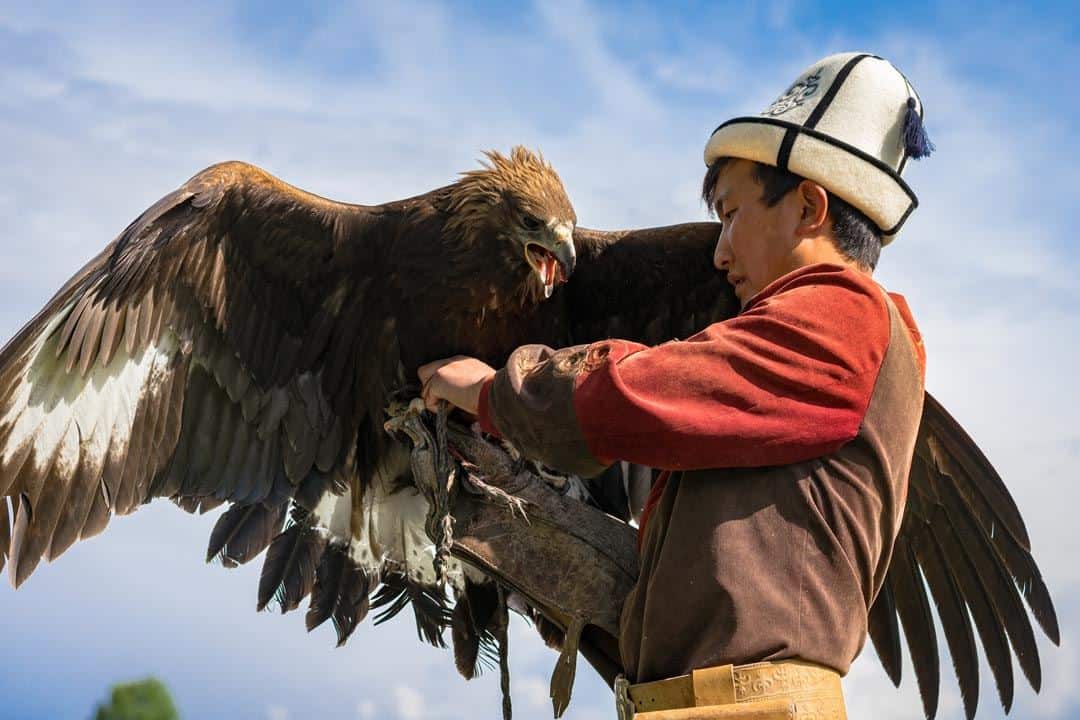 1) Eagle Hunting And Archery With The Salburun Federation
Arguably the most fascinating of all Kyrgyz traditions, and the one that stands out for most tourists to experience is eagle hunting. It's one of the best things to see in Issyk Kul.
You've probably seen the pictures – A strong local man dressed in traditional costume holding a majestic eagle on his arm. It may just be the most iconic image coming out of Central Asia these days!
However, one common misconception is that you'll see this everywhere. Unless you attend the World Nomad Games, or spend weeks in a village known for eagle hunting, it's not exactly something you'll just stumble across.
But one group is doing their part to show this spectacle to any tourist that is interested.
The Salburun Federation is a collective of eagle hunters, horse riders and archers that have joined together to showcase their sports to the world.
By booking ahead you can organise to see a complete demonstration, led by the president of the federation Almaz Akunov and his team of hunters.
Seeing the skills of these men (and sometimes women) in regards to archery and horse riding is fascinating, but the real highlight is, of course, the eagle hunting.
We won't give away too much of the demonstration, as it really is something that needs to be seen to be believed. You can reach out to them through their website to book it, or contact the Destination South Shore office. It really is at the top of the list of things to do in Issyk Kul.
NOTE – Eagle hunting has been a large part of the Kyrgyz culture, and people's livelihood, for centuries. And while some people may think it to be barbaric, it's important to know that this is not something the hunters simply do for fun. During the demonstrations no live animals are hunted either.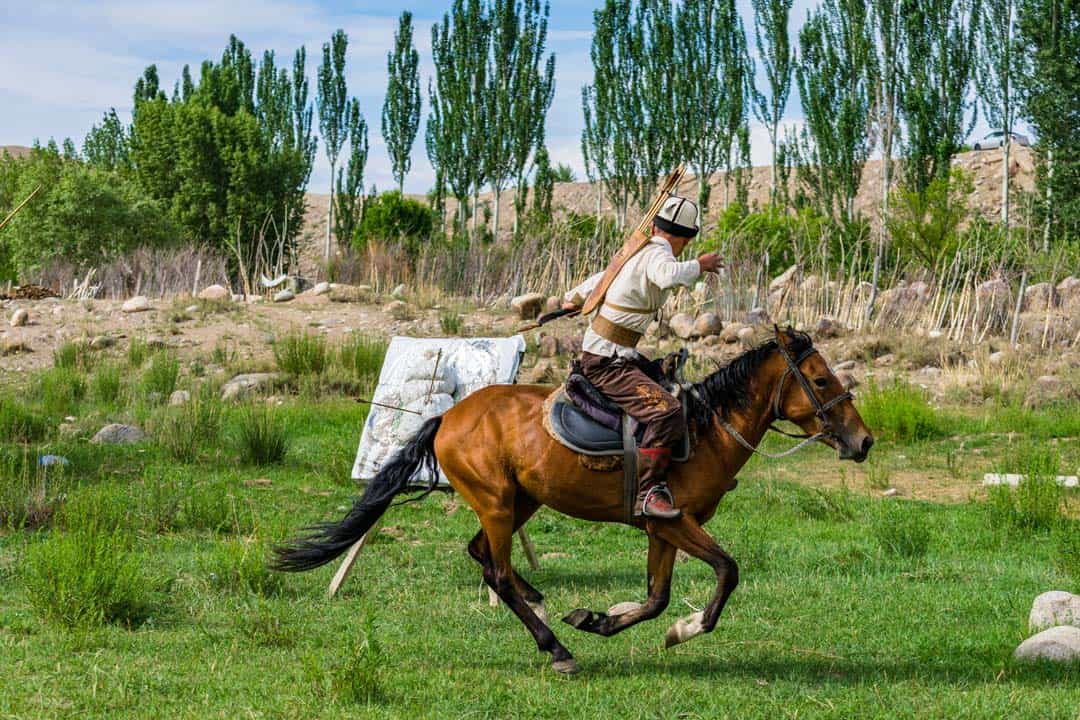 2) Have a Drink on the Issyk Kul Sunset Boat Cruise
Issyk Kul is truly stunning at any time of day, but there's something special about being on the lake at sunset.
Sunset boat cruises are popular all over the world, and they have finally come to Kyrgyzstan. Every evening during the summer you can head out onto the water for a 2-hour cruise to really appreciate Issyk Kul from a different perspective.
Snacks and music are provided, as well as a welcome drink. If you feel like having a bit of a party with your friends more beer can be purchased from the onboard bar.
It's a perfect way to enjoy an afternoon out on the lake. Team up with your friends or other travellers in your guesthouse, or simply go along and see who you'll meet. Highly recommended!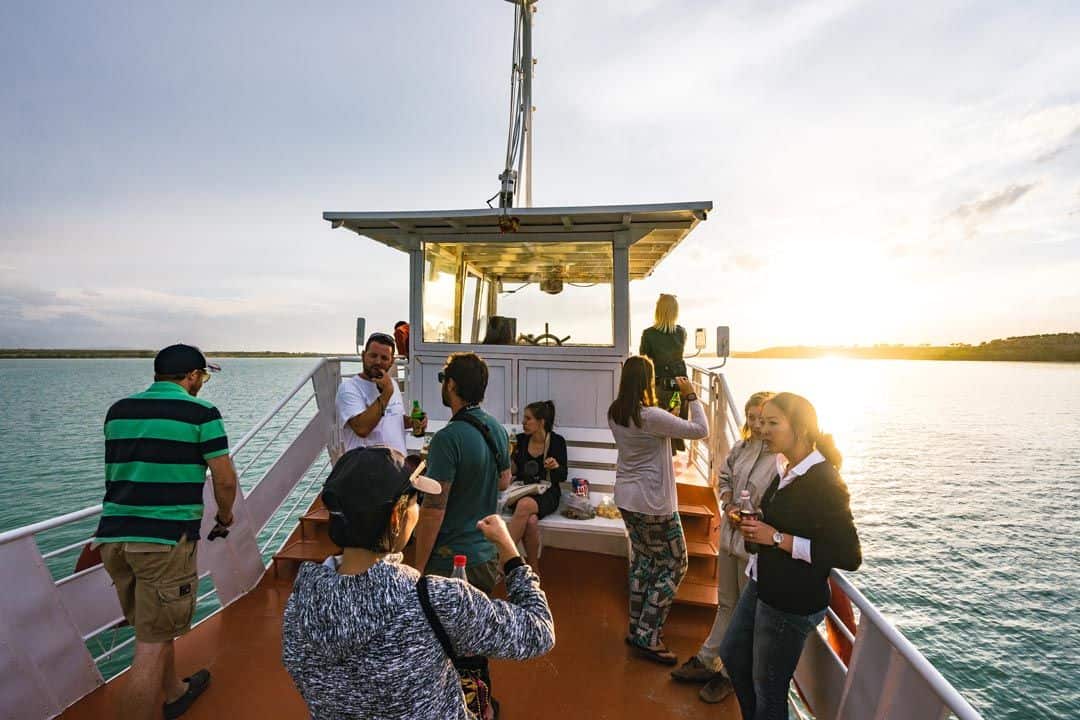 3) Culture and Cuisine with the Dungan Food Experience
One of the largest minority groups around Karakol are the Dungan. This group of Chinese-Muslim people fled over the border many years ago to escape persecution and massacre, and settled in the safe-haven of Kyrgyzstan, forming a tight community and adding a fascinating culture to the country.
Only 20 minutes from the main town of Karakol, a small village called Yrdyk is home to a large number of Dungan people who have managed to integrate into Kyrgyz life while maintaining their beliefs, culture and of course their food.
Dungan food is a delectable fusion of Chinese and Kyrgyz cuisine, and one hospitable family in Yrdyk has opened their home and now offer an amazing cooking class.
Jumping in a van from Karakol you drive out to Yrdyk and first visit the Dungan Mosque. Made of timber with a distinct flair of Chinese temple architecture, it's an interesting stop to learn about their religion.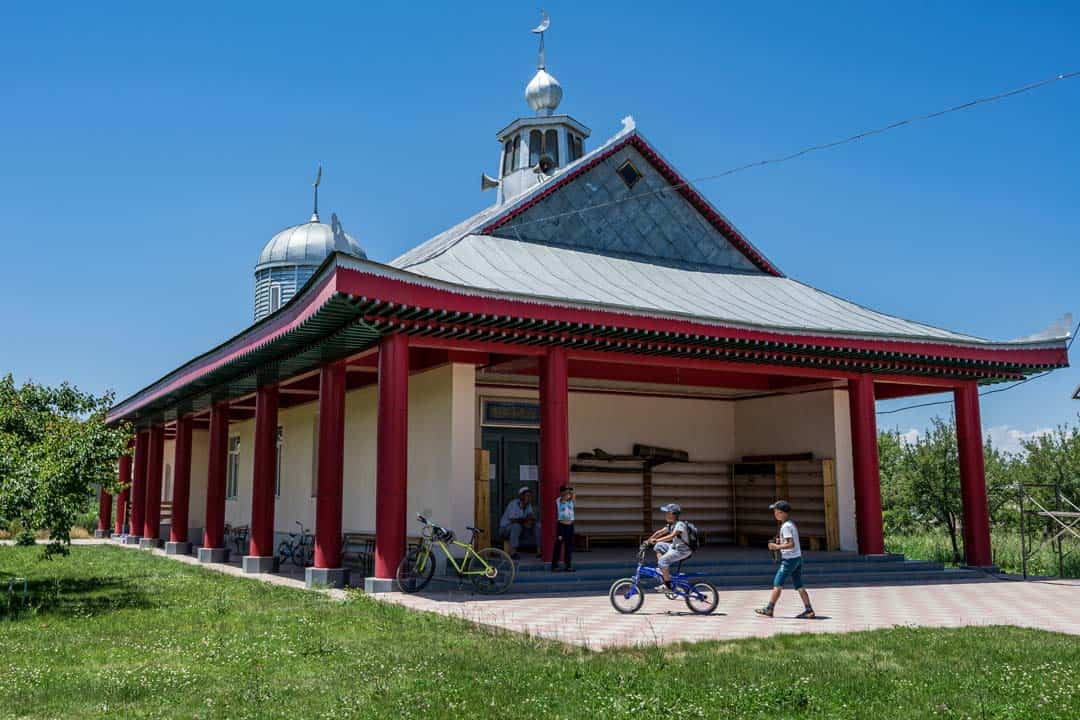 Afterwards a visit to the local Dungan Museum gives great insight into the tragedies that brought the Dungan people over the border in the first place, and is also filled with interesting exhibitions. The man that runs the museum is very friendly as well.
With history and culture now delved into, it's time to move to the family's home and start the experience. Once introductions are made the mother will show you how to make ashlanfu, a delicious noodle dish that is only found in the Karakol region. Once you put it together you step inside the home and sit down on the floor, local style.
Then, the feast begins! For the next hour or so the family will bring out dish after dish of incredible Dungan meals. Enjoy eating a whole variety of food that you probably won't find anywhere else. From noodles to dumplings to meatballs to salads, there's no shortage here!
Make sure you are hungry before you come, as this family's goal is to make sure you leave not wanting to eat again for the rest of the day. It was definitely our favorite thing to do in the Issyk Kul region.
You can book the Dungan Food Experience through Destination Karakol, and it costs USD$20.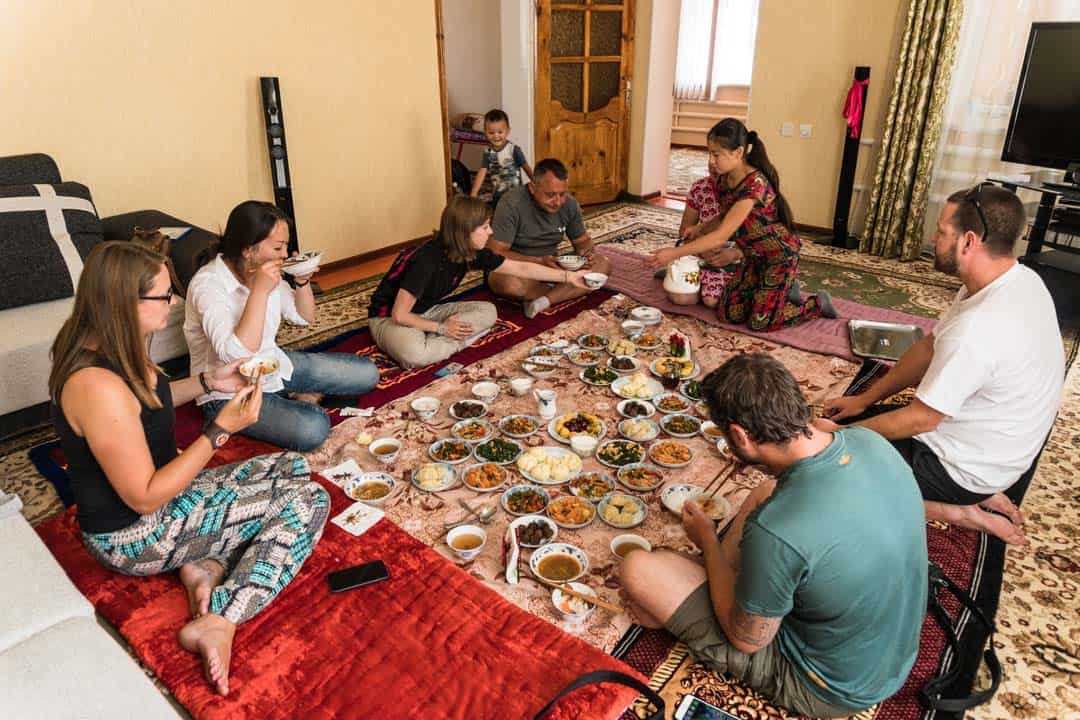 4) Learn How to Build a Yurt
Yurts are the traditional tent-style homes that you can find all over Central Asia and Mongolia (known as 'gers' there), and their design has intrigued travellers for years.
We'd go so far to say that no trip to Kyrgyzstan is complete without spending at least one night in a yurt. They're warm, beautifully decorated and unlike anything you'll stay in anywhere else.
We've been lucky to see yurts being built in many different places, but we've never learnt how to do it ourselves. That was until our last visit to Kyrgyzstan!
The small village of Kyzyl Tuu is at the southwest end of Issyk Kul, and is known in the country for being one of the best places to buy high quality yurts. The village's reputation has grown so much that now some families there offer workshops on how to build them!
You'll learn how every aspect of the yurt is made, from the felt to the timber as well as the decorations, and then the fun begins.
The family will give you a hands-on demonstration on how the yurt is built, and you're more than welcome to help out! Watch as the frame is constructed then the entire thing is wrapped in warm, insulating felt.
Once the demonstration is over you are then welcomed inside the newly-built yurt to enjoy tea and snacks. A wonderful experience, and definitely one of the best things to do in Issyk Kul.
Book this experience through the South Shore DMO.
5) Drink a Coffee (and Help the Community) at Fat Cat Cafe
One of our favourite things to do when we travel is to seek out funky little cafes that have unique elements, and delicious coffee.
When we first came through Karakol in 2015 there was one good cafe in town, and that was about it. In 2017 there's quite a few more but our absolute favourite is Fat Cat Cafe.
Located next to the Destination Karakol office, this great spot offers amazing coffee at rock-bottom prices (USD$2 for a giant latte!) and delicious food for breakfast, lunch or dinner.
The other thing they offer that we love is craft beer. You can order incredible IPAs, lagers and a range of other choices from a microbrewery in Russia. Again, the prices are hard to beat (USD$2 for a 500ml beer).
All that being said, there's one other thing, and the most important, thing that Fat Cat Cafe does – help the local community.
The owner Zhamilia sells all kinds of handicrafts made by people in Karakol with all the money going straight back to the artists, and she donates a portion of her own profits to sustainable enterprises and social projects around the area.
It's worth stopping by just to find out more about what she does (she speaks excellent English and German), then kick back and enjoy a delicious latte or IPA.
Address: Gagarina 22 /AlybakovaKarakol
Opening hours: every day from 9:30 AM – 12 AM
You can find Fat Cat Cafe on the corner of Gagaruna Ulitsa and Alybakova Ulitsa, right next door to the Destination Karakol office.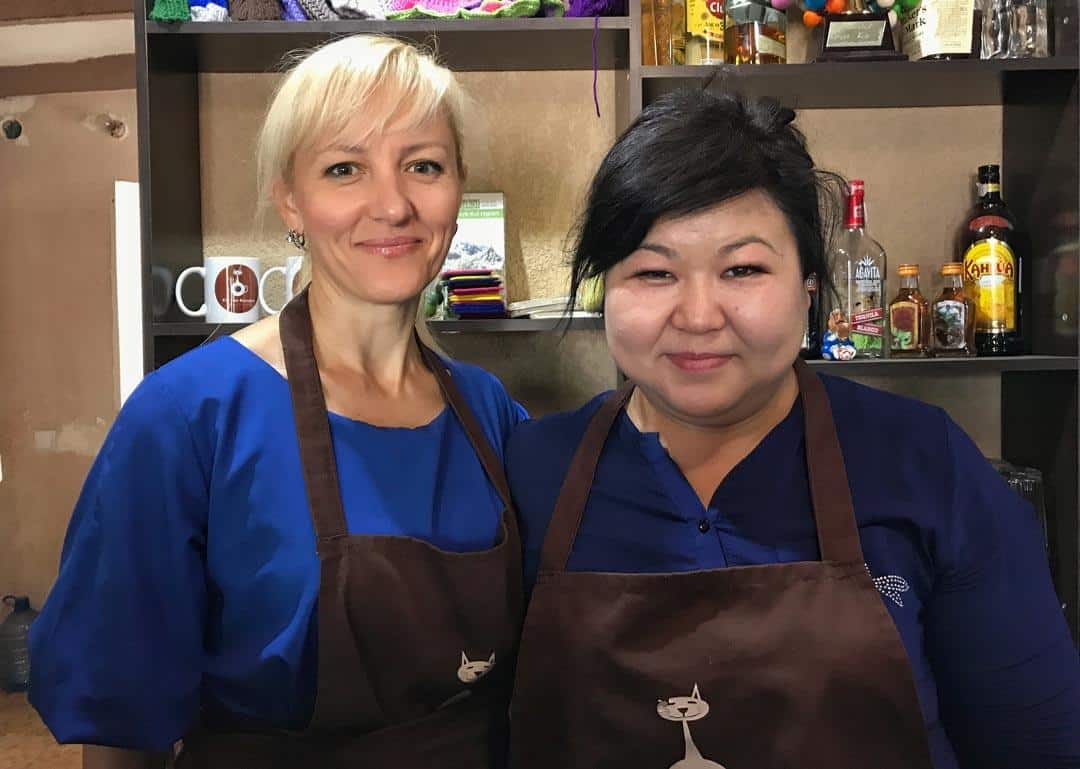 6) Stretch Noodles in a Lagman Class
If you've spent any amount of time in Central Asia, you probably have tried lagman. Perhaps our favourite food in the entire region, lagman is a noodle dish that comes drenched in tasty sauce and meat, and served as a soup or fried (fried is our favourite).
The first time we saw people stretching noodles on the street was in Xi'an, China, and we were fascinated by it. The first time we tried lagman though was in Kashgar, and we were hooked.
In Karakol an entrepreneurial woman has opened her home much in the same way as the Dungan family, and now teaches travellers how to stretch their own noodles and make lagman.
The technique of kneading, rolling and twisting the noodles to make them long enough without breaking is more difficult than we expected, but it was so much fun trying it out!
The lady shows you exactly how it's done, then helps you stretch your own noodles. When they're prepared she takes them away to finish cooking the dish in her kitchen.
Lunch is so much more than just lagman too, and manties and salad are also offered. Again, don't eat breakfast before this one!
Sitting at her family table eating the lagman is a cool experience, and if you love this dish it's well worth checking out.
Book it at the Destination Karakol office. The cost is USD$15 per person.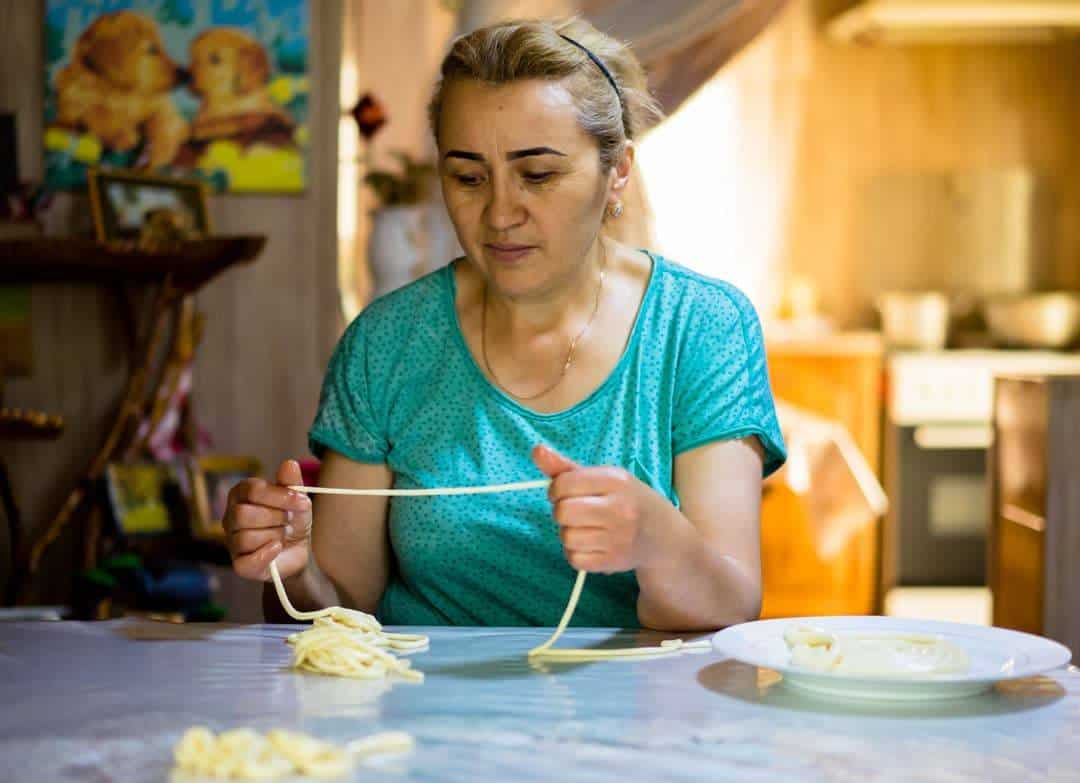 7) Marvel at History with the Cholpon Ata Petroglyphs
The valleys of Kyrgyzstan were once an important trading route along the Silk Road, and that has created a wonderful history that most travelers love to explore. But there's evidence of history that actually predates the Silk Road that shouldn't be missed.
Just outside of Cholpon Ata, a large resort town on the shores of Issyk Kul (and home to the World Nomad Games), lies a boulder field covered in ancient petroglyphs. Some of these rock carvings are 3500 years old, although most fall between 1900 and 2800 years old and are from the Saka-Usun people.
There's also quite a few Turkic inscriptions that were carved between the 5th and 10th centuries. You can expect to find details of ibex, snow leopards and other native animals.
You can walk to the Cholpon Ata petroglyphs from town. Just head up Akmatbay-Ata until the pavement comes to an end, then turn left onto Almakuchkov. Guided tours can also be organised from the regional museum in Cholpon Ata. The Cholpon Ata petroglyphs are worth the hike – a Issyk Kul must see!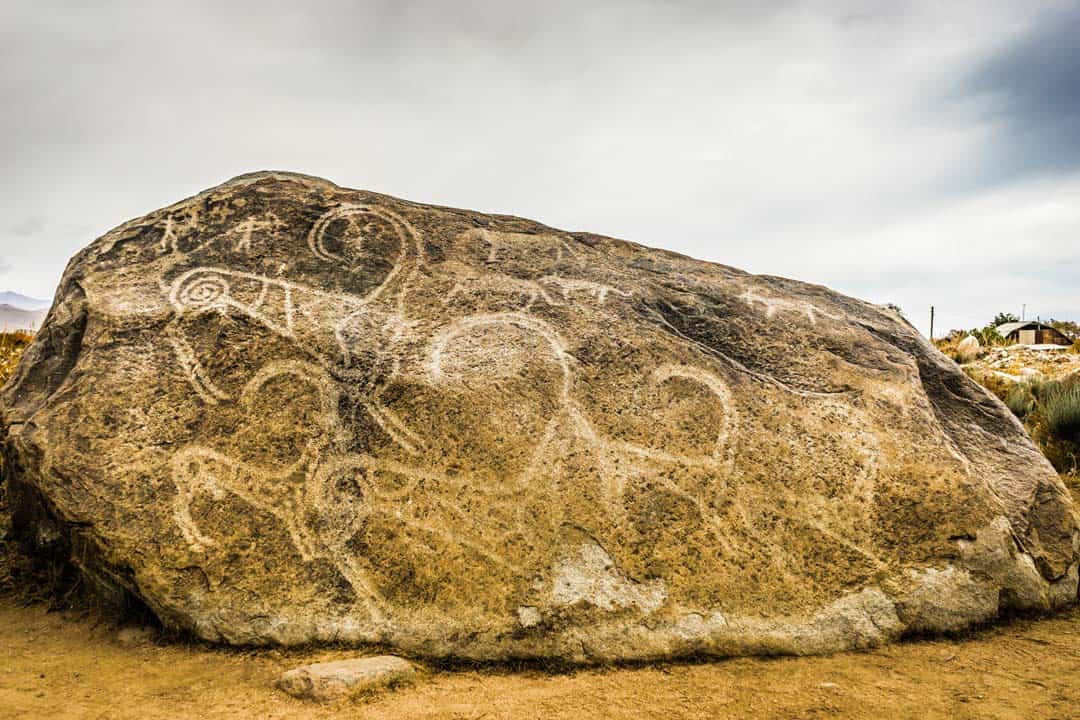 8) Get Outside on a Karakol City Walking Tour
Just like the famous walking tours you can find all over the world, Karakol has now developed their own version of this popular activity.
It's a great way to get the lay of the city and learn more about some of the Issyk Kul attractions.
Starting from the Destination Karakol office, this free walking tour lasts about 2.5 hours and will take you to the Karakol Mosque, an old Soviet antique shop, the market, the Russian Orthodox Church and a few other highlights of town.
Your guide is a local from Karakol and will have all kinds of history and stories to tell about this large town. You'll learn how Karakol came into existence, why its location was chosen and how it has developed over the years. Definitely the best thing to do in Karakol when you first arrive.
Book your place on the tour by going into the Destination Karakol office. While it is free, it operates on the common 'for tips' system.
9) Fall in Love with the Jyrgalan Valley
While Jyrgalan Valley isn't exactly by the shores of Issyk Kul, it is only an hour away from Karakol and is a place that should not be missed when travelling in Kyrgyzstan!
Up and coming as Central Asia's next adventure hotspot, the village of Jyrgalan is home to some amazing activities such as horse trekking, mountain biking, yurt stays and of course single-day and multi-day hikes.
There are 6 guesthouses in the village, all offering an authentic family experience and delicious food. Even if you don't get out into the epic mountains around the valley (but trust us, you really should), it's worth visiting just to experience a real Kyrgyz mountain village.
You can take a marshrutka from Karakol to get out to Jyrgalan Valley, or organise your own transport. Reach out to Destination Jyrgalan Valley to find out more.
Want to go trekking in Jyrgalan? Read all about the two multi-day treks we did there – The Boz Uchuk Trek and the Keskenkija Loop Trek.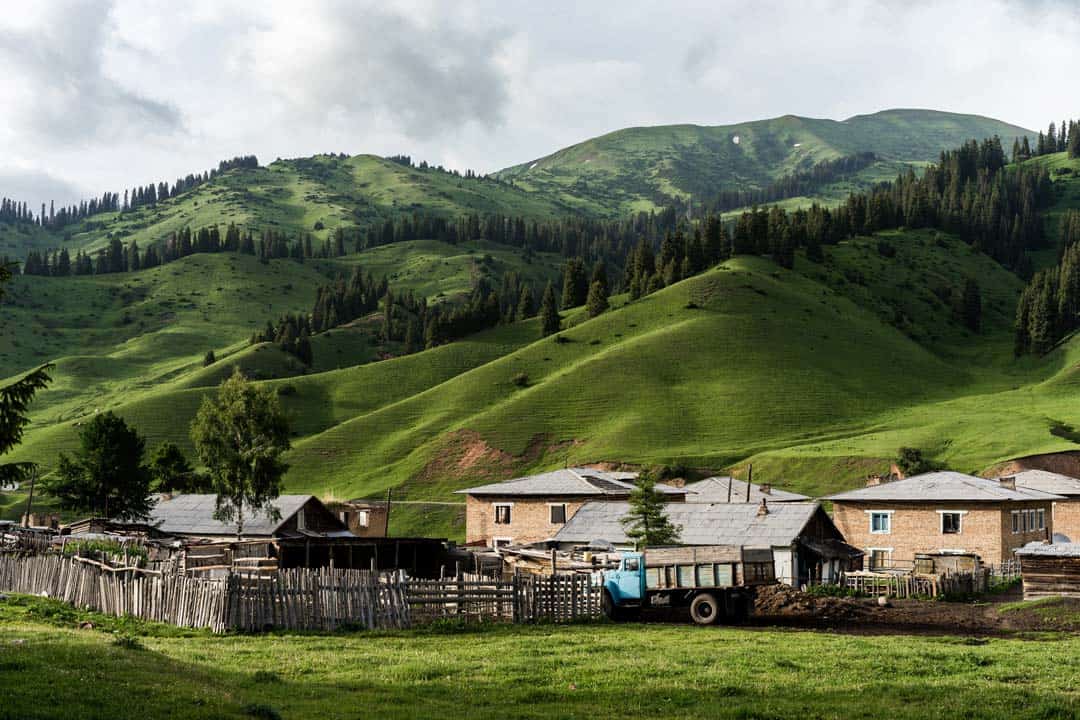 10) Stay at Feel Nomad Yurt Camp
Along with getting your eagle hunting photo, the other thing every person wants to do in Kyrgyzstan is sleep in a yurt. It's part of the Issyk Kul sightseeing experience!
Luckily this is very easy to organise just about anywhere in the country, but the brand new Feel Nomad Yurt Camp on Issyk Kul is particularly awesome.
Just 25km outside of Bokonbayevo on the south shore, Feel Nomad Yurt Camp is a small, locally-run business with 5 traditional yurts that can host 4 people each in an incredible lakeside setting, and offering one of the best things to do in Issyk Kul.
The guys from Feel Nomad are pioneers in the tourism industry in Kyrgyzstan, and have worked closely with national governments and international tourism agencies to develop the best visitor experiences in the country.
Running a high-end tour company, they have now diverted their attention to operating the best yurt camp in Northern Kyrgyzstan.
In addition to having comfortable yurts to sleep in (complete with actual beds) and 2 hot showers and flushing bathrooms (talk about luxury), they can also organise any activity or tour you'd like to do during your time here.
Eagle hunting, horse trekking, cultural shows, cooking classes, kayaking and more is on offer!
What makes Feel Nomad Yurt Camp truly unique though is the views on offer over Issyk Kul Lake.
You can spend hours just chilling on the beach, hanging out with friends or drinking the afternoon away.
Get in touch with the guys directly to book this experience. Their email address is: [email protected]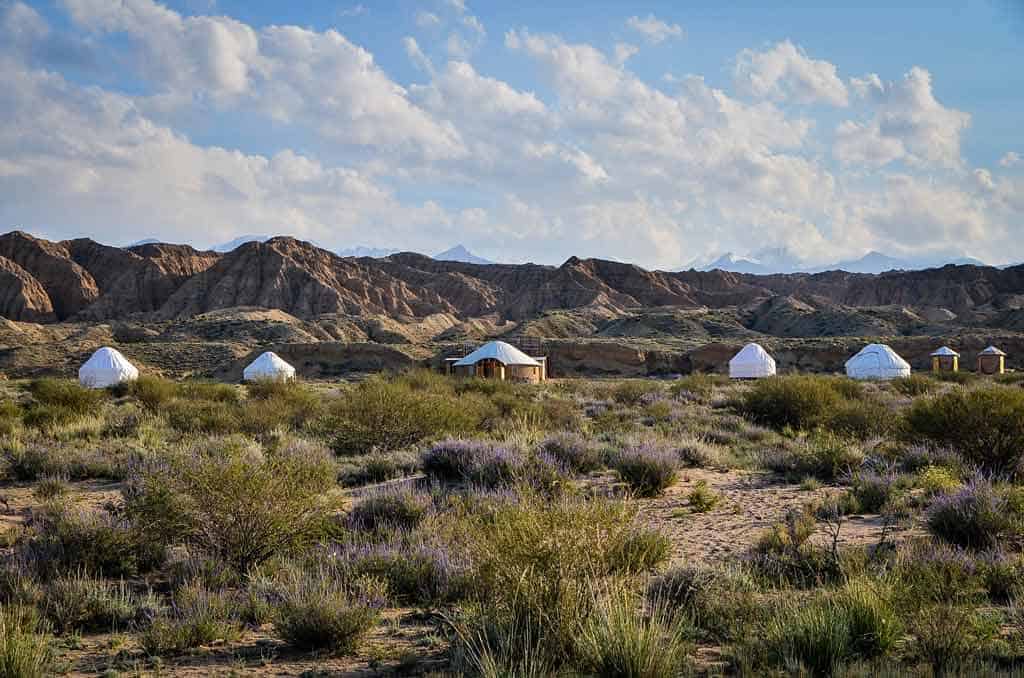 11) Visit the Seven Bulls at Jeti Oguz
Heading around the south shore of Issyk Kul is one of the region's most unique destinations, Jeti Oguz. Translated as 'Seven Bulls', the name comes from the large red-rock cliffs above a small village that supposedly resemble, you guessed it, seven bulls. It's one of the most interesting places to visit in Issyk Kul.
To get the best views hike (or drive) up the steep, dirt road to the lookout. On a sunny day the views are wonderful and the cliffs glow brightly. With the village at the base of the cliffs offering a perspective at just how large this formation is, it makes for amazing photos.
Once you've finished visiting the bulls you can also continue on into the park and enjoy some beautiful hiking trails in the forest, find a nice spot to have a picnic by a snow-fed river, or track down some cool waterfalls. It's a gorgeous area and shouldn't be missed!
Jeti Oguz is around 30km from Karakol, and you can get there as part of a tour or by renting a taxi for the day.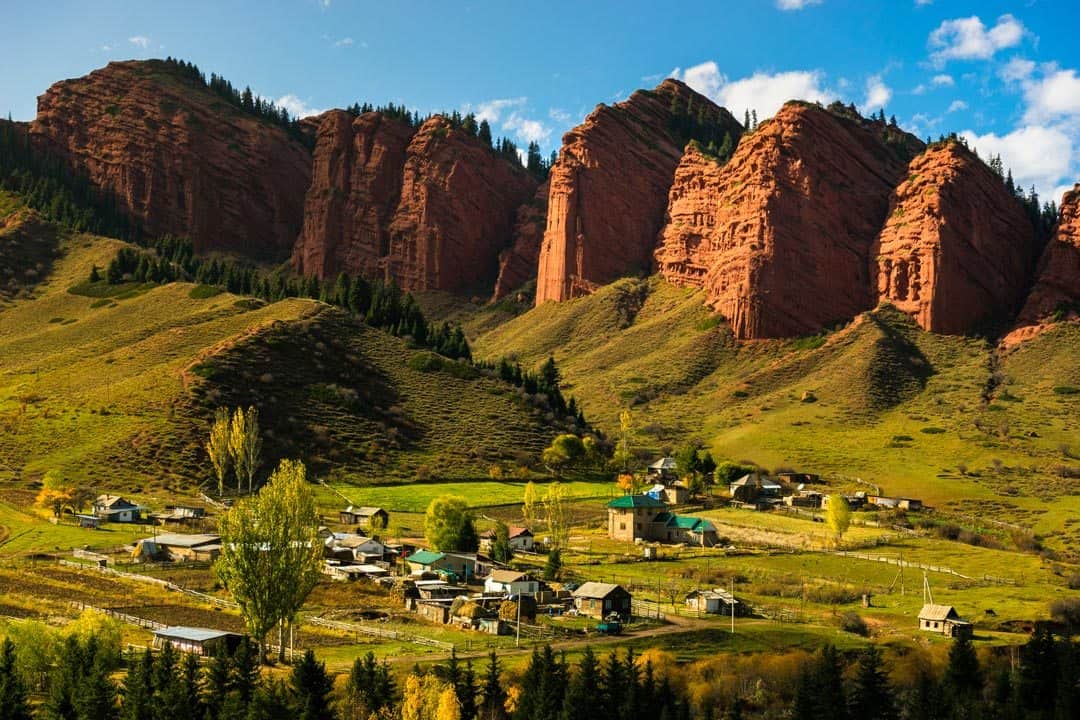 12) Run Around the Fairy Tale Canyon
The south shore of Issyk Kul just keeps on delivering with the wonderful scenery, and the Skazka Canyon is right up there for unique beauty.
Better known as the Fairy Tale Canyon, this sandstone region has been eroded by heavy rain over centuries and left behind a giant kid's playground that wouldn't be out of place in somewhere like Utah.
Narrow crevasses weave along next to jagged cliffs, and if you're feeling really adventurous you can even climb to the top of these wave-like rocks.
What really makes Fairy Tale Canyon so unique though is the layers of colours that have come alive over the years. On a sunny day it's like being surrounded by an earthen rainbow and is a real delight.
If you're wondering what to see in Issyk Kul, head to the Fairy Tale Canyon for breathtaking views!
You can get to the Fairy Tale Canyon by taking a taxi from the small town of Tamga. Entrance is 50KGS (less than $1). Make sure you wear good shoes!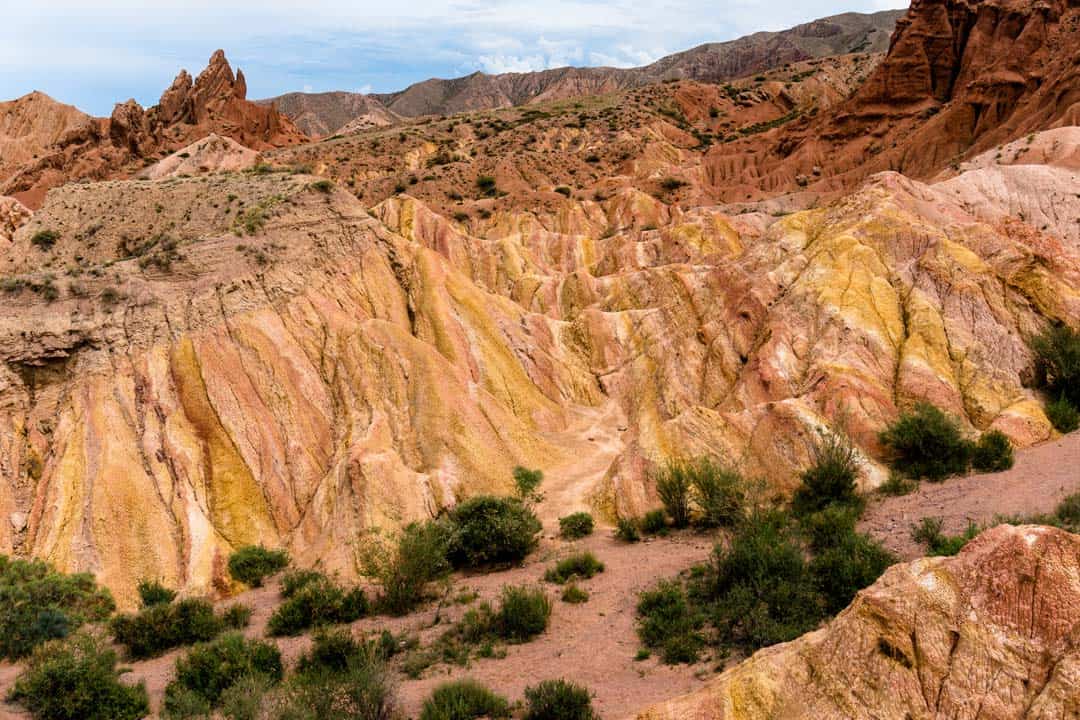 13) Find Peace at Barskoon Waterfall
Past Jeti Oguz is one of the region's nicest, most accessible waterfalls, the Barskoon Falls. 90km from Karakol on the south shore you'll see the turn-off that leads up a long, dirt road.
The Barskoon Waterfall is a towering cascade that requires a short hike to reach the base. You can see the falls from the carpark, but it's best to keep on hiking to reach them.
Unfortunately the day we went we were in a bit of a rush and didn't have time to climb right to the top, but photos we've seen look quite amazing. We'll be sure to check it out properly next time we're back in Kyrgyzstan.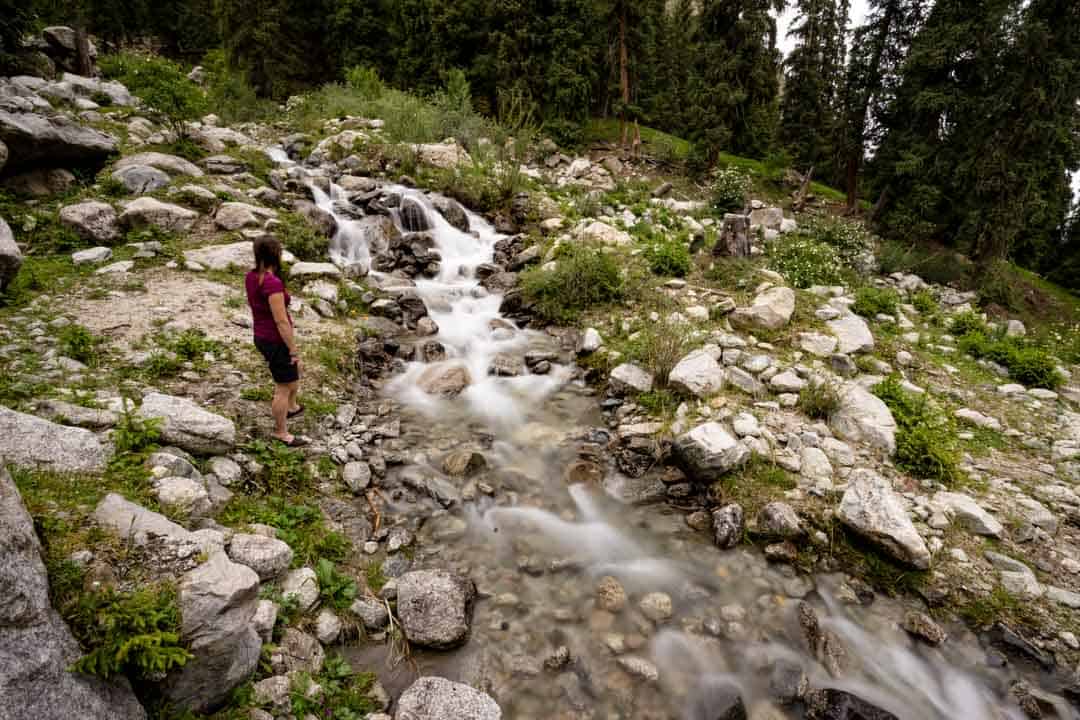 14) Soak in the Hot Springs at Altyn Arashan
Altyn Arashan has been a popular destination for adventurous travellers to Kyrgyzstan for quite a few years now, and for good reason – it's stunning up there!
Personally we loved just being up in the mountains, but the real reason that everyone visits Altyn Arashan is to soak in the natural hot springs.
Cracks in the earth send up boiling water and this spills out into small pools. The lodge that is found at Altyn Arashan has tapped into this and pipes the water into man-made tubs that are both outside and inside the lodge.
Most people do the 2 or 3-day trek up to Altyn Arashan, but if you don't feel like hiking up the mountain you can take a Russian army truck up the rough road to the lodge.
Once you're up there it's also a great place to go on some easier day-hikes. With the hot sprigs waiting to soothe your muscles at the end of the day, it's a great place and definitely shouldn't be missed on your travels around Issyk Kul.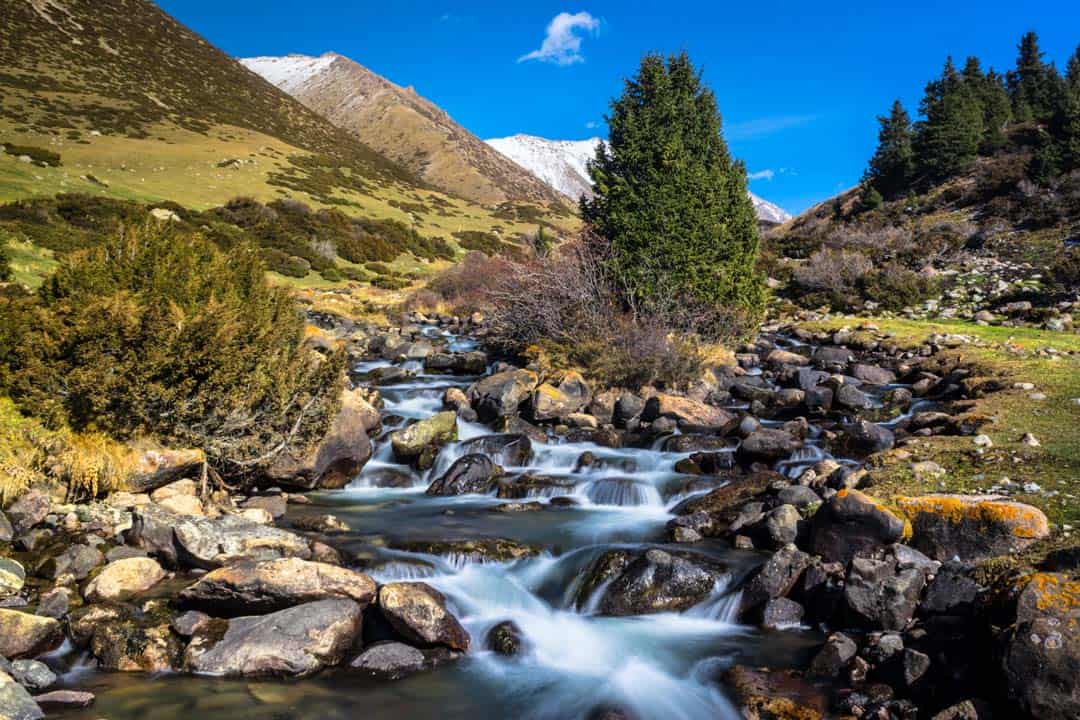 [box]This article on the best things to do in Issyk Kul was created as part of our partnership with Discover Kyrgyzstan and USAID BGI. All thoughts, opinions, fun experiences and bottles of IPA consumed are, as always, our own.[/box]