There's definitely an art to hanging out in Kyrgyzstan, and it starts with enjoying the best cafes in Bishkek and kicking back in style.
We are inefficient travellers. Really inefficient. Because we never really make travel plans or consult guidebooks, we end up doing circles in a lot of places.
As frustrating as it can be, strangely enough we were a bit excited as we drove into Bishkek for our third time.
Cities are by far our least favourite part of any country. We try to avoid them when we can, and usually only use them as brief stopovers to see a few major sights or to get visas.
Bishkek was different.
The capital of Kyrgyzstan itself didn't seem to have a lot going on, with the main attractions being the superb mountains surrounding the city.
There was the mandatory National Museum, a few monuments, a leafy park here and there and a good restaurant scene. Perhaps you could even call Bishkek sleepy. This suited us just fine.
We first arrived in Bishkek to get our Tajikistan visa, and left pretty promptly once we acquired it.
When we came back to Bishkek it was simply so we could catch a bus to Kazakhstan. Both times we saw absolutely nothing, but didn't really care.
Being on the road for this long we're starting to feel one of the curses of long-term travel again, and not get impressed easily.
While moving about Kazakhstan though we knew we had to return to Bishkek for a third time in order to jump on our Dragoman tour.
Rather than rush in at the last minute, we thought we would make the most of the civilised capital and catch up on work.
We gave ourselves five days to hang out. It quickly became clear that we could have made it a lot longer and been quite happy.
Tree lined streets and leafy parks create a nice juxtaposition with the traditional Soviet-style buildings that dominate places like the museum and university.
The snowcapped peaks to the south loom over every rooftop, hinting at the wonders that lie just a few kilometres away. Youthful, good-looking students briskly walk the streets, on their way to class, cafes or whatever it is there is to do in Bishkek.
The atmosphere is pleasant. Even the traffic is hardly worrisome. Marshutkas can get you to just about every corner of the city for only 10 som, and do so briskly.
Every day we woke up with a list of things to see, but we quickly found the daylight hours escaping us as we bounced from the best cafes in Bishkek to the nicest restaurants. Sometimes we just walked around Chuy and Manas, the main streets in town.
We started to find our favourite places to drink coffee and take advantage of the fast wifi, and when the afternoon rolled around we would trade the piping hot brews for cheap draft beer.
Bishek was relaxing and unhurried – everything we want in a city.
One evening we managed to catch a world cup qualifier football match between the national team and Tajikistan. We couldn't believe our luck and joined an excited group from the Apple Hostel (best hostel in Bishkek by the way) to check out the game.
Cost for a ticket right next to the "fan boys section": 200 som – about $3. The crowd was loud and proud, but also respectful.
It may have had something to do with the thousands of police and army personnel that were in the stadium and around the streets, but we'd like to think it is just because the Kyrgyz people are awesome.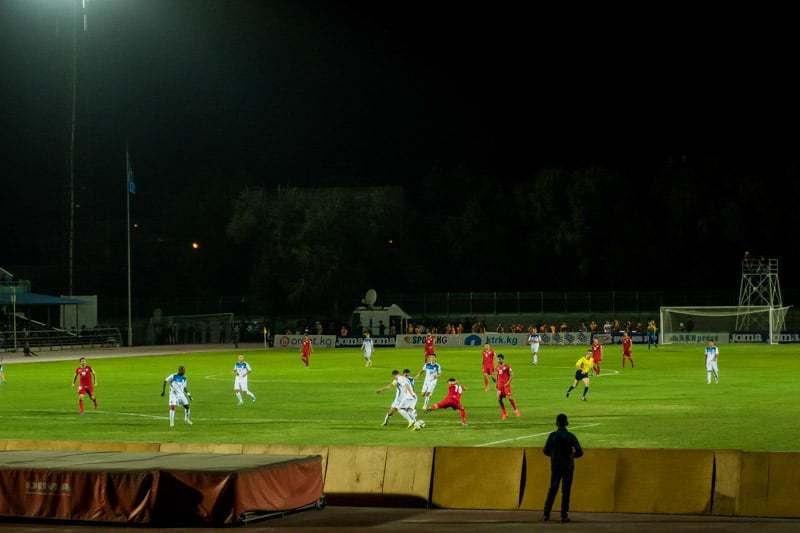 Besides the football match, 84 cups of coffee, 26 beers, exploring an abandoned building and countless steps we took around the city, we didn't get up to much else.
Sure, we went to the museum (which was pretty interesting for an hour), walked around the parks, said hello to the statue or Lenin and spent a few hours chatting to students who wanted to practice their English.
I think we might have even briefly considered going to the opera (but didn't in the end because plans of doing nothing and disguising it as "working" got in the way). But by far our favourite thing about being in Bishkek was just being there.
And while we are never in a rush to visit another city, the next time we find ourselves in Kyrgyzstan we might just find an excuse to stop off in Bishkek for a few days, or weeks, more.
Update: So it turns out we have found ourselves back in Bishkek, and it is as pleasant as ever! The number of cafes have grown, there are more international restaurants than before and the wifi is lightning fast! We'll be hanging out here for a while longer…
The Best Cafes In Bishkek
So what did we mainly do in Bishkek?? Naturally we made the most of the good food and coffee available and spent the majority of our time sitting in cafes sipping lattes and tapping our feet to good music.
The city has a whole range of awesome places to wile away the hours, but these four were our favourite cafes in Bishkek.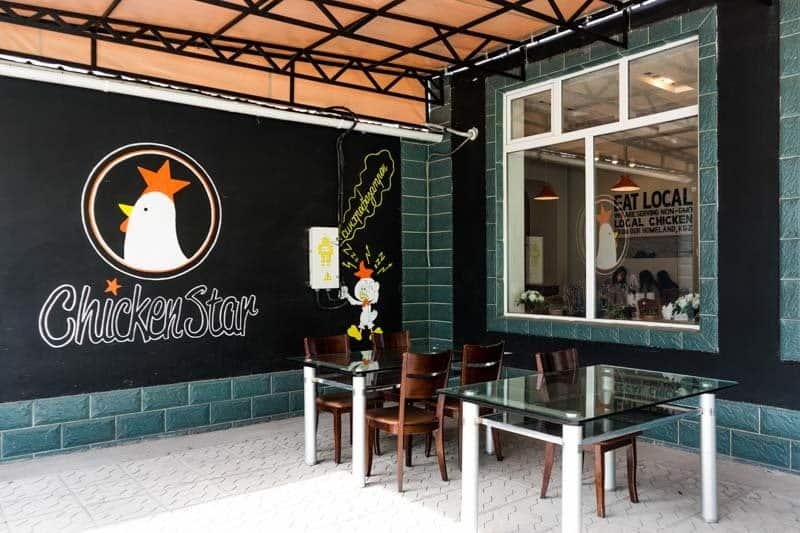 Chicken Star
Where: Erkindik 36, Between Toktogula & Kievskaya
This Korean chicken restaurant only opened in April 2015, and the owner has been working hard to make it one of the best cafes and restaurants in Bishkek.
Chicken Star still hasn't been discovered by the expat community, at least that we could tell, but their reputation for having delicious meals and tasty coffee is quickly growing.
One of the highlights is the variety of coffee beans available and their funky ways of brewing it. The staff are super friendly, the location is pretty good and you feel welcome the moment you walk in.
It's not the cheapest place in town, but is worth the extra few som in our opinion. And unlike most of the cafes that play top 40 or jazz music, Chicken Star busts out original gangster rap and modern hip hop. Mix it up!
Update: Chicken Star has now moved but is as awesome as ever! Check the new address above.
Good Food
Where: Manas and Chuy
We were first attracted by the promise of fresh, locally sourced organic ingredients advertised on the sign above their door, and were not disappointed.
Good Food has some delectable sandwiches and soups, and the coffee was even better than we could have expected. It is small with only a handful of tables inside, so has a cool, cozy feeling about it.
Good Food was also the cheapest of the three cafes for a latte. Caffeine fix please!
Sierra
Where: Multiple Locations, but we hung out at Manas 57/1, near Chuy

Sierra is a bit of an institution in Bishkek, and everyone, whether it is locals, expats, travellers or students, ends up in one of their cafes at one point or another.
The coffee is good, the wifi is fast and the atmosphere is happening. It does get quite crowded though, and the food comes in small, overpriced portions. Still is worth spending a few hours hanging out.
Adriano Coffee
Where: Multiple locations, but we chilled at Isanov Street near Chuy.
We just found out about this place on our latest visit to Bishkek and are glad we did.
In fact I am updating this post in Adriano Coffee, sipping on one of the most delicious lattes I have had in a long, long time (cost: 120 som!!!!).
It's definitely an expat hangout and there's an interesting crowd wandering in and out the doors. The wifi is blazing fast (45mb/s down, 27mb/s up) and the music is chilled.
Not the most bright place in the world, but perfect to get some work done. Thanks to Stephen Lioy from Monk Bought Lunch for the tip!
Where To Stay In Bishkek
Apple Hostel
Also known as Apple Hostel, we first found Bishkek B&B based on the recommendation of some friends. We've always preferred word-of-mouth suggestions rather than online reviews, so we booked ourselves in for a stopover on the way to Kazakhstan. It was so good we returned for our last five nights.
Located next to the Western Bus Station, it is in a prime spot for anyone who is looking at doing any exploring outside of the city. It is only a 20 minute walk to Manas and Chuy, but marshutkas (shared vans) run from outside the bus station to just about everywhere in the city for only 10 som.
Bishkek B&B has only been open since 2015, but already it is filling up based solely on word-of-mouth from customers. The rooms are bright and clean, the bathrooms spotless, there is a large common room to socialise and have a few beers and a cheap restaurant next door. Breakfast is included and they have both private and dorm rooms.
But by far the best thing about Bishkek B&B is Aigul and her staff. Aigul is the manager, and is one of the coolest people you will ever meet! A local Kyrgyz lady who has travelled a bunch herself, she knows exactly what backpackers want.
While the hostel is still in its infancy stage, Aigul has hundreds of ideas on how to make this place the best backpacker's accommodation in Central Asia. Her housekeepers are amazing and help make your stay as comfortable as possible.
When we were there almost all the guests were returning customers – a sure sign of just how awesome Bishkek B&B is.
We'll be back to Bishkek one day, and when we do come back we'll be hanging out at Bishkek B&B. You should do the same!
Address: Western Bus Station, Bishkek
Website: Best on Facebook
Book: Hostelworld
Email: [email protected]
Phone: 0553 280 881