Everything you need to know about the fantastic Truly Nomadic Land trek in the Alay Mountains of Kyrgyzstan. Hiking itinerary, what to pack, how to book it and whether you can do it independently.
Trekking in Kyrgyzstan is definitely a highlight when visiting this beautiful country.
With 93% of the entire Central Asian nation being mountainous, it's little wonder that Kyrgyzstan has quickly become an adventurer's paradise.
I have been travelling here every single year since 2015, and have done many multi-day treks in the north of the country.
Trust us when we say that the landscape is beautiful up there.
However, this time I decided to check out the south of Kyrgyzstan and see what the trekking has to offer down there.
The Alay Mountains are known for being some of the most dramatic in Central Asia, and also some of the most untouched.
So few travellers go hiking here, that it's entirely possible to go days without seeing anybody except for nomadic shepherds.
I tackled the 5-day Truly Nomadic Land trek on my last visit, and fell in love with everything about it.
With rolling green mountains, local nomadic yurt camps and passes at 3530m, the views and culture I saw along the way were incredible.
I did it in the summer with just myself (Alesha), a guide (Timur) and a porter (Aidarbek), and it was one of the real highlights of all my time in Kyrgyzstan.
Here is my guide to help you get the most of this trek and make it easy for you to enjoy it yourself.
From the day-by-day itinerary to what to pack to how to book a guide to doing it yourself, I will help you with all the information needed to do this yourself.
Hope you enjoy the 5-day Truly Nomadic Land trek in Kyrgyzstan!
READ MORE: Don't miss our complete 'Travel to Kyrgyzstan' guide to help you make the most of your trip here.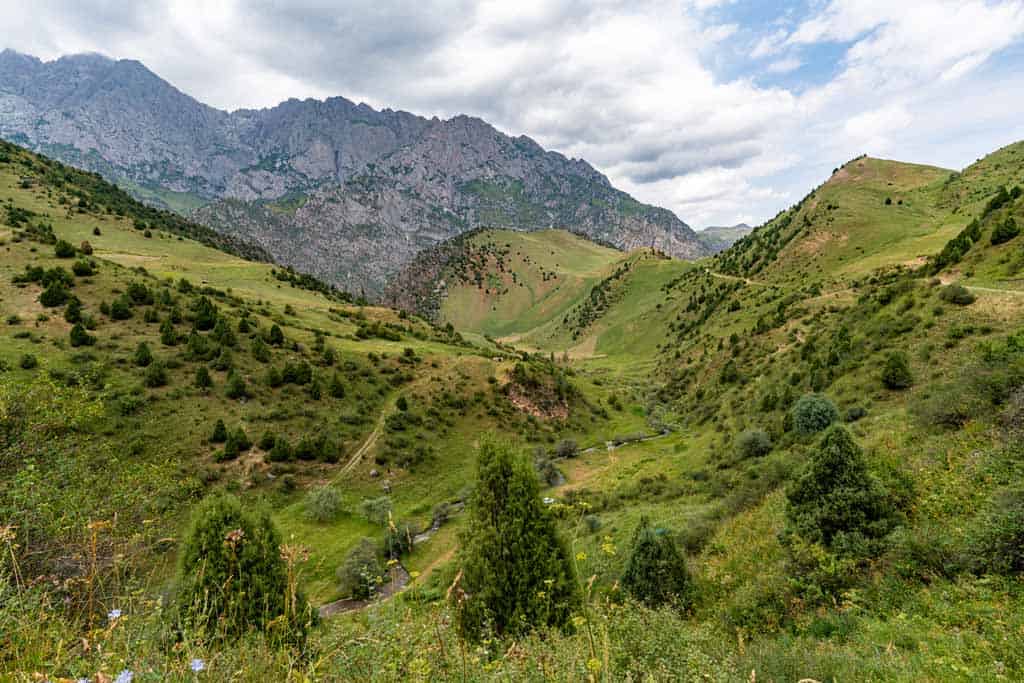 How to Organise the Truly Nomadic Land Trek
If you're interested in hiking the Truly Nomadic Land Trek you have a few ways to do it.
The first is to travel to Osh and go into the CBT Osh/Visit Alay tourism office there. They will be able to give you all the information you need, as well as make bookings from right there in Osh.
Head to Sary Mogol and book the trek with the CBT Sary Mogol
Or do it yourself but book the transport through Visit Alay.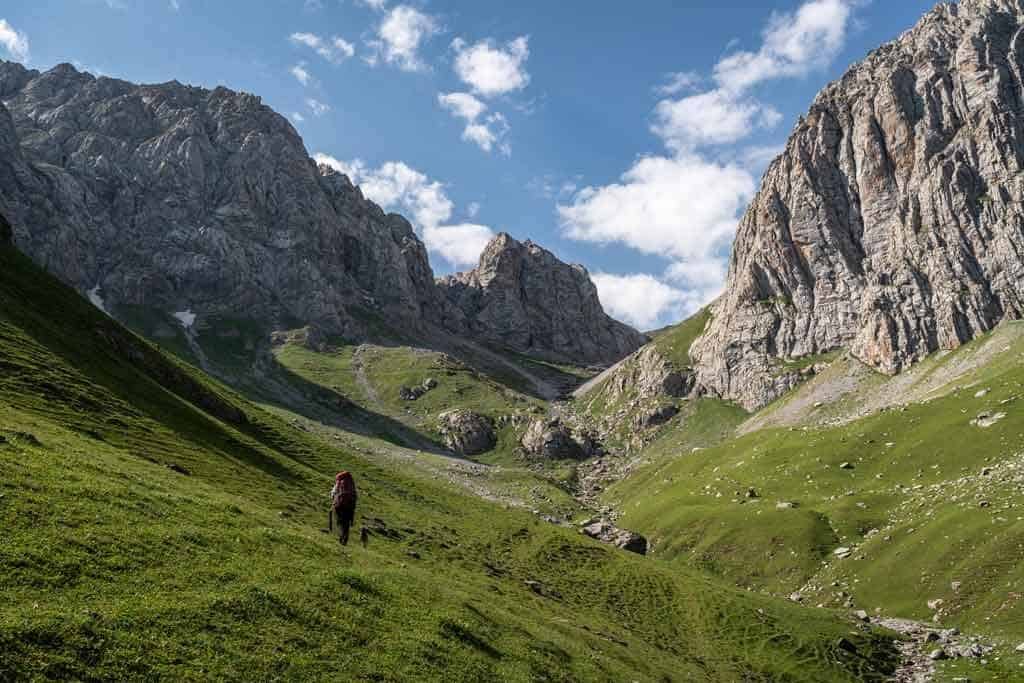 Independent vs Guided Trekking
Before heading off into the Alay Mountains, you need to decide whether you want to do it independently, or as a guided trek.
It really comes down to your hiking experience level, how strong and fit you are, your navigation skills, and whether you want to stay in yurts or camp.
The trail is unmarked, it is not on Maps.me, and unless you speak Russian, none of the shepherds or families out there will be able to communicate with you.
If you want to do the Truly Nomadic Land Trek independently, without a guide or porter, you will need to organise transport to the beginning and at the end of the hike, as no public transport goes out there.
This can be arranged through CBT Osh/Visit Alay in Osh.
If you are planning on camping, you will need to carry your own gear and food.
However if you would like to stay in the yurt camps with a family, this is possible too. Just bring cash if you want to stay in a yurt or buy food from the families.
The DMO can also provide you with tips, detailed maps and information to help you on your trek. They do sell a trekking map of the area you can buy from here also.
If you would prefer to take an assisted trek there are a number of different services you can choose from.
English-speaking trekking guide and a Kyrgyz/Russian-speaking porter
English-speaking trekking guide
Kyrgyz/Russian-speaking porter
You can pick any of the above in any combination.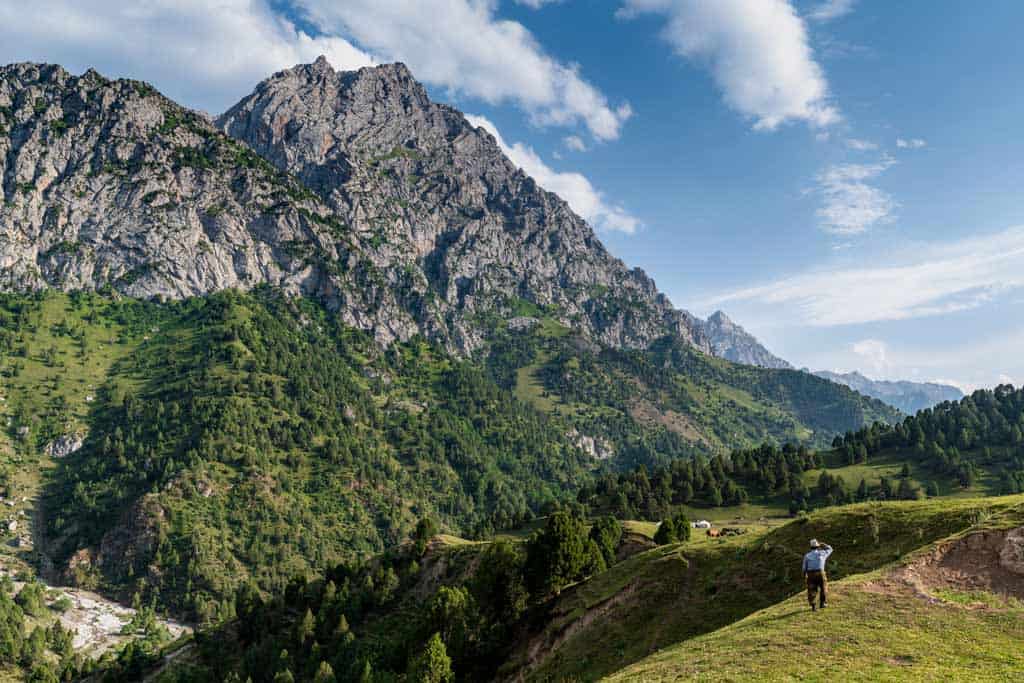 Personally I was very happy with having a guide and a porter, as it allowed me to have far better interactions with the families, as I don't speak Russian.
It also meant I could focus on the beautiful landscapes and not worry about whether I was going the right way or not, as there was no trail to follow for days 2, 3 and 4.
Having that extra support too in case of injury or bad weather made me feel better too.
I have done plenty of multi-day, independent treks where I've had to carry all my own gear.
From the O Circuit in Patagonia to Tiger Leaping Gorge in China to Peaks of the Balkans in Albania, I definitely feel comfortable hiking on my own.
But I am very glad I had a guide and porter for this hike, as it made for a much better experience.
READ MORE: Here's our detailed guide for the Boz Uchuk trek in Jyrgalan!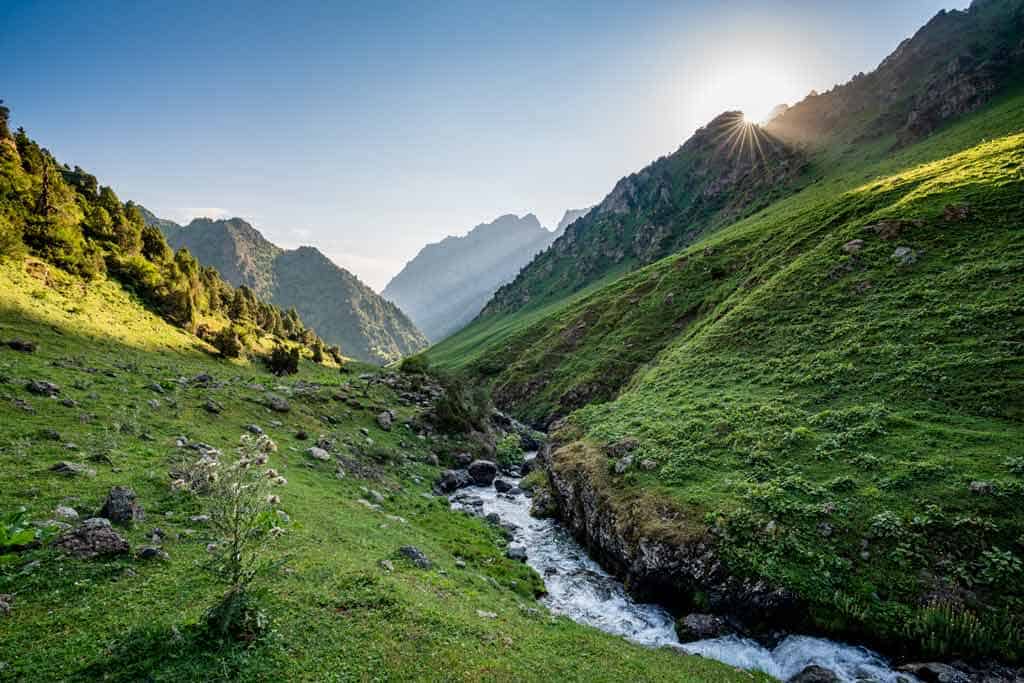 How Much Does it Cost for a Fully-Supported Trek
The trek price varies on the number of persons doing the hike. The prices below include all your food (breakfast, lunch and dinner), accommodation in a shared yurt with blankets, a porter, and transport to and from Osh.
Note that the accommodation is shared (3 – 5 people per yurt), there are no showers at the camps, and there are drop toilets.
Water can be drunk straight from the mountain streams. If you are concerned about this, bring some water purification tablets or a SteriPEN.
Please contact Visit Alay in Osh for prices.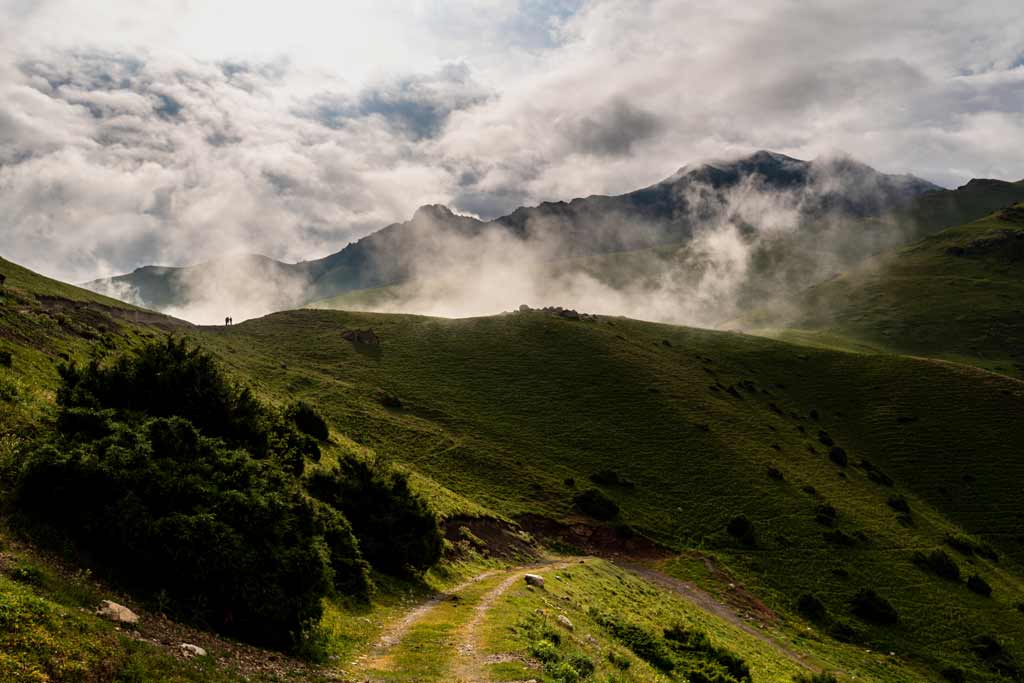 Truly Nomadic Land as a Horse Trek
If you would like to try something different, it's entirely possible to book the Truly Nomadic Land route as a horse trek.
Following the same way as the hike, this is a wonderful way to see some of the best landscapes in the Alay Mountains, and a real Kyrgyz experience.
This can only be booked as a guided tour, through Visit Alay in Osh.
Note that the prices include all accommodation, food, transport, horse rental, and a horseman and packhorse.
| | |
| --- | --- |
| Number of People | Price Per Person |
| One | USD$670 |
| Two | USD$440 |
| Three | USD$413 |
| Four | USD$380 |
| Five | USD$360 |
| Six | USD$320 |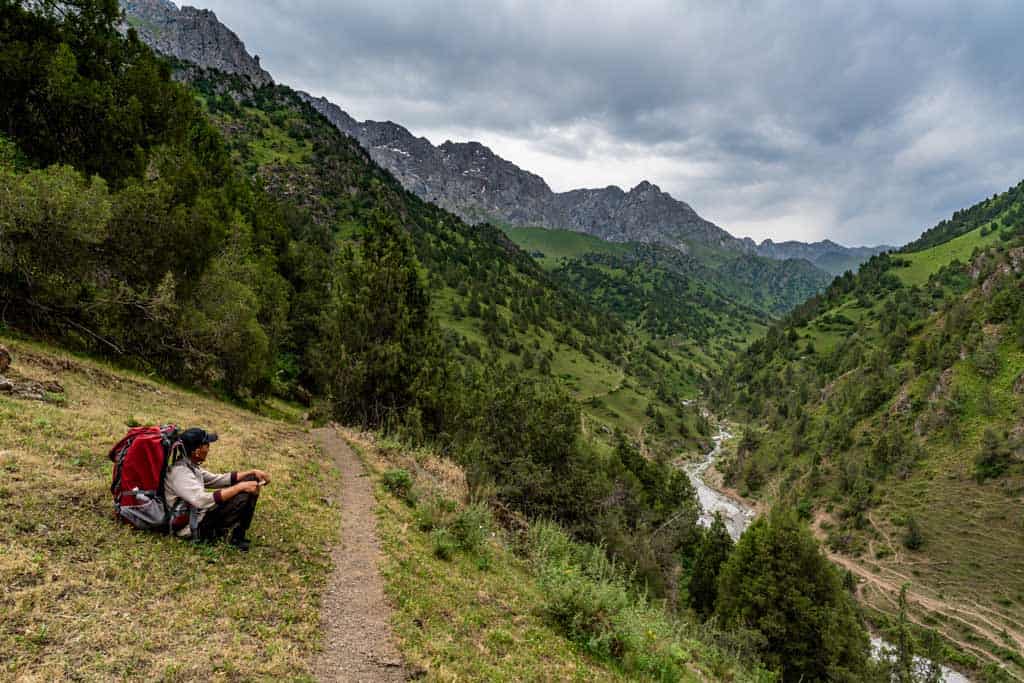 What to Pack
When trekking the True Nomadic Land Trek in the Alay Mountains, it's important to remember that you will be in a remote part of the mountains, sometimes at altitude, and weather can change rapidly at any time of year.
One minute it may be sunny and hot, the next minute it could be raining and chilly. You never know.
The most important thing to bring with you is good quality, light hiking clothes and warm gear that you can layer properly.
As they say, "Dress for the hour, not for the day".
We personally use and recommend the brand Kathmandu, as they offer high quality and technical clothing for all conditions.
You don't need to bring a lot with you on this trek. You can organise with the Visit Alay centre to leave your big bags and unnecessary gear in their office until you're finished with the trek.
All you need is a comfortable day pack that you can fit a rain jacket, your camera, pants and a sweater, as well as some snacks. Make sure your day pack has a decent waist harness to distribute the weight.
Good hiking boots – Goretex is waterproof and lightweight. Make sure you have worn them in before going hiking though.
Trekking poles – These were very useful as the terrain can be rocky and steep. (You can rent them from Visit Alay)
Two t-shirts – One for trekking during the day, and one for wearing at night.
Trekking pants – no shorts, as you walk through a lot of grass
One lightweight fleece or packable down jacket.
One lightweight waterproof/windproof shell jacket.
Thermal top and pants – We recommend merino wool. Great for the evening and the night for sleeping.
Water purification tablets or SteriPEN
Three pairs of socks – One for trekking, one for wearing at night, and a spare pair in case your trekking ones get too wet. You'll really want to look after your feet on this trek!
Sandals to wear around camp.
Any medication you need, as well as bandages in case you get blisters or cut yourself. If you have a travel first aid kit keep it with you. Don't forget diarrhea
A 1L water bottle, preferably with a wide mouth for filling up out of rivers and streams. I recommend another litre bottle as days can be very warm.
Headlamp or torch.
A good camera to take lots of photos!
Portable battery pack to keep your phone/camera charged. Electricity is rare and by solar and generator.
Bring extra snacks for energy along the way – protein bars, nuts
Sunscreen – the sun is strong
Lip balm with protection
Hat and sunglasses
Towel, soap, wet wipes (biodegradable ones) and anti-bacterial gel
Silk liner – rugs are provided in the yurt stays with sheets, but if you would feel more comfortable bring your silk liner.
A 'Buff' bandana
Headphones – If you love music to keep you motivated while hiking
Coffee – if you are a coffee lover bring your own coffee as only tea is provided.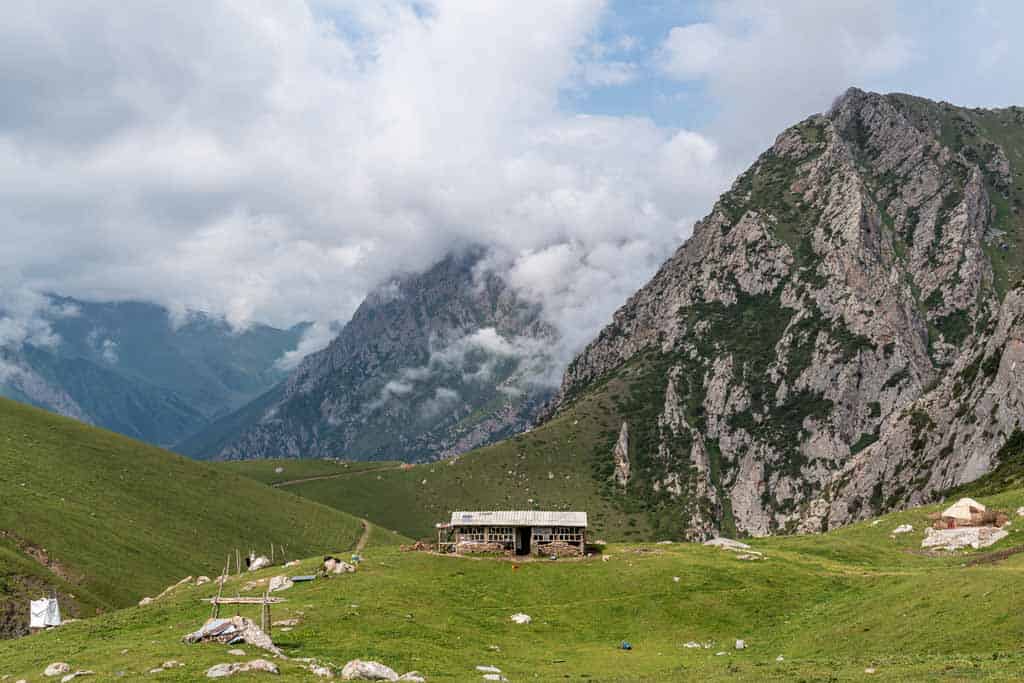 The Truly Nomadic Land Trek Itinerary
This trek takes you through some of the accessible highlights of the Alay Mountain Range.
This trek is not just about the stunning landscapes, but also about the interaction with the local nomadic people and learning about their lives.
I was hosted by local families who opened their doors with their kind hospitality and let me stay in their yurts.
We passed over multiple mountain passes daily, with Ak Tor Pass hitting the highest altitude at 3530m.
Following livestock trails through valleys and up the mountain passes the scenery is green lush, rocky as you get high in the altitude.
I did this hike with an English-speaking guide, porter, and with all my accommodation pre-booked with Visit Alay.
NOTE – This trek can be done in 2 to 5 days depending on your time in the country. If you do not have the time for the full itinerary, you can start from Sari Oi Camp. You will need to arrange transport there and at the end of the trek. This is similar to the Be a Nomad Trek.
Check out my brand new travel vlog, all about the trek:
Day 1 – Osh City to Kara-Bulak Village to Tepshi Camp
Drive Distance: 72km
Drive Time (Osh to start of trek): 1:25hrs
Hiking Distance: 14km
Hiking Time: 6 – 7 hours
Total Elevation Gained: 1250m. A day of all up.
Total Elevation Lost: 87m
The drive to the starting point of the trail was beautiful. Going from crazy city bustle to green rolling hills, passing small villages and farmers caring for their fields and livestock
The drive took just under an hour and a half, passing over Chiyrchik Pass, which is at 2400m.
Eventually we got to the town of Kara-Bulak and this is where we started our hike.
We were dropped off on the side of the road in a small town. This was the beginning of the trek.
We followed a road through the upper area of the town and then continued up the valley.
We passed shepherds with their sheep and goats, and their traditional summer homes.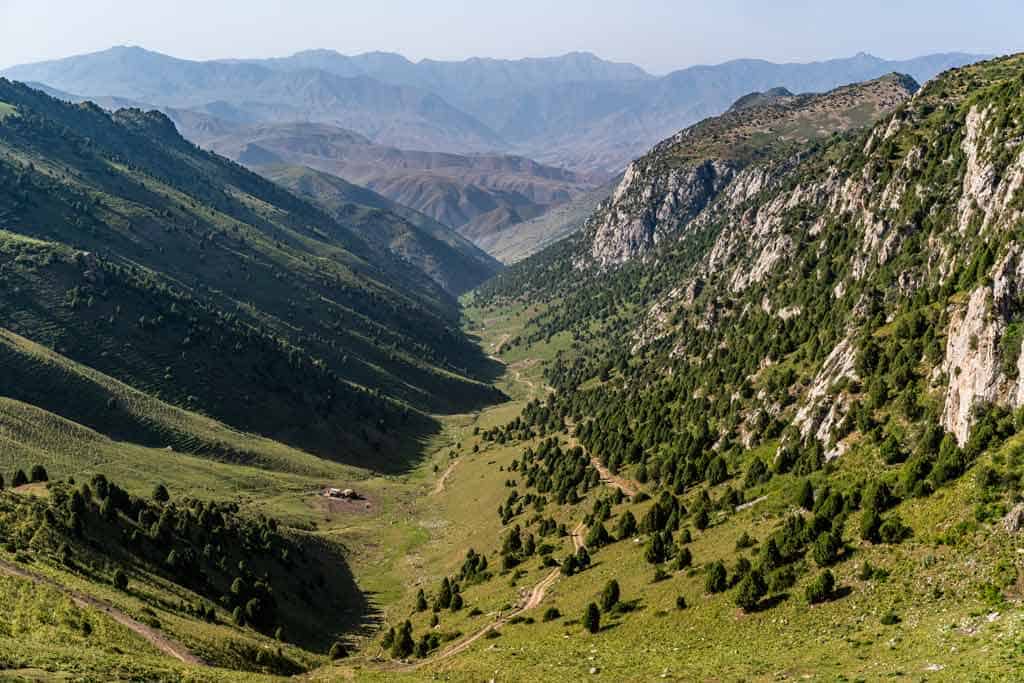 I'm going to be a bit personal about how this day was for me, so you can see what it might be like for yourself.
Today was hard for me. I couldn't get my breath as we were getting higher and the air was getting thinner.
It didn't help that I was jet-lagged, literally flying in from Sydney, Australia the night before. I didn't have time to acclimatise and was a little unfit.
So if you are flying in from a low altitude country, give yourself a day to adapt.
It was a hot day with temperatures hitting 42 degrees at the lower altitude, ending the day at 36 degrees Celcius.
Along the way, we filled our water bottles up from springs. The water was clean and very delicious. Mountain water is amazing.
There were many shady trees along the way that were great for lunch spots and that is what we did.
We were surrounded by cows. They just stared at us, wondering what we were doing.
We followed the river up the valley passing a lot of livestock grazing. As the trail zip-zagged up Kara-Bulak Pass we finally made it to the top.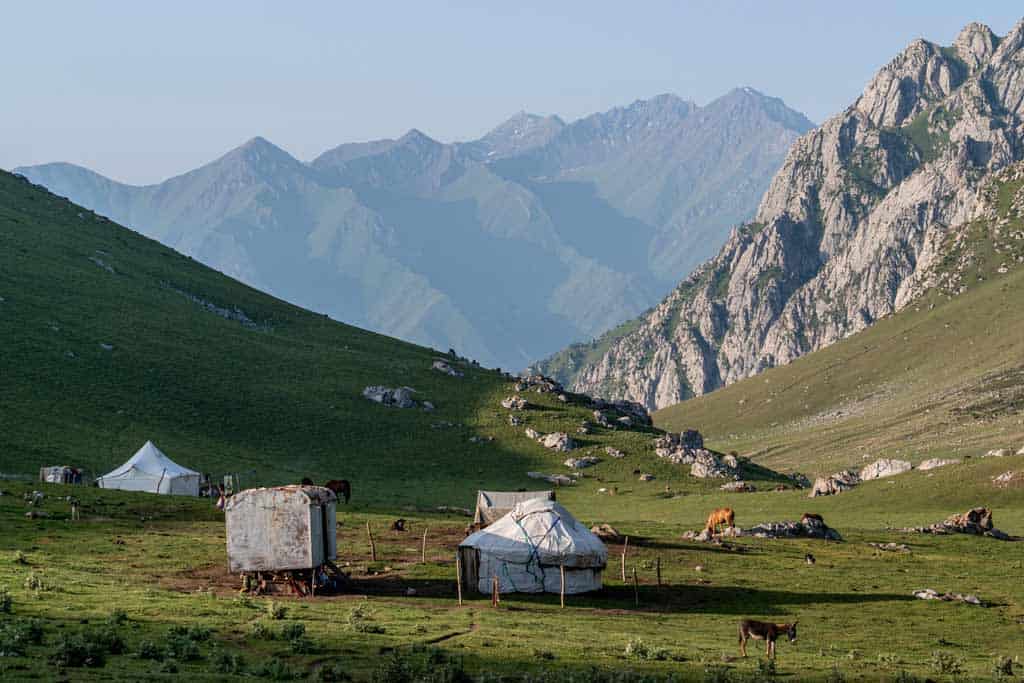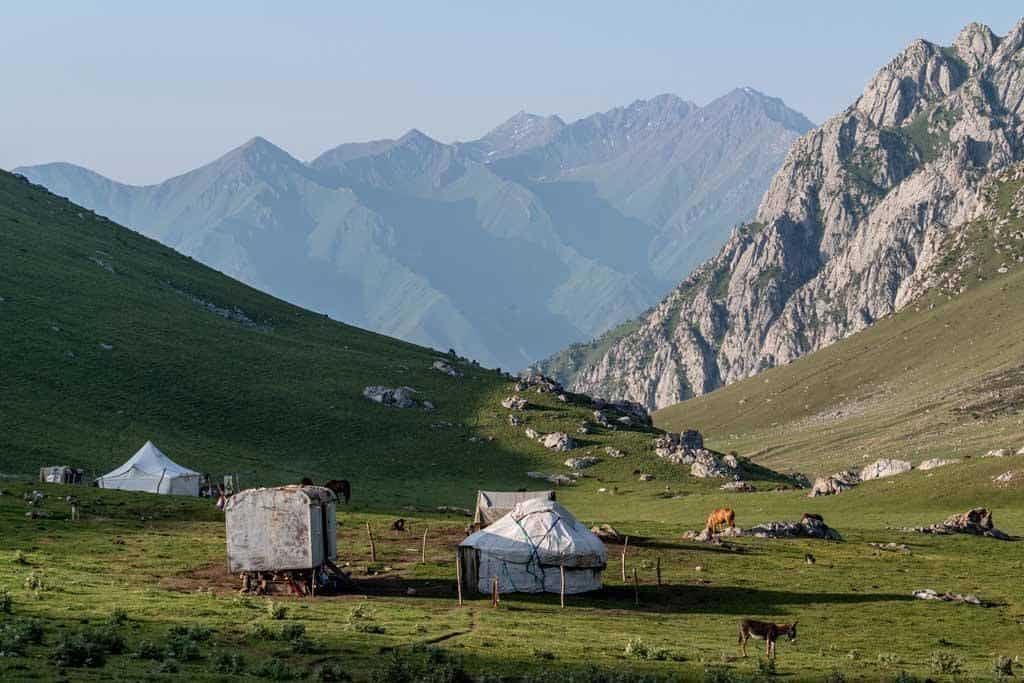 Standing on top of the pass, one side I could see where we had come from and the beautiful views down the valley and the other side was our yurt camp in a gorgeous valley where we were sleeping the night.
There were 3 families living here with all their livestock, cows, horses, chickens, donkeys and dogs.
The Tepshi Yurt Camp is situated at 2700m. We met the family, Nurjamal (Mum), Timur (father) and their 3 kids welcomed us and greeted us with some tea.
The sun was going down and the lighting in the valley was beautiful.
After I madly ran around taking lots of photos, the family showed me where to wash my feet, face and hands and invited me in for dinner.
It was a delicious vegetable and rice soup with a small salad. I was exhausted and retired early.
The family had set up our beds while we were eating. They provided us with cushioning as a mattress, a pillow, sheets and warm blankets.
NOTE – You follow a road all of this day. You can cut this day out or organise to be driven to the camp instead of hiking it if you are short on time.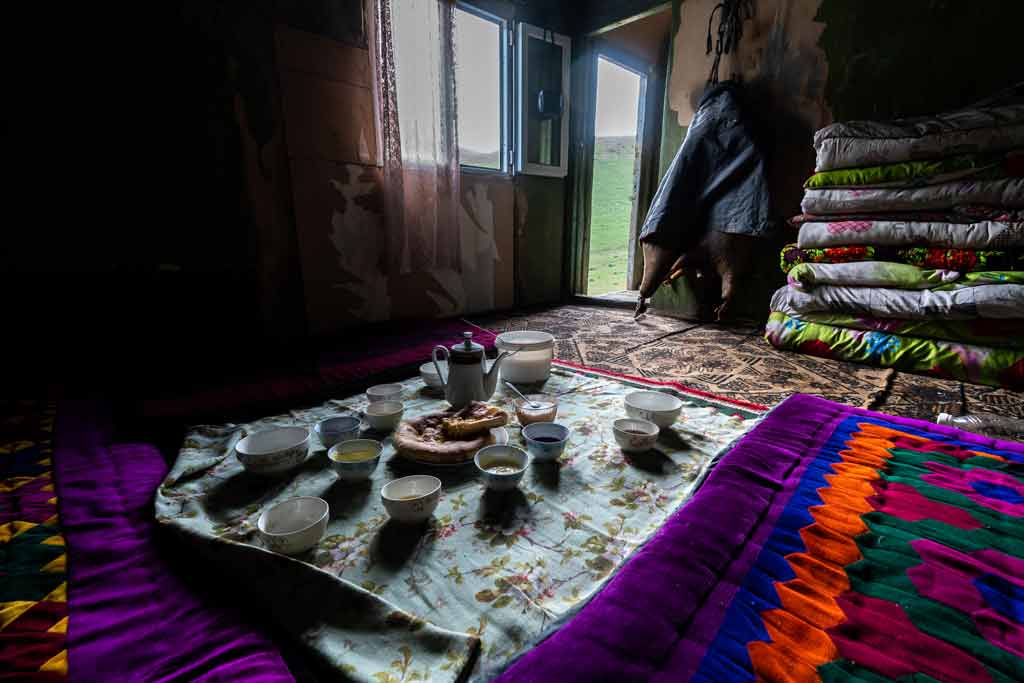 Day 2 – Tepshi Camp to Airy Bell Pass to Sary Oi Camp
Hiking Distance: 16km
Hiking Time: 7 – 8 hours
Elevation Gained: 359m
Elevation Lost: 776m
The first challenge of the day was the Airy-Bel Pass (2959m). We left the camp (2700m) and head straight up the pass, taking me about 40 minutes to reach the top.
After we got to the top of the pass we took a short break and enjoyed the views.
The valley was beautiful with rolling mountains and dotted Shepard's yurt camps.
After the break we followed a livestock path down the valley to about 2600m.
We headed toward our lunch spot, which was on a mountain in the distance.
We started to traverse along the side of the mountain to stay high. Our lunch spot was getting closer.
We finally got to the top of the mountain and set up for lunch with views.
After lunch we started to head down into the valley. This was where our camp was for the night.
We followed a river and passed waterfalls along the way. The path down was loose ground at times, so I was watching my step. I was so glad I had my walking sticks.
We got down to the bottom of the valley to the Sary Oi Jailoo. This was where our yurt camp was for the night.
We were running from a storm that was about to hit. The family at the camp quickly welcomed us in for hot tea.
Aiperi (mother) and her 5 daughters practised their English on me and taught me some Kyrgyz words.
The girls' father was away at the time cutting grass for their livestock to have feed in the colder months.
The yurt camp was at 2283m and had beautiful views down the valley. They really have set their camp up for tourist.
It had a Western-style toilet, a shower where they got the water from the springs nearby and solar panels for lighting.
I jumped in that shower so quickly, as I was not smelling good at all. The water was cold but refreshing and I was super quick to save water for others.
In the late afternoon, I got to see the family milking their horses and cows, played games with the girls and sat with the mother and oldest daughter while cooking.
The family was so inviting it was really lovely.
Note – You can start this hike from this town if you do not have time to do the whole hike. You need to arrange transport here.
Day 3 – Sary Oi Camp to the Bottom of Ak Tor Pass
Hiking Distance: 8km
Hiking Time: 7 – 8 hours
Elevation Gained: 338m
Elevation Lost: 61m
We left our camp and said goodbye to the family. We trekked off early to miss the heat but also get better lighting for photography.
We followed the river through the valley slowly going up and down in elevation on the livestock trail.
The constant sound of the river was so peaceful. The water was so clean, we were drinking from it along the way.
We stopped for many photos as when you were high you could see down the valley clearly.
As we got over a little mountain we were presented with stunning scenery of a green valley with Ak-Tor mountain in the background.
It was absolutely breathtaking. We chose to have lunch here and admired the view while eating.
After lunch we still followed the river but this time we had to climb up as large rocks and broken bridges got in our way.
We climbed up through shrubs to traverse around and meet up to the trail. It was challenging at times and I felt like a failing mountain goat.
My guide said this was not the usual route, but the bridge they used to use to cross the river was broken.
We kept walking towards Ak-Tor mountain and it was getting bigger and bigger.
There was another storm brewing so we sped up the pace. It seemed as though every day around 4pm it would rain.
We were not far from camp so the race was on. The rain started sprinkling.
We walked around the bend and there was our camp for the night, tucked behind a large rock wall. We made it just in time before it rained.
The yurt camp was at 2682m and was alone with no other camps around. The father, Janarbek and his wife, Aigerim and their 3 children welcomed us in.
Day 4 – Ak Tor Pass to Murdash Valley to Uch Chat Camp
Hiking Distance: 10km
Hiking Time: 8 hours (I took 10 hours)
Elevation Gained: 874m
Elevation Lost: 1086m
We left our camp and followed the river towards Ak-Tor mountain. It was a consistent ascent up Ak-Tor mountain.
It then got steeper as we climbed to the pass. I honestly thought I was nearly there, then I reached the top of this section and there was another giant hill.
I was finding it hard to breathe due to the altitude and maybe because I am also unfit.
There was a yurt stay here at 2682m.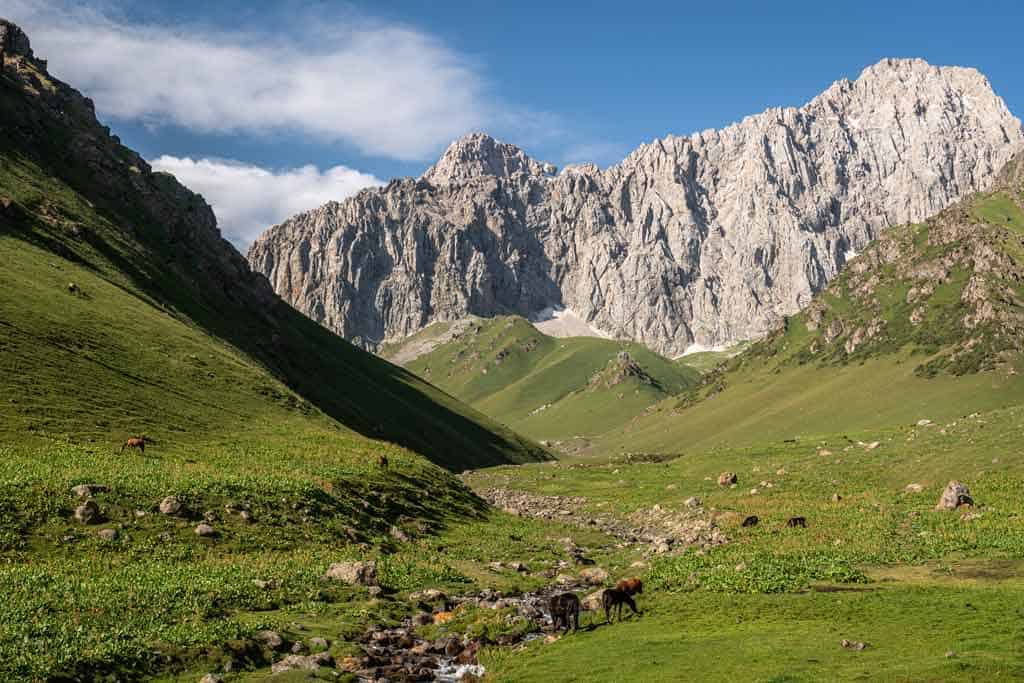 I finally reached the top and the view was so worth it on the other side. It was stunning.
We decided to have lunch there as it wasn't that windy. It was the best lunch spot ever.
We finished a delicious lunch, packed up and started to head down the other side.
This was one of the most challenging things I have done in a while. There was no path and there were so many loose stones.
I was so nervous, as I am not good at going down hills, and when you add loose stones to it and I am in chaos. I fell so many times.
Timur and Aida were amazing and helped me through the sketchy areas. They were gems.
When we were finally getting off the steep section, I was absolutely relieved.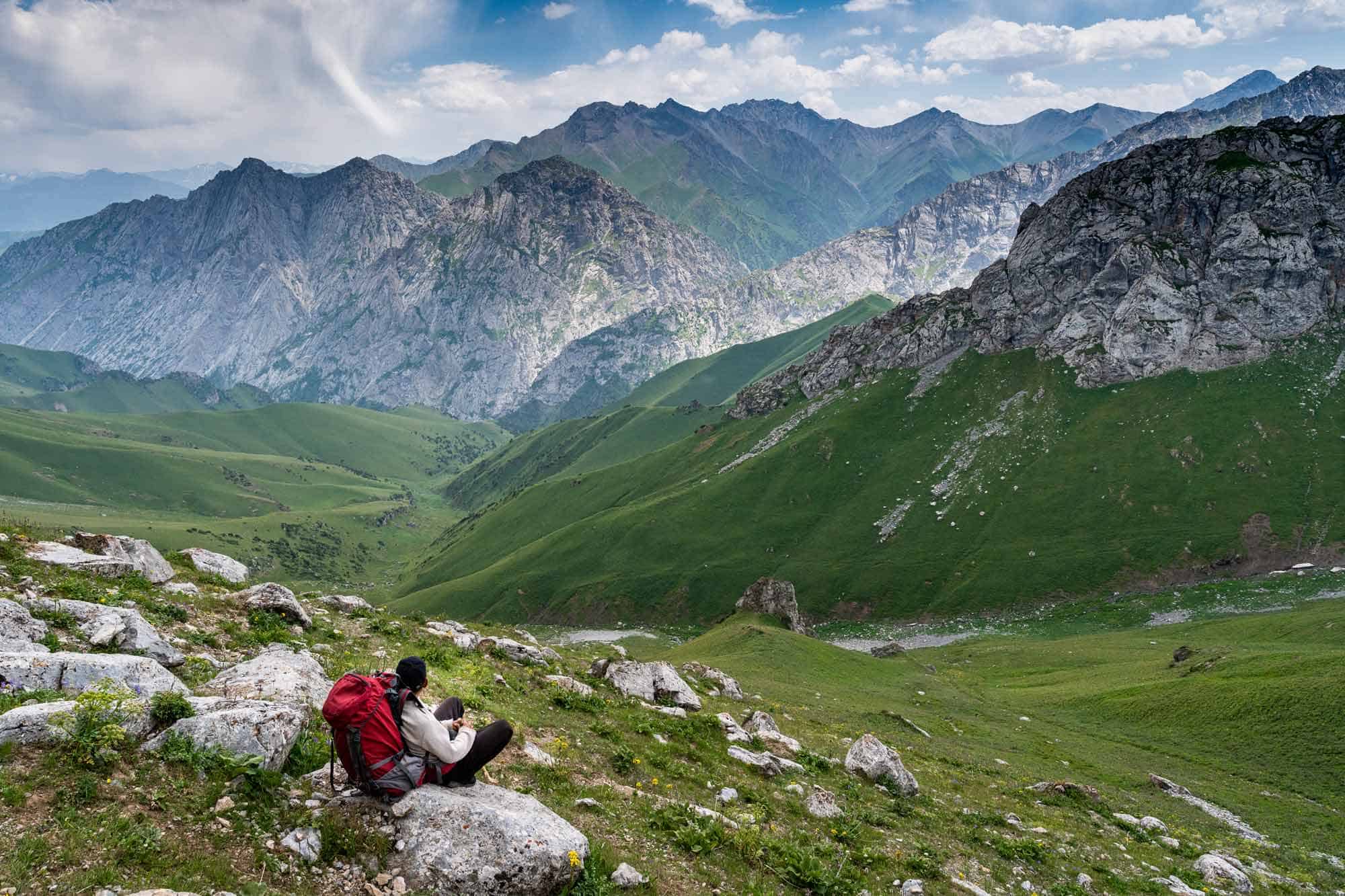 We entered the long grass and high plant section. We followed this for about 1.5hrs.
Sometimes the plants were taller than I.
When we made it to the road it was an hour to walk to the yurt camp where we would be staying.
This walk was through a large canyon with towering walls either side.
We started walking and then heard a car honking at us. We turned to find a truck there.
The elderly man driving told us to hop in and he'll give us a lift to the camp, as this is where his home was.
It was a beautiful drive and also only 10 mins compared to the 1-hour walk.
We arrived at the camp and found our accommodation for the night. It was well set up for local tourists, and at 2443m.
Day 5 – Uch Chat Camp to Koshmoinok Pass to Murdash Village
Hiking distance: 16km
Hiking time: 8 – 10 hours
Elevation Gained: 837m
Elevation Lost: 1530m
We left Uch Chat Camp at about 7am and started hiking up the double pass of Koshmoinok Pass (3135m / 3280m).
I had been looking at the pass the night before and noticed a road going to the top. It turns out that to make things easier, we would be following this road.
An hour in the hike, we got hit by a storm. We ran for shelter and waited it out, eating our last snickers bars.
Before we knew it the storm passed quickly and we started hiking again.
We eventually made it to the top of the pass and were greeted by a friendly man.
His name was Alibal. He and his wife, Bermet, invited us in for tea and we definitely did not decline.
It is rude to decline an invitation for tea here in Kyrgyzstan. His wife prepared bread and tea for us while we chatted. I asked them both questions through my local guide, Timur.
They had been married for 35 years and have 3 sons and 1 daughter. Alibal asked me about Australia and my family. It was such a lovely interaction.
I would never have had this if I didn't have my guide as I do not speak Kyrgyz.
We thanked them both and we farewelled each other.
The clouds rolled in and out revealing stunning views through the breaks. We started to climb up the next pass (3280m) which wasn't as near as bad as the first pass (3135m).
Once we reached the top it was all downhill from there. Following another road down the valley towards the village, this is where we will end the hike.
From the top of the second pass to the bottom takes about 4-5 hours. You follow a windy road and pass yurt camps along the way.
You will know you have reached the town of Murdash as it is the biggest one on that road. Murdash is at about 1700m.
This is where you will be picked up from to be transferred wherever you want to go.
Most people will go back to Osh, but it's also possible to travel to Sary Mogol or Gulcha from here.
From Murdash, Osh is about 2 hours away, Sary Mogol is 2.5 hours, and Gulcha is 30 minutes.
You've now finished your Truly Nomadic Land trek in Kyrgyzstan! It really is a fantastic adventure, and something I highly recommend.
Trekking Tips for the Alay Mountains
Here are some of my best trekking tips for adventures down here in the Alay Mountains, and if you want to trek the Truly Nomadic Land trail.
Accommodation
There are yurt camps you can stay in along the way. The yurts are warm and these particular camps are set up for tourists.
The families provide mats to sleep on, thick blackest and sheets. The blankets are very warm.
If you plan to do the trek on your own, do ask Visit Alay which ones there are, as there are many in the jailoo or valleys, and some may not take tourists.
Keep in mind these yurts are their homes, so please be respectful.
You pay the family directly when you leave. The cost will depend if you choose a bed and food, or just bed.
It's also entirely possible to camp here. If you are not planning on buying food from the families, you will probably have to camp away from the yurt camps.
Food
If you choose to, the families can provide you with dinner and breakfast.
If you aren't a very experienced trekker or feeling strong, I recommend booking a bed and food, as it is less weight for you to carry.
The food is hearty and warm, and for not much more money, this helps out the family's income.
Breakfast was eggs and bread and dinner was usually a warm soup of some kind.
Drinking Water
You can get drinking water from the yurt camps, and they boil the water.
For water straight out of the streams, I recommend bringing water purification tablets or a SteriPEN. I had the tablets and had no issues.
Some camps have springs. This is where the water came up from the ground, and this water is delicious.
Along the trek we filled up from the river but you do need to be careful, as there is a lot of livestock around.
Make sure you are higher along the river and the water is fast flowing. Do use your water purifications here to be on the safe side.
Transport
There is no public transport that goes from Osh to the starting point or at the end of the trail, so you will need to hire a local taxi.
You can organise transport from Visit Alay office in Osh. If you do get a lift by a local along the way, do offer money for the ride. It is not expected but it is respectful.
Phone Reception
There are a few points along the trail, mainly up on the mountain passes, and in a few of the yurt camps, where you can pick up a bit of phone reception.
It's not very strong, but it is enough to send WhatsApp messages and make calls.
Pick up a sim card in Osh before the hike if you want to have that luxury. MegaFon has the best service in this part of the country, but ask Talant at Visit Alay if the other providers are better (O! and Beeline) for up here.
Where to After the Hike?
Now that you've completed the Truly Nomadic Land hike, there are a few options for where you can go.
It depends on what you want to do, whether you're after more hiking adventures, a bit of culture, or need a place to relax and catch up on wifi.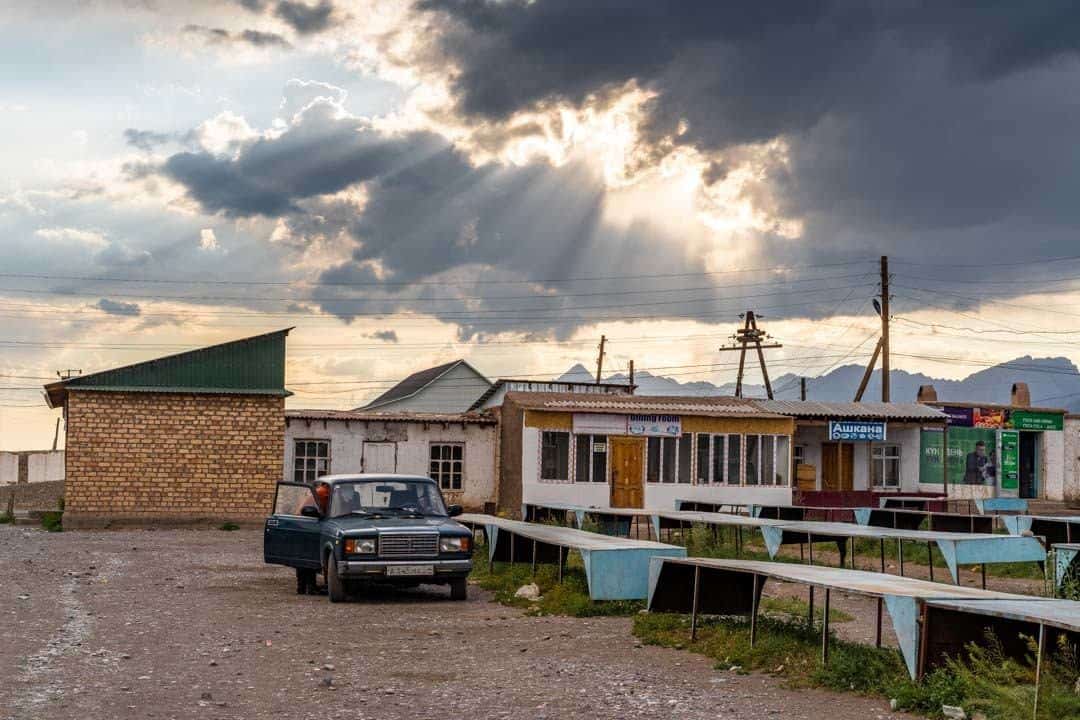 Sary Mogol
This is a dusty yet interesting little town, and a place that I really like.
It's a great place to hang out for a day before heading off on the Pamir Highway in Tajikistan, or to cross over into China.
I wrote up an entire Sary Mogol travel guide to help you make the most of your stay here.
Gulcha
Gulcha doesn't get a lot of foreign tourists, but that might change soon, as the locals there are working hard to develop new tourism products.
There is a new felt-making demonstration you can take part in, that can be booked through Klara's Guesthouse in town.
Osh
Osh is Kyrgyzstan's second-largest city, and is an amazing place to hang out for a few days.
The bazaar is very interesting, you can climb Sulaiman-Too, the sacred mountain here, or do a plov-making class.
It also has an international airport with flights to Moscow, so you can fly into, or out of, Osh directly.
That's it for my hiking guide for the Truly Nomadic Land trek. If you have any questions about it leave a comment below and I'll answer them as soon as possible.
Happy hiking.
DISCLAIMER: This hiking guide has been created in partnership with Heveltas Kyrgyzstan to help develop and promote tourism in the country. All thoughts and opinions are, as always, our own.