Read on for an epic New Zealand road trip itinerary for a bucket list journey of a lifetime!
New Zealand is spectacular. At times it seems as though there is picture-postcard scenery at every turn.
For many travellers, a New Zealand road trip is pretty close to the top of their travel bucket list.
Whether you're hiring a campervan or car, exploring New Zealand with your own set of wheels is the best way to experience this rather stunning area of our planet.
The North Island and the South Island both offer incredible scenery and attractions for a New Zealand road trip.
Whether you plan to explore one or both islands, we're going to dive into the top things to see and do in New Zealand for an epic road trip.
Planning Your New Zealand Road Trip
Before you can get started on your New Zealand road trip we want to walk you through a few decisions you'll need to make.
We'll discuss transport and safety on the roads, as well as responsible travel. We want to provide you with a little information that will make your road trip safer and more enjoyable.
Then we'll talk about the highlights of both the North Island and the South Island of New Zealand so you can plan your road trip itinerary!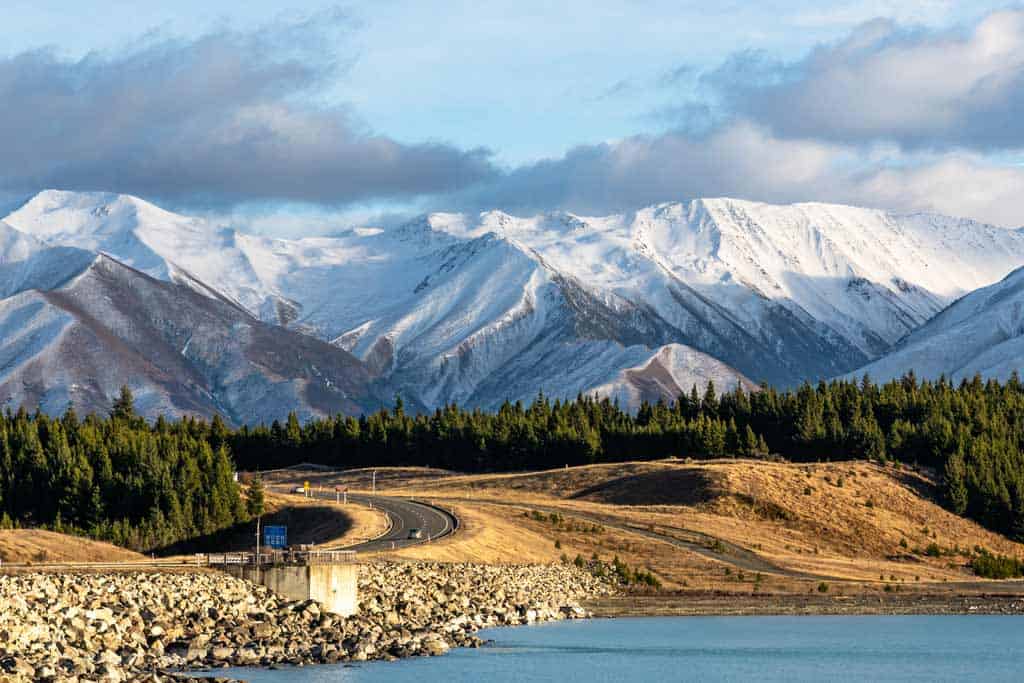 Where to Start Your New Zealand Road Trip
Most people will fly into Auckland on the North Island and make their way south, or fly into Christchurch on the South Island and make their way north or further south.
For this New Zealand road trip itinerary, we're going to start in Auckland and finish up in Christchurch.
However, this any New Zealand road trip itineraries can also be done in reverse. The Christchurch to Auckland route can sometimes result in cheaper rental fees due to it being less popular than Auckland to Christchurch.
Driving in New Zealand
Before embarking on a New Zealand road trip it's worth doing some research to get to know the road system a little better.
First, in New Zealand, you drive on the left-hand side of the road. This is not a great surprise as it was formerly part of the British Empire.
Second, you should expect the roads to be narrow and very windy. Driving in New Zealand is not like driving on the open highways of the USA or Australia.
Expect journeys to take much longer than they would in your home country.
Roads are in excellent condition and people in New Zealand are generally very courteous drivers.
However, during peak travel seasons don't be surprised if you find yourself behind a huge 6 berth camper van at some point.
Road conditions are a super important thing to consider when planning a road trip anywhere, but especially in New Zealand!
Hiring or Buying A Vehicle
This really depends on how long you will be in New Zealand. If you're buying a vehicle you will need to add time to the beginning and end of your road trip.
Generally, if you are in the New Zealand for 6 weeks or less it's not really going to be cost or time effective to buy a vehicle.
If you have longer than that, however, buying may be the best option.
So get the calculator out and start the number crunching.
The best way to get around is to rent a car and explore on your own! We recommend Rental Cars, which has the largest range of vehicles for the best value on the market.
Responsible Travel in New Zealand
"Freedom camping" is limited to certain locations and self-contained vehicles.
If you're self-contained, this means that you can go for three days or more without dumping waste or water, have a toilet, fresh and wastewater storage and a rubbish bin with a lid.
There are clear signs where you can and cannot freedom camp and what the vehicle requirements are.
Sadly there are a small number of people that continue to spoil it for everyone by freedom camping where they shouldn't.
Or they freedom camp in vehicles which are not self-contained or they leave their rubbish for someone else to clear up.
Please don't be one of these people.
How Long is this New Zealand road trip?
New Zealand road trip itineraries can last as long or short as you want it. We want to share some awesome road-tripping ideas from across the country that can be pieced together as you see fit.
We also have a New Zealand itinerary post that takes you through 1, 2 and 3-week itineraries. You may find this useful in planning how much time to spend in which destinations throughout. Check it out!
Important Note! Before you book any international trip, we honestly recommend getting travel insurance. You never know when things will go wrong, and medical bills can add up quickly if you get sick or injure yourself overseas.
Our personal recommendation based on our own experience is World Nomads.
New Zealand Road Trip Itinerary – North Island
You'll begin this New Zealand road trip itinerary on the North Island in Auckland. From here we'll take you the length of both islands.
Click here for a Google Map of the North Island road trip itinerary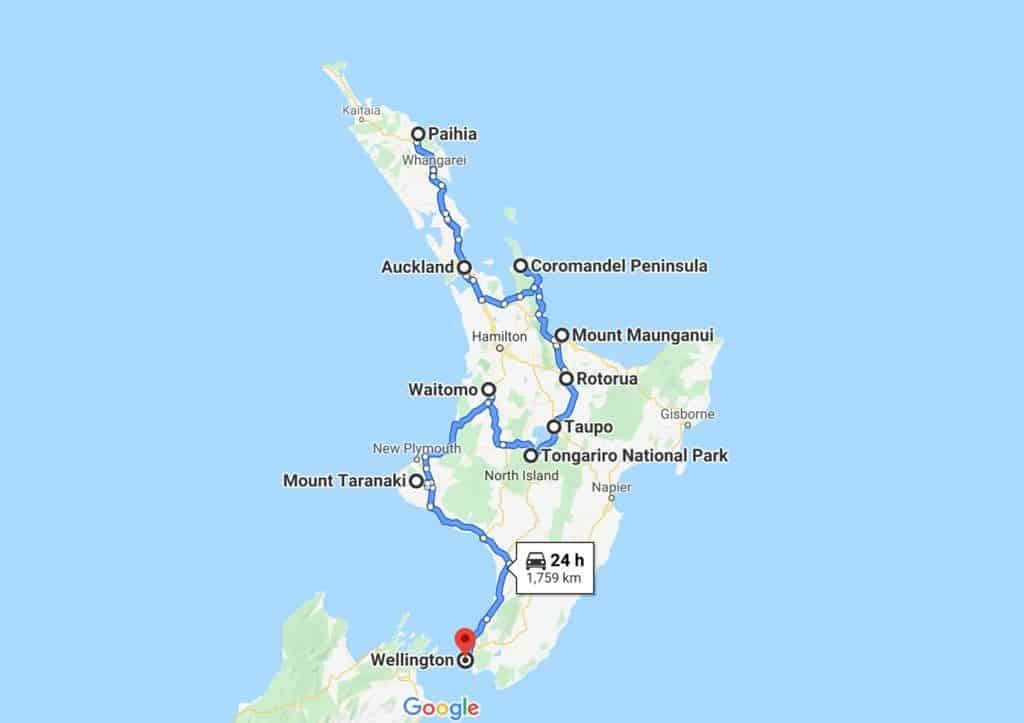 Auckland
Spend your first couple of days getting over the jet lag and exploring New Zealand's largest city. Check out the Sky Tower as well as the Auckland Museum and Art Gallery.
Take a day to get out of the city and explore the city's beaches and hiking routes before picking up the keys to your vehicle and heading out onto the open road.
READ MORE: How to travel Auckland like a local!
Bay of Islands and the Northland
From Auckland head north to the Bay of Islands. The towns of Paihia and Russell are big draws here.
However, en route make sure you visit the spectacular Tutukaka Coast.
This stunning stretch of coastline is rarely visited and with numerous deserted beaches and awesome views, it offers something very different from Paihia and Russell.
From the Bay of Islands, you can continue heading north towards Cape Reinga and Ninety Mile Beach.
This off the beaten track area of New Zealand is particularly breathtaking. However, it is noticeably economically depressed in parts.
The vast majority of people lack the time to make it this far as it's another day's drive from the Bay of Islands.
If you have the time it's well worth it, but if your time is limited then you may wish to spend it elsewhere.
Coromandel Peninsula
From the Bay of Islands, double back on yourself and loop around Auckland before arriving at the base of the Coromandel Peninsula.
Many people will skip this and head on to Taupo or Rotorua.
However, doing this will mean you will miss out on one of New Zealand's most incredible yet secret destinations.
One of the highlights of this part of New Zealand is quiet coastal roads that at points hug the ocean's edge. As you begin to circle around the end of the peninsula you head up into the hills offering some lovely views.
There is some stunning coastal scenery dotted along the peninsula. Cathedral Cove and the hot water beach to the south of it are particularly lovely spots on the eastern side of the peninsula.
As you leave the Coromandel Peninsula head towards to small coastal town of Mount Maunganui to check out its gorgeous beach and the stunning views from the top of Mount Maunganui itself.
Mount Maunganui and Rotorua
After some time in the town of Mount Maunganui head over to New Zealand's geothermal capital Rotorua.
On the way check out Te Rerekawau and Mclaren falls, two excellent spots for a break from driving.
From Rotorua hop on the Thermal Explorer Highway and head down towards Lake Taupo and the central region of New Zealand's North Island
READ MORE: Be sure to consider these things to do in Rotorua!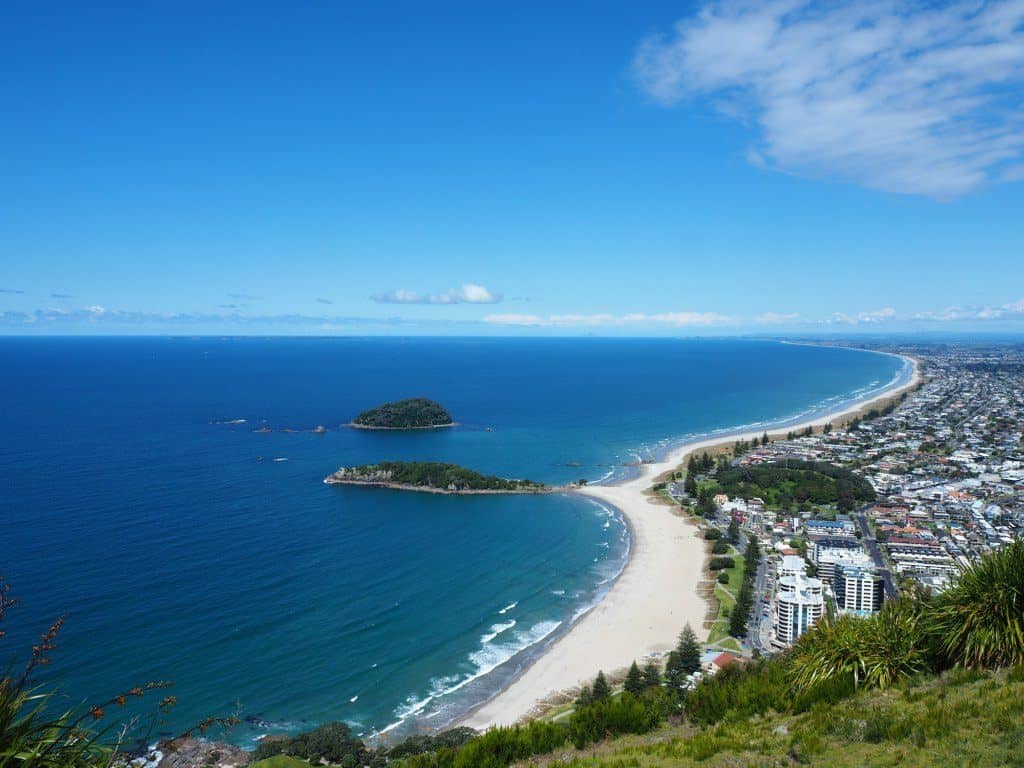 Lake Taupo and the Tongariro National Park
After following the Thermal Explorer Highway from Rotorua you will arrive at Lake Taupo, the North Island's adventure capital.
Every New Zealand road trip must include a stop in Taupo. Its central location allows you to branch out to other areas of the North Island without having to double back on yourself.
After getting your fill of adrenaline activities in Taupo head towards the stunning Tongariro National Park along the south edge of the lake.
Expect stunning views, especially if you're travelling around sunset.
The Tongariro National Park is stunning and is home to numerous excellent hikes.
Make sure you base yourself around Whakapapa where there is a number of accommodation options including an excellent holiday park for those travelling in a campervan.
Whakapapa is the starting point for a number of hikes and is very close to Mangatepopo car park, the starting point for the Tongariro Crossing, regarded as one of the best one-day walks in the world
Check out our New Zealand itinerary and our article on the top 25 things to do in New Zealand for some additional suggestions on things to do in both Taupo and the Tongariro National Park.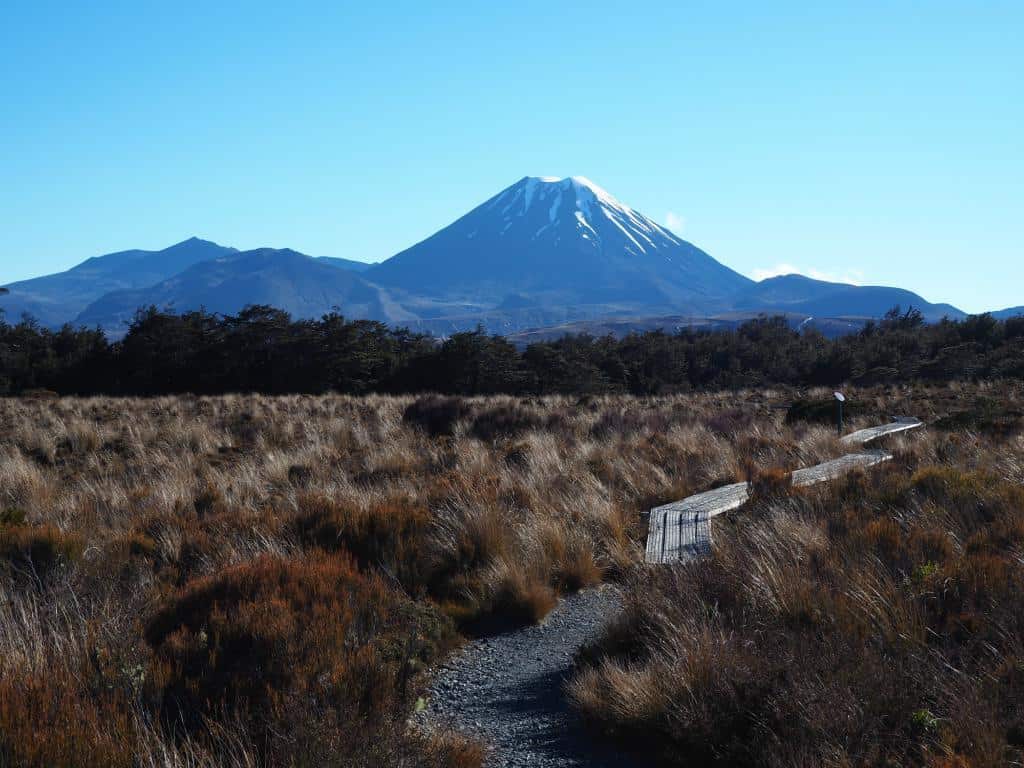 Waitomo and the Forgotten World Highway
For this section of the road trip, there is a bit of doubling back on yourself. However, I promise it's worth it.
From the Tongariro National Park head north towards the tiny town of Waitomo just a stone's throw from the town of Te Kuiti, which prides itself as being the sheep shearing capital of the world.
Spend your time in Waitomo deep underground exploring the area's caves, with the Lost World being the pick of the bunch.
From Waitomo double back on yourself and head to the town Taumarunui and hop on the spectacular and rarely visited Forgotten World Highway.
Running through some gorgeous New Zealand countryside the highway ends in the town of Stratford, very close to Mount Taranaki.
Mount Taranaki to Wellington
With its almost perfect cone, Mount Taranaki reminds many of the more well-known Mount Fuji. The area is home to some spectacular hikes.
From Mount Taranaki head towards the east coast and follow it all the way down New Zealand's wet and windy capital, Wellington.
There are numerous tiny beach towns to stop at on the way, with windswept Hitamangi being a decent place to spend the night.
If you've skipped the sections from Tongariro to Taranaki, then an alternative route is the rather lovely road that follows the Mangawhero and Whanganui Rivers all the way to the coast offering some spectacular scenery en route.
Spend your time in Wellington at the Te Papa Museum to learn about New Zealand's history.
Head up to Mount Victoria for some lovely views over the city. And spend at least one evening eating and drinking on Cuba Street.
READ MORE: Check out these other great things to do in Wellington!
New Zealand South Island Road Trip
New Zealand South Island road trips are more common and, honestly, more adventurous than those on the North Island.
But clearly, if you're visiting New Zealand you should plan to see both the North and South islands. If you're short on time, however, and you can only visit one island, the South Island has more dramatic scenery and adventure activities.
Click here to check out a Google Map of the South Island road trip itinerary.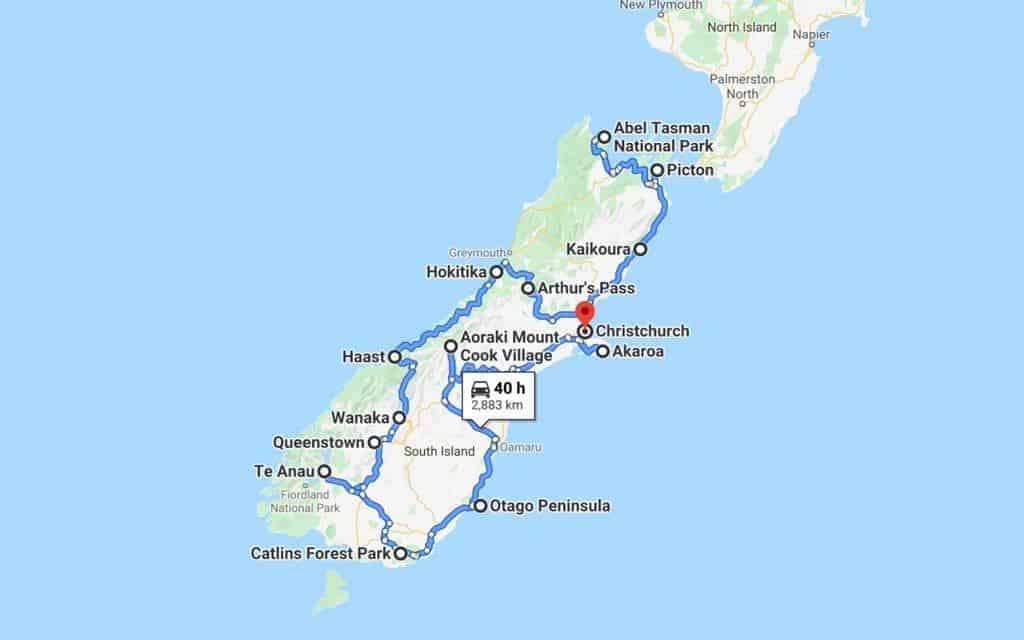 Ferry Crossing from Wellington to Picton
Park up on the ferry and get ready to enjoy some spectacular views as you come toward Picton through the Marlborough Sounds on your crossing to the South Island of New Zealand.
This is, of course, weather-dependent. I've done this crossing twice, once in the winter and once in the summer.
The former was a crossing of wind and rain and not much else. Check out this map of the South Island to provide some frame of reference for your trip and add to your itinerary beyond our recommendations below.
Picton to the Abel Tasman National Park
This section of our New Zealand south island road trip is littered with a number of awesome stop-off points.
There are plenty of hikes and places to explore on the edge of the Marlborough Sounds as you follow the coast around your reach the small city of Nelson.
There's plenty to keep you occupied here for a few days.
Beyond Nelson, it's a straight shot to Kaiteriteri, a town on the very edge of the Abel Tasman National Park.
There is plenty of great hiking through the park. But you should also consider kayaking in Abel Tasman National Park.
READ MORE: Be sure to add these things to do in Nelson while you're there.
Abel Tasman National Park to Kaikoura
This area of New Zealand always leads to difficult decisions. Head straight to the West Coast via Murchison and the Buller Gorge, cut across the South Island via Hammer Springs, or loop back around via the Marlborough Wine Region. Decisions decisions.
Since we're planning to head to Kaikoura, we're going to look at the latter two options (don't worry we will get to the west coast I promise).
If you're a fan of wine and coastal scenery then head to Kaikoura via the Marlborough Wine Region stopping in at various vineyards along the way.
The alternative is to head for Hammer Springs via the Buller Gorge. Spend a night in Hammer Springs soaking in hot pools or just enjoying the scenery, then hot foot it down to Kaikoura.
Kaikoura to the West Coast via the Arthurs Pass National Park
Kaikoura is one of the wildlife capitals of New Zealand. The vast majority of this can be found in the waters surrounding the peninsula which is home to a staggering array of wildlife.
Whether you want to watch whales and albatross, swim with dolphins, or kayak with seals it's up to you.
From Kaikoura head south and back to the West Coast via the stunning Arthurs Pass National Park.
Although this route does involve some extra kilometres on the road, I promise you it's absolutely worth it.
This gorgeous National Park is rarely visited in comparison to others in New Zealand. There are numerous hikes available as well as plenty of places to simply pull up and enjoy the scenery.
The Jackson Retreat Alpine Holiday Park is a great option for those that want to spend a night in the area.
As well as spectacular views over the national park itself, the park also has its own glow worm trail and hike to a lovely waterfall.
Coming via Arthurs Pass will spit you back onto the west coast just north of Hokitika, a town famous for its gorge and beaches.
If you want to can double back north along the west coast road toward Punakaiki and Westport before doubling back on yourself and heading back down towards Hokitika.
Hokitika to Haast
From Hokitika, it's a straight shot south down the wild west coast to the small town of Haast. On your way, you will pass through glacier country.
Around both the Franz Josef and Fox glaciers there are numerous short hikes offering some pretty amazing views.
The views on the entire journey down is pretty spectacular, no doubt you'll be stopping plenty of times to take photos.
Haast to Wanaka
From Haast, you have 2 options. Follow the Haast Pass through to the beautiful Wanaka.
Or head due south to Jackson Bay, the end of the line on the west coast.
The latter of these offers empty roads and stunning desolate beaches. With small mountains jutting out of the land a couple of hundred metres from the ocean's edge, the view when taking a dip is stunning.
If you head down to Jackson Bay then double for Haast and then take cross the Haast Pass through to Wanaka.
The journey through the Haast Pass is full of stunning scenery, short hikes, and some gorgeous waterfalls with the blue pools being particularly beautiful.
Make sure you have a good pair of walking boots as Wanaka is full of awesome hiking trails offering some breathtaking views.
Many people also choose to go hiking in Mount Aspiring National Park on the way to Wanaka.
READ MORE: Check out more activities in Wanaka.
Wanaka to Queenstown
Make sure your camera is charged because this drive is a beauty.
Taking you past the stunning Crown Range and The Remarkables as you enter Queenstown this journey is truly special.
I'd also recommend heading up to the tiny town of Arrowtown which is in between Wanaka and Queenstown.
From Queenstown take a day trip up to the stunning little town of Glenorchy. This drive is also an absolute stunner.
READ MORE: Be sure to add these great Queenstown activities to your itinerary!
Queenstown to Milford Sound or Doubtful Sound
No doubt about it, the drive from Queenstown to Te Anau is an absolute stunner.
From here the road splits; north to Milford Sound and South to Doubtful Sound.
From Te Anau to drive to Milford Sound is probably more spectacular than the route down to the edges of Lake Manapouri from where Doubtful Sound cruises depart.
Milford Sound is one of the most popular destinations in the country and is a must on a road trip of New Zealand's South Island. Many people visit Milford Sound as a day trip from Queenstown.
But if you're driving your own car on a road trip, you have the luxury of visiting Milford Sound on your own time and spending some time there. Then you can continue on after seeing the famous Milford Sound.
However, of the sounds, it is Doubtful Sound that I feel is the more spectacular of the two.
At 3 times the length and 10 times the area of its more well-known cousin, it is simply awe-inspiring.
The Sounds to the Catlins National Park
This gorgeous but rarely visited national park is bypassed by the main SH1 highway, enjoying a calm and carefree life far away from the majority of travellers that flock to New Zealand's shores.
Winding country roads, breathtaking coastal scenery, and oodles of hiking trails are just the start of this part of your road trip.
Head down Curio Bay and Porpoise Bay to experience some of the park's most famous residents – the curious Hectors Dolphins that are sometimes keen to come to socialise with swimmers.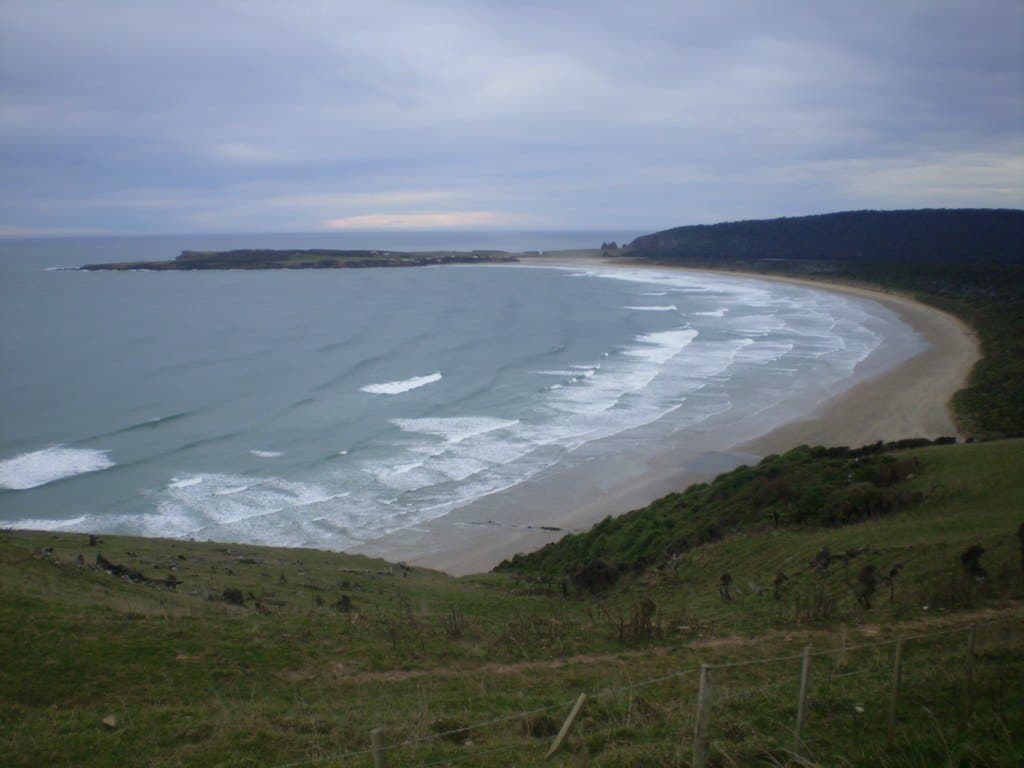 Catlins National Park to the Otago Peninsula
From the Catlins head to the gorgeous Otago Peninsula. This is another wildlife haven with albatross viewing and seal kayaking on offer.
At night head over to the Royal Albatross Centre to watch the Little Blue Penguins returning to their nests after a day hunting out in the open ocean.
The eastern portions of the peninsula are home to some gorgeous beaches and equally stunning hiking trails which are well worth checking out.
READ MORE: Plan to do some great hiking on the Otago Peninsula.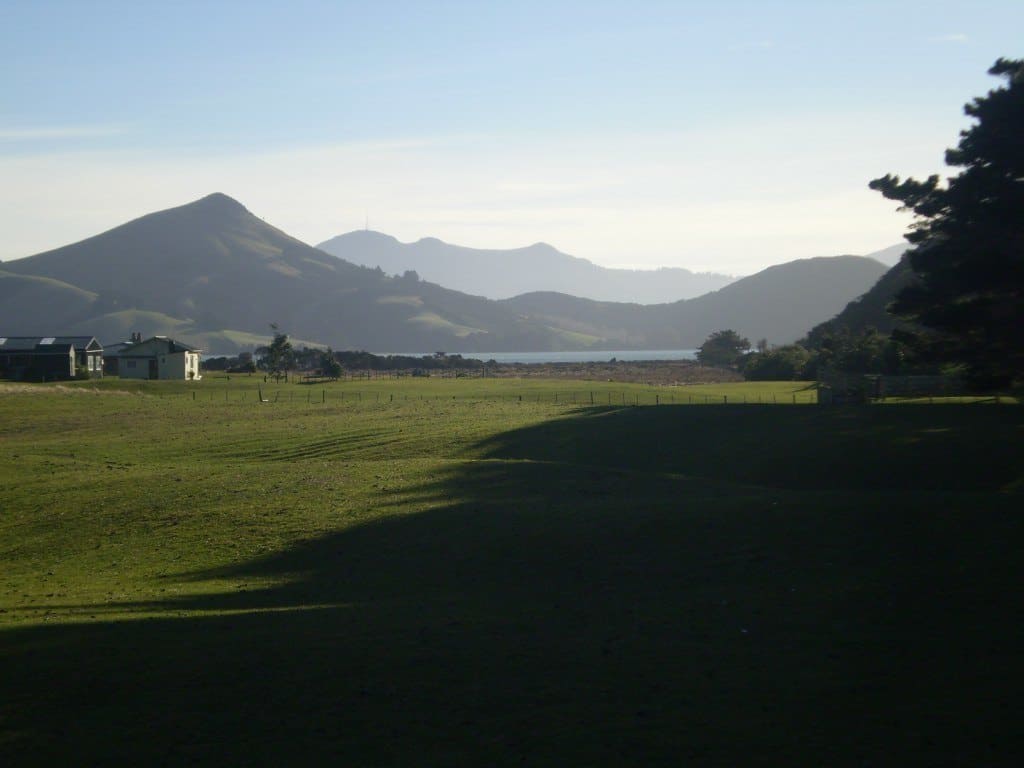 Otago Peninsula to Mount Cook
This gorgeous drive follows the coast up through the town of Omaru through Twizel and onto one of New Zealand's most stunning sights – Mount Cook.
As you follow the coast up from the Otago Peninsula make sure you stop in at Omaru to check out the town's funky steampunk vibe.
If you stay the night there is an additional Little Blue Penguin colony that you can observe in the evening.
From Omaru journey inland towards the small town of Twizel. This is really a gateway to Mount Cook, with many using it as a stopping point so as to maximise the enjoyment of the drive to New Zealand's highest peak.
This is because the drive along Lake Pukaki, towards Mount Cook is simply breathtaking, and maybe one of the most stunning drives in the country.
Therefore it makes sense to do it first thing in the morning when you have the best light and the fewest people.
The road up to Mount Cook is littered with stunning viewpoints. However, Peter's lookout is probably the pick of the bunch.
If you're in a campervan make sure you head for the Whitehorse campsite. This awesome DOC site is the starting point for the Hooker Valley Trail and the Kea Point Track.
Also, make sure you check out the hikes around the Tasman Glacier as well.
Mount Cook to Akaroa
This long but stunning drive takes you along the banks of Lake Pukaki and Lake Tekapo. Lake Tekapo is one of New Zealand's most gorgeous lakes.
Next you'll head through the heart of Canterbury, and onto the Banks Peninsula, which is one of the most picturesque places in New Zealand.
Along the south edge of Lake Pukaki stop in at the Alpine Salmon Shop to chow down on some excellent sashimi.
Make sure you check out the Church of the Good Shepherd on the banks of Lake Tekapo.
There are some rather lovely hikes in the area, plus some awesome stargazing to be had from the Mount John Observatory.
There are a fair few quaint towns that you may want to stop in en route. The small town of Fairlie is famous for its bakery which serves some truly spectacular pies and close proximity to the Mount Dobson ski field.
The small town of Lake Tekapo is also a lovely place to stop. There are lots of hikes and a Dark Sky Reserve where you can stargaze.
If you're here in the winter then Mount Hutt is another worthy skiing spot. However, you will definitely need snow chains on your tires.
Bypass Christchurch and make a beeline for the small town of Akaroa, the main town on the stunning Banks Peninsula.
Spend a few days exploring the many hiking trails that criss-cross the peninsula.
Head over to Okains Bay to explore and relax on this stunning and often deserted beach.
If you fancy getting up close to some of the area's wildlife there are some excellent dolphin swimming and watching tours.
Akaroa to Christchurch
Christchurch is the final stop on this New Zealand South Island road trip. A short drive from Akaroa, it certainly makes a pleasant change
Christchurch is well known for its botanical gardens and cathedral. The latter is still being held up with a mixture of structural support and scaffolding after the 2011 earthquake.
It's still fenced off, acting as a timely reminder of New Zealand's precarious position at the hands of mother nature.
READ MORE: Check out some of the best things to do in Christchurch!
DISCLAIMER: Some of the links in this article are affiliate links, which means if you book accommodation, tours or buy a product, we will receive a small commission at no extra cost to you. These commissions help us keep creating more free travel content to help people plan their holidays and adventures. We only recommend the best accommodations, tours and products that ourselves or our fantastic editorial team have personally experienced, and regularly review these. Thanks for your support, kind friend!