Hiking Otago – New Zealand's region of adventure where most go to bungee jump, jet boat or skydive, but if you prefer to stick two feet in snow, mud and glacial waters, then this is the place for you!
The mountains of The Otago extend from the beautiful Mount Aspiring National Park to the wilderness of Glenorchy, right to the world renowned, The Remarkables.
The Otago Peninsula on the other hand is a haven for sea-life, epic landscapes and coastal farms where each turn you take, discoveries are before your eyes.
Endless walking tracks take you along steep cliff edges, across windy beaches and over rolling green hills and if you are lucky you will get to witness what the locals call a "Dunner Stunner" (stunning day in Dunedin).
Hiking in the Otago – My Local Guide
Time is something we wish we all had so if you are keen to head over to The Otago, you will need at least 2 weeks minimum to do a basic on-the-go trip, allowing for 2 days at each location.
However I recommend spending at least 1 month in the region to truly get the feel for this magical place.
Ben Lomond And Bowen Peak – Queenstown
If you fancy getting a taste for what the mountain life is about in New Zealand before venturing off to the more difficult trails, give the Ben Lomond Peak summit a go.
Sure it's a popular walk for those not wanting to venture far from Queenstown, but it gives you an idea of your surrounds and why you are in New Zealand in the first place.
Getting There
From the CBD of Queenstown, make your way to the line of conifers where you can start the summit push from the gondola via the Tiki Trail or via the Gondola access road on Ben Lomond Crescent.
The entire walk is very well sign posted by The Department of Conservation, and tracks are well trodden.
The Hike
Firstly, you will need at least 2-3 litres of water for this hike and necessary snacks for that needed energy boost.
There are two options for this hike starting at the Tiki Trail near the skyline gondola or on Ben Lomond Crescent some 2 kilometres from the Tiki Trail.
Either way you end up at the same trail point leading to the Ben Lomond summit.
If you like a challenge and like to be different, there is a road leading to the take off point for para-gliders above the Skyline gondola to which connects to a narrow, slippery ridge mainly used by wild goats and the odd mountain biker. This also leads to the same intersection prior to the mountains saddle.
The first part of the hike takes you through large conifer forests, in some spots completely blocking out the sun.
Once you exit the dense conifers, the views start, and oh boy they are amazing!
During the early winter months, the snow line is relatively low where the trails fill up with melting snow and ice then reforming into thick sheets of ice making it a very interesting ascent.
Once on the ridge, things get a lot easier with a few areas of steep gradient as you ascend into the alpine environment of Ben Lomond.
Sitting within the saddle of Ben Lomond and Bowen Peak is a bench which would have one of the best view spots in Queenstown, overlooking snow-capped peaks as far as the eye can see.
From this point there are 3 options on where to go. Ben Lomond scoots up to the left, Bowen Peak and an unmarked track to the summit or the Arthur's Point hike.
Ben Lomond is the steepest and rockiest of the two peaks which require good balance and commitment.
You can expect to be using your hands in places to heave over boulders, pulling tussock grasses for a boost and giving those calves a good working out. However the hard work is well worth the summit.
From the top, stunning 360 degree views dominated by the city of Queenstown directly below, The Remarkables to the east, Glenorchy and Paradise to the south with Mount Aspiring/ Tititea towards the west with a ridge running directly down to Fernhill below Ben Lomond.
Bowen Peak is the other option but requires a bit more care in the winter months as there is no actual track to follow.
Start from either the bench on Ben Lomond saddle and follow Department of Conservation markers until you are happy that you have eyed a potential path to the summit then begin from there.
Unfortunately my attempt at a summit was cut short due to low-visibility so it's best to do Bowen Peak on a clear day.
Mount Aspiring National Park – Rob Roy Glacier
Yeah OK, Rob Roy Glacier is quite a commonly visited place but during the winter months, crowds thin out leaving you with more of that crisp mountain air and untouched alpine environments. A cathedral of snow surrounds you on 2,000 metre mountains as you watch snow tumbled from the top into the valley below.
READ MORE: Everything you need to know about trekking in New Zealand!
Getting There
Head out of Wanaka past Glendhu Bay through deer and cattle farmland along the meandering Matukituki River where you will drive underneath a series of 2,000 metre peaks until you arrive at Raspberry Creek car park.
Time to lace up those boots, ensure you carry at least 2 litres of water (even though its winter), energy snacks and your camera and begin the 10 kilometre return track to the base of Rob Roy Peak.
The Hike
This walk will see you follow along a narrow path (mostly uphill at a steady gradient) above Rob Roy Stream which is fed by glacial waters.
The track is slightly damaged in places from recent weather events but don't let that put you off the mystical walk through ancient forests leading you all the way up to the first lookout onto Rob Roy Glacier.
During the winter months, mountains with significant altitude and prominence such as Rob Roy Peak (2,644metres) see glaciers very high up and when snow continues to build, the chance of seeing an avalanche becomes severely increased.
The Department of Conservation New Zealand recommends that you do not go past the first lookout due to avalanche risks.
However during the early winter months (June) the accumulation of snow is lesser, although in alpine conditions this can change instantly.
I made the choice the continue past the "no go area" and head onto the upper lookout which takes you lower to the crystal, blue stream feeding of the melting snow and ice.
To reach the upper lookout, one last slippery ice covered track, you find yourself under the base of Rob Roy Peak where Rob Roy Glacier becomes evidently visible and it's magnificent!
Take the time to sit, but still be wary that ice falls could happen at any time. Away from the worries, Rob Roy Glacier is a cathedral of mountains at their most glorious, a place where you feel as one with your surrounds.
As a trail lover and runner, descents are epically fun when you now just get to stroll back down the hillside you came up!
Steady on though, the descent is amazing as you catch glimpses of the valley you just walked up and the amount of times I need to stop to take photos was uncountable.
During the winter months in the West Matukituki Valley, the sun tends to stay behind the mountains, illuminating the peaks above making for epic photo opportunities on your walk back to Raspberry Creek car park.
Pisa Conservation Area – Rock Creek Track
The Crown Range is generally used as a road linking Queenstown and Wanaka where access to Cardrona ski field is possible.
The Pisa Conservation area is 23,000 hectares of awesome! While there are so many places to go within the area, Rock Peak is a great place to get a feel for the unique alpine environment while getting a few kilometres of hiking under your feet.
Getting There
From Queenstown heading to Wanaka, connect to the Crown Range Road zig-zagging on to Crown Terrace.
Continue the hair-raising drive until you see a decent size stopping area called Crown Saddle carpark (generally used for fitting chains to car and bus tires).
At the end of the chain-fitting bay, a small green sign by The Department of Conservation directs you to the start of the walk to Rock Peak.
The Hike
Rock Peak in the Pisa Conservation Area is quite the hidden gem and will only take you around 3 hours to accomplish.
The first part of the walk is all uphill, through an access road, winding in between alpine shrubs and grasses where the odd patch of snow becomes visible.
Once you gain some altitude, the road becomes increasingly covered in snow making it quite the balancing act but all more the fun.
There are a few awesome opportunities to do some 'mountain watching' with The Remarkables behind you as you ascend glimpses of Coronet Peak and the alpine slopes of the Crown Range.
Prior to the summit of Rock Peak, Tuohy's Saddle hike becomes visible (closed this time of year) so one last steep and slippery walk sees you looking right back down the valley to Kawarau River and Queenstown.
Rock Peak is an interesting place given that the summit contains aircraft equipment for planes taking off and landing into Queenstown but don't let that put you off this epic little summit, the views are full of mountains and Gibbston wineries along the Kawarau Gorge. 1,490 metres above sea level is quite the epic feeling.
Descending from Rock Peak provides a whole new view and oh boy it's epic. Following the 4WD track back down the mountain gives you stunning roads that seem to run right into The Remarkables.
Sandymount Track – Otago Peninsula
If you want to see New Zealand's spectacular coastlines, the Otago Peninsula is the place to do so! Sandymount Track is located in close proximity to Dunedin but you would never know a major New Zealand city is just over the hill.
An early morning rise and you are almost guaranteed to be the only one amongst emerald green paddocks, grazing sheep and out-of-this-world cliffs edges.
READ MORE: Check out our best tips for hiking for beginners.
Getting There
From Dunedin, signs are aplenty making it very easy to find your way to the peninsula but once you are there, roads become hard to navigate especially if you are driving along Portobello Road.
There are lots of optional routes such as taking Castlewood Road from Company Bay onto Sandymount Road to experience the back roads of the Otago Peninsula or if your more like me, drive to the town of Portobello and follow Allan's Beach Road onto Inlet Road to experience the frolicking bird life of Hoopers Inlet.
Continue driving until you arrive at one of the most scenic car parks in all of New Zealand and get ready for an epic, jaw dropping adventure!
The Hike
A row of enormous conifers introduce you to a series of the best looking sheep paddocks in existence with breaking views of the South Pacific Ocean becoming clearer.
Sheep will most likely look at you as you walk through there paddock or run off but don't worry if you think you are trespassing on someone's farm, the track is an official track under the Department of Conservation New Zealand.
Continue to breathe in the fresh, salty air as you follow the trail down to a viewing platform perched above a natural feature known as The Chasm.
Don't get to close though, winds here are very strong so just keep clear of the cliff edges as they are deceiving.
If you're like me and like to stray from the track well this is the place to do so. There is a fence that runs along the paddock to where you entered the viewing area so once you find the fence, follow it till you reach the end and boom! The views are just crazy beautiful!
Hoopers Inlet becomes visible along with Allan's Beach leading onto Wharekakahu Island and Cape Saunders.
Once you find yourself back on Sandymount Track, endless sheep paddocks lead along the peninsula to Lovers Leap where erosion becomes its most beautiful.
A natural land bridge sits before you and the provided lookout with a continuation of waves entering the eroded section below.
Before you arrive back at your car, be sure to walk up Sandymount (320 metres) for views right back over the Peninsula.
If you want to spice things up a bit, do the walk at sunrise to guarantee crowd-free trails.
Tunnel Beach – Dunedin
One of the more popular places to visit in Dunedin but don't let the crowds turn you away from the opportunities there are to explore this place.
Tunnel Beach is not your average beach, more like an ancient playground for mechanical weathering which has created a spectacular sea cave into the sandstone headland.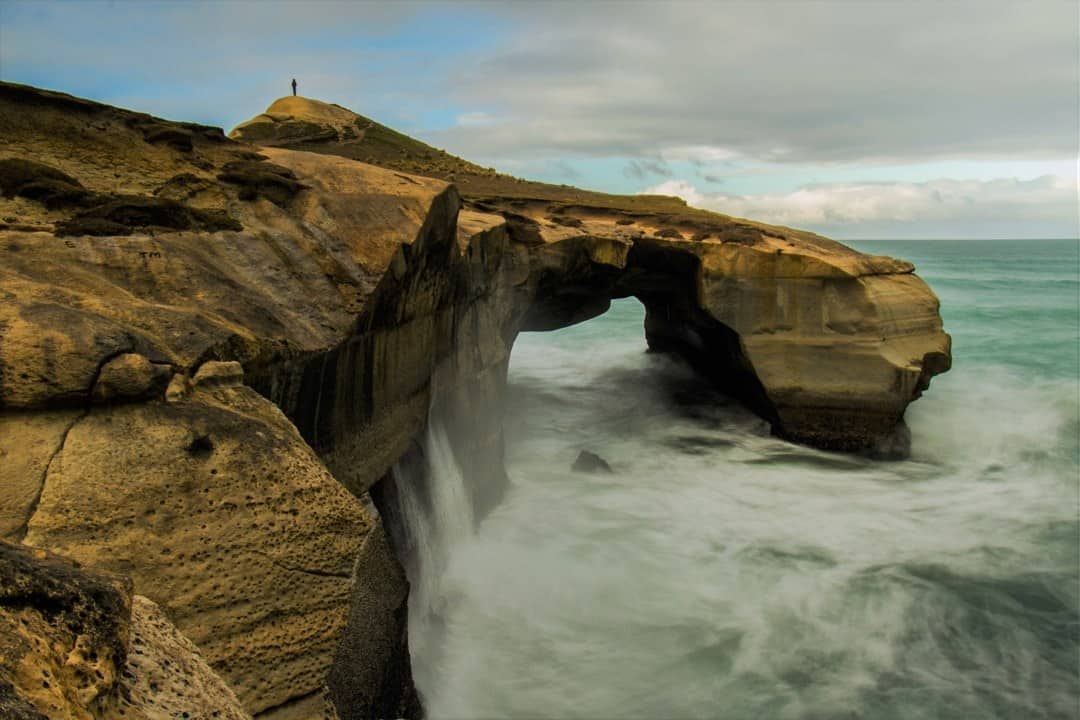 Getting There
From Dunedin, head south along highway 1 to Burnside then onto Main S Road, left onto Emerson Street and follow until you come onto Blackhead Road. Keep following south until you come to an intersection and take Tunnel Beach Road. This takes less than 15 minutes from once you leave Dunedin.
The drive presents you with small farms on the outskirts of Dunedin where you can start seeing the connection between the coast and farmland.
The Hike
It's all downhill and what goes down must go back up again. A short 15 minute walk from the car park down a steep, maintained track presents you with Tunnel Beach.
There are a few options once you arrive at the bottom of the track, you can head through a 30 metre hand dug tunnel through the side of a hill to allow access to the secluded beach below.
If the tide and weather is nice, access to the cove beside Tunnel Beach. On a lucky day, small streams of water cascade from the sandstone cliffs creating a stunning photo opportunity, coinciding with the rolling waves of the South Pacific Ocean.
The main feature for Tunnel Beach is a massive rock arch carved from waves and wind over a very long period of time.
Walking onto the arch at this stage is acceptable where the views are just astonishing.
Sandstone features populate this part of the coast giving you a feel of the Great Ocean Road in Australia and the Twelve Apostles on a smaller scale.
Wye Creek Track – The Remarkables
Generally The Remarkables are a playground for snowboarders and skiers but that's not so.
Wye Creek Track is a challenging all-terrain hike to which you can keep on going and going until you come out at Lake Alta high up in the mountains or set yourself a target then return.
Wye Creek is truly stunning and worth the grind.
Getting There
From Queenstown you will need to head to Frankton, cross Kawarau Bridge and drive about 20 minutes to Wye Creek which is quite hard to find.
Wye Creek is in the vicinity of Lakeside Estates. Parking is quite limited so do your best to park away from Kingston Road as it often contains heavy traffic.
The beginning of the hike is to the left of Kingston Road where you will find a sign courtesy of The Department on Conservation.
The Hike
The first part of the hike is pretty straightforward as you simply follow a 4WD track until you reach the official beginning of Wye Creek Track which is set by a hydro line and toilet.
From here, the fun begins! Steep sections litter the walk to the first checkpoint which is a hydro dam.
For a cheeky little, hair-raising side walk, head to the right of the hydro dam and follow the adjacent pipeline for about 1 kilometre until you come out at a helicopter pad and epic, roaring waterfall. The views of Lake Wakatipu are stunning!
Back on the main track at the hydro dam, follow all of the orange triangles through a densely-wooded forest following Wye Creek to the beginning of the alpine are of The Remarkables. This is where the fun begins!
Rock hopping skills are a must as you part from the forests of Wye Creek. The orange triangles provided by The Department of Conservation become more spaced out so be sure to keep tracks of familiar landmarks along the trail.
I managed to walk for 10 kilometres one way before the weather started turning against me (very common in the mountains) so I was lucky to come to an amazing view of Double Cone Mountain and a towering waterfall with icicles and patches of snow (something you can only dream of for an adventurer).
Just as I reached my turn around point, snow was being lifted from the top of Double Cone in an amazing display of nature's raw power.
The thing I like about turning around is the view becoming completely different as huge boulders change shape, tussock fields with layers of ice and snow and Lake Wakatipu coming back into view.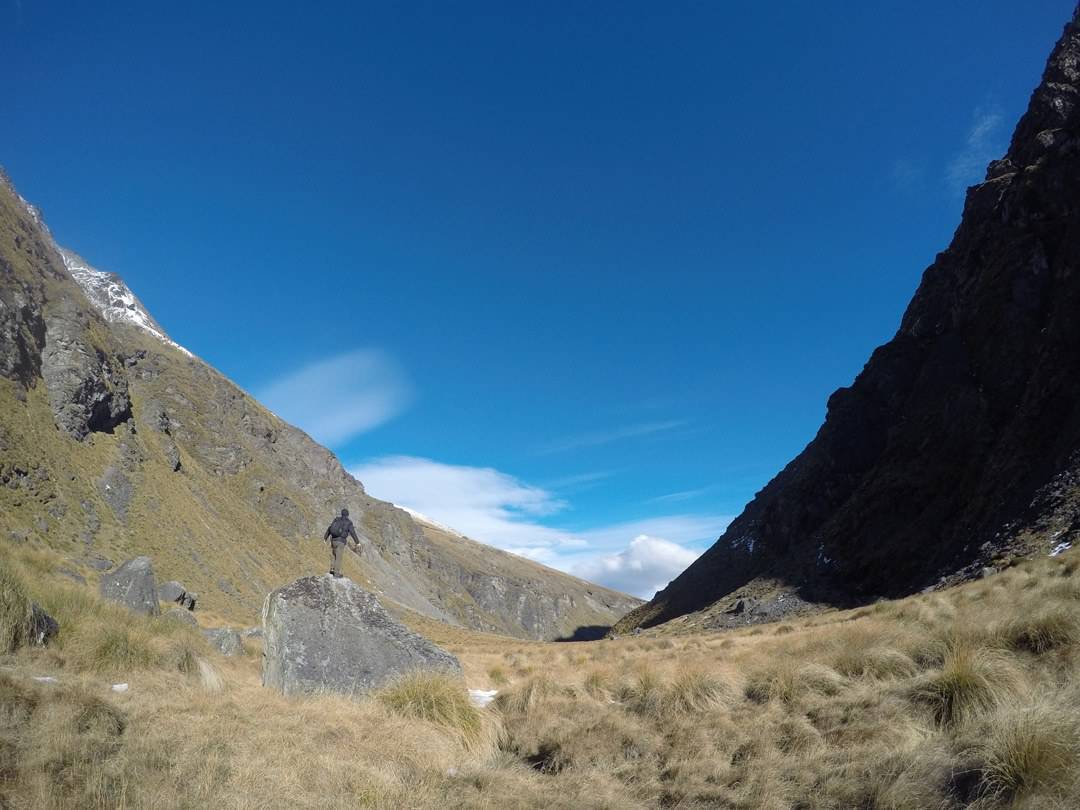 Now if you like a good trail run as I do, the beginning of the forested section of the walk to the car park is not to be walked.
When the sign says 1.5 hours to the car park and you do it in 25 minutes you know it's an epic descent through tight tree squeezes and hair-pin corners. It's a trail runners dream.
Honourable Mentions
Everywhere you go in the Otago Region, mountains, lakes, rivers and farms appear which are jaw-droppingly stunning! This is a list of places you need to go if you are planning to stay and travel in New Zealand for a longer period of time.
Paradise – A remote corner of stunning wilderness about 1.5 hours drive from Queenstown. An amazing mix of Lord of the Rings type trees, crystal clear waters of the Dart River while towering above lies Mount Nox (1,940 metres) and Mount Chaos (1,995 metres), Paradise tops the list of honourable mentions by a mile and you maybe thinking why?, when mostly every day of the year sour weather inundates Paradise with snow, wind and rain but it's one of those places you feel completely immersed in what New Zealand is truly about.
Matukituki Valley – It is just stunning. This is one drive that you can take your time on as the farmlands, mountains and rivers prove to be all National Geographic worthy photos.
Lindis Pass – Quite a drive from Cromwell and limited places to stop once you reach Lindis Pass. Lindis Pass provides you with a close look into the alpine environment of New Zealand. Long stretching roads are ideal for that epic photo opportunity.
Lake Hayes – You could spend a lot more time here but if you don't have the time it's still worth a visit to capture the reflection of the mountains on the lake and the occasional stunning sunset through the Kawarau Gorge.
The Neck – About 20 minutes' drive from Lake Hawea, the winding roads move from Lake Hawea to Lake Wanaka and those views are just killers.
Kakanui – Not far south of Oamaru, Kakanui is a cool little coastal town where farms meet the South Pacific Ocean. Worth pulling over for to take in the sea breeze and green pastures.
Warrington – Just north of Dunedin, Warrington provides Blueskin Bay and the South Pacific Ocean with a large recreation zone in between. Warrington is very chilled out little place worth which is worth the stop.
Gear You Will Need For Hiking In New Zealand
Hiking during any month in New Zealand will require extra special attention to detail when it comes to gear anywhere from spending 1 hour to 1 week in the wilderness. Therefore I recommend taking the following essential items even if you are a beginner.
Water: Allow to carry up to 2 litres of water at any time during a hike or trek.
Snacks for shorter hikes and instant meals for the longer overnight treks.
Decent hiking boots which are preferably waterproof (Gore-Tex)
Thermal clothing (with a couple of spares)
A down jacket for the cold conditions
Wind jacket
Beanie
Face mask
Inner gloves and thicker outer gloves
Hiking pants
Thermo Accident Blanket
E-Pirb
Dry bag
Quality sleeping bag for temperatures down to minus 10
Matches or a lighter
Gas burner, cutlery and small pot.
Useful Links
The Department of Conservation, New Zealand provides detailed reports on track and trail access all year round with maps, topography, location of huts and shelter and recommendations to name a few.
They will be your most reliable source of information.
Depart of Conservation, New Zealand: https://www.doc.govt.nz
Save this Pin for later?