If you love hiking, tramping, and just being out in nature, you need to check out these incredible Queenstown walks in New Zealand! Plan out your hiking in Queenstown adventure with this comprehensive guide.
It's known as New Zealand's adventure mecca, and if you're a lover of the outdoors, chances are you've either already been or are planning an epic trip to Queenstown on the South Island.
This spectacular mountain town set on the edge of Lake Wakatipu in the heart of the Remarkables mountain range is one of the most popular and beautiful destinations in the country.
There's no shortage of incredible things to do in Queenstown, from bungy jumping to sky diving, sailing, and frisbee golf.
The amount of activities here is so diverse, but if you like putting one foot in front of the other, then you're going to love hitting the hiking trails and finding the best Queenstown walks around the lake and into the mountains.
The region's beauty needs to be seen to be believed, and if you need to clear your mind, there are many Queenstown hikes that are nice and gentle, allowing you to lose your stress and worries.
The Tiki Trail, Queenstown Hill, and Lake Hayes Track are a few of the most beautiful day hikes that are suitable for all ages.
If you want to get the heart pumping though, or just love a physical challenge, there are more difficult trails like the Ben Lomond Track and lots of nearby overnighters.
The Best Hikes and Queenstown Walks
Ready to put on those trekking shoes and check out the best landscapes Queenstown has to offer?
Let's dive into our list of the best Queenstown walks and hiking trails for people of all levels!
From the Tiki Trail to Queenstown Hill to the Ben Lomond Track to the Lake Hayes Walkway and more, there are lots of awesome hiking trails to choose from.
READ MORE: Don't miss our comprehensive 'Hiking in New Zealand' guide, covering the whole country!
1) Queenstown Hill Time Walk
Distance: 4.2 km return
Duration – 2-3 hours return
Difficulty – Intermediate
Start / Finish Points – Belfast Street, centre of Queenstown
Climbing up 500 metres on Queenstown Hill, you'll be able to see an array of landscapes and some beautiful landmarks.
Located right in the town centre, Queenstown Hill is an excellent day hike with incredible views and a moderate climb. It's one of the most accessible hikes around Lake Wakatipu, and few people visit the area without hiking Queenstown Hill.
It passes by 'Basket of Dreams,' a popular sculpture that symbolises our dreams and aspirations for tomorrow, as well six information plates showcasing different eras in this region's history ranging from before Maori settlers arrived through colonial times into today and will enrich your knowledge on the area.
Once at the top of Queenstown Hill there is no better way to finish than with sweeping views over all aspects with views of Lake Wakatipu, where many people come here every year just for its tranquil setting alone!
The Queenstown Hill Time Walk hike is right downtown and is a brilliant hike for sunrise.
So get up early and don't miss it! Queenstown Hill may just be one of the best things you do in town.
2) Queenstown Gardens Trail
Distance – 3.1 km
Duration – 1.5-hour return
Difficulty – Easy. Wheelchair and stroller accessible.
Start / Finish point: Queenstown Bay Beach
If you want to experience the true beauty of Queenstown, check out its gardens. The tranquil lakeside sanctuary is home to shady lawns and benches, a children's playground, and memorial plaques for Robert Falcon Scott and William Gilbert Rees who were both pioneers in this area before it was developed into what we now know as the town today.
It also has Frisbee golf courses or tennis courts where people can get their fix on some sporting fun!
Start your walk at Queenstown Bay Beach and take the Te Araroa Trail into Queenstown Gardens.
Here you'll find an oasis of peace that offers shaded paths through manicured grounds with plenty of places to sit down among lush green foliage while taking in a scenic view across the lake.
The trail is very popular for its well-maintained gardens and many people walking their dogs.
At the end of the gardens, there are some gift shops to visit before returning to Queenstown through a different route if you wish.
Some visitors prefer to take a cruise on the lake, which allows you to get an even better view of the area.
Follow the trail around the garden peninsula and take in some of Queenstown's finest views. After exploring all that this gem has to offer, why not stop by one of its many cafés for a tasty treat?
If you are feeling up to it, you can continue along the Te Araroa Trail another 12 km to Frankton Marina.
The track is well maintained and it is flat so it is great for all ages and fitness levels. It is a shared path so beware of cyclists. This is one of the popular hiking trails on our list.
3) Tiki Walking Track (Tiki Trail)
Distance – 1.8 km
Duration – 1 hour
Difficulty – Moderate
Start / Finish Point – The Gondola base station on Brecon Street or at the top of the Gondola if you chose to get a ride up to the top of the Tiki Trail.
Tiki Trail is a Queenstown must-do. Stretch your legs and head up through the woods, and you will be rewarded with panoramic vistas of Queenstown and the surrounding lake.
The Tiki Trail is a short, but steep track and starts at the base of the Gondola.
The Tiki Trail is covered by forest with very little sun exposure and can be quite challenging in places. But the views are worth it!
If you are not keen on hiking up the Tiki Trail then maybe going down is better for you. You can take the gondola up and then walk down the trail if you like.
Starting at the bottom of the gondola, you'll wind your way up through trees where there are a number of lookouts along the way.
Do note that this is a shared trail. Mountain bikers use the Tiki Trail as well, so please be mindful and keep an eye out for them.
If you are an adrenaline junkie then when you get to the top of the gondola at the Skyrail Lookout Area check out the views and you can even go for a Bungy jump over Queenstown after hiking the Tiki Trail!
Once you get to the top you can stay up there for sunset and take the gondola down. The views are beautiful.
The Tiki Trail is great for people with a reasonable fitness level. There are plenty of places to stop for a rest and enjoy the view.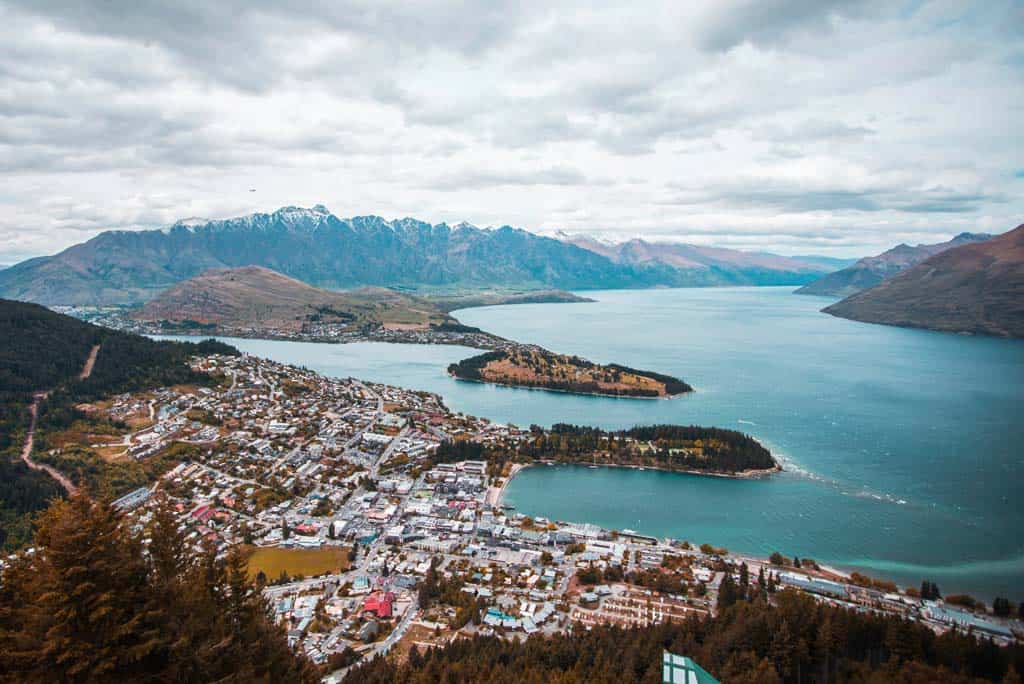 4) Ben Lomond Track
Distance – 11km
Duration – 6-8 hours return
Difficulty – Challenging
Start / Finish Points – Top of Gondola Station. You can walk up on the trials or get the Skyline Gondola to the top of Bob's Peak.
Hiking the Ben Lomond track will test your endurance and strength, as it is a 1438 m ascent with some very steep inclines.
For the first segment of the walk you'll be taking in breathtaking mountain views from alpine shrubs on Douglas fir stands to tussocks before reaching Saddle Lake.
The Skyline Access Road then takes you over various terrain for about 5 hours up until an elevation gain at 1731 meters where there are spectacular 360-degree views all around – take this opportunity to enjoy them! You can even hike up the Tiki Walking Track to get up to the top.
Ben Lomond Track is for those who enjoy challenging walks. From here begins one last push towards the summit.
This requires an advanced level of fitness while scaling steeper inclines that eventually reach 1740 meters high atop Mt Ben Lomond Summit (or 1657 metres if going via Ben Lomond Saddle).
The numbers speak volumes about how significant it feels walking through 1km/h when climbing 1500m over 4 hours!
Make sure you leave early to give yourself enough time, take more than enough water and take snacks and lunch to keep your body fuelled. The Ben Lomond Track is one of Queenstown's best day hikes because of the views and its accessibility.
5) Moonlight Track (from Queenstown)
Time Required: 4 -5 hours one way
Distance – 15km return
Difficulty – Challenging
Start / Finish Points – Bottom of Gondola following the Tiki Trail up to the top of Bob's Peak then finishing at the bus stop in Arthur's Point where it will take you back to Queenstown.
The Moonlight Track is about a 15km end-to-end walk that has steep inclines and decent elevation.
You can start this track from either Moke Lake or from the top of the gondola in Queenstown. You can either take the gondola up or hike along the Tiki Trail. But note that it is more accessible by going from the top of the gondola.
Starting from Moke Lake is fine if you have two vehicles. But if you only have one, leave it in town and get the bus back from Arthurs Point. Transport out to Moke Lake is hard if you do not have your own vehicle.
The Moonlight Track is a challenging but well-defined trail where you can start at the top of the gondola station and follow the historic route into the Moonlight goldfields.
Exiting the skyline gondola area from the Tiki Trail, follow the signage for the hike and you'll see the trail leads to some through a forested area.
This well-marked trail meanders through beautiful open countryside and has amazing views throughout its length.
The walk may be hard, but it's worth every step. At the end you're rewarded with dramatic 360-degree panoramic vistas that will leave you breathless (and make all your sore muscles seem like nothing).
From the Ben Lomond saddle, the Moonlight Track is pretty much downhill from there. It is well marked with poles and meanders through beautiful open countryside with amazing views the whole way.
This narrow hike leads to beautiful views of Mount Ben Lomond as it winds through dense bush towards Arthurs Point, where there are incredible panoramic views over Queenstown inlet and New Zealand's Southern Alps mountain range.
Once you get to the end of the track at Arthurs Point you can catch the bus from Gorge Road (continue down McChesney Road to Gorge Road).
There is a bus stop right near the junction. The bus back to Queenstown costs $5 and runs regularly (around every 30 mins).
Make sure you take snacks and enough water for this hike. This is another one of Queenstown's best day hikes because of the views and its accessibility.
6) Moke Lake Loop Track
Time Required: 1.5 – 2.5 hours return
Distance: 4.5km
Difficulty: Easy
Start / Finish Points: Moke Lake Campsite, 14km from Queenstown
Moke Lake Loop Track is a beautiful scenic spot not far from Queenstown. The stunning lake is framed by mountains and provides a great opportunity for walkers or bikers to get out in nature.
The loop track is very popular because it starts and finishes in the same place. But if you want more of a challenge then continue onwards on Arthurs Point or towards Lake Dispute.
This scenic path leads right up to stunningly picturesque lakeside scenery at Moke Lake. Go ahead and enjoy yourself (or maybe just escape reality) while basking in the sun and swimming in the cool clear waters.
The walking track starts near Moke Lake campground – which you can stay at while visiting Queenstown, or even just stop by if you would like to hike for an afternoon and have a picnic!
If you are a keen kayaker, boater, or swimmer you can do these activities in this lake as well.
Make sure you book ahead of time though, and this is a fantastic tour you can book here.
After about 5 minutes of climbing up into some cool mountain air and surrounded by tall pine trees, hikers are rewarded with views over their shoulders as they continue on towards the water's edge.
Located just a 15-minute drive from Queenstown, the Moke Lake Loop Track is an easy-to-navigate trail.
7) Twelve Mile Delta to Bob's Cove
Distance – up to 6.8 km return. Same track
Duration – 1 – 4 hours return
Difficulty –Easy
Start / Finish Points – Carpark on the Glenorchy – Queenstown Road, 14km from Queenstown. Near the 12 Mile Campground
Bob's Cove Track is a little-known gem, perfect for those who want to get away from it all. Located on the edge of Lake Wakatipu, this secluded cove has calm waters and is great for swimming or boating.
Found right at the start of your drive from Queenstown to Glenorchy, this little forest walk is a perfect way to get out and stretch those legs.
After trekking through just under three kilometres of enchanted forests and peaceful lakeside paths you will find yourself standing atop one end of the lake's jetty – taking in all that nature has on offer for miles around!
The walk around Bob's Cove takes you past beautiful limestone rocks along the shoreline with an incline that offers stunning views looking back over the lake at Ithilien Camp. Lord of the Rings fans will love seeing their favourite filming location!
Alongside amazing scenery are historic lime kilns leftovers from when these were used as processing plants by early settlers centuries ago.
Today they make fascinating photo opportunities while also giving insight into how life was lived here long ago.
The lake itself offers great fishing opportunities as well as kayaking or canoeing routes with various operators available.
However, if these don't take your fancy then there are some gorgeous picnic spots dotted along the shoreline where you can sit back against a tree with an ice cream cone after exploring our wonderful country's best-kept secret destination.
This hike is great for all fitness levels. You can go as far or as little as you want. Then return on the same path back to your vehicle.
8) Mt Crichton Loop Track
Time Required – 2 – 3 hours return
Distance – 7.3km return
Difficulty – Intermediate
Start / Finish Points – Mt Crichton carpark on Glenorchy Road, 12km from Queenstown
There are many stunning day hikes in Queenstown. One of the most popular is Mt Crichton Loop Track which follows Twelve Mile Creek out to views of Lake Dispute and teaches you about life in this area during gold prospecting times back in the 1800s!
If you are looking for a way to get your mind going, this three-hour loop track is perfect!
This walk has varying difficulty for all abilities with red beech trees as well as manuka and mountain beech dominating its vegetation.
Mt Crichton Loop Track is one of the most popular day hikes in Queenstown. This 3-4 hour (6km) looped walk follows Twelve Mile Creek to stunning views of Lake Dispute and explores an area known for gold prospecting during the 1800s mining era.
On the trail, you will come across Sam's Hut which is a place of history for the area. Built in 1930, Sam Summers mined on and off there until he retired 30 years later.
Behind the house, you can find Chinese ceramic relics which date back to gold miners who camped nearby centuries ago!
Today hikers use this as basic accommodation while exploring Glenorchy or just passing through during any season.
Whether they're staying overnight at its minimalistic simplicity or only stopping for lunch before continuing their journey onwards, the huts provide something comfortable that satisfies all needs without overcomplicating things with unnecessary luxuries like televisions and phones.
After the hut, you'll cross 12 Mile Creek and head up to a ridge overlooking Lake Dispute.
From here there are two options: either follow the track back to your car park or continue down on Glenorchy Road along with beautiful views of lake disputes.
READ MORE: Check out our guide to all the epic things to do in Wanaka, just up the road!
9) Kelvin Heights Peninsula Trail
Distance – 3.5 km
Duration – 1 hour
Difficulty – Easy
Start / Finish Point – Junction of Peninsula Road and Grove Lane, Kelvin Heights
With the dramatic backdrop of Walter's Peak and Queenstown in view, this is a challenging walk.
Alongside golfers on their way around Queenstown Golf Course at Kelvin Heights, you will come across expansive views that stretch out over to Frankton Arm as well as close-up sights of some stunning waterfalls.
Making your way around the peninsula in a clockwise direction, you will be able to see Lake Wakatipu from every angle.
The trail offers spectacular views of Queenstown across the Frankton Arm. And once it curves northward, you'll have an even more breathtaking view looking back towards Queenstown with some spectacular sculptures by New Zealand artists on display along the way!
These include Mark Hill's 'Wakatipu Kuikui' and Shane Woolridge's 'Thru Link To Peak' sculpture that hangs over one side of the hillside just before reaching Ledge Point Lookout.
This is not only visible but also noticeable for its contrast against the iconic mountain range at Mount Aspiring National Park as well. This is one of the best hiking trails to see views of the surrounding mountains.
10) Jack's Point
Distance – 14km return
Duration – 4 hours return
Difficulty – Moderate
Start / Finish Points – 18km from Queenstown
Get your hiking shoes on and prepare for an adventure! On this walk, you will have beautiful lake and mountain views over open grassland and scattered scrub.
At the very end of the trail, you will come to Jack's Point. Take in the amazing views of the surrounding mountains that line Lake Wakatipu.
This is where you can really escape from city life and take in nature's beauty at every turn of the corner.
The trail is maintained by the Department of Conservation and has an easy elevation change throughout that starts in Jardine Park.
One way distance is 7km which can be accessed no matter what level you are on when it comes to fitness.
Whether biker, runner, or avid walker there will still be something for everyone!
Do look up as well, as on some days adventurers float back down after parachuting from above!
There are challenging parts too, so don't be afraid to get adventurous if need be! And there are also some more leisurely sections along the route too.
Just make sure not to miss out on this opportunity by getting lost or missing important details about what awaits ahead (elevation changes!)
If you're feeling up to it then head off into uncharted territory while trying your hand at conquering difficult terrain, like steep inclines which will lead you straight towards Jacks Point!
11) Lake Alta Track
Time Required – 1 – 2 hours return
Distance – 1.9km return
Difficulty – Challenging
Start / Finish Points – The Remarkables Ski Field Building, 24km from Queenstown
This Queenstown walk leads you up to the picturesque glacial lake, Lake Alta, with views of the surrounding mountains.
Just behind the Remarkables ski field buildings, you will see the Alta Chairlift. Follow this chair lift up.
On the trail, you can follow markers through wetlands and enchanting forests. You will pass over suspension bridges and along clifftops that will take you to Lake Alta.
The Remarkables skifield base building is 1600 metres high above sea level and climbs to Lake Alta (1800 metres). You will have to pay a small fee if you're driving up when it's not ski season.
During the summertime (beginning or end is great too) is the perfect time for this hike.
Hiking in Arrowtown and the Best Arrowtown Walks
Just up the road from Queenstown is the super cute and quaint village of Arrowtown, which is well worth stopping by if you want to continue your hiking adventures.
Here are our favourite Arrowtown walks.
12) Tobin's Track
Distance – 3.6km
Duration – 1 hour return (30 minutes each way)
Difficulty – Moderate
Start / Finish Points – Tobins Track entrance is at the bottom of Ford Street. A car park is located on the reserve. Take the bridge across the Arrow River and follow the track up the hill.
Tobin's Track takes you along rivers, waterfalls, past old gold mines and through lush native forest.
Located in the town of Arrowtown, this track was originally built by Thomas Tobin as an access track to Wanaka.
The short but steep hike starts with an uphill climb along a gravel trail that may get your heart pumping. But when you reach the platform it'll be worth it for the spectacular views it offers.
There are bench seats along the way in memory of a Wakatipu pioneering family in the area.
These benches are a great place to sit and take in the views over Arrowtown and the wider Wakatipu Basin. Bring some snacks or have a little picnic here.
Do stop off at the remains of the old family cottage of Thomas Tobin on your left on the way up the hill.
If you want more of a challenge, you can continue up to Mt Beetham, which is another 1.8km and an extra 300m accent.
You may not be the only one on the track as it is also shared with horseback riders and bikers.
13) Sawpit Gully Track
Distance – 7.9 km loop
Duration – 2 – 3 hour return
Difficulty – Moderate
Start / Finish Point – Access via carpark near the Chinese Settlement in Arrowtown. The track starts near the trails notice board at Butlers Green.
This is a beautiful loop walk near Arrowtown with views of the river, forest and Cecil Peak.
There are some steep parts. But the trail is more than doable and has just two stream crossings that aren't too challenging at all.
Taking this route counterclockwise will make an easier ascent while detouring to German Hill for gorgeous lake Hayes Views makes it well worth your time!
You start near the notice board at Butlers Green where there will be a sign for the Arrow River Trail. Head over Bush Creek on an old footbridge.
The path will then head left towards Butler's Green before turning right and crossing under the large green pipeline that runs through town
Keep in mind that there are some steep hills on this route so be sure you're prepared for those long climbs up!
After walking for roughly fifteen minutes or so, you will pass by one small creek that empties in this stretch just at its confluence with another tributary running parallel.
Then you'll arrive at yet another creekside pool near some impressive cliffs overlooking what becomes then known as Sawpit Gully Stream nearby.
Want to be adventurous and make the hike long? You can turn it into an overnighter by taking the miners' old wagon path 15 km to Macetown if you are up for it. This abandoned place is an old gold mining town where you can camp.
Note that the route includes river crossings, so don't go when the river is high.
There are two ways to do the Arrow River / Sawpit Gully Track:
Clockwise loop – Go along the small stream and then you'll reach the bridge (take the right fork) and then it's uphill (with shelter from trees most of the time) all the way until the hilltop where you can get a nice view of Lake Hayes. Afterward, the track slopes down and narrows on a more exposed path back to Arrowtown.
Anticlockwise- You will start on a shaded path along a water pipe basically going uphill, passing a small waterfall with the uphill stretch pretty rocky at some parts and on exposed terrain with no shade, before reaching the hilltop and enjoying the scenic path till the end.
You can do a shorter loop of this trail if you do not have a lot of time.
14) New Chum Loop
Distance: 7.2km loop
Duration: 1.5 – 2 hours
Difficulty: Moderate (high fitness)
Start/finish point: Nairn Street Carpark
The lush and green New Chum Loop is a moderate hiking trail nestled in the Otago region of Arrowtown.
The 7.2 km track features many obstacles, including an impressive waterfall that can be seen on your journey through the forested terrain of this area. The lush forests make for great bird-watching as well!
Dogs are allowed here but must remain leashed throughout their walk with you to ensure safety from other wildlife roaming around nearby or passing by during your hike.
One thing worth noting about this route- all junctions along its path have been carefully marked so there's no confusion when navigating yourself back out again.
You have the chance to criss-cross several paths in the area and it is easy to get lost if not for these markers (especially helpful if you're not familiar with local landmarks).
The views are spectacular, but be aware that the narrow and overgrown trail requires your full attention to keep your footing sure. Some sections downhill are quite steep with a bit of scrambling involved.
The last few hundred meters before getting back into town can be very hard on your knees coming down from Tobins Track.
So wearing long pants or jeans might help protect you from all the brush along with parts of Norman Smith Bridge – which by itself made it worth going counter-clockwise!
You can join this hike up to Tobins Track if you are up to it.
15) Lake Hayes Walkway Loop
Distance – 8 km loop
Duration – 2 -3 hours
Difficulty – Easy
Start / Finish Point – Nairn Street Carpark
Lake Hayes Walkway Loop is a 7.9-kilometer path that winds through the beautiful, lush forest of Arrowtown.
It offers views of vibrant native plants as well as native birds like kea parrots or bellbirds to keep you company on your leisurely hike.
The looped route also features an old gold mining town from which visitors can take in breathtaking scenery with creeks winding all around it before reaching Lake Hayes.
The short walk is along a boardwalk to protect local wildlife. You can enjoy beautiful mountain and lake vista views and you'll pass historic cottages
The starting point is at Rutherford Road end of the trail where there's an easy climb that leads you high above Lake Hayes.
The trail meanders along with contours until it drops down to the southern boardwalk section before cruising by Wakatipu Rowing Club.
The trail has some steep drop-offs and some narrow sections so please be careful and watch your footing.
This is a great hike for beginner hikers and families alike. Go as far or a little as you want and stop at any point for beautiful views of the surrounding mountains.
16) Rock Peak Track
Distance – 7.9 km loop
Duration – 1.5 – 2 hours
Difficulty – Moderate
Start / Finish Point – Crown Saddle Carpark
If you're looking for a nice break from the long drive between Queenstown and Wanaka, this is it.
This is a 7.9-kilometer hike that will take you through beautiful scenery from the point where it starts at Arrowtown to Rock Peak above Lake Wanaka on one of New Zealand's Southern Alps.
The trail has been rated as moderate but offers adventurous challenges for those looking for more than just an easy stroll in nature. And this section can be tackled by dogs and hikers alike!
The trail starts at Crown Saddle carpark– which can also be reached by taking that set of hairpin switchbacks onto Uplands Road from Highway 6 on your way into town from Queenstown (you'll see some planes flying through the valley).
The southern end of the Pisa Range is a great place for quick access to beautiful views. Follow an old 4WD track as it zigzags up from the car park to Rock Peak, where you'll get some amazing shots overlooking Lake St Clair and Mount Hutton.
Keep going if you are well-equipped – there's another fabulous lookout at Tuohy's Saddle! Here, there are plenty more trails around should you want to explore further.
READ MORE: Check out where else to visit on our epic guide to the best places to visit in New Zealand!
17) Brow Peak Loop
Distance – 16.3km
Duration – 4 -5 hours
Difficulty – Challenging (high fitness level)
Start / Finish Points – Near the toilet at the Chinese Village area
If you're looking for an experience that will take your breath away, the Brow Peak Loop trail in Arrowtown is just what you need.
Featuring beautiful wildflowers and rated as difficult, this 16km hike takes you through a variety of terrain which includes forests surrounded by mountains.
The best time to visit this area is during spring when there are vibrant green hillsides covered with daisies and bluebells blossoming all over. It's truly breathtaking!
Brow Peak loop offers hikers many different terrains including forested mountain ranges filled with scenic views.
And it is perfect in any season, but especially stunning in Spring when the lush fields are thick with daffodil blooms.
Enjoy the iris' sweet scents that fill the air on this tranquil trail. The flower season is from November to April.
If you want to get away from it all and need some time in nature, this hike is just what the doctor ordered.
There is no rushing here; take your time! Enjoy the scenery and your surroundings as you walk through mountain ranges filled with native flora and fauna that will blow your mind!
Brow Peak is a good hike to do if you're looking for easy day hikes on a cold day. But that doesn't mean it won't be as beautiful.
In fact, the panoramic views of Queenstown and Lake Wakatipu from the top are great!
READ MORE: Learn more about travelling in New Zealand with our comprehensive guide.
Hiking in Glenorchy
Here are the hikes in Glenorchy which is a short drive from Queenstown, where hiking trails abound for you to enjoy.
18) Glenorchy Lagoon Walkway
Distance – 3.2 km
Duration – 1-2 hours
Difficulty – Very easy
Start / Finish Points – Park at the waterfront carpark near the Glenorchy Boat Shed. The trail is easy to find, turn right at the boat shed and there are DOC signs that point you in the direction of the trail, near Lake Wakatipu on Mull Street.
The Glenorchy Lagoon Walkway is a flat easy walk that starts in the town centre, whizzes along the shore of Lake Wakatipu then finishes at the Tasman Sea Coast.
It's one of New Zealand's top ten walks that is built on an old rail bed and affords views of the mountains, rivers, forests, and beautiful Lake Wakatipu.
This is a tranquil and scenic walk that is perfect for everyone of all ages and fitness levels.
The views of Mount Earnslaw/Pikirakatahi with its hanging glacier and Mount Alfred/Ari in the surrounding ranges will take your breath away.
This is especially true if you are there in the colder months when their snowclad peaks are reflected in lagoons all around you. It is so magical!
By December, these walks will be lit up by colourful purple and pink from the naturalised lupins alongside the path.
There are viewpoints everywhere. Just stop when you want to enjoy a particular view.
This is an easy walk but your reward at the end is one of the best views in New Zealand so it's worth every step.
There are boardwalks over the wetlands, which make for a great stop for you to see some New Zealand wading birds.
You may catch sight of pied stilt, black swans, South Island pied oystercatcher, Australasian bitter, and other waterbirds!
Take advantage of this opportunity for an up-close look at nature's wonders, like dragonflies or damselflies which are also found in abundance here as well!
19) Routeburn Nature Walk
Distance – 3.1km loop
Duration – 2-3 hours
Difficulty – Medium level of fitness required. Easy day hike for those who enjoy easy to moderate walks.
Start / Finish Points – Located in the Routeburn Valley, which is between the Routeburn Road and Lake Harris. It's a 35 min drive from Glenorchy and 1.5 hours from Queenstown.
Routeburn Nature Walk is a 3.1-kilometer loop trail located near Glenorchy, takes you through wetlands and rivers that are great for all skill levels.
This hike will take you through a lush forest of ancient beech trees. You'll start by crossing over the swing bridge and following the Routeburn Track into an untouched paradise.
Here it's easy to spot native birds like kea or kaka along with other fauna in their natural habitat. Take time on your walk to enjoy some of New Zealand's most incredible nature!
From the Routeburn shelter carpark, cross the Route Burn on a swingbridge and follow in awe as you descend down from the main track onto the valley floor.
You'll be faced with a beautiful red beech/tawhero-dominated forest that will leave you jaw-dropping and amazed. This walk offers a gently rolling landscape and views of lush green pastures.
After 10 – 15 minutes you will eventually come across Sugarloaf Stream where you can either take your time before continuing up Routeburn Track (flats) or turn back on yourself towards the carpark which will take you about 20-30 mins.
20) Lake Sylvan Track
Distance – 5.2km
Duration – 2 – 3 hours
Difficulty – Easy/ Moderate
Start / Finish Point – Follow the Glenorchy-Routeburn Road for about 25 minutes, before turning right to Lake Sylvan. Follow the DOC signs from the Lake Sylvan campground car park.
Lake Sylvan is a beautiful place with great views along the way. From Sylvan Campsite, cross the swing bridge over the Routeburn River and explore a 40-minute walk through red beech forested river terraces.
You'll come to an intersection, make a right turn here and keep following the track. Follow the orange triangles throughout this trail to the lake viewpoint.
This section of the trail follows a historic tramline built in the 1920s that carried Sheelite from a nearby mine.
It's now been converted into a walking/cycling path for people who want to see what life was once here and how much has changed since then.
You'll pass remnants from the mining era with old wooden steps along the way.
The views of Mount Aspiring National Park are breathtaking with bush robins, fantails, and riflemen birds all around you in this untouched beauty!
Once at the lake, have a snack and take in the area. The lake's still waters reflect the towering peaks around it.
You'll see brown trout dart under rocks as they come across food or mates, native fish such as kokopu can be seen swimming close to shore with schools of fry following them for protection from predators like eels.
The track itself is well-maintained and easy to follow. Keep your eyes peeled for orange triangles throughout this trail. There are no facilities at Lake Sylvan.
21) Invincible Gold Mine Track
Distance – 5.5 km
Duration – 3 hours return
Difficulty – Moderate, with a steady climb.
Start / Finish Point – Take Rees Valley Road from Glenorchy. It is a gravel road coming in. Track starts immediately after the second (and largest) ford. Park before the ford and cross on foot.
The Invincible Gold Mine Track is a 5.5 km return hike that offers beautiful flower scenery that can be enjoyed by hikers, walkers, bird watchers, or anyone looking to explore the natural beauty of New Zealand's fauna.
The 3-hour return walk will take you on a path to see the rich mining heritage of Otago's Goldfields Park.
Part way up over Rees Road, this well-formed historic track is for people with moderate fitness and ability levels.
You can see remains from a water wheel and seven berdans where miners ground ore in large cast-iron bowls that revolve continuously (unlike conventional milling).
Miners built the track in the early 1880s, but now it's open to all those who want some great uninterrupted views without having to sweat or climb too high on Mt Earnslaw.
You'll start to climb after you cross the second ford and venture into a beech forest. The track is well-surfaced in parts but steep at times—look out for old rotating convex tables along the way!
After climbing up through mānuka trees you will hit snowline before reaching your destination of uninterrupted views from Mt Earnslaw / Pikirakatahi.
The amazing views and unique landscape will leave you feeling like a true adventurer! Along the way, stop at some of these scenic points to take in all that this beautiful area has to offer.
If you want an even more immersive experience, jump into Lake Wakatipu for a refreshing swim or enjoy lunch with your sandwiches on top of Mt Alarm Station's lookout deck. It overlooks stunning vistas from Queenstown to Wanaka.
Be sure not to forget insect repellent as there is sandfly activity along the route. Pack wisely so they don't ruin your day!
When's the Best Time to Go Hiking in Queenstown?
The walking/hiking season here in Queenstown is perfect from the end of October to the end of April, with peak seasons being January and February.
If you go in the months of November or March/April, it will still be comfortable weather with nice long days for hiking. This time is great if you want to avoid crowds.
If you want to be more adventurous, people do hike during this time as the peaks are covered in snow and it brings a magical vibe to the scenery.
With a variety of weather conditions, from sunny snowy-white landscapes in the winter days with crystalline blue skies to warm stunning days in the summer, you will never be bored.