If you're planning a trip to stunning Aotearoa, then our list of the best places to visit in New Zealand will help you with all your travel plans!
Telling anyone that you are planning a trip to New Zealand is likely to result in sheer envy or nostalgic memories from a trip they themselves took.
Quite rightly New Zealand is regarded as one of the most spectacular countries in the world.
Whether you want to hike through the Fiordland National Park, eat the freshest seafood in Kaikoura, try some adventure sports or throw yourself out of a plane, New Zealand has very much got you covered.
To truly enjoy everything New Zealand has to offer you are best off renting your own set of wheels and hitting the open road.
It really is a place where it's not about the destination. It's about the journey.
We'll dive into some of the best places to visit on New Zealand's South Island and North Island, as both have plenty of different things to offer.
READ MORE: Plan your trip to New Zealand with our New Zealand Travel Guide.
The Best Places to Visit on the North Island
I'm going to start this article about where to go in New Zealand by focusing on the best places to visit on the North Island.
Auckland
Chances are this will be either your point of entry, exit, or both. The city's numerous volcanoes have left their mark and its location as the point where the Tasman Sea and Pacific Oceans meet belies its status as New Zealand's largest city.
Auckland is surprisingly full of beaches and hiking trails that are just waiting to be explored, not bad for a city of 1.5 million?
Whether you want to take on the rugged west coast surf beaches, relax and sip wine on Waiheke Island or head to one out to hike in the rainforests of the Waitakere Ranges, you can do it all in Auckland.
LEARN MORE about all the great things to do in Auckland.
Bay of Islands
Head north out of Auckland and you will eventually come across the Bay of Islands.
This gorgeous collection of islands on the eastern side of the North Island is home to secluded bays, coastal walks, and plenty of history, putting it firmly on our best of New Zealand list.
Head to Waitangi Treaty Grounds to get a deeper understanding of New Zealand's history at the place where the Treaty of Waitangi was signed. This treaty formed New Zealand as a British Colony.
Head over to the lovely little town of Russell, once known as 'the hell-hole of the pacific,' it is decidedly less debaucherous these days.
If you are on a budget then stay in the small nondescript town of Paihia. It's an excellent gateway to the Bay of Islands and far cheaper than other places in the area.
SPECIAL DEAL: Book a tour of the Bay of Islands here!
Tutukaka Coast
This rarely visited region south of the Bay of Islands is a hidden gem on New Zealand's North Island.
The area is home to some truly spectacular coastal scenery, deserted beaches, and lovely walking trails.
Two particularly lovely spots are Whale Bay and Matapouri Bay.
The former is a secluded bay home to a lovely walking trail and 99% of the time, no one else.
If you're wondering what to see in New Zealand, Matapouri Bay is a gorgeous beach that is the perfect place to stretch out with a book, but it's definitely not a surf beach.
Cape Reinga
At the end of the ninety-mile beach lies New Zealand's most northerly point; Cape Reinga. Brace yourself for some of the most spectacular coastal scenery in New Zealand.
Getting up to Cape Reigna truly is part of the experience. In this case, the journey is just as important as the destination itself.
Rotorua
One of the most notorious places to visit in New Zealand, thanks to the almost constant smell of sulphur, Rotarua is the heart of geothermal New Zealand.
With geysers blowing their tops, bubbling mud pools, and steaming hot springs, there is plenty to keep you busy.
Head out to the thermal reserve and check out Te Whakarewarewa to experience the town's volcanic activity up close and personal.
The city's outskirts are home to outdoor activities galore, with mountain biking, tramping (hiking) and various water sports all on the agenda.
READ MORE: Include these things to do in Rotorua in your itinerary.
Waitomo
If you are in any way claustrophobic then this is not the place for you.
Waitomo is home to some of the largest and most spectacular caves in New Zealand.
Best of all you can experience them firsthand with some incredible caving expeditions.
Try your hand a black water rafting, which involves an inner tube, lots of water and plenty of glow worms.
Waitomo's true gem is the lost world cave. The 100-meter free abseil into the cave itself feels like a descent to the centre of the earth.
From here it's a mixture of climbing, walking, wading, and swimming to return to the surface.
Book a rafting experience in the Waitomo Caves on Get Your Guide.
Tongariro National Park
Welcome to one of the country's most spectacular National Parks. Any New Zealand destinations trip should definitely include a visit here.
The stunning expanse of land is home to the famous Tongariro Crossing, considered by some to be the best 1-day hike in the world.
However, there is more to the Tongariro National Park than the crossing.
The Ridge Walk from the hamlet of Whakapa offers spectacular views of both Mount Ngauruhoe and Mount Ruapehu.
Longer trails such as the Silica Rapids and Taranaki Falls trails also offer spectacular views of both mountains.
Grab the opportunity to take on these trails at sunrise to enjoy some epic views all to yourself.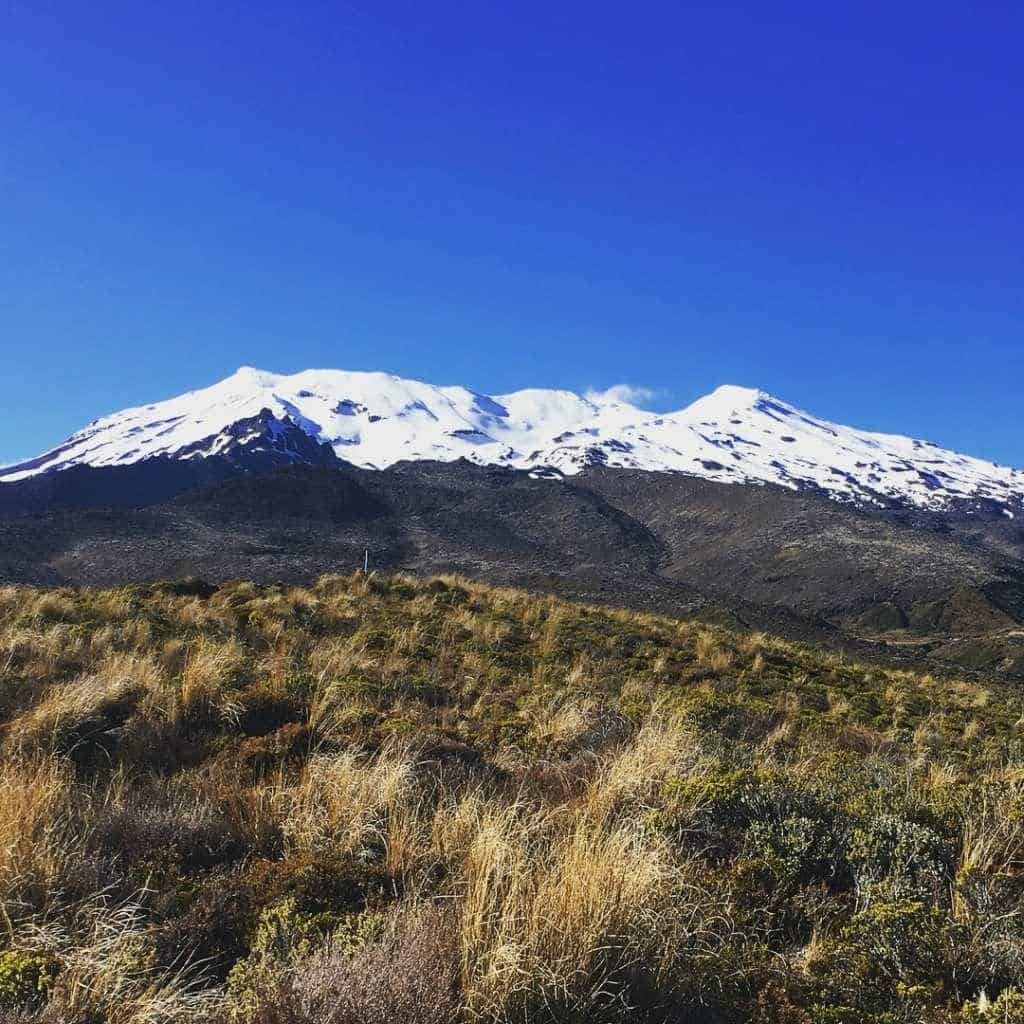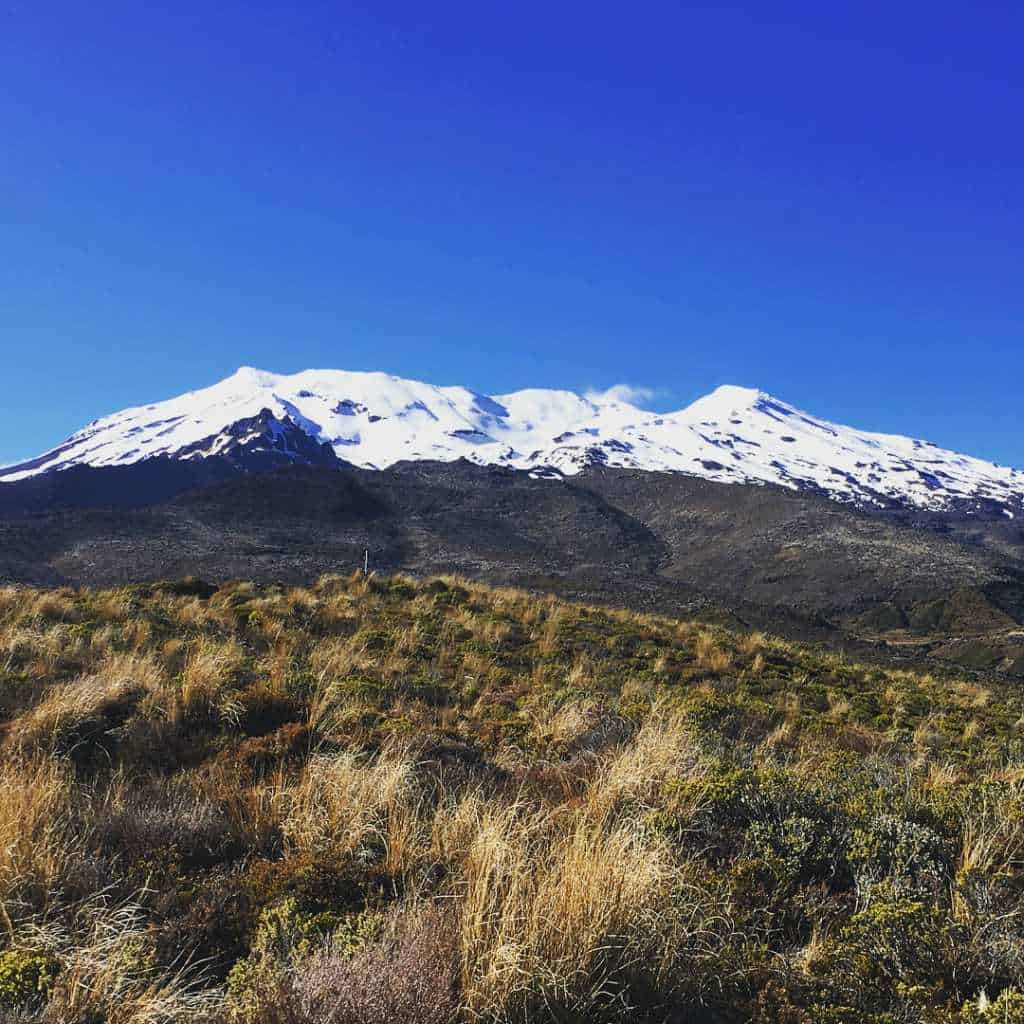 Taupo
Lake Taupo in the heart of the North Island is the centre of extreme adventure sports for the region.
Here you can throw yourself off a bungee ledge or out of a plane to your heart's content.
In fact, with more than 30,000 leaping from planes every year, Taupo is the skydiving capital of the world.
The lake itself is home to numerous water sport options ranging from relaxing cruises to hiring a speed boat yourself.
A short drive from Taupo is the breathtaking Hukka Falls which is certainly worthy of a visit.
Lake Taupo itself is littered with secluded bays where you can park up, take a dip and soak up the scenery, perfect for a lazy day.
There are also mountain biking and hiking trails aplenty if a lazy day is very much out of the question!
Put it on your list of places to see in New Zealand!
Mount Maunganui
Welcome to New Zealand's premier beach resort. This quaint little town that sits just to the east of the Coromandel Peninsula is home to a fantastic beach.
The town's namesake comes from the hill (mountain certainly is a bit of a stretch).
There is a lovely short walk up to the top which offers some spectacular views.
This hill is also the literal jumping-off point for the area's paragliders.
Mount Taranaki and the Forgotten World Highway
Mount Taranaki is very much the highlight in this part of New Zealand.
Rising majestically from the earth's surface, Mount Taranaki's almost perfect cone dominates the landscape.
Due to its accessibility, Mount Taranaki ranks as the most climbed mountain in New Zealand.
There are three main start points from which to hike to the summit: North Egmont, Dawson Falls, or East Egmont.
Sprouting out to the east of Taranaki is the Forgotten World Highway, truly this is a New Zealand road trip like no other.
The Forgotten World Highway winds through abandoned mines, fortified Maori villages, and small towns whose glory days are very much in the rearview mirror.
The road hugs the natural contours of the land giving the feeling your a riding one very long roller coaster.
The town of Whangamomona is a particularly quirky highlight.
The town declared itself a republic in 1989 and celebrates this every odd-numbered year to this day.
The Forgotten World Highway can be comfortably driven in a day. Although do be aware that there are some sections of unsealed roads.
Wellington
Cosmopolitan Wellington is a hip counterpoint to Auckland's slicker reputation. New Zealand's constitutional capital is in many ways its cultural capital.
It's here that possibly the best museum in New Zealand can be found. The epic Te Papa Museum is home to exhibits focusing on New Zealand's history, its nature and its future.
Head up to Mount Victoria for some lovely views over the city. Hopefully, Wellington's notorious weather won't put a dent in your plans.
For a night out, head to Cuba Street if you fancy something more on the hipster side or down to the waterfront if you fancy a more sophisticated evening.
READ MORE: Looking for other fun things to do in Wellington? Check out our guide!
The Best Places to Visit on the South Island, New Zealand
There's always a bit of debate about which island is the best in New Zealand.
You've read about the North Island, so now I want to share with you all the top places to visit on the South Island.
Abel Tasman National Park
This stunning National Park is one of the top places to go on the South Island of New Zealand.
It's home to the most accessible of New Zealand's great walks, the Abel Tasman Coast Track.
Taking between 3 and 5 days depending on your fitness you will be rewarded with a pristine coastal view and the joyful isolation the long-distance hikes can bring.
You do not need to take on the entire Coast Track to experience this stunning National Park.
There are plenty of options where you can take on smaller sections. A welcome relief if your time here is limited.
These shorter day tours begin in Kaiteriteri, although it is possible to do a much longer day trip from Nelson.
Alternatively, you can kayak Abel Tasman if you would like to explore it from the water.
Marlborough Wine Region
Be prepared to be spoilt for choice as you explore the largest wine region in New Zealand.
Accounting for 85% of New Zealand's wine exports, Marlborough is home to around 35 wineries that are open to the public.
They provide cellar door experiences and tastings, with many wineries offering food options as well.
There are numerous ways to experience the wineries. You can drive yourself around, take a guided tour or take on one of the many cycling routes to burn those calories.
Nelson
This quaint little city finds itself sandwiched between the Abel Tasman National Park and the Marlborough Wine Region on the South Island.
This combined with beautiful surroundings, a funky art and restaurant scene topped off with lashings of sunshine make it one of the most liveable cities in New Zealand.
Nelson is chock full of galleries and great restaurants, plus plenty of breweries.
Plenty of opportunities to gorge yourself before heading out into the wilderness of the Abel Tasman National Park.
Kaikoura
For those interested in wildlife this is surely one of the best places to visit in New Zealand.
After a devastating earthquake in 2016 transport in and out of Kaikoura was a challenging and time-consuming affair whilst the coastal highway was rebuilt.
With snow-capped peaks as its backdrop, Kaikoura is blessed both on land and sea.
The town is famous for its incredible wildlife. With seals, albatross, dolphins, and whales all living in the waters surrounding the town.
There are numerous tours available to view these spectacular creatures up close with money made from such tours going back to support local wildlife conservation projects in many cases.
The West Coast
The west coast of the South Island is home to gorgeous beaches, deserted lakes, and a couple of glaciers thrown in for good measure.
Check out quaint little Hokitika and it's a rather impressive gorge.
If you fancy something a bit more secluded head over to Lake Kaniere for a cheeky dip.
Heading further south will bring you to Franz Josef and Fox Glacier. Whilst they are fast receding they are still spectacular.
A sense of adventure may take you all the way down to the windswept beaches of Jackson Bay.
An awesome part of New Zealand to stop off where you please.
Wanaka
Of all the places to visit in New Zealand, Wanaka has to be near the top of your list.
Perched on the shores of Lake Wanaka, this tiny town can certainly stake a claim to being one of the most beautiful places in New Zealand's South Island.
The area is home to numerous hikesincluding the infamous Roys Peak.
Whilst not being the most interesting trail, a 1300m ascent of solid switchbacks, 8km up and 8km back down, the views from the summit are nothing short of breathtaking.
If you fancy something a bit more extreme then Wanaka is one of the best places in New Zealand to try your hand at canyoning.
You work your way down a canyon by abseiling, rappelling, swimming, and some seriously high jumps.
READ MORE about the incredible things to do in Wanaka!
Queenstown
Welcome to the adrenaline capital of the world. It all began in 1988 when AJ Hackett opened the world's first Bungy, at the Kawarau Bridge.
From that point on Queenstown became the place to throw yourself off of or out of something just for the sheer thrill of it.
The original Bungy site is still in operation. However, if you're brave enough you can head up the completely terrifying Nevis Bungy which is stomach-churning 134 meters high.
If you don't fancy a bunny then try out the epic canyon swings, flying foxes, paragliding, mountain bike trails, and jet boating. Queenstown is known for adventure sports!
If you're here in the winter months then you can head up to the snow capped mountains of the Remarkables for some skiing and snowboarding.
Of course, no mention of Queenstown would be complete with a mention of the institution that is Fergburger.
Starting out in 2001 it developed from a hole-in-the-wall burger joint to New Zealand's most famous restaurant, where the cue is always long.
Be sure to add these epic things to do in Queenstown to your New Zealand itinerary!
Milford Sound and Doubtful Sound
Nestled in the southwest corner of the island, Milford Sound and Doubtful Sound are in the heart of the Fiordland National Park.
Being the more well-known (and affordable) of the two, Milford Sound receives far more visitors than Doubtful Sound.
Milford Sound can be done as a day trip from Queenstown, with this becoming the preferred option for many.
However an overnight option is a great option, plus there will be far fewer people.
As spectacular as Milford Sound is, and it is truly breathtaking (don't believe me? Check out this awesome day tour cruise), it cannot compare to Doubtful Sound.
At 10 times the size of Milford Sound, it is truly something that needs to be seen to be believed.
Its sheer remoteness and size means that very often it feels like the only boat in the sound is yours.
Getting out to Doubtful Sound requires a boat trip across Lake Manapouri, followed by an hour's drive along the most expensive road in New Zealand before you arrive.
If you have the time and budget, an overnight stay is a highlight for those that do.
This is the wettest region in New Zealand's South Island and when the heavens open, waterfalls cascade down the surrounding mountains and Milford Sound and Doubtful Sound come alive.
Check out our incredible experience kayaking Doubtful Sound.
Catlins National Park
This gorgeous National Park in the southeastern corner of the South Island is a glorious combination of desolate windswept beaches and rugged coastal hiking trails.
More often than not it's overlooked by travellers as the criss-cross between Otago and Fiordland.
A crying shame in truth, but a wonderful opportunity to escape the crowds.
Curio Bay is an amazing place to spot yellow-eyed penguins and the rare Hectors dolphin.
If you're lucky seals, sea lions and even the occasional whale may be spotted.
Head down to the most southerly point of mainland New Zealand at Slope Point, explore hidden beaches and take on the numerous hiking trails.
READ MORE: Check out our ultimate guide for hiking in New Zealand!
Otago Peninsula
A short drive from the centre of Dunedin is the Otago Peninsula which is full of wildlife and deserted beaches.
The big draw here is the Albatross Centre where you can observe these stunning creatures and understand more about the threats to their habitat and environment.
It's also possible to visit the Albatross Centre in the evening to observe the little blue penguins, the world's smallest species returning to their nests at night.
Usually between 100 and 200 will return on any given night. However, sometimes this number can be as high as 300!
For more adventures with the local wildlife head out on a sea kayaking tour to observe the area's seal and sea lion communities.
These guided tours will take you around to sheltered bays that would be impossible to visit without a kayak, giving you the opportunity to observe these stunning creatures in their natural environment.
Read more about our epic hikes throughout the Otago area.
Mount Cook (Aoraki)
This is one of the most spectacular places to visit in New Zealand. If you are lucky enough to be here on a day with clear blue skies then prepare to be amazed.
The SH80 that runs parallel to Lake Pukaki gives you the first glimpse of the highlight of the Southern Alps.
There are a couple of spots that offer incredible views of Mount Cook.
If you are in a camper van, try to get here early to make sure you have a spot in the DOC camping site.
From this DOC camping site, the Hooker Valley walk starts. This is the starting point for the Hooker Valley Track, although you can also join the Sealy Tarns and Kea Point Tracks from here.
The Hooker Valley Track is probably the best of these three-day walks on the South Island.
The views of Mount Cook after the second swing bridge are breathtaking.
At the end of the trail, you will find yourself on the edges of Hooker Lake where icebergs from the Hooker glacier are likely to be floating.
Arthurs Pass National Park
This small national park is in the heart of the Canterbury Region and is home to numerous hiking trails including the Devils Punchbowl, Temple Basin, Bealey Spur, and Avalanche Peak.
Head down to Jackson's Retreat to check out their glow worm tours as well.
The West Coast Road, SH73 that runs through the Arthurs Pass National Park from east to west is home to a number of gorgeous lakes and mountain vistas en route.
Banks Peninsula
Sticking out from the South Island's east coast is the Banks Peninsula. This little piece of paradise is one of New Zealand's prettiest spots.
The main town of Akaroa is the perfect place to base yourself for exploring the peninsula.
It's home to numerous hiking trails taking you into the surrounding hills.
It's also an awesome place to take dolphin tours to spot the tiny Hectors Dolphin which is only found in New Zealand.
Take a day to explore some of the many hidden beaches tucked away in various corners of the peninsula, with Okains Bay being particularly lovely.
The drive from Akaroa is absolutely spectacular.
It is possible to do this as a day trip from Christchurch. However, I would very much recommend taking at least two nights to explore the stunning area of New Zealand.
Christchurch
For many, this is their point of entry or exit. A charming place to spend a night or two, there is plenty to keep you busy.
The city's botanical gardens are well worth checking out and are particularly beautiful in spring.
Over the course of 2010 and 2011, Christchurch was hit by a number of earthquakes, changing the city forever.
The impacts of these earthquakes can still be seen today where Christchurch Cathedral is still undergoing repairs.
Visit Quake City to learn more about the complex relationship Christchurch has with earthquakes.
If you're in the mood for some scenery head up to the Gondola for amazing views of Christchurch, Lyttelton, and Banks Peninsula from the top of Mount Cavendish.
READ MORE: Be sure to add these amazing things to do in Christchurch!
DISCLAIMER: Some of the links in this article are affiliate links, which means if you book accommodation, tours or buy a product, we will receive a small commission at no extra cost to you. These commissions help us keep creating more free travel content to help people plan their holidays and adventures. We only recommend the best accommodations, tours and products that ourselves or our fantastic editorial team have personally experienced, and regularly review these. Thanks for your support, kind friend!