No trip to New Zealand's North Island is complete without experiencing these amazing things to do in Rotorua! The best activities, attractions and insider knowledge on what to do in Rotorua, New Zealand.
You might be surprised at how many Rotorua activities there are to do in this gorgeous part of the country!
Located in the middle of New Zealand's North Island, it offers something for everyone.
Whether you're an adrenaline junky, want a Maori culture fix, to soak in hot springs, or simply relax from the stresses of everyday life in amongst beautiful natural landscapes, Rotorua is a unique destination that's unlike anywhere else in the world.
The city has been a popular tourist destination since the 1800s.
Visitors have been attracted by the beautiful scenery and sites of spectacular geothermal activity.
READ MORE: Check out our guide to the best Queenstown activities!
The region has 17 beautiful lakes which host various water sports such as water skiing, fishing, and swimming, as well as offering spectacular walking tracks around the water's edge.
They are particularly popular over the summer. We try to visit Rotorua at least once a year.
In our opinion, the most impressive sites are the geothermal parks and hot springs which are dotted throughout the region and allow you to witness the sheer power and beauty of Mother Earth.
The Best Things to Do in Rotorua
Here are our top 8 things to do in Rotorua to make the most of your time in this fascinating part of the world.
READ MORE: Check out my own post about New Zealand's North Island over on my personal blog.
1) Wai-O-Tapu Geothermal Wonderland
Wai-O-Tapu means "Sacred Waters" in the indigenous New Zealand Maori language. It truly lives up to its name.
The park is full of naturally occurring geothermal activity, and definitely one of the top Rotorua attractions.
Take a quick scan of Wai-O-Tapu on Instagram and you'll think the colours – greens, yellows, reds, oranges are so vibrant they can't possibly be real.
Well, there are no filters required. Seeing is believing in this surreal place.
You should plan half a day to visit Wai-O-Tapu.
It will take at least 3 hours to wander around the well-laid-out paths, exploring the thermal and mud pools.
The Champagne Pool and Devil's Bath are two of the more spectacular sites.
At 10:15 each morning you can witness the Lady Knox Geyser erupting to heights approaching 20 metres.
Be sure to stick to the paths as the pools are hot (some over 100C, or 210F), and many contain toxic gases.
Some of the pools may also be covered by a thin crust that looks stable to the untrained eye.
Getting There: The park is located 31km south of Rotorua on State Highway 5. The journey from the centre of the city should take about 25-30 minutes.
Price: Tickets are $32.50 for adults and $11.00 for children between 5 and 15 years old. Children under 5 are free. These tickets will get you access to the Thermal Park and the Lady Knox Geyser.
READ MORE: Don't miss our comprehensive guide to the best hikes in New Zealand!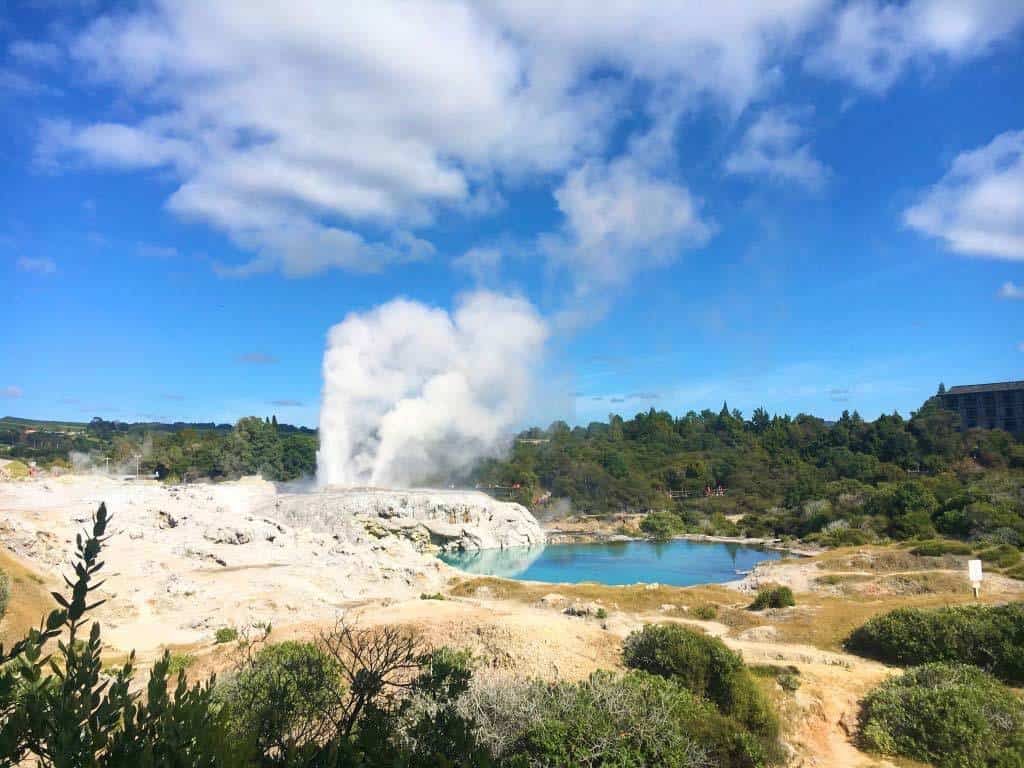 2) Whakarewarewa – The Living Maori Village
This living museum of Whakarewarewa offers a fascinating insight into the Maori culture and way of life of the Tūhourangi Ngāti Wāhiao people.
These people are a Maori tribe who trace their ancestry in this area back to the 14th century.
They have been hosting visitors and tourists since the 19th century. Today you can visit the village to see various aspects of their daily life.
Learn about where they live, how they utilise the thermal heat underground to cook delicious food, and even how the communal baths are set up to maximise the use of naturally heated water.
The village is a perfect example of combining traditional communal living with the modern world.
The guided tours are excellent as the guides all live at Whakarewarewa and give their own unique, entertaining and authentic perspective on what village life is like.
There's also a very good cultural performance every day at 11:15 am and 2:00 pm (with an extra show in the summer at 12:30 pm).
The self-guided nature walks through the beautiful New Zealand bush to see mud pools and coloured lakes are also well worth the effort.
For those of you that want an even more immersive experience, there is the option to stay overnight on the Marae (traditional Maori community) if you have a group of 10 or more people.
This will give you a chance to learn even more about the Maori culture, heritage and culinary expertise of the locals.
Tamaki Maori Village and Mitai Maori Village are two other unique villages to visit that are just a 10 minutes drive away.
Getting There: Whakarewarewa is located at the southern edge of the city, about a 5-minute drive from the centre.
Price: Prices vary based on attractions. A cultural show is 30 Dollars and a full-day pass is 90 Dollars for adults. Check the website for more details!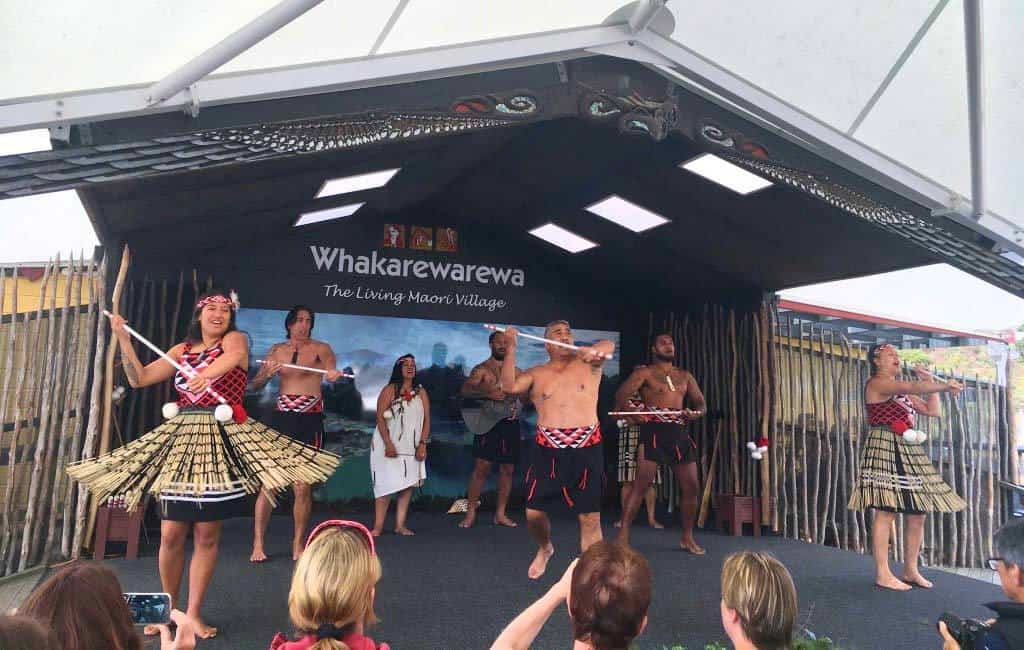 3) Mountain Bike Through the Redwoods in Whakarewarewa Forest
Whakarewarewa Forest is a mountain biker's paradise, if you're curious about the adventurous things to do in Rotorua, this is where you need to go!
It's located on the southeast edge of the city, close enough to ride from the centre.
Once you're there, the forest is incredibly well set up with excellent and entertaining tracks catering to all experience and fitness levels.
If you take the time to look around and enjoy it, the scenery is fantastic.
With lush native New Zealand bush all around and Californian Redwoods soaring above, Whakarewarewa Forest is a very special place to be.
There are 160 km of carefully maintained tracks.
And the great natural drainage of the site means that it's good to go all year round.
The tracks also have some high profile admirers.
Red Bull TV stating that 'when we die and go to mountain bike heaven, there's a good chance it will probably look like Rotorua.'
It has even been awarded gold-level ride centre status by the International Mountain Biking Association (IMBA).
This makes Whakarewarewa Forest one of the top half dozen places to mountain bike in the world.
Bikes and equipment are available to hire at the start of the tracks (along with maps) at the Mountain Bike Hub on Waipa State Mill Road.
Or you can hire what you need from one of the cycle shops in the city.
Guided tours are also available if you want to make the most of the experience. It is right near the Tamaki Maori Village if you want to combine the two into one trip.
4) Spend an Afternoon at the Polynesian Spa
With a very pleasant aspect looking over an inlet on the southern shores of Lake Rotorua, The Polynesian Spa is a wonderful place to sit in the lovely warm or hot pools, take in the views and contemplate life.
There are 28 hot pools in total at the Spa.
Water is sourced from two natural hot springs – The Priest Spring and The Rachel Spring, with each providing their unique benefits.
The Priest Spring is slightly acidic and is said to relieve tired muscles and aches and pains
On the other hand, the Rachel Spring is alkaline and is great for your skin.
No matter what the long term benefits might be, it's certainly a relaxing experience when you're there soaking in one of New Zealand's best hot springs.
There are plenty of pool options to suit your requirements. Hot pools range from pavilion pools, private pools, family pools, and lake view pools.
There is also the option of a day spa, with a variety of massages and beauty treatments available.
Hand on heart, the best massage we've ever had anywhere in the world has been at Polynesian Spa! So it's well worth splurging for one!
5) Go Luging
Luging has been a must-do activity in Rotorua for well over 30 years.
Today it's one of the most popular attractions in the city.
A luge is a cross between a go-cart and a toboggan. It's powered by gravity, allowing the rider full control of steering and speed.
You also have the choice of three tracks, depending on your experience and confidence levels.
This means that you can get to grips with the equipment before you venture to the advanced starting gate.
If you have children, those below 110 cm can ride in tandem with adults.
This means that the whole family can join in the fun on this list of what to do in Rotorua, New Zealand!
And while it's great fun heading down the mountain on the luge, it's also a real experience making your way back up in the gondola to the start of the tracks.
The views over the city and Lake Rotorua are just stunning!
Run by Skyline Rotorua, there are plenty of package options available to choose from on the website.
These include multiple gondolas and luge rides for adults, children or families.
Plus there are also dinner and lunch options and even night luging.
The site also has mountain bike tracks, a sky swing and zip line. There is something for everyone!
A must-do is taking a selfie next to the famous "Rotovegas" sign at the top of the luge track!
Getting There: Skyline is located under 10 minutes' drive north of the city centre on the west side of Lake Rotorua on State Highway 5.
Price: Prices start from $52 for one gondola and luge ride for an adult ($34 for 5 – 14-year-olds). We find that one ride usually isn't enough so we recommend purchasing at least 3 rides if your budget allows.
READ MORE: Make sure you visit Christchurch as well on your New Zealand Trip!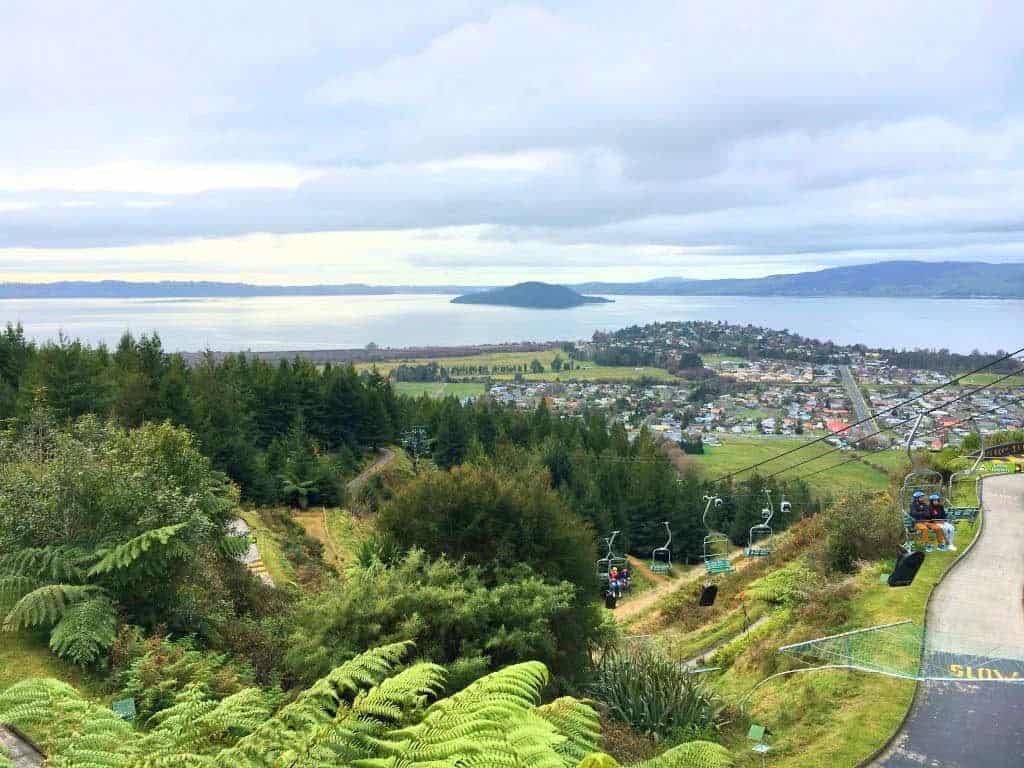 6) Take a Walk Around Lake Tikitapu (the Blue Lake)
One of our favourite fun things to do in Rotorua with kids (or even without) is taking a short hike followed by a picnic at the stunning Lake Tikitapu (the Blue Lake).
The paths are undulating but easy to follow. The full loop is under 5 km, so it can be completed in under 1.5 hours.
It's a peaceful, beautiful walk.
At the end of the loop, make sure you stop in at the shop at the Blue Lake Top 10 Holiday Park for well-deserved ice cream.
Don't forget to pack your bathing suit in summer so you can have a refreshing dip in the fresh lake water.
If you have time after walking around the Blue Lake, continue by car to Lake Tarawera, which is only 10 minutes further down the road.
This is the former location of the incredible Pink and White Terraces, once considered to be the eighth wonder of the world.
These were sadly destroyed in the 1886 volcanic eruption of Mount Tarawera.
On your way back to Rotorua, head right just before the Blue Lake Top 10 Holiday Park towards the beautiful Lake Okareka.
Getting There: The Lake is located just 10 km from the city centre along Tarawera Road. You can't miss it as you wind your way down the hill through the forest – it will be the very first lake you get to. Park in the car park at the bottom of the hill and head anti-clockwise through the bush to your right.
7) Bathe in the Mud at Hell's Gate
George Bernard Shaw visited Hell's Gate back in 1934 and exclaimed "this could be the very gates of hell" when confronted with the boiling mud and steam in front of him.
The experience was even said to be a catalyst for the revision of his atheist views.
Whether Hell's Gate, as it is now popularly known, can change your own religious beliefs is up to you.
But it is guaranteed to leave a lasting impression and appreciation of the beauty and wonder of Rotorua's natural environment.
Locals have utilised the nutrient-rich waters and mud to ease inflammation and arthritis and cleanse their skin for the past 800 years.
There is also the option to walk through the geothermal reserve, allowing you to witness up close erupting waters, an active mud volcano and land coral.
Check out the full tour here.
Plus, you can have a go at wood carving, or enjoy food cooked underground in a traditional Maori hangi.
If you carry on a little further up the road you will get to Lake Rotoiti, another lovely spot to sit and enjoy the view or take a dip in the cool water after all that mud!
Getting There: Hell's Gate is just 16km up the road from the centre of Rotorua, following State Highway 30 to the east.
Price: Today, surrounded by lovely native flora, you can choose to have a sulphur spa ($25 for adults, $12.50 for children), or go for the full Hell's Gate experience in the mud spa ($79 for adults, $39 for children).
8) Have Breakfast at the Fat Dog Cafe
The Fat Dog Café on Arawa Street in the heart of the city is a Rotorua institution.
It is THE place to go before a day of exploring, walking, biking or luging.
(Although we must warn that partaking in the Mega Works breakfast might require a bit of a lie down afterwards!)
The service is great and the meals are large and tasty.
Enjoy great coffee in amongst fun, quirky surroundings.
We go for breakfast at least once during any visit to Rotorua and have never been disappointed.
The Fat Dog Café also serves lunch and dinner.
Expect hearty offerings like burgers, lamb shanks, nachos and fish and chips.
Plus there are some delicious salads (and yummy desserts).
There are also kid's meals on offer to keep everyone happy.
Rotorua is a tourist's paradise and it really is everything that's unique about New Zealand in a nutshell.
There are so many things to do in Rotorua and you'll come away with a deeper appreciation of the amazing landscape and culture that has shaped this area.
I just want to briefly mention some of the best Rotorua attractions that aren't on this list!
There are multiple Maori villages to visit in addition to the ones listed. Mitai Maori Village and Tamaki Maori Village are incredible places to visit in addition to Whakarewarewa where you can learn about Maori culture Rotorua.
Rainbow Springs Nature Park was a wildlife park that was one of the top local attractions until it closed recently. But you can still visit the National Kiwi Hatchery that was a beloved part of Rainbow Springs Nature Park.
You may have experienced lots of geothermal wonders, but Waikite Valley Thermal Pools are another gem of the area. Waikite Valley Thermal Pools is a 30 minutes drive outside Rotorua, but it's a gorgeous place to relax in geothermal springs.
DISCLAIMER: Some of the links in this article are affiliate links, which means if you book accommodation, tours or buy a product, we will receive a small commission at no extra cost to you. These commissions help us keep creating more free travel content to help people plan their holidays and adventures. We only recommend the best accommodations, tours and products that ourselves or our fantastic editorial team have personally experienced, and regularly review these. Thanks for your support, kind friend!