Read on the learn about the most epic New Zealand itinerary you can plan!
Welcome to one of the world's most stunning destinations. New Zealand is, quite justifiably, top of many people's travel bucket list.
The home of adrenaline sports, breathtaking scenery and the Lord of the Rings, New Zealand has plenty to keep you entertained for months.
However many of us sadly don't have months available, so I've put together these 1 week, 2-week and 3-week New Zealand itineraries.
Plus there are a few extra places if you're lucky enough to have a little longer.
I've varied each New Zealand itinerary so that you can potentially chop and change or merge them together, giving you plenty of options to choose from.
New Zealand Itinerary Transport Tips
Getting around New Zealand with a rental car is fairly easy, as long as you're confident with self-driving.
Public transport isn't a great option, and you'll end up missing out on the many great spots to visit along the way.
Alternatively, you can look at signing up for a tour. We recommend Haka Tours.
Getting To and From New Zealand
For the vast majority of travellers, New Zealand is a fair distance away. The country has 5 main international airports, Auckland and Wellington on the North Island and Christchurch, Queenstown, and Dunedin on the South Island.
We have more information on our dedicated New Zealand page here.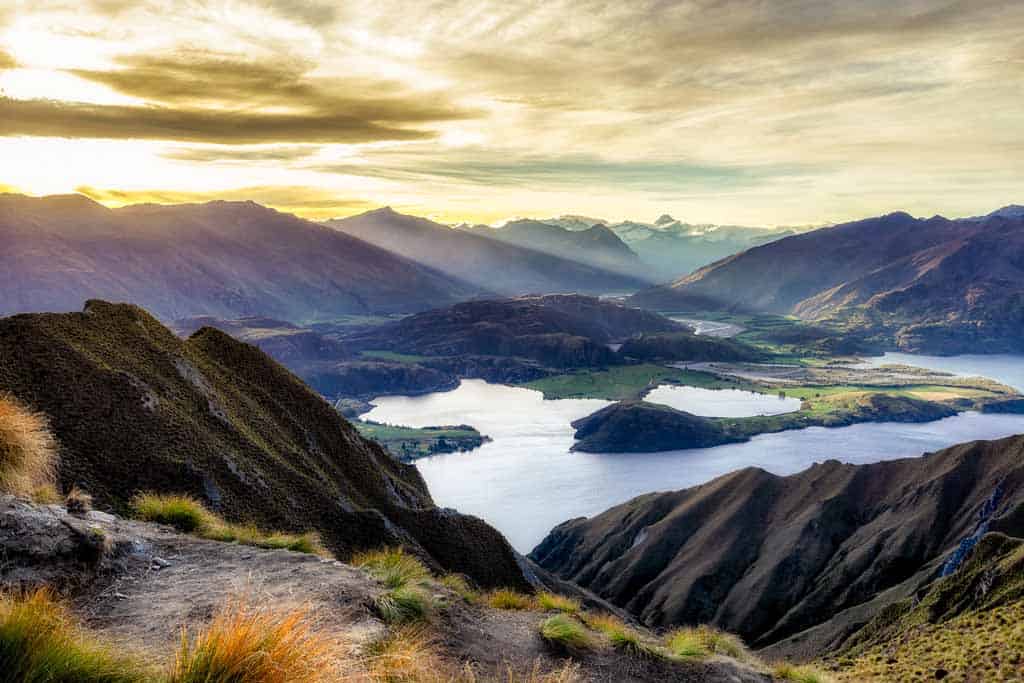 This means you don't necessarily need to follow circular itineraries.
However, this will bring additional one-way charges for vehicle hire, although these are usually cheaper outside of the summer months.
Getting Around New Zealand
All of these examples will require you to hire a rental car or a campervan to get around.
Spaceship does the best, affordable campervans in New Zealand.
New Zealand is not really a country you can visit solely through public transport.
Roads are generally in excellent condition although do watch out for weather warnings and other such notifications from the government in the winter months especially.
Any New Zealand road trip itinerary is likely to involve a fairly large amount of driving.
It is also very likely that journey times will be longer than in your home countries due to New Zealand's terrain.
The best way to get around is to rent a car and explore on your own! We recommend Rental Cars, which has the largest range of vehicles for the best value on the market.
7 Day New Zealand North Island Itinerary (Into and out of Auckland)
This 7-day New Zealand itinerary around the North Island of New Zealand is a circular loop flying in and out of Auckland.
This means you won't have to pay a one-way charge when hiring a set of wheels.
Day 1 and 2 – Auckland
Our first New Zealand itinerary begins in Auckland, the City of Sails. As New Zealand's largest city there are plenty of things to do to keep you entertained for a couple of days.
Spend your first day in the city itself. Maybe head up to the Sky Tower, the tallest building in the Southern Hemisphere, and check out the views.
The city is also home to the excellent Auckland Museum and Auckland Art Gallery which are well worth checking out.
Spend your evening wining and dining in the city's slick restaurants and bars.
On your second day take the chance to explore Auckland's stunning scenery.
Whether you fancy a bit of beach bumming, island hopping, or hiking Auckland has it all.
Day 3 and 4 – Bay of Islands
Pick up your wheels and head out early to this gorgeous area of New Zealand's North Island.
From Auckland, it's roughly 3-4 hours to the town of Paihia which along with Russell forms the heart of the Bay of Islands.
Spend your first here day exploring Russell and Paihia, home to the Waitangi Treaty Grounds.
Alternatively, you could check one of the many hiking trails in the area.
However, if wildlife is your thing then head out on one of the wildlife cruises that depart from Paihia.
The next day begins the drive down to Waitomo.
However, make sure you drive back via the Tutukaka Coast. This deserted expanse of stunning coastline is home to plenty of gorgeous beaches and short coastal walks.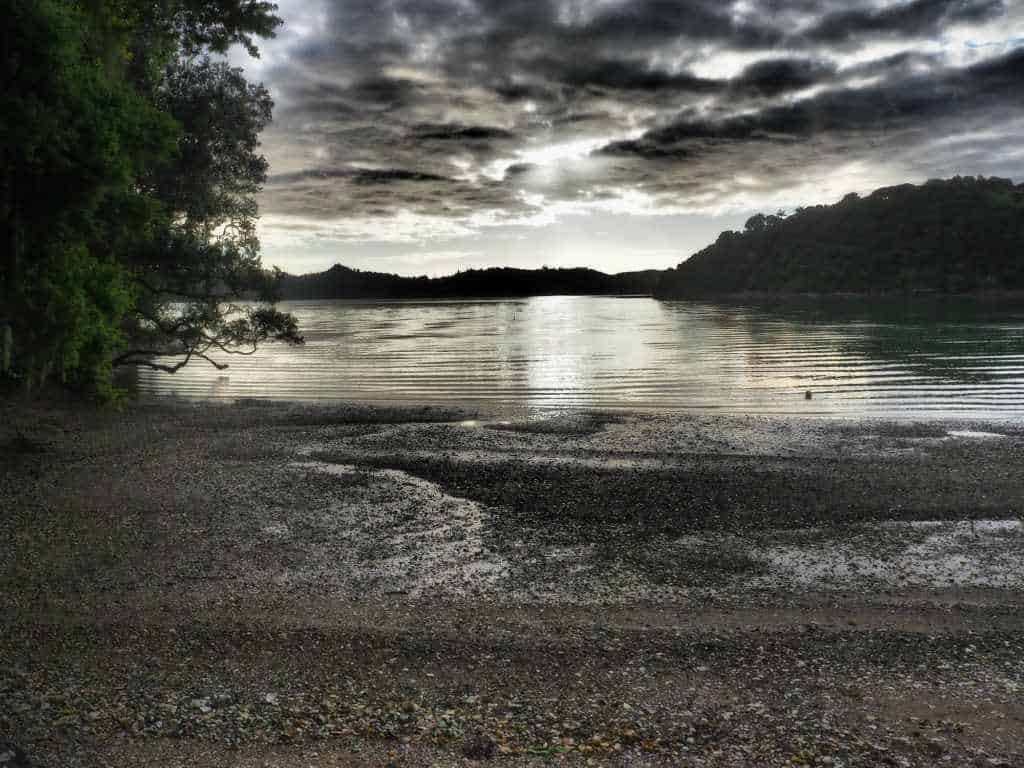 Day 5 – Waitomo Caves
Waitomo is one of New Zealand's best destinations for adrenaline activities. Get ready to squeeze, swim, slide and climb your way through some seriously awesome caves.
There are numerous trips, tours, and trails ranging from the more sedate, where you can check out the glow worms all the way up to epic caving and black water rafting trips.
The highlight is probably the Lost World Cave which starts with a 100-metre abseil into the cave. Trust me, it's awesome! This will be an awesome addition to your New Zealand itinerary.
Day 6 – Tongariro National Park
This stunning national park is home to what some describe as the best one day walk in the world; the Tongariro Crossing.
You're best off staying in the village of Whakapapa as this is closest to the crossing as well as a number of other trails.
Of these other trails, the pick of the bunch is the short, but stunning ridge walk and the longer Taranaki falls trail.
Get ready for sore feet and spectacular views.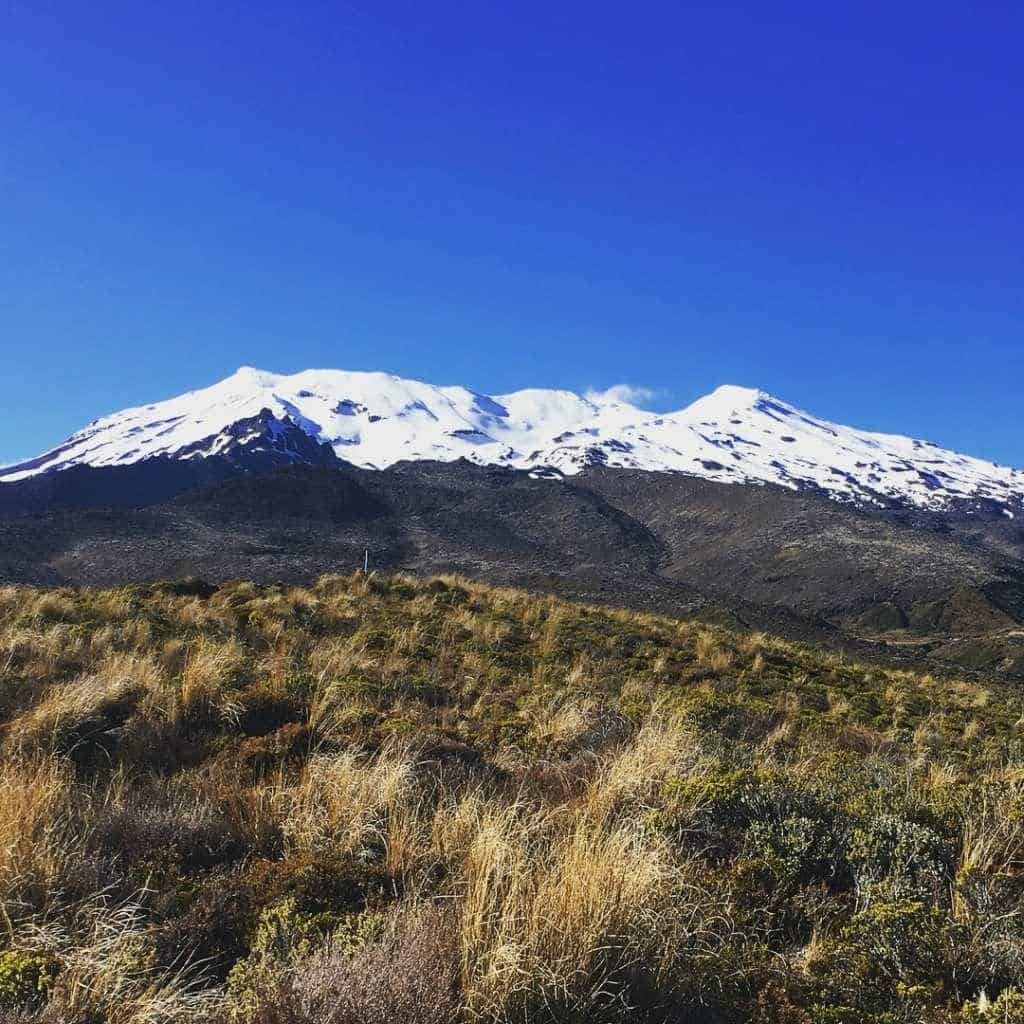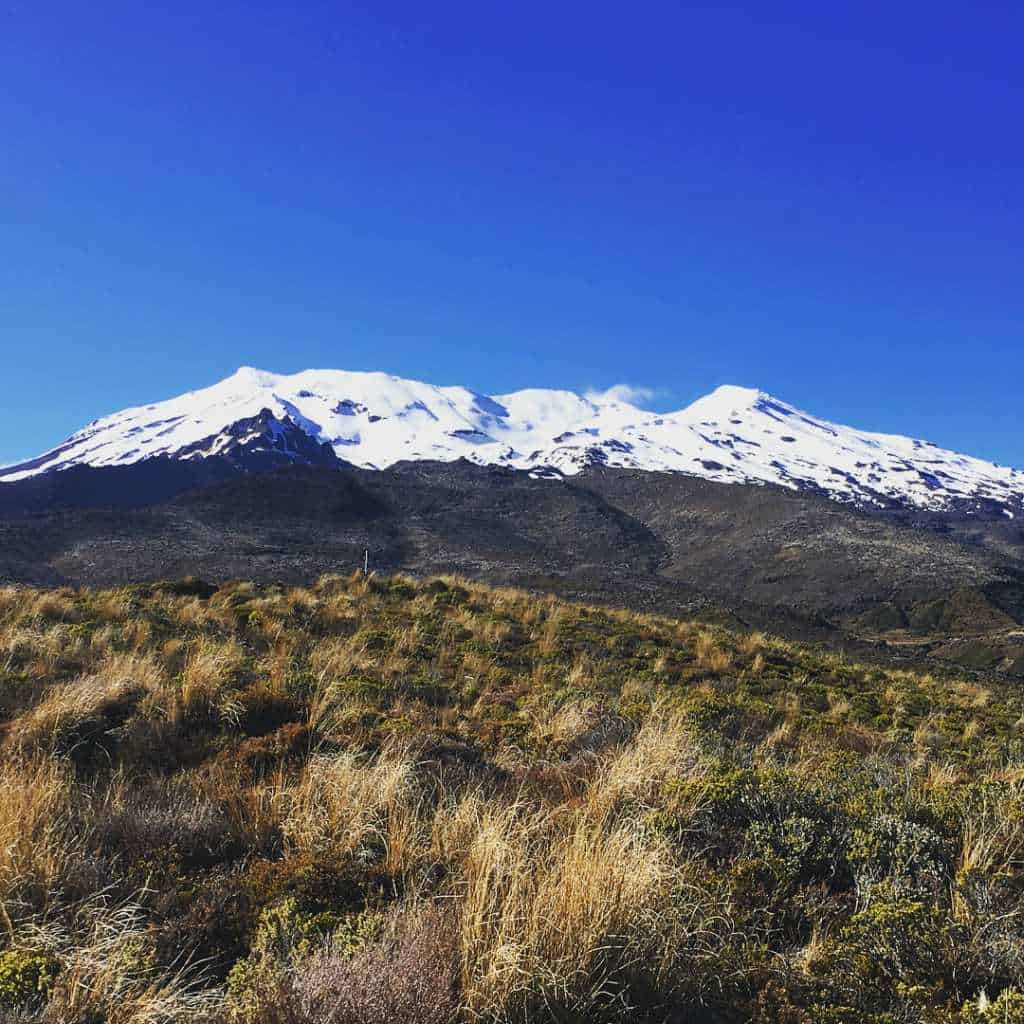 Day 7 – Hobbiton
On your way back to Auckland pay a visit to Hobbiton. It is here that numerous scenes for the Lord of the Rings and Hobbit trilogies were filmed.
The movie set is built amongst the rolling hills of Alexander farm in Waikato.
If you are a fan of the Lord of the Rings or the Hobbit then this is a must-visit.
Check out these awesome Hobbiton tours on Get Your Guide.
There are plenty of other great things to do on North Island New Zealand so give yourself more time if you can before moving on to the South Island.
7-Day New Zealand South Island Itinerary (into Christchurch, out of Queenstown)
This 7 Day South Island New Zealand road trip itinerary takes in some of the South Islands' most stunning destinations.
Day 1- Akaroa and the Banks Peninsula
Pick up your wheels from Christchurch Airport and make a beeline for Akaroa, the main town on the Banks Peninsula. This will be the first stop on your New Zealand road trip itinerary for the South Island.
The drive from Christchurch is absolutely spectacular. There are amazing views over Akaroa and large swathes of the Banks Peninsula from the Hilltop, an excellent pub/restaurant.
Keep your fingers crossed for a blue sky day!
You could spend the rest of the day hiking around Akaroa, exploring the town itself or checking out one of the wildlife cruises.
Blackcat cruises run excellent dolphin-watching and swimming trips from the harbour. Be sure to book early in the summer months.
Day 2 – Okains Beach, the Banks Peninsula and driving to Mount Cook
Get up bright and early and head over to Okains Beach on the eastern end of the Banks Peninsula.
This deserted beach is an absolute gem with spectacular views, both there and on the drive over. The waves are a decent size, although do be aware of potential rip currents and don't go out of your depth.
You can spend the rest of the day taking on one of the area's many hiking trails.
However, you may want to begin the stunning drive to Mount Cook. On the way make sure you check out Lake Tekapo and the Church of the Good Shepard before carrying on the Lake Pukaki.
At Lake Pukuai expect stunning views of Mount Cook (on a clear day only I'm afraid) as well as some amazing salmon sashimi from the Mount Cook Alpine Salmon shop.
Spend the night in Mount Cook village. If you're in a campervan or have a tent stay at the White Horse Hill campground.
It does get busy in the summer months so don't get here too late. The facilities are basic, but the views are amazing.
Day 3 – Mount Cook and drive to Wanaka
Pull on your hiking boots and get ready for some breathtaking alpine scenery.
READ MORE: Here's our complete guide to the best hikes in New Zealand!
The most popular hike is the Hooker Valley, and with good reason.
The views en route and at the trail's end on the edges of Hooker Lake are breathtaking. Expect the hike to be around 3 hours return.
Check out the Red Tarns Track which is a solid stair climb. Your knees will hate you but the view is worth it.
Additionally, the Kea Point Track is well worth checking out especially as it's only one hour from the White Horse Hill campsite.
Over the other side of the National Park, you will find the Tasman Glacier and Blue Lakes walk, which gives amazing views of the Tasman Glacier and on a clear day, Mount Cook.
Hop into your wheels and begin the 200km journey to the gorgeous town of Wanaka.
Day 4 – Hiking around Lake Wanaka
Welcome to what many would describe as their favourite place in New Zealand. I've been fortunate enough to visit twice and each time it's taken my breath away.
Naturally, as you would expect there are hiking trails galore around here, so pull on your boots and slap on the sunscreen.
Probably the most well-known is the hike up to Roys Peak. It's a 16km return hike, 8km up and 8km down with no shade and a lot of switchbacks.
However, the views at the top are sublime.
End the day with a BBQ on the edge of Lake Wanaka, utilising one of the many free BBQs along the lake's edge.
READ MORE: Be sure to add these incredible things to do in Wanaka to your itinerary!
Day 5 – Adrenaline Sports around Lake Wanaka
As spectacularly beautiful as Lake Wanaka is, it also has its fair share of adrenaline sports to get your hearts racing.
Try your hand at one of New Zealand's newest adrenaline sports – canyoning.
Start at the top of a canyon and work your way down by any means necessary. Deep Canyon is the company to go with, offering some amazing trips.
If that's not your thing but you still want to set your heart pounding then head over to Sky Dive Wanaka who are more than happy to throw you out of a plane.
Day 6 – Milford Sound
Get ready for a long drive! You'll need an early start from Wanaka, but Milford Sound is very doable as a day trip.
You have two options. Book a tour in Queenstown that will handle the travel to Milford Sound and the cruise itself.
Or drive to Milford Sound and book a cruise yourself.
Either way, you will need to book in advance.
Milford Sound is spectacular and is unsurprisingly one of the most popular tourist destinations in New Zealand. Get ready to have your breath taken away.
After an epic day in Milford Sound, drive back up to Queenstown that night.
For a real unique experience (if you have the extra day up your sleeve), check out the overnight boat trip with Real Journeys in Milford Sound.
Day 7 – Queenstown
Spend your final day in the self-proclaimed adrenaline capital of the world.
If you've got the stomach and the money then do one of the many Bungy jumps or the terrifying canyon swing, which is absolutely amazing.
However, if the pennies are running low the Skyline Luge is an excellent budget option that offers breathtaking views over Queenstown and the Remarkable's.
Make sure you visit Fergburger to chow down on one of their legendary meat patties. A fantastic way to sign off.
READ MORE: More great ideas about what to do in Queenstown.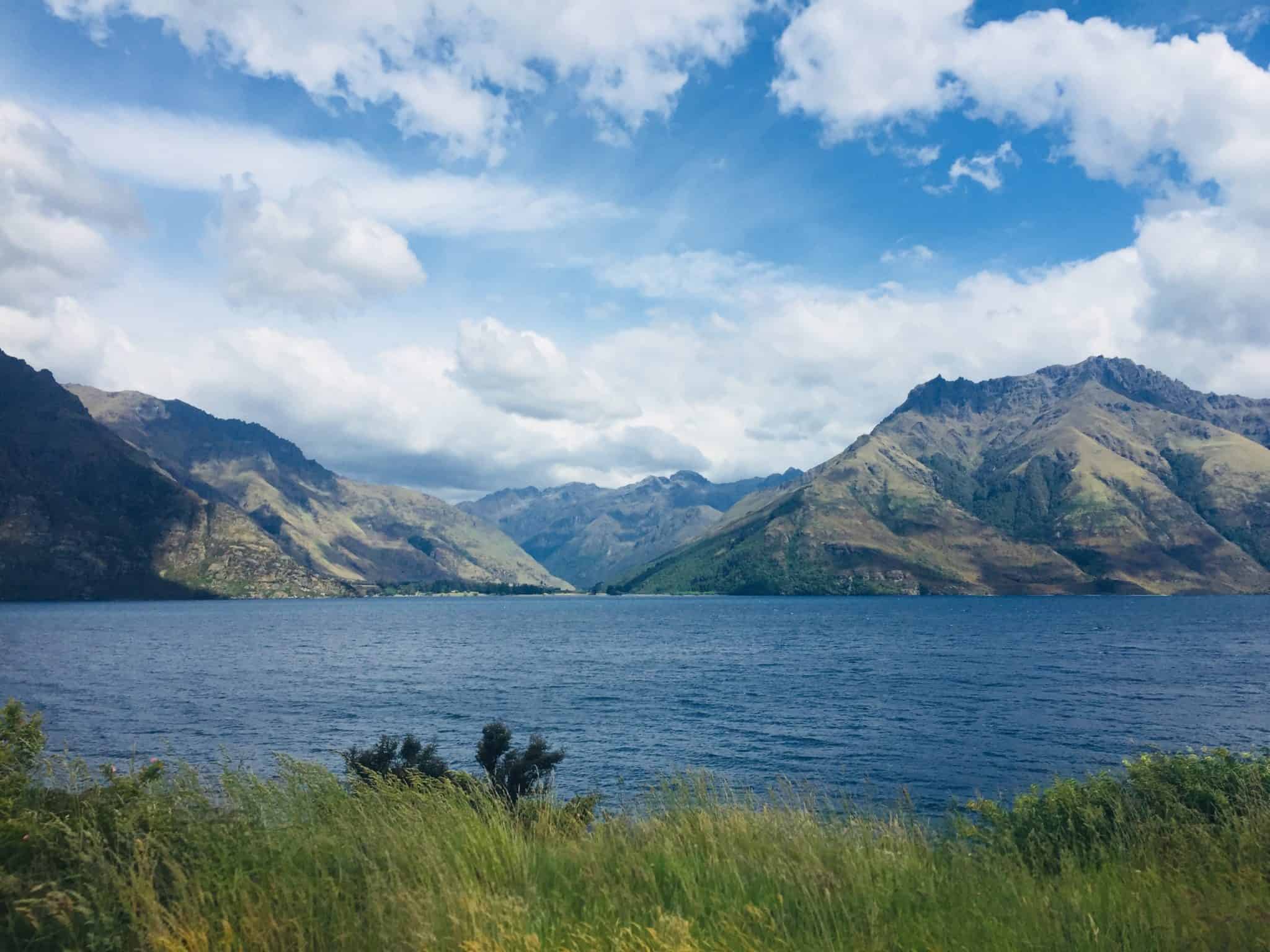 2-Week New Zealand Trip (into Auckland and out of Christchurch)
This 2-week itinerary takes in some of the best moments of the North and South Island's 1-week itineraries but adds in a few new destinations as well.
It follows a common route of flying into Auckland and out of Christchurch.
Do be aware that you will be charged one-way fees on any cars or camper vans you rent. You can also do this route in reverse if you wish.
Day 1 and 2 – Auckland
Spend your first day getting acclimatized and checking out Auckland's, museum's galleries and attractions.
On your second day, get out and explore some of the awesome hikes and natural scenery surrounding the city, especially in and around the Haruki Gulf.
Day 3 – Mount Maunganui
This gorgeous coastal town is one of New Zealand's most popular domestic tourist destinations.
The beaches here are gorgeous however the real highlight is the Mauao, Mount Manganui's spectacular walking track.
The views from the top are absolutely spectacular!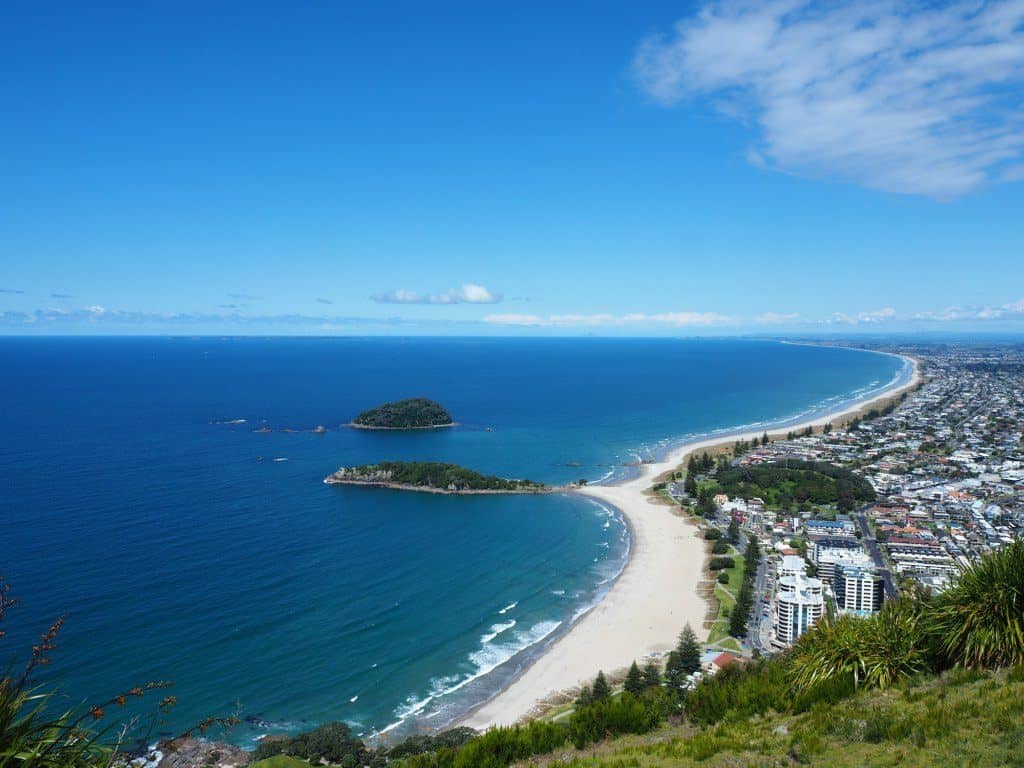 Day 4 – Rotorua and drive to the Tongariro National Park
Welcome to New Zealand's geothermal capital. Head over to Te Whakarewarewa to check various interesting sights in this thermal reserve.
It's home to over 500 springs as well as the famous geyser Te Puia.
If you want to get to know some of New Zealand's birds then head over to the city's Kiwi Sanctuary when you can see these beautiful, but endangered birds.
Begin driving over to Tongirio Park late in the afternoon and in the summer months you may be able to time this right to catch the sun setting along Lake Taupo which is absolutely spectacular.
If you want to stay at the campsite in Whakapapa be sure to book ahead, especially in the summer months.
READ MORE: Check out some of the best things to do in Rotorua.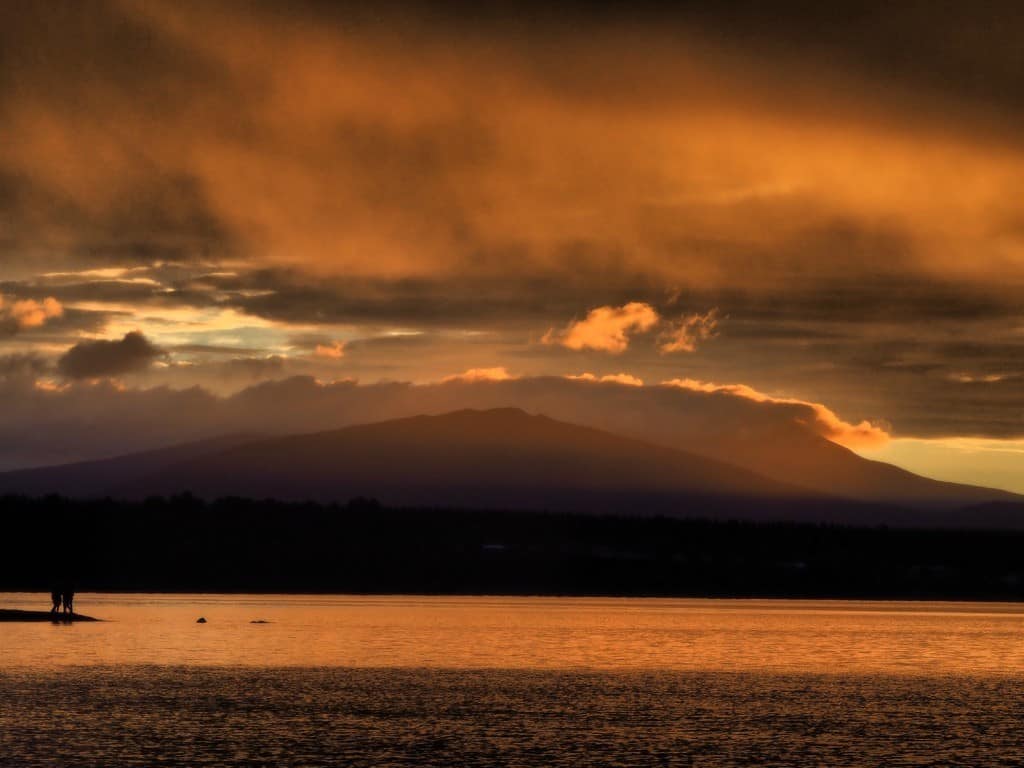 Day 5 – Tongariro National Park
Pull on those hiking boots and get ready to take a lot of pictures.
We've already mentioned some of the top hikes in the region, but an interesting fact is that Mount Ngauruhoe, one of the 3 mountains that make up the park, is Mount Doom from the Lord of the Rings films.
Day 6 – Wellington
New Zealand's wet and windy capital packs quite a punch. There is a lot to do here, so sadly you will be unable to pack everything into one day.
If you have time for one thing in Wellington make sure you head to the incredible Te Papa museums situated on the city's waterfront.
This excellent museum has numerous excellent exhibitions focusing on New Zealand's history and geography.
If you fancy getting outside, head up to Mount Victoria for spectacular views over the city.
Spend the evening eating around Hannahs Lane, followed by a beer or two on Cuba Street.
READ MORE: Check out our guide on what to do in Wellington.
Day 7 – Crossing the Cook Strait and driving to the Abel Tasman National Park.
Get up bright and early to board the ferry to cross the Cook Strait to the port of Picton. The journey over is spectacular, especially the final section.
Once off the ferry, hot foot it over to Kaiteriteri, one of the final towns before the Abel Tasman National Park.
On the way, find some time to stop in the pretty town of Nelson. We have an article on things to do in Nelson if you have more time.
Kaiteriteri is a tiny town that is the gateway to the Abel Tasman National Park. There's not much going on here, but there are a couple of decent eateries and nice beaches.
Day 8 – Hiking in the Abel Tasman National Park
The full Abel Tasman Coastal Track takes anything between 3 and 5 days.
However, there are plenty of excellent one-day hikes and kayaking trips for those that don't have quite so much time.
One particularly excellent day hike starts at Bark Bay and then heads south finishing at Anchorage Bay.
This 12km hike takes you through some of the park's most spectacular scenery. You can also extend this trail by detouring to visit Cascade Falls and the gorgeous Cleopatra Pools.
To get out here you will need to have a sea taxi booked to and from your start and endpoints.
You can privately charter taxis, although it will be much more expensive. There are also options to combine a half-day cruise with a hike as well.
However, if you fancy getting out onto the water then take the opportunity to take a kayaking or combined kayaking and hiking trip.
We have an awesome article on kayaking in the Abel Tasman National Park for you to check out.
Get a good night's sleep in Kaiteriteri as there are two epic days of driving coming up!
Day 9 – South Islands West Coast – Kaiteriteri to Hokitika
Get up bright and early and head towards one of New Zealand's most stunning areas: the South Island's West Coast.
Expect desolate coastal roads, windswept beaches, and alpine scenery as you get closer to the Southern Alps of New Zealand.
From Kaiteriteri you will come through the Buller Gorge with plenty of great scenery and some lovely little towns.
You'll continue along the coast to Westport and then head south hugging the ocean.
Make sure you check out the Pancake Rocks at Punakaiki, the numerous deserted beaches and spectacular viewpoints.
This is the perfect place to enjoy a picnic or a cheeky beer.
End your day by getting to the quaint town of Hokitika and visiting its rather lovely gorge.
There are numerous awesome campsites in this area, however, like many along the west coast water-saving measures are frequently implemented.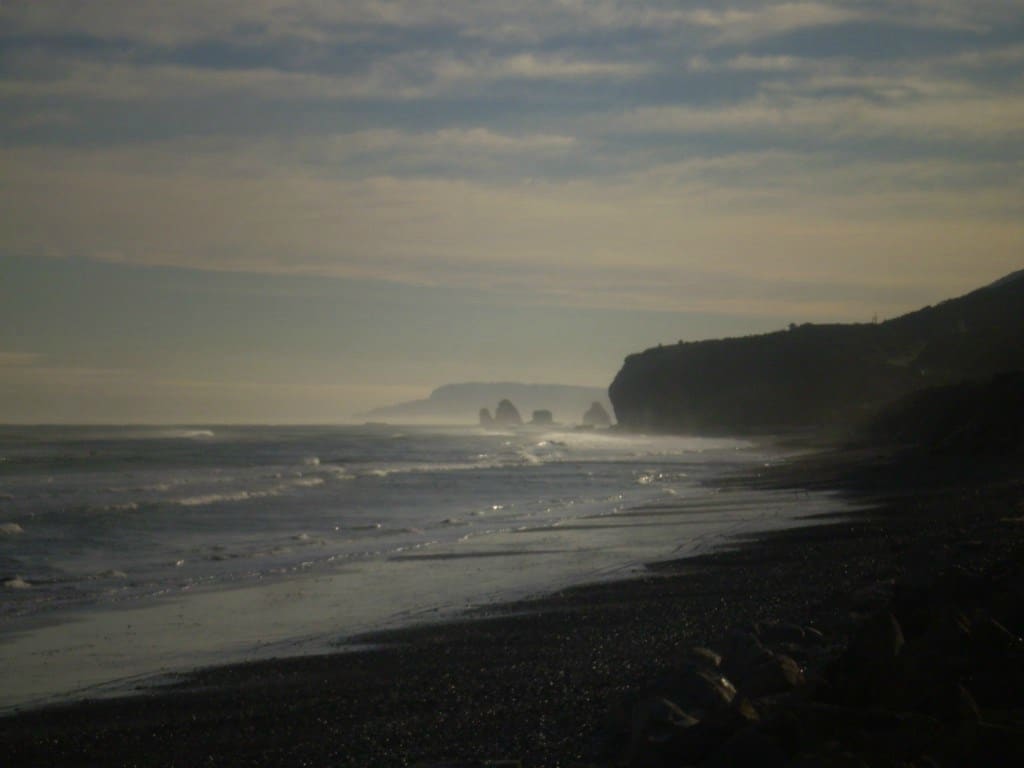 Day 10 – South Island's West Coast – Hokitika to Franz Josef or Fox Glacier and on to Queenstown
Head south towards either Franz Josef or Fox glaciers. At both, there are decent short hikes where you can see the glaciers up close.
However, you can also see the amount they have receded in recent years. As a result, glacier hikes, unless you've got deep pockets for a heli hike, are no longer an option.
That being said the valley walks to viewpoints at both Franz Josef and Fox glaciers offer some spectacular views, along with a stark reminder about the challenges our planet faces.
If you fancy something a little more high octane then head to Skydive Franz where you can throw yourself out of a plane with epic views of both the ocean and the Southern Alps.
Continue on through the Haast pass to Lake Wanaka.
Day 11 and 12 – Queenstown
We've already mentioned Queenstown in the previous itinerary, so you already know there is hiking, adrenaline sports or just lazing by the lake on offer!
You could also do a day trip to nearby Arrowtown, a gorgeous little town nestled in the hills between Queenstown and Wanaka.
Make sure you pick up a pie here, which is a classic New Zealand snack.
Day 13 – Mount Cook
From Wanaka head to Mount Cook. The drive up Lake Pukaki is absolutely breathtaking with stunning views available on clear days.
From the Whitehorse Hill campground definitely do one of the many hikes in the area. Although it's the busiest, the Hooker Valley Trail provides the best views of Mount Cook!
Spend the night at Mount Cook and enjoy an epic sunset behind the Southern Alps.
Day 14 – Christchurch
From Mount Cook make the long journey back to Christchurch.
In the city itself check out the botanical gardens and see how the city is rebuilding itself after the earthquakes of 2010 and 2011.
Head up to the summit of Mount Cavendish via the Christchurch gondola for some lovely views of the city before heading back to the airport.
3 Weeks in New Zealand – Fly into Auckland and out of Christchurch
We'll continue the north-to-south theme with this itinerary. However, like the 2-week New Zealand itinerary, this one can also be done in reverse.
This route is slightly South Island heavy, but it does include 5 places we haven't yet mentioned so there's plenty of variety here!
Day 1 – Auckland
Get over the jet lag and take it easy in the City of Sails, a true highlight of the North Island of New Zealand. Drive down to Waitomo in the evening.
Day 2 – Waitomo
Spend the day spying glow worms or making your heart work just a little bit faster in New Zealand's cave capital.
After a day of caving drive to the village of Whakapapa in the Tongariro National Park in preparation for taking on the Tongariro Crossing.
Day 3 – Tongariro National Park
Get ready for some seriously sore feet as you take on what some regard as the best one-day walk in the world.
Day 4 – The Forgotten World Highway
After a good night's sleep, take on the fascinating and often overlooked Forgotten World Highway which runs for 148 km from Taumarunui to Taranaki.
This quirky route is built on old colonial bridle paths through forests, gorges, and tunnels there are a lot of single-lane portions that will require some very careful navigation.
However, after doing it, it's easy to see why this is regarded as one of the best one-day drives in New Zealand.
At the end of the Forgotten World Highway, you will have the opportunity to take in stunning views of Mount Taranaki before you head south toward Wellington.
Hitamangi is a decent place to spend the night as it's only a couple of hours from here to Wellington.
Day 5 – Wellington
From Hitamangi head down to Wellington to make the most of the Te Papa museum and then eat and drink yourself silly on Cuba street!
Day 6 – Crossing the Cook Strait to Picton and driving to Kaikoura
After the gorgeous crossing from Wellington to Picton (weather dependent of course) head over to the gorgeous seaside town of Kaikoura.
Enjoy a well-earned pint in one of Kaikoura's pubs
Day 7 – Whale watching and dolphin swimming in Kaikoura
Kaikoura's greatest attraction is its stunning array of New Zealand wildlife. The seas around Kaikoura are home to sperm whales, dusky dolphins, New Zealand fur seals and albatross amongst many others.
There are plenty of opportunities to get up close and personal with these stunning creatures through the amazing wildlife activities on offer.
If you don't fancy getting wet then book one of the city's whale-watching tours.
The ocean waters around Kaikoura are home to the world's largest predator, the sperm whale, with both humpback whales and orcas passing through on their New Zealand coastal migration routes during the year.
You can also check out kayaking trips to watch areas seals and dolphins as well as bird-watching trips to observe the albatross that live in the area.
If you fancy staying on dry land then head to Point Kean to observe the seal colony. Do not get too close and do not get between them and the water.
Day 8 and 9 – Akaroa, the Banks Peninsula and driving to Mount Cook.
This gorgeous part of New Zealand keeps you close to the coast, but Kaikoura's mountainous backdrop is replaced by the green rolling hills of the Banks Peninsula.
Spend your first day soaking up the sun in Akaroa, maybe head out dolphin watching or head out on one of the many hikes in the area.
On your second day head over to the gorgeous and often deserted Okains beach before heading south towards Mount Cook.
Stop in at Fairlie bakehouse for an epic pie before powering on past Lake Tekapo and Lake Pukaki before arriving at Mount Cook.
Day 10 – Hiking around Mount Cook
You know the deal here! Hiking in some of the most spectacular scenery in New Zealand.
Day 11 and 12 – Wanaka
For so many years Wanaka was very much in Queenstown's shadow.
However there are many that would say it's little old Wanaka that is the leading light in this region of New Zealand.
Spend your two days here hiking and giving your heart something to worry about with the various adrenaline activities on offer.
Day 13 and 14 – Queenstown
A short, very pretty drive away from Wanaka is the adrenaline capital of the world – Queenstown.
Set on the edge of Lake Wakatipu with the Remarkables across the way this is certainly one of the most picturesque places in New Zealand.
However be warned, this is also one of the most expensive areas in New Zealand, so expect that to be reflected in the prices of accommodation and food.
Spend at least one day doing some crazy adrenaline activities. This was the place where AJ Hackett created the bungy from the Kawarau Bridge.
If you fancy something altogether more terrifying then head for the Nevis or the Canyon Swing. I have done the latter and can confirm that it is absolutely amazing.
On your second take a more sedate pace around Queenstown itself or take a day trip to either Arrowtown or Glenorchy.
Day 15 and 16 – Doubtful Sound
If you have the time and the money then Doubtful Sound is a must. It isn't as famous as Milford Sound in New Zealand, but it should be!
Words and photos cannot describe the sheer size and beauty of this stunning expanse of wilderness.
The drive from Queenstown to Manapouri is a long one, so if you're planning an overnight trip you will probably need to drive down the night before.
However, if you're doing a day trip then you can take day 15 to drive down, and day 16 to visit Doubtful Sound.
We have an article on kayaking in Doubtful Sound which is well worth checking out.
Day trips are certainly doable, but it is a long day.
To get to Doubtful Sound you will need to take a boat across Lake Manapouri, before and then a coach along the most expensive road in New Zealand before reaching the shores of Doubtful Sound.
Whether it's raining or shining Doubtful Sound is absolutely stunning.
Day 17 and 18 – Catlins National Park
From Manapouri head down to Curio Bay in the heart of the Catlins National Park.
This rarely visited New Zealand national park is nestled in the southeastern corner of the South Island. Its rugged coastline, gorgeous beaches, and hiking trails provide plenty of things to do.
From Curio Bay, it's possible to spot dolphins from the beach.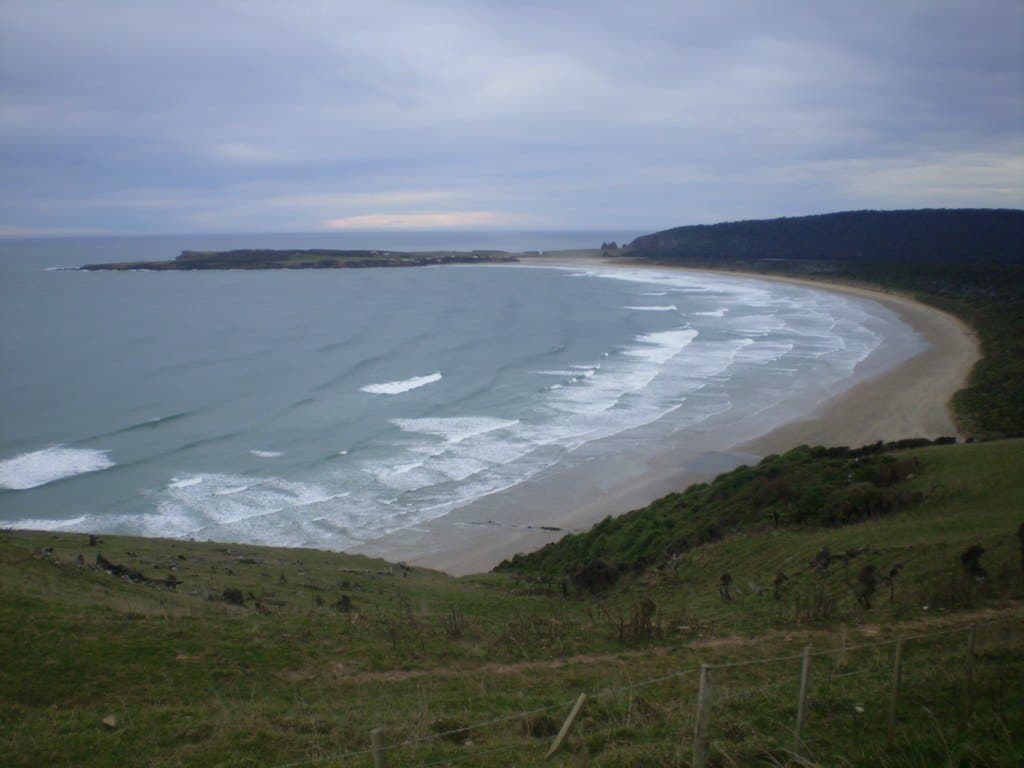 Day 19 and 20 – Dunedin and the Otago Peninsula
A short drive from Dunedin is the gorgeous Otago peninsula. Like the Kaikoura peninsula, wildlife is what draws people here.
The Royal Albatross Centre on the edge of the peninsula offers the opportunity to see these beautiful birds close up.
Come by in the evenings to see the adorably cute little blue penguins returning to their nests after a day of feeding.
Additionally, take the opportunity to kayak with the area's local seal population which is a truly fantastic experience.
The peninsula is also home to numerous excellent hikes and trails.
READ MORE: Adventure activities in Otago for you to check out.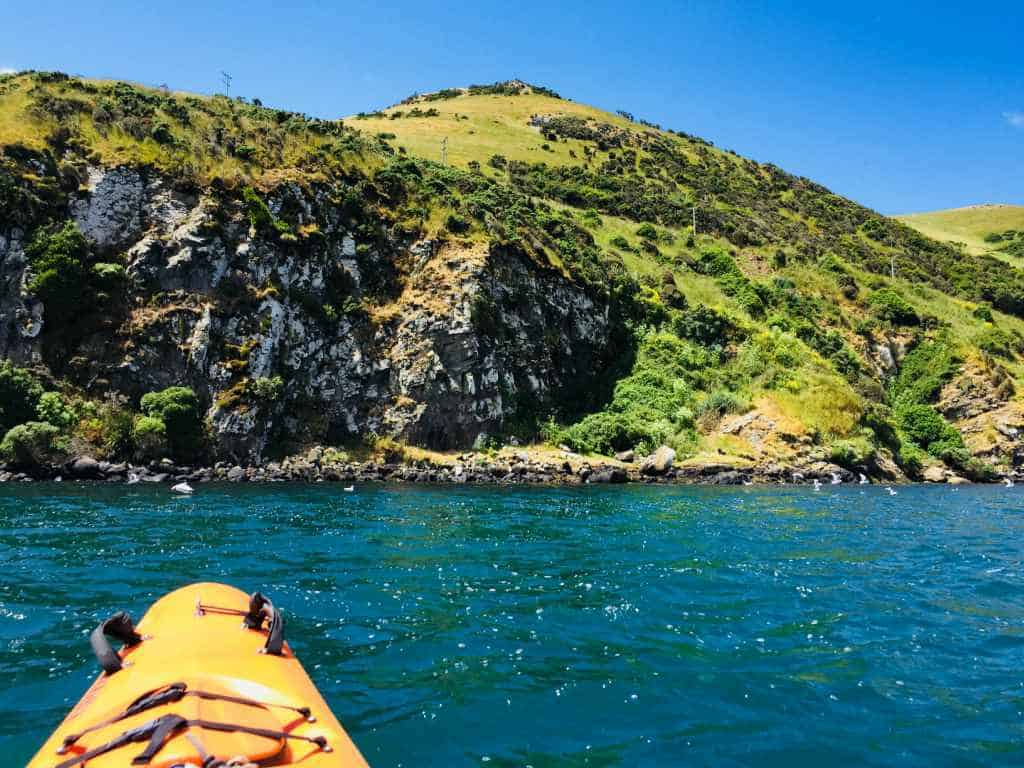 Day 21 – Christchurch
Spend your final day driving back up to Christchurch and exploring the cit's botanical gardens and visiting some of its museums and art galleries before you return your wheels.
Alternative Spots
Even 3 weeks in New Zealand is still a squeeze, so there are certainly a few places we've missed.
Sadly there are some difficult decisions to be made.
In general, there is probably more to do on South Island than on the North Island. However, this will naturally change from person to person.
Here are a few areas that are also well worth visiting that we haven't mentioned here:
North Island
Cape Reinga and the Northland
Napier and Hastings
Coromandel
South Island
Nelson Lakes National Park
Marlborough Wine Region
Mount Aspiring National Park
Any of New Zealand's great walks
Arthurs Pass National Park
Hammer Springs
The best way to get around is to rent a car and explore on your own! We recommend Rental Cars, which has the largest range of vehicles for the best value on the market.
DISCLAIMER: Some of the links in this article are affiliate links, which means if you book accommodation, tours or buy a product, we will receive a small commission at no extra cost to you. These commissions help us keep creating more free travel content to help people plan their holidays and adventures. We only recommend the best accommodations, tours and products that ourselves or our fantastic editorial team have personally experienced, and regularly review these. Thanks for your support, kind friend!