Whether you're into photography, adventure or drinking wine, you're sure to find something perfect in our guide to the best things to do in Wanaka, New Zealand.
Wanaka is one of the most visited and favoured towns in New Zealand for some good reasons.
Every winter, ski lovers and tourist flock into this small lovely town to enjoy the nearby ski fields along with the amazing winter vibe going on throughout the town.
However, there are more things to do in Wanaka than just having fun in the snow.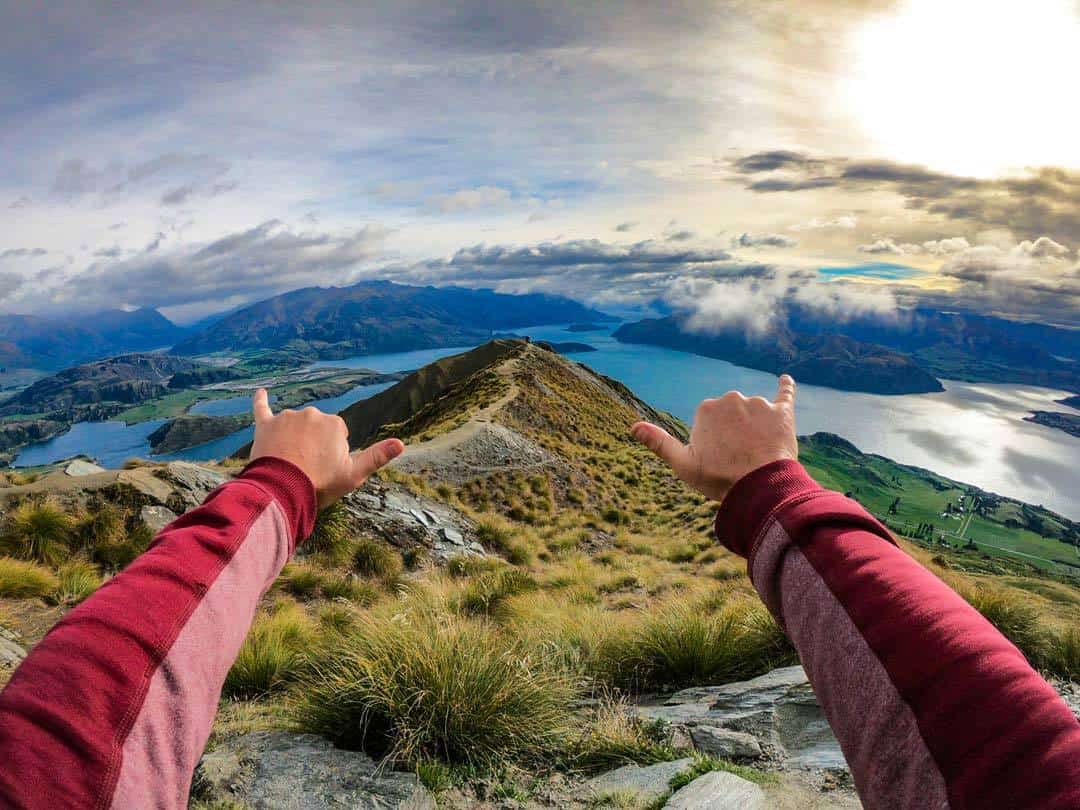 Our List of the Best Things to Do in Wanaka, New Zealand
Wanaka is located around an hour drive from Queenstown. It's located right by Lake Wanaka and the gorgeous peaks of Mt Aspiring National Park, with some spectacular hikes right by its doorstep.
Planning a trip to Wanaka? Here are the best things to do in Wanaka for an unforgettable trip!
READ MORE – Here's our complete guide on the best things to do in Queenstown!
Enjoy Panoramic Views on Roys Peak
Roys Peak is one of the best hikes I've ever taken in my life, seriously, and no list of Wanaka activities would be complete without mentioning it.
This is also arguably the most famous 'Instagram' spot in all of New Zealand, and images of people standing on a hill with the lakes and peaks of Wanaka surrounding them are pretty iconic.
Located just 10 minutes from Wanaka town, it's easily accessible for all kind of travellers, even if you don't have a car.
It's a very simple track, where you can literally see the peak from the carpark, which is also where you'll find the entrance of the trail.
At the entrance, you'll see an unsupervised donation box collecting the $2 entrance fee.
At the early part of the track, you'll be passing by some private land properties, with plenty of sheep roaming around. And guess what, their poo is everywhere too. Watch where you're stepping to avoid the 'fresh treats'.
There are basically three stages during the hike – green, yellow and white. If you're not visiting during the winter, then forget about the last one.
In the first part, you'll find yourself hiking at a warmer temperature, I wouldn't recommend putting on your jacket just yet. Green grasses are covering the ground, brown poo is everywhere.
For the second part, you'll stop seeing green plants, instead, you'll find plenty of yellowish shrubs surrounding you. In winter, you might find a layer of ice coating them.
Approaching the peak, you'll start your battle against the snow. It could get more than 1 feet tall of snow during winter on the peak!
And once you reach the peak, you'll get one of the best panoramic views in the world, surrounded by snow-capped mountains, overlooking Lake Wanaka. It's definitely one of the top things to see in Wanaka.
It'll take around 2 hours to reach the peak through the zig-zag track. It's steep all the way up, and a great day to challenge your fitness!
If you're aiming to get your Instagram photo, this spot isn't actually at the summit! You'll know you're there though because you'll probably find a huge line up of people waiting for their chance to get the shot.
Once you've grabbed it, make sure you keep walking the 30 minutes or so to the summit, which is something most people don't bother to do.
READ MORE – Love being outdoors? Don't miss our ultimate guide to the best hiking in New Zealand!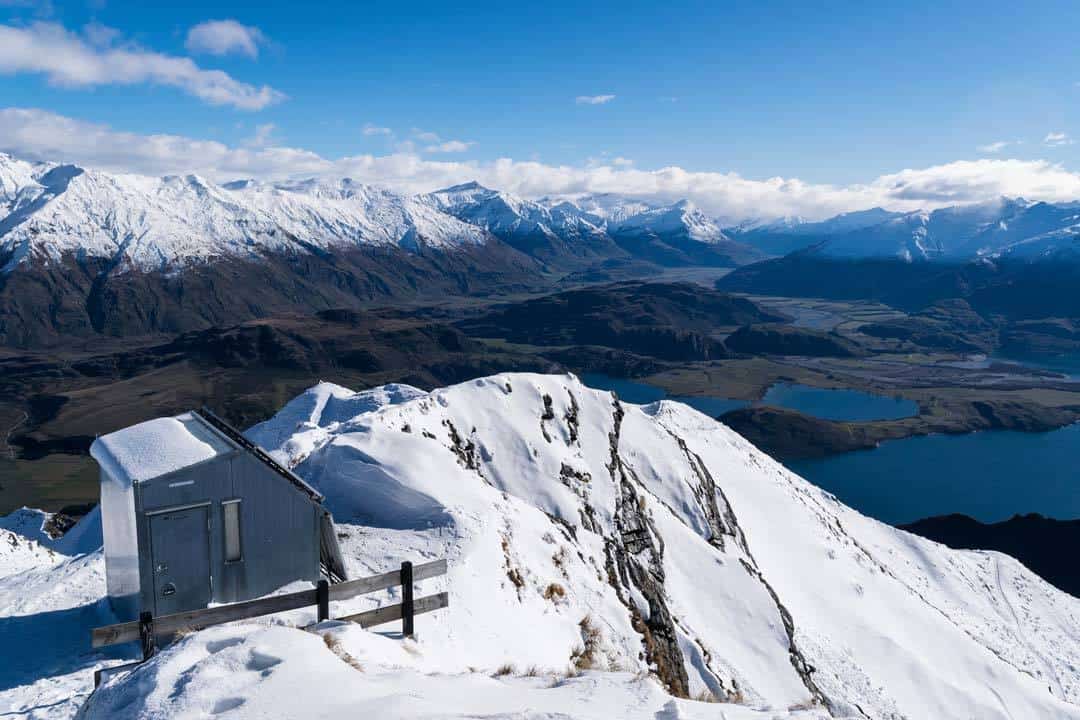 Enjoy the Wanaka City View From Mount Iron
Lots of articles call Mount Iron Track a walk instead of a hike, but I would call it a hike because it's just like the Roys Peak Track, but much shorter.
While the altitude of 250m doesn't sound so impressive, the view it offers definitely is.
On the peak, you'll get an unobstructed view over the snowy mountains of the Southern Alps, Lake Wanaka, and the picturesque Wanaka town.
The loop track goes 4.5km, and it'll take you around an hour to get to the peak.
However, it's a little tricky to find the parking lot to start your hike. It's located 2km outside of town, and the carpark is so small that sometimes you wouldn't even notice it. So pay extra attention when you're driving there.
At the peak, you'll also find a board showcasing all the names of the peaks you see at the Southern Alps. It's something you should include on your list of what to see in Wanaka.
The entrance to Mount Iron Track is free of charge.
Check out this post if you're planning a 10 Days Road Trip Itinerary in New Zealand South Island
Go Jetboating
While Queenstown is most famous for its awesome jetboating experiences, if you want to break away from the crowds and do it somewhere equally stunning, definitely try it in Wanaka!
A short drive from town will get you to the Clutha River, where you jump on a jetboat and start zooming around at breakneck speeds.
It's a great thrill, and you'll be blown away at just how skilled the drivers are.
Other jetboat tours in Wanaka may take you to Matukituki River, another beautiful river near town.
All transfers from Wanaka and safety gear provided when you book your tour.
---
Admire the Southern Alps on the Rob Roy Glacier Track
Located in Mount Aspiring National Park, Rob Roy Glacier Track is yet another one of the top places to visit in Wanaka.
I'd recommend this only for those who have a car, as the track starts in the parking lot, slightly more than an hour drive from Wanaka town through Matukituki Valley Road.
It's a perfect track for you who loves adventure, especially if you haven't seen a glacier before.
The hike is relatively simple, and you won't get lost because of the well-marked path. What's challenging is the non-stop gradual steep grade.
At the summit, you'll enjoy the view of waterfalls plunging from the hills, and active glaciers with avalanche sounds from time to time. The views in Mount Aspiring National Park are stunning!
Here's a safety tip for you: If you're planning to have a picnic or lunch at the viewpoint, be very aware of the Kea birds.
They're not afraid of humans, and they'll keep asking for food persistently. But it's illegal to feed them. And you can't scare them away. Pretty frustrating, huh?
For jaw-dropping views in Mount Aspiring National Park while visiting Wanaka, book a helicopter tour with Get Your Guide!
READ MORE – Don't miss out on exploring all the top things to do in Christchurch, another gem of New Zealand!
Go Heli-Skiing in the Alps
If you're looking for the best things to do in Wanaka in winter, and are a lover of skiing or snowboarding, then this is the best activity you could possibly try.
New Zealand gets some great snow during wintertime, but if you are aiming to get fresh turns on the ski fields, you need to be up there super early, as they get tracked out very quickly.
Alternatively, you need to have backcountry touring experience to find the best snow close to town.
Luckily there's a way to get the absolute best powder without the stress or physical exertion of skinning up a mountain.
Heli-skiing!
For all skiers and snowboarders, heli-accessed powder is a dream. Being lifted up to the top of a peak, dropping into untouched, bottomless snow, then being picked up at the bottom to do it all over again.
Doesn't get much better than that.
On our last visit to Wanaka we headed into the skies with Southern Lakes Heli, the best heli-skiing company in Wanaka and Queenstown, and had the most perfect conditions ever.
Flying from town for 15 minutes we were dropped into a huge bowl in the Southern Alps, and for the next few hours managed to get 8 insanely epic runs in.
The terrain was wonderful without being overly difficult (think blue/red runs in New Zealand), but the snow was amazing and the views were mind-blowing.
A delicious lunch was also provided right there in the snow.
Heli-skiing or heli-boarding with Southern Lakes Heli isn't a cheap activity, but seriously is hard to beat when trying to think of the best adventure activity in Wanaka.
Read all about our heli-skiing in Wanaka experience here.
Enjoy a Lake Wanaka Sunset Cruise
Lake Wanaka is seriously one of the most beautiful lakes in all of New Zealand's South Island, which is why Wanaka has become such a popular place for locals and visitors.
There are a number of ways you can enjoy your time on Lake Wanaka (read more below), but the most relaxing way is definitely by taking a sunset cruise.
The sunset at the lake is a Wanaka must see!
This one-hour cruise leaves from the jetty downtown and includes one beverage of your choice for the price.
Early bookings are necessary during the peak season in New Zealand.
---
Take to the Air With Skydive Wanaka
I had my first-ever skydive in Wanaka, and it was the best decision I've ever made in New Zealand, even though I was very tight on budget.
For an acrophobic like me, skydiving is something I'd never imagine myself doing.
Skydive Wanaka office is located right beside Wanaka Airport. And there are a variety of ways you could book your slot with them, but I found out there's no need to.
All you had to do is register yourself in the office, and you'll be arranged for the flight in a very short time. When it's not that busy, of course.
I took the package of 15,000 ft skydive with 60 seconds free fall, pictures and videos included. And I was extremely satisfied with the quality of the photos and videos, so worth it.
Their orange old-school plane could carry around 8 pairs of guests and instructors, with some seats reserved for the videographer, who will freefall along with you.
If you're planning to do a skydive in New Zealand, I recommend Skydive Wanaka because the view is simply amazing.
You'll get to see the Southern Alps (Mt Cook & Mt Aspiring National Park included), Lake Wanaka, Lake Hawea, Wanaka town and all the green farms down there during a clear day.
If you need to book your skydive adventure ahead of time, you can do so here.
Skiing in Treble Cone
Did you know Treble Cone is the largest ski field in New Zealand? Hosting over 550 hectares of the hill, Treble Cone also has numerous trails for skiers of all levels.
Every winter, Wanaka becomes so crowded because everyone's flying here just to enjoy the white powders. In fact, you'll find ski equipment rental stores literally everywhere across the town, much like a convenience store.
Treble Cone is located 40 minutes drive from Wanaka town near the peaks of Mt Aspiring National Park. They also have shuttle buses to carry you to and from if you don't have a car. You'll have to pay for it of course.
Check out the price for the season pass, lift passes, and day passes here at the Treble Cone website.
Go Kayaking on Lake Wanaka
With Wanaka being right on the lake, there's little wonder so many people are immediately drawn to the huge body of water, surrounded by stunning peaks.
Locals and tourists are often found down by the shore, soaking up the views, and sometimes even swimming in the summer months.
For a really fun adventure though, book yourself into a half-day kayaking trip with Paddle Wanaka.
The 'Tiki Tour' is a 4-hour kayaking tour that takes you to some of the most scenic parts of Lake Wanaka.
Refreshments are included, and of course, the entire excursion is made with a local expert guide, so even if you're a beginner kayaker you'll be in safe hands.
---
Have Fun in Puzzling World
Puzzling World has been one of the best family-friendly Wanaka attractions for more than 45 years now!
With an award-winning complex of optical illusions, 3D maze, and puzzling rooms, Puzzling World receives more than a quarter-million visitors per year now.
However, Puzzling World is famous for its Leaning Tower of Wanaka, leaning on an angle of a whopping 53 degree! Often the first thing to be photographed by visitors to the attraction.
Definitely pay a visit to The Sculptillusion Gallery to have a look at the mysterious objects, paintings, and reversible figures.
Check out their website for the pricing here!
Did I mention that they actually have Psychic Challenge? A challenge where you can win a crazy $100,000 New Zealand Dollars. Sounds pretty absurd, right? But they actually have it there, even though nobody has yet to claim it.
If you're wondering what to do in Wanaka, New Zealand, then winning a cheeky $100k sounds pretty good to me!
I've heard of it but of course, I didn't go for it so I don't know much of the details. Who knows, you might be the lucky one?
Go Riding at Cardrona Alpine Resort
If Treble Cone is a bit too advanced for you, you're in luck, because the nearby Cardrona Alpine Resort is one of the best ski resorts in New Zealand for beginners, families and intermediates!
Just a short drive from downtown Wanaka on the way to Queenstown, Cardrona (known as Cardies to locals) is one of the best set-up ski fields in the South Island.
With 4 chair lifts servicing a large amount of fun terrain, there are plenty of runs for people of every ability.
The ski school here is fantastic if you want to get some lessons, and freestylers will be stoked with the quality of work Cardrona's park team crushes out.
There's also a number of delicious food options scattered around the hill, and a spot to grab a hot drink at the top of the Chondola.
Cardies was Alesha's favourite resort on our recent 7-hill snowboard trip we did around the South Island.
Highly recommended when looking for what to do in Wanaka, New Zealand in winter.
Hiking in Diamond Lake & Rocky Mountains Track
Weird name, huh? The track is actually a combination of two tracks, which are the Diamond Lake Circuit Track and Rocky Mountain Summit Track.
Like other tracks in New Zealand, the track starts at the parking lot, located around 20-30 minutes' drive from the town.
There are a few tracks for you to choose from, a shorter Diamond Lake Circuit Track (45 minutes return) or Rocky Mountain Summit Track (3 hours return).
During the winter, you'll find Diamond Lake frozen. It was once an ice skating field, but I'm not sure whether they still do it now. But other than that, you'll find pieces of frozen ground in the shady parts of the track, so pay extra attention to where you step!
The Rocky Mountain Summit Track will bring you to the 775m peak of Rocky Mountain. And since the peak is quite 'rounded', there are quite a lot of spaces for you to sit back and relax.
Mountain biking is only allowed until Diamond Lake only, and not Rocky Mountain.
You'll have a great view of Lake Wanaka and the nearby snowy mountains of Mt Aspiring National Park. And by nearby, I mean they're literally just across the short valley. Seems so close yet so far.
Visit the Lake on an Island on a Lake on an Island
Yes, you read that right. In Wanaka, there's a beautiful spot that few tourists really hear about but is actually quite accessible if you know where to book.
Mou Waho Island is a protected place on Lake Wanaka, under the control of the Department of Conservation.
It's a bird sanctuary, with the rare flightless Buff Weka living there, so the DoC have done everything they can to ensure it remains predator-free.
Only a select number of tour operators have permission to take visitors there, so if you want to try and see them you need to book a trip ahead of time.
The highlight of a visit to Mou Waho Island is of course the gorgeous lake found at the top of the island. Guaranteed to be a photographer's and nature lover's dream.
---
Relax in the Wanaka Lavender Farm
Located just a few minutes walk from Wanaka town lies Wanaka Lavender Farm. It's easily accessible for those who're spending a day or two in Wanaka, and don't have a car to get around.
With 10 acres of lavender fields and gardens, along with several farm animals (including alpacas and highland cows!), Wanaka Lavender Farm is a wonderful place to get a taste of the country feel.
The cheap entrance fee is also one of the reasons I'm including this farm in this article, at only $5-10 depending on which season you visit.
After the walk around the farm, you can head over to the café and enjoy their tea and ice cream, made from their own local ingredients. There are a bunch of souvenirs and gifts available in the store as well, along with essential oils, soaps, perfumes, balms, and more!
You'll love Wanaka Lavender Farm even if you don't fancy flowers and farms. The soothing atmosphere is also a great way to relax after a good few days of skiing.
Not the most adventurous of all the Wanaka activities, but a lovely one nonetheless.
Photographing That Wanaka Tree
That Wanaka Tree is definitely one of the most photographed objects in New Zealand's South Island. Looking at it, you'll question yourself how the heck is it living in the middle of the lake, and still blooming every spring season?
Other than being in the waters of Lake Wanaka, one more thing that makes That Wanaka Tree special is that it portrays different views in every season.
In Spring, you'll find green leaves on the branches. In winter, you'll find it bald, with white snow mountains at the background.
But one thing's guaranteed, you'll enjoy your time taking photos of the tree! And there are not as many tourists as you think. I visited during the winter when Wanaka was most crowded, and I shared the beach with only a few other travellers and photographers.
For the best time to visit That Wanaka Tree, I recommend visiting in the early morning during sunrise or late evening when the sun's scratching the horizon. That's the golden hours for photographing lakes.
Click here to read our best travel photography tips.
This is absolutely one of the best free things to do in Wanaka, New Zealand.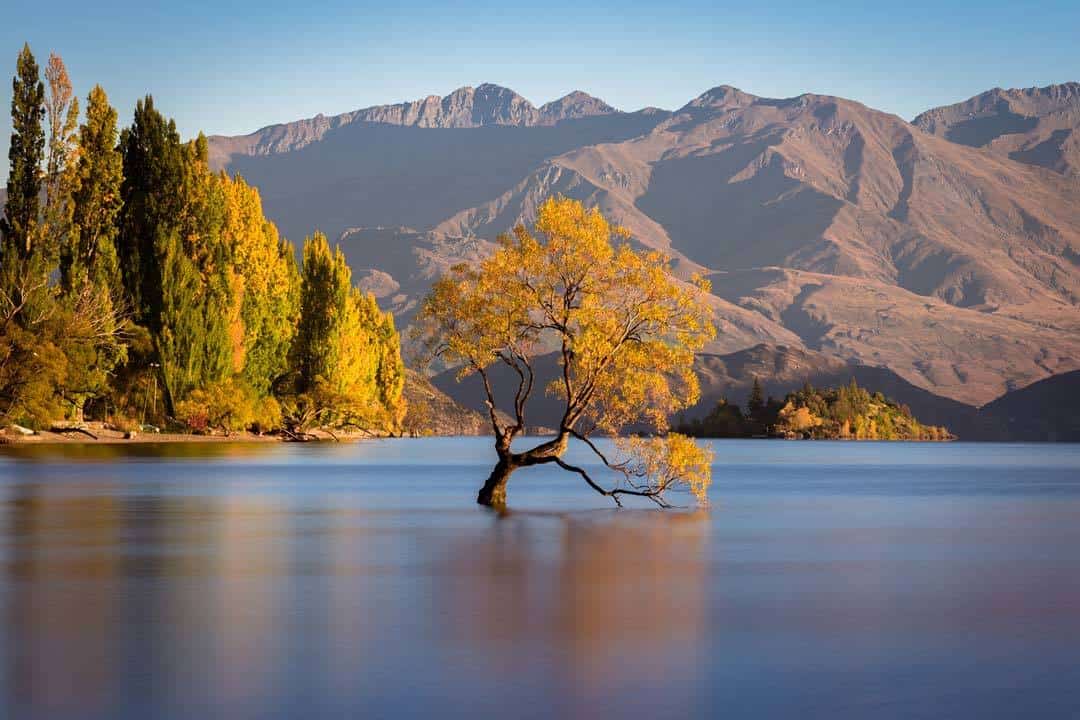 Dogsledding and Cross Country Skiing at Snow Farm
Opposite Cardrona Alpine Resort is the road to Snow Farm, another one of the best Wanaka tourist attractions during wintertime.
Up here you can take part in a number of awesome activities, such as cross country skiing, snowshoeing, staying in a backcountry hut, and even dog sledding.
(Note – read more about if dog sledding is cruel or not here)
If you're looking for a unique thing to do while in New Zealand, don't miss a visit to Snow Farm.
Go Wine Tasting in Rippon
Being the oldest vineyard in Wanaka, Rippon is famous for its unique wine production and picturesque views of Lake Wanaka and the Southern Alps from the vineyard.
It's been around for 5 generations in the same family, establishing itself some good authority when it comes to the best wine in town.
Rippon is open for wine tasting on a daily basis, from 11 am to 5 pm every day. The wine tasting is quite informal, with 5 to 7 types of wines for tasting.
Like other vineyards in Central Otago region, Pinot Noir is the signature.
Wanaka Travel Guide
Now that you know all the top Wanaka points of interest, let us help you plan the rest of your trip by sharing the best accommodation and restaurants in this corner of New Zealand.
Where to Stay in Wanaka, New Zealand
Wanaka is a small New Zealand town, but there are plenty of awesome accommodation options, depending on your style and budget.
Our Top Pick for Accommodation in Wanaka – Wanaka Homestead
Every now and then we come across a style of accommodation that makes us want to open up our own guesthouse, welcoming friends from around the world.
Wanaka Homestead was pretty much exactly what our design would be. (Check out our Wanaka homestead review)
This absolutely spectacular place is located right near That Wanaka Tree, in a leafy and quiet end of town heading out towards Roy's Peak and Treble Cone.
From the moment you arrive, you feel like you're at home. The property is large with a huge lawn out the front, surrounded by gardens and a lofty tree.
The main lodge is where the majority of people stay, and with 5 ensuite bedrooms and the most gorgeous sitting area with a fireplace imaginable, it's a great spot to rest up for couples on a fun-filled trip around Wanaka.
There are also two smaller self-contained lodges on the property, a 2-bedroom and a 3-bedroom with their own dedicated kitchen and living space, so if you're travelling as a group these are great to book.
Every morning a home-cooked breakfast is served up in the main lodge, and there's coffee, tea and biscuits available 24/7.
Wanaka Homestead has an outdoor hot tub available for guests, and an outdoor fireplace that people are welcome to sit around in the evenings.
The manager Karen is truly lovely. She radiates positivity and genuinely cares about the guests' experience and stay.
The owners are Alan and Kaaleen, from Scotland and New Zealand, and having lived overseas for many years, they've now returned to Wanaka to help run the guesthouse.
They are equally friendly and caring, and we spent many hours simply sitting around the dining table, drinking coffee and sharing stories.
There's plenty of parking for guests, and even though it's only a 15-minute walk to downtown, they also have bikes available.
We spent 4 nights at the Wanaka Homestead on our last visit to New Zealand, and this will now be our go-to accommodation every time we return.
We cannot recommend this place highly enough. If you book, and you should, make sure you say hi to Karen, Alan and Kaaleen for us!
Best Backpacker Hostel – Wanaka Bakpaka
New Zealand has some incredible, high-quality and well-rated hostels, and in Wanaka, it's not any different. All the hostels here rate at least an 8 out of 10, with Wanaka Bakpaka getting a 9.5 out of 10 rating on Hostelworld.
It's a social place, with an epic communal area for backpackers to hang out. There's also a nice mix of dorm rooms as well as private rooms.
The hostel has a nice view of Lake Wanaka, and is a favorite among budget travelers in the area.
---
Best Midrange Hotel – Lakeview Motel
Don't let the fancy name fool you – Lakeview Motel is actually very affordable considering the quality and views you get while staying in New Zealand.
The rooms are cozy, and the location is awesome, being very close to downtown. Well worth the price tag if you're looking for a mid-range hotel in Wanaka.
---
Best Luxury Hotel – Lakeside Apartments
If money isn't an issue, then you should splurge out and stay in the most beautiful accommodation in Wanaka – the Lakeside Apartments.
As the name suggests, this place has self-contained apartments a stones-throw from Lake Wanaka, so you can really spread out and be in absolute comfort in town.
---
Best Alternative Accommodation – Oasis Yurt Lodge
Sometimes you just want to book into something that is a little bit different from the rest, without having to compromise quality.
That's where Oasis Yurts Wanaka fills the void for best alternative and eco-friendly accommodation options in Wanaka!
As the name suggests, here you can stay in an actual yurt set on a stunning property just outside of town.
These aren't the rough and basic yurts you might find in Central Asia though – these are luxurious, warm, extremely comfortable and stylish.
The owners Jo and Rusty have spent years building this world-class yurt camp, using eco-friendly products and responsible suppliers.
There's a huge communal kitchen you can use as well as lots of green space to enjoy.
We first met Jo and Rusty in Canada 8 years ago, and it's amazing to see how they've followed their dreams in building such a beautiful accommodation in a stunning part of the planet.
Where to Eat and Drink in Wanaka, New Zealand
For such a small town, there's no shortage of awesome places to eat and drink in Wanaka, New Zealand.
Here are some of our favourites:
Big Fig serves up huge plates of Mediterranean-inspired dishes every day for lunch and dinner. Just choose your plate size, your meat, vegetables and salad, and the staff will hand over the best-tasting food in town.
Address: 105 Ardmore Street
Opening hours: every day from 8 AM – 8:30 PM
Bombay Palace is the place to go if you want great Indian food. Not cheap, but fantastic with great service.
Address: level-1/145 Ardmore Street
Opening hours: every day from 12:30 PM 2:30 PM for lunch and 5 PM – 9:30 PM for dinner
Amigos has amazing Mexican food and a lively atmosphere. You can even wear a sombrero while you down cheap bottles of Mexican beer!
Address: 71 Ardmore Street
Opening hours: Tuesday – Saturday from 12 PM – 9 PM
Lake Bar does great pub-style meals at affordable prices.
Address: 155 Ardmore Street
Opening hours: every day from 7 AM – 1 AM
Rhyme and Reason is the best microbrewery in town. Every Saturday they also have live music. It's a bit out of town though, so rent a bicycle or take a taxi.
Address: 17 Gordon Road
Opening hours: Monday – Friday from 1 PM – 8:30 PM, Saturdays and Sundays 12 PM – 8:30 PM
Cork Bar is our favourite place for cocktails and to kick off an awesome night of partying in Wanaka.
Address: 14 Helwick Street
Opening hours: Tuesday – Saturday from 4 PM – 11 PM
Woody's is a fun little sports bar, with pool tables and a great vibe.
Address: 33 Ardmore Street
Opening hours: every day from 4 PM – 2:30 AM (Closed Mondays)
How Was Our List of What to Do in Wanaka?
So here are the top things to do in Wanaka, New Zealand. What do you think about them? Let me know in the comment section below.
Nevertheless, I hope you enjoy New Zealand as much as I did. Be safe, and happy travelling.
AUTHOR'S NOTE – This post is a joint-collaboration between Yen from Wandering Journal, and Alesha and Jarryd from NOMADasaurus. We have both visited Wanaka numerous times to bring you this ultimate travel guide.
DISCLAIMER: Some of the links in this article are affiliate links, which means if you book accommodation, tours or buy a product, we will receive a small commission at no extra cost to you. These commissions help us keep creating more free travel content to help people plan their holidays and adventures. We only recommend the best accommodations, tours and products that ourselves or our fantastic editorial team have personally experienced, and regularly review these. Thanks for your support, kind friend!