There are definitely a lot of great things to do in Wellington, New Zealand!
So adding Wellington to your itinerary of New Zealand is your chance to visit the "coolest little capital in the world."
With one day in Wellington, you will have plenty of time to visit the world-famous National Museum Te Papa.
Staying three days in Wellington will open your eyes to a vibrant waterfront, a rugged coastline, and ideas for day trips, making your stay memorable.
And if you are travelling with children, there are lots of free and cheap things to do in Wellington.
Besides these things to do in Wellington, the city is also the hub of great coffee, craft beers, and fabulous menus.
You can stay in high-end hotels, boutique hotels, or go quirky staying in a lighthouse or an old keep.
So let's get started on what to do in Wellington city!
READ MORE: Make the most of your time in New Zealand with our comprehensive travel guide.
The Best Things to Do in Wellington
Once you start exploring Wellington's attractions, you'll find it's easy to walk to most of the Wellington landmarks.
1) Go Underground in Parliament
When you book the FREE 60-minute tour of Parliament, you'll see more than the interior of the building, debating chambers and lovely wood panels.
This tour takes you underground to view the base isolators, designed to stabilize the main building during an earthquake.
It may sound nerdy, but it is quite remarkable.
The tour also includes the beautifully designed gothic Parliamentary Library.
And nearby Old St Paul's is another stunning gothic building to visit.
2) Visit Old St. Paul's Church
Old St. Paul's Church is an iconic landmark of Wellington built between 1865-1866.
This tiny church is a heritage building in New Zealand.
When you enter, you will be captivated by the gothic interior of the native woods.
It's simply breathtaking.
The church is FREE to enter and is open from 10am – 4pm every day.
READ MORE: Check out our popular guide to the best things to do in Queenstown!
3) Ride the Cable Car to Wellington Botanic Gardens
One of the most unique things to do in Wellington is to ride the cable car.
The cable car has been in the city since 1902.
It is one of the most iconic images representing Wellington as it takes students up to Victoria University, or workers down to the city.
Look for the cable car sign on the busy shopping street in the city centre known as Lambton Quay.
At the top, you have a stunning vista of the harbour.
You can also visit the small cable car museum, enjoy a drink or take a hilly walk around the beautiful Wellington Botanical Gardens.
4) Hunt for Wildlife at Zealandia
A great way to enjoy Wellington is to spend time amongst the natural wildlife and fauna of the region.
Zealandia is an enclosed area of 225 hectares full of wildlife. There are day, twilight, or night tours available where you can see New Zealand native bush and native species of birds and reptiles.
The night tour is especially popular because you can hear the Kiwi. And during the day, try to find the ancient Tuatara or the scary-looking giant Weta.
Afterwards, take the free shuttle bus back to Wellington I-Site at Civic Square.
For a really unique experience though, it's worth booking a tour to visit the sanctuary at night. You can organise this awesome activity right here.
The best way to get around is to rent a car and explore on your own! We recommend Rental Cars, which has the largest range of vehicles for the best value on the market.
5) Chill Out in Te Ngakau Civic Square
Wellington's Civic Square Te Ngakau (the heart) is the place to find:
Wellington I-Site visitor information (for any questions about Wellington)
Wellington Public Library
Wellington City Gallery
The Wellington City Gallery is where you'll find an exhibition of Maori and Pacific art.
You will also find Wellington-based artists in The Michael Hirschfeld Gallery.
Currently, the Wellington Public Library is closed for renovations.
So for great coffee and a bite to eat, you'll need to cross over the quirkily designed City to Sea Bridge.
Pull up a bean bag at Karaka Cafe end enjoy Whairepo Lagoon.
Then you can contemplate which Wellington waterfront activities you plan to do next.
6) Learn More at Wellington Museum
Wellington Museum is one of many activities to enjoy along the waterfront.
On each floor of the old Bond Store, you'll learn about New Zealand's maritime history, the tragic 1968 Wahine disaster, and New Zealand becoming a nuclear-free port.
The kids will love the displays, films, and especially the attic for its captivating time travel machine.
READ MORE: Don't miss out on what to do in Christchurch when visiting New Zealand!
7) Paddle the Wellington Harbour
One of the more adventurous things to do in Wellington is to explore the Wellington Harbour on your own.
Ferg's Kayaks is the place to test your skills on the water with kayaking or paddleboards.
You have the option of hiring kayaks or booking a kayak tour.
But Ferg's also has a rock-climbing wall to test your upper strength and inline skating hire to see more of the waterfront.
But if the harbour is a little windy, spend some time at Te Papa.
8) Get Lost in Te Papa
You may not have planned it, but Te Papa will have your interest for several hours.
You'll become absorbed with New Zealand history displays, Māori culture, and the interactive natural environment displays.
But it's not just a museum.
It also exhibits the national art gallery collection.
Te Papa is rated as one of the top places to visit in Wellington, particularly to:
Admire the Te Hono ki Hawaiki marae with its beautiful carvings
Experience the seismic shift of an earthquake
Visit one of the many permanent and visiting exhibits (charges may apply)
And after you see the story exhibit of New Zealand soldiers in WW1 at Gallipoli, you'll want to visit Weta Cave.
Make sure you organise the express twilight tour to really make the most of your time here. Book it online at Get Your Guide.
9) Visit the Movie World of Weta
If you're a fan of movies like Lord of the Rings, The Hobbit, King Kong and Avatar then you will enjoy a day trip to Weta.
The Weta Cave Wellington and the Weta Workshop is where you'll find the props used in these movies.
You have two options:
Book a Weta Workshop tour to get up close to the movie props
Visit the Weta Cave shop for FREE to see the mini-museum with prop replicas, along with a short documentary
Weta Workshop is an iconic place to visit in Wellington, which has become the 'Wellywood' of the New Zealand film industry.
You can choose from 6 tours, including a hands-on workshop, to understand how these visual effects artists make a movie come to life.
And on your way back to the city centre, consider a stop along Oriental Parade.
10) Relax at Oriental Bay
When it's time to relax, Oriental Parade has plenty of benches on which to sit and people watch.
Enjoy an ice cream or dip your toes into the cold seawater.
With the brick monastery of St. Gerard's looking down on you, you may be tempted to walk the many steps for the view.
Otherwise, you can take a taxi to Mount Victoria.
11) Enjoy a 360-Degree View of Wellington on Mount Victoria Lookout
Visiting Mount Victoria Lookout is another great thing to do in Wellington because of its panoramic view of the city.
At 196 meters high, you can see:
Down the Hutt Valley
Across the inner harbour to Days Bay
Miramar Peninsula
Surfers at Lyall Bay
Wellington business centre
The views are spectacular on a sunny Wellington day. But when the wind is blowing, be prepared for a 'bad hair day.'
Out of interest, the pyramid-shaped monument is a memorial to Richard Byrd, an American polar explorer who used New Zealand as a base for his Antarctic expeditions.
And for the best night view of Wellington, the Mount Victoria Lookout views are spectacular.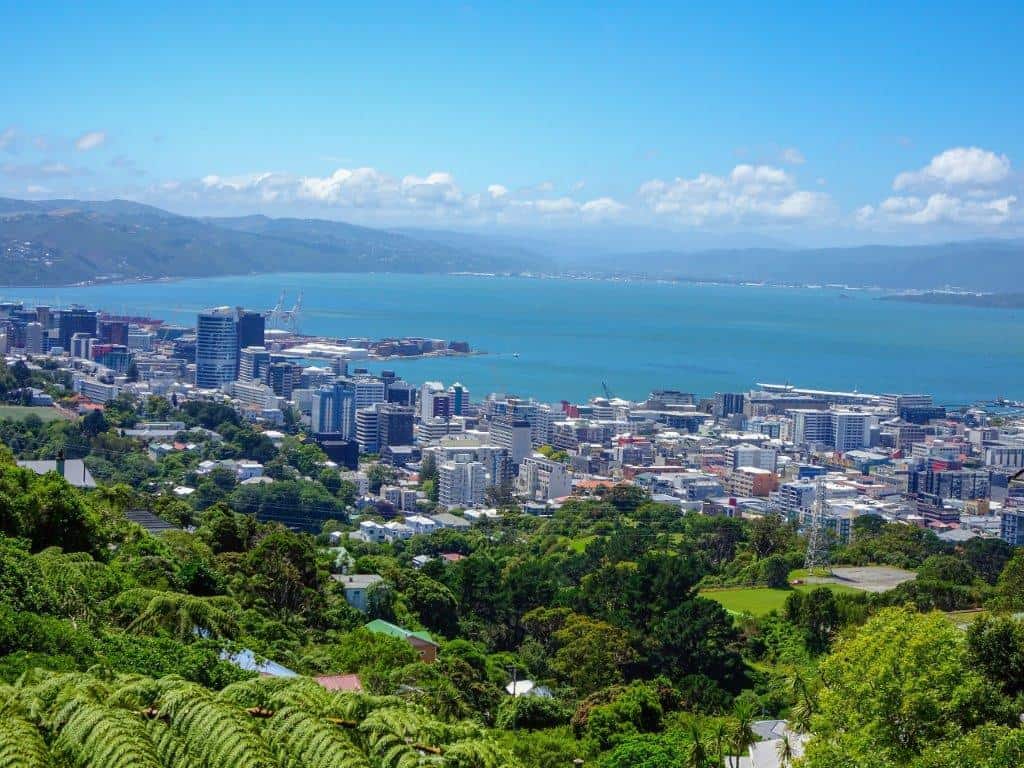 12) Explore Wellington's Boutique Craft Breweries
Yes, you have to visit at least one craft brewery while in Wellington!
And choosing a beer is made easy with a map from Craft Beer Capital.
Mac's Brew Bar on Wellington waterfront is one of the original craft breweries.
Our favourite is Fork and Brewer or the Whistling Sisters who offer a brewery tour every Saturday.
However, if shopping is on the top of your list, you have a few options.
13) Shop for Designer Labels
Lambton Quay is often referred to as the Golden Mile because of its top label brands.
You will find top stores like David Jones in the old classical building of the previous family store, Kirkcaldies.
But there's one thing you won't find in the centre of Wellington – a shopping mall.
You can shop for world-class designer labels like Karen Walker and Kate Sylvester.
But for artisan stores, you'll need to wait until Saturday.
14) Try Sunday Brunch at Harbourside Market
Harbourside Market, held every Sunday from 7:30 AM, is the place to buy your fresh produce, baked bread, fresh fish, artisan goods, and brunch from a wide variety of food stalls.
When you awake late in the morning, this market is perfect for great coffee and food.
Grabbing some fresh food here is one of the best things to do in Wellington!
15) Eat the Best Fish and Chips on Quirky Cuba Street
A visit to Wellington has to include Cuba Street and its famous bucket fountain.
You'll find some of the coolest shops, hip bars, trendy cafes, and stylish restaurants along this quirky street.
The vibe is fantastic, especially from early evening onwards.
And a visit to Wellington has to include a plate of fish and chips.
Wellington Seamarket on Cuba Street has a selection of fresh fish every day.
You get to choose the fish to complement your chips.
Or would you prefer a picnic on a Wellington one day trip?
You can either:
Take the Dominion Ferry from the Wellington waterfront or
Hire a car for the day
16) Explore Matiu-Somes Island and Days Bay
Easy to spot in the middle of the harbour, Matiu-Somes island was once used as a quarantine station. But now it is a scientific reserve.
As the native bush on the island is predator-free, bags will be searched for pests, seed, and soil before you can enjoy hiking on the island.
Bring a picnic lunch and pick a spot with views back to Wellington city.
Or you can continue your ferry ride directly to Days Bay for a restaurant lunch, a swim (weather depending), or a nature walk.
For those keen walkers, you can walk to the next small village of Eastbourne or hike to Butterfly Creek.
17) Book Lunch at the Vineyards of Martinborough
If you would like to explore the nearby countryside, a drive over the Rimutaka Hill is an experience in itself.
Your reward is wine tasting at a selection of vineyards.
Or you can enjoy a lunch platter with a refreshing glass of wine at a vineyard in Martinborough.
We love Palliser Estate for wine purchases and Tirohana Estate for lunch.
And when you need to have a shopping fix, it's only 15 minutes from Martinborough to another small town, Greytown.
Here you can buy locally-produced olive oil, honey, and preserves while you browse the artisan shops for gifts.
But for gifts of Paua, visit the next large town, Carterton.
If you like to enjoy a glass or two of delicious wine, make sure you book a tour so you don't have to worry about driving.
18) Drive the Southern Coast
You don't have to go too far to enjoy the southern coast of Wellington.
Starting at Shelly Bay, you can browse local art in the old defence force buildings.
Dip your toes at Scorching Bay with its white sandy beach and Scorch o Rama for coffee or ice cream.
Drive along Karaka Bay and maybe see the passing interisland ferry near the settlement of Seatoun.
Breaker Bay is also worth a stop for views across to Pencarrow lighthouse before lunch at Lyall Bay Spruce Goose where you can watch the surfers trying to find a wave.
Continue your drive along Houghton Bay and Island Bay for spectacular views of the south island Kaikoura mountain range.
If you're inspired by what you see of the south island, hop a ferry and let your adventure continue in Christchurch!
Maybe even book a quirky stay at The Keep or The Lighthouse.
Or go directly to Red Rocks, Owhiro Bay.
19) Walk the Rugged Red Rocks
Park the car and visit the Te Kopahou Visitor Centre for some history of this rugged area before you set off on your walk to Red Rocks.
The coastal pathway is a mix of sand and stones so you'll need sturdy walking shoes.
This rugged coastline has views of the south island on sunny days.
It also has a captivating marine life ecosystem and a seal colony (you'll smell them before you see them!)
But if you are after more views of Wellington, then take the drive to Brooklyn.
20) Feel the Breeze at Brooklyn Turbine
For one last aerial view of Wellington, take the narrow winding road up to the Brooklyn Wind Turbine.
The panoramic view shows you the hills and green spaces of Wellington, and also the picturesque harbour.
You may even experience 'Windy Wellington' at its worst!
And for a more rugged coastline, take a drive to Kapiti.
21) Car Enthusiasts Flock to Kapiti
Southward Car Museum is an hour's drive from Wellington.
If you are a car enthusiast or love old things, this museum has a collection of over 400 cars in a 6,000sqm exhibition area.
The drive along the rugged coastline with views of Kapiti Island is spectacular.
The alternative route is to drive over the Paekakariki Hill with even more panoramic views.
And to experience more of Wellington's wildlife, you can book a ferry or a tour of Kapiti Island.
22) Plan to Enjoy Seasonal Festivals
Wellington is a city of the arts, film, craft beer and coffee.
So if you plan a trip in:
February, book tickets to the Arts Festival
bgust, book tickets to the best craft beer festival
September, book tickets to WOW (World of Wearable Art)
November for harbourside fireworks
Regardless of when you visit, there is sure to be some festival or event to enjoy in Wellington!
But now it's time to relax for the evening in Wellington.
What to Do in Wellington at Night
There is a wide variety of things to do in Wellington at night, apart from eating and drinking.
Some suggestions:
See the lights of the city from Mount Victoria
Listen to wildlife on a Zealandia night tour
Hunt for glow worms at the Botanical Gardens
See the stars at Space Place at Carter Observatory
Watch a movie at Roxy's (art deco building)
Sip cocktails at The Library on Courtenay Place
Wander the buzzy Wellington waterfront
And there's always a craft beer to be found before you leave this beautiful city.
Where to Dine in Wellington
People often ask: "What is Wellington famous for, besides Te Papa and the Flat White?'
Sure it's known as "Windy Wellington."
But the thing you will love about Wellington is its coffee, bars, and award-winning restaurants.
Along the Wellington waterfront you have:
Mojo coffee roastery
One Red Dog for casual dining and great pizzas
Mac's Brewbar for craft beer
At Wellington Lambton Quay enjoy:
Smith the Grocer for cafe lunch
Charley Noble for cocktails and culinary excellent
Pravda Cafe and Grill for exquisite menu and wine selection
And along Cuba Street enjoy:
Floriditas for New Zealand cuisine
Fidel's Cafe for great coffee and brunch
Havana Bar for classic Cuban cuisine
So, now you have another fantastic city to add to the top of your itinerary of New Zealand.
Because Wellington is a compact city, it's easy to walk between city landmarks, hire a car for day trips or walk a rugged coastline.
Having the option to stay near the waterfront opens up so many captivating places to visit.
Not to mention visiting one of the many craft bars or excellent restaurants and cafes.
When you add these activities to your itinerary it will make you want to stop and stay longer to experience more of this beautiful capital city.
And maybe you'll even find more unique places to visit and things to do in Wellington during your stay!
DISCLAIMER: Some of the links in this article are affiliate links, which means if you book accommodation, tours or buy a product, we will receive a small commission at no extra cost to you. These commissions help us keep creating more free travel content to help people plan their holidays and adventures. We only recommend the best accommodations, tours and products that ourselves or our fantastic editorial team have personally experienced, and regularly review these. Thanks for your support, kind friend!