Enjoy our list of the best things to do in Franz Josef town, a gem of the west coast of New Zealand.
I spent a whole summer living in the epic Franz Josef town, and spent the entire time ticking off every adventure I could find.
From hiking on one of the biggest glaciers in the country, to seeking out secret little waterfalls, there's no shortage of awesome things to do in Franz Josef town, New Zealand!
Tucked away on the West Coast of New Zealand's South Island is the small township of Franz Josef, or as I like to see it, the gateway to Glacier Country.
Franz Josef is a beautiful town perched alongside the heavy flowing Waiho River, which emerges from the foothills of New Zealand's 'spine' of the Southern Alps.
It is here you can be guaranteed to have an epic time adventuring into the snowcapped peaks, listening to the sounds of the native birds, or going all out and jumping into a helicopter for a one-of-a kind ice-hiking experience.
The Best Things to Do in Franz Josef Glacier
No matter your interests or travel goals, Franz Josef Glacier, also known as Westland Tai Poutini National Park, is a must visit while in New Zealand.
I spent 3 months living and working in this gorgeous part of the country, and I can tell you there are literally so many epic things to do in Franz Josef Glacier!
There is also lots of great accommodation and restaurants in Franz Josef town to check out when you've finished hiking and exploring.
Hiking To Alex Knob
Want those epic glacier views but can't quite afford a helicopter flight? Well this is the best hike you can do in Franz Josef!
Allow 8 hours (17 kilometres) for this zig-zagging uphill bonanza as you meander through stunning beech forests to the sound of the Waiho River below.
You'll come across a series of lookouts staggered throughout the trail, but the one you are after is some 1,280 metres above sea level, leaving you with breathtaking views of Franz Josef Glacier.
My best tip is to leave early, like really early (4-5am), so you'll get there in time for sunrise, plus it's pretty cool hiking through an early morning inversion layer into glorious sunshine.
Don't miss our latest ultimate guide on hiking in New Zealand! Guaranteed to get you ready for adventure.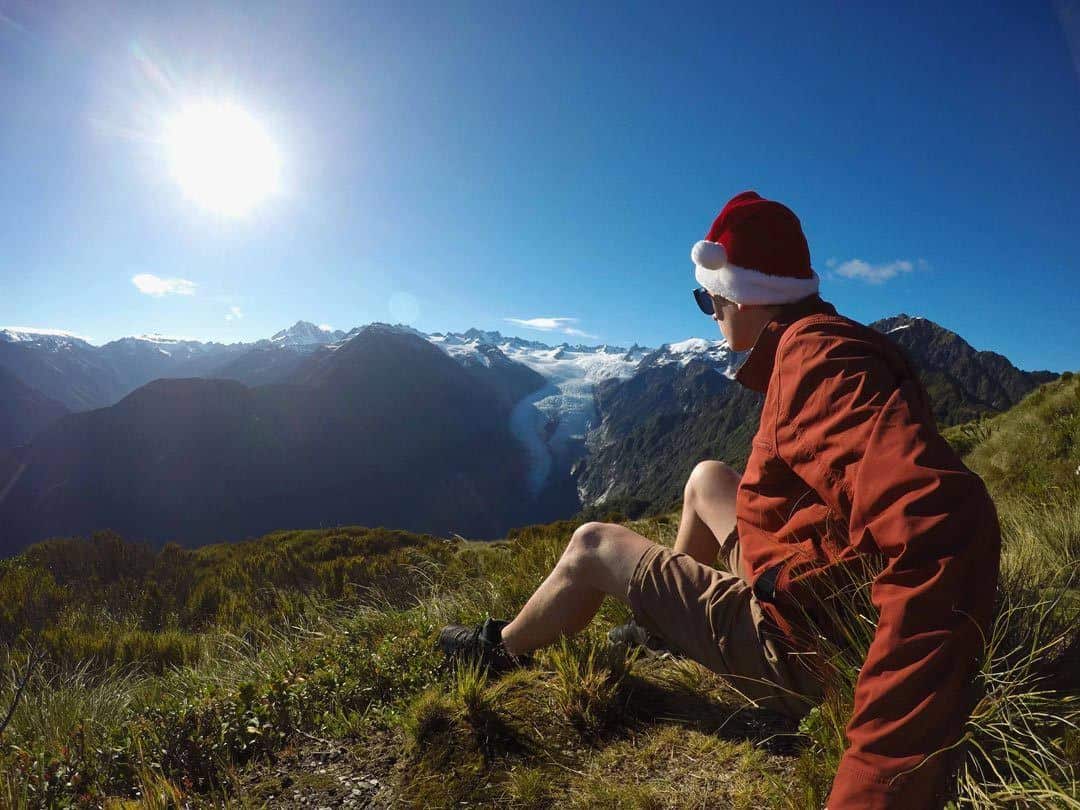 Tartare Tunnel – Glow Worms
One of the least-visited places in Franz Josef is the Tartare Tunnels, but this is probably the most unique of all the hikes in the area.
Only a short 45 minute walk from the centre of town brings you along the fox-glove (a purple flower common in New Zealand) covered banks of the Tartare River to the entrance of an old gold mining tunnel known as the 'Tartare Tunnels'.
These were hand built by a group of 15-20 men in extremely freezing, harsh conditions some 120 years ago.
Today, Tartare Tunnels are consumed by a trickling of icy cold water and glow worms! It might be scary for a bit to turn off your flash light, but once you do, glow worms cover the ceiling of the old gold mining tunnel, and it's like you are watching the milky galaxy above…it's amazing!
Tartare Tunnels are a one-way tunnel, so it will take you about 10 minutes to walk through the tunnel to a wooden, low level platform engulfed by lush plants and a trickling stream of pristine water.
Definitely one of the best places to visit in Franz Josef.
READ MORE – On your exploration of the South Island, check out these epic things to do in Wanaka.
Chasing Waterfalls
If you're like me and love waterfalls, Franz Josef is the place to be. I am going to give you the insider's tips on where all those epic, crystal clear waterfalls are.
Franz Josef Valley Glacier Walk – These are where the big ones falls where you can see 2-3 waterfalls coming from the mountains of the Fritz Range. To truly experience these waterfalls, you will need to do the 1.5 hours of walking to the base of Franz Josef Glacier and back.
Callery Gorge – This is an array of waterfalls, but the best one is located at Callery River, where you can watch this beauty flow right underneath you as you cross a sturdy, wooden bridge. This is the perfect place to chill out with very few people coming this way.
Roberts Point Track – At the start of the track (I'll jump to this one later), just after Douglas Bridge, a stream meets the beginning of the trail. Here instead of following the track, head up to your left and keep rock-hopping until you come across this secret little waterfall perched amongst native New Zealand ferns.
Everywhere – Franz Josef has a multitude of little waterfalls pretty much wherever you go, so all you have to do is listen, trek through a few Punga 'native fern', and you will have your own waterfall!
These beautiful waterfalls are a Franz Josef must see!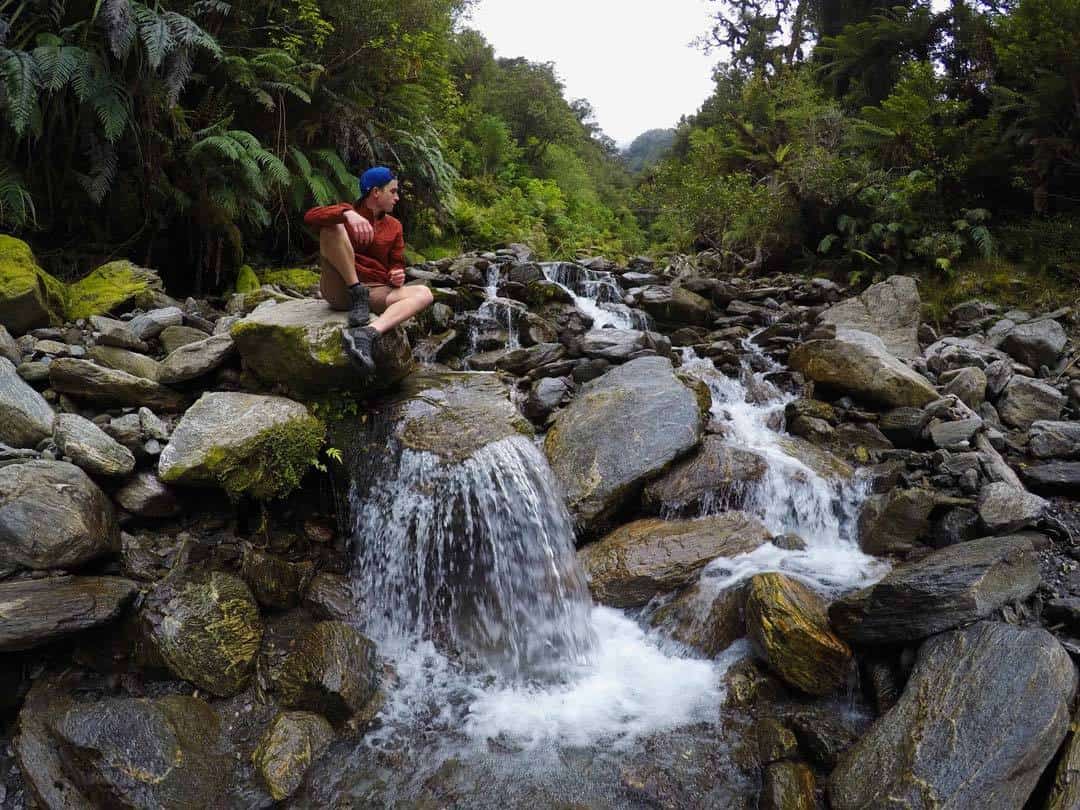 Peter's Pool
What's better than seeing double mountains? Probably nothing.
Yeah that's right, you can see snow-capped peaks reflecting off this secret little pond once thought to have formed when a massive chunk of ice fell off Franz Josef Glacier and melted, forming Peter's Pool!
Peter's Pool is a short 20 minute one-way walk from the Franz Josef Valley car park. However if want to immerse yourself in a Lord of the Rings scene, walk from the turn off to Alex Knob along the main road heading toward Douglas Bridge and truly experience what it's like to be under the canopies of ancient rainforest trees.
It's truly one of the best things to see in Franz Josef.
Roberts Point Track
Roberts Point Track is the perfect challenge for the avid hiker, so tighten your laces and head for the mountains for this 12.3 kilometre return hike.
Roberts Point Track for the first half takes you through Lord of the Rings-like rainforests, complete with moss-covered trees and cascading waterfalls all with stunning views of Waiho River and the Fritz Range.
A series of swing bridges allow you to walk over vertical drops ,all while getting a sense of what it was like for early mountaineers and hikers by visiting Hende's Hut.
Last but not least, the hard uphill hike rewards you uninterrupted views of Franz Josef Glacier. So worth the effort, and one of the epic things to do around Franz Josef.
West Coast Wildlife Centre
Another one of the best things to do in Franz Josef town is visit the West Coast Wildlife Centre.
This is a great place to visit for families with kids, but it's also a great place to learn about the local wildlife.
It is home to the official hatching facility for two rare types of kiwi birds, and it is the largest kiwi hatching facility on the South Island of New Zealand.
If you get some bad weather during your visit to Franz Josef, this is a fun indoor activity to try in the village.
Franz Josef Valley Glacier Walk
The Franz Josef Valley Glacier Walk is your classic walk, and a must-do if you want to see Franz Josef Glacier in an easy fashion.
This 1.5 hour walk from the Valley Glacier car park is the most popular of the Franz Josef activities and is suitable for everyone.
Strolling along the banks of the Waiho, with Franz Josef Glacier clearly in sight and surrounding snowcapped peaks, this easy walk is a must-do if you are on tight schedule.
Be sure to do this walk early as it gets very busy later throughout the day. It's one of the top sights near Franz Josef town.
Fox Glacier
Fox Glacier is another one of the most spectacular glaciers in New Zealand. It is only 25 minutes away from Franz Josef Glacier and you can easily combine the two into one trip.
While Franz Josef Glacier is more famous and popular, Fox Glacier is actually bigger (it's the 3rd largest glacier in New Zealand whereas Franz Josef is the 4th).
Fox Glacier also has a more gradual descent than the other glacier. So the hike is not as steep. The Fox Glacier walk is just 5km from Franz Josef town and the entire walk is about 2.6km.
Lake Matheson is a beautiful lake right next to Fox Glacier. You can see the surrounding mountains reflected in Lake Matheson and it's a beautiful sight.
If you have time you should try to visit both Franz Josef and Fox Glaciers because they are both incredible!
Callery Gorge Walk
Callery Gorge walk is the closest to the town of Franz Josef, making it the 2nd most popular hike in Franz Josef, but don't let that put you off.
This 90-minute return hike meanders past spectacular waterfalls, ancient trees drooping with moss, and lichens where native birds hop from branch to branch.
Views of the Waiho River are elevated and are quite spectacular (if you know where to find them).
After a steady descent through more mystical rainforests, you find yourself at Callery Gorge Bridge sitting precariously over a raging volume of water, mostly from ice melt.
From this point you can head back the way you came, or choose to walk along the edges of the Waiho River (only do attempt this when water levels in the river are low).
One of the most underrated Franz Josef walking tracks is Canavan's Knob, situated on the banks of the Waiho River.
Canavan's Knob is an easy walk, winding around the edges of the hill giving stunning views of the surrounding, lush farmlands, right out to the sights of the sea and coastal town of Okarito.
At the top of Canavan's Knob (40 minutes return) is a spectacular view of Franz Josef Glacier, which is really quite unexpected given Canavan's Knob is the furthest hike in the valley away from the glacier.
Not ready to leave the stunning landscapes behind? Continue your exploring and read our New Zealand Travel Guide!
Heli Hiking On Franz Josef Glacier
Heli-hiking on the glacier is by far the most epic adventure activity you can do on the west coast – It might actually be the best thing to do while in Franz Josef!
Everyone comes to Franz Josef to see its glacier perched high up between the Baird and Fritz ranges, weaving its way to the heart of the Southern Alps.
What better way to see the glacier than to actually go ice hiking on it! So strap on your crampons, grab an ice pick and jump in a helicopter for what is one of the most adventurous activities you can do in Franz Josef!
Helicopters are the only safe way onto the glacier, due to the bottom of it becoming extremely unstable in the past 15 years.
Our recommendations are to go with Franz Josef Glacier Guides on Cron Street…these guys and girls know how to show you a good time while up on the glacier.
You can also check out this heli-hiking tour on Get Your Guide!
Hell-hiking is a must do for all adventurers and one of ours favorite Franz Josef attractions!
Want more adventures in New Zealand? Don't miss our post on the best things to do in Queenstown.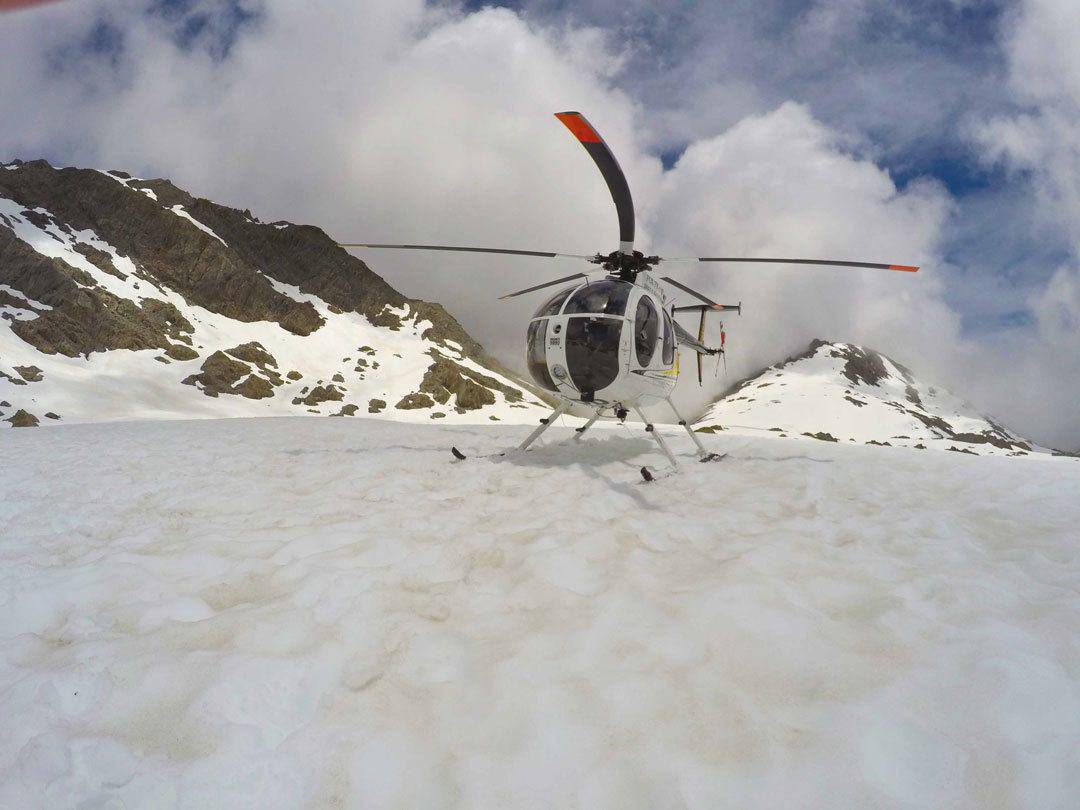 Kayaking On Lake Mapourika
There is no better way to see the Southern Alps on New Zealand's west coast than from the crisp, clear Lake Mapourika!
Only a short 15 minute drive from Franz Josef township, Glacier Country Kayaks are the perfect people to take you on a kayak from one end of the lake to another where you have the opportunity to look for kiwi's (the bird) along the banks of Echo Bay all while endlessly gazing into stunning mountains stretching from one end of the horizon to the other.
Keep an eye out for Mount Tasman, New Zealand's 2nd highest mountain occasionally peeking out from behind the clouds.
Go on a kayak tour to get the full Franz Josef sightseeing experience!
Love kayaking? Check out our post on kayaking in Abel Tasman National Park.
Glacier Hot Pools
If you're wondering what to do in Franz Josef on a rainy day, check out the Glacier Hot Pools!
Located at the Franz Josef Glacier Guides Base, the Glacier Hot Pools are the ultimate place to chill out.
Choose from the main pool, with temperatures ranging from 36-40 degrees ,or opt for your own private pool where you are immersed within the forests of Franz Josef.
After your spa experience, enjoy a blissful massage at the hands of the most experienced massage therapists on the West Coast.
Franz Josef Travel Guide
We shared our favorite places to visit in Franz Josef and so we wanted to include a list of accommodations suitable for all budgets.
Where To Stay – The Best Accomodation In Franz Josef
For such a small town on New Zealand's west coast, there are a lot of excellent accommodation options to suit every budget.
Best Hostel In Franz Josef – Glow Worm Accommodation
If you're a backpacker on a budget, then you should check out Glow Worm Accommodation.
With over 1,000 positive reviews and a 9.9 out of 10 rating on Hostelworld, you can't get a much more loved hostel than this one.
With nice, clean rooms, free wifi, a cozy lounge room with a fire place, free BBQ facilities, and a spa pool, you are definitley getting your money's worth here.
Best Mid-Range Hotel In Franz Josef – Rainforest Retreat
The famous Rainforest Retreat eco-lodge accommodates everyone from backpackers to people driving campervans, right up to those wanting to find that piece of luxury in the brand-new treehouses they have just built (they are pretty epic).
Then there is all the accommodation in between, ranging from Gecko Huts (little huts in a secret part of the Rainforest Retreat) to the older tree huts all with their own private verandah, kitchen, queen bed etc.
Luxury on holiday for some is the way to go, so why not go for the newly built deluxe options which include stunning elevated views of the Baird and Fritz Ranges which are generally covered in snow. So sit back in your personal spa and sip on your wine!
Rainforest Retreat prides itself on being the number one place to stay in Franz Josef, complete with an onsite bar and restaurant serving New Zealand produce to West Coast's favourite beer, Monteith's.
We classify this place as mid-range, not because it's medium quality, but because they can cater for all budgets.
Best Luxury Hotel In Franz Josef – Te Waonui Forest Retreat
Te Waonui Forest Retreat prides itself on being the 'gem' of Franz Josef, the place where travellers go to truly relax, all while taking in the breathtaking views of the surrounding lush forests and towering mountains of the Southern Alps.
Te Waonui is an eco-friendly establishment as the backdrop to this hotel is delicate national park. They do everything they can to protect the environment around them.
This really is the creme-de-la-creme of hotels in Franz Josef. If you're ready to splash out for a special occasion, this is the place to do it.
How to Get to Franz Josef, New Zealand
Franz Josef township is located on the West Coast of New Zealand, in Westland Tai Poutini National Park on the South Island, and is in quite a remote place away from larger towns and cities.
From Queenstown – There are a few options in getting there and the best by far is hiring a car and driving via Wanaka to the Haast Pass, which will take around 4.5 hours depending on road and weather conditions. If you opt for a bus, this will take around 8.5 hours as the bus drivers like to stop at the attractions such as Thunder Creek Falls on the west side of Haast Pass.
From Christchurch – The most common way for travelling to Franz Josef township is via Christchurch through the Arthurs Pass on the TransAlpine Train, which takes you past spectacular mountain ranges, forests and lakes arriving into Greymouth, where you can hire a car and drive south. From Greymouth to Franz Josef allow 2 hours, but make sure to stop by the seaside town of Hokitika for some delicious fish and chips.
The Best Restaurants In Franz Josef Town, New Zealand
Rounding out our list of the best things to do in Franz Josef town is of course knowing where to eat! Here are some of my favourites.
Snakebite Brewery
Snakebite Brewery is the perfect place to indulge after a long day on the trail, with its Vietnamese inspired cuisine and huge range of beers on tap to homemade mars bars and rocky-road slices. Snakebite is place to be when eating out, and is the local's favourite as well.
Blue Ice Restaurant and Bar
If you are after local cuisine, Blue Ice Restaurant and Bar located at the top of the street is definitely recommended.
Opt for venison or lamb shanks with a glass or two of local red wine. After you finish your meal head on upstairs to the Ice Bar for a refreshing beverage with a pretty epic view of the surrounding mountains.
Oh, and the Ice Bar owns a stretch limousine Hummer (really quite strange) which can be ordered to pick you up from your accommodation!
The Alice May Restaurant
Tucked away on Cron Street is The Alice May Restaurant idyllic for a quite night out away from the crowds. Enjoy a meal outside underneath the warmth of a mushroom heater while indulging in finely prepared local cuisine.
That's it for my list of the best things to do in Franz Josef Glacier. Think I've missed something? Found the article helpful? Leave a comment below and let me know!
DISCLAIMER: Some of the links in this article are affiliate links, which means if you book accommodation, tours or buy a product, we will receive a small commission at no extra cost to you. These commissions help us keep creating more free travel content to help people plan their holidays and adventures. We only recommend the best accommodations, tours and products that ourselves or our fantastic editorial team have personally experienced, and regularly review these. Thanks for your support, kind friend!