From mountain biking, skydiving, and bungy jumping where it all began to driving to Paradise, literally, these are 21 of the best things to do in Queenstown, New Zealand.
If you're the kind of person that loves adrenaline and adventure, all while hanging out in one of the most beautiful places in the Southern Hemisphere, then Queenstown on the South Island of New Zealand is for you!
Known as being the adventure capital of the world, Queenstown has been attracting visitors for decades, and now this once-sleepy little village tucked away in the mountains is one of the most popular tourist destinations in the country.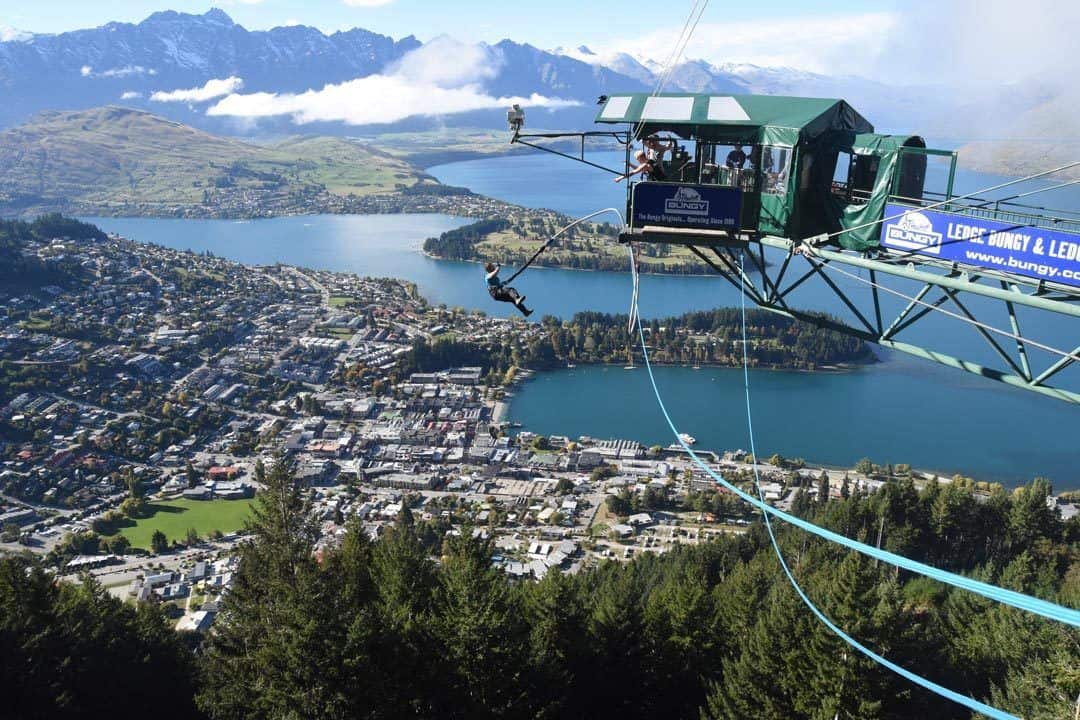 During our first trip to New Zealand in 2018, we spent 5 days exploring Queenstown and discovered what all the hype was about.
The first night we arrived it was foggy and misty, and we had literally no idea what was surrounding us. But in the morning the clouds lifted, the surrounding mountains of the Southern Alps came out and we were speechless.
All around us were snow capped peaks, mist coming off Lake Wakatipu and autumn-coloured trees. The crisp and clear morning introduced us to the special atmosphere of Queenstown we had heard so much about.
As we were drinking our coffee, we started thinking, "Where do we even start? How do we decide what to do in Queenstown?"
Since then we've been back two more times, and with every trip we discover more incredible activities in Queenstown, making us fall in love with the place.
Here are the Best Things to Do in Queenstown, New Zealand
It's true that there's no shortage of epic activities here, and as tempting as it is to simply walk around town and sip on craft beers, you really need to get out and start exploring.
From the rugged mountain ranges of the Southern Alps, to the rolling green hills, to the stunning Lake Wakatipu and other lakes, there are endless hiking trails, adventure tours, and opportunities for adventure.
There are so many fun activities and natural wonders, that if it's your first time, it will be hard to decide what to see in Queenstown.
Our biggest advice is to get up early and start the day as soon as possible. And that is exactly what we did.
We managed to fit a lot in the 14 days total we've spent there, and we hope this article helps you on your next visit.
Here is our list of the best things to see in Queenstown New Zealand on your holiday.
READ MORE: Plan the rest of your trip to visit New Zealand using our comprehensive travel guide.
1) Get Your Heart Pumping with AJ Hackett
Do one thing every day that scares you. This is a quote we live by, and it's something the absolute legends at AJ Hackett take to heart!
AJ Hackett was the first person to bring bungy jumping to the world, a pretty crazy activity that involves tying a giant elastic band to your body and jumping off of something high.
Naturally, this turned into a worldwide sensation, and AJ Hackett created the original and best bungy jumping company, founded right here in Queenstown.
There are a couple of bungy locations around the area, including the Kawarau Bridge just outside of town which is where the first commercial bungy operation started!
The Ledge Bungy is one that will scare you, even if you think it won't. At 47 metres high it is not the tallest or craziest one around, but with the beautiful view 450m over Queenstown seeming to stretch on forever and ever, your mind will play games on you.
What makes the Ledge Bungy different from the rest around the country is the option of a 'Freestyle Jump'.
This means you can leap off the ledge in absolute style: Forwards, backwards, Matrix-style, doing backflips, Superman, whatever you're feeling up for!
Not into bungy jumping but still want to give something adventurous a go? Check out their awesome Ledge Swing.
You have to pull the release yourself, and it'll have you soaring off the mountain. Definitely one of the top things to do in Queenstown.
(The Ledge Bungy is temporarily closed as of October 2022. Check the website for updates and to view other activities in Queenstown and around New Zealand.)
Price: NZD$165 for the Ledge Swing, NZD$205 for the Ledge Bungy. Package deals available.
2) Shotover River Jet Boat Ride
If you go to Queenstown and don't go on the Shotover River Jet Boat ride, did you really visit Queenstown?
Jet boating is such a unique attraction, something that you'll hear about all over New Zealand, and really one of the most fun activities in Queenstown.
Jet boats are fast and agile vessels that are capable of driving at enormous speeds and spinning 360 degrees on a dime. I think you see where this is going.
While there are lots of other jet boating options around Queenstown, the Shotover River is by far the best and most iconic.
Located in the heart of the Shotover Canyon, just 10 minutes from downtown, you will be amazed by the spectacular views of Shotover River.
Getting picked up from the adventure centre in town, we suited up with a rain jacket and life vest (supplied by the team there) and got ready for our 20-minute jet boating ride.
The boat charges down the Shotover River through the narrow canyon, huge cliffs towering above you, and drifting ever-so-close to the rocks to really get your heart pumping.
READ MORE – Make sure you check out all the best things to do in Wanaka while you're in town.
Holding on tight we would hit speeds of up to 85km/h, with the wind rushing through our hair, and everybody would burst out with screams and laughter.
Don't worry though – the jet boating drivers are some of the most experienced in the country and know their limits to keep everybody safe.
Jet boating really is one of the most popular things to do in Queenstown, and as well as one of the best adventure tours to book.
3) Tackle the Ben Lomond Hike
This full-day hike takes 6-8 hours return and will provide you with stunning views of the gorgeous Lake Wakatipu below. It's one of the best hiking trails in the area, and makes our list of the top Queenstown walks.
At the mercy of the weather, this trail is only open from the beginning of November through the end of March.
Outside of this time, it is closed due to heavy snow on the ground.
The trailhead starts at the top of the Skyline Gondola on Queenstown Hill, and we recommend starting early in the morning while temperatures are cooler.
Want to skip paying for the Gondola? Start walking the Tiki Trail from the bottom which takes you to the same place.
Once you begin the walk you'll have amazing views to the Remarkables, Coronet Peak, and across Lake Wakatipu, and they just keep getting better the higher you climb.
The walking trail is well-marked, and the scenery and is a mix of alpine landscapes and wooded scenes. Once you hit the ridgeline continue uphill to Ben Lomond Saddle, at 1326m above sea level.
From here you meet the Moonlight Track, a good spot for a rest, then push on towards the summit. It does get steep, so watch your footing.
The summit of Ben Lomond is 1728m, and on a clear day the views are truly impressive, and you can see for miles in every direction.
We recommend being prepared for any hiking trails like this one by wearing sturdy footwear and maybe bringing hiking poles if you like. Also pack lunch, snacks, and lots of water.
If you meet any Kea birds at the top please remember not to feed them.
READ MORE: Don't miss our latest trekker's guide on hiking in New Zealand!
4) Ride the Luge up at the Skyline Queenstown
While you're up at the top of the Skyline Queenstown, you should do yourself a favour and have a go at one of the most fun Queenstown activities around – riding the Luge.
Jumping in a little buggy using the steering column to speed up or slow down, you charge the twisting downhill racetrack, banking into the turns and cheering your head off.
If you have a friend or group of friends you can race it's even more enjoyable, but even if you're on your own it's a must-do in town.
Make sure you bring a GoPro HERO 8 to film the mayhem!
There is also a scenic gondola up at Skyline Queenstown that you can ride for some incredible views. Visit the website for more info!
5) Climb Queenstown Hill for Sunrise Or Sunset
If you love the idea of enjoying epic views but aren't feeling up for the long hike to the summit of Ben Lomond, check out Queenstown Hill at sunrise or sunset!
With those classic views over Queenstown, Lake Wakatipu, and the snow capped peaks of the Remarkables, the vistas from the hill are good at any time of day but are even more magical in the golden hours.
Wake up early and climb the Tiki Track for sunrise, or head up there in the afternoon for sunset and take some snacks and wine with you.
While the track is well-marked, be prepared if you're planning on starting or ending at night by having a charged headlamp or torch with you, and check the weather before going!
6) Drive Out to Moke Lake
On a beautiful day load up the rental car with food and wine, and head out to Moke Lake for a picnic!
Surrounded by gorgeous mountains (like everywhere in Queenstown), Moke Lake is the perfect spot to relax or enjoy some hiking trails.
The turn off for this epic lake is 6km out of Queenstown on the way to Glenorchy, and 7km down a gravel road to the end. It'll take you about 20 minutes to head out there.
The campground at the end is an awesome place to stay if you want to get out of the hustle and bustle of Queenstown, and only costs NZD$13 per person.
If you tackle one of the hiking trails, reward yourself with a swim in the chilly waters.
It's one of the great day trips from Queenstown that is off the beaten track, as only a few people allow themselves the time to actually get out there.
If you want to go out there in winter make sure you have a 4×4 and snow chains.
To get the most out of the experience, try kayaking at Moke Lake!
7) Go Canyoning 10 Minutes from Town
We've been canyoning all over the world, from Vietnam to Montenegro to El Salvador, and it's honestly one of our favourite things to do when we feel like getting the adrenaline pumping.
If you're not familiar with canyoning, basically it's navigating your way down a canyon, usually along a river, using ropes to get to the end safely.
On the extreme end, it will involve jumping off of waterfalls, abseiling down cliffs and swimming through caves.
Queenstown has it all, and then some!
Sign up for a full-day canyoning tour that will prove to be one of the best experiences you've ever done.
Loaded up with wetsuits, lifejackets, helmets, harnesses and dry bags, we headed out to the river and walked through the forest to get to the start.
There were a few ziplines across the gorge along the way, and then it was time to start the adventure.
We won't spoil the trip with everything that you experience in the canyon, but trust us when we say it is thrilling, fun and safe.
There's even the opportunity to do a unique zipline-to-abseil-to-water-drop – something we've never seen before.
Do yourself a favour and sign up if you have an afternoon free in Queenstown.
8) Play Frisbee Golf in the Queenstown Gardens
Let's face it – New Zealand is awesome and full of amazing activities, but it is expensive! If you're not careful you could easily blow out your travel budget in a few days.
That doesn't mean you can't still have fun though.
Need to watch your wallet and would like some cheap things to do in Queenstown? Then grab some friends and hit up the local disc golf course.
This 18 basket course is situated in central Queenstown in the Queenstown Gardens, and is a lot of fun. You grab some frisbees and 'tee-off' down the green, with the aim being landing the frisbees in the baskets at the end of the course in the least number of throws.
The course is free, but if you need to rent the gear you can do so from Small Planet Disc Sports for $5 a day, and grab a scorecard for $3.
This is a great activity for a group of friends or families who want to do some fun activities in central Queenstown. You can also choose to just take a walk around the Queenstown Gardens and enjoy all the flowers.
9) Eat at Fergburger After Tackling the Best Things to do in Queenstown
There are so many options for food and drinks in Queenstown, that even if you stayed for a month you could go somewhere different for pretty much every meal.
During the day as we were walking around, we would take note of the happy hours and meal deals to save some coin.
Unfortunately, food prices in Queenstown can be pretty crazy, so you need to watch where you eat (although the quality is definitely high)
But if there's one place you can't miss eating at in Queenstown, it is Fergburger.
If you've had some friends visit Queenstown before chances are you've already heard about this iconic establishment. Pretty much everybody we told we were heading to Queenstown told us to eat there!
Fergburger is known for making huge, delicious burgers (obviously), and no matter what time of day or night you go, you're likely to see countless people standing outside waiting for their Fergburger fix. They're massive, so make sure you go on an empty stomach.
READ MORE: Check out these top things to do in Christchurch.
To be honest, they weren't the best burgers we've ever had, and according to locals they aren't even the best burgers in Queenstown.
But standing in line and waiting for your meal is something you have to do at least once while here.
We recommend going outside the peak lunch and dinner times. We went at about 4pm and only had to wait 15 minutes, but we met a lady who said one time she waited over 90 minutes for her order! Crazy.
Rather than eating there, get your meal and walk down to the waterfront where this is a great floating bar on an old boat that has good happy hour drink prices and a BYO food policy.
Fergburger is open rather late, so for a lot of travellers it ends up being one of those fun things to do in Queenstown at night after a heavy drinking session.
Fergburger
Address: 42 Shotover Street
Opening hours: every day from 8 AM – 5 PM
10) Work Off Your Burger with Some Downhill Mountain Biking
All those mountains, hills and farmland around Queenstown are just screaming to be cycled, and luckily for you New Zealand has been growing its reputation as one of the best mountain biking destinations in the world.
Whether you're into single tracks, cross country, insane downhills, dirt jumping, or a leisurely paddle around the lake, there are plenty of mountain biking options to keep you satisfied.
There are lots of good stores in town to rent a mountain bike from, or you can get really adventurous and join an action-packed tour.
Check out the Queenstown Trails website for some ideas of where you can go.
If you're more of a thrill-seeker, trade in your mountain bike for a quad bike ride through spectacular mountain views!
11) Go on a Scenic Helicopter Flight Over Milford Sound
This is one of those things to do in Queenstown, New Zealand that will stay with you as perhaps the most memorable experience of your life.
Milford Sound is one of the most remarkable natural wonders you could ever imagine (check out our experience from doing an overnight cruise here), and seeing it from the air is something else.
On Jarryd's trip in February he jumped on a half-day helicopter trip with Alpine Adventures, which simply blew his mind.
Leaving from the Queenstown airport, the journey went out to Lake Erskine, an incredible alpine lake tucked away high in the mountains, with the opportunity to get out and walk around for 15 minutes.
From there it was off to Milford Sound, flying above the fjord and right next to the iconic Mitre Peak.
Next was a touchdown on a nearby glacier, with another chance to stretch the legs.
Finally was the highlight of the entire adventure, landing in a place dubbed Middle Earth Waterfalls, with a short hike to the base of a hanging glacier and a picnic lunch and champagne in what might just be the most stunning place in New Zealand.
It's not a cheap excursion, but if you're looking for something really memorable, or have a special occasion to celebrate, you'll be hard-pressed to beat this!
12) Drive the Road from Queenstown to Glenorchy
Do not miss this drive if you are in Queenstown, as it definitely is one of the most beautiful drives in the South Island of New Zealand.
This 1-hour drive follows Lake Wakatipu from Queenstown to the beautiful little town of Glenorchy, 47km away. There are lots of beautiful points of interest to stop at and admire the crystal clear waters with the jagged mountain background.
Take your time and especially take care when pulling over for a photo at any of the viewpoints. The road is very busy, and there's not a lot of room in the parking lots to fit all the rental cars, RVs, and tour buses.
Once you get to Glenorchy give yourself a few hours to stop, get lunch, and enjoy the area. Take a photo of the boat shed, or go for a walk along the water.
Even better if you have time, you can stay a night in this relaxing town with accommodation for anyone's budget. There's a cute little country pub, cafes, and a small general store to check out.
You can drive this road any time of the year, but locals say the most beautiful time is in the cooler months when the mountains are covered in snow.
That being said, we thought the warmer months (April) were gorgeous too.
If you are visiting Queenstown, hire a car and be amazed by this scenic drive in New Zealand.
Rather not drive yourself? Book into this awesome half-day tour on Get Your Guide.
13) Go to Paradise, Literally
If you do the drive to Glenorchy (and of course you are already planning to after reading the point above), you have nearly arrived in Paradise. For real.
A 20-kilometre drive onwards from Glenorchy is a beautiful sleepy village called Paradise. It doesn't have any shops, no restaurants to eat at, but what it does have are postcard-perfect rolling farmlands, hiking trails, and stunning mountain ranges.
The road is 8 km sealed and 12km unsealed, so take it easy and drive with care, especially if you're in a rental.
Glenorchy and Paradise have been the backdrop for many movies such as The Lord of the Rings, The Hobbit, and more.
Paradise is the start of the beautiful Dart Rees hiking track, one of the area's best hiking trails. But unfortunately, when we went there it was closed after heavy rain.
Not everyone makes it to Paradise, which is a shame. But take it from us, if you love nature and mountains, put this on your list of places to visit around Queenstown.
14) Explore Arrowtown
A short 20-minute drive from Queenstown is the charming and quirky town named Arrowtown. It is a gold rush village along the Arrow River, that is surrounded by beautiful mountains.
Yep, another town surrounded by gorgeous mountains. But you can't really get sick of them, can you?
Arrowtown is rich in history, offering walking trails, biking trails, gorgeous picnic spots, and some picturesque streets. While there are many places to visit around Queenstown, you shouldn't skip Arrowtown and the Arrow River.
Take your day trip to the next level by booking a self-guided bike tour through Arrowtown and Gibbston Valley.
15) Go Up the Remarkables for Breathtaking Views
The huge mountain range you can see to the east of Queenstown is called The Remarkables, and with a name like that you know it's going to be, well, remarkable!
A long, twisting road climbs up the mountains just outside of town and leads to an excellent ski resort, but the drive there is as much about the stunning views over Queenstown and Lake Wakatipu as it is about making it to the top.
In summer it can take 30 minutes to drive up (in winter expect an hour with all the snow on the road). We stopped off at every single spot to simply admire the vistas.
Once you reach the resort there is a great little hike to Lake Alta, which will take you about 90 minutes return. The trail begins behind the Remarkables Ski Resort, buildings and follows the ski field road to the top chairlift.
From there signs and flags will mark the way to the glacial lake. Unfortunately, when we made it to the top the clouds had socked us completely in and visibility was about 10m, so we missed the walk. It's a great alternative hike to Ben Lomond if you want something a lot quieter.
Don't miss this Queenstown must-see!
16) Have a Picnic at Lake Hayes and Walk The Loop
Queenstown is full of so many adrenaline-pumping activities that sometimes you need to slow down and simply take it all in.
A great way to do this is to get out of Queenstown and head to one of New Zealand's most photographed lakes, Lake Hayes. It is also known as the mirror lake, with a beautiful reflection of the Wakatipu Basin.
There are plenty of tables and chairs, and large grassed areas available for picnics and recreational activities.
After your bite, take a walk along the lake. There is an 8km loop around the whole lake to enjoy the mountains and lake from all angles.
17) Go Skydiving with the Best Views in the World
You can't have a list of adventurous things to do in Queenstown without mentioning one of the most ultimate activities out there: skydiving!
If the idea of jumping out of a perfectly good plane with a stranger strapped to your back sounds like a good time, then you're in luck, because Queenstown is a skydiving Mecca!
Offering insane views over the lakes and mountains the regions are known for, it's guaranteed to be an activity that you'll remember for years to come.
18) Go For a Scenic Flight Instead
If you love the idea of seeing Queenstown from above, but would much rather stay safely inside the plane, then taking a scenic flight could be a great option.
If this is in your budget, don't miss out! There are a few companies in town that will give you stunning views from the sky of these specular mountain ranges, and land on the ground with you still there.
Prices range from NZD$245 to NZD$1000, depending on the amount of time you want to spend in the air and the location. Do shop around and check prices before making a booking.
As there are many fun activities to do in Queenstown, this one will bring it to another level.
19) Take It All in From the Water with a Sunset Cruise
Seeing as Queenstown is built on the edge of the immense, beautiful Lake Wakatipu, it makes perfect sense that one of the best ways to see the area is by water.
Lake Wakatipu sunset cruises run about 4 times a day, depending on the time of the year, and last for 90 minutes. If you can time one to be at sunset then even better!
A scenic cruise is one of the great Queenstown attractions that cannot be missed. Make sure you book it early.
20) Hire an ATV and get Muddy
There's nothing quite like going on an epic off-roading experience, and Queenstown, the adventure capital of the world, of course, has the perfect way to do it.
If you love driving fast, getting dirty and admiring world-class views, then make sure you sign up for a 3.5-hour ATV ride outside of town.
After being picked up from the Queenstown centre or at your accommodation, you drive out to a remote area and are given a safety briefing and training session as well as all your protective, waterproof gear.
Once the briefing is done it's time to hit the road ('road' is used loosely) and zip around the place at top speed.
It's immense fun, and a great way to spend a few hours when wondering what to do in Queenstown.
21) Shred the Slopes at Coronet Peak, Cardrona, or The Remarkables
You might be thinking that pretty much all of what to do in Queenstown happens in the summertime, but that's just not true.
In fact, when winter comes around, Queenstown becomes a snow-lovers paradise, with three amazing ski resorts all within an hour of downtown.
Coronet Peak, Cardrona, and The Remarkables all have amazing lift-accessed terrain and are suitable for beginners right through to professionals.
With up to 7m of snow falling on some of the mountains around here as well, there's a good chance you'll have the opportunity to tear up some Kiwi powder while you're there.
Queenstown Travel Guide
Now that you know all of the incredible things to do in Queenstown New Zealand, and the top Queenstown attractions, it's time to learn where to stay and how to get around.
We've put together this mini-guide based on our own personal experiences and research to help you with some of the harder decisions you'll have to make – namely, what accommodation to choose and what rental car company to go with.
Hopefully, these recommendations help you plan your stay in New Zealand's adventure capital!
Where to Stay in Queenstown
Naturally being the tourist hotspot that it is, there's no shortage of accommodation in Queenstown. Unfortunately, that also means that 'cheap accommodation' doesn't really exist there either.
If you're on a backpacker budget, you'll find lots of really good hostels in town, many of them offering great bonuses like free breakfasts, fully-stocked kitchens, wifi, etc.
Most hostels are located close to all the best Queenstown attractions as well, so they're convenient if you aren't renting a car.
Rather stay in something that's not a backpacker hostel? Well, you're spoilt for choice.
Luckily you'll find plenty of great options on Agoda, and if you book through our link and use the coupon "AGODANMD10" you'll get an extra 10% off your stay, making your stay in Queenstown that little bit more affordable.
On our four different trips to Queenstown, we have stayed in a range of different hotels, from hostels to luxury accommodations.
Here are our recommendations.
Best Luxury Hotel in Queenstown – The Rees Hotel
Without a doubt the best luxury hotel in Queenstown New Zealand is the fabulous, award-winning establishment right on the edge of Lake Wakatipu – The Rees Hotel.
This place is so damn good we've actually stayed there twice.
From the moment you arrive, you know this is going to be a special hotel. The reception has a huge sitting area with an enormous fireplace, a fully-stocked bar, and wide windows with unrivalled views over Lake Wakatipu and the Remarkables mountain range.
It just keeps getting better, and once you've checked into your room, there's a good chance you'll never leave.
The Rees Hotel has a variety of room options, from high-end hotel rooms right through to fully self-serviced apartments.
The rooms have heated floors, bathrooms with jacuzzis, sofas, and the comfiest beds you'll ever try.
The level of comfort even comes down to the pillows, which can be changed for different types (memory-foam, duck down, etc) depending on what your neck feels like. Seriously, here's a pillow menu!
That's not the main reason to stay here though. Every single room has a balcony and views directly over Lake Wakatipu, so you can pour yourself a glass of wine or coffee and sit in privacy staring at the jewel of New Zealand.
Leading the way with sustainable accommodation in Queenstown, The Rees Hotel has made it a priority to implement environmentally-friendly practices to minimise their impact on the beautiful nature New Zealand is known for.
This includes using iPads rather than booklets for hotel information and ordering room service, having almost no single-use plastics, and stocking up on reusable items in the bathrooms.
The restaurant is also an award-winning affair, using locally-sourced, in-season ingredients to prepare delectable dishes. They also have one of the most extensive wine lists in town.
The Rees Hotel is located about 3km from the centre of Queenstown, but that isn't really an issue, as the hotel offers a complimentary shuttle service to help the guests get in and out of town. No need for taxis or trying to find a parking spot.
On top of that, the staff is extremely knowledgable when it comes to knowing the best Queenstown attractions, and the concierges can help you book just about anything, even custom tours.
Whether you're in town for business or pleasure, you will not be disappointed with a stay at The Rees Hotel.
Best Alternative Hotel in Queenstown – Sherwood Hotel
This alternative hotel offers a fresh taste to the accommodation industry, and really stands out as somewhere unique to stay in Queenstown New Zealand.
Being an alternative hotel means they have upcycled much of the decorations and furnishings you can find in the rooms and restaurant, minimizing their impact on the planet and creating a funky space for people to enjoy.
Set on 3 acres between Frankston (where the airport is) and Queenstown (about 3km away), this spacious property has a bike track, a huge garden, amazing views over the lake, and a bumping bar with live music some nights.
The rooms range from simple and cozy to one-bedroom apartments right up to epic suites with insane views over the lake.
We took a one-bedroom apartment with a kitchenette, so we could cook our own meals at night (remember, Queenstown is expensive). It was a great choice, with a cool sitting area and an extremely comfortable bed.
The restaurant grows many of their ingredients right there on the property, so you know the food is superb.
It's an easy 30-minute walk into town, or you can take the free shuttle that Sherwood operates. Personally, we loved being out of town, as it can get insanely busy in the heart of Queenstown.
Best Car Rentals in Queenstown New Zealand
With so many amazing hiking trails, mountains, lakes, and day trips just outside of Queenstown center, having your own wheels is really the best way to get out to them.
The best way to get around is to rent a car and explore on your own! We recommend Rental Cars, which has the largest range of vehicles for the best value on the market.
There are dozens of car rental companies in town, so it can be hard choosing one.
If you want something cheap, then you can't go past Omega.
For something a bit larger and more luxurious, Go Rentals are the top choice in Queenstown.
On our last visit to New Zealand, we rented an SUV from them so we could fit all of our snowboarding gear in, and the car we got was perfect
They picked us up from the airport once we landed with a free shuttle, and with their online check-in we did ahead of time, it was only a few minutes from arriving at the office to being on the road.
Organising a pick-up in Queenstown and drop-off in Christchurch was very easy too.
For their larger cars, the price is very reasonable. Our SUV worked out to be around NZD$66 a day.
That's it for our list of the best things to do in Queenstown New Zealand! Have we missed anything? Leave a comment below and let us know!
DISCLAIMER: Some of the links in this article are affiliate links, which means if you book accommodation, tours or buy a product, we will receive a small commission at no extra cost to you. These commissions help us keep creating more free travel content to help people plan their holidays and adventures. We only recommend the best accommodations, tours and products that ourselves or our fantastic editorial team have personally experienced, and regularly review these. Thanks for your support, kind friend!
Save this Pin for later?