Everything you need to know about hiking in New Zealand, in our ultimate trekking guide.
Tramping and trekking in New Zealand are becoming increasingly popular and for good reason.
New Zealand, or Aotearoa (the local Maori name) as it is known in the indigenous language, is truly one of the most beautiful countries on earth.
And if you would like to check it out yourself well, here are a few good reasons to consider jetting off to New Zealand on your next hiking adventure.
Firstly, New Zealand has the Southern Alps which are a chain of mountains running centrally through the South Island.
This provides some of New Zealand's best hikes throughout Mount Aspiring National Park, Aoraki National Park and ending in Fiordland National Park.
Secondly, New Zealand has volcanoes and yes, you can hike around them!
The Tongariro Northern Circuit is one of New Zealand's best hikes and a must if you love a bit of strenuous adventure.
Thirdly, most people think New Zealand has just the North and South Islands but you're wrong. Stewart Island is the 3rd and is just now starting to draw attention to avid adventurers with its 12-day, isolated trek.
I am going to throw in a 4th reason to why New Zealand is one of the best hiking destinations in the world and that reason is the variety of treks available.
From snowcapped peaks to golden stretches of beach and all of the lush beech forests in between, New Zealand is hard to beat when it comes to hiking.
I have put together a guide to the best hikes in New Zealand ranging from New Zealand's finest day walks to serious tramping in backcountry New Zealand. Lace-up those boots and get trekking!
Note – For up to date information on safety and trails, we recommend visiting the Department of Conservation website.
READ MORE: Plan your entire trip to New Zealand with our travel guide.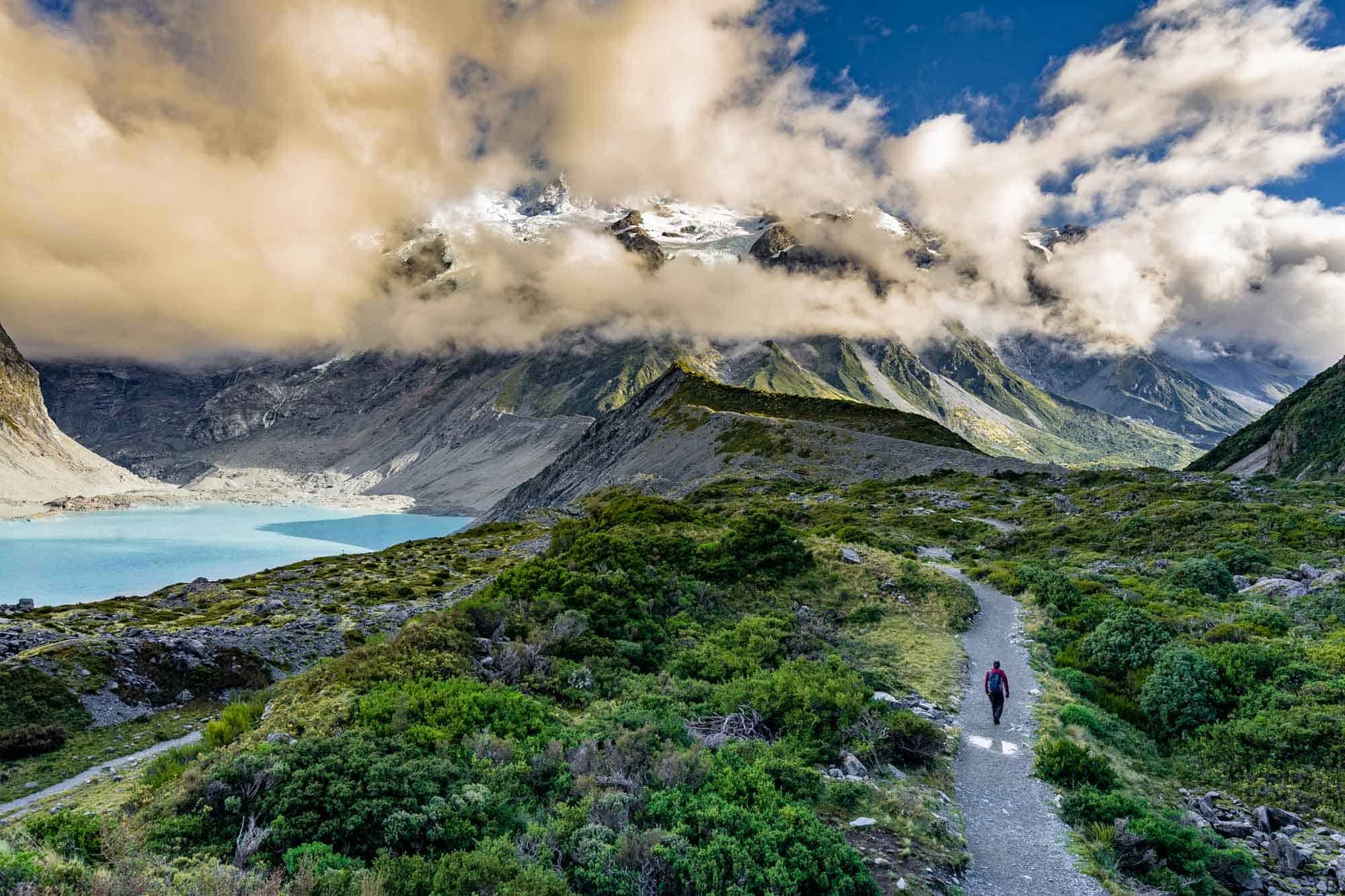 The Best Multi-Day Trekking in New Zealand
Let me start off this epic article by talking about the multi-day adventures you can have here. Whether you want an overnighter or a week-long mission, you'll be spoiled for choice in New Zealand.
Treks on the South Island
Of the two main islands, the South Island of New Zealand has some of the most famous and beautiful multi-day treks in the country.
Abel Tasman Coastal Track
Location – Abel Tasman National Park
Distance – 40 kilometres
Start / Finish – Marahau to Totaranui
Time – 3 to 5 days
Difficulty – Moderate
The Abel Tasman Coastal Track is considered the best walk in New Zealand, leaving it at top of the New Zealand's Great Walks and there are really good reasons for this!
Towards the top end of the South Island lies Abel Tasman National Park. This possibly contains the most beautiful of beaches in New Zealand and walking the track is one of the must do's while there.
Starting in the coastal town of Marahau which is known for its large tidal beaches, the great walk begins to meander past isolated beaches surrounded by pristine forests of Nikau Palms and New Zealand flax.
What makes this trek so incredibly beautiful are the places you get to camp. You can literally camp on the beach or if you want you can choose to spend the night under a swaying Nikau Palm.
A few of my favourite places to camp include:
Apple Tree Bay Campsite which gives stunning views of Adele Island, Anchorage Campsite, which is situated in the peaceful Torrent Bay;
Onetahuti Bay Campsite which offers views of Tonga Island, especially breathtaking during sunrise and lastly my favourite;
Mosquito Bay Campsite is just stunning with the large variety of wildlife and swimming lagoon.
If by chance huts are still available, you can find them dotted throughout the National Park.
So you may be asking why there are so many campsites when the recommended time for the trek is 3 to 5 days.
The coastal track also doubles as a kayaking hotspot allowing for those taking the sea option to paddle from beach to beach in case seas get a bit rough.
The track seems to be quite easy but can often catch out hikers due to its tides, especially at the Awaroa Inlet which you can get stuck at if you time the tides wrong.
At most huts, there will be a board displaying tidal times for your benefit.
The Abel Tasman Coastal Track is a one-way track and most of the time hikers will not return the same way they came. Instead, they will opt for a water taxi pick up at designated campsites which can be organized at Marahau.
Kayaking back to Marahau is also optional as most places in Marahau have kayak hire but the best guys to go to are Abel Tasman Kayaks.
Check out our article on kayaking in Abel Tasman National Park.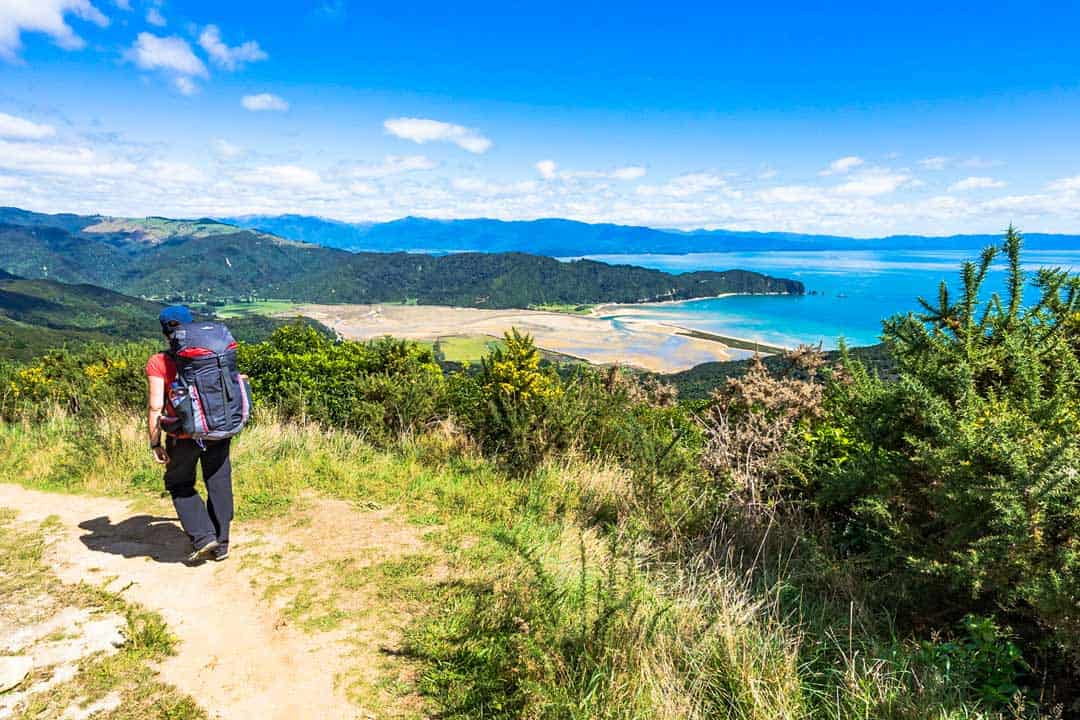 Dusky Track
Location – Fiordland National Park
Distance – 83.6 kilometres
Start/ Finish – Hauroko Burn Hut to Lake Manapouri
Time – 10 days
Difficulty – Hard
Possibly one of New Zealand's most remote treks which can only be accessed via boat, plane, or helicopter, The Dusky Track is true backcountry trekking bound to push you to your limits over a period of 10 days.
The Dusky Track is a piece of paradise that is rarely attempted by those who come to the South Island. Even in New Zealand don't expect to see too many people taking on Dusky.
Dusky Track is a culmination of creek crossings, slippery and muddy paths with steep mountain ascents.
Taking on the Dusky Track is truly rewarding and is a must for those avid explorers.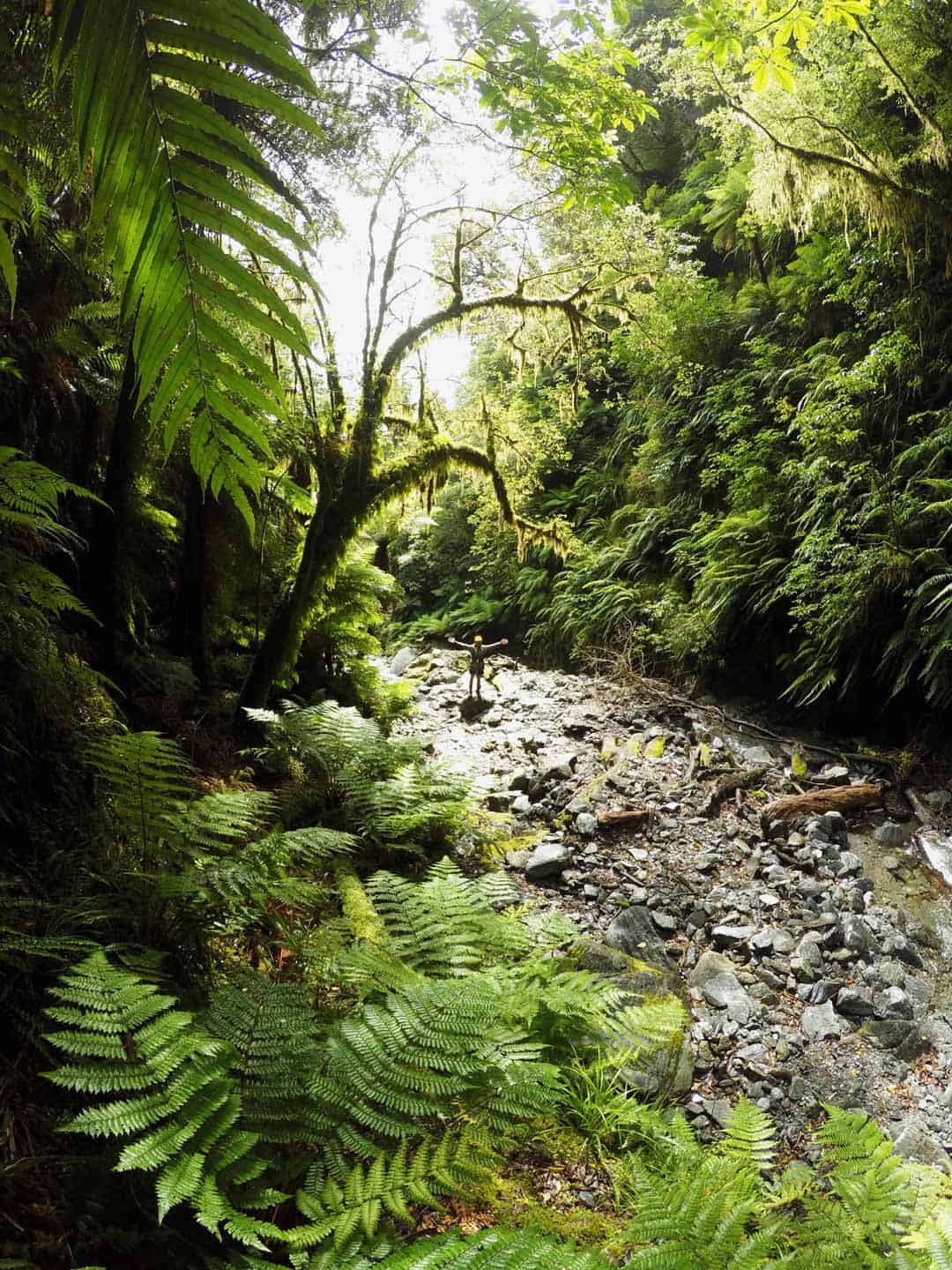 Heaphy Track
Location – Kahurangi National Park
Distance – 78 kilometres
Start / Finish – Brown and Aorere Rivers to Kohaihai
Time – 4 to 5 days
Difficulty – Easy to Moderate
Fancy going back to back? The Heaphy Track is based in the stunning Kahurangi National Park which fronts the Tasman Sea.
Full of swing bridges, Nikau palms, and subalpine environments, the Heaphy cements itself as a true Great Walk of New Zealand, and for all the right reasons.
Kahurangi is the 2nd largest National Park in New Zealand and it was only formed in 1996 making it one of the youngest parks.
As to the Heaphy Track, the trek is somewhat of a challenge but generally can be attempted by those who are progressing into an overnight hike.
Hollyford Track
Location – Fiordland National Park
Distance – 55 kilometres
Start / Finish – Te Anau to Martins Bay
Time – 3 days
Difficulty – Easy
Situated South of Queenstown, starting in the small town of Te Anau, the Hollyford Track is stunning as well as an easy trek that is suitable for most hikers.
Hollyford showcases the Fjords most lush, pristine rainforests, creeks and rivers as well as mountain landscapes which are bound to have you won over by the end of the 3-day trek.
What makes this hike so unique is its proximity to the Fjords and mountains of Fiordland National Park.
It's truly an amazing place to hike even though the walk is quite short, it can be linked up with the Milford Track.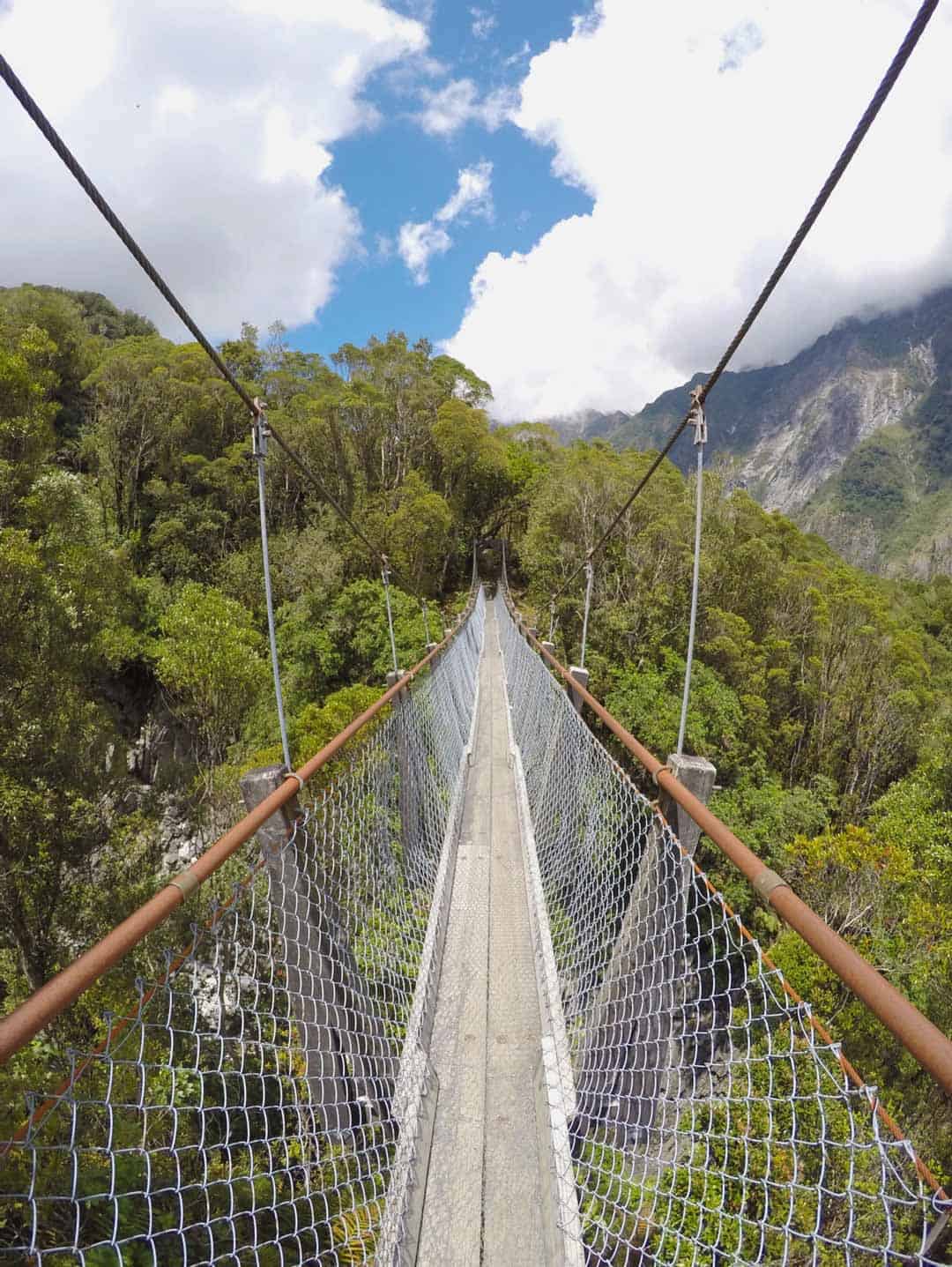 Kepler Track
Location – Fiordland National Park
Distance – 60 kilometres
Start / Finish – Lake Te Anau
Time – 3 to 4 days
Difficulty – Moderate
Why not mix the Hollyford and Kepler Track into one awesome adventure as both trails lay easily accessible via the township of Lake Te Anau.
The Kepler Track is located in Southland, and is often mentioned as the "adventure above the clouds" and how accurate that is!
The Kepler Track has everything from lush rainforests with trickling creeks of glacial water to alpine environments high up on Mount Luxmore along with a fair share of everyone's favourite swing bridges.
The Kepler Track follows stunning ridgelines, including Luxmore Saddle which positions you 1,400 metres above sea level. This is where the nickname "adventure above the clouds" originates.
The Kepler Track has been made to be accessible to all hikers with bridges, paths, and ease of water crossings giving you the opportunity to truly take in your surroundings.
Camping and hut stays are available.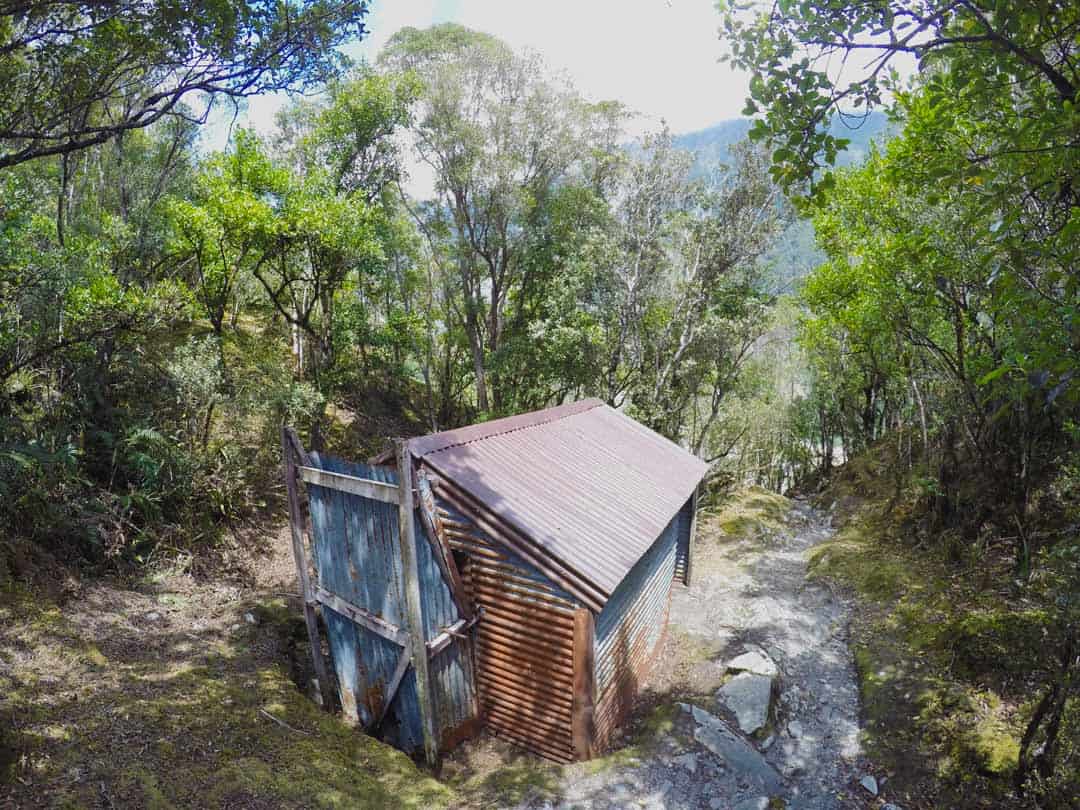 Milford Track
Location – Fiordland National Park
Distance – 53 kilometres
Start / Finish – Lake Te Anau at Glade Wharf to Sandfly Point
Time – 4 days
Difficulty – Moderate
Described by many as one of the finest hikes in the world and possibly New Zealand's gem of all hikes, The Milford Track without a doubt is breathtaking from start to finish.
But the only thing that might get on your nerve is the pesky sandflies which pack a stinging bite if you do not come prepared, more on this later in the article.
With views of Mitre Peak, New Zealand's most photographed mountain coupled in with the cascading waterfall Sutherland Falls, The Milford Track is one you don't want to rush no matter how hard the sandflies bite because the landscapes are just out of this world.
At one point on the hike, you reach an altitude of 1,140 metres (not massive) but the views from Mackinnon Pass are not to be passed.
At the end of the hike, there are awesome options to take a kayak trip through the Milford Sound.
Or sit back on board a boat with a fine beer and enjoy the best of the Milford Sound as dolphins and seals are likely to be seen frolicking amongst the crystal clear waters of Fiordland National Park. As there are many New Zealand Great Walks, the Milford Track is one not to miss.
Hanging out in the area longer? Don't miss our review of the amazing overnight Milford Sound cruise!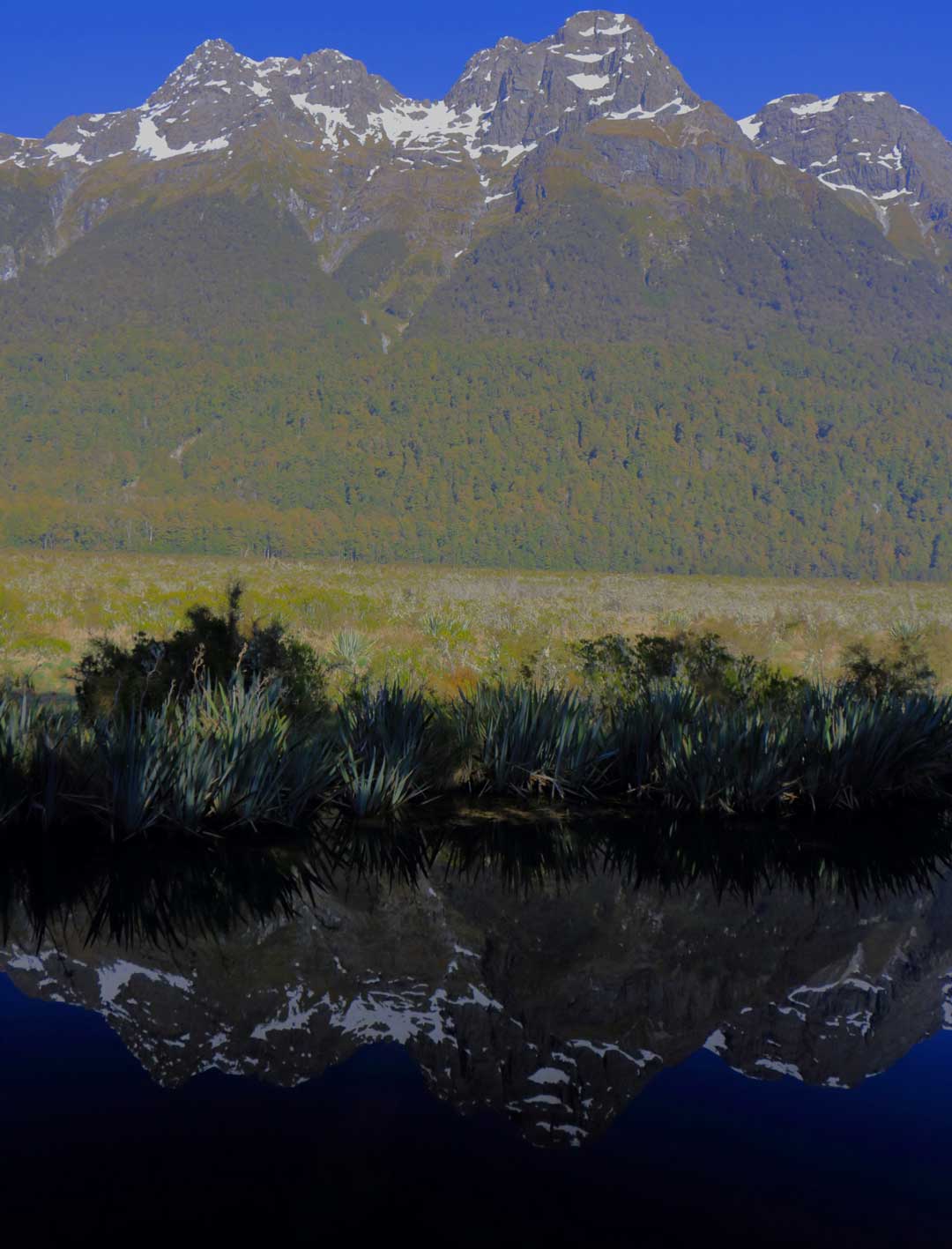 Queen Charlotte Track
Location – Marlborough Sounds
Distance – 71 kilometres
Start / Finish – Ship Cove to Anakiwa
Time – 4 days
Difficulty – Easy to Moderate
Situated right at the top of New Zealand's South Island is Marlborough Sounds which is home to the Queen Charlotte Track.
Traversing over 71 kilometres of stunning forest trails followed by golden beach stretches, the Queen Charlotte Trail is almost as good as its neighbour, The Abel Tasman Coastal Walk.
The Queen Charlotte Track offers a mix of steep climbs which lead to endless 360-degree views of Marlborough Sounds. On a good day you can even see over to the North Island of New Zealand!
There are so many cool places to pitch a tent along the way but the best spot to do so is Camp Bay 'ironically' and Portage.
Routeburn Track
Location – Mt Aspiring National Park and Fiordland National Park, South Island
Distance –

32 kilometres

Start / Finish – Routeburn shelter at Lake Wakatipu to The Divide
Time – 2 to 4 days
Difficulty – Easy to moderate
One of the most visually appealing hikes in New Zealand, the Routeburn Track offers exceptional views of the year-round snowcapped peaks of Mount Aspiring National Park to the gorgeous Fiordland National Park.
Easily accessible from Queenstown, The Routeburn is one of the best hikes in New Zealand by a long shot!
The Routeburn offers a mix of alpine wetlands, cascading streams, lush grasslands to silver beech forests which all happen within 32 kilometres of glorious hiking.
If you want to challenge yourself, opt to add on a few extra days by taking on Key Summit which is the place where Sir Edmund Hillary trained before his Mount Everest attempt in 1953.
Don't miss out on our in-depth article on the best things to do in Queenstown!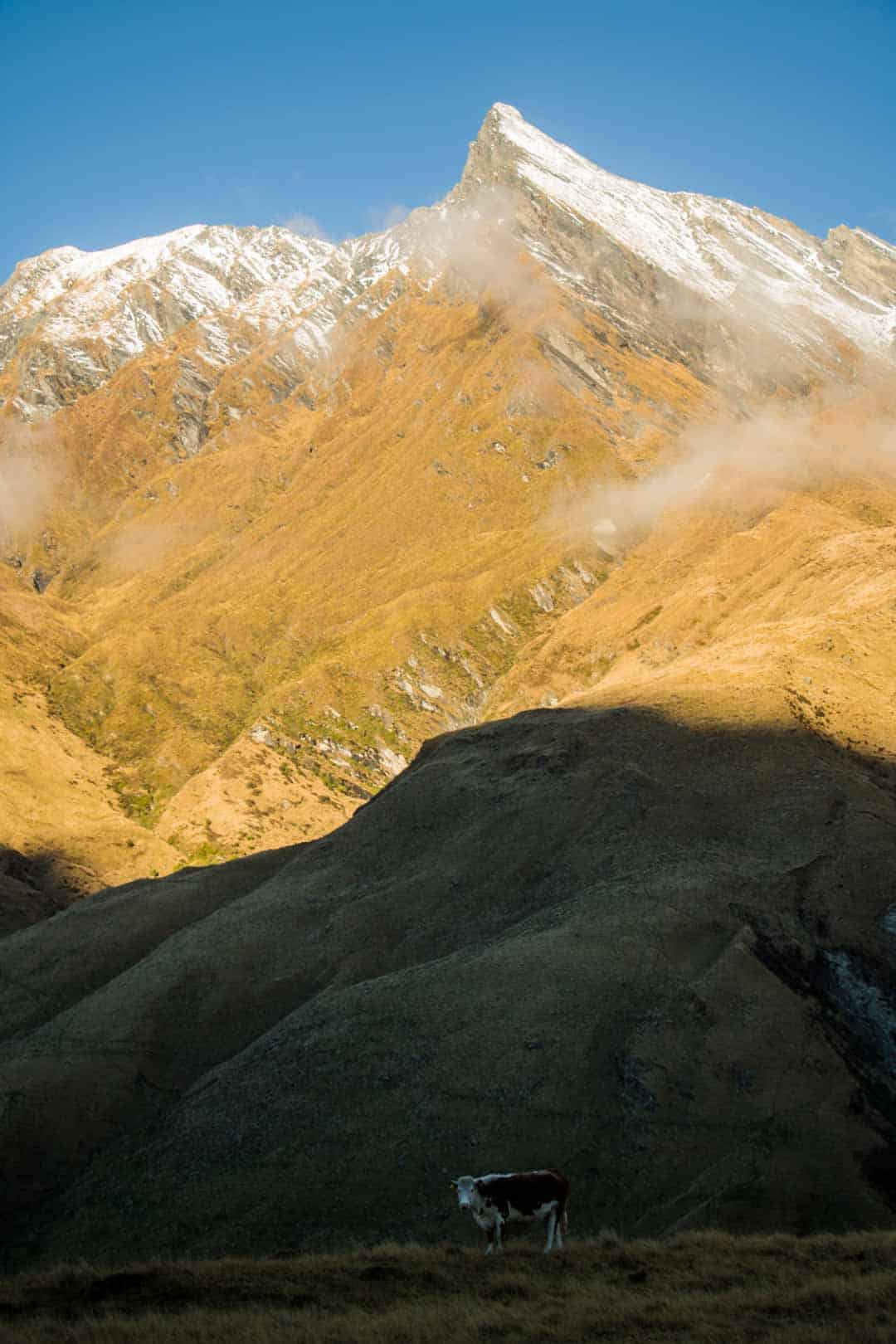 Treks on the North Island
Don't let the list above fool you – the North Island is also home to some amazing multi-day treks in New Zealand!
READ MORE: Don't miss out on all these incredible New Zealand itineraries when travelling around the country!
Tongariro Northern Circuit
Location – Tongariro National Park
Distance – 43 kilometres
Start / Finish – Whakapapa Village to Mount Ruapehu
Time – 3 to 4 days
Difficulty – Moderate
As there are many New Zealand Great Walks, Tongariro Northern Circuit is high on that list.
Hiking in Tongariro National Park has been compared to hiking on Mars or in Iceland, and that's a good thing!
Tongariro Northern Circuit is the most unique hike you can do in New Zealand as a culmination of rocky outcrops, emerald pools of sulfur water boil away to plumes of gases being emitted into the surroundings by a dormant volcano.
It may sound dangerous and to be honest, it is (only if the volcano erupts) but don't let that put you off this epic trek.
The Tongariro Northern Circuit has plenty of nooks and crannies to explore including Mount Ngauruhoe to Mount Ruapehu, which is the exact mountain that Mount Doom from Lord of the Rings is based on.
One of the best views and most iconic in New Zealand is Emerald Lakes which is a series of un-swimmable pools of water rich in volcanic elements.
As for the track itself, sections can be quite technical due to scree and ancient sections of lava flow which have since solidified so take your time when descending.
There are a few places to rest at night including Mangatepopo Hut which offers magnificent views.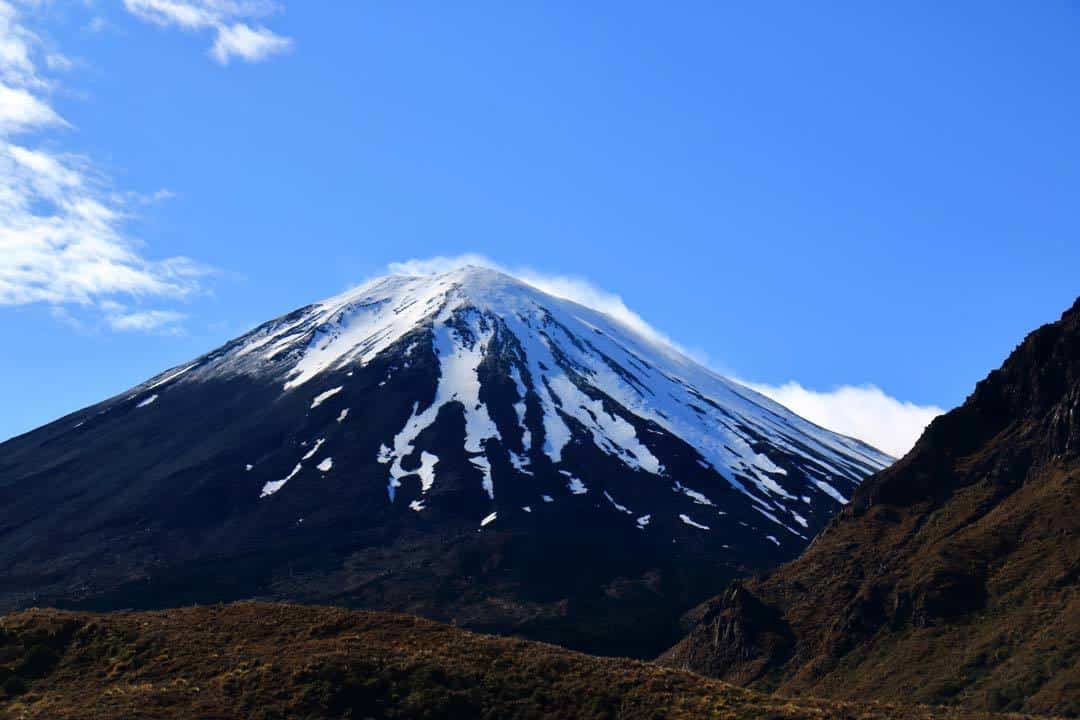 Lake Waikaremoana Great Walk
Location – Hawke's Bay
Distance – 44 kilometres
Start / Finish – Onepoto to Hopuruahine
Time – 4 days
Difficulty – Easy to Moderate
This is another one of New Zealand's Great Walks which combines the stunning mountains, forests, and lakeside paths of the North Island.
This trail is bound to impress with the morning chorus of native birds echoing from tree to tree or it may be the impressive ridgelines of Puketapu Trig.
Lake Waikaremoana is a great walk for a reason as views never cease to let down with impressive views of Lake Waikaremoana, giant native trees, and a stunning waterfall by the name of Korokoro Falls.
Huts are available throughout the whole trail (5 in total) but bookings are required well in advance as this is a popular trek. Bookings can be made on the DOC website.
The Best Hikes on Stewart Island
There's more to New Zealand than just the North and South Islands. At the bottom of the country is the 'third' island, Stewart Island.
If you prefer getting off the beaten path, then this is the place for you to find some of the most unique multi-day hikes in New Zealand!
North West Circuit
Distance – 125 kilometres
Start / Finish – Oban
Time – 10 to 14 days
Difficulty – Hard
Getting to Oban is a whole adventure in itself and the overnight hike hasn't even started!
First, you are going to need to get to the most southern point to a place called Bluff for an often bumpy ferry ride across Foveaux Strait to Oban.
The North West Circuit is guaranteed to be one of the hardest hikes you can do in New Zealand due to its remoteness and often crazy weather events.
Behind the harshness of this trek lies isolated beaches often gold in nature with the odd Yellow-eyed penguin to lush forests which act as a border between both worlds.
No matter what time of year you decide to attempt this glorious trek, one thing is bound to always be by your side or under your feet and that is mud…and lots of it.
The North West Circuit will require you to take a decent pair of hiking shoes to avoid having 2 weeks' worth of mud in your shoes after the first day.
READ MORE: All the best things to do in Franz Josef.
The Best Day Hikes in New Zealand
Not prepared for a multi-day trek, or just prefer to hang out for a day? Then check out these best day hikes in New Zealand!
Best Day Hikes on the South Island
Rob Roy Glacier
Location – Mt Aspiring National Park
Distance – 10 kilometres
Start / Finish – Raspberry flat carpark
Time – 3 to 4 hours
Difficulty – Easy
This walk will see you follow along a narrow path (mostly uphill at a steady gradient) above Rob Roy Stream which is fed by glacial waters.
The track is slightly damaged in places from recent weather events, but don't let that put you off the mystical walk through ancient forests leading you all the way up to the first lookout onto Rob Roy Glacier.
During the winter months, mountains with significant altitude and prominence such as Rob Roy Peak (2,644metres) see glaciers very high up. And when snow continues to build, the chance of seeing an avalanche becomes severely increased.
The Department of Conservation New Zealand recommends that you do not go past the first lookout due to avalanche risks.
However during the early winter months (June) the accumulation of snow is lesser although in alpine conditions this can change instantly.
I made the choice to continue past the "no go area" and head onto the upper lookout which takes you lower to the crystal, blue stream feeding of the melting snow and ice.
To reach the upper lookout, one last slippery ice-covered track, you find yourself under the base of Rob Roy Peak where Rob Roy Glacier becomes evidently visible and it's magnificent!
Take the time to sit, but still be wary that ice falls could happen at any time. Away from the worries, Rob Roy Glacier is a cathedral of mountains at their most glorious, a place where you feel as one with your surroundings.
As a trail lover and runner, descents are epically fun when you now just get to stroll back down the hillside you came up!
Steady on though, the descent is amazing as you catch glimpses of the valley you just walked up and the amount of times I need to stop to take photos was uncountable.
During the winter months in the West Matukituki Valley, the sun tends to stay behind the mountains, illuminating the peaks above making for epic photo opportunities on your day hike back to Raspberry Creek carpark.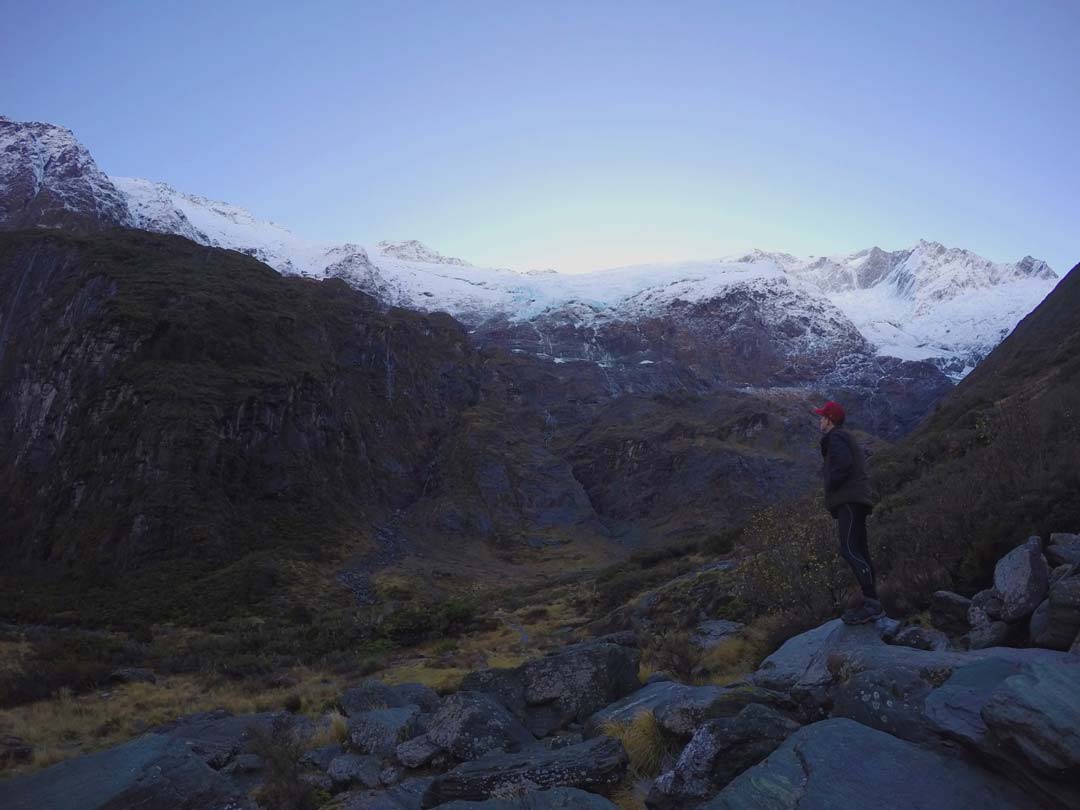 Sandymount Reserve
Location – Otago Peninsula
Distance – 6 kilometres
Start/ Finish – Sandymount Road
Time – 2 hours
Difficulty – Easy (can be slippery in sections)
This is another one of the most beautiful New Zealand hikes!
A row of enormous conifers introduces you to a series of the best-looking sheep paddocks in existence with breaking views of the South Pacific Ocean becoming clearer.
Sheep will most likely look at you as you day hike through their paddock. But don't worry if you think you are trespassing on someone's farm, the track is an official track under the Department of Conservation New Zealand.
Continue to breathe in the fresh, salty air as you follow the trail down to a viewing platform perched above a natural feature known as The Chasm.
Don't get too close though, winds here are very strong so just keep clear of the cliff edges as they are deceiving.
There is a fence that runs along the paddock to where you entered the viewing area so once you find the fence, follow it till you reach the end, and boom!
The views are just crazy beautiful! Hoopers Inlet becomes visible along with Allan's Beach leading onto Wharekakahu Island and Cape Saunders.
Once you find yourself back on Sandymount Track, endless sheep paddocks lead along the peninsula to Lovers Leap where erosion becomes its most beautiful.
A natural land bridge sits before you and the provided lookout with a continuation of waves entering the eroded section below.
Before you arrive back at your car, be sure to walk up Sandymount (320metres) for views right back over the Peninsula. If you want to spice things up a bit, do the day hike at sunrise to guarantee crowd-free trails.
Wye Creek, The Remarkables
Location – Near Queenstown, Otago, New Zealand
Distance – 20 kilometres
Start / Finish – Lakeside Estates
Time – 5 to 6 hours
Difficulty – Moderate
The first part of this day hike is pretty straightforward as you simply follow a 4WD track until you reach the official beginning of Wye Creek Track which is set by a hydro line and toilet.
From here, the fun begins! Steep sections litter the walk to the first checkpoint which is a hydro dam.
For a cheeky little hair-raising sidewalk, head to the right of the hydro dam and follow the adjacent pipeline for about 1 kilometre until you come out at a helicopter pad and epic, roaring waterfall.
The views of Lake Wakatipu are stunning!
Back on the main track at the hydro dam, follow all of the orange triangles through a densely-wooded forest following Wye Creek to the beginning of the alpine area of The Remarkables.
This is where the fun begins! Rock hopping skills are a must as you part from the forests of Wye Creek.
The orange triangles provided by The Department of Conservation become more spaced out so be sure to keep track of familiar landmarks along the trail.
I managed to walk for 10 kilometres one way before the weather started turning against me (very common in the mountains).
So I was lucky to come to an amazing view of Double Cone Mountain and a towering waterfall with icicles and patches of snow (something you can only dream of for an adventurer).
Just as I reached my turn around point, the snow was being lifted off the top of Double Cone in an amazing display of nature's raw power.
The thing I like about turning around is the view becoming completely different as huge boulders change shape, tussock fields with layers of ice and snow, and Lake Wakatipu comes back into view.
When the sign says 1.5 hours to the carpark and you do it in 25 minutes you know it's an epic descent through tight tree squeezes and hairpin corners. It's a trail runners dream.
Mueller Hut and Mount Ollivier
Location – Aoraki/Mount Cook National Park
Distance – 16 kilometres
Start / Finish – Mt Cook Village
Time – 6 to 8 hours return
Difficulty – Hard
One of the most spectacular day hikes in the South Island is the stunning but gruelling hike up to Mueller Hut high above the Hooker Valley in Mount Cook National Park.
It's best to attempt this day hike in the warmer months as snow can be very deep on the slopes of Mount Ollivier after snowfall.
This hike begins at the car park near the trailhead to Hooker Valley Track. Here you meander through dense forest until you come across a stairway which is bound to make you go crazy or your legs burn.
But don't let that put you off, the views begin to amaze you as you come across Sealy Tarns.
Beyond Sealy Tarns, the alpine zone begins with lots of tussock, rocks and ice. Follow the star pickets with an orange marker for the next 1.5 hours.
Mount Sefton should be directly in front of you (across the valley). Mueller Hut stands out with its reddish coloured walls.
Keep following the orange markers until you reach Mueller Hut and one of the most scenic toilet views in the world.
From Mueller Hut, there is an option to summit Mount Ollivier which was Sir Edmund Hillary's first major climb long before he climbed Mount Everest.
Mount Ollivier is a further 30 to 45 minutes from Mueller Hut. You can stay in Mueller Hut but bookings are essential and can be booked at the information centre in Mount Cook Village. Return the same way you came.
If you are a hardcore adventurer, Mount Sebastopol is about 2 to 3 hours further along the ridge which would require crampons in the colder months. This is a highlight of Mount Cook National Park!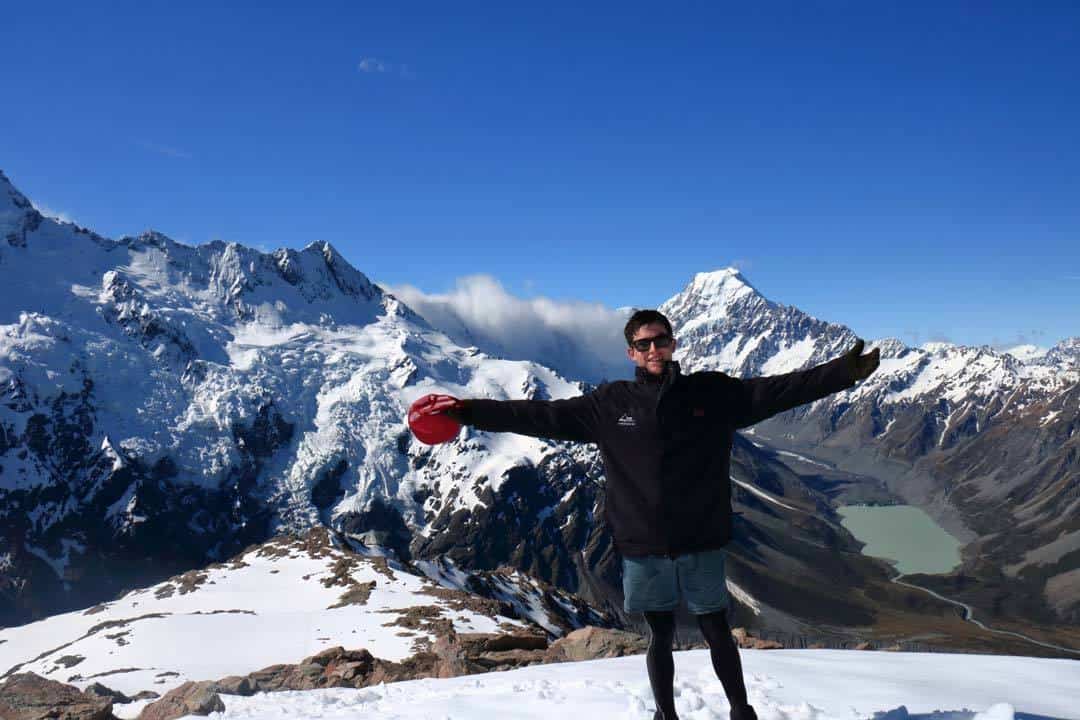 Best Day Hikes on the North Island
If you're using Wellington or Auckland as your points of entry/exit to New Zealand, then these day hikes on the North Island will get you amped.
These New Zealand hikes are great for those who don't want to commit to an overnight hike.
Tongariro Alpine Crossing
Location – Tongariro National Park
Distance – 19.4 kilometres
Start / Finish – Mangatepopo carpark to Ketetahi Road
Time – 6 to 8 hours
Difficulty – Moderate
By far the most popular day hike in New Zealand and the most popular overall hike in New Zealand, and it's for good reasons.
The Tongariro Alpine Crossing is a mix of cascading waterfalls, snowcapped peaks, emerald lakes, and fuming volcano vents (don't get too close!).
The alpine crossing has its own climate as a group of mountains such as Mount Tongariro, Mount Ruapehu, and Mount Ngaurahoe nearly all reaching over 2,000 metres bring together some of the most scenic hiking trails in the world.
If you are in the North Island and love an adventure, dedicate 8 hours of your trip to this day hike as you won't regret it, it's the best thing you can do while in the North Island.
Kauaeranga Kauri Trail (Pinnacles Walk)
Location – Coromandel Peninsula
Distance – 10 kilometres
Start / Finish – Thames
Time – 1 to 2 days (can be done in one big day)
Difficulty – Moderate
One of the most stunning hikes in the North Island which can be quite demanding at times but well worth the views, especially during sunrise and sunset.
There are plenty of forest tracks with waterfalls such as Billygoat Falls followed by the remarkable formation of spiky, jagged rocks at the end of the trail.
Bridal Veil Falls
Location – Along the Pakoka River in the Waikato area
Distance – 3 kilometres
Start / Finish – Kauroa-Kawhia Road, Makomako
Time – 20 minutes one way
Difficulty – Easy
This is an easy day hike that takes you through lush rainforest to a towering 55-metre waterfall known as Bridal Veil Falls. It is one of the most popular waterfalls on the North Island.
There is a steep staircase that leads to the base of the waterfall followed by a bridge that crosses the water.
This waterfall is easily accessed via the town of Hamilton.
The Ultimate New Zealand Hiking Adventure: Both Islands!
Te Araroa Trail
Distance – 3,000 kilometres
Start / Finish – Cape Reinga (North Island) to Bluff (South Island)
Time – 4 months
Difficulty – Hard (really hard)
Got a spare 4 months? Well if you do and you dig hardcore adventures, Te Araroa Track is destined to be one of the most incredible New Zealand hikes.
Starting at Cape Reinga, the hike takes you along a gruelling section known as 90 Mile Beach which to some is the hardest part of the whole trek.
The trek requires 24 kilometres a day if you want to meet the 4 month time period however hikers generally move at their own pace due to the length of the walk.
Undertaking Te Araroa presents all of New Zealand to you over a period of 4 months with beaches, cities, forests, mountains and even the odd volcano!
Picking the right time of year to do this hike is crucial as the Southern Alps can become a problematic issue in winter.
So it is best of to leave Cape Reinga in spring which should give you plenty of time to pass through the South Island before winter arrives.
Preparation for this hike must be taken seriously and nothing should be overlooked when planning.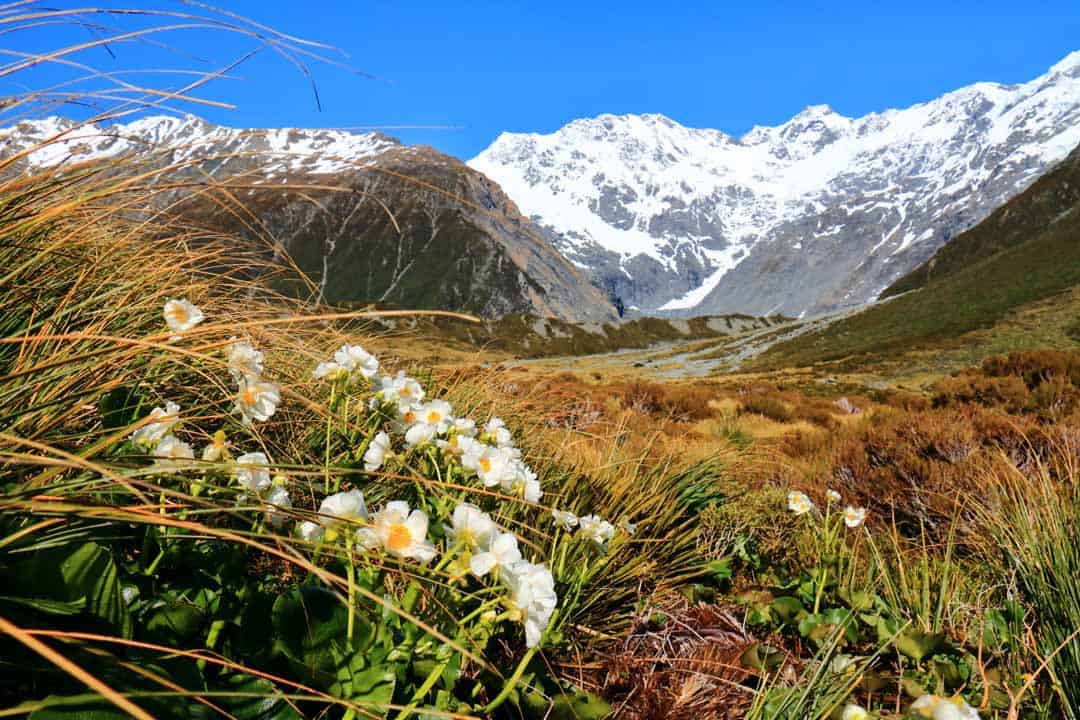 Best Time to Go Hiking in New Zealand
The timing for the best hiking in New Zealand can be hard to pick because of its vast array of environments.
Some want to experience the warmth while hiking the Abel Tasman Coastal Track while others pray for snow while in Mount Aspiring National Park.
Mid-December to late January – High season brings many thousands of people to places like the Abel Tasman and Milford Sound Tracks so bring a tent if huts are full. This is a busy time for the great walks season.
Another tip is to book a spot at a hut well ahead of your arrival time.
January to March – February is a choice time to hit the trails as the weather is still nice and warm. Any trek that doesn't have an alpine climate can be trekked during October to April.
June to August – Winter means most New Zealand hikes are closed for the season but if you are a mountaineer or alpinist, New Zealand becomes a haven for those wanting to get into the more serious stuff.
Tips to Know Before Hiking in New Zealand
New Zealand can experience anything from cyclones, floods, thunderstorms to avalanches and blizzards in the mountainous areas.
So prior to travelling to New Zealand check online with The Department of Conservation at www.doc.govt.nz for track updates or anything relating to the National Park.
For anything weather-related head to this site where you can see extended forecasts in all areas of New Zealand as well as an avalanche advisory.
Here is another fantastic site to which you can log your intentions before heading out on a hike.
New Zealand is one of the safest places to go trekking in the world. But you should always be prepared for any conditions.
So I have compiled a comprehensive checklist for hiking both in the warmer months and colder months which you can see below.
Also don't miss our guide to epic hiking tips, which you can check out here.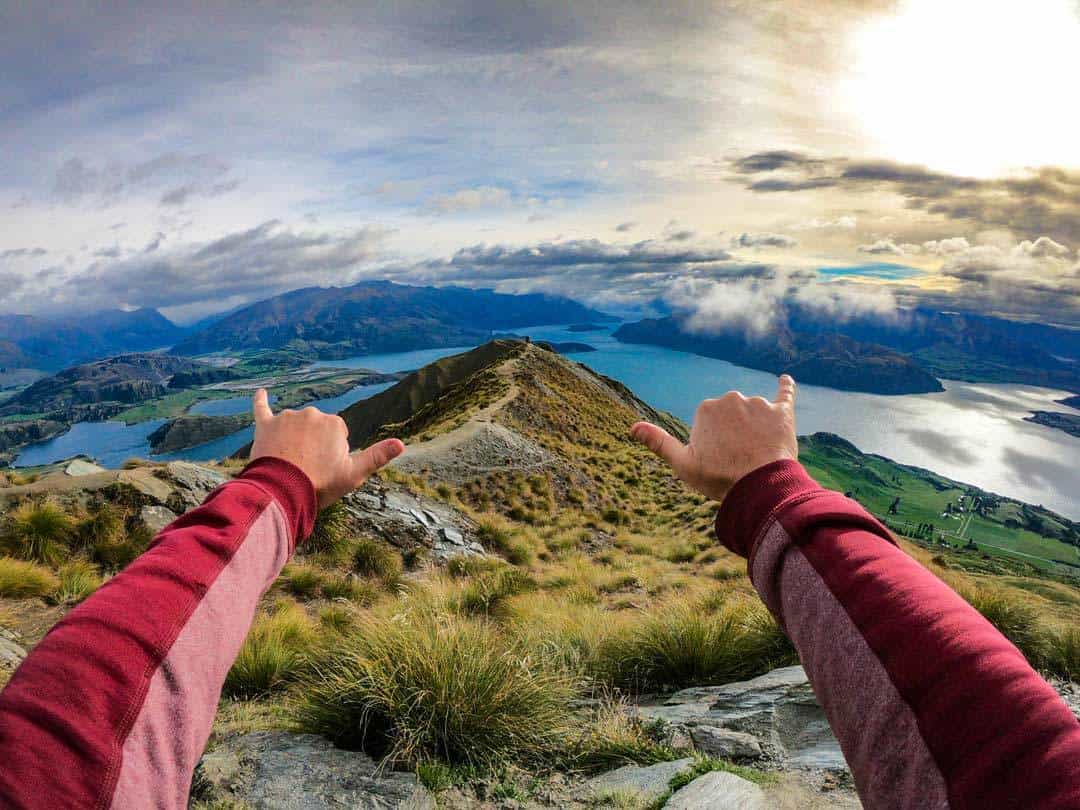 Hiking New Zealand Packing List
If you're heading to New Zealand (or coming from Australia), then I highly recommend stopping by the closest Kathmandu store to stock up on equipment.
They make the best adventure gear on the market, from tents to sleeping bags, hiking shoes to clothing, and everything in between.
The staff are also super knowledgeable about all things trekking and tramping, so they are a wealth of information for your next hiking adventure.
Here's a basic list of gear you'll need.
Tent (check out our comprehensive buying guide here)
Sleeping bag and silk liner
Waterproof hiking boots
Hiking pants and shorts
Breathable shirts
Down jacket for cold nights
Wind breaker jacket
Emergency blanket
Rain jacket – definitely take one if hiking on the South Island West Coast.
Thermals both top and bottom layers
Lots of socks – you can never have enough when hiking
Underwear
A hat for sun protection (UV is stronger the higher you are up)
Buff for protection from the wind and sun
Hiking poles come in handy when hauling larger loads to help distribute weight
Camera gear – pack extra batteries and memory cards
Portable power packs including portable solar panel
Emergency beacon
Portable gas burner with compact pots and pans
Cutlery
Enough food for the hike (I like to throw in a few extra meals in case the hike is extended)
Water – on most New Zealand hikes you will find places to refill quite regularly. 4 to 5 litres must be on you at all times
And of course, a good quality hiking backpack to carry it all
High Country Extras
If you plan to do any backcountry or hiking above alpine zones in the colder months, these are some (not all) of the things you might need for these New Zealand hikes. The above equipment needs to be considered as well.
Crampons
Ice picks
Emergency blanket
Emergency beacon
Heavily insulated gloves with warmers
Snow gaiters
That's it for my ultimate guide to the best New Zealand hikes. Has it helped? Got anything you'd like to add? Leave a comment below and let me know!