Headed to Vietnam's biggest city? Read on for an epic 3 days in Ho Chi Minh City itinerary!
The city formerly known as Saigon got its current name back in 1975 after the disastrous war finally came to an end.
What was the capital of South Vietnam took the name of one of the North's leaders as the country began the difficult process of reunification.
For many locals, the urban core of the city is still known as Saigon. After all, it is located on the banks of the Saigon River and the airport code is SGN.
For simplicity, you'll often see the name abbreviated to HCMC or just HCM. If you refer to "Ho Chi Minh," however, many will think you're talking about the historical figure.
Whatever you call it, the city has grown rapidly over the past few decades. With a population of just under 9 million, it's one of the biggest cities in all of SE Asia.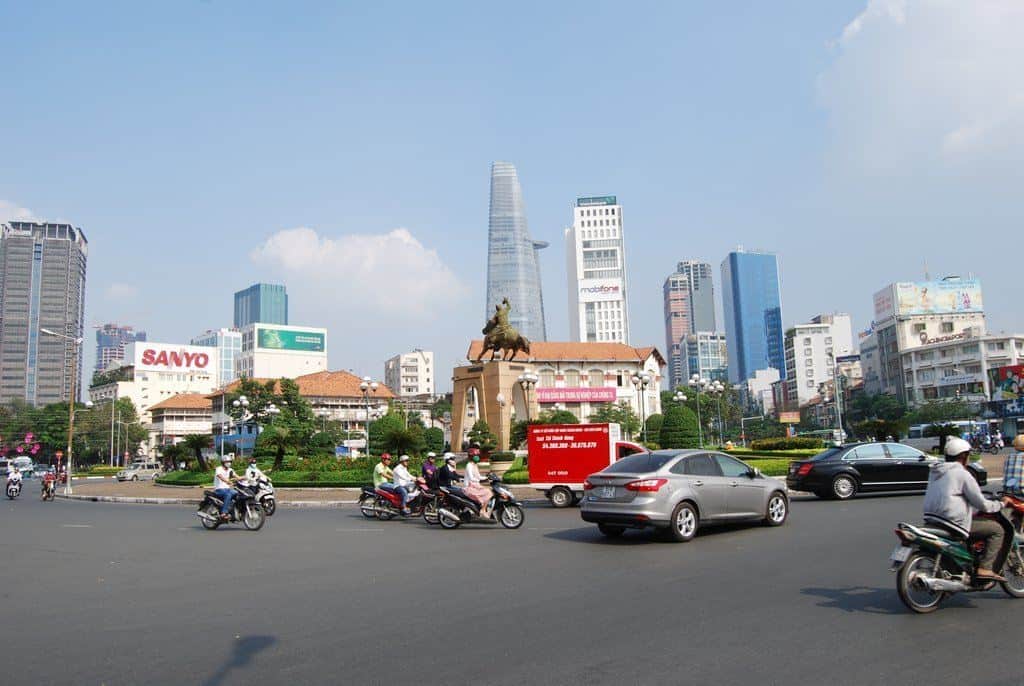 The signs of this break-neck development are everywhere – futuristic skyscrapers, trendy shopping malls, and innovative hi-tech parks are shaping the city's new identity.
That being said, the past remains very much present in HCMC. When slurping a bowl of pho in a local market or exploring an ancient temple, it's easy to feel like you've stepped into a time machine.
With 3 days in Ho Chi Minh City, you can get a feel for its past and future at the same time. Meanwhile, the present seems to be floating aimlessly somewhere in the middle.
This is just enough time to check out some of the city's most important landmarks, dive into the local culture, and even sneak out for a cheeky day trip.
Let's get to it and see just how much you can do on your 3 days in Ho Chi Minh City itinerary!
READ MORE: Plan your trip to Vietnam with our comprehensive Vietnam Travel Guide.
How to Spend a Perfect 3 Days in Ho Chi Minh Itinerary
Step one – ditch your fear of motorbikes and fuel up with some strong Vietnamese coffee. This is key for a solid start to your Ho Chi Minh itinerary.
Day One
Morning – Take a Walking Tour
Massive, booming, hectic metropolises such as Ho Chi Minh can be a bit intimidating. That's why I always recommend starting with a little walking tour in places like this.
The thing about walking in Saigon is that you have to inevitably cross the street, which means playing a human game of Frogger with a never-ending stream of motorbikes. It's certainly a rush!
I should note that the popular free walking tours that were run by university students here were unfortunately shut down. Apparently, there are others out there now, but I read some less than stellar reviews.
Instead, you can go for a DIY approach. If you're not into that then I suggest booking this half-day tour, which has some solid reviews.
Tao Dan Park
Should you manage to overcome your fears and make it to the other side of the street, continue that process until you reach Tao Dan Park. It's the perfect place to kick off your exploration of the city.
This tree-lined park is a popular place for locals to do group exercise, dance, do martial arts or just hang out and chat. Join in the fun and make some local friends!
One of the most interesting things about the park is the famous "Bird Cafe." This is where bird lovers (mostly elderly Vietnamese men) bring their bird cages and socialize over a cup of coffee.
The birds do quite a bit of socializing as well!
Reunification Palace / Independence Palace
From the park, it's just a short stroll over to the Reunification Palace. It was here that a tank came crashing through the gate one day in 1975 to mark the end of the war.
As a matter of fact, you can see that very tank on the front lawn to this day! It's not the only thing that was left behind.
The Reunification Palace of Ho Chi Minh is also known as the Independence Palace.
The entire place is basically a time capsule, complete with a bunker full of antique equipment.
If you want to get a bit more out of your visit, you can hop on one of the free guided tours.
Otherwise, you're basically just looking at a bunch of old furniture…
Address: 135 Nam Ky Khoi Nghai, District 1
Hours: Daily from 8 AM – 4:30 PM
Cost: 40,000 VND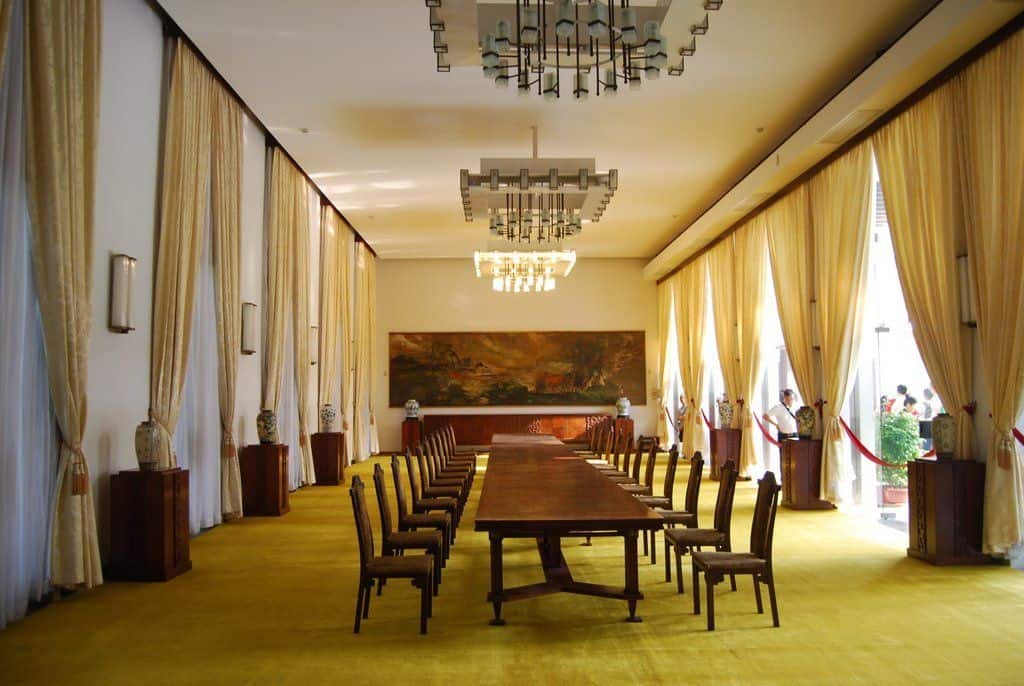 Mid-Day – Ben Thanh Market
There's nothing like a bit of sensory overload to get you going, and that's exactly what a stroll through the market provides!
Follow the most enticing smells and sit down to enjoy some classic Vietnamese cuisine.
While this place is fun to check out at least once, it's definitely a bit touristy and can be overpriced.
Definitely smash a bowl of noodles and a coffee here, but branch out to try random local spots for the rest of your 3 days in Ho Chi Minh City.
Address: Le Loi Street, Ben Thanh Ward, District 1
Hours: Day market runs from 6am – 6pm and night market runs from 6pm – 10pm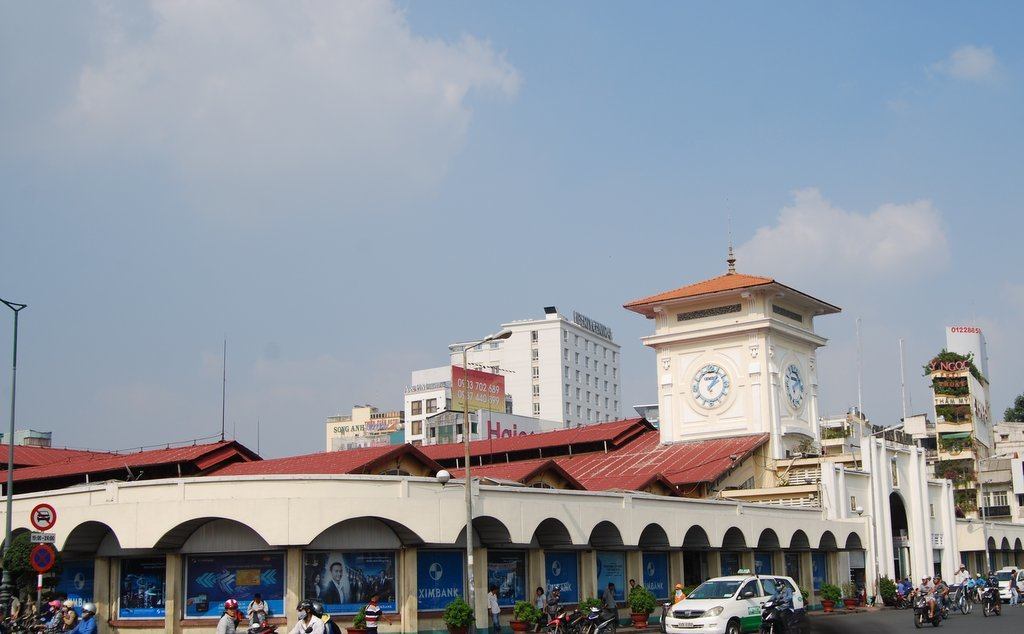 Afternoon – War Remnants Museum
Seeing as how it's just a few blocks away, you may as well go ahead and cross the War Remnants Museum off your 3 days in Ho Chi Minh City itinerary.
Just a quick word of warning – visiting the museum is quite a sombre experience. There are graphic displays of the horrors of war all across the 3-story museum.
It's also, not surprisingly, full of anti-American propaganda. If you don't think you can handle the gory images or the Vietnamese tilt of the museum, perhaps just take a look at the military equipment outside and move along.
Address: 28 Vo Tan Tan, District 3
Hours: 7:30 AM-12 PM and 1-5 PM
Cost: 40,000 VND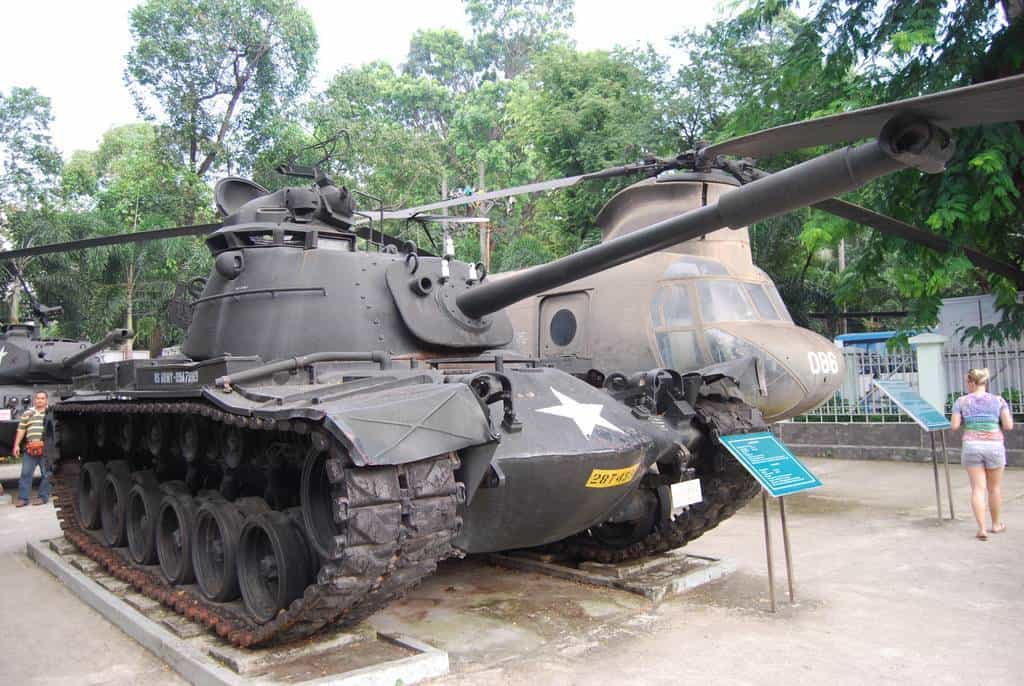 Evening – Water Puppet Show and Dinner Cruise
After chilling out for a bit, it's time to get ready for your first night of 3 days in Ho Chi Minh City. A great way to spend it is by taking in a traditional water puppet show and then cruising the Saigon River.
Water puppet theatre is a tradition that goes way back in Vietnam. Unfortunately most young Vietnamese aren't very interested in this art form anymore, so it's mostly for tourists these days.
There are two shows a night at the Golden Dragon Theatre – one at 5 and another at 6:30. The show lasts about an hour and is fun, even if you can't understand a word of what's being said!
Next up, embark on a dinner cruise along the Saigon River. There are tons of options, but I recommend you sign up for this tour that sets you up with both the water puppet show and the river cruise.
Night – Time for a Night Cap
It's been a busy first day in Ho Chi Minh, so I recommend taking it easy tonight. If you're looking for a cheeky nightcap before turning in, you've got plenty of options!
As a beer lover myself, I recommend trying out Vietnamese craft beer. There are several places in District 1 with excellent brews – Pasteur Street, East West Brewing Co. and Malt Saigon are all solid choices.
READ MORE: Check out these 33 awesome things to do in Vietnam!
Day Two
Morning – Jade Emperor Pagoda
After some breakfast and tasty Vietnamese coffee, head over to the Jade Emperor Pagoda. This is one of the most important shrines in HCMC and a beautiful place to explore.
The temple is a blend of Taoism, Buddhism, and Confucianism. It's very much active, so you can expect to see locals worshipping here and making offerings of flowers and incense.
Take your time and spend the morning taking it all in. This is one of the top places to visit on a 3 days in Ho Chi Minh itinerary so don't rush through it.
Address: 73 Mai Thi Luu Street, District 1
Hours: Daily from 7 AM – 5:30 PM
Cost: Free
Tan Dinh Church and Market
While you're over on this side of town, you might as well check out another beautiful place of worship. The Tan Dinh church is just a few blocks away from the temple and is worth the detour.
This bright pink church with Gothic pillars was built in the 1870s and it makes for some beautiful photos.
Right across the street is the Tan Dinh Market, which is way more local than Ben Thanh.
Drop in and wander around for a bit, perhaps stopping for a fresh juice. Or maybe just some noodles and a cold beer.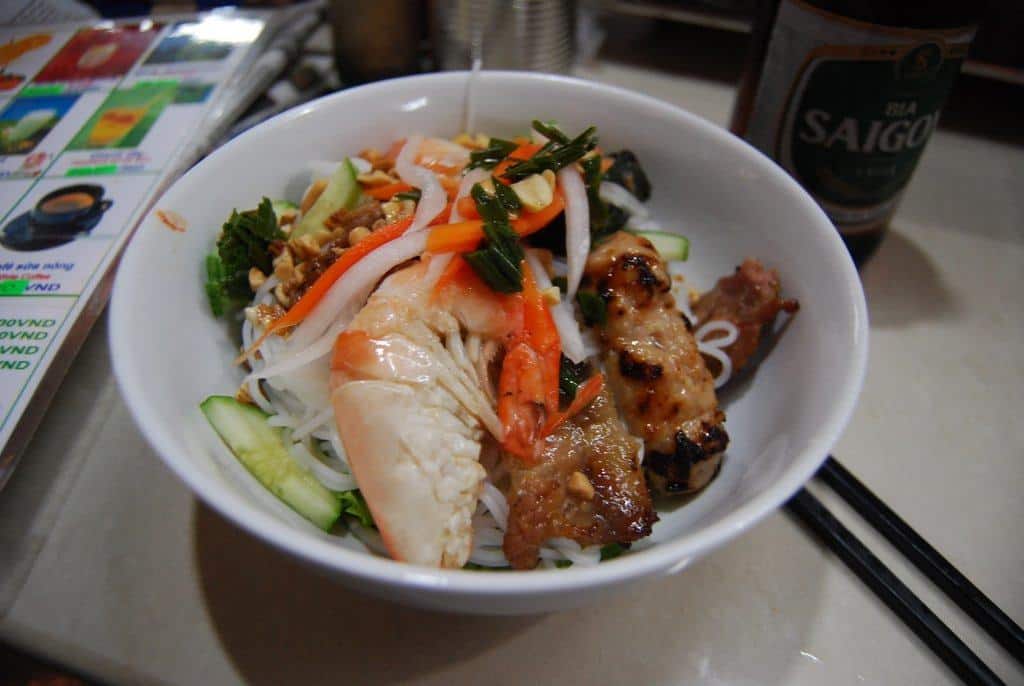 Mid-Day – Lunch and Local Park
If nothing tickles your fancy in the market, there are plenty of restaurants in this area of Ho Chi Minh. Grab some lunch and perhaps a coffee, then head to the tranquil Le Van Tam Park.
This green oasis in the bustling city is the perfect spot to kick back and relax for a bit. If you need a bit more activity, you can try out the free exercise equipment.
Afternoon – Architectural Walking Tour
Head south for a few blocks and walk by the small Turtle Lake. It's actually just a small pond at the roundabout but it's a nice place to sit and watch the chaos of the city roll by.
When you've caught your breath, it's time to keep on rolling. Next up for Ho Chi Minh City in 3 days is a walking tour of some of the best architecture in the city center.
Notre Dame Cathedral
Head south for a few blocks and you'll reach the stunning Notre Dame Cathedral. The French colonists built this Romanesque church with two large bell towers back in the 1880s.
There's a nice little park in front of the church with a statue of the Virgin Mary. Legend has it that the statue shed tears in 2005, although the church has refuted this story…
Saigon Central Post Office
Continue your walking tour of French architecture in Ho Chi Minh at the Central Post Office. This may seem like a strange thing to add to your 3 days in Ho Chi Minh City itinerary, but this ain't your average post office.
In an age where we all post thoughts and photos of our travels in real-time on social media, it's nice to step into this beautiful building to write a postcard and send it to someone back home.
City Hall & Walking Street
A few more blocks of dodging traffic brings you to yet another gorgeous French building. It's now City Hall, but it was originally a classy hotel when it was built in 1908.
In front of City Hall, you'll find a statue of Uncle Ho himself. Snap a picture of the city's namesake and then continue on your merry way down Nguyen Hue.
This pedestrian-friendly street is a great place for a stroll and some quality people-watching. One of the coolest places to check out here is the building known as the Cafe Apartments.
Once an apartment building, it's now a 9-story commercial space mostly filled with cafes. Head to one on one of the higher floors for a drink or snack and enjoy the views of the bustling street below.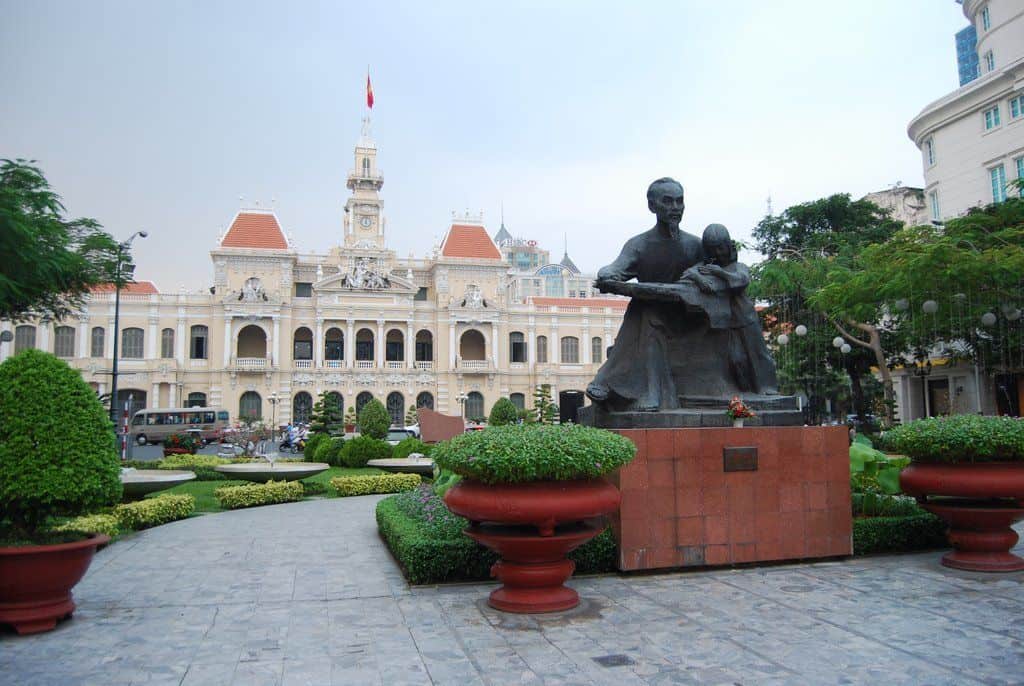 Evening – Saigon Opera House
From the walking street, head to the Saigon Opera House. It was built way back in 1898 and looks better than ever after major renovations in the run-up to its 100th anniversary in 1998.
While you can just admire the building from the outside, the best way to experience it is to catch a show here. One solid option is the A O Show, which is known as Vietnam's answer to Cirque du Soleil.
The show doesn't go on every day so be sure to check the calendar in advance. It starts at 6, which is perfect timing if you've followed the itinerary so far!
Night – Dinner and Drinks with a View
Whether or not you see a show at the opera house, you can drop by the Saigon Rooftop Bar. Located on the 9th floor of the Caravelle hotel, this is a great spot for drinks with a view of Ho Chi Minh.
If you make it up there in time you can enjoy their amazing half-off Happy Hour from 4-7 PM. They also have a solid menu as well as live music and dancing here.
Another option is the rooftop bar at the iconic Bitexco Financial Tower. This interesting skyscraper is shaped like a lotus, the national flower of Vietnam.
Towering above the city on the 24th floor, the Social Club Rooftop offers some epic panoramic views. It's the ultimate spot to wind down the second of 3 perfect days in Ho Chi Minh City.
READ MORE: Add these great day trips from Ho Chi Minh City to your itinerary.
Day Three
Morning – Choose Your Own Adventure
At this point in our 3 days in Ho Chi Minh City itinerary, you've already seen most of the sights. That's why I'm leaving it up to you to choose your own adventure for the 3rd and final day.
Cu Chi Tunnels
Most people who travel to Ho Chi Minh City want to get out of the city at some point. The most popular place to visit on a day trip is without a doubt the Cu Chi Tunnels.
This network of tunnels served many purposes during the Vietnam War. They were a hiding spot, living quarters, hospital, storage space, supply route, and more.
Life in the tunnels was incredibly difficult, but this vast underground network was key in the success of the Viet Cong soldiers in defending against American forces during the Vietnam War.
You can rent a motorbike and get yourself out there if you're the adventurous type. Otherwise, I recommend just signing up for this half-day tour during your Ho Chi Minh itinerary.
Mekong Delta
If you don't have plans to travel onwards to the Mekong Delta after your 3 days in Ho Chi Minh City, you can at least check it out on a day trip.
The nearest Mekong Delta city to Saigon is My Tho. It's possible to combine a trip to the Cu Chi tunnels with a boat ride in the Mekong Delta.
If you want to kill two birds with one stone, jump on this excellent tour that hits both in a full day.
Afternoon – Chinatown
For those only doing the half-day tour of the Cu Chi tunnels, you can squeeze a visit to the city's Chinatown in on your final afternoon.
There's plenty to see and do in Saigon's bustling Chinatown neighbourhood, which is known as Cholon (Big Market). Check out the Thien Hau and Quan Am temples, peruse the Binh Tay market, or just sample some yummy Chinese food.
Evening – Street Food Tour
Don't eat too much in Chinatown, though – you'll want to save room for tonight's street food tour of Ho Chi Minh!
The street food scene in HCMC is absolutely legendary. There's so much awesome street food here that it's kind of overwhelming.
That's where a knowledgeable local guide comes in. Signing up for this kickass street food tour ensures you'll not only get to try a bunch of delicious food, but you'll also learn the stories behind the dishes and people cooking them.
This tour is unique in that all the guides are female and they wear a traditional Aodai dress as they cruise you around the city on a motorbike. Now that's an experience you'll never forget!
Night – Bui Vien
Well my friends, we've reached the end of this intense 3 days in Ho Chi Minh City itinerary. After absolutely crushing it for a few days, it's time to celebrate!
The perfect place to let loose and have a few cold ones is Bui Vien. Otherwise known as the "Backpacker Street," this is the spot to down dirt cheap glasses of bia hoi with fellow travellers.
If you're not feeling up for the party vibe after a busy 3 days in Ho Chi Minh City, there are plenty of chilled-out bars in the area as well where you can grab a casual drink to wind down your time in Ho Chi Minh.
Ho Chi Minh City Itinerary Travel Guide
Now that you know what to do with 3 days in Saigon, here's my travel guide to help you plan the rest of your Ho Chi Minh itinerary.
When to Visit Ho Chi Minh City
Whenever you come to Ho Chi Minh City, you can expect to sweat a lot. It's always hot here – it's just a matter of whether it's dry or wet.
Generally speaking, the best time to visit HCMC is between December and March. This is the dry season, so you won't have to worry about getting drenched while sightseeing.
One thing to keep in mind is the timing of Tet. The Vietnamese New Year follows the lunar calendar as it does in China.
This is a crazy busy time of year when the whole country is travelling to visit family.
Getting Around Ho Chi Minh City
There's no doubt that the chaotic traffic of Ho Chi Minh is a bit intense. As such, getting around the city is a bit tricky.
Unfortunately, there's no metro system here, so you'll likely get around by a combination of taxis, walking, and perhaps the occasional xe om (mototaxi) or cyclo (rickshaw) ride.
You can use rideshare apps like Grab here, but I'm pretty sure Uber isn't operating here anymore. You'll need your phone to be working for this, so pick up a local SIM card.
If you're an experienced rider, you can rent a motorbike for your Ho Chi Minh itinerary. This definitely isn't the place to learn, though!
There's also a vast network of local buses, but these can be tricky to figure out if you don't speak or read Vietnamese. It's definitely an adventure trying to get around Ho Chi Minh on the bus!
Where to Stay in Ho Chi Minh City
Here's my personal recommendation on where to stay in Ho Chi Minh City, depending on your budget.
Best Budget Accommodation – City Backpackers Hostel
Our top choice for budget accommodation in Ho Chi Minh goes to City Backpacker Hostel. It's located right in the city center near all the best attractions. They have great staff that are known for being super helpful. Let them know if you have any questions during your stay!
Best Mid-Range Accommodation – Rex Hotel
A great choice in the mid-range category is the Rex Hotel. This famous hotel is located right in the heart of Ho Chi Minh and is full of amenities. There's a rooftop garden, two outdoor pools, a spa, and more.
Best Luxury Accommodation – Grand Hotel Saigon
Those looking for a bit of luxury can check-in to the Grand Hotel Saigon. This 5-star hotel retains its French colonial style and offers plenty of modern amenities. It's located near the river, which you can admire from their rooftop lounge.
Best Restaurants in Ho Chi Minh City
Here are some top places to eat during your Ho Chi Minh itinerary.
Pho 24 – Ubiquitous chain cooking up the famous Vietnamese soup.
Ben Thanh Market – This huge market is a must-visit, especially for all the tasty local food!
Noir. Dining in the Dark – A very unique experience where you dine in the dark and are served by blind or visually impaired people.
Bahn Mi Bistro – There are a few locations in the city making gourmet versions of the Vietnamese sandwich.
Shamballa – A very popular vegetarian restaurant and tea house.
Bun Bo Nam Bo Ba Ba – Try saying that name 3 times fast! This place cooks up classic Vietnamese street food just like ba (grandma) used to make.
Secret Garden – Enjoy home-cooked local food in a beautiful setting that really is a secret garden.
Bun Cha 145 – While this dish hails from Hanoi, you can enjoy a delicious bowl of it right here on the backpacker street of HCMC.
DISCLAIMER: Some of the links in this article are affiliate links, which means if you book accommodation, tours or buy a product, we will receive a small commission at no extra cost to you. These commissions help us keep creating more free travel content to help people plan their holidays and adventures. We only recommend the best accommodations, tours and products that ourselves or our fantastic editorial team have personally experienced, and regularly review these. Thanks for your support, kind friend!