Make the most of your time in southern Vietnam with this list of the best day trips from Ho Chi Minh City!
With a population of over 8 million, Ho Chi Minh City is a hectic and busy city.
There are heaps of things to do within the over-touristed District 1 alone.
But it's when you take time to escape the city center that you truly start to experience Vietnam.
READ MORE: Plan your trip with our comprehensive guide to spending 3 days in Ho Chi Minh City.
The Best Day Trips from Ho Chi Minh City
From untouched natural beauty to cultural experiences and solemn, historical sites, we'll run you through our list of the top day trips from Ho Chi Minh City.
You won't want to miss these, so keep reading!
BONUS – Booking ahead of time ensures you won't miss out on the tour, and get the best price too! And just for NOMADasaurus readers, if you use the Klook discount code "NOMADS10" on the website when checking out, you'll get $10 off your first booking!
1) Mekong Delta
The Mekong Delta is among the most popular day trips from Ho Chi Minh City.
When you visit Ho Chi Minh City, a day (or two) in the Mekong Delta should definitely be on your itinerary.
Within a short, 4-hour bus ride you can escape the city, reaching local villages, homes, and floating markets.
Book your tour for this here, and use the code "NOMADS10" to get $10 off.
The Mekong River itself runs through 7 countries, including China, Myanmar, Tibet, Thailand, Vietnam, Laos, and Cambodia.
The Mekong Delta is the mouth of the river, where it splits into hundreds of smaller channels that connect with the ocean.
This area is colloquially called the 'rice bowl' of the country, thanks mainly to its incredibly fertile soils.
You will get the opportunity to observe and participate in the local way of life here as you float along the interconnecting rivers and walk through the forest.
You can take a boat ride through the rivers where you'll get to purchase locally-made products, fresh fruit, and souvenirs.
Stopping to make coconut candy at the factory in Ben Tre is a fun way to immerse yourself in the local culture.
How to Get to the Mekong Delta
The easiest way by far is to book a tour. A good tour is great as it will include the bus ride to the Mekong Delta, as well as take you to the sites along the way.
If you're confident on a motorbike, then renting a scooter is another convenient option – just be conscious that you may want to take a boat ride along the rivers.
Obviously, this would mean leaving your bike behind.
The cheapest way is to take a public bus for about 120,000 VND. If you're a brave, budget-conscious backpacker, then this would be the right choice for you.
Bear in mind, I've heard from other travellers that these buses can be terrifying so it's not for the faint of heart.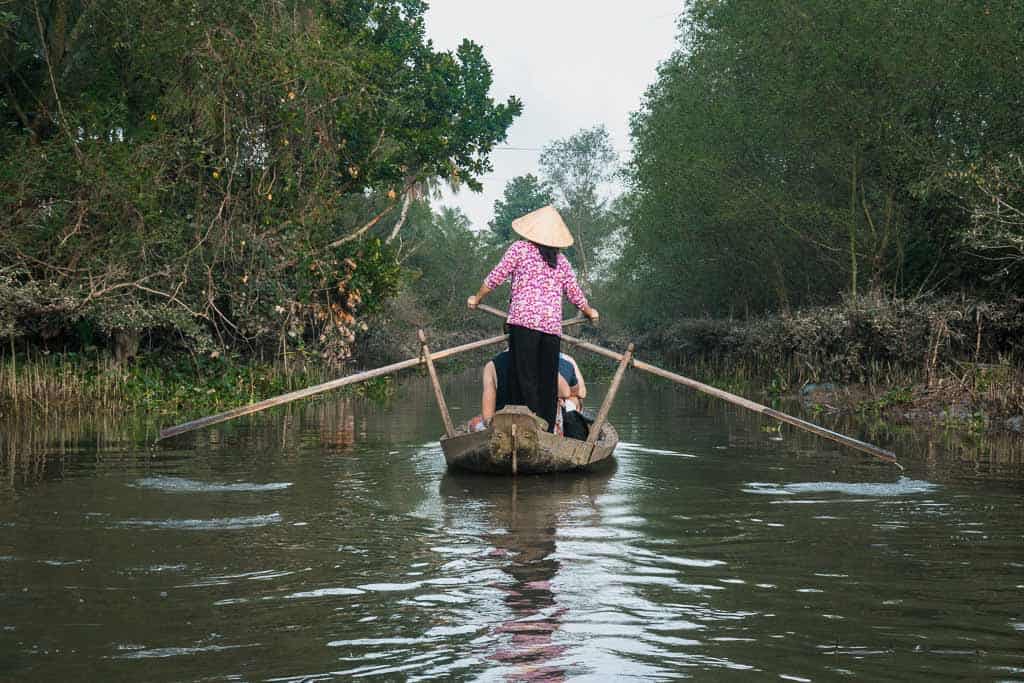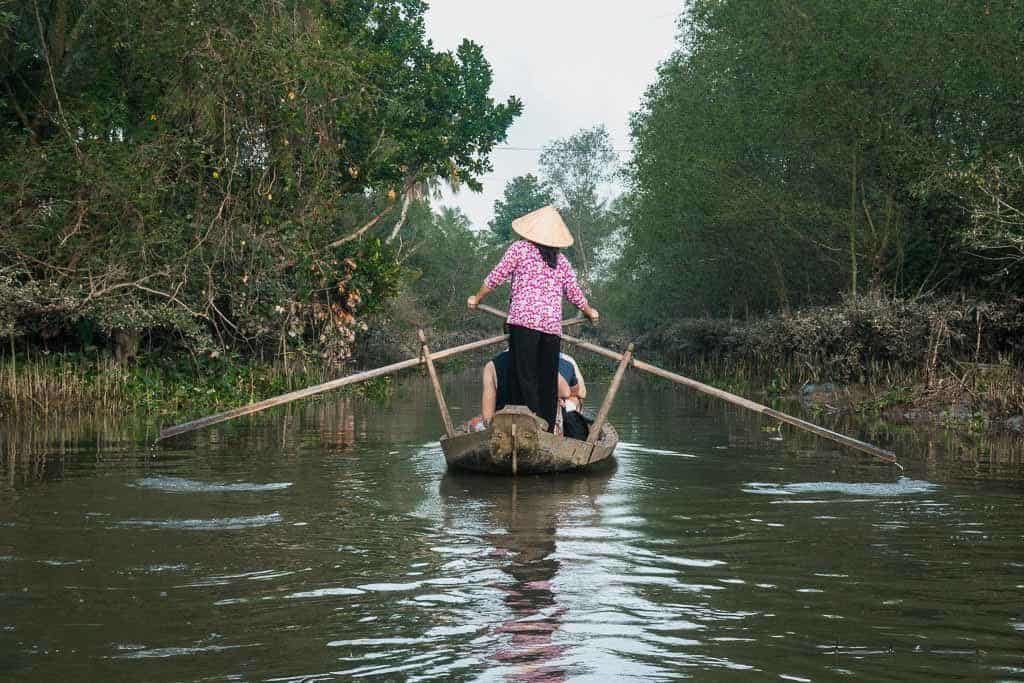 2) Cai Be Floating Market
Cai Rang in Can Tho is the most popular floating market.
However, if time doesn't allow you the opportunity to visit Cai Rang, Cai Be in Tien Giang province is another equally impressive floating market in Southern Vietnam.
Although smaller, you can still take a boat along the canals to explore the floating markets of Cai Be.
Visit stalls selling local wares, souvenirs, and food, such as fresh fruit and typical South Vietnamese cuisine.
It can also be enjoyable to people watch as our boat floats on by, watching the locals operate their floating shops and sell their products.
Aside from the floating markets, consider exploring the village, either by kayak, boat, or bicycle.
This is also a great place to take a cooking class and taste the local dishes.
How to Get to Cai Be Floating Market
For budget-travellers, you can take a 2.5-hour bus ride to Cai Be from Ho Chi Minh city center. Once there, it is easy enough to find your own way around.
Alternatively, a tour is another great option (use the code "NOMAD10" to get $10 off) and a good way to see all the sights in just one day.
As with the Mekong Delta (and any other tours in Vietnam), do your research and choose the right tour for your day trip.
3) Cu Chi Tunnels
Another of the popular day trips from Ho Chi Minh City is to visit the Cu Chi Tunnels.
These are an elaborate network of tunnels that interconnects points all over North and South Vietnam.
These tunnels were used by the Communist, Viet Cong soldiers during the Vietnam War.
The tunnels are tiny, designed to barely fit the small-statured Vietnamese soldiers – and not the larger, American ones.
These tunnels were instrumental in the North's pushback against the US and the South, making them a very important part of the history of the Vietnam War.
The Cu Chi Tunnels, in particular, are a small section of the tunnels found throughout the Ho Chi Minh City region.
You can easily take a half-day or full-day outing to the Cu Chi Tunnels.
On your day trip, you will get the opportunity to crawl through some of the tunnels – these tunnels have been intentionally widened for tourists to actually fit.
You'll get to envision, to a small extent, what it was like for the Viet Cong soldiers who had to live and fight from within these tunnels.
They have also set up exhibits displaying some of the lethal traps built by the Vietnamese to maim and kill the American soldiers.
These traps were particularly brutal as they were mostly designed to mortally injure – rather than quickly kill – those who were caught. This was part of a fear tactic that also contributed to their victory.
Interestingly, these traps contributed to 11% of all American deaths during the war.
Finally, you will also have the option to shoot some guns, including AK-47s and guns used during the war. We didn't feel the need to do this when we were there, but we heard the cost to do so was exorbitant.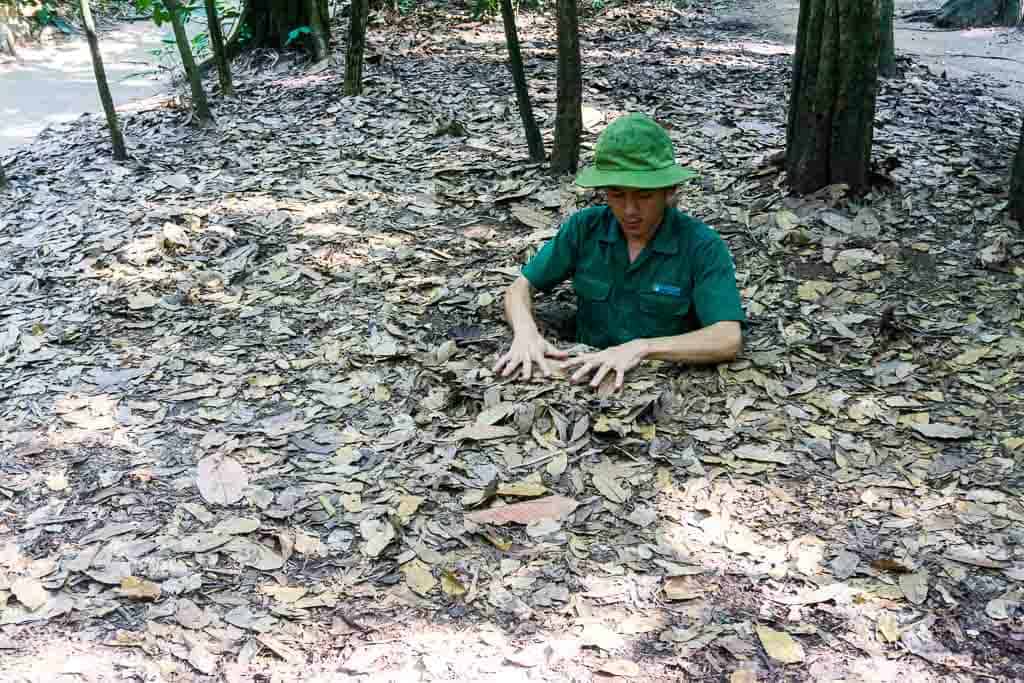 How to Get to the Cu Chi Tunnels
The cheapest way is by public bus to Ben Duoc. This will take about 3 hours in total but will cost just a few dollars.
Taxi or GRAB are options for those short on time and with funds to spend but will cost you about $50-60 USD.
Again, if you have a scooter and are confident riding in Vietnam then you will have no problem driving yourself to the Cu Chi Tunnels!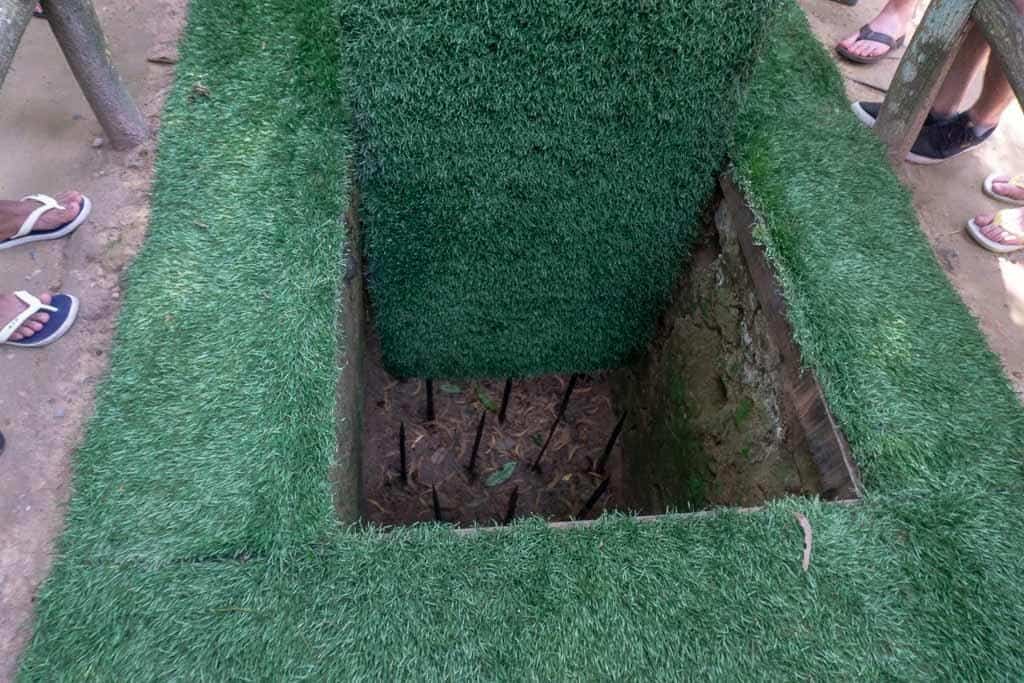 4) Can Gio Biosphere Reserve
A UNESCO-recognised site, Can Gio Mangrove Biosphere Reserve is a large ecological conservation reserve for mangrove forests.
Here you will get to see a wide variety of mangroves and animal species.
Sure, it sounds a bit weird, but we can't recommend spending a day here enough.
Obviously, it's your chance to check out Vietnam's nature up close from just outside Ho Chi Minh City – but on top of this, there are also a bunch of cool things to do here.
The nearby Tang Bong Tower is a 25-meter high tower that you can climb to find panoramic views over the entire forest.
Visit Giant Bat Lagoon on a rowboat and feed crocodiles at a crocodile reserve.
Monkey Island (40,000 VND) in Can Gio is also a great place to visit, but keep an eye on your belongings as the monkeys here run rampant and they'll certainly take what they can.
Rung Sac Guerilla Base (35,000 VND + canoe ride) is also located here and is a great spot to visit to learn more about Vietnam's history and their clever war strategies.
How to Get to Can Gio Biosphere Reserve
You won't need to take a tour here. Either book a taxi or take a public bus from Ben Thanh Market to Binh Kanh Ferry Station.
Then take the 90 bus to Can Thanh and get off at Lam Vien Can Gio.
READ MORE: Enjoy 33 of the best things to do in Vietnam!
5) Vung Tau
Vung Tau is a fun beach destination with just a 2-hour ferry ride, and thus one of the shorter day trips from Ho Chi Minh City.
It is known amongst locals as one of the popular weekend trips from Ho Chi Minh City. But we'd recommend tourists take the trip on a weekday to avoid some of the local crowds.
If you're wanting to escape the busy city and soak up some of the tropical sun, then Vung Tau is the place for you.
Bãi Sau is the nicest beach here, so consider making your way here to avoid some of the crowds and to get away from the buildings.
Aside from relaxing on the beaches, there is a 105-ft statue of Jesus and a lighthouse on top of Núi Nhỏ mountain that is well worth visiting if you're into photography.
Other impressive landmarks also include the White Palace, Whale Temple, and Buddhist Pagodas.
How to Get to Vung Tau
Take a 2-hour ferry or a 2.5-hour bus ride. The bus is just 80,000 VND making it a very affordable day out.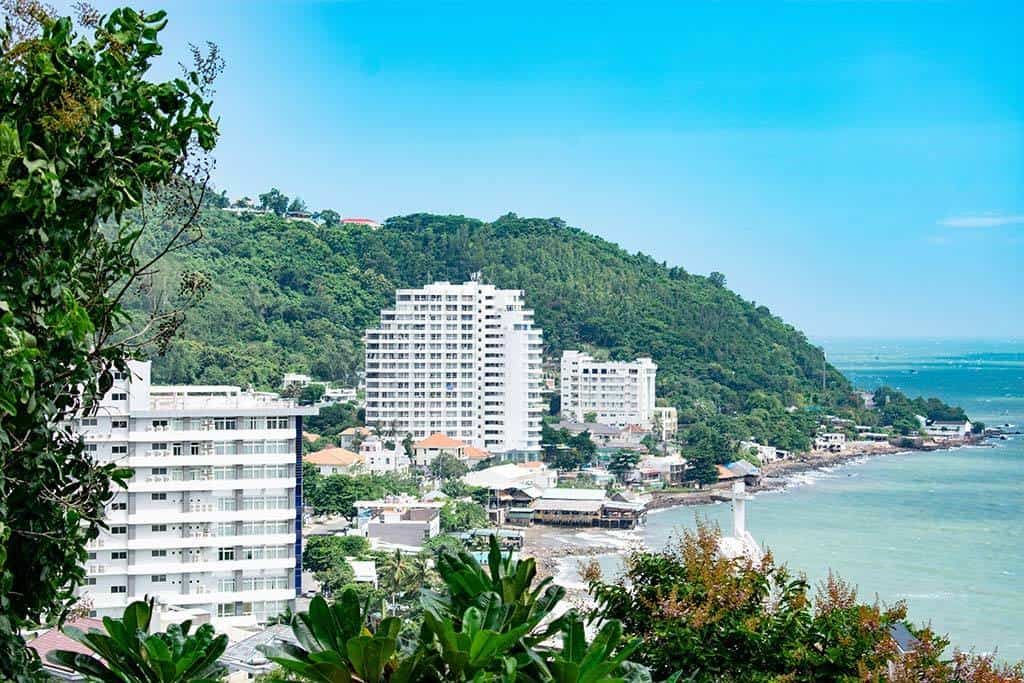 6) Cao Dai Temple
Caodaism is a religion that fuses together beliefs from Taoism, Buddhism, Confucianism, Christianity, and Islam.
It is a monotheistic religion founded in South Vietnam in 1926, making it relatively young.
The Cao Dai Temple was built in 1955 and incorporates both French and Chinese-influenced architecture.
The layout is based on a Christian cathedral with aisles and altars.
However, statues of Mohammad, Julius Caesar, Jesus Christ, and Buddha can all be found at Cao Dai Temple.
The allure of this temple is, particularly, its uniqueness.
Although spectacular in its own way, you won't find a temple like this anywhere else in the world, which is why you should definitely make a trip to Cao Dai Temple!
How to Get to Cao Dai Temple
Take the 702 bus from Ho Chi Minh City to Tây Ninh. This will take just 1.5-hours.
Alternatively, there are tours to the Cu Chi Tunnels which include this temple or consider taking a GRAB.
7) Ben Tre
Ben Tre, located in the Mekong Delta, is famous for its coconuts.
As a result, the locals here mostly work in the coconut industry, creating coconut products including coconut candy.
In fact, many of the local women work in small factories where they boil and stir cauldrons of sticky coconut candy, before pouring it out and slicing it into delicious treats.
You will definitely want to make a visit to one of these factories when in Ben Tre.
You have two options when visiting Ben Tre.
Firstly, if you have time and you are visiting the Mekong Delta on one of many day trips from Ho Chi Minh City, consider adding a stop in Ben Tre to experience the local culture, picturesque village, and try the coconut candy.
Otherwise, Ben Tre makes a great destination for a day trip from Ho Chi Minh City.
It is a great spot to book boat rides through the Mekong Delta and to stroll around.
This village hasn't quite been hit with tourism like the other My Tho and Tra Vinh.
How to Get to Ben Tre
Buses run frequently from Ho Chi Minh City to Ben Tre. The bus takes roughly 2 hours each way, making it quite a convenient day trip.
If you don't wish to bus, you could take a taxi (which would be pretty expensive), hire a motorbike, or book a tour.
8) Ba Den Mountain (Black Virgin Mountain)
Ba Den, or the Black Virgin Mountain is a volcano located in Tay Ninh province, a 3-hour drive from Ho Chi Minh City.
Ba Den Mountain, famous for its beautiful scenery and mythological tales, is the tallest peak in Southern Vietnam.
Despite its title, it isn't actually that tall – just shy of 1,000m.
This is good news for day-hikers, as you can summit the top and return within a day – or about 5-hours to be precise.
If you're an experienced hiker, you'll be able to complete the entire Black Virgin Mountain trek in a day.
Bear in mind, it involves climbing through lush forests, with often steep and rocky sections.
Less experienced hikers can opt to take the gondola up to Ba Den Temple about a third of the way up.
The views at both the temple and the top are well worth the effort. Thanks to its difficulty, you are unlikely to encounter many tourists here, so if you're tired of bumping into tourists then this could be your respite.
How to Get to Ba Den Mountain
Driving or riding a scooter is the best way to get to Ba Den Mountain. You'll get to ride through farmer's fields and pass friendly locals in small towns.
Getting there via public transport will be a bit more difficult. You'll need to get a bus from Ben Thanh to An Suong bus station, then catch a minibus to Tay Ninh station.
From here, you'll need to find a taxi to take you to Ba Den Mountain. With few tourists venturing here, finding one may be difficult.
Some tour companies in Ho Chi Minh City offer tours to Ba Den, this would be your most reliable option aside from riding a scooter.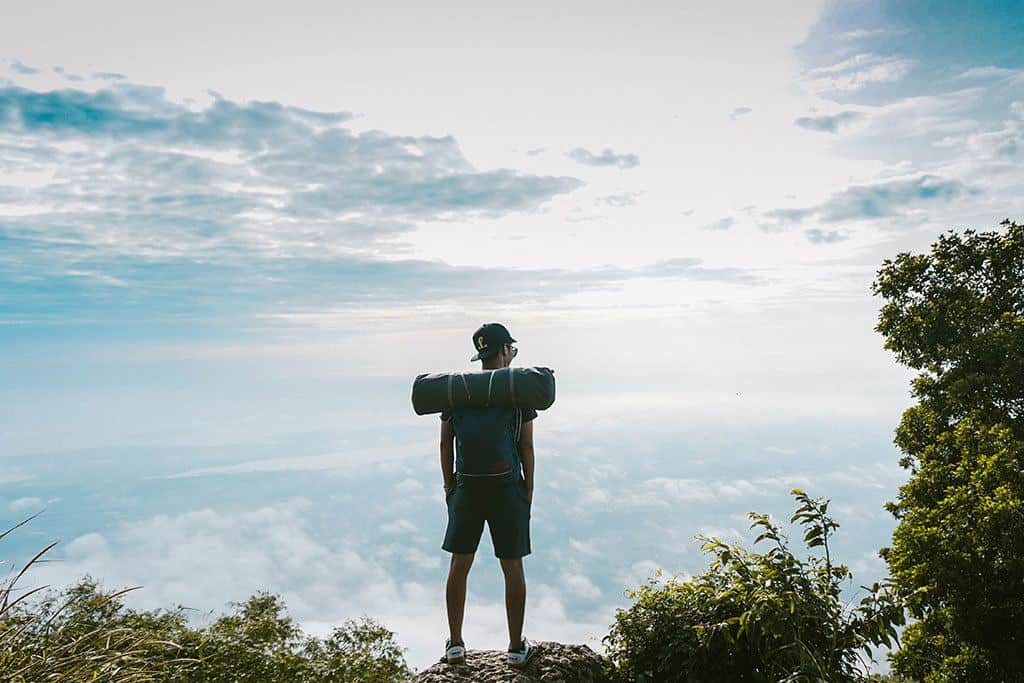 Those are our 8 favorite day trip from Ho Chi Minh City, Vietnam!
Of course, there are other awesome day trips you can take if you have the time.
Cat Tien National Park is another popular one. It is about 150km north of the city. Here at the vast nature reserve of Cat Tien National Park, you can explore the tropical lowland forest, visit botanical gardens, and see ancient trees.
Another popular day trip is Tan Lap Floating Village. This eco-tourism site is located in a dense forest that you can explore by foot or by boat.
Tan Lap Floating Village is about 2.5 hours from Ho Chi Minh City, so it's not as easily accessible as the other floating markets we mentioned earlier.
But either way, there are so many awesome things to see in this area of Vietnam and we hope this article inspired you to see them all!
DISCLAIMER: Some of the links in this article are affiliate links, which means if you book accommodation, tours or buy a product, we will receive a small commission at no extra cost to you. These commissions help us keep creating more free travel content to help people plan their holidays and adventures. We only recommend the best accommodations, tours and products that ourselves or our fantastic editorial team have personally experienced, and regularly review these. Thanks for your support, kind friend!