Everything you need to know on how to get your Chinese visa in Hanoi, Vietnam.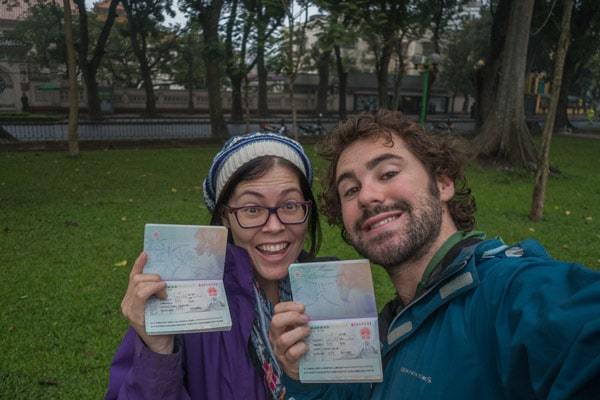 UPDATE November 2017 – It looks like it is now possible again to get your Chinese visa in Hanoi. Please read the comments below for more information.
As our 7 months in Vietnam drew to a close, we were getting completely stoked on moving into China. But before we could cross the border, we needed to get a visa. We knew this wouldn't be an easy process, and to make things harder there was very little information on the internet for getting a Chinese visa in Hanoi.
We assumed that getting a Chinese visa in Hanoi was going to be painful, and almost considered paying an agent to do it for us to save the headaches.
However the cheapest agent we could find wanted to charge $55 for a 15 day visa. Yep, a 15 day visa. We never could find out exactly why, but there are reports that the agents pocket the extra cash and only pay for the shorter visa.
We quickly decided that this was a complete rip-off, and that we would get our visa for China ourselves. It worked our perfect because we ended up getting a double entry visa – something that was not an option with an agent.
Don't miss out on our guide to Travelling In Vietnam.
What Do I Need To Get My Chinese Visa In Hanoi?
After looking around on the internet and talking to a few friends, we realised we needed a hell of a lot of paperwork in order to be granted a Chinese visa.
Passport
Photocopy of passport information page and Vietnamese visa
One passport size photo (we took a 2×3 and a 4×6, but they took the smaller one)
Completed application form
Flights entering China
Flights exiting China
Accommodation for your first destination
Copy of your travel insurance policy
We also took the following documents with us, however they did not ask for them:
Bank statement with funds totalling at least $100 per person per day in China
Letter of employment
Copies of booked accommodation for entire duration of stay
It may seem like a lot, and truthfully, it is. To prepare all the documents definitely takes time and some planning. For us it took about 3 hours, including running down to a photocopy place in Hanoi. You are meant to have everything booked, confirmed and paid for.
However if you are a little bit crafty, you can find refundable tickets and accommodation and then cancel it once you pick up your visa. If you really want to be sneaky you can create fake documents of everything. This option will depend on how good you are with using word processors and maybe a little bit of Photoshop.
Note – We don't condone lying to the officials. It can result in having your visa denied, and possibly blacklisted from entering the country in the future. That being said, we doubt they bother to check any of the flights or accommodation personally (they didn't for us). If you end up taking the risk, we didn't encourage you, right?
If you do not already have travel insurance, we strongly suggest that you get it. If you would like to read more about what travel insurance covers (not just medical and stolen items), read our "Do I Need Travel Insurance" page.
We recommend World Nomads Travel Insurance for travel through China.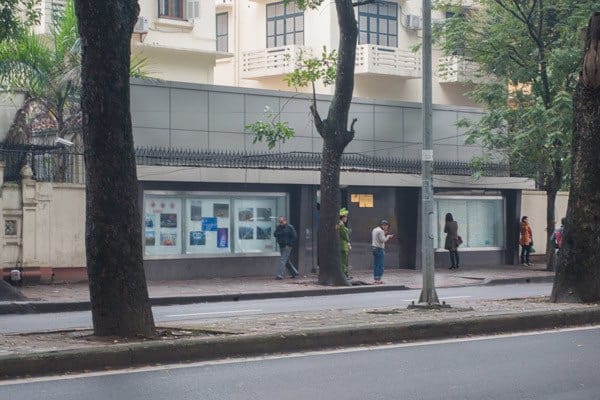 The Embassy
The Chinese embassy is located at 44-46 Hoàng Diệu, Hanoi. Directly opposite Lenin's Park.
Opening hours are in the morning from 0830-1100, Monday to Friday. The embassy is closed for all Vietnamese and Chinese holidays. There are a lot of them, so make sure you double check before you show up. We recommend getting to the embassy before it opens. We arrived at 0815 and there was only a few people in front of us.
Getting around Hanoi is easy, if a little congested. We recommend finding one the best places to stay in Hanoi and then grabbing local transport to get to the embassy.
The Process
Our process for getting a Chinese visa in Hanoi was pretty straight forward. We did have to go into the embassy three separate times, although we think you could cut this down to two if you ask.
Once you get to the embassy, a friendly security guard will give you the application form. This is 4 pages, all printed on one large sheet. Head over to one of the benches on the side of the room, pick up one of the supplied pens and start writing. It is all pretty standard information. Be sure to fill it out fully though, especially the section on detailed accommodation.
The visa choices you could pick were:
– Single Entry 30 Day: $30
– Double Entry 30 Day (means you get to entries at 30 days each): $45
– Multiple Entry 6 Months: Cost and rules unknown
– Multiple Entry 1 Year: Cost and rules unknown
We do not know what kind of paperwork or documents you would need for a multiple entry visa, but we didn't want to push it. If you do get one, please let us know more about it. Also citizens of the United States have to pay a lot more for their visa – $140 for a single entry 30 day.
With your application form completed, show it to the security guard and he will check you have the right documents. Then he will glue your passport photo to your form for you. If you have a backpack, you will need to put it in a locker before he sends you through to the next room.
Go up to the counter that the guard tells you and hand in your form, passport and photocopy. The immigration lady will check everything and ask a few questions.
For us the first thing she asked was why we wanted a double entry visa. I replied that we wanted to go to Hong Kong, and this was good enough for her. After a while she started asking for our documents.
We handed them to her as she requested them. This whole part took less than 5 minutes.
She then told us she had to check with her manager, handed us a slip stating what date to pick up our passports (4 working days, including the application day) and how much (2x $30), and asked us return the next morning to find out if we were approved or not.
She wrote down our Vietnamese phone number, and we could have potentially asked her to just call us, but we were happy to just play along and keep her happy. When we did return, the guard sent us straight through and the lady took our slip back.
She informed us that for a double entry the cost was actually $45 and gave us a form to go to the bank and pay.
The address for the ICBC bank is: 360 Kim Ma Street,Ba Dinh District, Hanoi
I grabbed a xe om (motorbike taxi) and got a return trip for 60'000VND. You could probably walk or take a bus if you wanted to, and weren't in a rush to be anywhere afterwards.
The bank staff knew exactly why I was there and had me in, paid, and out in less than 2 minutes. They give you a receipt when you pay. Do not lose this receipt!
We went back on the designated morning and had to wait until 9am before being let in to pick up our passports. When we were allowed to enter we passed the bank receipt back to the immigration lady, she scanned it and then fetched our passports for us.
Before we left the room we double checked the visa to make sure all the details were correct. They were, and we left the embassy as two very happy travellers, newly equipped with fresh Chinese visas!