Everything you need to know to plan your Kyrgyzstan itinerary for trips between 10 and 21 days!
This stunning expanse of land smashed between the other four Central Asian nations and China is one of the most stunning in the world.
The majority of travellers often visit Kyrgyzstan as part of a larger trip across Central Asia and as a result will budget a hefty chunk of time to play with.
Over the last few years, the number of visitors has grown considerably. This has improved the tourist infrastructure, as well as further opening up parts of the country that were previously inaccessible.
Kyrgyzstan is country that draws its visitors back again, and again. So whatever you can't do this time, put them in your back pocket for next time.
We've put together 2 itineraries for 10 days and 3 weeks that will be of use to any traveller regardless of how long you plan to visit Kyrgyzstan.
The Perfect Kyrgyzstan Itinerary – Things to Consider
Before we dive deep into these Kyrgyzstan itineraries, there are a few things you need to consider depending on how much time you have.
Read Next: Looking for other awesome things to do in Kyrgyzstan? Check out our post on all the activities you don't want to miss!
Travel Time
Journeys in Kyrgyzstan can be long. In some areas, roads may not be in great condition (this is especially true if crossing from the east to the west or vice versa).
But the mountainous terrain can significantly increase even the shortest distance.
Therefore when putting together any Kyrgyzstan itinerary it's important to budget a day where possible for long journeys.
Additionally if planning on taking marshrutka the entire way it's good to anticipate these journeys to take longer than advertised. Vans may not leave until full, they may be picking up and dropping off things en route, or they may break down.
East and/or West?
Kyrgyzstan is a beautiful country worth every bit of time that you have. If you are able to commit to our 21-day itinerary then you won't have to decide whether to explore the eastern or western part of the country.
However, if your time is limited then this is something you will need to decide on. Roads span to the east and west from Bishkek.
However, going from the east to the west in other parts of the country relies on a seasonal 4wd road. Therefore the chances of being able to go to both 'sides' of the country on a short trip are pretty unlikely.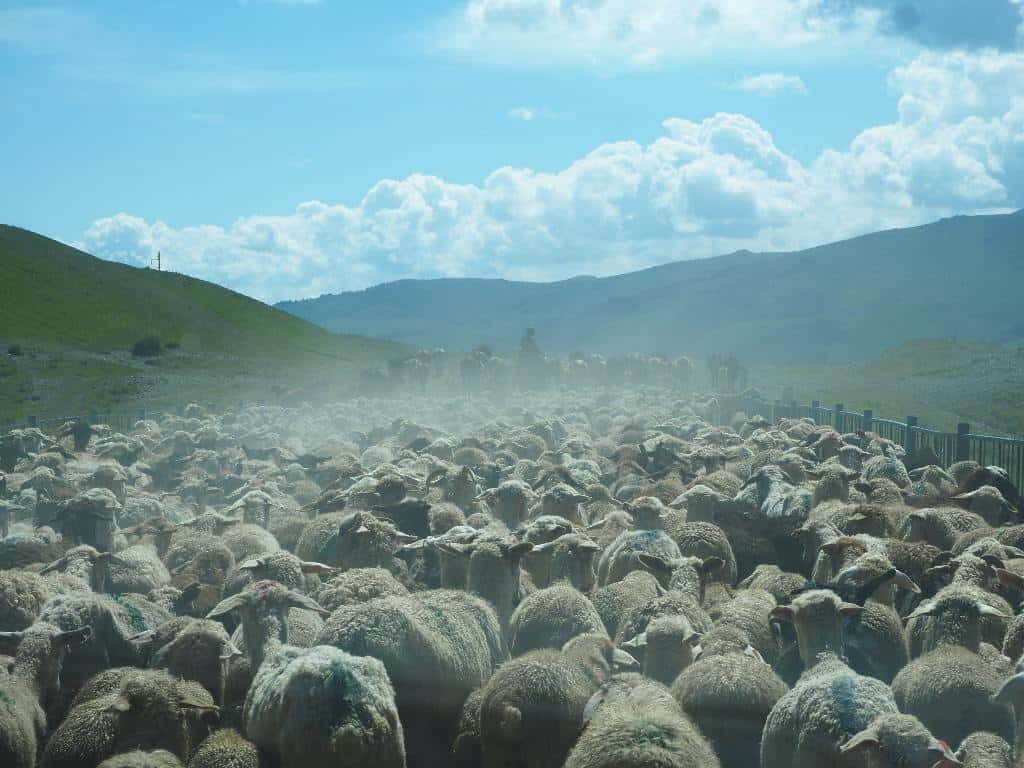 Kyrgyzstan Itineraries
If possible, we recommend that you try and budget to spend 3 weeks in Kyrgyzstan. This will give you the best experience and leave you wanting for nothing more than to come back again.
But with 10 days you can do a whirlwind tour that will give you a taste of Kyrgyzstan and give you an idea of what you'll want to revisit on a return trip.
We've broken down our 10-day Kyrgyzstan itinerary recommendations into an eastern and western itinerary.
The being said, here are our 3-week and 10-day Kyrgyzstan itinerary recommendations.
3-Week Kyrgyzstan Itinerary
With 3 weeks in Kyrgyzstan, it is possible to explore both the eastern and western sides of the country.
However, this itinerary would only work in the summer as the roads linking the western and eastern halves of the country are closed during the winter months.
With three weeks in Kyrgyzstan, you will be able to take on numerous multi-day hikes, so you may wish to bring camping gear with you, especially for some of the less well-known destinations.
I have jam-packed this itinerary. However, I will recommend alternatives where possible.
Naturally, you can replace some of the parts here with recommendations from the 10-day itinerary as you see fit.
There is quite a lot of hiking here, so make so you take rest days if you need it!
Day 1 – Bishkek
The entry point for most people into Kyrgyzstan is the nation's capital, Bishkek. There are few cool sights to check out that will keep you occupied.
Get your fill of food other than manti, plov, shashlik and lagman. As good as they are you will be eating a lot of them over the next 3 weeks!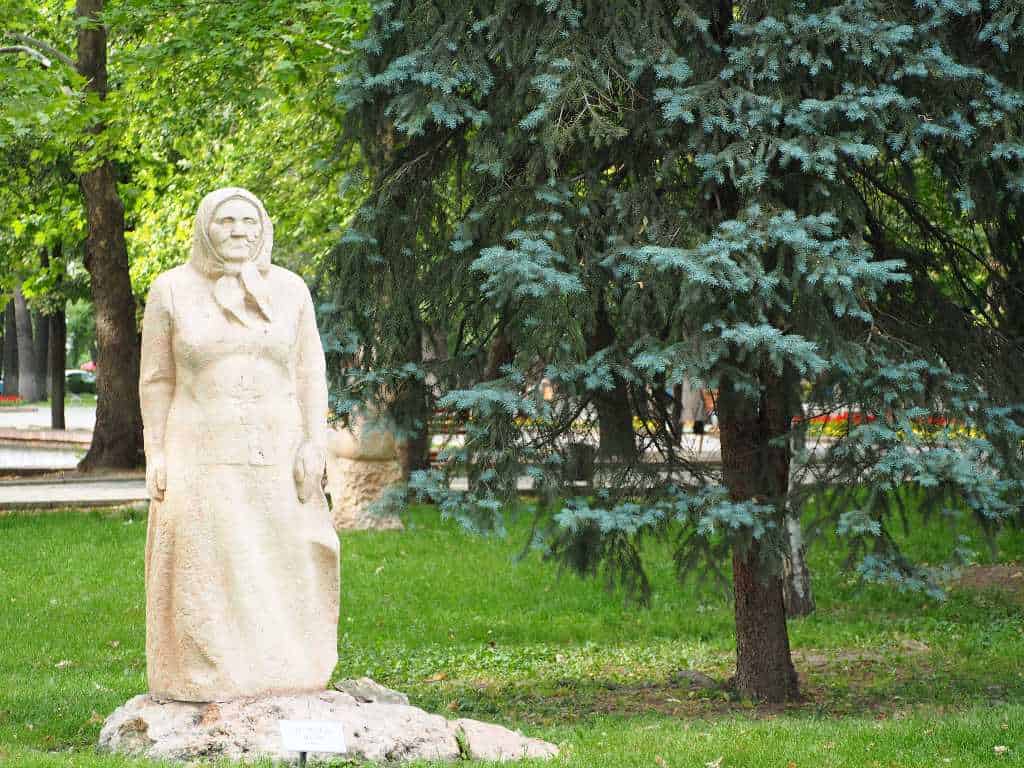 Day 2 – Travel to Jyrgalan via Karakol
For Day 2, get down to the bus station and hop on a marshrutka heading to Karakol. You will need to get to the bus station early as marshrutka will fill up prior to departure.
Upon arriving in Karakol your best to get to Jyrgalan will be a private taxi. This is likely to be $20-30 depending on your negotiating skills.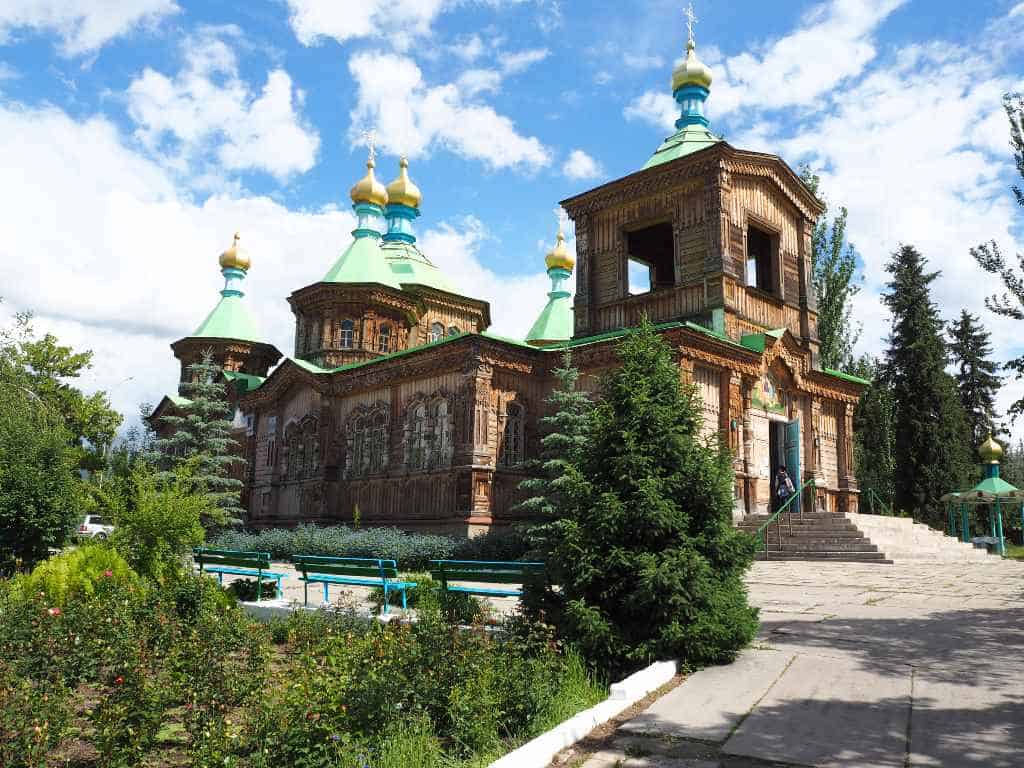 Day 3 – Hiking in Jyrgalan – Bulak Ashuu Day 1
There are numerous trekking and hiking options in Jyrgalan. However, this 3-day route in Jyrgalan comes highly recommended. It's an absolute beauty.
Here are a few posts we have on the best hiking in Jyrgyalan:
Day 4 – Hiking in the Jyrgalan – Bulak Ashuu Day 2
The second day is a little easier than the first. Check out this post for more information on all of the details for this hike!
Day 5 – Hiking in the Jyrgalan – Bulak Ashuu Day 3
This is the shortest day in this hike. When you get back to Jyrgalan, take a taxi or marshrutka back to Karakol.
Day 6 – Karakol – Jeti Oguz
You may want to spend the day resting. However, the day hike to Jeti Oguz is both spectacular and not too challenging on the knees.
Bring a picnic and find a spot overlooking the stunning jailoos.
Or alternatively, you could skip this and head to Kochkor a day early to give you more time later on in this Kyrgyzstan itinerary.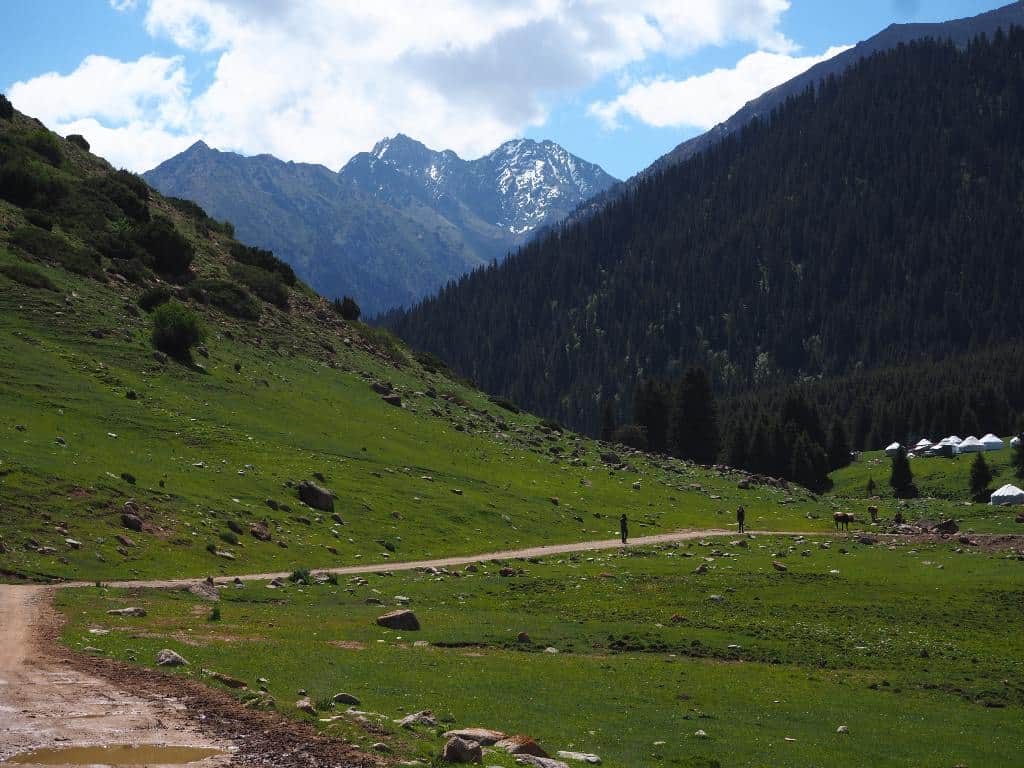 Day 7 – Travel to Kochkor for a Horse Trek
From Karakol, you can hop on a marshrutka to Kochkor. However, make sure you get to the bus stop at least 30 minutes before it's due to leave to ensure you will be able to get a space.
It is better to have booked the horse trek in advance if possible. This can be done through your guesthouse or the CBT in Kochkor.
We booked it through our guesthouse, Kochkor Family Guesthouse and cannot recommend them highly enough!
Day 8 – Song Kul Horse Trek – Day 1
Get ready to ache like you have never ached before! You will have some spectacular scenery on the first day. However, that is just a warm-up for day 2.
Day 9 – Song Kul Horse Trek – Day 2
The scenery on the second day of the trek as you cross passes down to the lake itself is absolutely spectacular. Once you get to the yurt camp on the lake's edge you can hike in the hills surrounding it.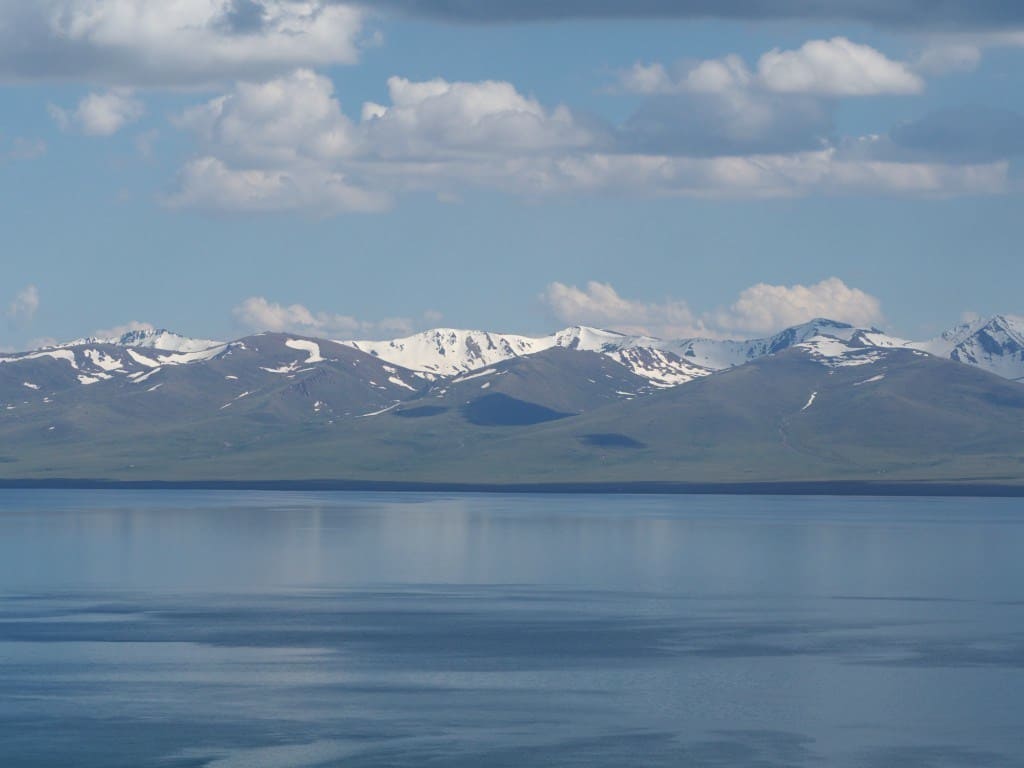 Day 10 – Song Kul Horse Trek – Day 3
After getting back to Karakol, make sure you take it easy, as you will be rather achy.
READ MORE: Plan your whole trip to Kyrgyzstan using our comprehensive Kyrgyzstan Travel Guide!
Day 11 – Kol Ukok Trek – Day 1
This spectacular 2-day trek begins a 15-minute drive from Karakol. The yurt camp is about 4 or so hours from the trailhead.
You can then hike onto the lake, Kol Ukok on your first day, return to the yurt camp and then hike back the next day. Or you can hike up to the lake and back on day 2, which was what we did.
The reason for this was the weather was supposed to the be better on day 2 (incidentally it ended up being sunny on both days).
Day 12 – Kol Ukok Trek – Day 2
Heading to the lake we got up just before sunrise, around 5:30 am, and started the trek to the lake itself.
The first couple of hours are not particularly spectacular. However, after the final climb, the lake appears before you, and it is worth the aches and sweats.
Hike along the lake's edges for some spectacular mountain views beyond the lake. It is possible to carry on. However, you would need more time and your own camping equipment.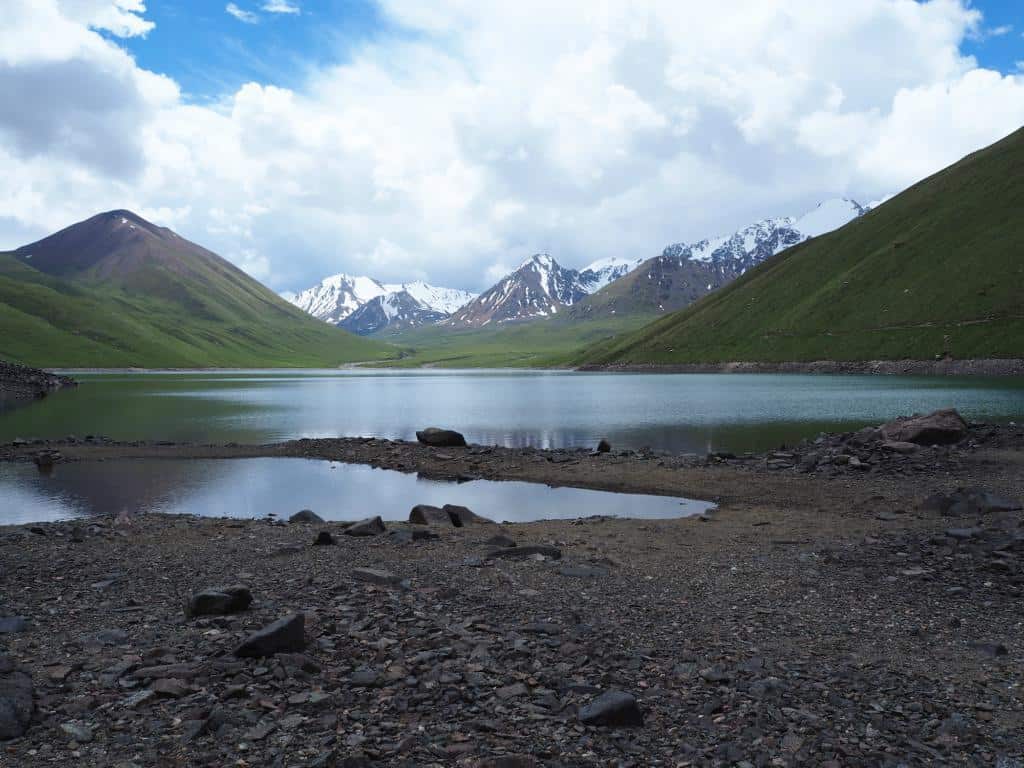 Day 13 – Travel to Arslanbob via seasonal road
Here is where we move over to the western side of the country. The most direct route is via a seasonal road to Arslanbob, home to the world's largest walnut forest. If this isn't open there is a much longer route that goes back around Arslanbob.
Getting to Arslanbob is likely to very likely to require you to take a public taxi. It is best to try and book this as early as possible.
Day 14 – Explore Arslanbob
Spend a couple of days exploring Arslanbob at your own leisure. There are a number of excellent day hikes in the area.
Despite its elevation, there is a lot of green here
Day 15 – Explore Arslanbob
Take another day to hike and explore Arslanbob and then travel to Osh in the afternoon/evening.
The journey to Osh is between 3 and 4 hours, if leaving in the early afternoon a marshrutka should be fine.
However, if going later than that then a private taxi will probably be your best bet.
Day 16 – Osh
Welcome to Kyrgyzstan's second city. It is overlooked by Suleiman Too, a five peaked rocky crag, that seems to keep a watchful eye on you wherever you go. The city has is traditionally more Central Asian feel than Bishkek.
The bazaar in the heart of the city is one of Central Asia's largest and is well worth a visit.
Day 17 – Travel to Sary-Mogol
From Osh head to Sary Mogol to take on the trek to Lenin Peak Base Camp, which is not as challenging as you might think.
Travel to Sary-Mogol can be a little tricky from Osh. However, we have an article on hiking to Lenin Peak Base Camp, which will be really useful.
Day 18 – Hike to Lenin Peak Base Camp – Day 1
Hike to Tulpar lake and onto the base camp itself. There are two base camps, the second being the advanced base camp which is further on.
If you have the time, gear and fitness then this is very possible. And it is possible to hike this route without a guide.
Day 19 – Hike to Lenin Peak Base Camp – Day 2
On your second day hike back to Sary-Mogol with weary legs and some amazing photos.
Day 20 – Back to Osh
Head back to Osh via marshrutka or private taxi.
Day 21 – Fly to Bishkek
Osh is fast becoming a cheap entry and exit point for Kyrgyzstan. Therefore you may not need to fly back to Bishkek before heading home.
However, the vast majority of international flights enter and exit via Bishkek.
The flight from Bishkek to Osh is on 40 minutes, so it's possible to fly first thing and arrive in Bishkek with plenty of time to spare for your next flight.
10 Day Kyrgyzstan Itinerary
With 10 days it's pretty easy to take in most of Kyrgyzstan's spectacular scenery. I've put together two 10 day itinerary's for you. One focusing on the east, and one focusing on the west.
In these 10 day Kyrgyzstan itineraries I've taken in some of the country's most well-known areas.
In Kyrgyzstan, it is very common to base yourself in one place for a significant period of time to take advantage of a number of hiking trails in the area.
As time is short it's best to book as much as possible before you go. This will make things much easier when in Kyrgyzstan.
10 Day Kyrgyzstan Itinerary – Eastern Kyrgyzstan
Day 1 – Bishkek
Spend your first day in Bishkek checking out some Soviet architecture, wandering in the cities parks and chowing down on something that isn't plov, manti, shashlik or lagman.
In the evening Ala-Too square is lit up and the parks fill up with people enjoying an evening stroll.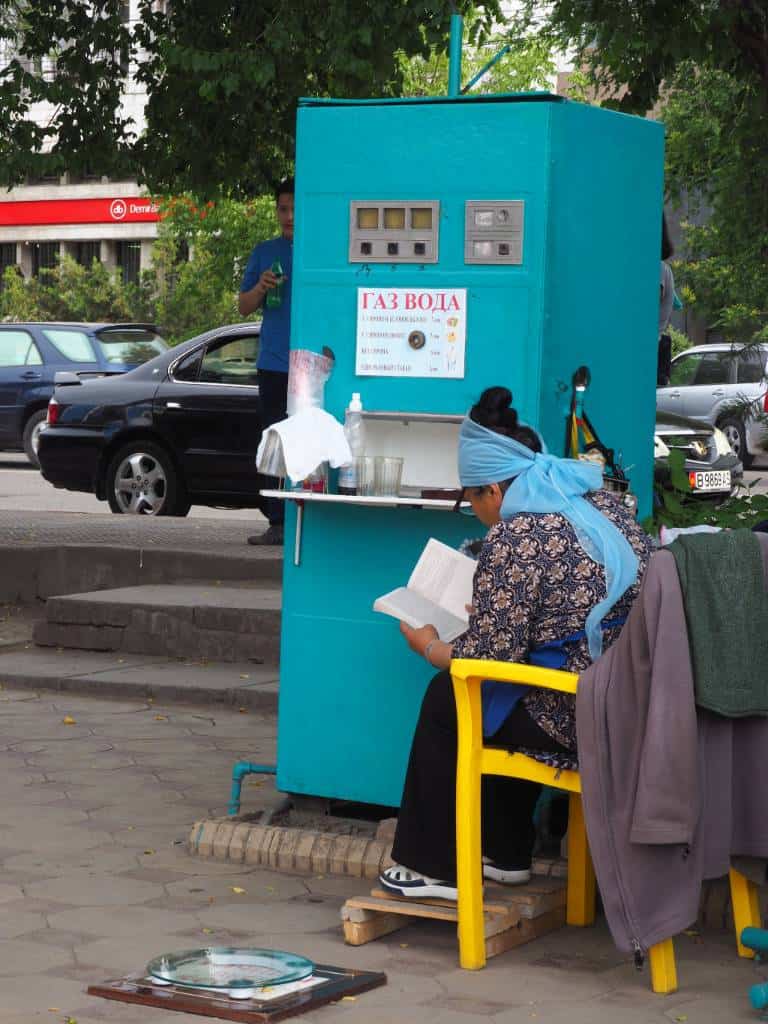 Day 2 – Bishkek – Day hike in Ala Archa
Get out into Kyrgyzstan's spectacular scenery on your second day in the Ala Archa National Park.
You can arrange a private taxi through your guesthouse or you can find on outside of the bus station. Make sure you go to the Alplager, as this is where the trailheads begin.
There are numerous day hikes in the area so get ready for some achy legs.
If you don't fancy Ala Archa there are plenty of other hikes around Bishkek!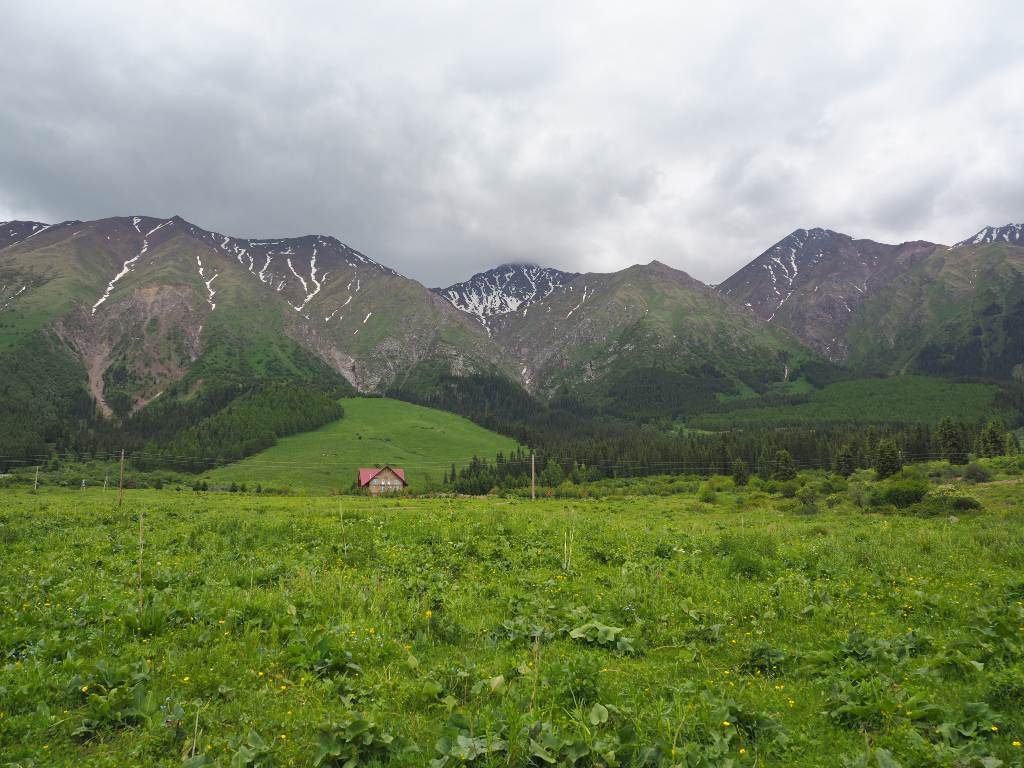 Day 3 – Travel to Karakol
The journey to Karakol is a long one, about 8 hours by marshrutka and a little quicker by private taxi. If you're taking a marshrutka to try and get to the bus station before 9 am to ensure you get a seat as they can fill up fast.
However as it's such a common route, there are multiple marshrutka that run throughout the day.
Upon arriving in Karakol head to your guest house and then possibly the CBT if you need to book a yurt camp in Altyn Arashan.
For the next 3 days, Altyn Arashan will act as your base as you go hiking into the wilderness. The hikes I've suggested below can easily be switched or replaced as you wish.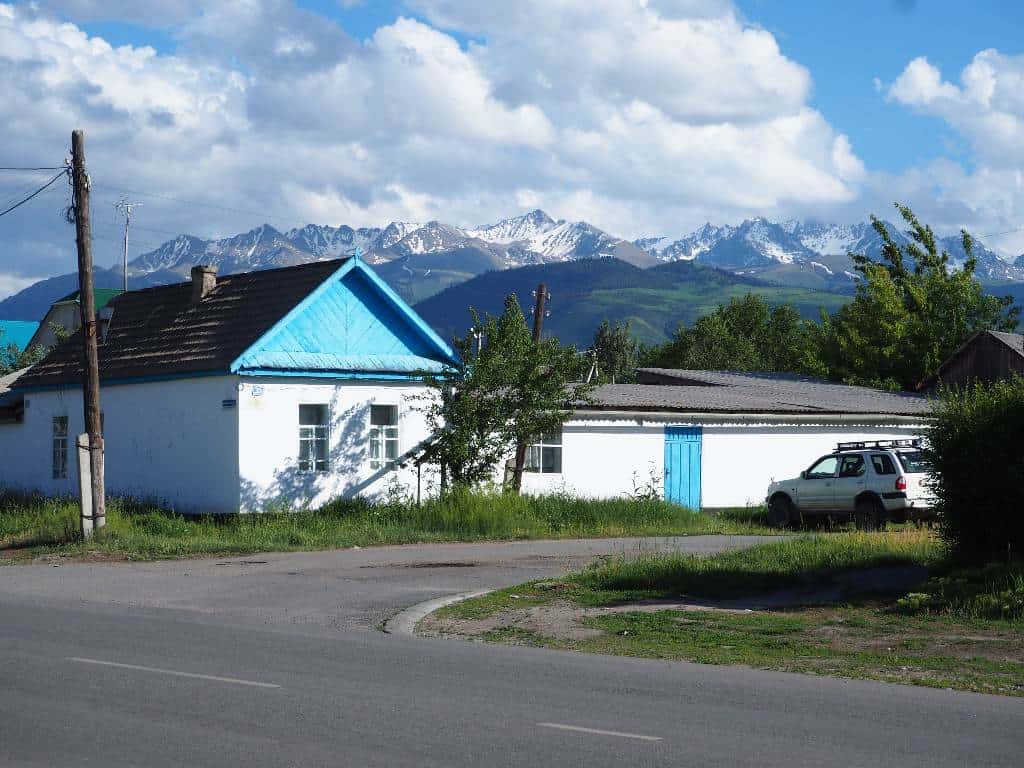 Day 4 – Karakol – Hike to Altyn Arashan
Head out to the trailhead bright and early to begin your hike to Altyn Arashan. This 2-day hike is one of the most popular in Kyrgyzstan.
You can book a yurt through the Karakol CBT or potentially through your guest house.
The hot springs at Altyn Arashan are a perfect place to recharge your aching muscles. It is possible to hike from the hot springs to the edge of the Palatka Glacier in about 5 hours.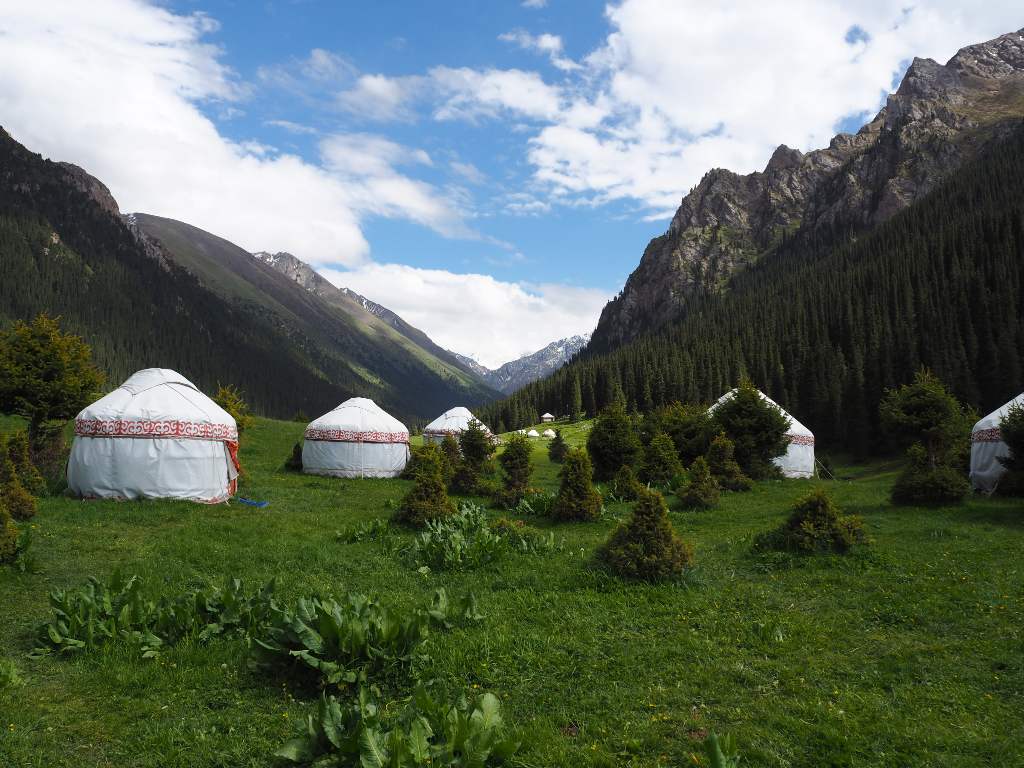 Day 5 – Karakol – Return from Altyn Arashan
On day 5 return to Karakol from Altyn Arashan. If the weather is good then you may want to hike beyond the yurt camp before returning to the trailhead.
Day 6 – Karakol – Hike to Jeti Oguz
From Karakol, the trailhead to Jeti Oguz is roughly 30 minutes away. This is one of the most spectacular one-day hikes in Kyrgyzstan.
The views overlooking the jailoos and onto the snow-capped mountains beyond.
Bring a packed lunch and a book to enjoy looking out over the spectacular scenery around you.
In the evening take a private taxi to Kochkor.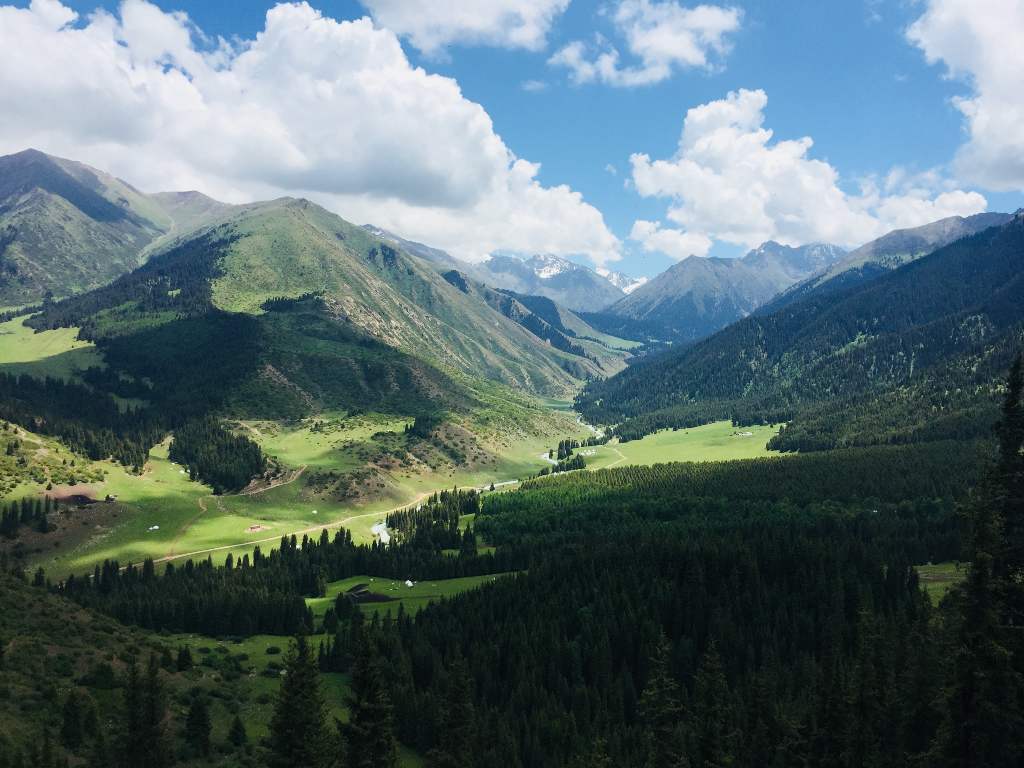 Day 7 – Kochkor – Song Kul
Get up bright and early and head off to take in one of Kyrgyzstan's most spectacular horse treks – Song Kul. This is an excellent addition to any Kyrgyzstan itinerary.
You can arrange this through CBT or through your accommodation if you haven't arranged it in advance.
When I was in Kyrgyzstan I arranged this through my hostel. It was cheaper than CBT and we had a fantastic experience.
The first day will leave you in oodles of pain (unless you regularly ride). You'll pass through lush green jailoos as you cross a number of passes.
Day 8 – Kochkor – Song Kul
The second day of a horse trek to Song Kul is nothing short of spectacular. The views from the final pass as you descend down towards the lake are awe-inspiring.
As you get to flatter ground do not be surprised if your horse gets a wee bit excited at the change in surrounds and bolts off. This is exactly what happened to my wife.
Fortunately, the horse was very obedient and she was able to easily bring him back under control. My horse carried on trotting. It was safe to say he didn't quite have the same level of enthusiasm.
Spend the day hiking around the yurt camp and down to the lakes edge.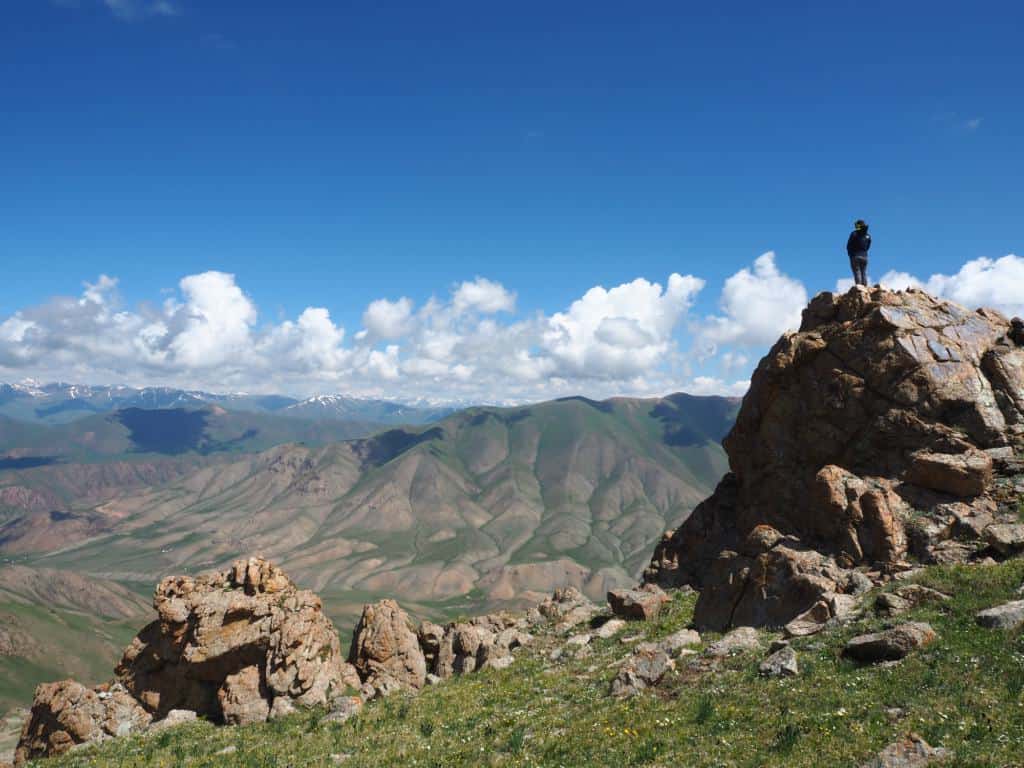 Day 9 – Kochkor – Song Kul
The final day of the Song Kul horse trek will bring you along the lake's edge and up over your final pass. The descent from here down is steep, and the balance of the horses is absolutely incredible.
You will ache a heck of a lot after three days on the back of a horse, so make sure you take it easy when you get back to Kochkor.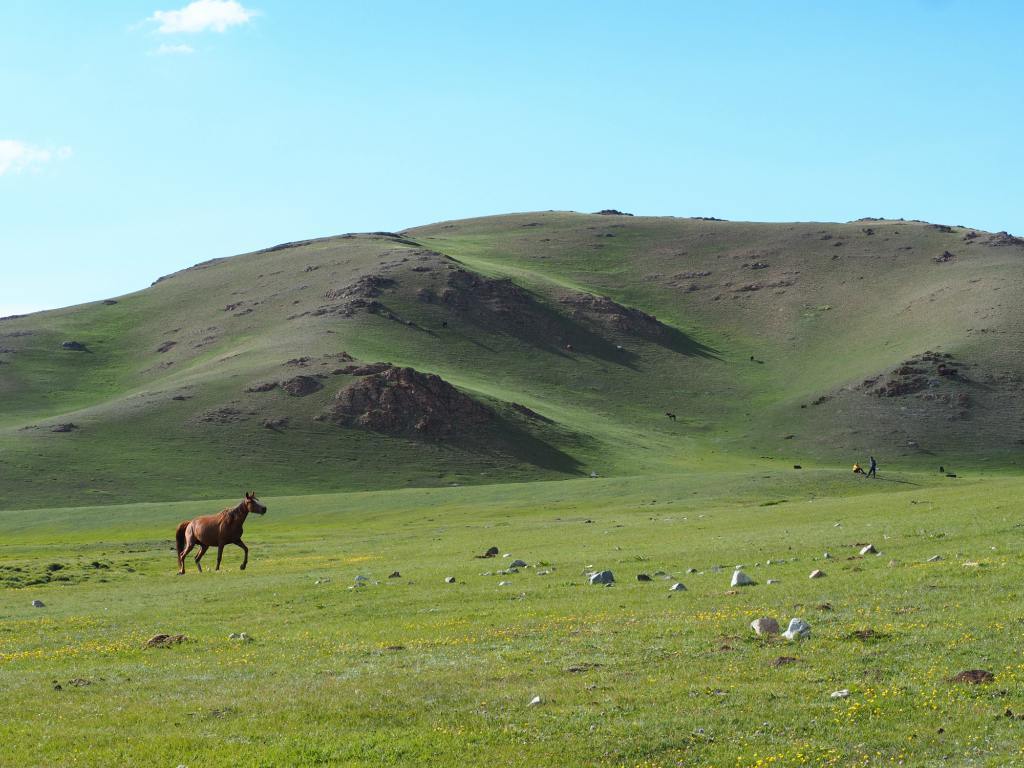 Day 10 – Bishkek
On your final day, head back to Bishkek via marshrutka or private taxi.
10 Day Kyrgyzstan Itinerary – Western Kyrgyzstan
Day 1 – Bishkek
Land in Bishkek and spend your first day getting acclimatised. Take the time to stroll through city's parks and check out Ala-Too square.
Day 2 – Travel to Arslanbob
Get down to Bishkek's bus station bright and early to catch a marshrutka to Arslanbob. You may need to take one going to Osh and change en route.
There is some particularly lovely mountain scenery on this route, so enjoy!
Day 3 – Hiking in Arslanbob
Home to the worlds largest walnut forest, Arslanbob is home to some epic hiking trails and lovely waterfalls. Spend your time here hiking the forest trails and checking out the waterfalls in the area.
That being said, Arslanbob is a lovely place to just watch the clouds go by, so you may just want to sit out with a cup of tea and watch the clouds glide past the mountains.
Day 4 – Hiking in Arslanbob
One of the most popular hikes is to the big and small waterfalls, which your guesthouse and most locals will be able to give you directions to.
The small waterfall is behind a mosque in the town whereas the big waterfall is roughly 2 hours there and back.
Day 5 – Hiking in Arslanbob
Arslanbob is home to some beautiful day hikes, with one of the most spectacular being Babash-Ata. The views on this hike are pretty awesome.
However, if you get amongst the walnut trees then the day hike to Kyzyl-Unkur crosses the forest itself.
Day 6 – Travl to Osh
From Arslanbob head to Kyrgyzstan's second city of Osh. Nestled in the mountains with the peaks of Suleiman Too looking down over you, Osh is more Central Asian than Bishkek.
The sweaty climb to the top of Suleiman Too offers some great views over the city.
The city's bazaar, as one of the biggest in Central Asia is legendary, so make sure you check that out too.
Day 7 – Travel to Sary Mogol
Getting here can be a little tricky so taking a private taxi may be your best option. From Osh, you may need to take a marshrutka to Sary Tash first, and then head onto Sary Mogol via private taxi.
Day 8 – Hiking to Lenin Peak Base Camp
Lenin Peak base camp is approximately 2 hours from Tuplar Lake, which itself is 5-6 hour walk from Sary Mogol. Many people will get a taxi to Tulpar Lake and then hike onto the base camp itself
There is a yurt camp at both Tulpar Lake and base camp, unsurprisingly the latter is more expensive.
There are plenty of hikes in the area, so once you have hiked up to base camp you could check out some of the trails in the area.
Day 9 – Hiking back to Tulpar Lake
After spending the night at base camp hike back to Tulpar Lake and maybe take on one of the trails around the lake before taking a taxi back to Sary Mogol, or potentially back to Osh.
Day 10 – Back to Osh and head home
Head back to Osh where your Kyrgyzstan adventure ends. You can fly home directly from Osh, most likely via Bishkek.
DISCLAIMER: Some of the links in this article are affiliate links, which means if you book accommodation, tours or buy a product, we will receive a small commission at no extra cost to you. These commissions help us keep creating more free travel content to help people plan their holidays and adventures. We only recommend the best accommodations, tours and products that ourselves or our fantastic editorial team have personally experienced, and regularly review these. Thanks for your support, kind friend!