A firsthand experience at what it is like to climb and hike to Peak Lenin base camp, one of the highest mountains in Kyrgyzstan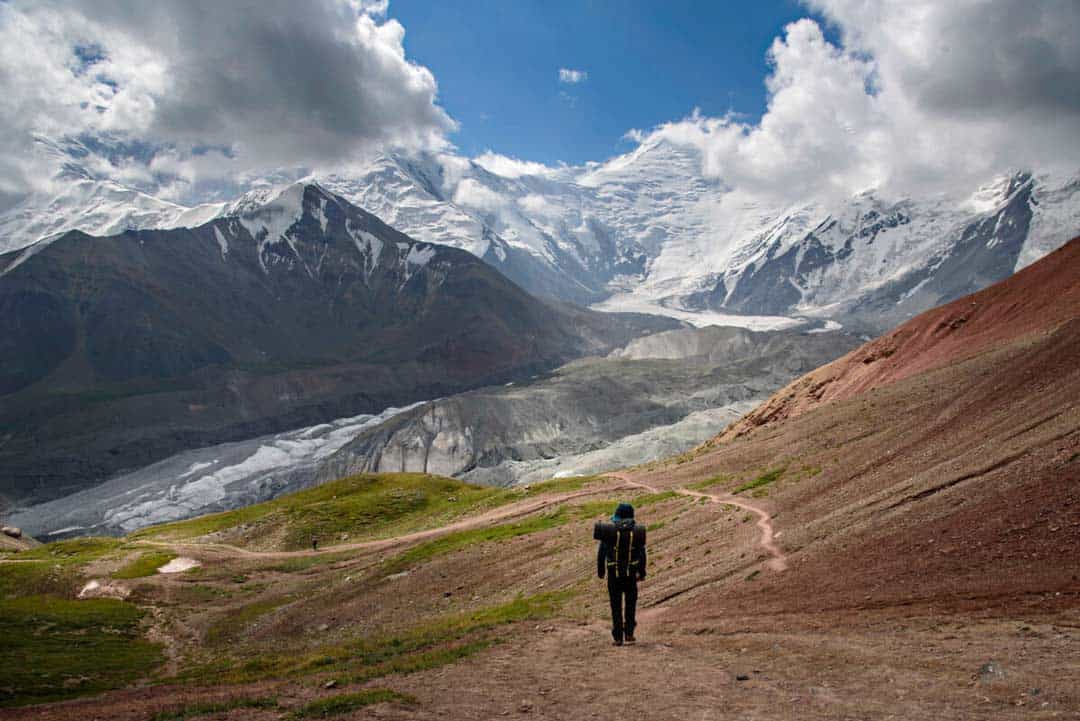 We had left Sary Moghul behind and had been walking for more than two hours along the Alay Valley, a massive, isolated plain, which marks the beginning of the Pamir Range, hence Tajikistan.
The green pastures with beautiful Kyrgyz horses grazing on them were quickly replaced by an arid, extremely flat valley, whose very end was striking views of the whole Pamir range.
The closer we got to the mountains, the greener the arid land became and, very soon, we were suddenly surrounded by green, rolling hills, in which we could spot several nomadic yurts between them.
It was such a long way but, thanks to the warm greetings from the Kyrgyz nomads and the kumis they offered us to drink, it was totally worth it.
As we kept advancing, we reached Tulpar Lake, a dreamy alpine lake from which you see epic views of the snow-capped mountains and their reflection on the water.
We couldn't find a better place where to camp before continuing our way to the advanced base camp.
Welcome to Lenin Peak.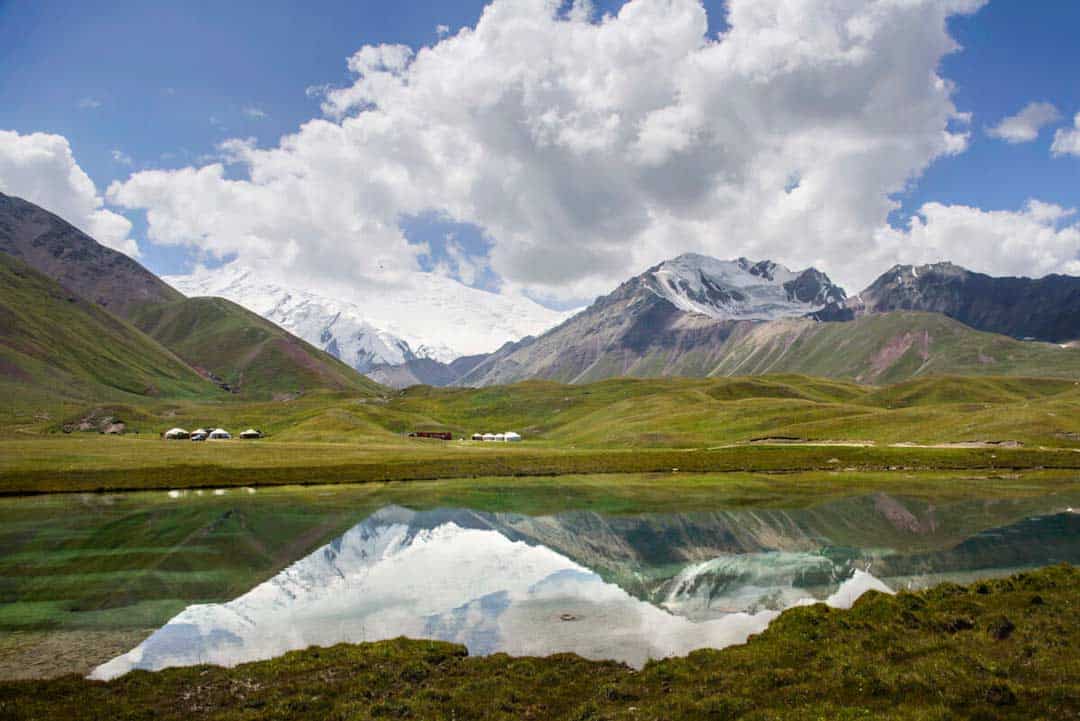 Trekking to Lenin Peak Base Camp
Before traveling to Central Asia, I didn't really know about the region's geography. I had heard of the Pamir Highway and the mountain ranges in Tajikistan but I didn't know about any specific peak.
However, Lenin Peak had been on my thoughts for years and was, definitely, something I didn't want to miss when I went backpacking in Kyrgyzstan.
Lenin Peak is an imposing 7,134-meter peak shared between Kyrgyzstan and Tajikistan. It is the second-highest in the Pamir range and third in the former Soviet Union, after Jengish Chokusu (7,439 meters), located on the Chinese-Kyrgyz border, and Ismoil Somoni Peak (7,495 meters), located in the Tajik Pamirs.
You probably wonder why I knew about Lenin and not the other peaks. Well, the Lenin Peak is the easiest 7,000-meter summit to climb in the world, as it doesn't really require any hard mountaineering experience but you can reach it by foot.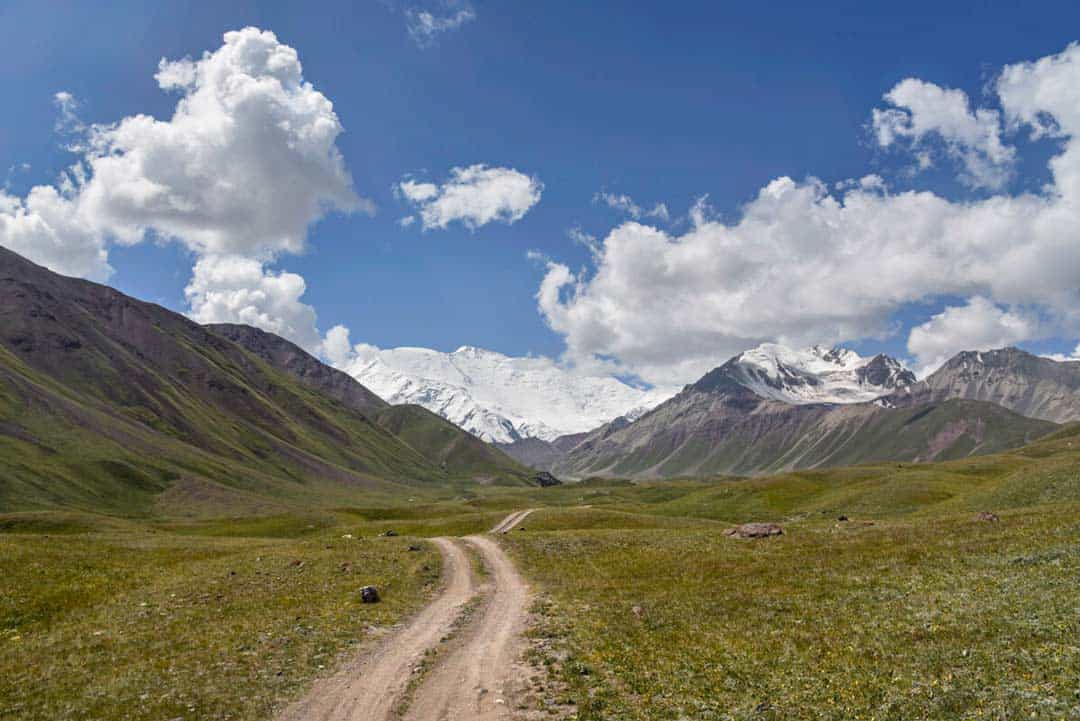 Nevertheless, this doesn't mean that you can climb it with your backpacking trekking shoes and gear. The altitude is a real issue and only well-prepared people can reach the top.
Basically, it is a mountain for amateur professional climbers.
However, the base camp can be easily reached by absolutely anyone and, if you are in good shape, you can even get to the advanced camp.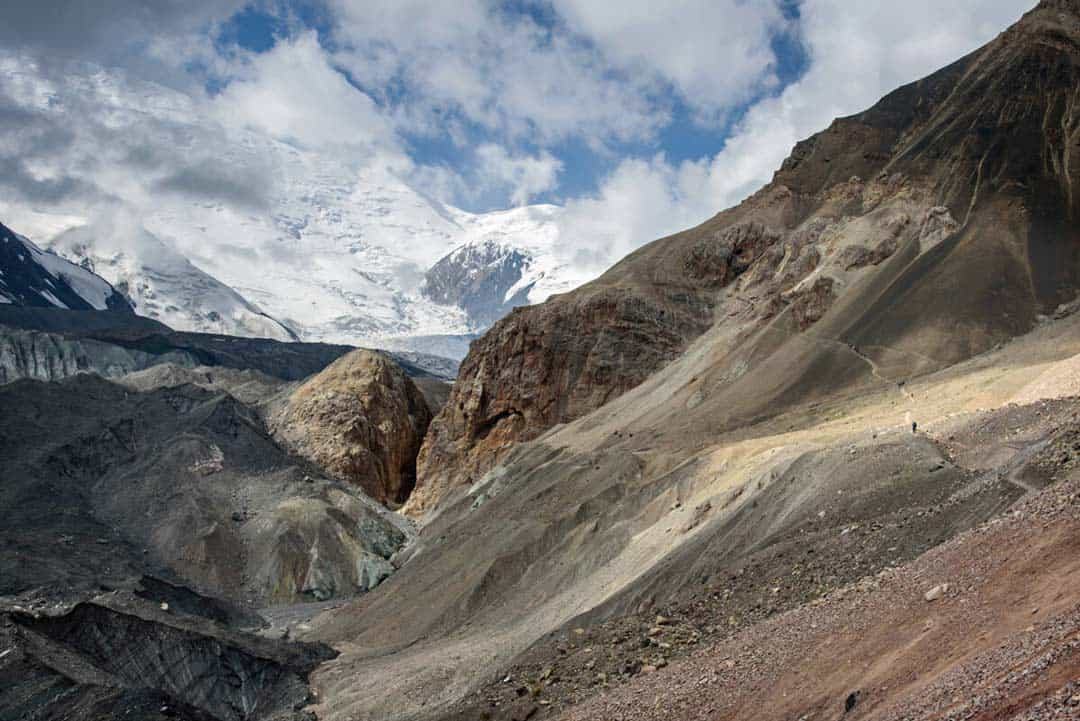 Lenin Peak Base Camp – Trek Overview
Lenin Peak is located in the south of the country, pretty much on the way to the Chinese – Kyrgyz border at Irkeshtam Pass and Kyzylart Pass in Tajikistan.
It is far away from most touristic places so, normally, the only people who visit it are overlanders travelling to Tajikistan, people who have plenty of time to spend in Kyrgyzstan, or mountaineers.
Moreover, most travellers just make it to Tulpar Lake, as anyone who goes beyond it requires a special permit. The base camp is just 1 or 2 hours walking from the lake and the advanced base camp is 6 or 7 hours after that.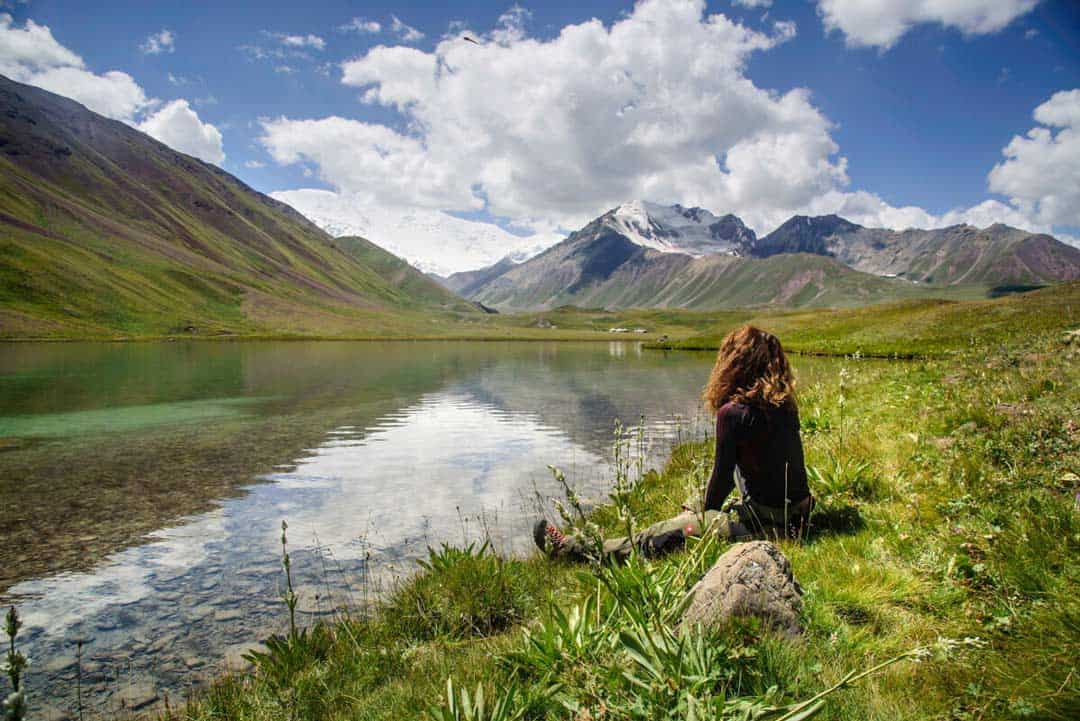 Tulpar Lake is an awesome spot but the views of the peak are not as amazing as from the base camp itself. In the same way, most travelers who make it to the base camp don't make it to the advanced one, which is a huge mistake, as there you will experience the real wild Pamirs.
Massive glaciers, contrasting colours and striking scenery, makes me believe that going to the advanced base camp was one of the best trekking experiences I've ever had.
On the way to the advanced base camp, we didn't see any travellers but just actual alpinists, meaning that they were people who traveled to Kyrgyzstan with the sole objective of reaching the peak.
We had been backpacking in Pakistan, China, and Central Asia for months, every day meeting travellers who we exchanged great travel stories with.
It was very curious to realise that climbers are not necessarily travellers, so the type of conversation was very different. For example, they didn't believe that we had managed to come from Bishkek by public transportation and hitchhiking.
From Sary Moghul, both Tulpar lake and the base camp can be easily reached in a day, either by car or by foot. On the other hand, the advanced base camp is a serious trek which only reasonably fit people should attempt, especially if you want to go back on the same day.
Practical Information For Trekking The Lenin Peak Base Camp
Here's some good information to have in case you are thinking of climbing or trekking to Lenin Peak base camp.
When To Visit Lenin Peak Base Camp
Kyrgyzstan is very seasonal and Lenin Peak is no exception. Summer would be the best season, although late spring and early autumn should also be good, at least, for both Tulpar and the base camp.
However, when I came here in mid-August, the advanced base camp was covered in ice and snow, so I can't imagine what it is like during colder seasons.
Altitude and Acclimatisation
Sary Moghul, the starting point, is at above 3,200 meters already and the base camp is around 4,000 meters. The advanced base camp is higher than 5,000 meters, so you really need to be prepared for high altitude.
We had been trekking in both Kyrgyzstan and Pakistan for a long time, so we were more than used to the high altitude. However, if you just came to the region, it is recommended to drink loads of water and split the trek over a couple of days.
How Many Days Are Needed?
You need a minimum of 2 days and a maximum of 4. One night will allow you to visit the base camp and, perhaps, do a small day-trek on the day after.
If you want to go to the advanced base camp or explore the area further, you will need 1 or 2 more additional days.
Personally, we spent 3 nights there. On the first day, we walked all the way to Tulpar, where we spent the night.
On the following day, we walked to the base camp and explored a little bit of the surrounding area, while hanging out with some climbers.
On the third day, we hiked to the advanced base camp and came back on the same day. We went back to Sary-Moghul early in the morning of the last day.
How To Get A Permit To Climb Peak Lenin
Don't get the permit through a travel or trekking agency, as they tell you that you need to organise a full tour with them, which is a lie.
Instead, email CBT Sary Moghul to ask for prices. Normally, they would ask you for $65 USD and it takes 5 days to process. Yes, it is very expensive but the fact is that this permit allows you to climb the peak all the way to the top.
I told them that we just wanted to go to the base camp, asking if there was any way to get it cheaper. They said no, that $65 was the only price.
Therefore, we decided not to get the permit for Lenin Peak. Seriously, who is going to ask you for a permit, in the middle of nowhere, at 4,000 meters above sea level?
CBT claims that the police do some occasional random checks but I need to hear it from a traveler in order to believe it.
How To Get To The Base Camp
Most likely, your journey will start from the southern capital of Osh. If you come by public transportation, these are all the steps you need to follow:
Getting to Sary Tash from Osh – Marshrutkas run every day until 2pm. The station in Osh is located here: 40.536484, 72.798298. Price is 350KGS (4USD) and it is a 3-hour journey.
Getting to Sary-Mogol from Sary Tash – Sary-Mogol is 30 kilometers from Sary Tash. Your best bet will be to wait on the road to hitch a ride.
Getting to Tulpar Lake from Sary-Mogol – It's a 5 or 6 hour walk. CBT can also organize the taxi for you, which costs around 10-15USD.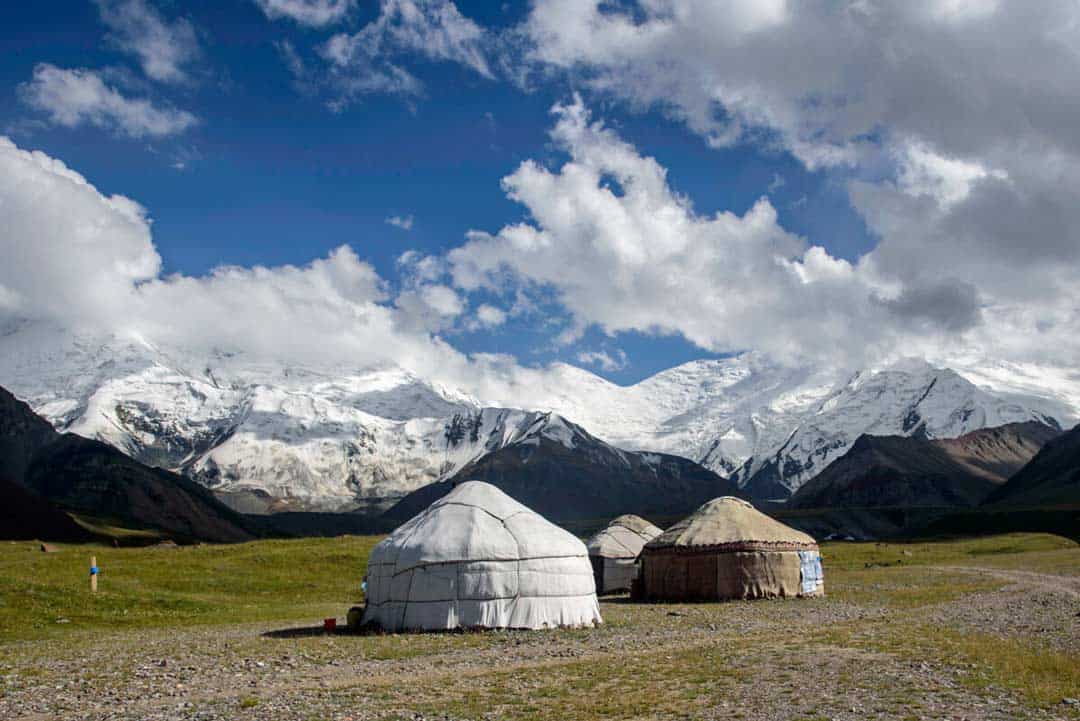 Where To Stay
Tulpar Lake – There is a lovely CBT camp right next to the lake, charging around $10 USD per night, including dinner and breakfast. When we went there it was really busy though, so hopefully, they have built more yurts.
Base Camp – You can also find many yurt camps but they are more expensive, around 15USD a night.
Advanced Base Camp – Due to the altitude, the advanced camp has no yurts but only tents for alpinists, which are quite expensive. Moreover, unless you have a super professional mat, you cannot camp there, as the ground is very rocky, so we decided to go back on the same day. It's a really long day trek but you can finish it in 10 hours, so start early in the morning.
Camping – Lenin Peak has some of the most epic camping spots in Kyrgyzstan, so we decided to camp there every night. We had plenty of snacks and we just paid for our dinner, which ranges from $3 to $5 USD per meal.
Do You Need A Guide?
No, you don't, seriously. The trail is extremely easy to follow and there are plenty of yurt camps where you can stay, so there is no need to arrange your accommodation in advance either.