If you're planning a trip to Kyrgyzstan and wondering what things to do in Bishkek then we've got you covered!
Any visit to Kyrgyzstan will bring you to Bishkek. Nestled in the north of the country, close to the Kazakh border, Bishkek is the furthest capital city from an ocean.
As you land at Manas Airport you may be lucky enough to spot snow-capped peaks on the outskirts of the nation's capital. Such views and the epic hiking trails that accompany them are what draw many to this landlocked nation.
Some of these lie just a stone's throw from the nation's capital. Meaning that if your time here is short you will still be able to get your hiking boots muddy.
Bishkek is a great place to plan out your trip. Certain hiking trails may be inaccessible due to weather conditions. Bishkek's CBT and the Trekking Union of Kyrgyzstan will be able to help in this area.
The heart of Bishkek is not particularly big, therefore you will spend most of your time on foot. Public transport is limited, but picking up a taxi is pretty easy. For longer trips, it may be worth booking through your accommodation or negotiating at the bus station.
READ MORE: Be sure to check out our guide for travelling in Kyrgyzstan to help you plan your entire visit there!
The Best Things to do in Bishkek
For many travellers, Bishkek is not what draws travellers to Kyrgyzstan. That being said there is certainly enough to do in and around Bishkek to keep you occupied for a couple of days at least.
Let's check out some of the best things to do in Bishkek.
1) People watch at Ala-Too Square
The main square in the centre of Bishkek. Home to protests in times gone by, this is the nominal centre of Bishkek. A statue of Manas, the hero of the epic 500,000 line poem of the same name, stands triumphantly in the centre.
This poem holds a special place amongst Kyrgyzstan's population, and as result you will hear quite a bit amount Manas during your time in Kyrgyzstan.
Next to the statue of Manas is a gigantic flag pole which is raised on a regular basis throughout the day. Behind both is an excellent piece of brutalist architecture, the State History Museum.
In the evening the square fills with skaters, couples and families enough an evening under the squares lights.
2) Wash the World Away at the Zhirgal Banya
One of the great bathing traditions alongside Japanese onsen's and Turkish hammams, the banya is an institution in Russia and most of the former Soviet Union.
Unlike an onsen which is based primarily on the bathing itself, banya's are based primarily around a sauna followed by cold water in the form of a dip of a dunk.
A great way to warm up in the cold Russian winter, a banya can also provide some welcome relief to your aching muscles.
Of all of the top Bishkek attractions, this is definitely one of the most relaxing.
Address: Toktogul 53, cnr Sultan Ibraimov (Pravda)
Price: Includes a locker & towel – Adult/Child – 300/150som
3) Check Out the City's Parks
Bishkek has quite a few lovely parks that are perfect places to spend a slow lazy afternoon in the summer sun.
Dubovy Park, just northeast of Ala-Too Square is home to a few interesting statues and is well worth a stroll.
To the north west of Ala Too Square you will find Panfilov Park, which is s slightly prettier affair. At night this park fills with activities, games and even some fair ground rides.
Taking a stroll through one of city's parks is one of the best things to do in Bishkek.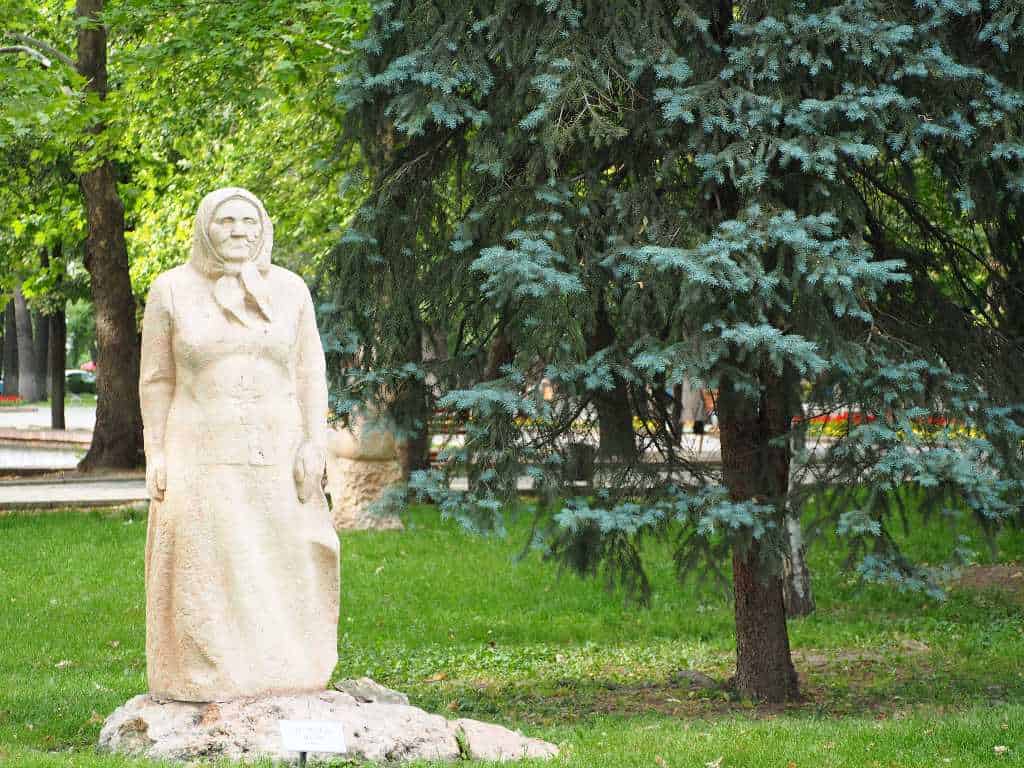 4) Catch a Ballet or Opera
The Soviet Union has left many opulent theatres dotted across Central Asia (the Navoi Theatre in Tashkent springs to mind).
In Bishkek, this Opera and Ballet Theatre, located a stone's throw from Ala-Too Square, has all the trappings of Soviet overstatement, both inside and out.
With regular performances, there is a good chance something will be on when you're in town.
Tickets can be purchased directly from the theatre's ticket office. Full listings can be found here. If you're running out of things to do in Bishkek, or just fancy doing something a bit different, this is a great option.
5) Take a Wander Around the Deserted Circus
To the city's north is the deserted old circus building. One of the odder Bishkek attractions, this was a popular haunt during the Soviet Union days. Now it's a quirky shadow of it's former glory.
Now it sits as a true testament to the Soviet Union's architectural desires.
At sunset, it is possible to get some pretty cool photos. It's certainly an interesting Bishkek activity.
6) Find Lenin's Statue
After the collapse of the Soviet Union, many Lenin statues were defaced or torn down. Unlike its European counterparts, Central Asia wasn't really yearning for independence as they were very reliant on the Soviet Union.
Therefore when independence came to Kyrgyzstan in 1991 Lenin was relocated and replaced by Manas on Ala Too Square.
He now faces some government offices with his back to Manas. A symbolic gesture perhaps?
Incidentally, many towns and cities in Kyrgyzstan have statues of Lenin, in direct contrast to the rest of the Soviet Union. A slightly odd piece of Bishkek sightseeing!
7) Check out Bishkek's Museums
Bishkek does have some pretty cool museums that are worth checking out.
The state history museum is worth visiting, although it has been closed on-and-off in recent years, unfortunately. It can be found just behind Ala Too Square.
8) Relax in a Cafe
After spending the majority of your time hiking and trekking, by foot or by horse, Bishkek is a great place to relax and do absolutely nothing.
Whiling away an afternoon in a park or cafe is a quintessential Bishkek activity. However, Bishkek's growing cafe culture means there are plenty of excellent spots for getting your caffeine fix as the world passes by.
We have a guide on chilling out in Bishkek for you to check out, which has some of Jarryd and Alesha's favourite cafes!
In short, don't miss out on these at least:
Chicken Star (our favourite!)
Sierra Coffee
Social Coffee
Bublik
Prosto Coffee
Cafe de Paris
Boris
Vanilla Sky
Hygge
9) Spot Some Soviet Architecture in Bishkek's Centre
Bishkek's main street, Chuy Avenue is home to some decent eateries a fair few shops, however, there is also a fair bit of Soviet Architecture on display.
This will make you fawn or weep depending on your persuasion. However, there certainly is a tip of the hat to the former overlords in Moscow.
Incidentally, the city's north is home to the rather spectacular Holy Resurrection Cathedral which is well worth a visit. Certainly a bit more pleasing to the eyes than some classic Soviet architecture.
10) Visit a Museum Dedicated to a Famous Revolutionary.
If you're more interested in Kyrgyzstan's more recent history then head over to the Mikhail Frunze Museum.
Focusing on the Russian revolution it tells the story of Mikhail Frunze who was born in Bishkek and was one of the leaders of the revolution that toppled the Romanov family that had ruled Russia and its empire for over 300 years.
There are some sources that suggest he may have even been a minor candidate to replace Lenin.
Although English is limited it provides an interesting insight into one of the defining moments of the 20th century.
11) Admire Some Russian and Kyrgyz Artwork at the Museum of Fine Arts.
Located in the heart of Bishkek, this museum holds the work of artists from both Kyrgyzstan and Russia.
The museum opened in 1935 with the collection being built up from 1934. Naturally, you can expect to see some evocative works depicting Krygyzstan's stunning landscape alongside work with a strong Soviet favour.
The most prominent artist is Gapar Aitiev. Revered in his homeland, he is also the first professional artist in Kyrgyzstan according to some sources.
READ MORE: Don't miss our full guide on the top places to visit in Kyrgyzstan!
12) Take the Opportunity to Enjoy Some Culinary Variety
Many visitors to Kyrgyzstan visit as part of a longer trip to Central Asia. You will eat a lot of shashlik, manti, lagman and plov during your time in Central Asia.
Whilst the food is good you will want to take advantage of the variety where possible.
Kyrgyzstan does have a pretty wide variety of culinary options, including a number of western restaurants and a decent Chinese hot pot restaurant out by the circus.
You'll also find a great Georgian cafe called Pur-Pur, and quite a few nice Indian restaurants.
If you are spending quite a bit of time in Central Asia then you definitely need to take advantage!
13) Test Your Bargaining Skills at Osh Bazaar
To the west of Bishkek's centre is the Osh Bazaar. This sprawling maze of stalls and storefronts is a great place to hunt down some fresh fruit, souvenirs and anything else in between.
This is a great place to practice your bargaining skills and in some cases in can be a goo dplace to find a driver.
Do be aware that pickpockets are known to operate out of this bazaar so make sure to keep your wits about you.
READ MORE: Wondering what else you can do in Kyrgyzstan? Our expert blog post will help with that!
14) Pay Your Respects at Victory Square
Built in 1985 to commemorate 40 years since the end of World War II (The Great Patriotic War in the Former Soviet Union), it is made up of three red granite pillars built to represent a yurt.
At the centre of the monument stands a woman waiting for her husband to return home. Above her is funeral wreath supported by the granite pillars.
The eternal flame receives a changing of the guard ceremony every hour.
15) Visit the Holy Resurrection Cathedral
Also known as the Russian Orthodox Church, this is the home of Bishskek's Russian Orthodox community.
Located north of Panfilov Park, its blue roof and gold domes stand out against much of Bishkek's Soviet backdrop.
16) Get the lowdown of Bishkeks craft beer scene
Like coffee and cafes, craft beer is growing in popularity in Bishkek. Brewster in the heart of the city is one of the most popular and well-known, alongside the original Kyrgyz micro-brewery, Save the Ales.
Bishkek Day Trips
One of the best things about Bishkek is the cities close proximity to fantastic hiking.
The stunning mountain vistas and spectacular alpine history is the main draw for visitors and so much is accessible as a day trip from the capital. Of all the things to do in Bishkek, taking on one of the many awesome hiking trails on the cities outskirts is a real highlight.
17) Hike in the Ala-Archa Canyon
The main reason people come to Kyrgyzstan is to trek into the wilderness and enjoy the stunning scenery Kyrgyzstan is blessed with.
Bishkek is a short journey to the Ala Archa gorge which we have touched on in a couple of other articles on places to visit and things to do in Kyrgyzstan.
The hiking and scenery here is stunning, especially when you consider it's close proximity.
There are numerous day hikes available. However, it is possible to spend the night if you wish.
Make sure you go all the way to the Aplager where the trails start, not the park's entrance.
This is one of the best things to do in Bishkek, so grab your boots and head for the mountains.
18) Take a Weekend hike with One of the City's Hiking cCubs
Bishkek has a number of weekend hiking groups that go out to some of the more off the beaten track hiking destinations that surround Bishkek. The Trekking Union of Kyrgyzstan is a solid bet.
Incidentally, they do multi-day hikes elsewhere in the country if you're interested. The Mount Club based in Bishkek is also a solid bet.
I took a trip with the Trekking Union of Kyrgyzstan and we took in a day hike a the rather lovely Shamshi Groge.
Sadly the final section of the trail was considered unsafe by the guide due to heavy rainfall that day. However, we were still able to get into the wilderness 1.5 hours from Bishkek.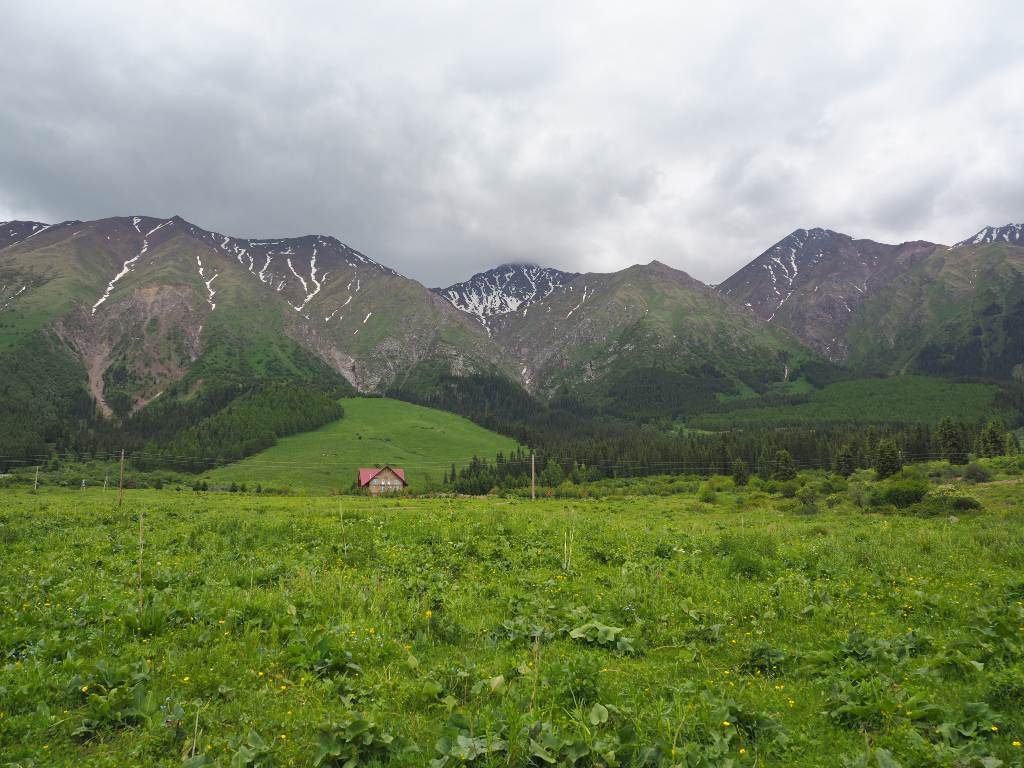 19) Get off the Beaten Track in the Alamedin and Sokuluk Valleys
Ala-Archa is the most well-known hiking destination around Bishkek. However, there are two other spectacular destinations that are well worth checking out; the Alamedin and Sokuluk Valleys.
The Alamedin is more about the views than the journey. This is the ideal place to enjoy a picnic with a picture-perfect backdrop. The views start to appear roughly 1 kilometre after the trailhead.
The Sokuluk Valley is home to some great trekking and rather spectacular waterfalls. The trekking union of Kyrgyzstan runs one day tours here.
20) Take a Day Trip to the Burana Tower
One of Kyrgyzstan's most important historical sites lies to the east of Bishkek. With a largely nomadic history, Kyrgyzstan does not have the same archaeological sites as it's neighbours. This is what makes the Burana Tower so significant.
With spectacular scenery surrounding it, this is a pretty inspiring destination.
READ MORE: Check out our post on visiting the Burana Tower.
21) Hike in the Konorchek Canyon
This may be a stretch at 86 miles from Bishkek, but the Konorchek Canyon is another excellent hiking around the capital.
Some use this a stop on the long journey to Issyk Kul. Transport here relies on private hire, and we would recommend booking onward or return travel, as your chances to flag down marshrutka and taxis are slim.
The red rocks of the canyon are reminiscent of the Skazka Canyon, just south of Issyk Kul.
22) Visit the Issyk Ata Valley Hot Springs
Only 2 hours drive from Bishkek is another excellent hiking destination. The main target for day hikers are the waterfalls an hour beyond the sanatorium at the entrance.
The trail goes will beyond here with places to camp for those with their own equipment.
Back in the Soviet days, this was a popular getaway for those wanting to relax in the hot springs. After hiking to the waterfalls, soaking in the hot springs is the perfect way to end the day.
23) Go Skiing in Chunkurchak
Kyrgyzstan is not the first name on the lips winter sport enthusiasts, however there are some decent ski resorts in the country.
One of the best being Chunkurchak, located less than 50 kilometres from Bishkek. With 10km of runs and 5 lifts, there's plenty here for the majority of skiers.
DISCLAIMER: Some of the links in this article are affiliate links, which means if you book accommodation, tours or buy a product, we will receive a small commission at no extra cost to you. These commissions help us keep creating more free travel content to help people plan their holidays and adventures. We only recommend the best accommodations, tours and products that ourselves or our fantastic editorial team have personally experienced, and regularly review these. Thanks for your support, kind friend!