A detailed guide on everything you need to know about the brand new Keskenkija Loop Trek in the Jyrgalan Valley in Kyrgyzstan, the most popular hiking trail in the region.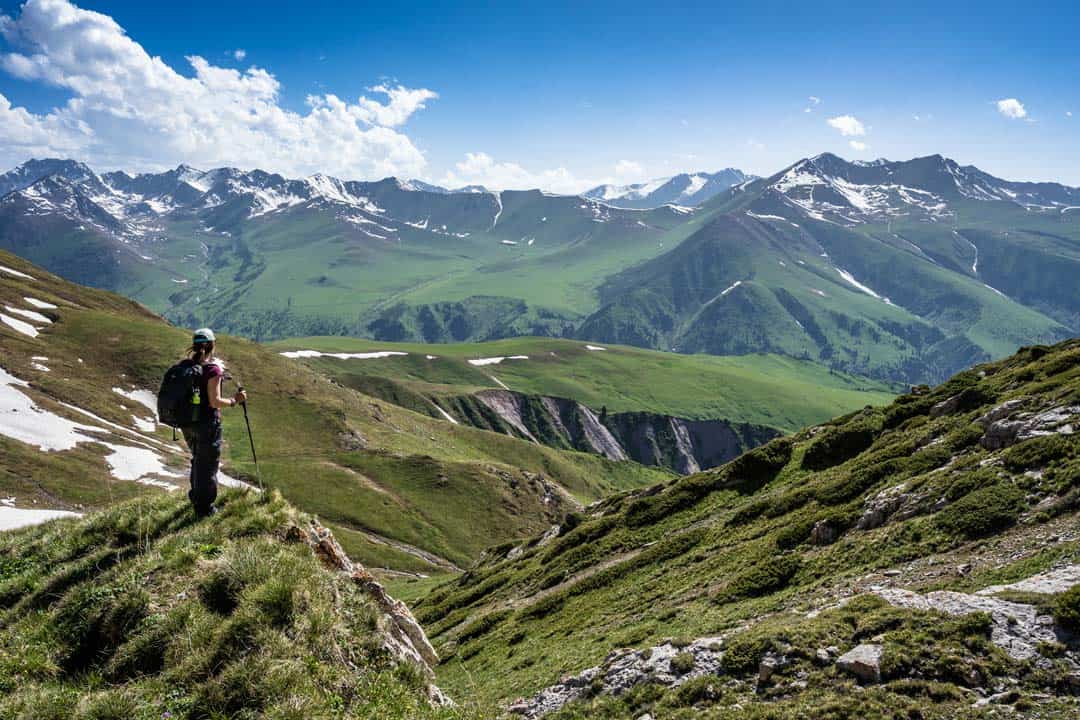 For those in the know, Kyrgyzstan is a trekker's paradise. Majestic mountains, tranquil forests, alpine lakes, twisting rivers, huge glaciers and hardly any people around makes it a goldmine of off-the-beaten-track adventures.
Until very recently as well, it was so off-track that anything outside of the handful of known treks were reserved for only the most intrepid, experienced hikers who were comfortable heading into the mountains with no trails to follow and armed with only GPS and topographical maps to guide them.
Thanks to a new tourism development project though, the atmosphere in Kyrgyzstan is shifting and now some of these stunning mountain ranges are becoming accessible to active travellers.
Exciting news! Come join us on an exclusive photography and adventure tour of Kyrgyzstan in 2020!
Kyrgyzstan has never been on the typical tourist trail, and its location in Central Asia makes it misunderstood and often considered too 'out of the way'.
But when we travelled there for the first time in 2015 we met a whole bunch of travellers who were hitting up the most popular destinations. Clearly, someone knew about it.
Places like Altyn Arashan and Son Kul Lake have been on the map for years, and the images and stories that would flood out from the few travellers that made it there encouraged more and more people to visit every year.
In 2016 we returned to Kyrgyzstan to attend the World Nomad Games, and also visit a new up-and-coming village called Jyrgalan that was destined to be the next adventure hotspot in Central Asia.
We were the second foreigners ever to test out the new Boz Uchuk Trek that left from Jyrgalan Village, and we couldn't believe just how beautiful the hike was.
To know that such wonders lay so close to the village, with no tourists visiting, was both remarkable and unfortunate.
In 2017 we returned to Jyrgalan as part of a joint venture with the national tourism board Discover Kyrgyzstan and USAID BGI, a US government-funded initiative that is helping develop new tourism projects in the country.
Part of our goal was to map out a brand new hiking trail in the Jyrgalan Valley to help open up this region to more travellers and create new opportunities for the locals that live there.
Check out our other Jyrgalan hiking articles: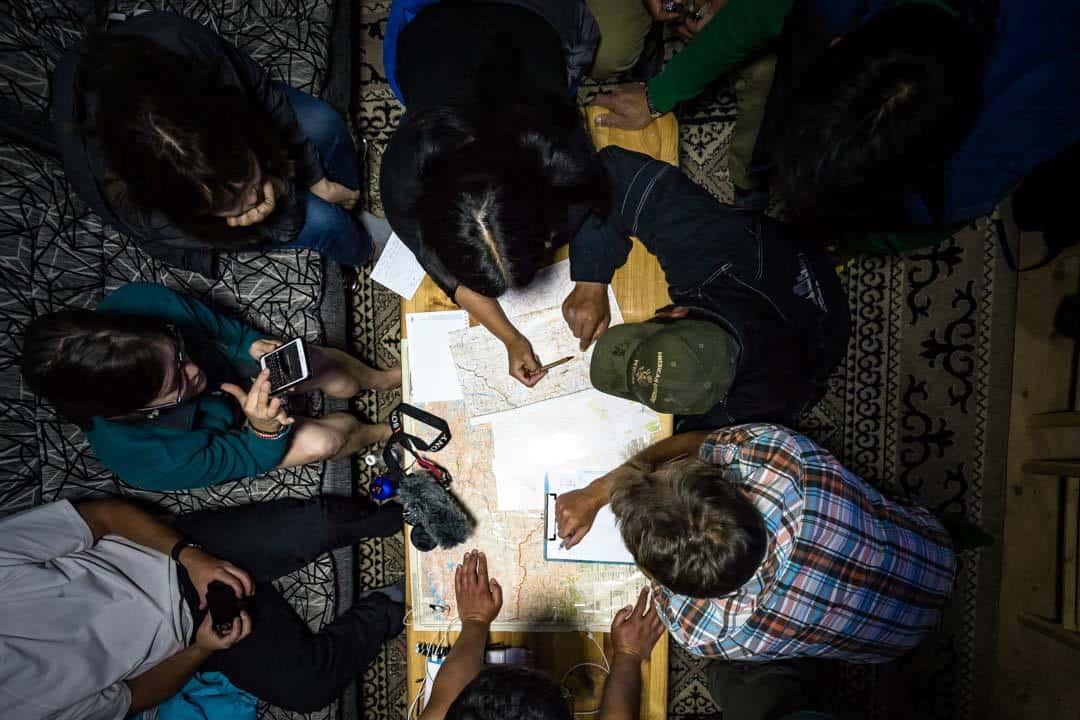 The result was that we helped mark the trail of what is now known as the Keskenkija Loop – a 64km trek that starts and finishes in Jyrgalan Village, heading south and looping back around to the east through stunning valleys.
When we left the village all we had to rely on was a topographical map and the expertise of our horse guides.
Having grown up in these mountains they knew them better than anyone, but they had never looked at them from the perspective of tourists trekking in them.
Our group set off on a sunny morning with Azamat and Ruslan the horsemen, Anvar our chef and chief rock painter, Begaim, a local trekking guide, and Kyle, a senior consultant from the US (and our unofficial translator) who had spent the best part of 3 years in the area helping develop tourism.
For three days we navigated our way deep into the mountain valleys and back out again, painting rocks to lead future trekkers in the right direction.
We camped under the stars, helped with the cooking duties, discussed optimal routes and drank our fair share of rum and cognac around campfires. When we returned to Jyrgalan the Keskenkija Loop was complete, and ready to be explored by more travellers.
Our experiences on the 64km Keskenkija Loop trek were simply phenomenal, and knowing that we absolutely the first foreigners to ever do this entire loop is something we're truly humbled by.
To help out future hikers who would like to do this themselves, here is our ultimate guide to trekking the Keskenkija Loop in Jyrgalan, Kyrgyzstan.
READ MORE: Here's our brand new Kyrgyzstan travel guide to help you plan your next adventure.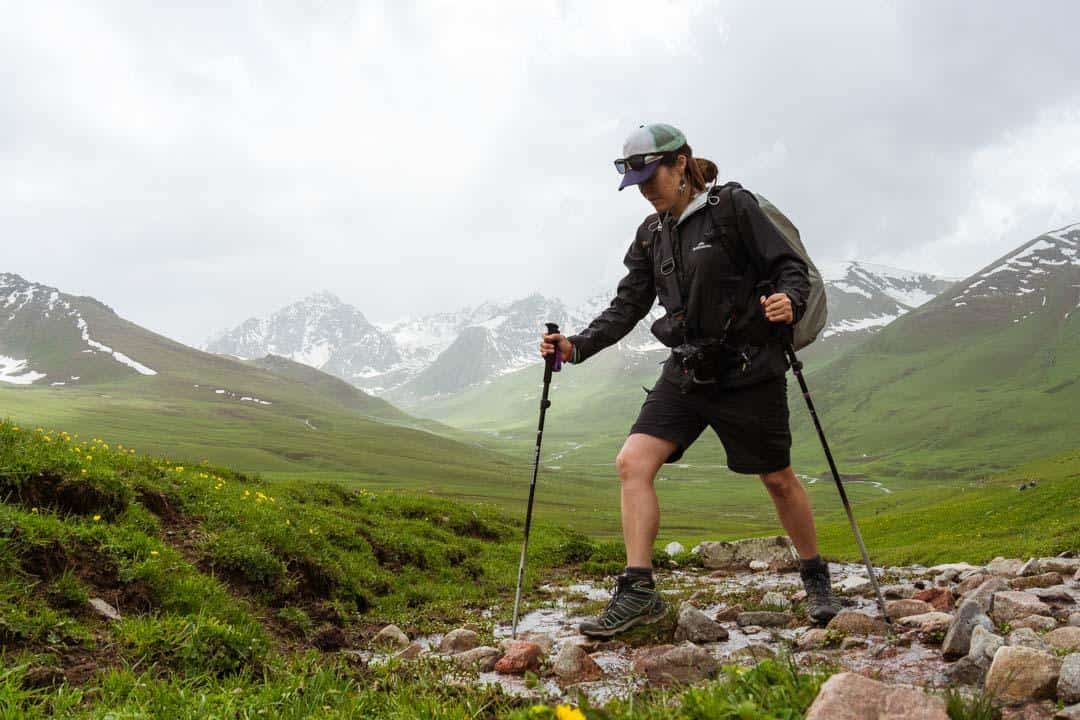 How to Organise the Keskenkija Loop
If you're interested in booking the Keskenkija Loop you have three options.
The first is to travel to Karakol and go into the tourism office there. They will be able to give you all the information you need, as well as make bookings from right there in Karakol. The address is: 22, Gagarin Street, Karakol (next to Fat Cat Cafe).
The second, and best, option is to travel to Jyrgalan village by marshrutka from Karakol (ask at Destination Karakol for directions).
Once you're there head to the local DMO (destination management organisation), which is located at the Alakol Jyrgalan Guesthouse, run by Emil and Gulmira. This is your one-stop-shop for every activity you could ever want to do in Jyrgalan from hiking and horse trekking to mountain biking and yurt stays.
Once you're in Jyrgalan you can also find out about any new routes, trails or activities that have been developed.
The third option is for those who like to have things booked well in advance. Get in contact with our friend Tynch who manages the Jyrgalan DMO and can answer any of your questions. His email is: [email protected]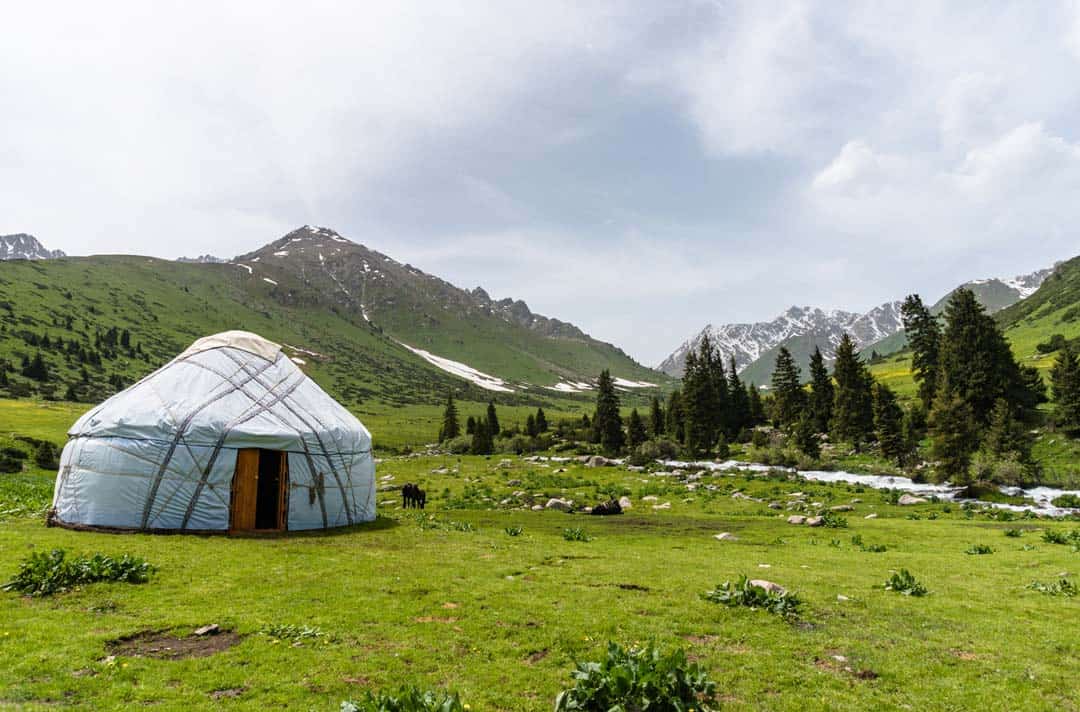 Independent vs Guided Trekking
When you're deciding on trekking the Keskenkija Loop you have a few options: Whether you want to do it independently, with assistance, or fully guided.
Your decision will come down to a number of factors: How experienced you are as a trekker, whether you are comfortable carrying all of your own gear, if you'd like to have local interactions by having a guide/translator, preferring to have someone else do the cooking for you, etc.
If you want to do the Keskenkija Loop independently then it is best to register at the Jyrgalan DMO before you set out, so that they know how many people are going to be in the mountains.
The DMO can also provide you with tips, detailed maps and information to help you on your trek. If you don't have your own camping gear you can rent it all in Jyrgalan. We recommend buying all your food in Karakol though, as the shops in Jyrgalan have little variety.
If you would prefer to take an assisted trek there are a number of different services you can choose from.
Packhorse and horse guide (note you cannot rent a horse without a local guide)
Cook
English-speaking trekking guide
You can pick any of the above in any combination.
You can find plenty more information on the Keskenkija Trek on the new Jyrgalan website.
How Much Does It Cost
You can do this trek (or any other trek in the Jyrgalan Valley) completely on your own, or with assistance.
Here are the approximate* prices for how much each service will cost you when booking in Jyrgalan or Karakol.
*We say approximate because this is what the proposed prices are based on what has been charged in the past. We're in talks with the local DMO, and if these prices change we will update this article immediately.
Pack horse, fully equipped – 1300KGS (USD$19) per day.
Horse guide – 2000KGS (USD$29) per day.
Local Russian-speaking trekking guide – 2000KGS (USD$29) per day for one trekker. Each additional trekker costs 700KGS (USD$10) per day. For example two people trekking costs 2700KGS, three people trekking costs 3400KGS, etc. This is due to there being additional responsibility for more people.
Local English-speaking trekking guide – 2500KGS (USD$36) per day, with the above additional fees. Must be pre-booked.
Cook – 1500KGS (USD$21.50) per day.
Food – 350KGS (USD$5) per meal, per person.
You can hire any combination of the above services. If you're happy to carry your own gear but want a trekking guide, that is possible. Same if you want a pack horse and horse guide to carry your gear, but you are happy to cook yourself and navigate.
Equipment can be hired in Jyrgalan Village from the DMO and is quite cheap.
Trekking Poles – USD$2 per day.
Sleeping Bag – USD$3 per day.
Sleeping Mat – USD$2 per day.
2-Person Tent – USD$5 per day.
At the very least we recommend renting a horse and guide to carry your heavy equipment from camp to camp. They will also be able to carry you across the Tup River if it is too high to cross by foot.
Additionally it gives companionship and a sense of security while being out in the mountains.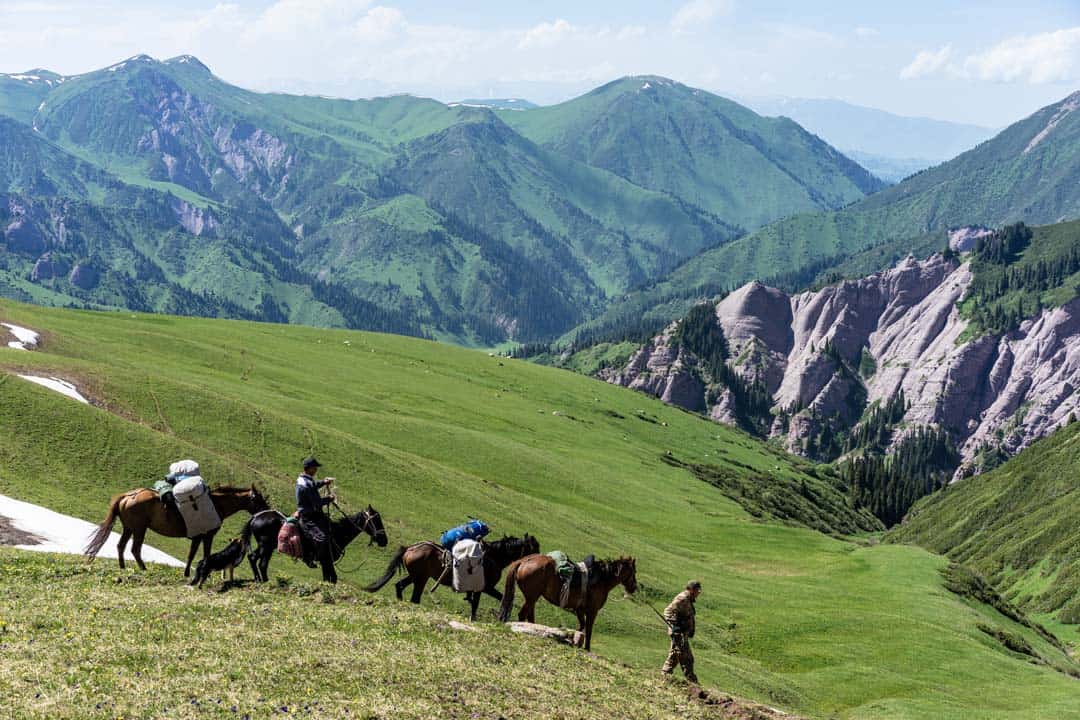 What to Pack
When trekking the new Keskenkija Loop in the Jyrgalan Valley it's important to to remember that you will be in the mountains, sometimes at altitude, and weather can change rapidly at any time of year.
The most important thing to bring with you is good quality, light hiking clothes and warm gear that you can layer properly. As they say, "Dress for the hour, not for the day".
We personally use and recommend the brand Kathmandu, as they offer high quality and technical clothing for all conditions.
You don't need to bring a lot with you on this trek, and you can always leave all your main travel gear at your guesthouse in Jyrgalan.
If you're interested in what travel gear we always have with us, read this resource page.
A comfortable day pack that you can fit a rain jacket, pants and a sweater, as well as some snacks. Make sure it has a decent harness.
Good hiking boots. Goretex is waterproof and lightweight.
Two t-shirts – one for trekking during the day, and one for wearing at night.
One lightweight fleece or packable down jacket.
One waterproof/windproof shell jacket.
Thermal pants. We recommend merino wool.
A 'Buff' bandana.
Fleece gloves in case it's cold in the morning/evening.
Three pairs of socks. One for trekking, one for wearing at night, and a spare pair in case your trekking ones get too wet. You'll really want to look after your feet on this trek!
Sandals to wear around camp.
Trekking poles if you like to use them (can be rented from Jyrgalan village).
Any medication you need, as well as bandages in case you get blisters or cut yourself. If you have a travel first aid kit keep it with you.
A 1L water bottle, preferably with a wide mouth for filling up out of rivers and streams.
Headlamp or torch.
A good camera to take lots of photos!
Portable battery pack to keep your phone/camera charged.
When it comes to camping gear we used our own on the Keskenkija Loop, but you can rent tents, sleeping bags, sleeping mats and even backpacks from Jyrgalan if you don't have your own.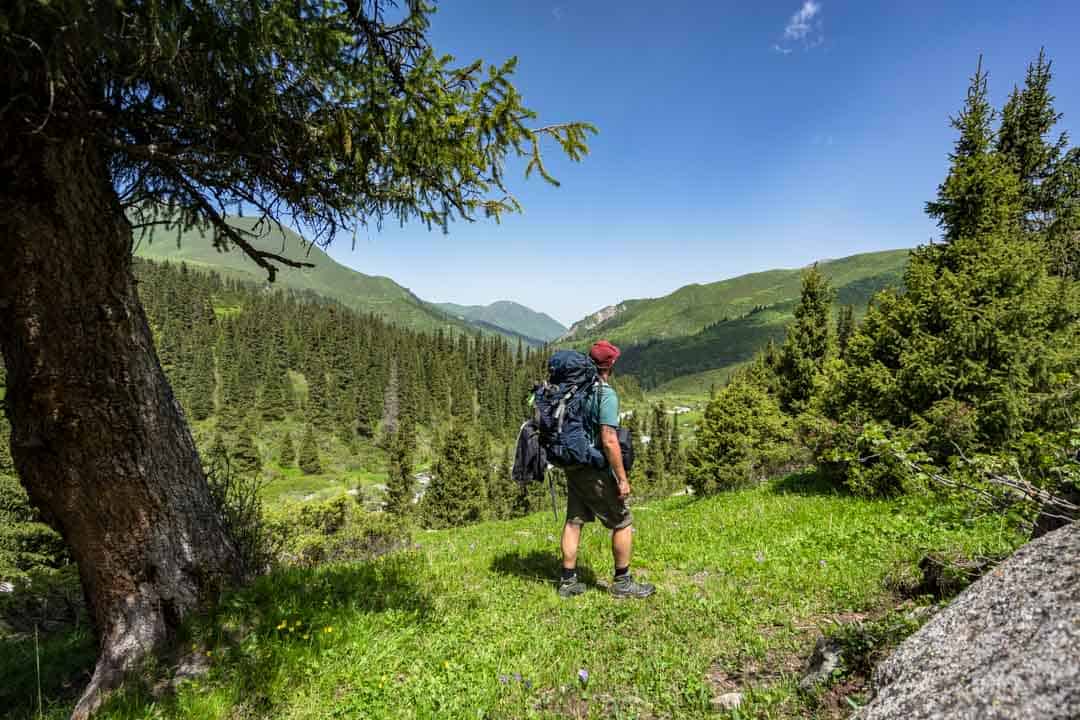 When to Go
The trekking season in Kyrgyzstan is relatively short, from June to September. Outside of these months, it's possible to still do some trekking, but only at lower altitudes.
Snowfall in the mountains, and especially around Jyrgalan Valley, is huge. We did the Keskenkija Loop in the middle of June and at times we had to traverse long patches of snow. We were actually meant to do a different trek, but at this time of year the mountain passes were still closed.
When we visited the Jyrgalan Valley at the end of August in 2016 for the Boz Uchuk Trek there was no snow, but the nights were below freezing.
It's still entirely possible to hike at the beginning and end of the season, but keep in mind that some passes will still be covered in snow.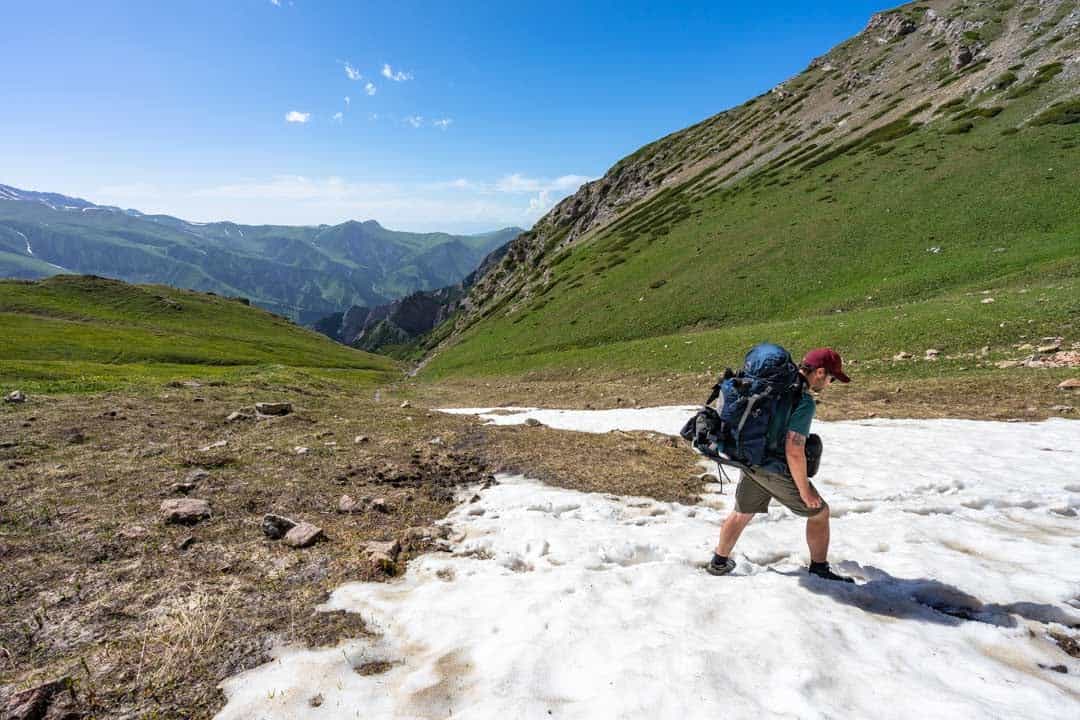 Things to Know Before You Go
There are a few things you need to know before you tackle the Keskenkija Loop to ensure you have the absolute best, and safest, time in the mountains.
We highly recommend carrying water purification tablets, a filter or a SteriPEN on your trek. You will find small streams and rivers everywhere on this loop, but due to the large amount of cattle around the water may be unsafe to drink. That being said we sterilised our water maybe only 50% of the time and were fine. Also carry at least 1.5L of water at all times. Staying hydrated is important!
The weather can, and will, change rapidly in the mountains. Make sure you are properly prepared with adequate clothing.
Even if you hire a cook, bring snacks to munch on during the day for extra energy.
Bring all the medication you will need, and extra bandages. If you hire a trekking guide they will most likely have a first-aid kit, but come prepared anyway.
You will be sleeping in tents, and if you aren't used to this you may be a bit uncomfortable. One of our favourite tips is to bring an inflatable pillow with you. This sure beats rolling up a sweater to sleep on.
If you like to have a drink, bring a bottle of local cognac or rum with you. While you won't be getting drunk up there, it's always nice to have a little nip after a long day trekking (and it's a great way to bond with your horse guides).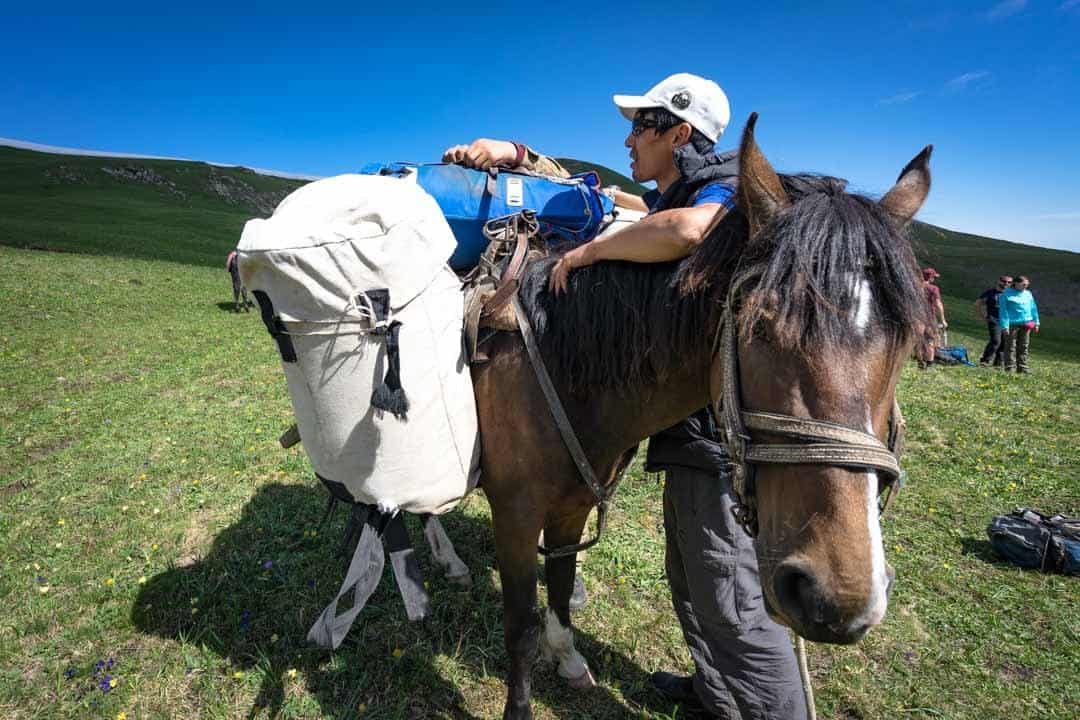 The Keskenkija Loop Trekking Itinerary
In June 2017 we were the first people to ever attempt the Keskenkija Loop as a proper hike, and we trekked the 64km over three days.
While it is possible to complete the loop in the 3 days that we did, the DMO and local guides have decided that this is best marketed as a 4-day trek (and we agree). Or if you prefer to take things slow, you can do it in 5 days, or as a horse trek.
Having consulted with the guides at the end of the trek the new 4-day itinerary for the Keskenkija Loop has been worked out, and that is what we're going to talk about now.
The first day of this trek will follow a shepherd's road, and is virtually impossible to get lost. After that keep an eye out for rocks marked with red paint and arrows (these arrows are the handiwork of our cook, Anvar, and us).
Here are the topographical maps with the marked trail of the Keskenkija Loop Trek. Note that on the fourth day the walk back to Jyrgalan Village isn't marked, but follow it southwest.
Topographical Map One | Topographical Map Two
NOTE: One of the British volunteers that has been living in Jyrgalan, James, has helped Emil mark out a brand new 7-day Keskenkija 'Super Loop', which is a longer extension of the trek we originally did. We haven't done it, but if you have the time, we can only imagine it'd be incredible.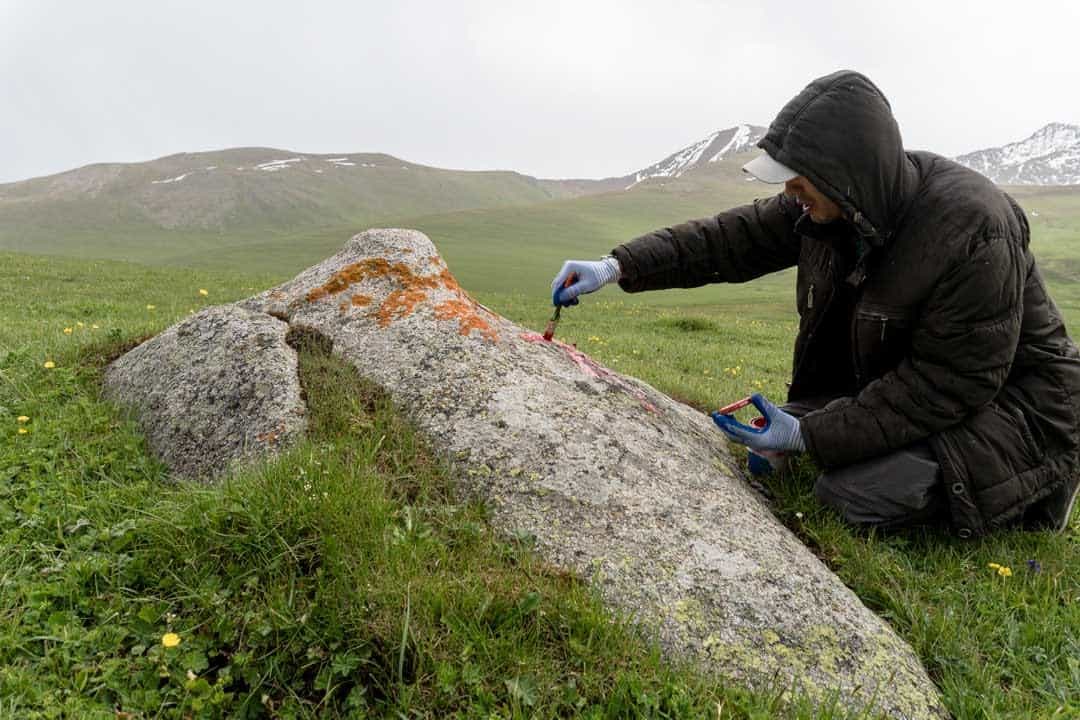 Day 1 – 18km – 8 Hours
Min Elevation: 2260m
Max Elevation: 2970m
Total Gain/Loss: 710m
Leaving from your guesthouse in Jyrgalan Village you cross the river and start heading up into the mountains. The beginning of the trek is stunning, as you follow the river through rolling hills and towards the pine forest. You'll likely find goats, cows and horses grazing in this large field.
It only takes about 30 minutes of moderate climbing before you join up with a shepherd's road that takes you deeper into the Jyrgalan Valley. Here the altitude gain will be mellow, and you'll be surrounded by trees.
Continue to follow the road for 6km until you reach a beautiful valley called Eki Chat. This stunning spot is home to a few nomadic shepherds, and as of this year it is also the location of Alakol Eki Chat, a brand new yurt stay initiative run by local man, Danik.
You can choose to spend the night here for 1500KGS (USD$21.50) including breakfast, or have lunch here for 450KGS (USD$6.50). This would be the perfect place to stay in order to break the trek up into 5 days.
Once you've met the family (and had lunch if you want to) keep walking along the road until it opens up into a wide valley. Here you'll get epic views towards the distant mountain ranges, as well as to other hiking trails that cut high up to the northeast (known as 'Azamat Peak' and 'Kyle's Pass').
The trail keeps you along the valley floor, and after 9km of gentle climbing you reach a natural fork in the landscape. To the east is Jyrgalan Pass (tomorrow's challenge), and to the south is Tuz Gorge.
With the river passing by just below you, this will be where you set up camp for the night.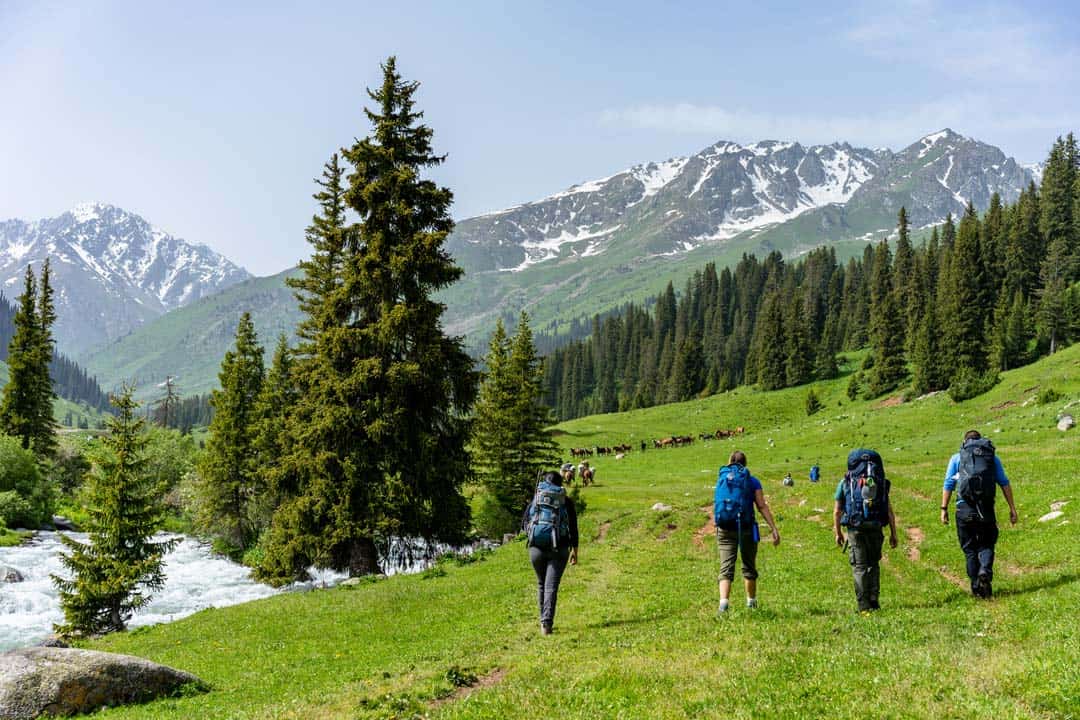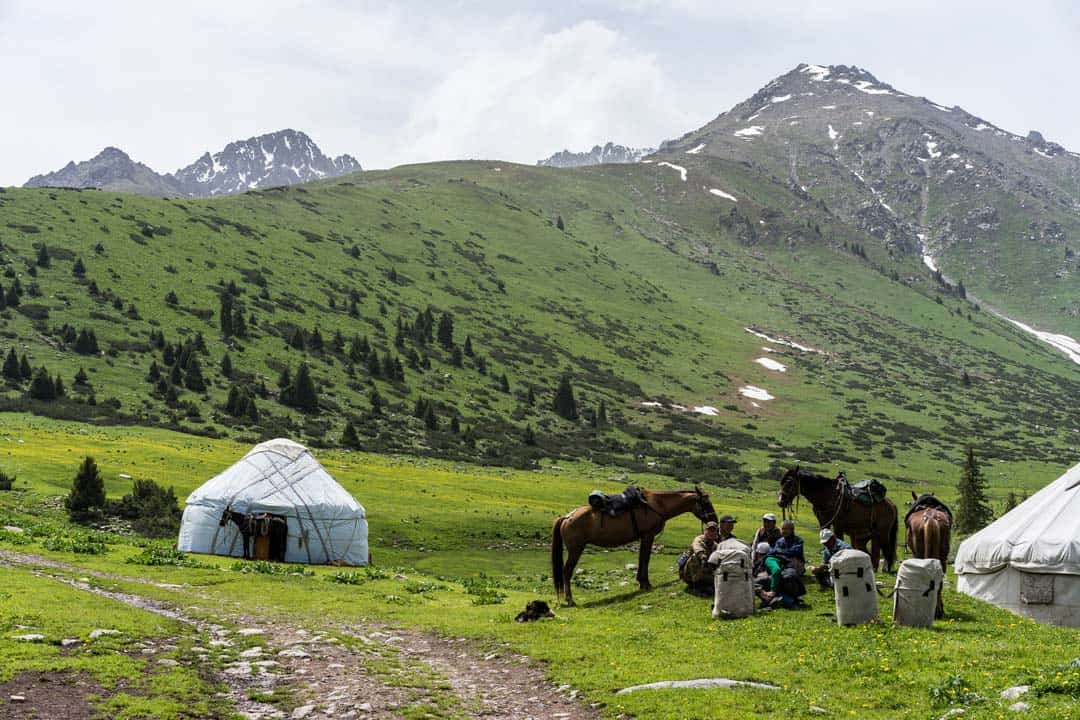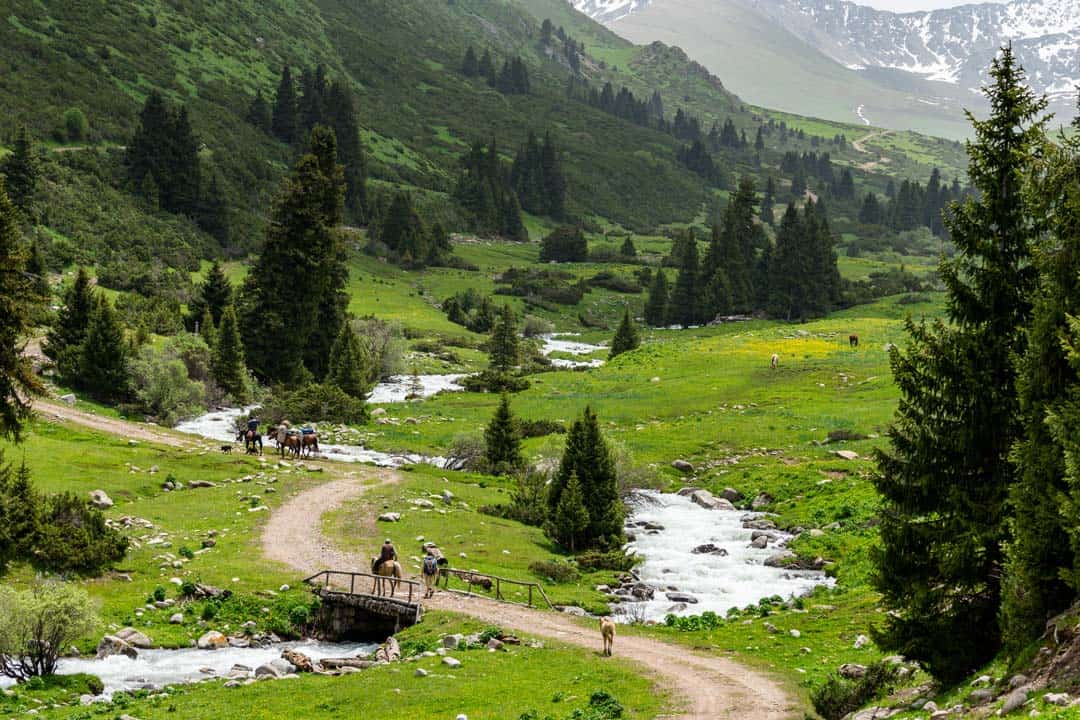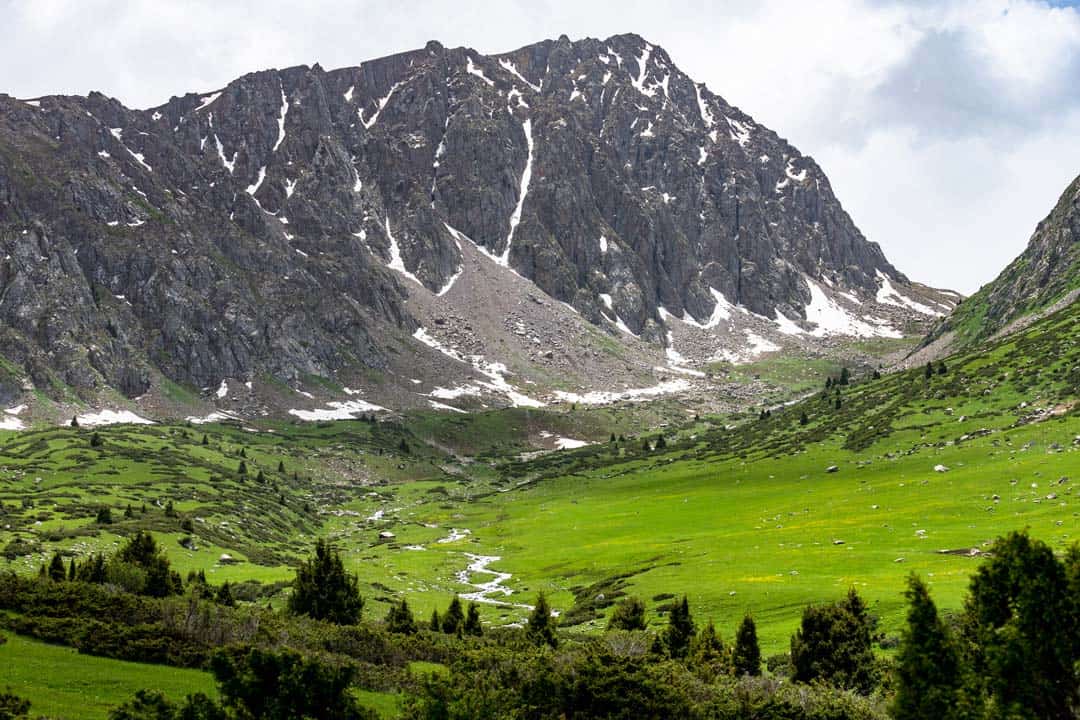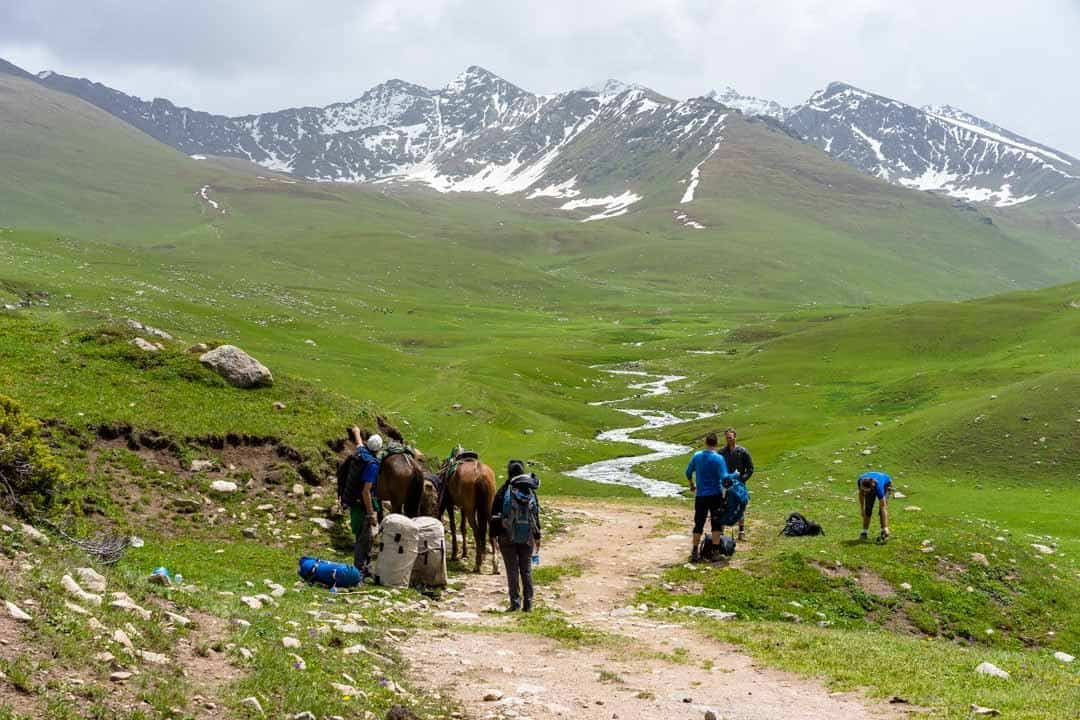 Day 2 – 10km – 6 Hours
Min Elevation: 2700m
Max Elevation: 3332m
Total Gain/Loss: 632m
After breaking down your campsite it's time to hit the trail, and the day begins with a challenge. The 3332m Jyrgalan Pass (Ak Kiya in local language) rises to the east, and you will be climbing it first thing.
Luckily it isn't overly steep, and the dirt road creates a nice, stable trail to take you to the top. At a gentle pace you'll be standing at the top of the pass in 2 hours, and the views are definitely worth it.
Huge, jagged peaks soar in every direction, with the contours of the valley flowing like ocean waves. Two large rock piles mark the highest point of the pass, and you can't help but feel compelled to add your own rock to the collection (do as the Mongolians do and circle the rock pile anti-clockwise three times before placing your rock, if you have the energy).
Once you've snapped your photos continue to follow the road along the edge of the mountain and down into the valley below. The views are sensational, and as you get out of the alpine you'll start to have more shrubs and trees around you.
The road crosses a small river, and you'll need to rock-hop to get across if you don't want to take your shoes off. Bending around a hill, you'll then catch a glimpse all the way down towards Ashutor Peak.
This valley is insanely picturesque, and you'll find yourself taking way too many photos if it's a clear day. Keep following the road until it gets closer to the Tup River below.
Trek down through the jailoo, aiming for the Tup River. There's no bridges or ropes here, and after winter the river is raging quite hard. Find the best place to cross, and this is where having a horse guide is handy.
The horseman will load you up and ford the river. This is the safest way to cross the Tup River, and even if you feel unsure put your trust in the horseman. The last thing they will ever do is put you, themselves, or their horses in danger.
Note – If you are doing this trek without a horse guide, be very careful about crossing the Tup River, especially in the earlier months of the season. The rapids are very strong, the rocks beneath the surface are slippery and the water is icy cold. If you are swept away it will be extremely dangerous. Only make the crossing on foot if you are 100% confident, have experience crossing these kinds of rivers, and the water is low enough.
Once you have crossed the Tup River you are now in a wide meadow that may be filled with wildflowers depending on the time of year. Trek north (back towards the way you came) and find a beautiful, flat spot to set up camp for the night.
Besides being a gorgeous spot to set up camp, the short day also gives you plenty of time to dry off your gear in case you got wet crossing the river.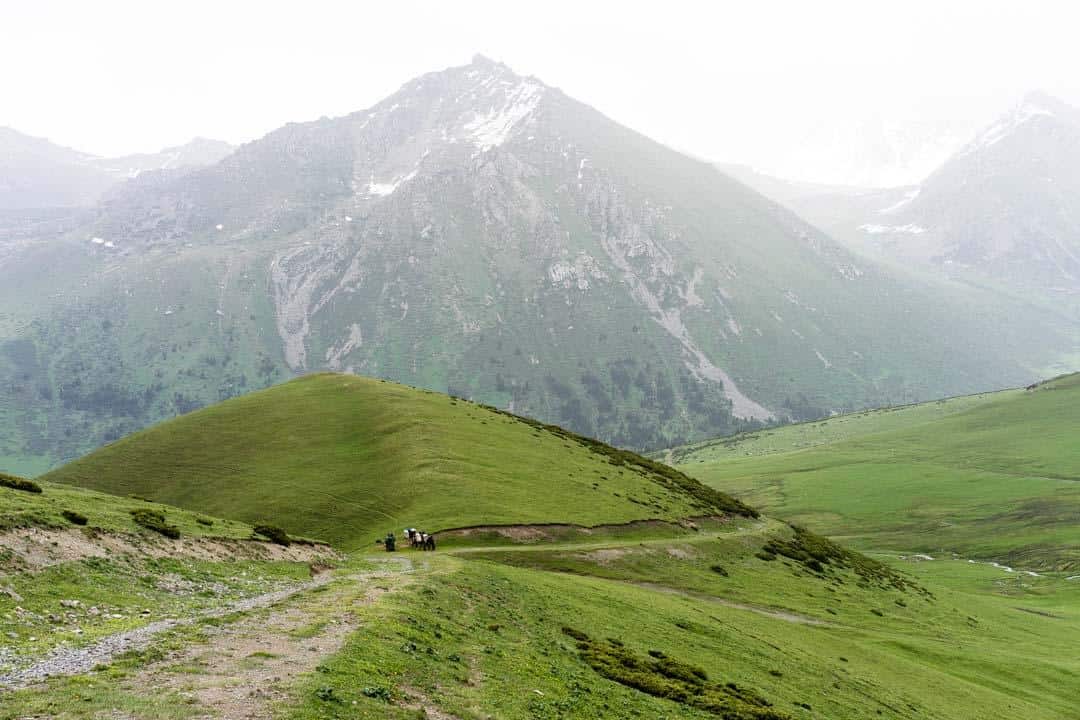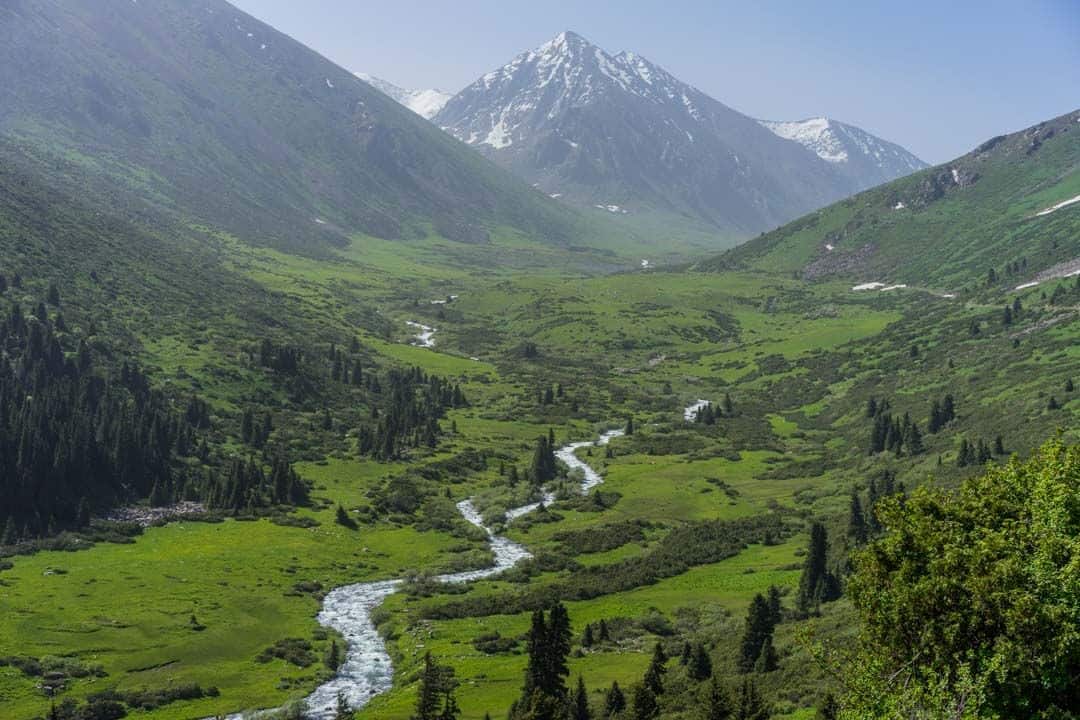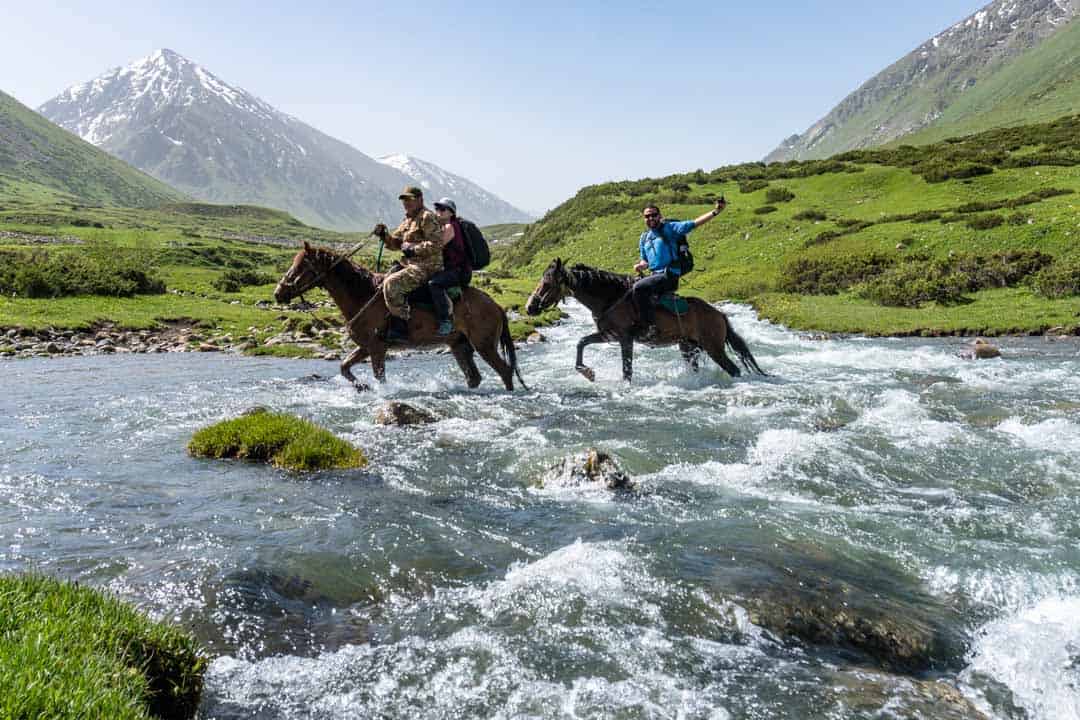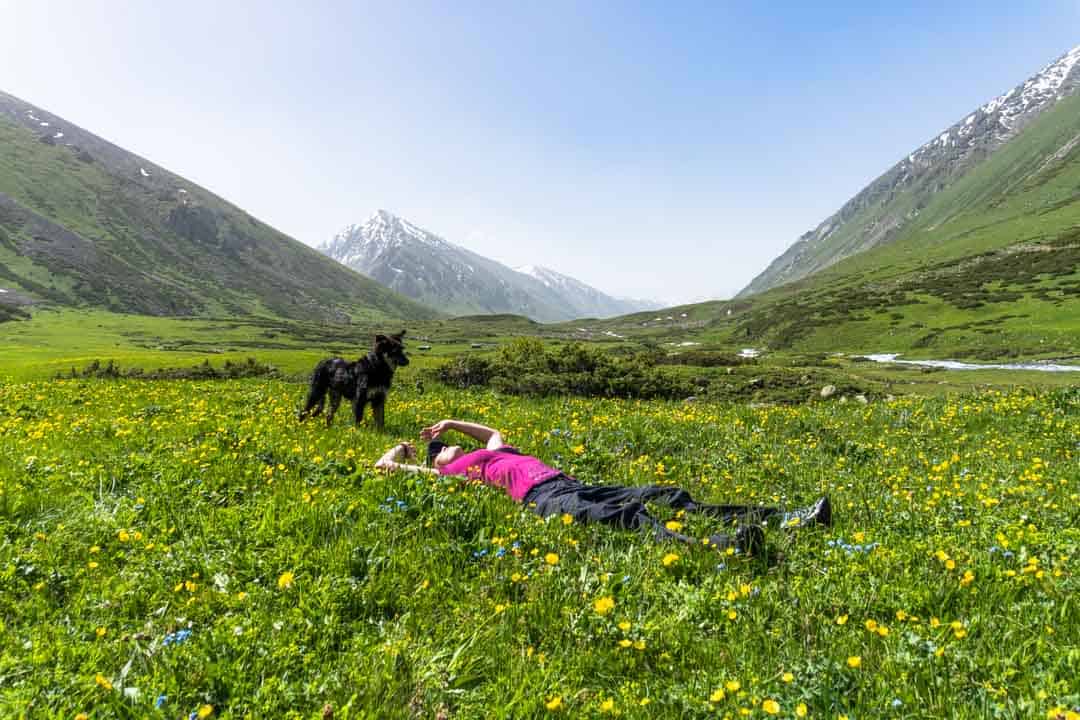 Day 3 – 15km – 7 Hours
Min Elevation: 2700m
Max Elevation: 3380m
Total Gain/Loss: 680m
After a beautiful night's sleep by the edge of the Tup River set off as early as possible and continue north (the river to your left) for 2km until you hit a dense forest.
A horse trail starts to climb to your right, and you'll be trekking through stunning pine forest. Push through the branches and as you climb higher you'll be offered glimpses of splendid views through the trees.
As you gain altitude you'll break out onto a ridge around 2900m, with a long, sprawling jailoo leading to a natural bowl to the northeast. Keep following the arrows found on the large boulders.
Here there may be a family living at the base of the surrounding peaks, high up on the jailoo. If you can see their camp keep walking towards it.
Reaching their home introduce yourself, and the family will most likely force you to sit down and drink some tea with them. In our case we were even given a delicious lagman (noodles with sauce and meat) lunch. They're lovely people, so take the time to enjoy this local experience.
When you're ready, cross the small river and make your way west, climbing up along the horse trails until you hit a large plateau with panoramic views. You'll see some high mountains to the north along a flat ridge, and that is where you need to go.
The terrain will flatten out when you reach the base of the peaks, and you'll be rewarded with glorious vistas to the northwest. The mountains fall away into sandy formations that are similar to beehives, with steep cliffs opposite creating a phenomenal canyon.
This is a perfect spot to stop for a break before you tackle the next leg.
Passing over a knoll you then skirt the edge of the mountain, dipping down into rockfalls and through avalanche paths until you make it to the other side of the ridge. Stay as high as possible throughout this traverse.
Ahead of you is the highest point of the Keskenkija Loop, the 3380m Goatasaurus Pass*. Push through the leg burn and climb the final few hundred metres to the top.
The top of Goatasaurus Pass will only continue to make you fall in love with the Jyrgalan Valley. As far as the eye can see are twisted contours of jailoos and ridges, enveloped by steep alpine peaks on either side. Rivers carve their way through the mountains, all that's left of what must have been tremendous glaciers once upon a time.
When you've taken your rest break at Goatasaurus Pass head down on the other side. Mind your footing during the descent, and the terrain will eventually level off a bit.
Keep following the horse trails north, passing by sink holes that fill up and form miniature alpine lakes. There'll be a few more small streams to pass, then start skirting the side of a small hill.
Descending once more, following the red paint on the rocks, keep an eye out for a flat(ish) stretch of land close to a fresh water stream to set up camp.
This valley is the most beautiful campsite of the entire trek, so enjoy every minute of it as the sun goes down. As the camp is around 3200m above sea level, the temperature can drop rapidly, so make sure you have warm clothes ready.
*When we climbed to the top of this saddle we consulted our maps and found out that the pass wasn't named. We asked the local horseman what they called it, and they confirmed that where we were standing indeed didn't have a name. Seeing as we were with our good friends Nick and Dariece, we jumped at the opportunity to claim the pass. Merging the names of our two blogs together in an old joke we've had for a few years now, we called it 'Goatasaurus Pass'. Azamat and Ruslan thought it was hilarious and gave their approval. So from this moment onwards, whether it is official or not, this shall always be known as 'Goatasaurus Pass'.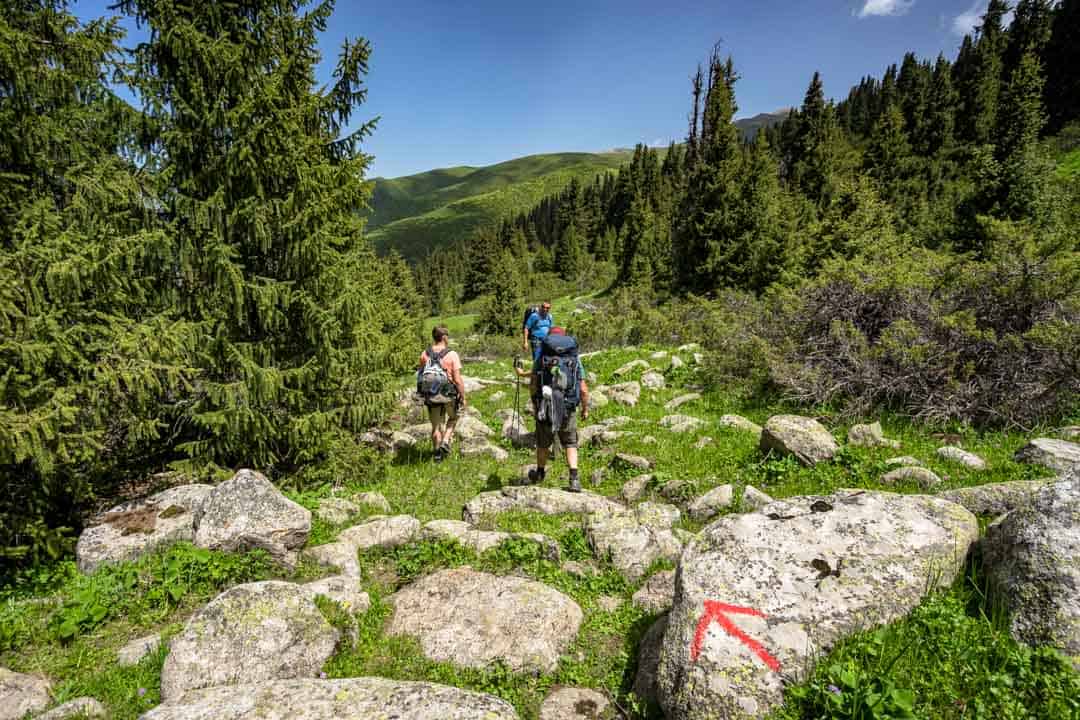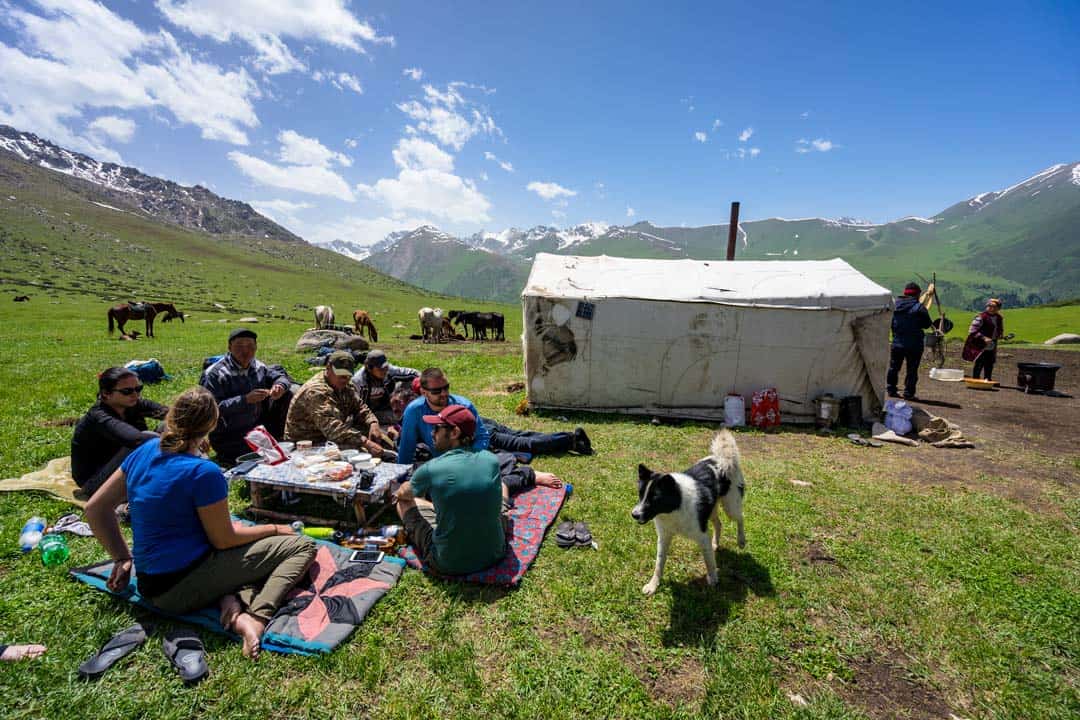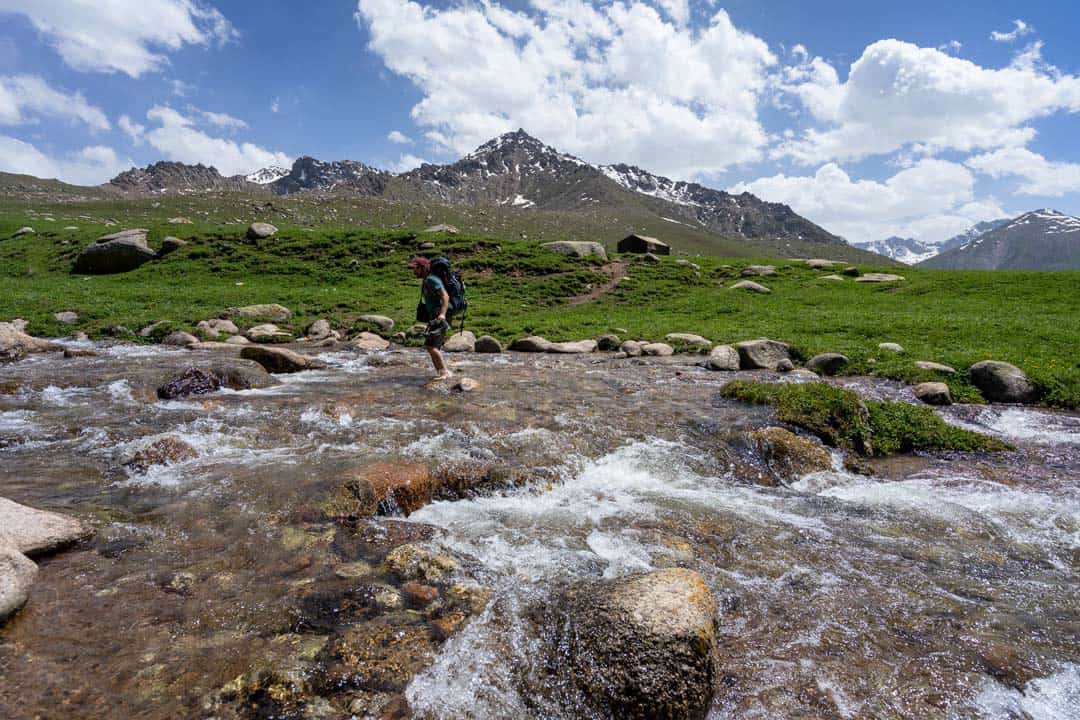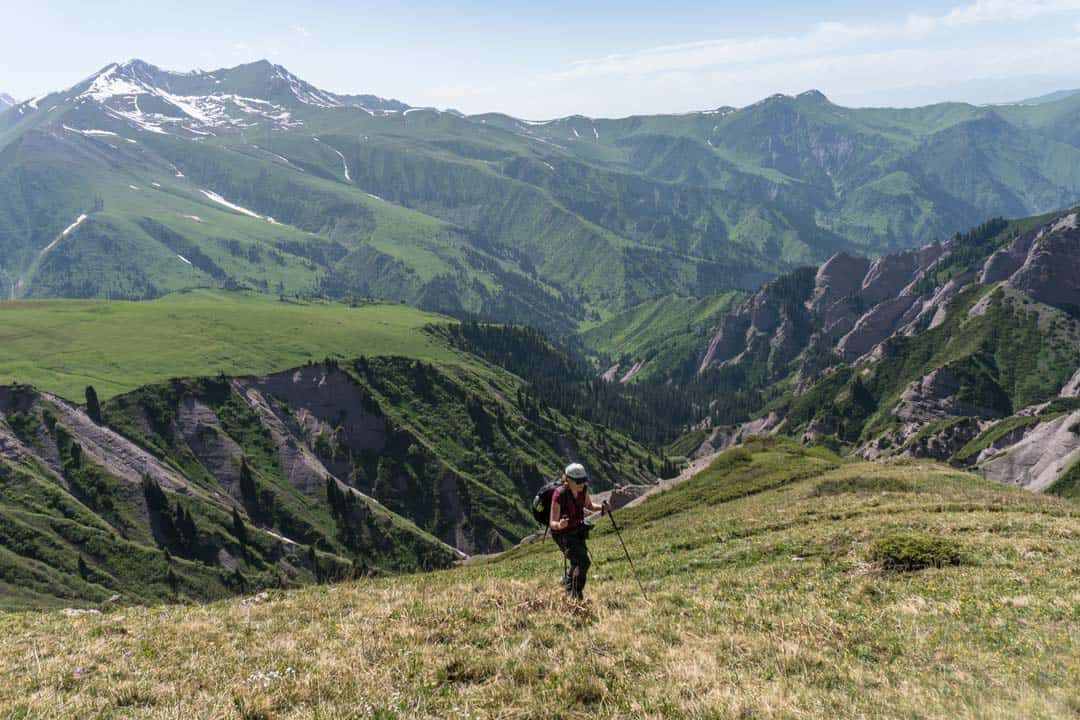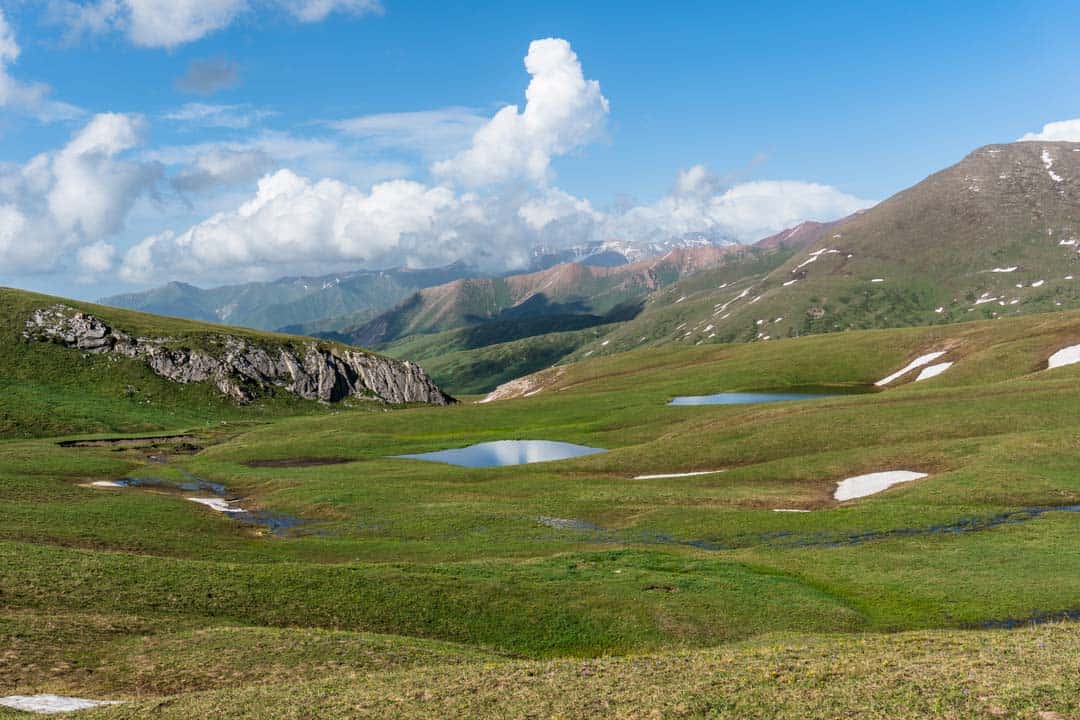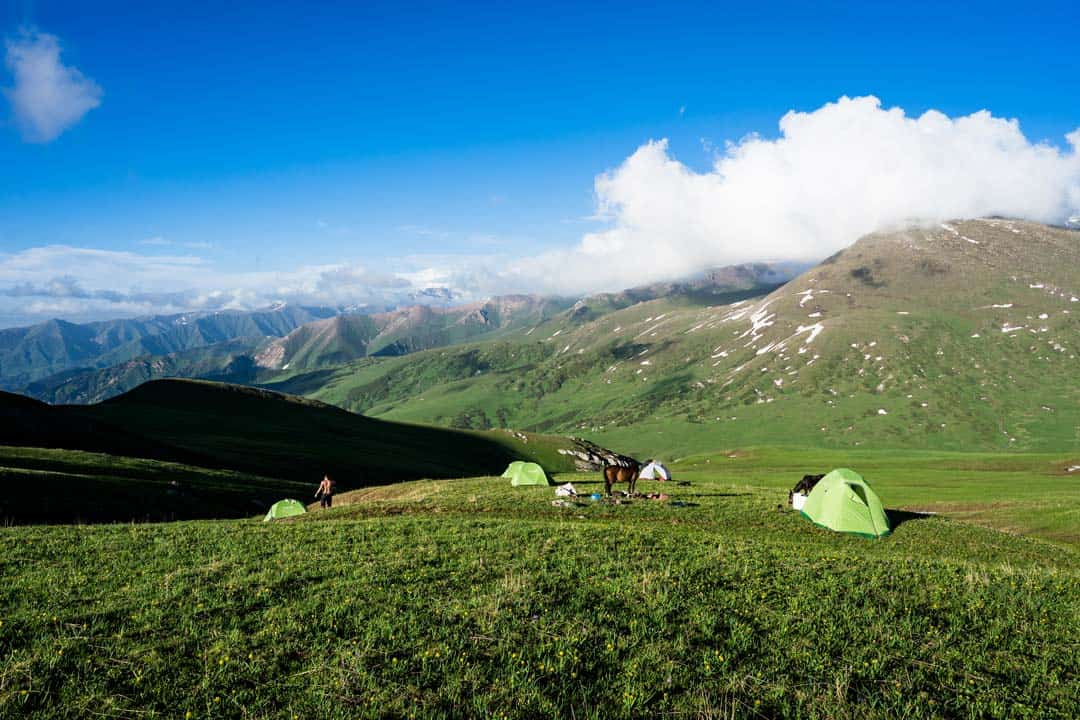 Day 4 – 20km – 8 Hours
Min Elevation: 2260m
Max Elevation: 3310m
Total Gain/Loss: 1050m
The last day back to Jyrgalan is a long one (unless you have organised to be picked up at Chymynsai Valley), so get started as early as possible.
From camp start heading uphill, following the horse trails and red markings, towards the saddle of two peaks. It's a gentle rise so you can make good time to the ridge.
Anvar Pass sits at 3310m and will be your highest point for the day (although not the last pass you have to conquer). The views are, predictably, epic, so take a few more photos before stepping over and moving to the west.
For the next hour you'll be following more horse trails on the side of a grassy mountain. Stay traversing the north side at a downward angle to meet up with the river funnelling down into a gorge below you.
Once you hit this gorge follow the river, trying to stay to the north side (cross the river once) as much as possible. At times you'll need to bounce back to the other side in order to stay on the path, but make sure you finish on the north.
Following the rive is breathtaking, and is a welcome change after the days of alpine peaks that preceded it. Watch your footing, as the grass is soft and there are many hidden sinkholes beneath the foliage.
The path will start to rise and you'll climb out of the gorge. The path is well worn, and it will cling to the side of the mountain right through to the next valley.
Less than an hour later you will hit a viewpoint where the river far beneath you spills into the Chymynnsai Valley. Take a moment to stop and admire the views to Peak Koitor and the Tup River reappearing on its northward journey.
It's time to descend back into the forest, and the last hour or so to the flatlands below are tranquil and beautiful. Keep aiming north, and enjoy the different scenery.
Eventually you'll meet up with some farms and old trailers by the edge of the river. This is a good spot to grab lunch.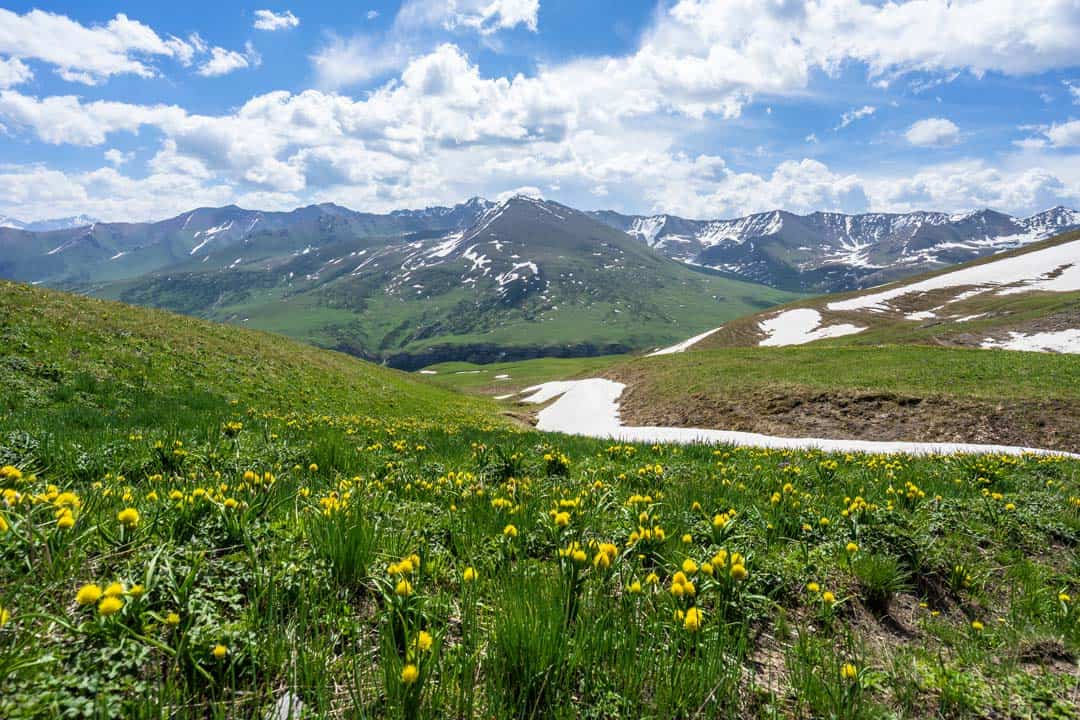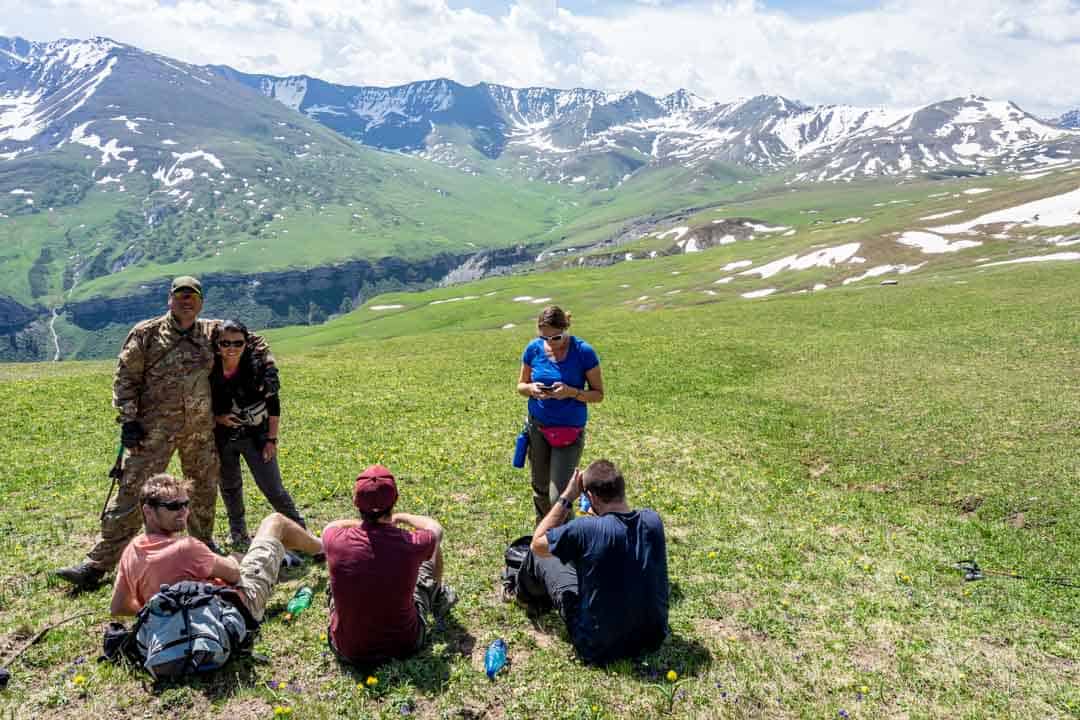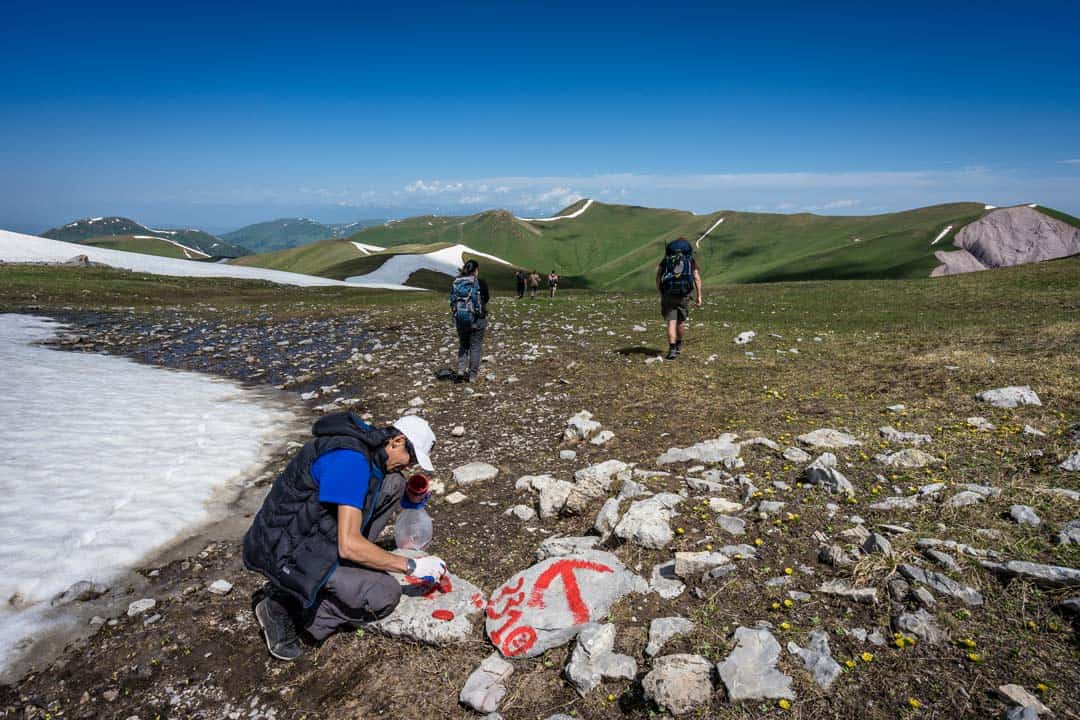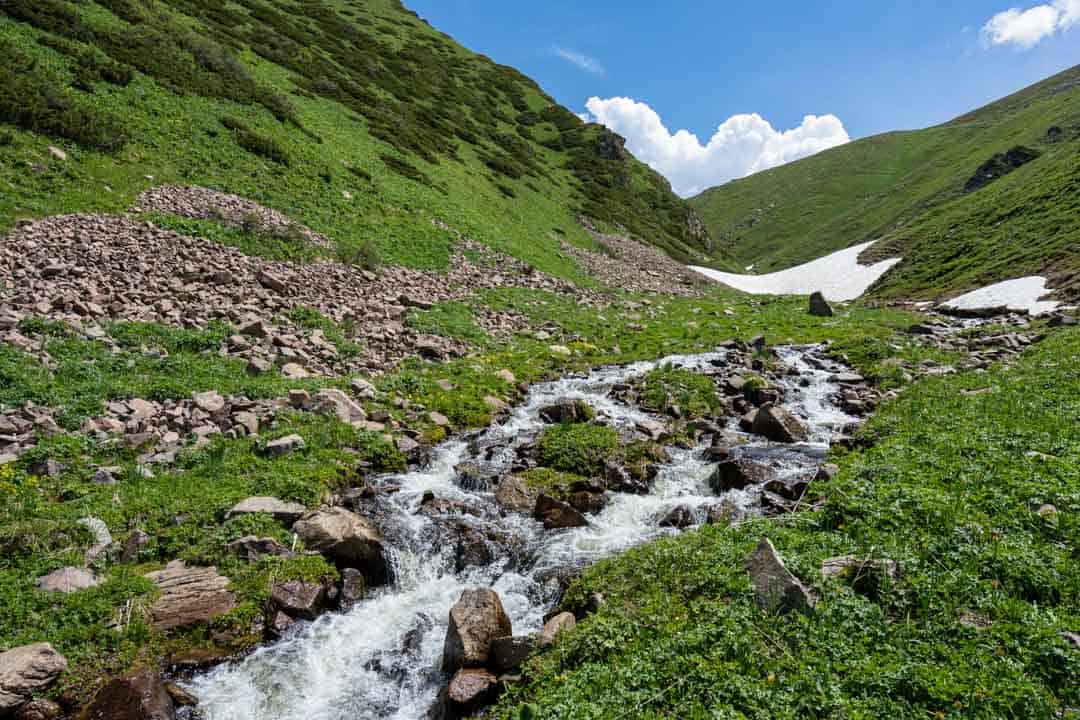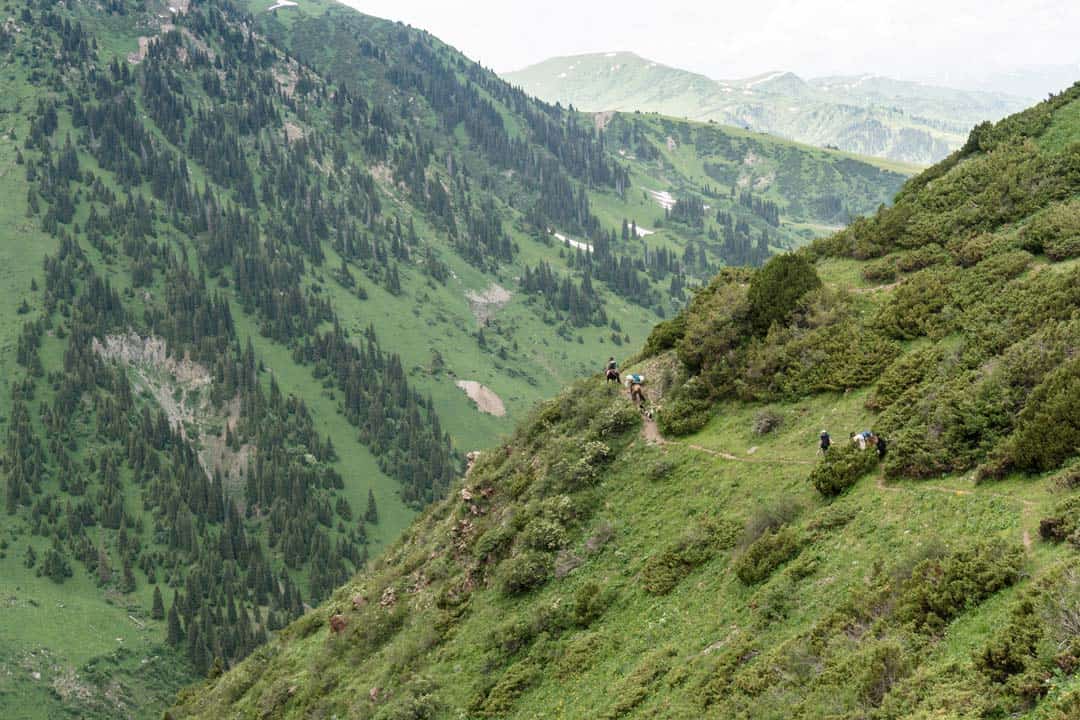 Moving on follow the east side of the river for another 30 minutes until you hit a bridge. If you have organised a pick up, this is where your van will be waiting for you. If, like us, you have chosen to walk back to Jyrgalan (highly recommended), cross the bridge and hike into the valley straight ahead.
You'll be walking southwest for the last leg, and while it's not difficult it does take a while, especially after the previous 3.5 days trekking. Luckily the views you'll experience are unlike anything you have seen previously.
Trekking into the valley you'll pass cows, horses, goats and maybe even donkeys grazing in the pastures. A fork comes up on top of a gentle hill, and you need to stick to the right and into the forest once again.
You'll end up in a congested area where creeks tumble into a narrow canyon, and you need to watch your footing as you climb down and back up out of the twisted terrain.
Keep climbing and you'll reach the top of the ridge, where an endless meadow of wildflowers and lush grass lays before you. We named this spot "One More Pass", after Azamat's constant cries every single time we reached the top of another hill, where he would encourage us with 'one more pass' until we reached the village.
Just ahead you'll see a dirt road come into the side of the field, and this is where you want to head to.
Follow the road, keeping the gorgeous meadow and unlimited views to your left, and after 30 minutes or so a rocky, forested hill will come up on your right. Follow the horse trails towards it, then drop into another small gorge.
When you hit the bottom of that, cross the river and back up into the jailoo. You'll start to find huge numbers of cattle and nomads wandering around the place, and this cultural insight is a perfect way to near the end of the Keskenkija Loop.
Trek west, following the horse trails and asking the nomads for directions if you'd like. Eventually you'll hit a large road, with an old coal mine to the left and Jyrgalan village to the north. You're almost home!
Now it's just a matter of following the road back into the village, and tracking down your guesthouse. If you're not exactly sure where just ask locals for "Emil" and they'll point you back to the DMO.
Completing the entire Keskenkija Loop and finishing in Jyrgalan is a wonderful experience. Being able to close out the adventure in the exact spot you took off from gives a huge sense of accomplishment.
Your guesthouse will have hot showers (and potentially cold beer) waiting, so make the most of it when you're back in the village. You can choose to head straight back to Karakol that night, but we recommend spending one last night in Jyrgalan. It really is an amazing place after all.
Congratulations on completing the entire Keskenkija Loop, the newest trek in Kyrgyzstan!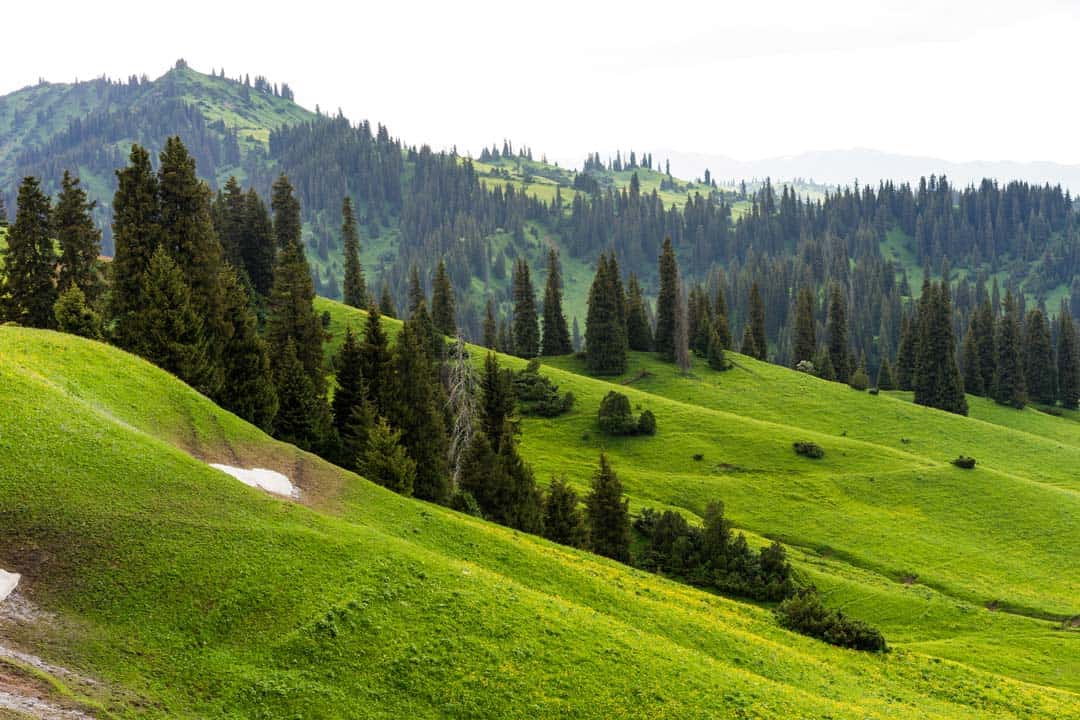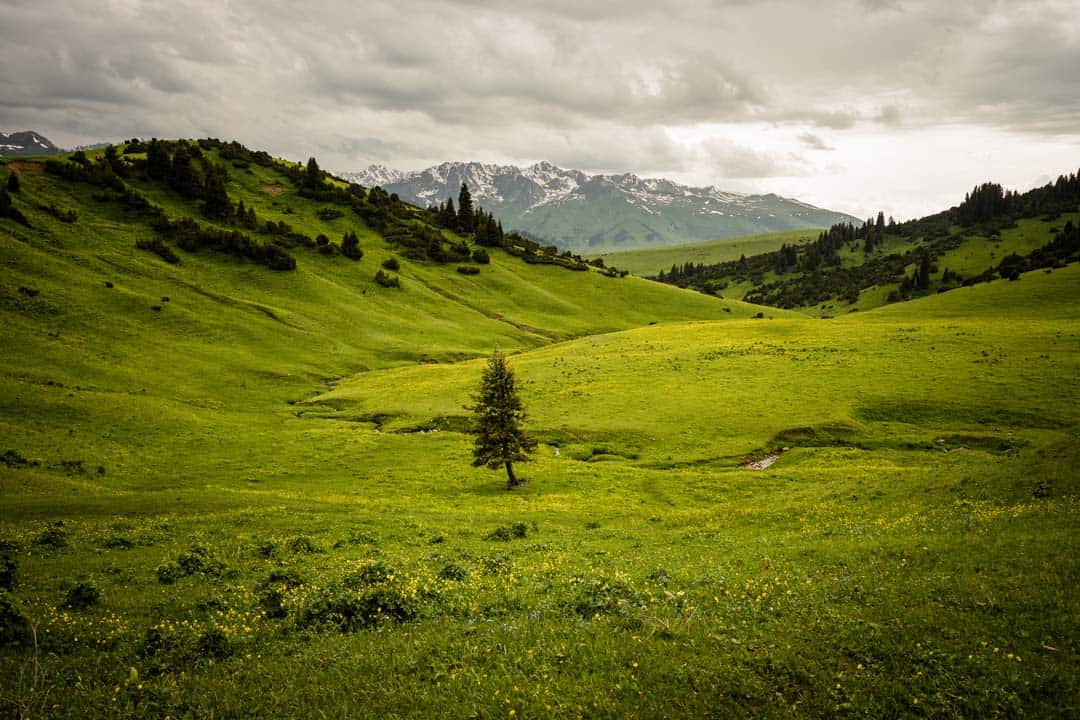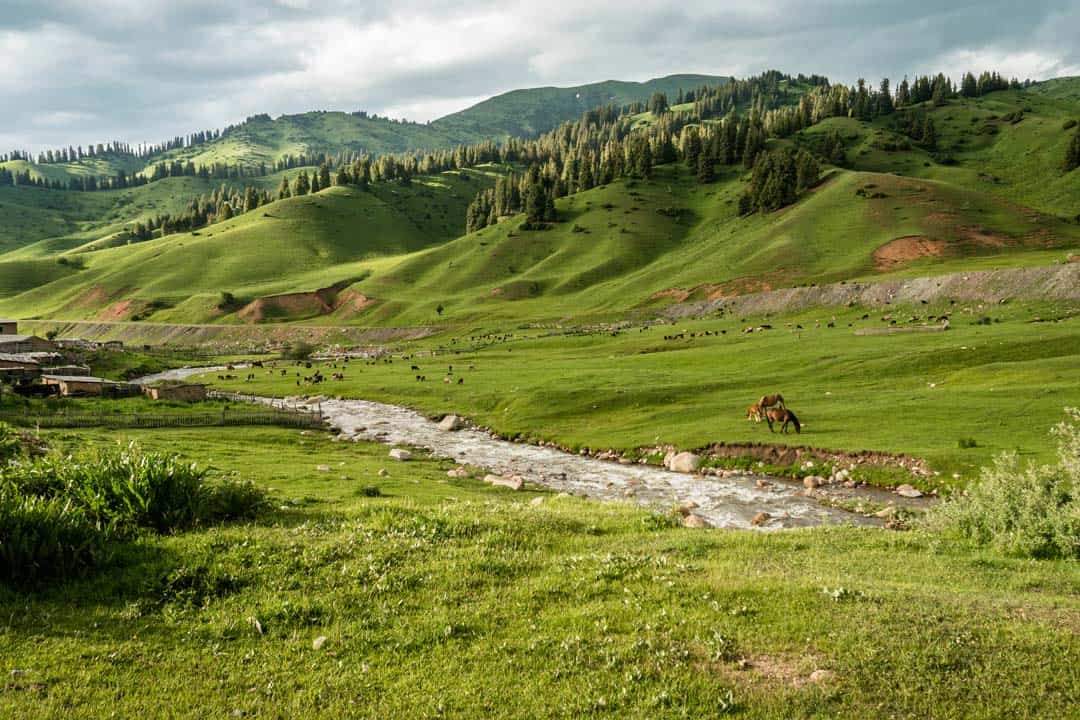 About Jyrgalan
The Jyrgalan Valley in eastern Kyrgyzstan is developing a reputation that may see it become the number one adventure destination in Central Asia in a few years.
Since our first visit in August 2016, when there was just one marked trail and one guesthouse to stay in, there's now 6 family-run guesthouses and countless activities to check out.
Without a doubt, it is our favourite place in Kyrgyzstan.
Joining the Keskenkija Loop and the other new treks in the region are horse riding, yurt stays and mountain biking in the summer. You can even organise horse treks to cross the Kazakh border from here. Come winter time there'll be free riding, snow shoeing, cat skiing and possibly winter yurt camping. Watch this space!
One of the best parts of travel is discovering new destinations before the masses catch on. Jyrgalan is in that phase now – an amazing place, with friendly people, affordable prices, beautiful scenery and enough activities to keep everyone entertained, whether they are interested in adventure or culture.
Do yourself a favour and head to Jyrgalan now. And if you're feeling really keen, tackle the new Keskenkija Loop trek – the newest, most intrepid, hike in Kyrgyzstan.