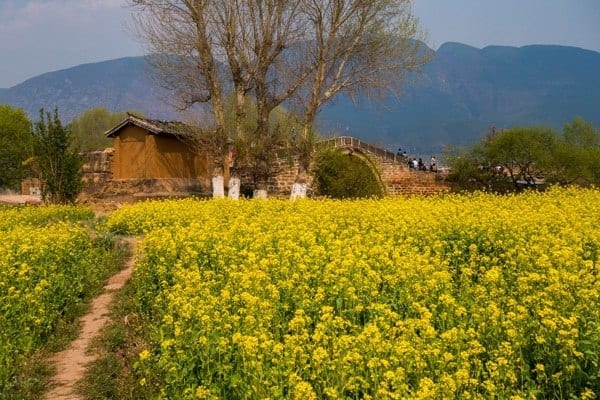 First impressions mean a lot, and the one Shaxi left on us was truly special. From the moment we stepped out of the minivan in the time-locked town, we felt at home.
We've never really been into busy places, and as beautiful as Dali was, we were anxious to move onto somewhere quieter.
Shaxi (pronounced "Sha-Shi") was an important village on the ancient Tea Horse Road, a similar route to the historic Silk Road, and is the only living relic of the old trail still maintaining its authentic markets.
Open drains and canals flow parallel to the stone streets, with ageing timber and mud-brick houses glittered throughout the town.
Walking to the outskirts of Shaxi offers pristine views of the Heihui River, with rolling peaks creating the stunning backdrop.
At the right time of year canola fields blossom, breaking up the green landscapes with vast seas of golden flowers.
A romantic boulder bridge connects Shaxi to the working pastures over the river; a quintessential photo opportunity if there ever was one.
For those feeling active, the surrounding mountains hold sensational hiking opportunities. If you prefer to explore the scenery on two wheels, cycling around Shaxi offers countless trails to be enjoyed.
Horses are available to rent if you love the idea of galloping through the pastures in the saddle of a gorgeous mare.
In the old square, a wooden temple beckons those interested in history.
Quaint cafes use the cobblestoned quadrangle as their terraces, serving up piping hot brews of Yunnan coffee and icy cold beers for those summer days.
On the outskirts of the town are some incredible nature reserves, including the grottoes of Shibao Shan (Stone Temple Mountain) and the sacred underground spring of Bailong Tan (White Dragon Pool).
If your schedule allows, be sure to time your trip to Shaxi on a Friday, where you can experience the last remaining market on the Tea and Horse Caravan Trail.
The Bai and Yi people all come together to sell local produce and supplies. The minority ladies dress in their traditional colourful garb, making for a wonderful and captivating sight.
However with all the highlights that Shaxi has to offer, ours really stemmed from the sublime accommodation we found ourselves in.
Horse Pen 46 Youth Hostel is located right in the old square, set in a century-old house. Comfortable dorm beds and character-filled private rooms are available at unbelievably cheap prices (think less than $10 for your own room with bathroom).
The owner, Shirley, speaks impeccable English and holds invaluable knowledge of Shaxi and its surrounding areas.
But the real stars of Horse Pen 46 are Marley and Luosho – the resident Saint Bernard and Tibetan Mastiff, who despite their gigantic sizes, are extremely friendly and cuddly.
If you are really lucky, Shirley will bring Marley and Luosho on their free guided hikes up into the hills every Saturday.
Want to stay here at Horse Pen 46 Youth Hostel? Book here through Hostel World
After only one week in China, Shaxi managed to capture our hearts and made us wish that we hadn't have used the town just as a one-night detour.
For any traveller's Yunnan itinerary, Shaxi deserves a multi-day stopover at the very least. We'll be looking for excuses to head back to this authentic Chinese village, hopefully sooner rather than later.
How To Get To Shaxi
From the North Station in Dali (客运北站), we jumped onboard a bus headed towards Jianchuan (剑川). The 3 hour journey cost us 24RMB, and dropped us off on a busy street.
From here you can grab a minibus to Shaxi (沙溪) which should take around 45 minutes and cost about 13RMB. (Expect prices to fluctuate slightly.)
From Lijiang, find your way to the long-distance bus station (丽江客运站) and board the bus to Jianchuan (剑川). Follow the above instructions to get to Shaxi.