Make the most of your time in Taiwan with our perfect 3 days in Taipei itinerary!
From chowing down on Taiwanese delicacies in Taipei's night markets to hiking in the hills of Maokong, Taipei's is one of Asia's most interesting cities.
Taipei has long held the reputation of being one of Asia's most intoxicating cities.
It combines the best of urban and rural in a way that few other cities on the continent can.
All while being affordable, offering oodles of history and culture and having some Asia's most tantalising cuisine.
Taipei really does have it all. And in truth you could easily spend more than 3 days in Taipei – between hiking in the mountains, exploring old temples and stuffing your face at one of the cities numerous night markets and other eateries – there is plenty to keep you busy!
Your Perfect 3 Days in Taipei Itinerary
Taipei in 3 days is certainly a squeeze, but a doable one!
Make sure you have a comfortable pair of shoes as you will definitely be getting the steps over these jam-packed days!
To start with I recommend checking out this 3-day unlimited rail and attractions pass, which will really make your Taipei itinerary easy and cheap to do.
Day 1
Here's how you should spend the first day in Taipei!
Morning – Enjoy An Early Morning Stroll Around Tamsui
Begin your time in Taipei by getting out of the city to the lovely coastal area of Tamsui. It's littered with temples, old markets and plenty of great places to pick up a bite to eat when the sun has risen.
Hobe Fort and Aletheia University are a reminder of the areas of fascinating history, with Peace Park also well worth checking out.
The grounds of Aletheia University are pretty big, so there is plenty to explore.
To the north-west of the MTR there is a maze of alleyways made of markets, shops and temples that are well worth checking out.
Afternoon – Palace Museum
Wondering what to do in Taipei for 3 days? Well visiting the Palace Museum should be high on your list!
This is surely the number one destination in Taipei. This museum contains over 700,000 pieces of Chinese art encompassing 8000 years of Chinese history.
The sheer quantity and diversity of what's on show is staggering.
Understandably the museum is huge. So plan what you want to see first to maximise your time, and get your e-ticket early.
The calligraphy section is particularly impressive.
There are not a huge amount of food options nearby, aside from a cafe at the museum. Therefore it could be worth bringing some food with you.
The artefacts in the Palace Museum used to be held in a similarly named museum in Beijing.
After the Mukden Incident in 1931 the treasures were moved to Shanghai, and then Nanjing.
In 1948, seeing the writing on the wall in his battle with the communists, Chiang Kai Shek moved the entire museum collection from Nanjing to Keelung in Taiwan.
The Palace in its current format opened in Taipei in November 1965.
Nearest Subway: Head to Shilin, take exit 1 and then take bus R30, minibus 18 or 19, or bus 255, 304 or 815. Do not cross the road or you will be going the wrong way.
Opening Hours: 8:30 am to 6:30 pm with opening hours extended to 21:00 on Fridays and Saturdays.
Cost: NT$350
Evening – Shilin Night Market
Any itinerary for 3 days in Taipei will include a visit to the city's famous night markets. Shillin is the biggest and most famous of those.
From Shilin station, which you will return to after visiting the palace museum, it's a short walk to Taipei's biggest night mark.
Expect plenty of market stalls offering all kinds of Taiwanese delicacies.
There are a couple of temples buried in the mazes that are well worth checking out.
This night market is Taipei's most popular, so you can expect it to be busy!
Another good option is to book yourself in for a free walking tour of Taipei's historic route. You can do that online here.
Nearest Subway: Head to Shilin, and then follow the signs.
Opening Hours: Whenever the stalls want to open and close. It starts to pick up after 7 pm.
Cost: Free
Night – Long Shan Temple and Nearby Night Market
This temple in the south of the city is a short journey on the subway from Shilin and is one of Taipei's most stunning and popular temples.
The temple is open 24 hours and is particularly atmospheric at night as members of the community come to worship, chat and socialise in its grounds.
The nearby night market, whilst being far smaller than Shilin is a more relaxed open-air affair.
It is also hosted on wide boulevards as opposed to narrow alleyways.
Again there is some particularly excellent food on offer.
Due to the fact, there is more space here there plenty of dining areas where you can sit and eat before hunting for more amazing Taiwanese food.
Nearest Subway: Longshan Temple and then follow the signs
Opening Hours: The temple is open 24 hours and the night market peaks between 7 pm and 11 pm
Cost: Free
Day 2
Hope you got some rest last night, because we have a big day planned for today!
Morning – Chiang Kai Shek's Memorial Hall
Taiwan's former leader Chiang Kai Shek is revered in Taiwan, in spite of some of his government's more questionable actions since the Chinese civil war ended in 1949.
The structure itself occupies one end of a large square in central Taipei's Zhong Zheng District (中正區).
With Chiang Kai Shek's to the east, the western end is flanked by the National Theatre and National Concert Hall.
All three structures display a similar white building, blue roof motif, giving an impression of tradition and modernity.
The changing of the guard's ceremony that happens every hour is particularly interesting.
However, do be aware that it can get quite busy. In the memorial hall itself, strict silence should be observed at all times.
Below the memorial hall is a rather interesting museum giving you an insight into the life and times of Chiang Kai Shek and to a lesser extent, the founding of the Republic of China, as Taiwan is officially known.
Nearest Subway: Chaing Kai Shek Memorial Hall
Opening Hours: 9:00 am until 6:00 pm every day.
Cost: Free
Afternoon – Explore the Area Around Dongmen
The maze of narrow streets is home to some of the cities most famous beef noodle restaurants. Yongkang Street has plenty of excellent ones.
If beef noodles don't really tickle your fancy there are plenty of other excellent eateries in the area.
Nearby is the lovely Da'an Park where you can take a load of and escape the concrete.
Nearest Subway: Dongmen
Opening Hours: As long as the restaurants remain open. However, for the beef noodle restaurants between 12 pm and 2 pm is a solid bet.
Cost: Free
READ MORE: Add these activities to your list of things to do in Taipei!
Afternoon – Sun Yat Sen's Memorial Hall
A short subway ride away is Sun Yat Sen's Mausoleum. This is one of the few individuals the People's Republic of China (China) and the Republic of China (Taiwan) both hold in extremely high regards.
Sun Yat-Sen is a man revered by those from both sides of the Taiwan Strait.
After the Qing government collapsed in 1911, it was Sun Yat-Sen who set up the Republic of China which maintained control over the mainland until 1949.
He helped to end China's Imperial system and revitalise the country as a republic.
Whilst not being as striking as Chiang Kai Shek's place of reverence, the museum here is particularly interesting.
And it demonstrates Sun's importance to the Chinese people as a whole regardless of which side of the strait they occupy.
Nearest Subway: Sun Yat-Sen Memorial Hall
Opening Hours: 9 am to 6 pm.
Cost: Free
Evening – Elephant Hill
This has to rank as one of the most stunning night views of a city across the world alongside such classics as Manhattan from Brooklyn Heights, or Lujiazui from the Bund.
Any 3 days in Taipei itinerary has to include this stunning evening activity!
Climbing Elephant Hill can be a particularly sweaty affair thanks to Taipei's near-constant humidity and the rather large steps you need to climb to enjoy the views.
The most efficient way would be to get to the Xiangshan (象山) subway station at least an hour before sunset.
This way you'll get the best views as the sun sets and the night sky envelops the city.
The trail has numerous viewing points, which is a welcome relief as it can be quite busy, especially during peak seasons.
The further you go, the better the views. There are a couple of points where some dirt paths will take you down to secluded viewpoints.
However, do be careful when accessing such paths as there are no lights and they can be slippery.
Once you've found a space, get comfortable, make sure you're camera is set up and enjoy.
Nearest Subway: Xiangshan
Opening Hours: 24 hours, however, sunset is particularly spectacular.
Cost: Free
Night – Taipei 101
At one point this was the tallest building in the world. It towers over the Taipei skyline with an air of invincibility and a swagger not out of place in a 007 film.
This is completely understandable, however, as it is an absolutely beautiful building.
The area around Taipei 101 is a mixture of malls and restaurants, although there is a car park nearby which offers amazing views of the building itself.
The views from the top of the building are very nice. However, it's hard to compete with the views from Elephant Hill (see above) or views from the Maokong Gondola (see below).
The exhibition inside the tower on how it was built to withstand the typhoons that frequently batter Hong Kong is particularly interesting.
Make sure you buy your ticket in advance to save time and money.
Nearest Subway: Taipei 101/World Trade Centre
Opening Hours: The observation deck is open from 9 am to 10 pm daily.
Cost: $600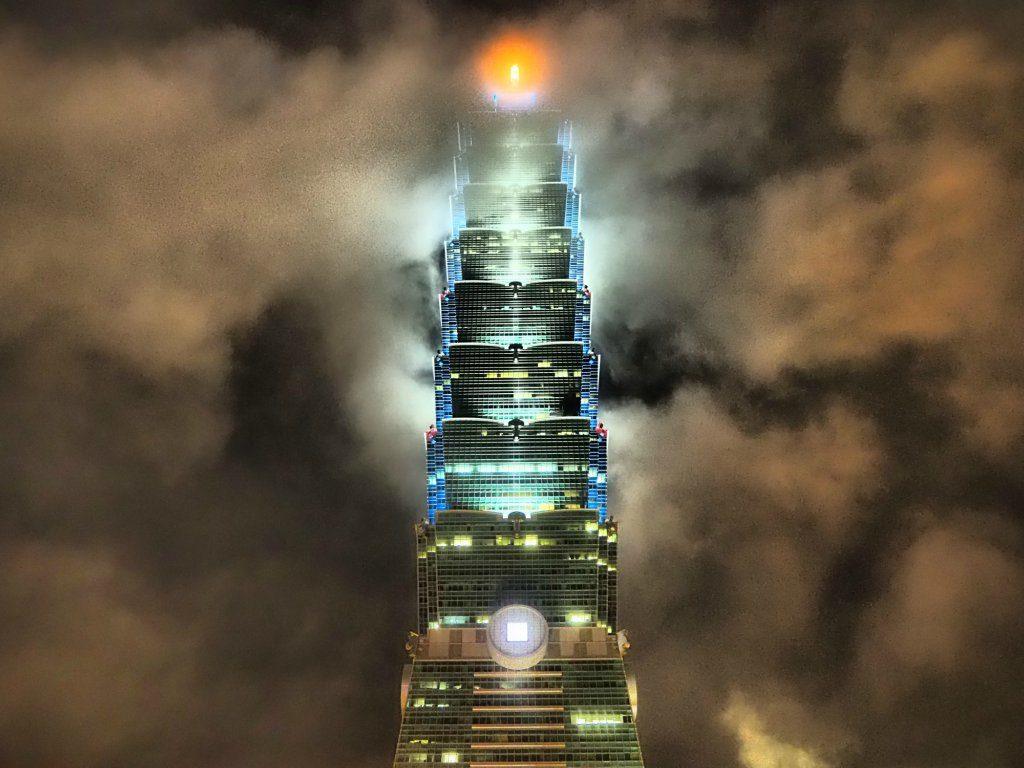 Day 3
As anyone that has been to Taipei will tell you, the outskirts of Taipei are littered with stunning mountain views, great walks and hot springs.
Therefore it's only natural that any 3 days in Taipei itinerary should include some of these beauties!
Best of all, thanks to the awesome Taipei metro, many of these places are easily accessible through public transport.
Morning – Wulai
Nestled amongst the mountains outside of Taipei, Wulai is a gorgeous town with temples, hots springs and hiking.
To get here you will need to take the subway and then take a bus for the final leg to Wulai.
The town itself is as famous for its scenery as it is for its hot springs. If you're looking to indulge in a spot of relaxation then jumping into one of the hot springs is an excellent option.
These can be rented for the day or by the hour, with the cheapest rates seeming to be between 2 and 5 when the town is at it's quietest.
Alternatively, you may want to spend one of the nights in one of the hot spring hotels.
There are also a number of walking trails. The most common one takes you through the town to the Wulai Waterfall.
Beyond this is a number of other trails.
However, do check with local authorities as to which routes are open as typhoons can close the trails.
Amazingly all of this breath-taking scenery is just an hour or so from downtown Taipei – incredible.
Getting there and away: You will need to take both subway and bus here, but it is very much worth it. Head to Xindian station and then take bus 849, which comes roughly every 15 minutes. Getting back I would recommend cueing up early for the bus if it's busy.
Afternoon – Maokong
This beautiful area on the outskirts is far easier to access than Wu Lai and has a more aesthetically pleasing journey.
You will need to take the subway to Taipei Zoo and then take the Maokong gondola to your final destination of Maokong.
The cable car through the hills on the outskirts is particularly lovely with incredible views on offer if you make the return trip at sunset.
Maokong is famous for its tea plantations and there are numerous trails all over the hills with many offering spectacular views.
There is a lovely walk to the silver stream waterfall and cave which takes approximately an hour.
Along the route, there are numerous paths that lead into various other areas of the tea plantations.
The views from the silver stream waterfall are spectacular, particularly at sunset.
It's close proximity to Taipei truly emphasises the uniqueness of Taipei's relationship with its natural surroundings.
There are very few major cities in the world that are so close to deserted hiking trails and pristine forests. However, Taipei has this in abundance.
Getting there and away: Take the subway to Taipei Zoo and then follow the signs to the Maokong gondola. It is possible to pick up a subway day pass which includes a return trip on the Maokong Gondola.
Evening – Raohe Night Market and Sung Shan Tzu Yu Temple
End your last day in Taiwan with a visit to the gorgeous Sung Shan Tzu Yu Temple.
Like many temples in Taipei, it comes alive at night with worshippers and locals congregating throughout.
The Roahe night market it one of the quieter night markets in the city and offers a plethora of excellent food.
This is the perfect way to end your 3 days in Taipei itinerary.
Nearest Subway: Songshan
Opening Hours: The temple is open 24 hours and the night market gets going from 6 pm with things winding down beyond 11 pm.
Cost: Free
READ MORE: Explore Hong Kong with this perfect 3 day itinerary!
Taipei Travel Guide
Now that you have a solid 3-day Taipei itinerary we want to help you make your other plans as well by sharing transportation, accommodation and meal options in the city.
Getting to and from Taipei
Air: Taipei is easily accessed from major cities in Asia, especially those in China, Japan and South Korea.
From outside of Asia the chances are you will have to have to make a detour via a major Asian city.
Train: Within Taiwan itself, Taipei is the central hub of the countries excellent railway system.
Major cities like Kaohsiung, Tainan and Taipei (unsurprisingly) are easily accessible from almost anywhere in the country.
To get to some of Taiwan's more remote and off the beaten path locations you will probably need to take an intercity train and change to a local service or a bus.
The most cost-effective way to get around the city is to buy a 3-day unlimited rail pass around Taipei.
Bus: Alongside an excellent train network Taiwan has a good intercity bus network.
Though not a fast or comfortable as the trains they are an excellent opportunity to save a few pennies.
In the very south of the country around Kending, buses the only way to get around.
Getting around Taipei
Taipei's metro system is excellent. It has been universally loved by travellers since it opened.
The metro system takes you to the farthest corners of the city helping you to access some of Taipei's most beautiful natural scenery.
Getting out to the cities outskirts will most likely require you to take a bus after the subway.
These buses to the cities outskirts are generally pretty regular but they can get crowded on the weekends and over national holidays.
The best way to get around is to rent a car and explore on your own! We recommend Rental Cars, which has the largest range of vehicles for the best value on the market.
When to Go to Taipei
Make no mistake about it Taipei bakes during spring, summer and autumn.
Summer brings searing heat and the additional risks of storms and typhoons.
Winter is cold and quite wet, although it's not as cold as parts of Japan, South Korea or China.
Aside from the weather, it is advisable to avoid Taipei during and Chinese National Holiday.
The main two are Chinese New Year which is usually around the end of January, beginning of February (although this is a lunar holiday so the dates change every year) and the Nation Day Holiday from October 1st – 7th.
Any 3 Days in Taipei itinerary is likely to have a healthy dose of sunshine, so long as it's outside of the winter months.
Accommodation in Taipei
Accommodation in Taipei is definitely at the cheaper end of the scale in comparison to other East Asian capitals.
Taipei's centre is reasonably compact, and this combined with its excellent subway system means that almost any centrally located hotel or guesthouse is a good option location wise.
Best Budget Accommodation in Taipei – Meander Taipei Hostel
This excellent hostel in the heart of Ximending, one of Taipei's most hip and happening areas.
The area of chock full of great restaurants, shops selling the latest in Taiwanese pop culture and even the occasional temple hidden amongst the chaos.
Offering affordable dorms, and slightly more expensive double and triple rooms as well as an awesome common area it's no surprise that this is so popular with travellers.
Best Midrange Accommodation in Taipei – Star Hostel Taipei East
This excellent midrange option is located in the heart of the Da'an District and is a short walk from Sun Yat Sen's Memorial Hall.
This area is a little quieter than Ximending and the maze of alleyways are replaced by wider tree-lined streets.
The hostel offers dorms and has an excellent common space giving you the opportunity to meet fellow travellers from across the world.
Best Luxury Accommodation in Taipei – Jolley Hotel
This excellent option close to the Confucius Temple offers a variety of rooms at a very reasonable price for a luxury hotel.
Rooms also include breakfast and being in the heart of the Zhongshan district it's quieter than the busier districts of Zhongzheng and Wanhua, making it a good option for families.
Eating in Taiwan
Surely one of the main highlights in Taiwan is eating. The nation's capital is chock full of excellent restaurants offering the best in contemporary Taiwanese cuisine.
Best Budget Restaurant in Taipei – 府城台南美食
This excellent noodle restaurant on Yongkang street specialises in Tainan style food. Its noodles are excellent, and unsurprisingly it can be crowded in the evenings and at weekends.
Best Midrange Restaurant in Taipei – Watch BBQ
This awesome all you can eat BBQ restaurant is located in the heart of Ximending a few minutes walk from Ximen station.
The all-you-can-eat BBQ lasts for 1.5 hours and you have three different menus to choose from. Portions are small giving you the chance to sample a wide range of awesome food.
This is not like American BBQ, it's more akin to the Japanese or Korean form whereby you cook yourself over a grill. The food here really is excellent.
Best Luxury Restaurant in Taipei – Din Tai Fung
This luxuriousness of this restaurant comes from the sheer quality of food, not the price.
This is the original location of the world-famous chain that has received a Michelin star and was named by the New York Times as being one of the top 10 restaurants in the world.
Their speciality is Xiaolongbao, a type of Chinese soup dumpling, with a portion of 10 costing roughly $7.5 dollars.
The food is phenomenal so don't be surprised if you end up spending more than you planned here. However they do not take reservations, so be prepared for a long wait.
DISCLAIMER: Some of the links in this article are affiliate links, which means if you book accommodation, tours or buy a product, we will receive a small commission at no extra cost to you. These commissions help us keep creating more free travel content to help people plan their holidays and adventures. We only recommend the best accommodations, tours and products that ourselves or our fantastic editorial team have personally experienced, and regularly review these. Thanks for your support, kind friend!